Player Analysis: Marcus Thuram
Since taking charge in the summer of 2019, Marco Rose has taken Borussia Mönchengladbach to extraordinary heights, with the German club competing in the UEFA Champions League this season for the first time in four years.
Rose has implemented a system similar to that of his former manager at Mainz, Jürgen Klopp. Rose's side play quick, attacking football with bundles of energy on and off the ball. Gladbach will often tempt the opposition side by circulating the ball in the first or second phases of possession, and when the opportunity arises, they look to play vertically and move the ball into their danger men in the final third – one of those being Marcus Thuram.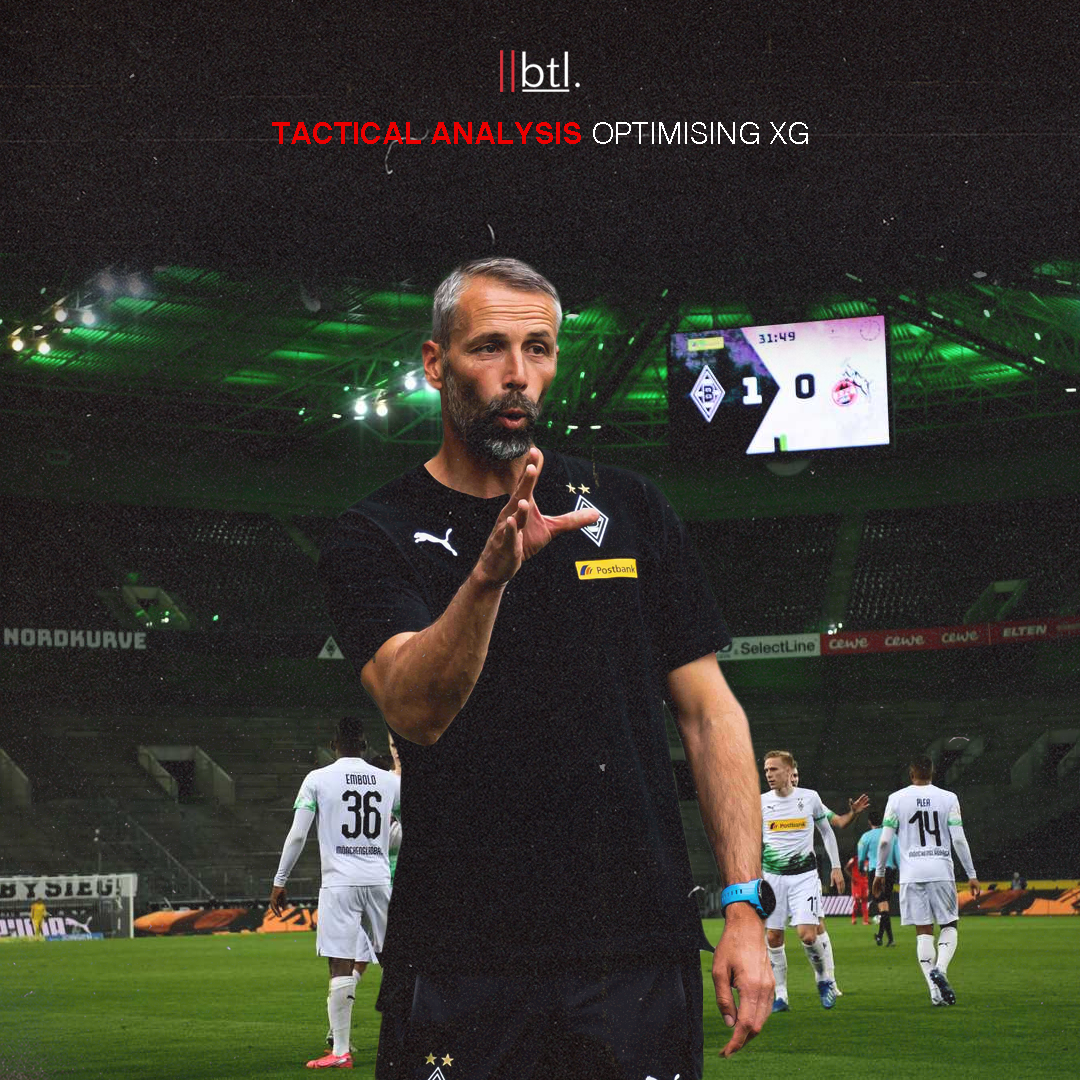 The son of World Cup winner Lilian Thuram, the Frenchman joined Gladbach for a reported fee of €12 million on July 12, 2019, with sporting director Max Eberl taking advantage of Guingamp's relegation to bring in a prime target. Thuram was given the #10 shirt, vacated by Thorgan Hazard following his move to Borussia Dortmund, and he quickly became a revelation at North Rhine-Westphalia with 14 goals and 9 assists in all competitions.
Thuram has picked up where he left off this season with 3 goals and 5 assists in 11 appearances, including a brace against Real Madrid in the UEFA Champions League. His red-hot performances have been rewarded with a maiden call-up to the French national team, with Thuram making his debut in a 2-0 loss against Finland, before coming off the bench in a UEFA Nations League match against Portugal.
This article will be delving into the performances of the 23-year-old forward, using match examples and statistics to analyze both the strengths and weaknesses in his game. Due to his limited amount of game time so far this season, the statistics provided will be from the 2019/20 domestic campaign. 
Position
Thuram's profile is incredibly valuable to his team, and as Sergio Ramos and Raphaël Varane have come to know, he has a rare combination of physical prowess, technical ability, and speed of mind. Although best coming in from the left flank — whether that be in a front three or two — Thuram is also effective playing as a center forward or on the right wing.
When operating on either of the flanks, Thuram looks to hold his width and receive the ball to his feet in wider positions so that he can utilise his great dribbling and one-on-one ability. Under the management of Rose, Thuram is tactically astute and understands when he needs to move into the half spaces as indicated in the below example against Real Madrid.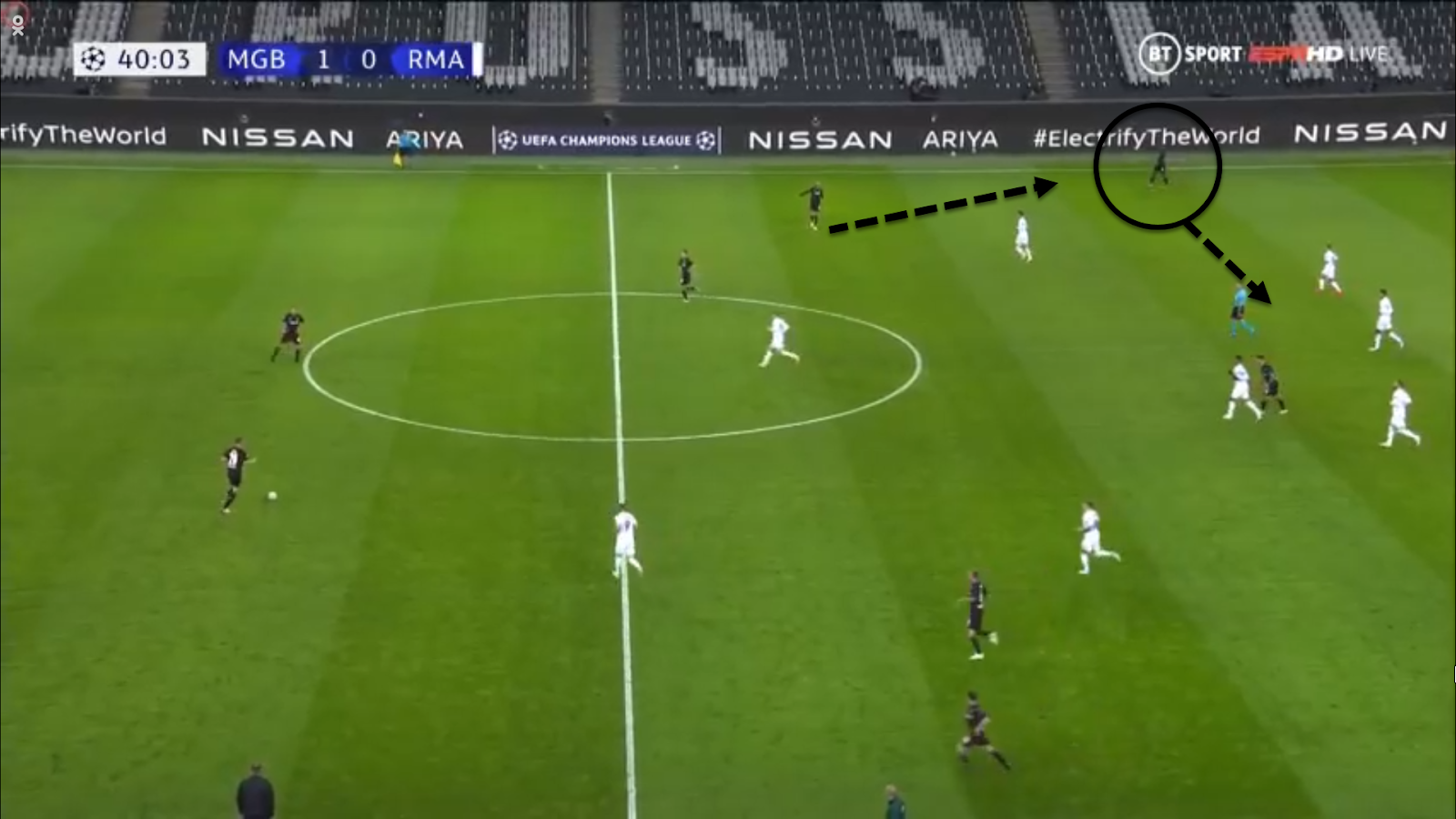 Thuram assumes his preferred wide position, but as soon as Matthias Ginter circulates the ball across to the left-hand side, Ramy Bensebaini pushes forward from the left back position whilst Thuram moves into the half space to provide an extra forward option for his teammates. The Frenchman's strength and hold-up play allows him to excel centrally, but he is most lethal when he peels out into space in a wide area.
One-on-one ability and creativity
Thuram's ability in 1v1 situations against a defender is certainly one of his main strengths, with the 6'3 forward boasting a perfect blend of power and technique when running at his man. He looks to receive the ball to his feet in wide positions in order to isolate a defender one-on-one, but what makes him so prolific in this aspect is his close control, powerful running technique and his ability to go on the inside or the outside of the defender – making him far more unpredictable and far harder for a full-back to defend.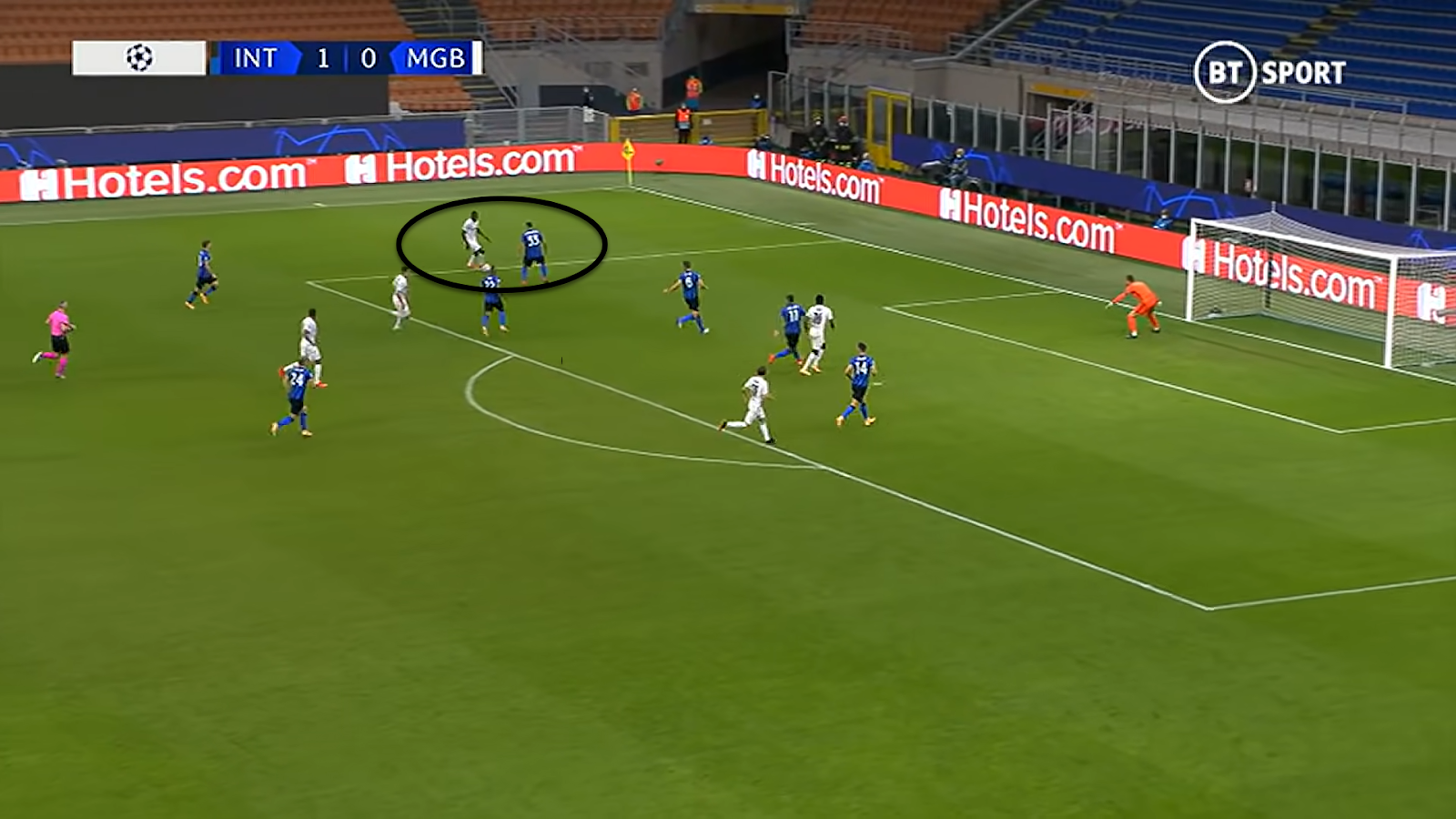 In the above image, Thuram has isolated Danilo D'Ambrosio one on one on the left side of the box. After an initial movement towards the inside of the defender, Arturo Vidal looks to double up on Thuram – who then chops back towards the byline and is fouled by the Chilean, earning his team a penalty. Bensebaini would convert from the spot to temporarily draw Gladbach level with Inter.
The Gladbach forward averaged 2.82 successful dribbles per 90 last campaign, ranking in the top 13% of wingers and attacking midfielders in Europe's top five leagues. It is not a regular occurrence that a player with a build like Thuram's can manipulate the ball as well as he can, and this is what gives him the advantage against a defender in a one-on-one situation; he is not only more skillful than them, but also more powerful. 
However, he is also able to mix things up and can play smart, creative passes to teammates when it seems like he will run at the defender – Thuram averaged 3.15 OP shot-creating actions per 90 last season, proving that he is not only a runner.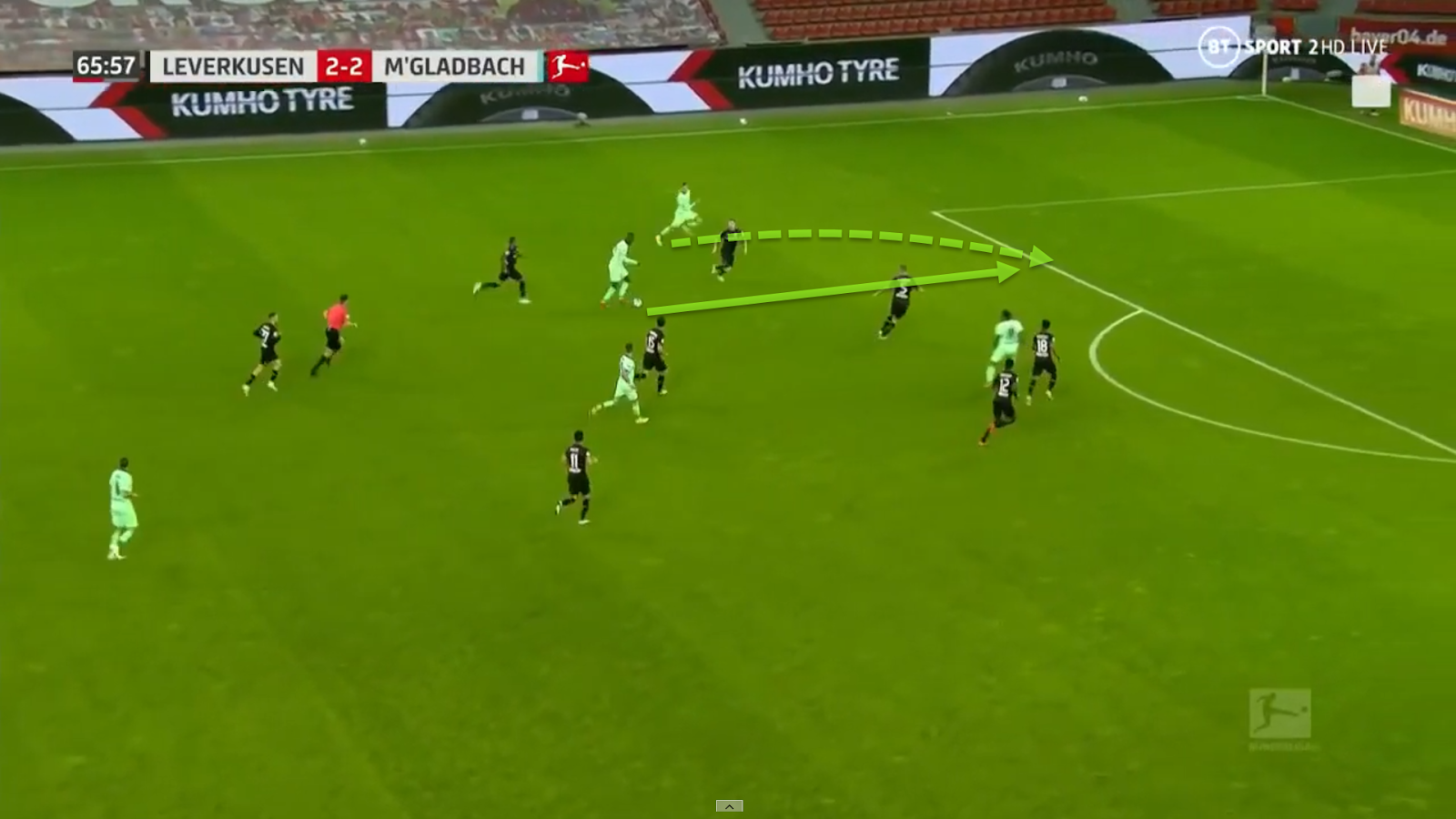 In the above example, Thuram has the ball at his feet but instead chooses to play the ball in behind the defender (who had initially stepped up to engage with Thuram, anticipating him to travel with the ball). He threads the pass towards the overlapping Bensebaini, who squared the ball towards Lars Stindl, but the German failed to convert.
Clinical nature and solid final ball
It is all well and good being able to take on a player, but it is even more important to be able to take advantage of this by having a solid final ball and being able to finish clinically – Thuram is impressive in both of these departments. There are multiple reasons behind the fact that the Frenchman's xA per 90 last season was a highly impressive 0.28 and also why his npxG/Shot was 0.171.
The first reason why Thuram is so effective in the final third is due to his good decision making in that area of the pitch. The winger will not often cross 'into an area' but instead will look to cut back and get that extra half a yard which allows him to pick out his teammates, usually with a low cross. 
In the two images below, we can see a clear example of Thuram's good decision making in the final third during a match against Wolfsburg. He is quickly advancing on the left side and has an opportunity to cross the ball, but he realizes that this is not actually a great situation to cross for three reasons.
Thuram is on his weak foot. 

He is being highly pressured by two opposition players. 

His teammates are not in optimal positions inside the area.
Many players would not have the requisite composure in this situation and would attempt a cross with their weak foot and it would be unlikely to cause the defense any trouble whatsoever. Thuram, however, cuts the ball back onto his right foot which creates more space for him on the ball and allows his teammates to enter more dangerous areas inside the box.
He plays a cross in front of John Brooks but Breel Embolo makes a different run and fails to connect on the ball – Thuram's impressive decision making is demonstrated to the fullest degree, nevertheless.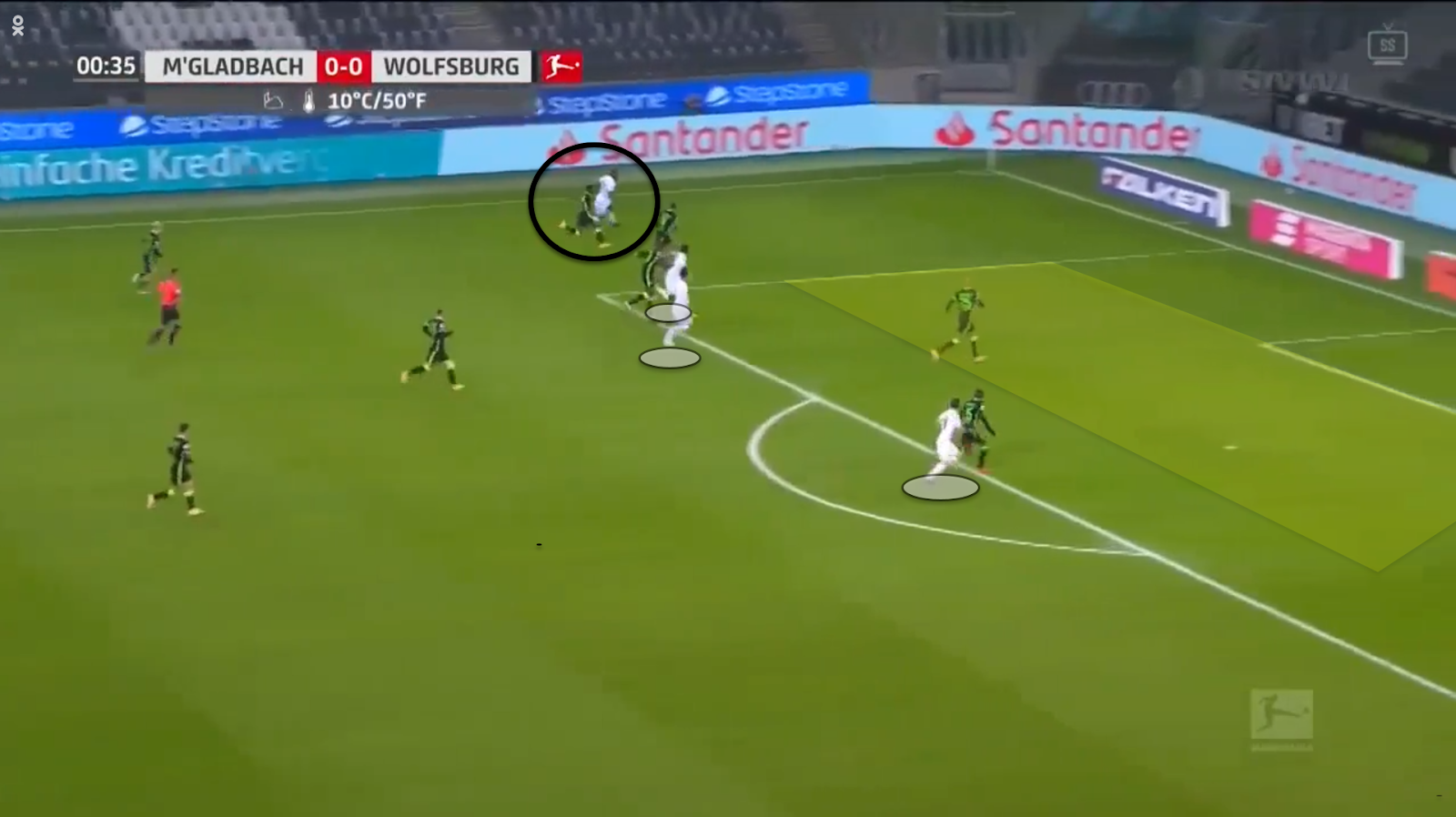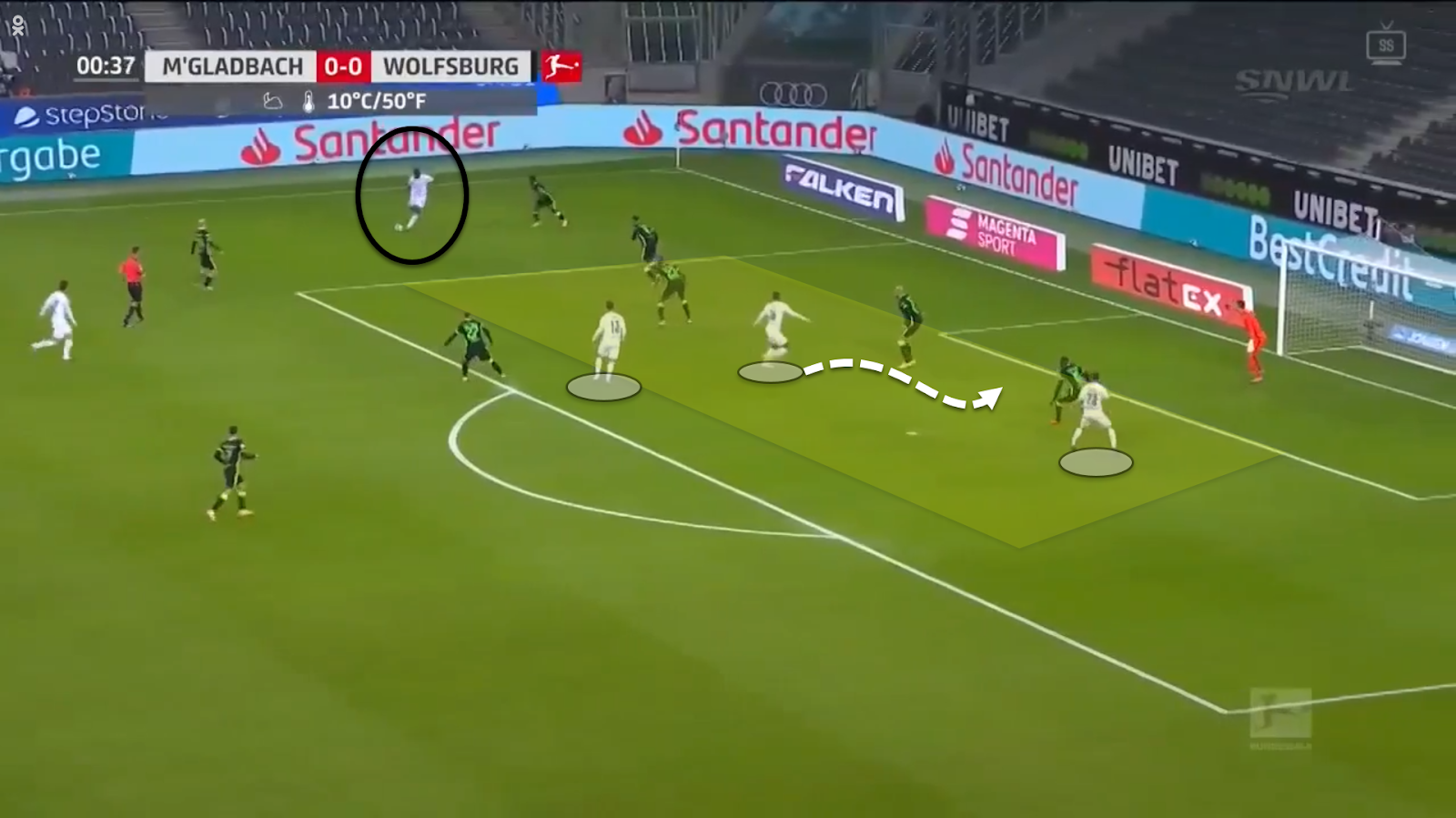 One reason why the 23-year-old is clinical in front of goal is his technique when striking the ball. Thuram will often shoot with the correct technique for the situation presented. Most of the time, due to his impressive movement, he finds himself inside the area with the ball coming across to him and he will almost always use his side foot in these situations. 
This allows him to have a cleaner shot and since Thuram also keeps his head over the ball well, it enables him to keep his shots low too – this is used most of the time as a first time finish and is reasoning behind the fact that Thuram rarely misses high xG chances.
An example of this technique is shown in the image below, where Thuram opened the scoring against Real Madrid. The Frenchman uses his side foot for a first-time finish just inside the area – he does not need to generate any extra power as the ball was crossed to him with significant pace. We can also see Thuram with his head over the ball and both of these aspects help him finish into the top right-hand corner of the goal.
The final reason behind the clinical nature in Thuram's game is through his impressive movement in and around the box. Although he likes to receive the ball in wider positions, when the ball is in the final third,  Thuram will more than likely enter the penalty area and make quick movements in order to receive the ball with the chance of scoring with his first touch. Last season in the Bundesliga; Thuram scored 10 goals for Gladbach, eight of these were first-time finishes inside of the box. 
When in the danger area, Thuram constantly looks to make blindside runs towards his marker in order to catch his defender off guard, as his marker cannot follow his movement quickly enough, allowing him to break free of his defender and get into a position to score. 
In the below example against Bayer Leverkusen, we can see Thuram prioritising this kind of movement – he starts in the clear view of Jonathan Tah but then moves behind him and into his blindside. This means that when the ball is played across the six-yard area, Thuram can make his move behind the defensive line and he cannot be blocked or followed closely enough by his marker.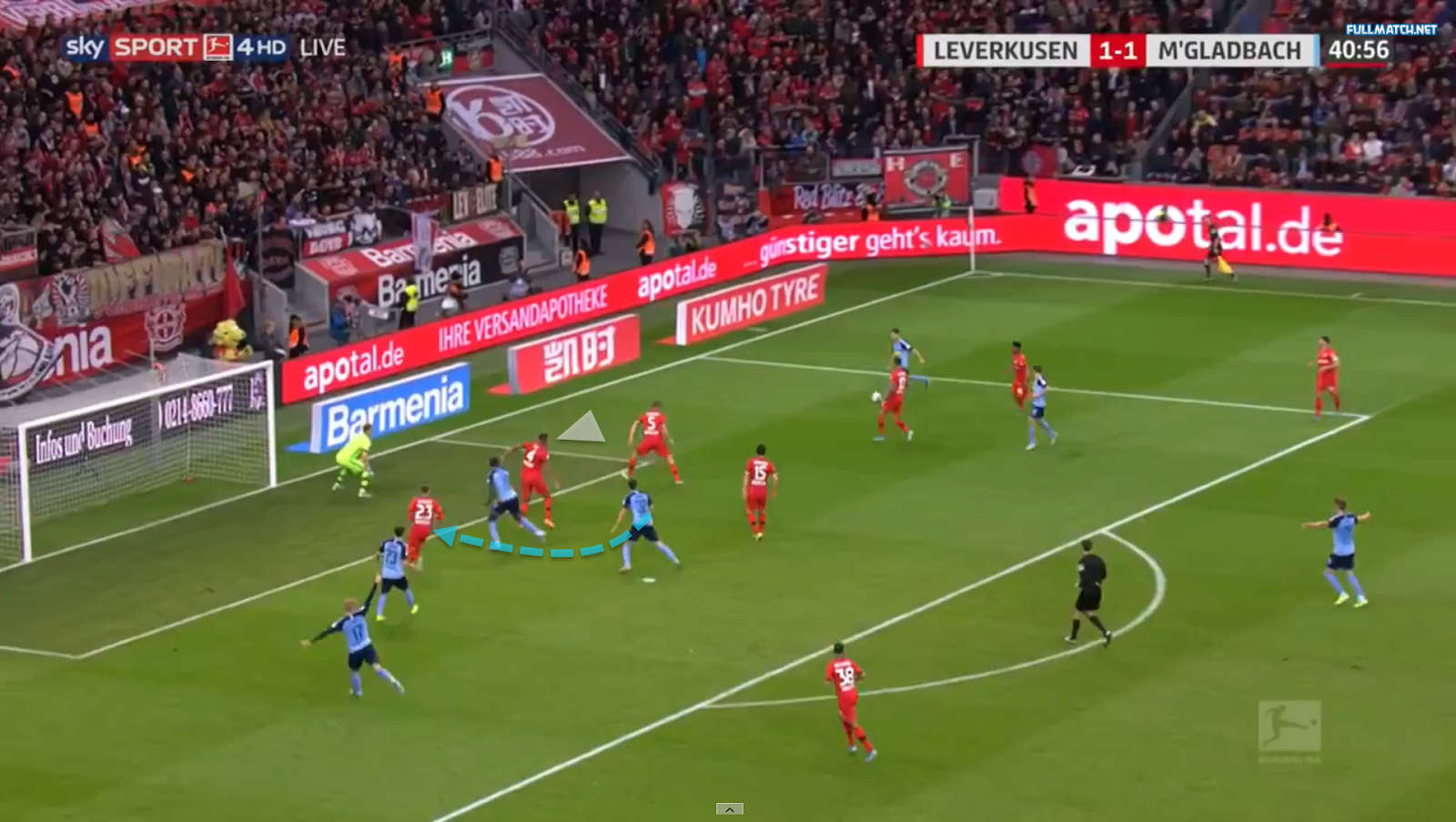 Thuram also looks to take an advantage against the full-back when crosses are coming in from the opposite side, and he excels in doing so thanks to his superior aerial ability against most full-backs in Europe – Thuram averaged an aerial win percentage of 60% last season.
His positioning on the left allows him to take up a position against the opposition full-back more easily. In the below example, Thuram moves towards Dani Carvajal as he prepares to connect on a cross from Stefan Lainer, but the Austrian's cross is too close to the goalkeeper.
Ultimately, Thuram has a clear aerial advantage against many full-backs and will be able to enjoy more chances to score in the air if he continues to consistently move towards them when the ball is being crossed from the opposite side.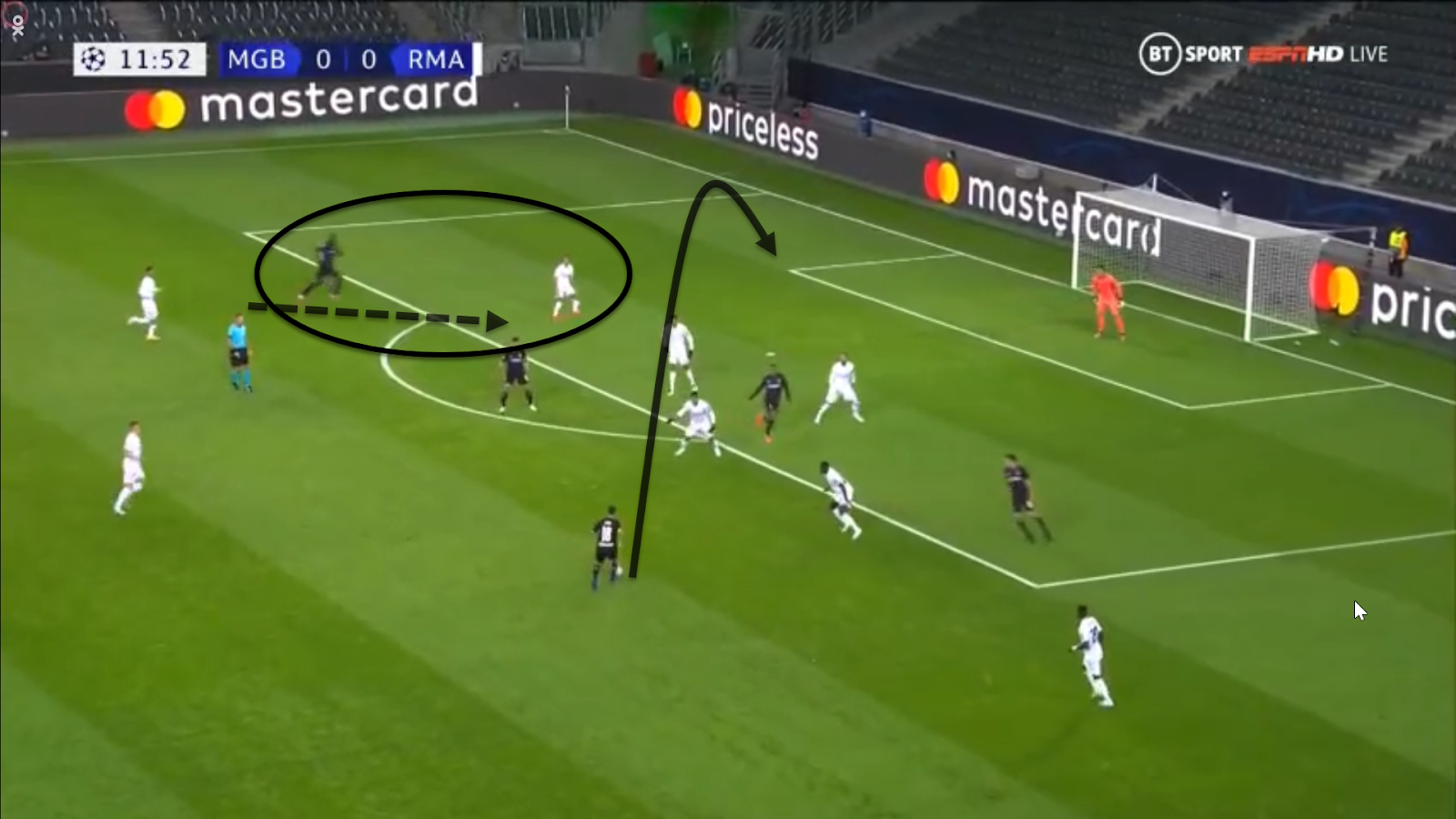 Ability to hold the ball up or run in behind
Often playing in a front two or even as a lone striker, Thuram also boasts impressive hold-up play in order to bring his teammates into play. He can utilize his strength to hold the ball up when it is played into his feet, but more impressively, the winger can hold the ball up in the air – as previously mentioned, his aerial duel win percentage was 60% last season and when he does win headers which are played to him up the field, he has the quality to head the ball into the path of his teammates and then Gladbach can bring the ball forward. 
An example of his ability to hold the ball up aerially is shown below in a match against Inter Milan. From the goal kick, Gladbach play short and then Ginter looks to play long in towards Thuram. Although he is closely followed by Stefan de Vrij, the Frenchman is able to leap up and connect with the header first.
The more impressive aspect of this play is where he heads the ball, he heads towards the left-side where Bensebaini can run onto the ball and the play can progress down the left side. Considering the high pressure from the opposition centre-back when making the header, Thuram's accuracy in the air was brilliant and helped Gladbach not only keep the ball but progress into space.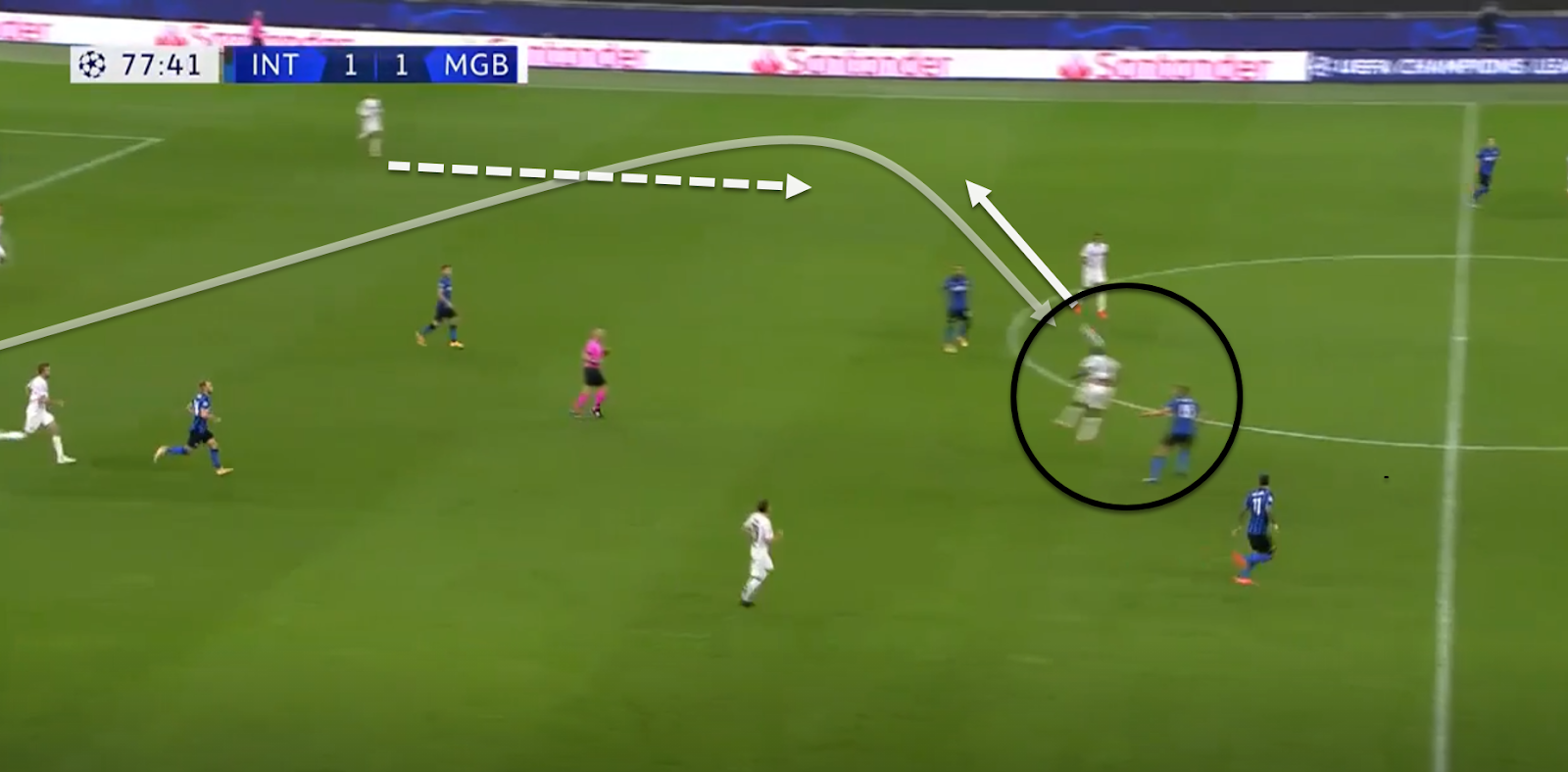 Thuram's athletic abilities give him an advantage in the air but they also give him an advantage in looking to run in behind a defensive line in transitions. His quick and powerful running means that while he can most definitely offer to hold the ball up, he can also choose to spin in behind – like how he did so to win this penalty against Wolfsburg. 
In the below image, Florian Neuhaus plays a ball in behind the high line of Wolfsburg and although the defender has a clear advantage to get to the ball first as he is closer but also as it is curved outwards, further away from the Gladbach man, Thuram is able to apply enough pressure to Maxence Lacroix to force a mistake.
After keeping pace with the 20-year-old center back, Thuram forces Lacroix to play an errant back pass which fails to meet its intended target. Thuram rolls it past Koen Casteels, leaving the Belgian goalkeeper with no other choice but to foul him in the area. Jonas Hoffman converted the resulting penalty, earning a point for Die Fohlen against Wolfsburg.
Need for improvement
While Thuram is a solid young player, there are still clear aspects in his game which he must refine. Two areas which he should focus on improving, above all, are his pressing and his ball retention abilities. 
Firstly, it is apparent that Thuram does know the importance of pressing triggers and pressing with a cover shadow – this has clearly been influenced by his manager who prioritises the team's pressing game. Thuram's pressing knowledge is shown below where he initiates his press due to the trigger of Casteels playing it short to Lacroix, but he makes sure to curve his run so that he can have the opposition right-back in his cover shadow.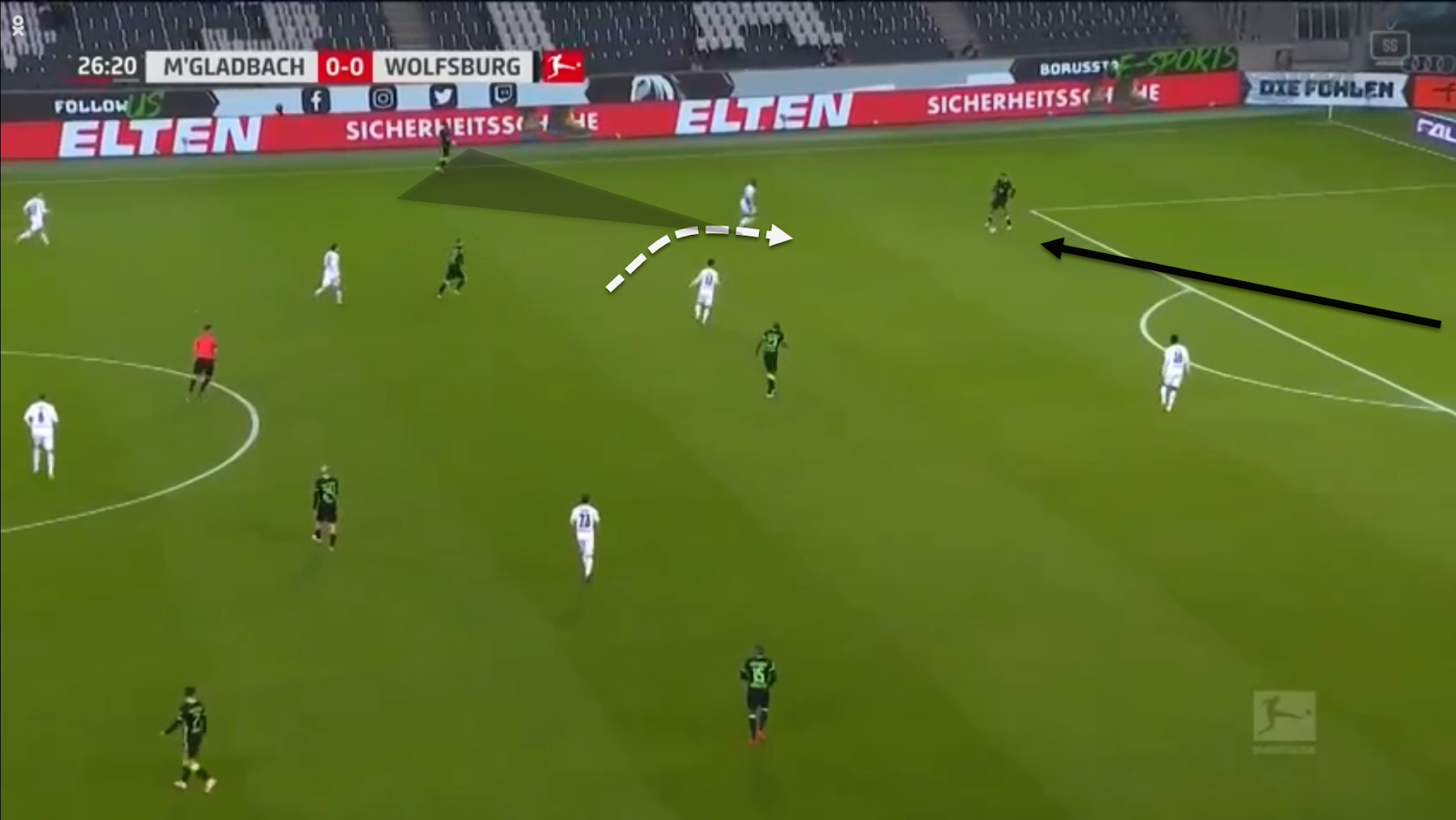 Whilst Thuram has proven that he knows how to press, he isn't switched on consistently and doesn't maintain the press throughout the 90 minutes. He had just 4.29 successful pressures last season, evidence of his lack of concentration and need for greater consistency in his pressing.
Secondly, Thuram's ball retention skills would have to improve if he is to take his game to the next level. He averaged a pass accuracy percentage of just 68.5% last season, and there are two main reasons for this. The first being that he is sometimes sloppy in possession and just as he loses concentration when pressing, he can lose concentration when on the ball and this will ultimately lead to turnovers.
The other problem is that when he does take on his man when dribbling, he will sometimes look to take on a second man which will sometimes work brilliantly but can also see him cough up possession. While Thuram attempts an impressive amount of dribbles per 90, he completed just 60.5% of those dribbles last season.
It seems like the main issues in his game are his decision making after taking on a man (however this can sometimes lead to amazing runs which are positive for the team) and his concentration in-game. For a player who only just turned 23 years old in August, these are expected areas to be needed to improve.
Conclusion
Under the tutelage of Marco Rose, Marcus Thuram has emerged from his legendary father's shadow and established himself as one of the best young talents in the Bundesliga. While he still needs to improve in certain facets of the game, it's no surprise to see him linked to the likes of Liverpool and Barcelona, and with a contract expiring in 2023, it's only a matter of time before he takes the leap to a top club.
By: Cain Smith
Featured Image: @GabFoligno / Uwe Kraft / AFP