Player Analysis: Ollie Watkins
After barely surviving relegation in the previous season, Aston Villa have started the first half of their Premier League campaign with a strong showing of expansive football under manager Dean Smith. Currently sitting on 26 points, 8 points off top 4, Villa have found themselves comfortably in the top half of the table with 3 games in-hand.
The Villains sit 3rd in the league in xG differential behind Liverpool and Manchester City. Additionally, they've beaten Leicester City, Liverpool, and Arsenal, with their dramatic turnaround of performance from the previous season very reminiscent of Leicester City in the 2015/16 season. So, what exactly changed at Villa that resulted in such a drastic improvement in performances? 
In short, a combination of reasons beginning from last season has led to such an improvement. Since Project Restart, Villa had further solidified many of their defensive woes which led to poor results in the previous season. Before lockdown, they were conceding 2.35 xGA per 90, and during Project Restart this number decreased significantly to 1.17 xGA per 90. Additionally, in the build-up to this season, they were quite intelligent in their moves in the transfer market.
With a net spend of $87.54 million, Villa made critical improvements in their team with the additions of Matty Cash, Emiliano Martínez, Bertrand Traoré, Ross Barkley (loan), and Ollie Watkins. With these additions, Villa were able to build on their brand of expansive football by supporting their elite playmaker Jack Grealish on the attack, while further solidifying and resolving their issues at the back. 
Of these signings, former Brentford star Ollie Watkins became their most expensive signing in the history of the club. With Villa most often setting up in a 4-2-3-1, Watkins plays as the lone striker up top. However, his career has allowed him to gain experience in a multitude of positions, playing both LW and RW almost an equal number of times in the 2018/19 season for Brentford, before moving to striker in 2019/20 to replace the void left by Neal Maupay. Consequently, the striker is more than just a finisher in the box. Watkins has made known his admiration for Thierry Henry and modeled his game after the legendary striker. 
Thus, Watkins has developed his skill set to be an all-around attacking threat, adding a creative playmaking side to his attacking prowess which his experiences at winger have further enhanced. As a result, we'll delve into the different talents of Watkins which makes him a threat and improve his team's attack. We'll be analyzing his profile and tendencies, in-game examples, and notable metrics of strengths and weaknesses.
Positioning
         After his transition to the striker position, Watkins' goal-scoring ability was put on display. As aforementioned, he starts as the lone striker in a 4-2-3-1 for Villa. In the graphic below, we can see Watkins alongside the other most commonly utilized players this season.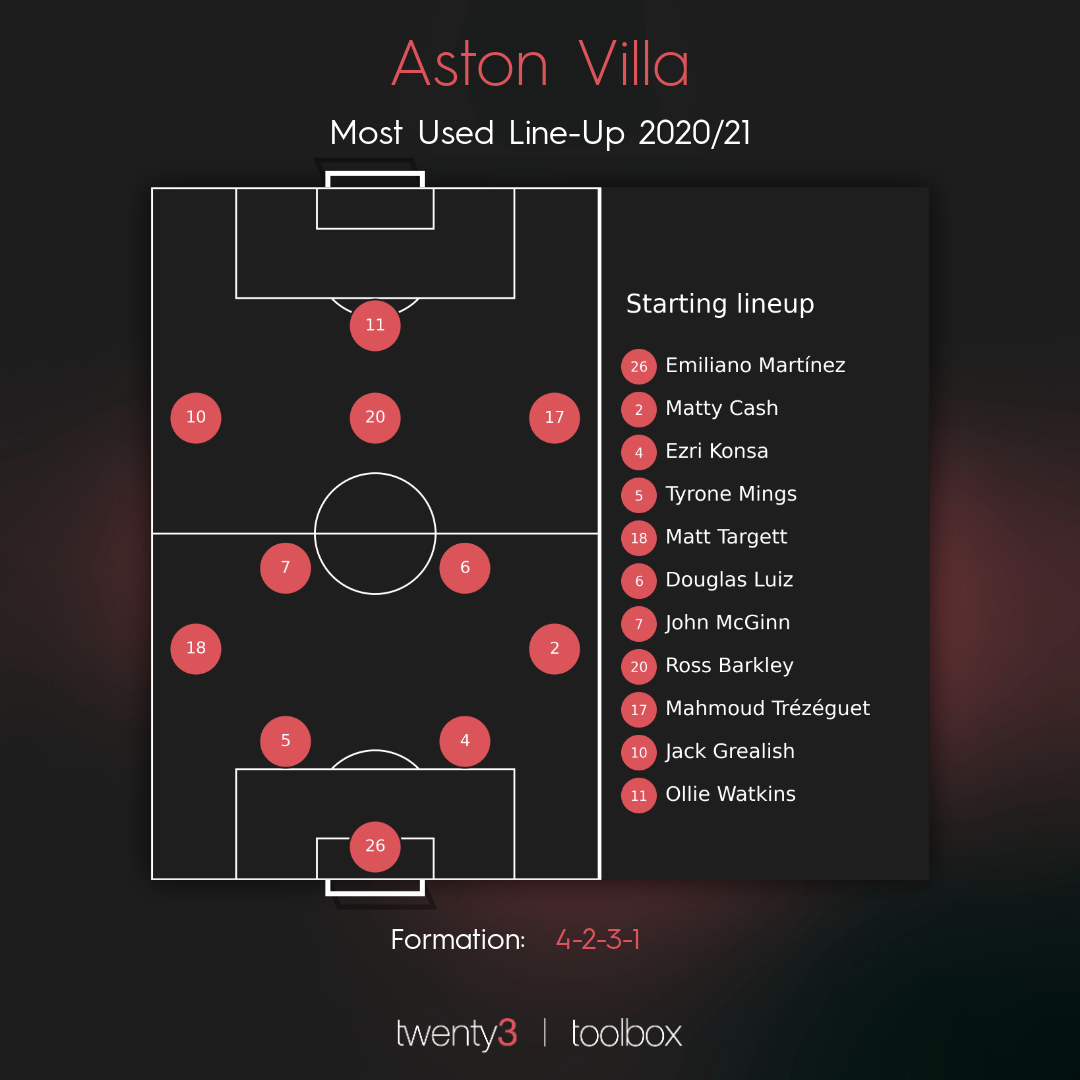 Photo: Twenty3/Wyscout
In this formation, a few rotations are made. Traoré has been playing at the RW position competing with Trézéguet for minutes, while Barkley has recently been injured, which has forced Grealish to play in the #10 role and resulted in the return of Anwar El Ghazi to the side, playing LW. With these supporting players, Villa have added much-needed dynamism into their attack, with Watkins at the forefront of this.
Leveraging his experience at winger, Watkins is quite used to occupying the wider areas of the pitch. In the heat map below, we can see where he likes to position himself throughout a game.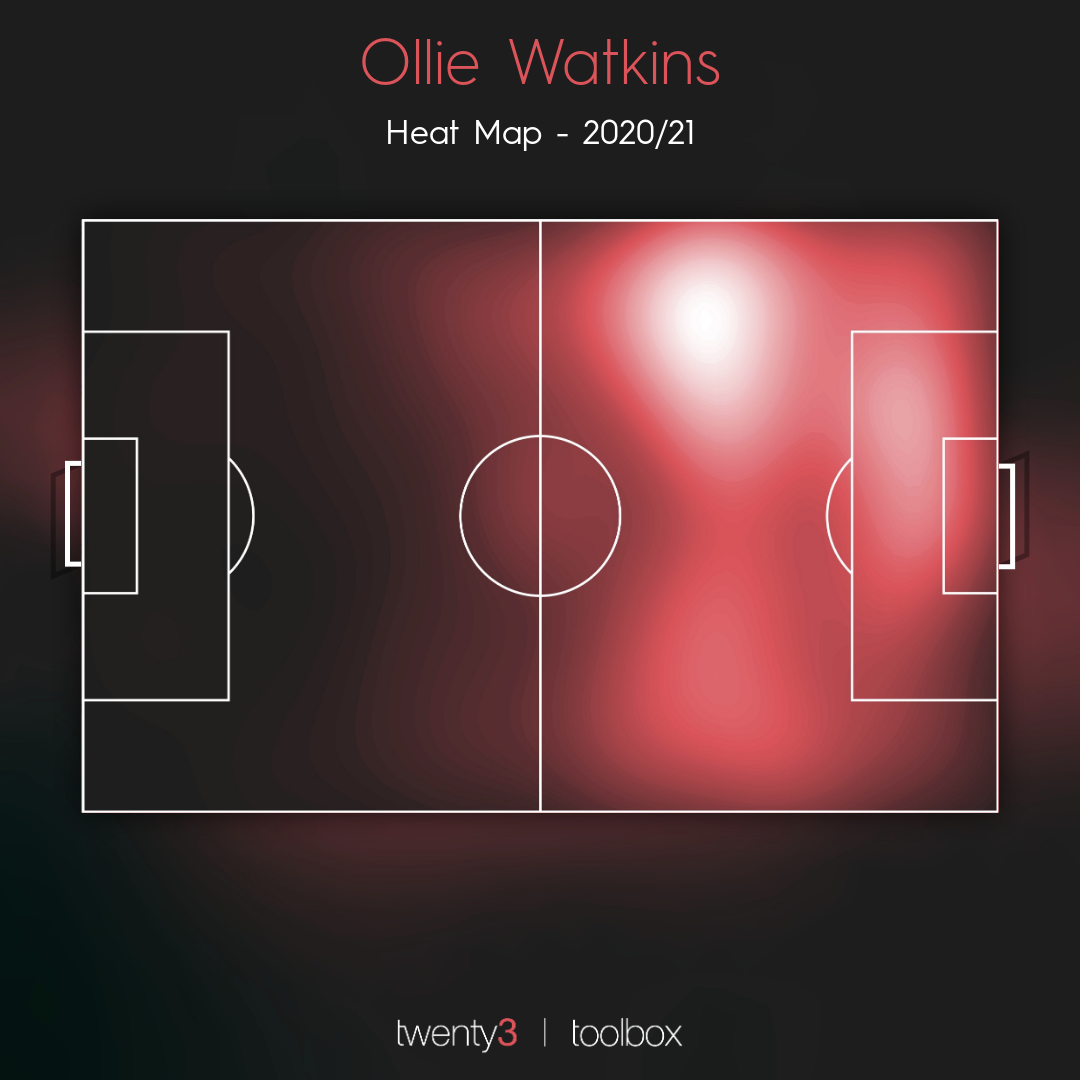 Photo: Twenty3/Wyscout
The graphic shows us that he most often occupies the left side of the field, particularly in the left half-space and flank. Although it seems most of his actions occur in these areas, it's quite obvious that he roams all over the final third and is seemingly comfortable in all parts of the pitch on the attack. This poses a great threat to defenders facing Watkins, as he is easily able to run across the entire defense, increasing the difficulty in marking him.
Profile and Tendencies
Watkins is a pacey striker with a tendency to make runs in behind. With Grealish the main playmaker and ball carrier, Watkins is afforded the freedom to make runs and play off the shoulder of the last defender. As a result of this, he becomes especially dangerous in transition opportunities, as his pace and constant run-making force the defensive line back, creating space for playmakers, and opportunities for others if not himself.
With Saïd Benrahma at Brentford, and now with Grealish at Villa, Watkins' run making is multipurpose, creating more room to operate and orchestrate attacks for the respective team's primary playmakers. He is very well-rounded as an attacker, likely attributed to his experiences in various positions across the front three. In addition to his pace, he is well-sized and technically strong on the ball with both feet.
Although not the most aerially dominant, and tallest striker, Watkins does score quite a few headers. However, this is mostly down to his intelligent positioning and anticipative movement, a common theme we'll review further in the analysis. By taking a look at his passes received and movement to those positions, we can get a better idea of his average starting position and ability to create danger in the final third.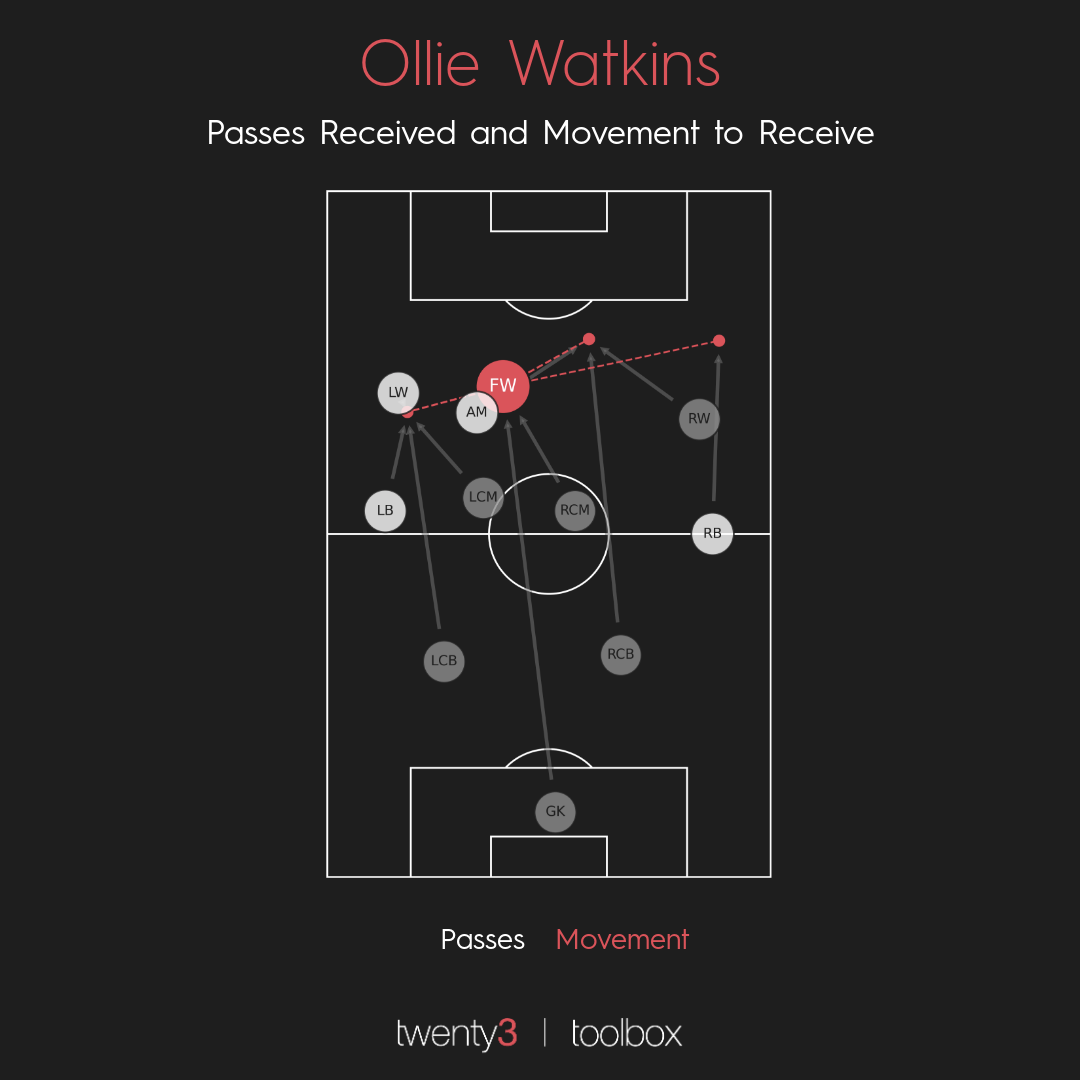 Photo: Twenty3/Wyscout
Similar to his positioning map we see Watkins most often likes to start just left of the center of the pitch, where he moves diagonally in both directions across the entire final third. Having played on both wings before, Watkins is quite comfortable with both feet.
As a result, he leverages this, among his other skills to get in various positions and not only to score different types of goals but also to create opportunities for others in the team; both on and off the ball. We'll analyze Watkins and the different types of goals he scores, to draw further insight into his skillset and attacking threat from a diverse set of scenarios.
In-Game Analysis
         One truly fascinating skill of Watkins is how he is able to exploit space in between defenders and in the box. Although not the tallest striker at 5'11, Watkins is quite good at scoring headers. He may not be capable of winning duels over many aerially dominant central defenders, so instead Watkins decides to optimize his chances of scoring off aerial opportunities with intelligent position and well-timed anticipation.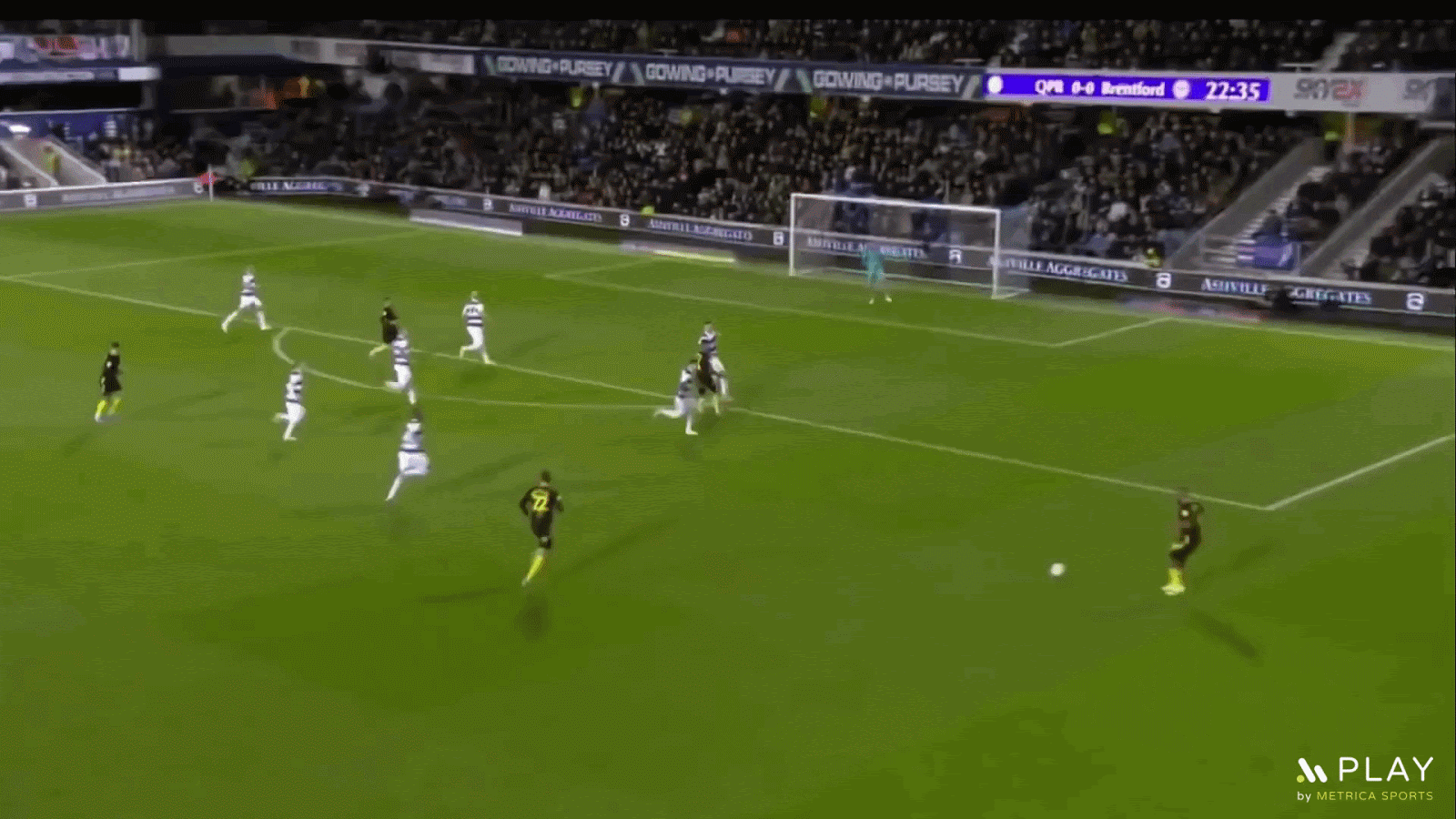 When in possession, Watkins allows his team to more easily break down low block systems with this his positioning and heading ability. When space is allowed to the wide playmakers, he gives his team the ability to capitalize on well-placed crosses with the ability to anticipate and score off headers well. This is a frequent occurrence in his successful campaign last season. The example below reiterates this same idea, except in transition from a cross accomplished with much difficulty.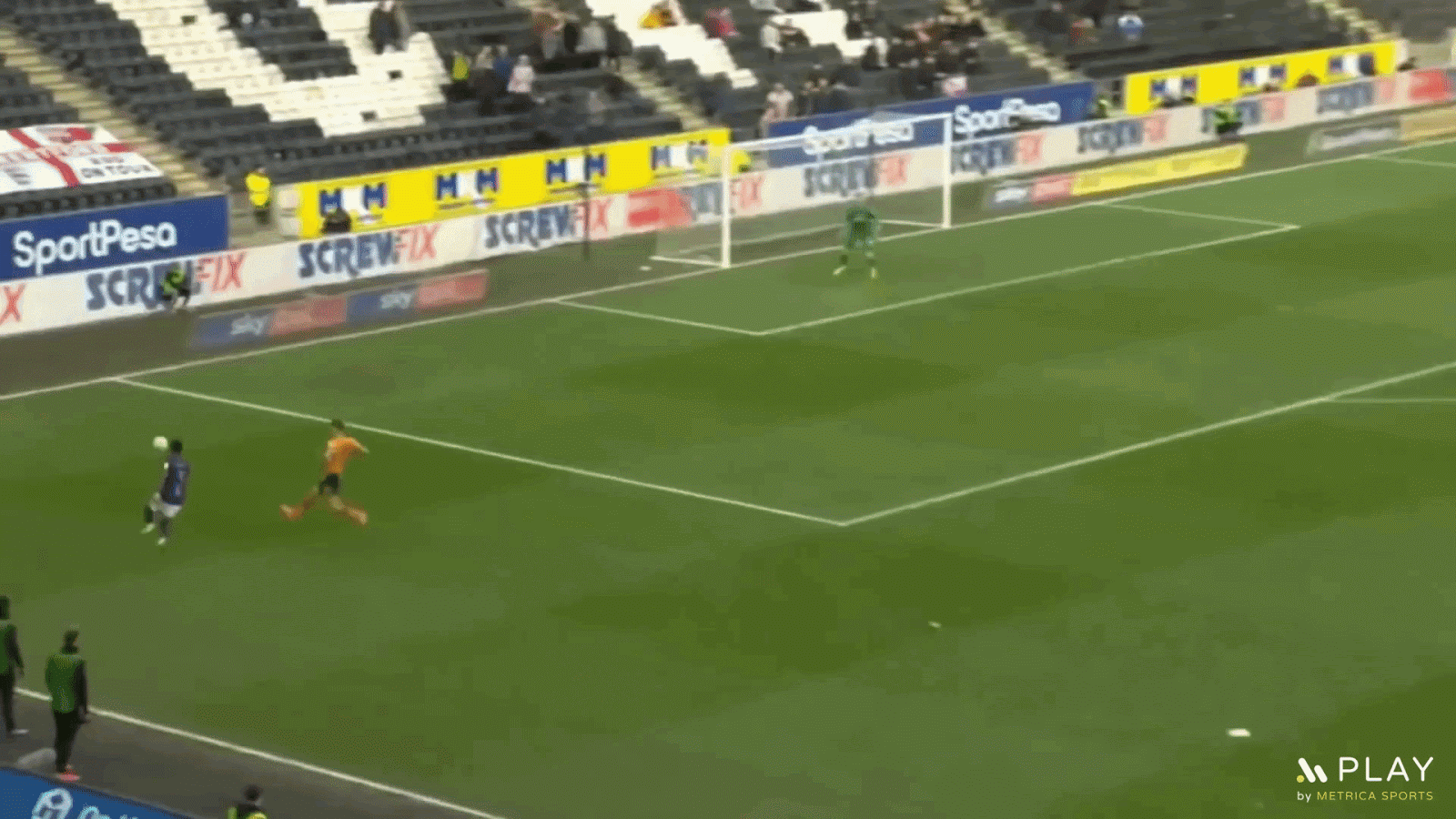 The winger receives the ball wide in transition to counter on their opponent. In the same moment, Watkins sees the open space in the box as the winger looks to cross the ball, Watkins adjusts his run entirely while watching the ball to anticipate its arrival. While the defenders are recovering his positioning remains in the seams of the defensive line and moves to attack the ball in a calculated motion, while the defenders are unable to contest the attempt.
Although crucial, Watkins positioning serves more than just an outlet for goal scoring basic finishes. His fundamental purpose of scoring goals is very much an area of strength and was further established in his first campaign at striker, last season. His finishes in a variety of ways, the example below highlighting his involvement to influence the build-up and get on the end of passing sequences to score.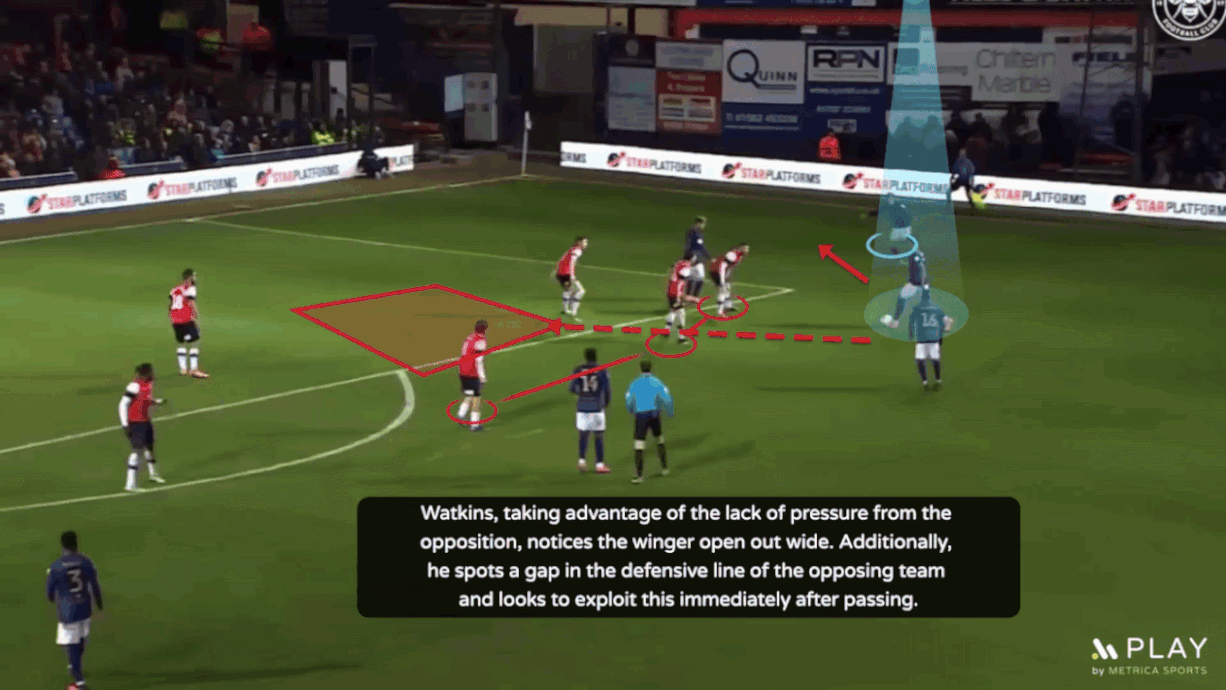 Dropping deep to get involved in the play, Watkins is constantly looking for opportunities to get involved. In this example, what's key is him leveraging both this level of comfort and skill on the ball with his striker's instinct. He recognizes the gaps in the defense, while capable of laying off the ball to make a well-timed and direct run into the box. Furthermore, he finishes in excellent fashion, a first time driven shot into the bottom corner. 
One of Watkins' greatest areas of strength is his run-making. He is effectively able to stretch back lines of defense both vertically and across the width with various run patterns. In this example, we observe a more traditional run made to exploit a high line, ended with a very spectacular finish.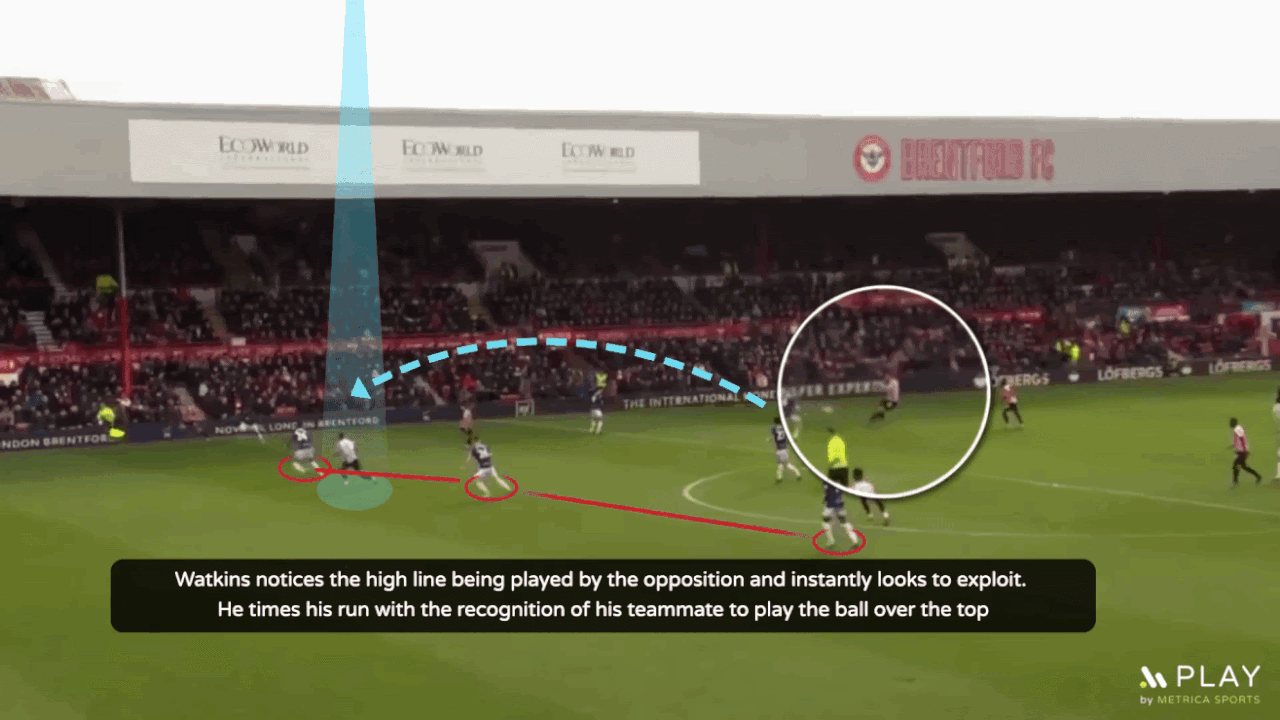 Watkins once again starts in a position between defenders of the defense in the right half-space. He looks to play off the shoulder of the final defender and get in behind as minimal pressure is placed on the teammate looking to play the ball over the top.
He receives the ball after a well-timed run however, his touch off his chest drags the ball slightly wide allowing recovery for the defenders. In which case, Watkins decides to go for the spectacular and hit a volley with immaculate technique, swerving into the top right of the goal with pace to beat any keeper. However, Watkins is not special in this regard solely because of the traditional capabilities to time his runs well and exploit high lines. This once again reflects back to his development as a player thanks to his deployment on both wings.
For this reason, Watkins is very comfortable in positions all across the final third, and as highlighted in the graphics above, often moves to receive passes all over these areas. This makes for a nightmare for defenders as marking Watkins becomes a tall task, requiring high levels of communication and coordination for a cohesive backline.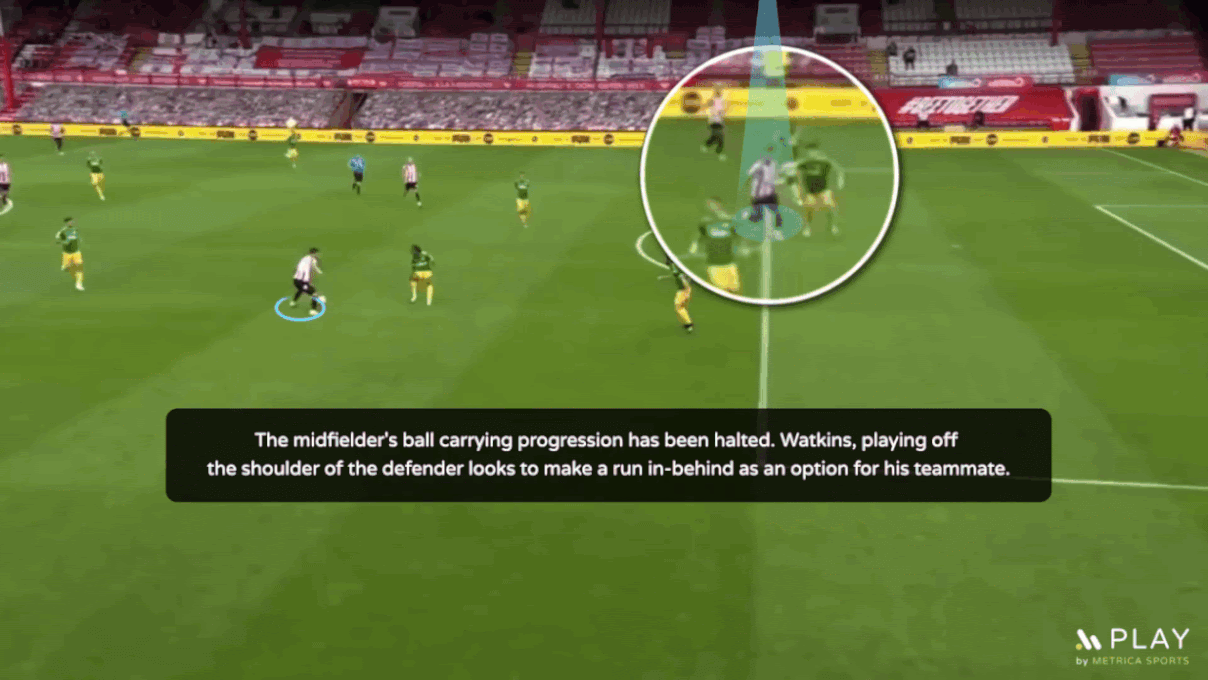 As we see in the example, the entire period the midfielder is carrying the ball, Watkins is watching the for his moment in anticipation of getting in behind. He makes an inward run from the wider position into the box, and throughout this process, he drags the defender all the way from the left side to the right. Even with the sustained pressure of the defender continuing his recovery, Watkins still was able to connect well with the pass for a well-struck volley to score.
Building on this idea of how versatile his threat is, we reach our final example where Watkins becomes the goal provider. Leveraging his skill to run with the ball Watkins creates a goal for his team almost from nothing.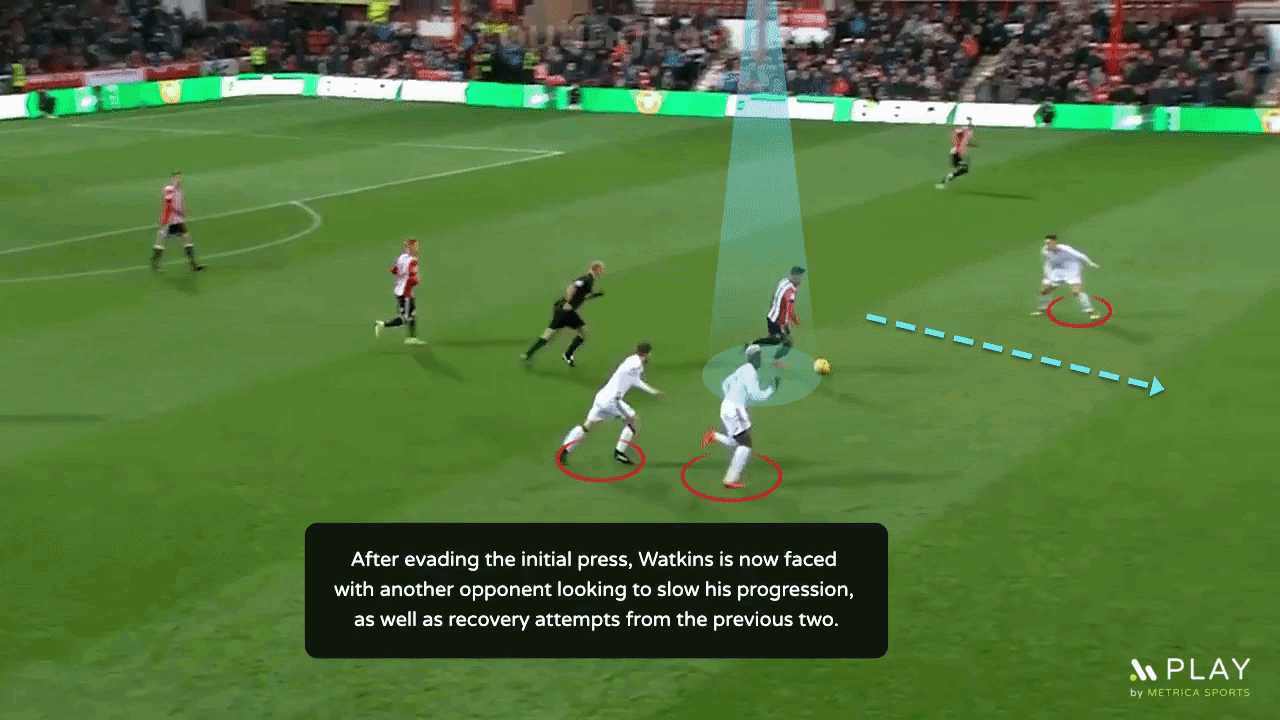 Receiving the ball deep in his own half, evading pressure, and using his pace and strength to resist many defenders and continue progressing the ball, Watkins is able to progress the ball between the lines and create disarray in the opposing team. Although his pass is a simple layoff in playing his winger in support, it's the impotence to quickly act on making a run into the box.
However, as mentioned previously we see in this circumstance Watkins is not on the end of the move. Instead, it is the run he's made to force defenders to mark him and push the line back allowing more room for his teammates to operate in, and ultimately scoring a goal in this sequence of play.  
While Watkins has many of the traditional fundamental skills critical for being a striker at the top level, interestingly enough, it's his unconventional skills and background which give him an advantageous position against defenders.
Watkins is extremely well-rounded; his patience and intelligence, ability to play within the team, comfort in a variety of positions across the final third, physical speed, strength, and skill on the ball, alongside a fundamental ability to score chances make him unique. All attributes and talents, which make him an asset to Villa in both capitalizing on scoring opportunities, as well as creating them.
Notable Metrics
This notion of being an asset to the team is further exemplified in the case of Watkins when looking into his underlying metrics. Naturally, it's reasonable to assume that a player who has many strengths and few weaknesses, would show up well across many categories, and this is true for Watkins. He scores well in a considerable number of categories, and even when he is not ranked highly among his peer central forwards, he usually maintains a middle of the pack position.
However, this is not to say Watkins is a perfect player. Moreover, the metrics are not definitive evidence that Watkins is the best at one thing or another. It is merely a supplemental tool, used to identify in which areas he has been statistically successful in thus far. That being said, we'll analyze where he has stood out so far this season among his peers in the Premier League.
The data was collected on players who have completed a minimum of seven 90-minute periods at primarily central forward positions, in an attempt to compare as many relevant players as possible with an acceptable sample size. We'll also look at where Watkins could statistically improve and/or where he may not be performing the best this season whether that be down to his own personal deficiencies or systemic reasons. As previously mentioned, he is not perfect, so it'll be important to analyze where he may falter as well.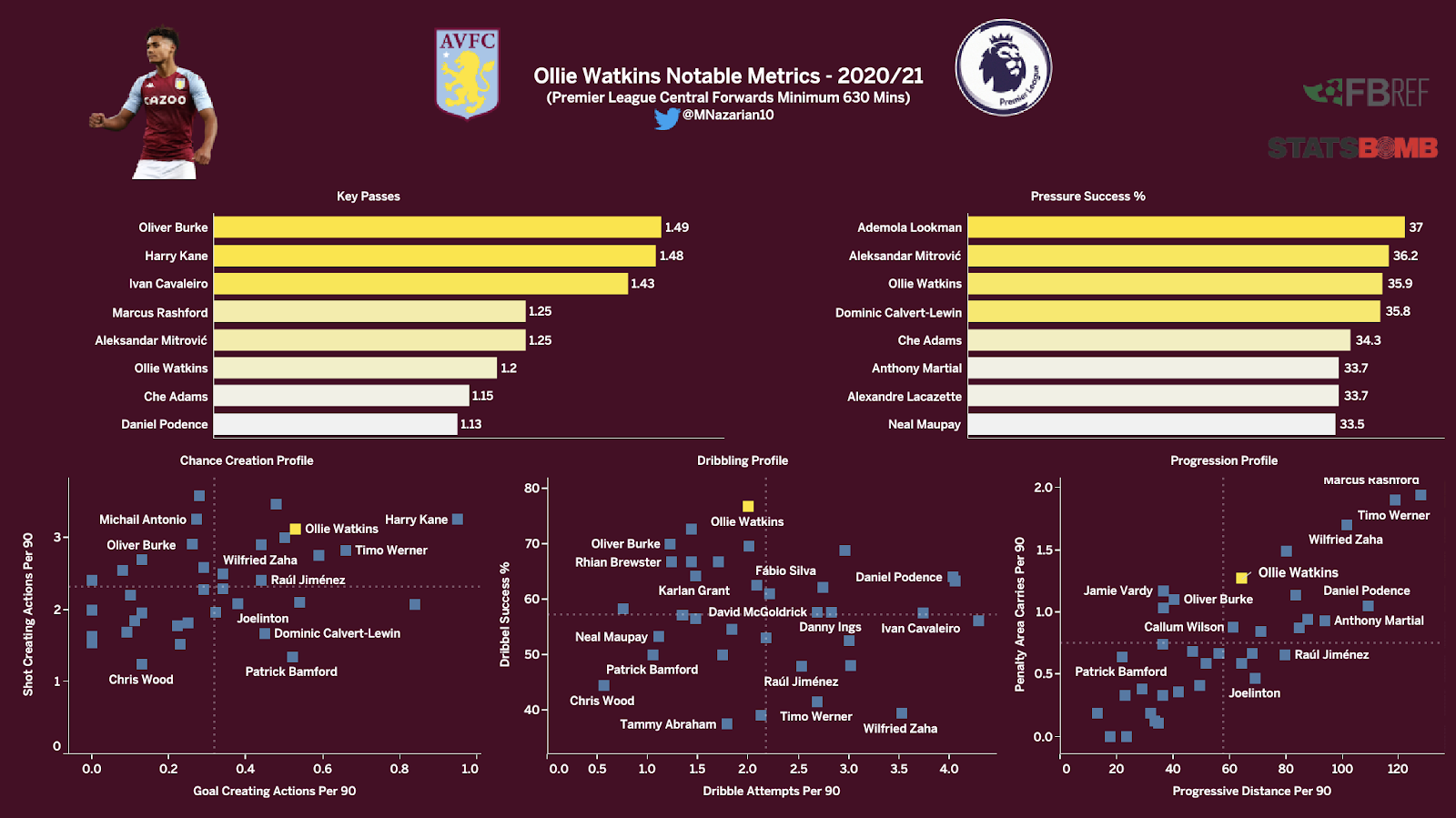 Beginning with the two charts, we see Watkins ranks among some of the best for central forwards in key passes per 90 and his pressing success rate. Neither should come as a surprise, as he is accustomed to taking a playmaker role and having more defensive responsibility when previously playing in winger roles.
Watkins most heavily presses in the final third as expected, and by having one of the highest success rates, this means he is efficient at helping his team win back possession when applying pressure to opponents in their half. On top of this, it's clear that many of the passes Watkins plays on the pitch result in a shot, showing he can improve his team's chance of scoring, not just his own.
Building on the theme of chance creation, we see in the far-left plot below, Watkins also ranks well in both shot-creating actions per 90 and goal creating actions per 90. These metrics include more than just passing, as they include dribbles and fouls which lead to shots and goals. As we can see Watkins is among the best in these categories, however, it is most important to note the company he is surrounded by.
With 3.13 shot-creating actions per 90, Watkins is among the likes of Marcus Rashford of Manchester United and Michail Antonio of West Ham United. In goal-creating actions, he scores 0.53 per 90 with Rashford once again similar at 0.50. In addition, Callum Wilson of Newcastle and Leeds' Patrick Bamford are most similar with 0.54 and 0.52 respectively.
Moving onto his ability on the ball, we have the plot to display dribble attempts and success rate. Although slightly below average with 2 dribbling attempts per 90, Watkins actually ranks as the most successful dribbler among this sample of players at 76.70%. As emphasized numerous times, this is likely a result of his comfort on the ball having originated as a winger, nonetheless, it is a very impressive score. Here he is similar to Roberto Firmino (2.01) and Fabio Silva (2.08) in attempts, while only Jamie Vardy is remotely close in success rate, with 72.70%.
Finally, his ability on the ball also translates into how he can progress it. While just outperforming the average progressive distance, he carries the ball per 90, he scores higher in the number of times he carries the ball into the opposition box per 90. We notice a fairly linear trend in this plot, as can be expected, with not too many players near Watkins' data point. Callum Wilson and Harry Kane are closest in the progressive distance at 61.4 yards and 68 yards compared to Watkins's 64.3 yards, while Jamie Vardy is closest for penalty carries per 90 with 1.17 to Watkins's 1.27 per 90.
However, there are a few areas to examine in Watkins' underlying metrics. Therefore, we'll dive into a radar with 5 different data points to analyze. Certain data points will be included to highlight a deficiency in another, while others will represent either a deficiency or area of improvement itself. As previously mentioned, a caveat with some of these metrics is that they may be artificially low as a result of a systemic reason rather than Watkins' own inability.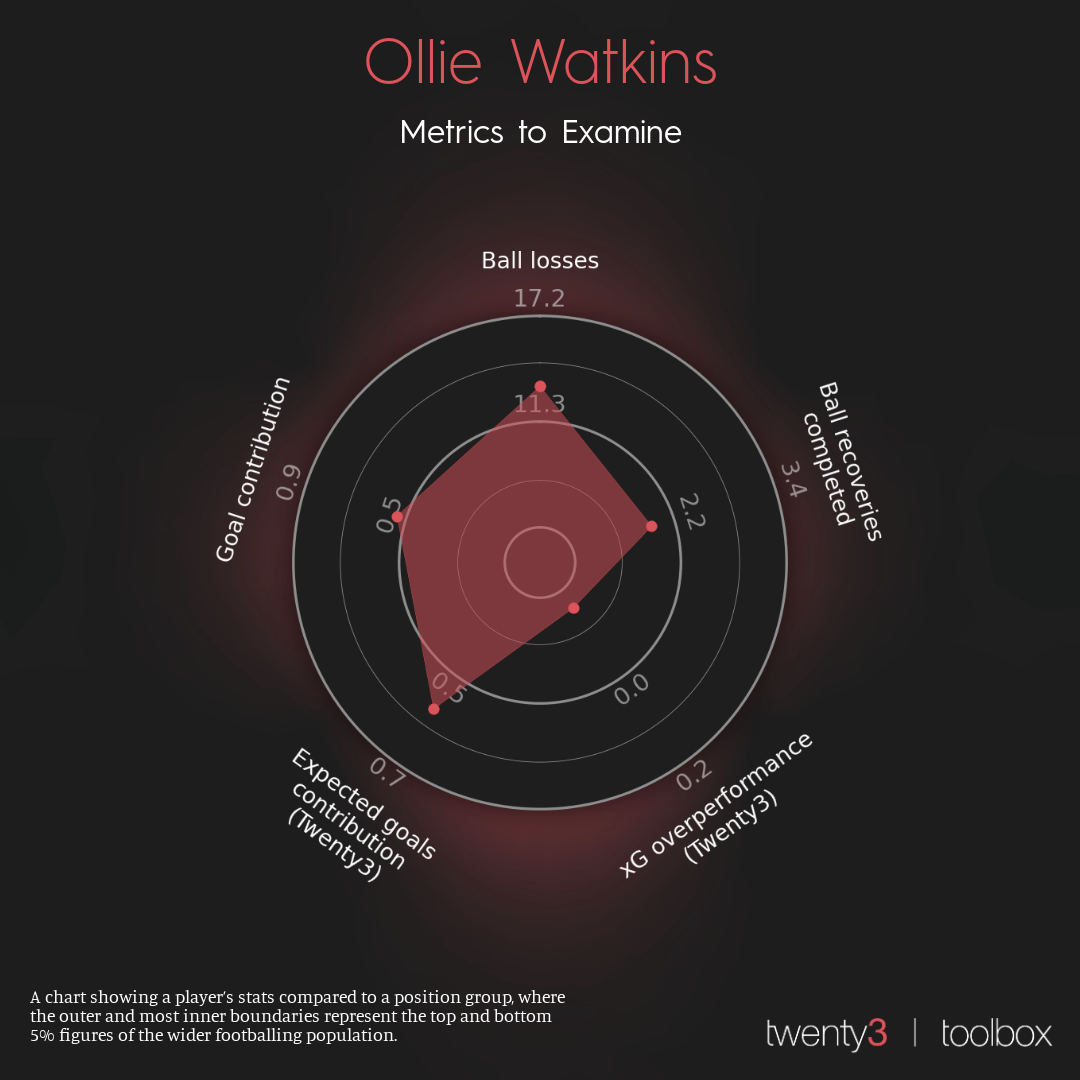 Photo: Twenty3/Wyscout
Beginning with ball losses, we see that this statistic is surprisingly high for one of the best dribblers among forwards in the league. However, outside of dribble attempts, Watkins does tend to lose the ball more often than would be expected with 2.94 miscontrols per 90 and 1.81 times dispossessed per 90. In these metrics, it's possible Watkins could develop to be more calculated when receiving the ball and more risk-averse for how much he shows the ball to the opposition. 
Next, his ball recovery figures are also quite low. We saw in his heat map that Watkins's actions are almost entirely in the opposition half, so it's likely this deficiency is system related. Villa are strong in transition, and with Grealish being an effective outlet and ball carrier, it's likely Watkins is tasked to stay up high rather than recover in order to enhance chances of scoring on the break. This can be done in a couple of ways as we saw earlier through Watkins' runs to get on the end of a sequence and score, or merely just to create space for others to operate.
Expected goals contribution, goal contributions, and xG overperformance are all included to highlight the same general idea. Watkins is just on par with his expected assists this season with 2 assists from an xA of 1.7. However, his goals minus expected goals is joint second-worst in the entire league among all players. Alongside Burnley's Chris Wood, Watkins has been undergoing so far, an underperformance in finishing by about 3 goals. 
Although he has registered 6 goals in the league this season, his xG of 9 is the joint 4th highest in the league with Bruno Fernandes who actually has scored 11 in the league. On top of this, his non-penalty expected goals is joint 4th in the league alongside Harry Kane who has scored double Watkins' goals in the league this season, all while having 3 fewer games played than the rest of the league.
Coincided with his numbers last season, Watkins scored 26 goals with an xG of 25.11. This is slightly above his expectations showing that his current drought is likely due to a drop in form rather than a poor ability to finish. However, it is important to note it's possible the adaptation to a new league may have played a role in this drop-off.
Ultimately, Watkins has many stats where he is numerically superior to many of the league's forwards. He's shown to be more than just a striker who scores goals as well and his confidence and capabilities on the ball open many more doors for the way Villa chooses to attack. However, if Watkins is able to iron out his efficiency with the ball, as well as return to the finishing form he found in the Championship, there's no doubt he will elevate his game to among the best strikers in the league.
Conclusion
Dean's Smith's Aston Villa have enjoyed a fruitful first half of the 2020/21 season, with possibilities of battling for a spot in Europe for next season. Much of this began success was seen in the tactical adjustments from the tail end of last season. However, undeniably the excellent scouting and recruitment of the club made valuable acquisitions in the transfer market, with Ollie Watkins being one of the additions.
After his lucrative campaign for Brentford in his first season at striker, Watkins's output was deemed by Villa as worthy of their record transfer fee for any player. The transfer was extremely sensible for what Villa wanted from their attack. With both Brentford and Villa being strong in transition with their respective primary playmakers, it's no surprise Watkins would fit well, having already been successful in this concept before.
Watkins is most unique as a player as a result of how talented he is at many things. He can be versatile in this sense and fits nicely in a variety of tactical setups due to his experience across all positions in the front three of a team. Through this, his attacking threat is emphasized, and he's also capable of scoring a variety of goals. He's shown to be a provider to his team through directly assisting or creating space with his runs and movement, and he's statistically strong across various categories, emphasizing his skilled profile.
Both Villa and Watkins have benefitted from the transfer, and Watkins continues to grow as a player, refining further details of his game. With the only true criticism being his slump in finishing form, further time to adapt to the intensity of the Premier League will show Watkins to continue to impress as a player.
By: Michael Nazarian
Featured Image: @GabFoligno / Marc Atkins – Getty Images