Player Analysis: Pervis Estupiñán
It has been quite the rapid rise for Pervis Estupiñán. Born in Esmeraldas, Ecuador, Estupiñán joined LDU Quito's academy at the age of 13, and made his professional debut shortly after his 17th birthday. After a breakthrough season that saw him earn a spot in the Best XI of the 2015 Ecuadorian Serie A season and impress in the FIFA U-17 World Cup, he joined Watford on July 29, 2016.
From there, he was loaned to a wide variety of Spanish clubs: joining Granada, Almería, Mallorca, and then Osasuna. It was here in Pamplona that Estupiñán established himself as one of the best left backs in Spain, bombarding down Osasuna's left flank and registering one goal and five assists.
He became a regular under Jagoba Arrasate, dazzling with his tireless energy and desire to win every loose ball. More than that, it was his technical ability and the final product that caught everyone's eye. With just one year left on his contract, he demanded a transfer away from Watford, who had been relegated to the Championship on the final day of the season.
Villarreal came calling, with the Yellow Submarine in desperate need of a left back following Alberto Moreno's season-ending ACL rupture in preseason. Despite the fact that he had never even made his official debut for the Hornets, Watford earned £15 million for the player they had signed four years ago for pennies. Estupiñán has quickly benched Alfonso Pedraza and Jaume Costa, becoming a regular under Unai Emery.
Statistical Profile
Before moving to the in-game scenarios to see how Estupiñán handles a variety of scenarios, let's take a look at his statistical profile so that we have a better idea about his strengths, weaknesses and tendencies.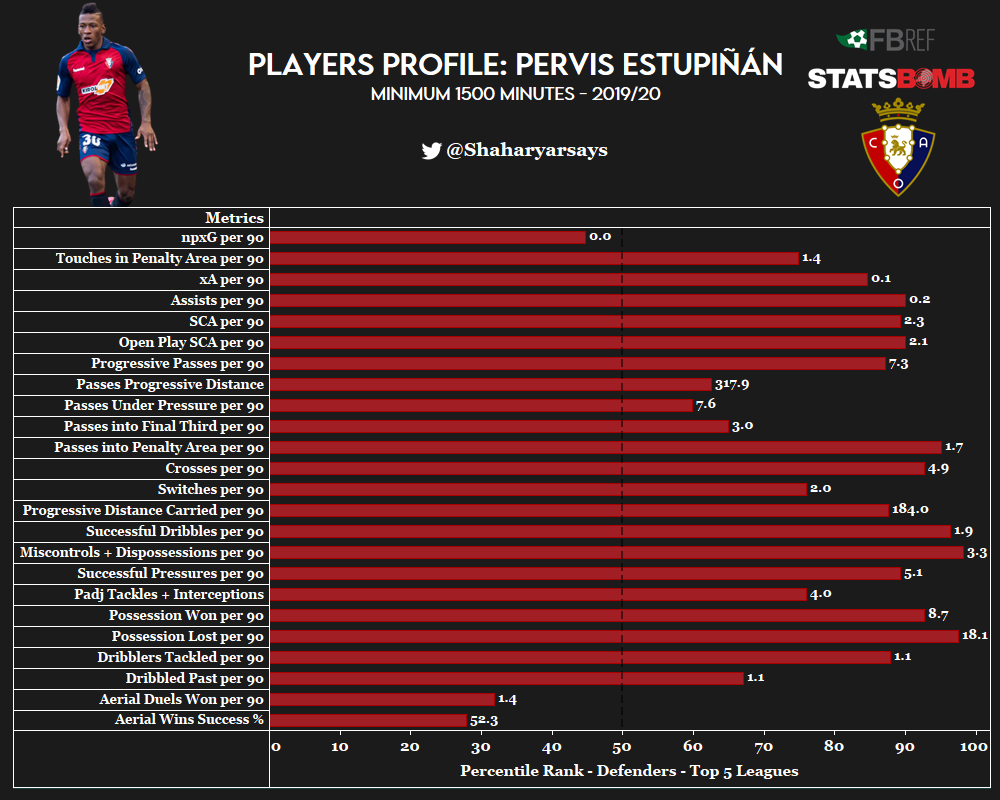 The first thing you notice from this chart is that Estupiñán is not just an attacking outlet; he also fares well in the defensive part of the game. His passing numbers seem to be a little low, but it's worth noting that center backs usually dominate passing stats amongst defenders, rather than full backs.
One of the potential weaknesses is the incredibly high numbers in possession loss and miscontrols. That could be due to his constant involvement in the attacking phases, but we will take a deeper look at it in the next section. Another expected weakness is in the air but it is quite common for modern fullbacks and not a deal breaker by any means.
Beyond that, Estupiñán shows up really well in crosses delivered, passes into the penalty area, dribblers tackled, ball progression, dribbles completed etc, which highlight that he is a high volume defender and loves to carry the ball and deliver crosses.
Since Estupiñán (rightfully) earned a lot of shouts for the best left back in LaLiga along with Sergio Reguilón, it feels natural to compare him to the Spanish youngster.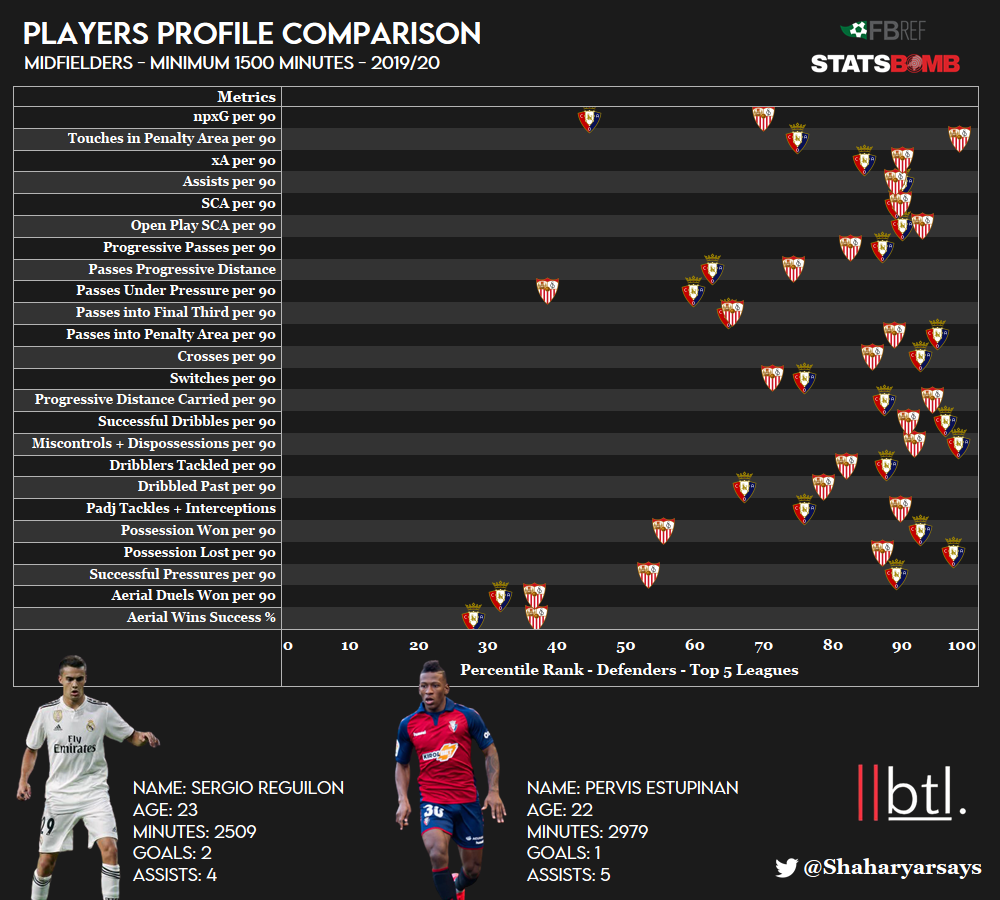 Although Reguilón shows better offensive stats (mostly due to Sevilla's heavy reliance on fullbacks), Estupiñán gets the better of him in 1v1 scenarios and excels in terms of volume of passing. Both fullbacks share some common traits like ball carrying, reliance on crosses and dribbling ability.
Another interesting aspect of this comparison is that Tottenham Hotspur were reportedly scouting Estupiñán before deciding to go for the Spanish fullback. With the likes of Barcelona, Manchester United and Atlético Madrid interested, it is quite remarkable that a Europa League team like Villarreal managed to sign him on a permanent deal.
Contribution with The Ball
Osasuna's preferred formation is a 4-4-2 and the fullbacks stay deep in the first phase. The midfielders in the pivot stagger themselves and the forwards provide depth while the wingers hug the touchline. Although Osasuna prefer to go long with their goal kicks, they use Estupiñán on a frequent basis to progress the ball.
When Estupiñán receives the ball deep, he has a pass available to the ball-sided midfielder and the winger (or wide midfielder) along the touchline. The Ecuadorian fullback does a great job of picking out the better option even when under pressure. Despite being a very competent dribbler, he prefers to pass his way out of pressure in deep areas instead of dribbling in the wider areas due to the risks attached with the latter.
In this example against Valencia, Estupiñán starts deep and the ball-sided midfielder (Darko Brašanac) moves towards him to offer a passing option. An infield pass is usually Estupiñán's preferred option, however, he can easily make a pass towards Rubén García on the touchline or choose Adrián López who is usually positioned between the lines (shadow marked here).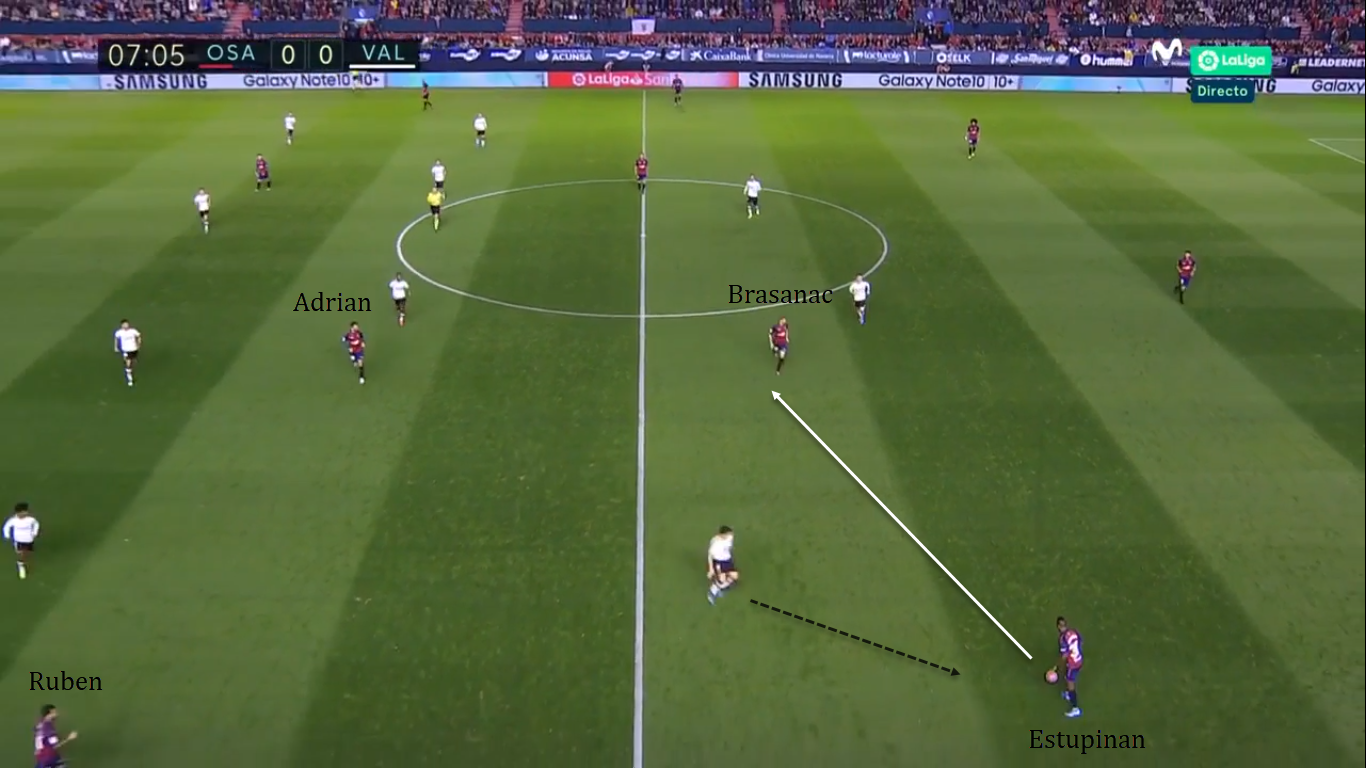 If no progressive passing options are available, Estupiñán can choose to carry the ball forward or simply recycle the possession with a simple back pass.
Estupiñán was vital to Osasuna for his ball progression skills. Not just because of his passes, but also due to his strong runs on and off the ball, which would often end with a threatening cross into the box. Estupiñán is not the fastest player out there but he has very good acceleration combined with a good upper body strength. This makes it harder for the opposition to push him off the ball. 
As seen from this graph, Estupiñán was the most important player for Osasuna for Ball Progression. Here, Total Progression indicates the sum of progression through passes and carries.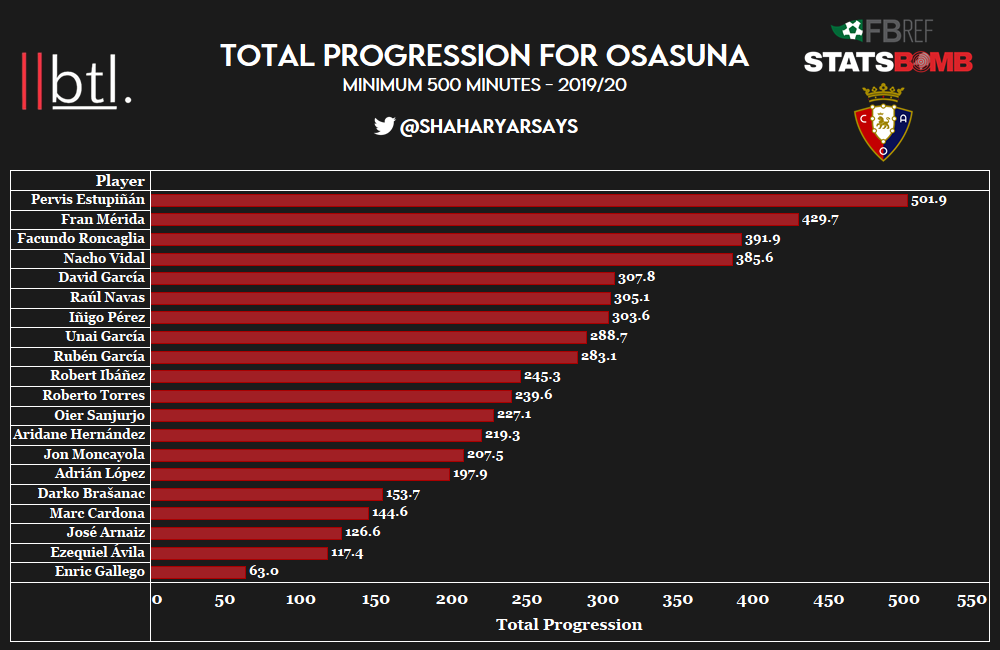 An interesting aspect of Estupiñán's game is that despite being a great attacking threat, he doesn't make blind runs into the final third. Osasuna usually attacks with a front five (four forwards and one of either fullbacks or midfielders), hence Estupiñán has to pick and choose his moments to make surging forward runs.
Admittedly, this is probably more of a tactical choice by Arrasate than Estupiñán's tendency, but it should be given some weightage when evaluating his attacking output. Usually, the cue for Estupiñán to make a forward run is when the Left-sided winger/midfielder moves infield, vacating the space to be attacked by the 22-year-old.
In this example against Celta Vigo, the winger Iñigo Pérez drops deep and drags the fullback with him. The ball drops for Estupiñán and he makes a surging run forward into space.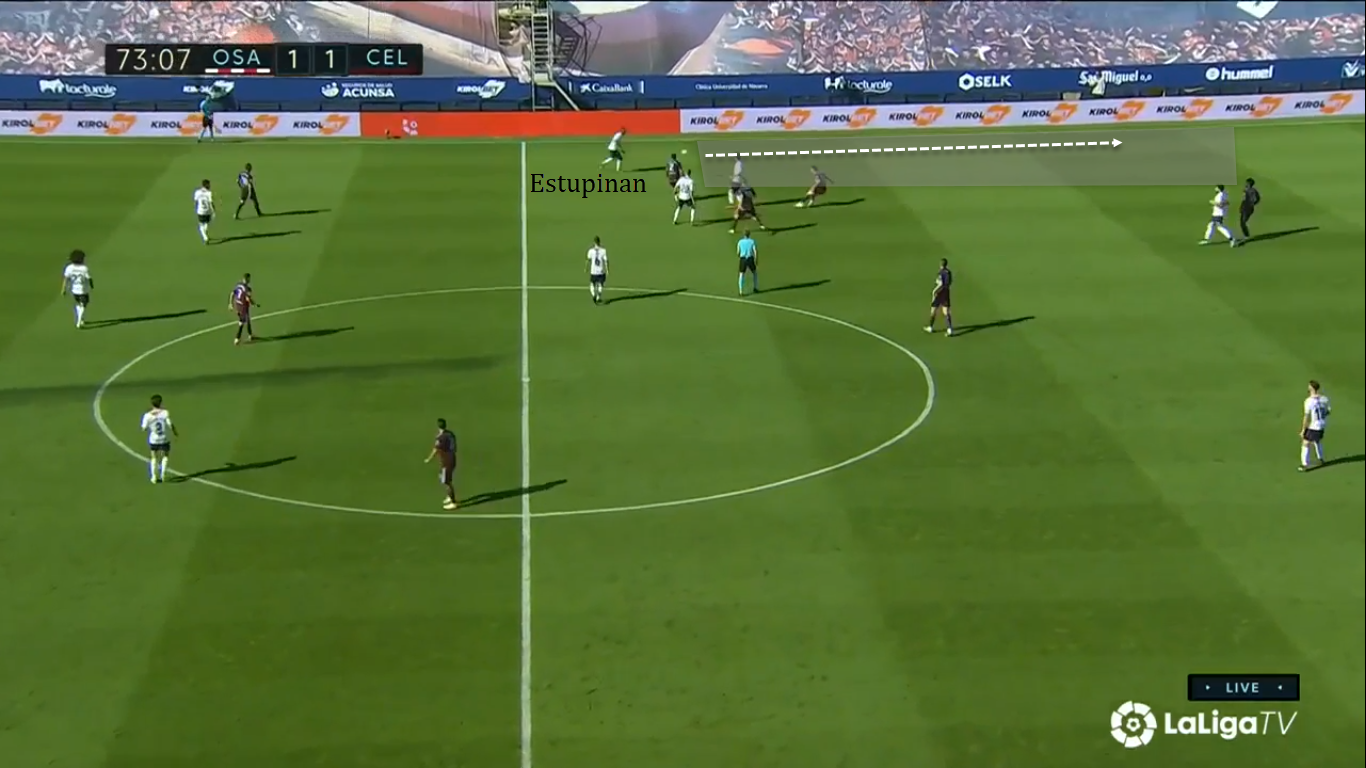 José Arnaiz makes an unmarked run at the edge of the box. Estupiñán manages to find him with a timely cutback. Arnaiz's shot is blocked and Roberto Torres forces a save from the keeper on the rebound.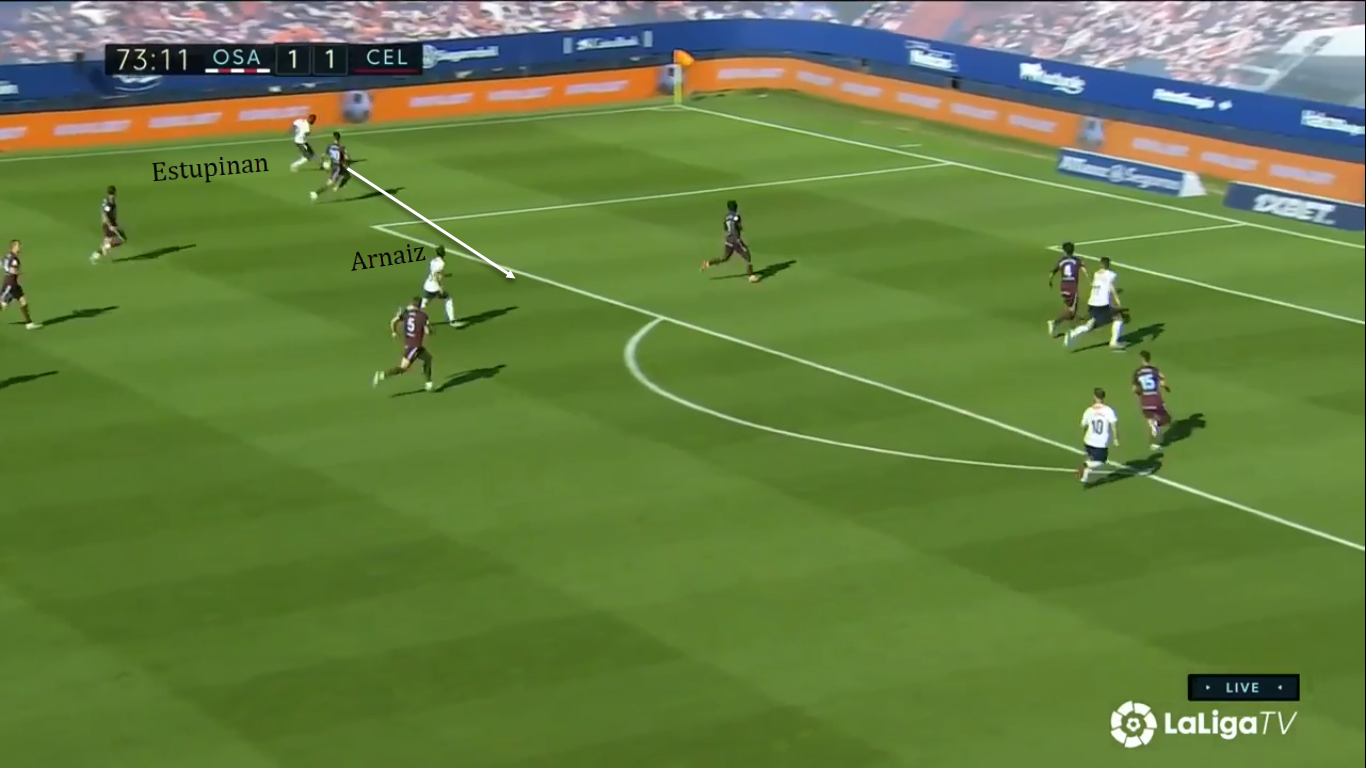 In the next example, Pérez moves infield. Now, the fullback (wingback in this case) doesn't get dragged out as Fran Beltrán presses him instead. Meanwhile, Adrián drops to position himself between the center back and the wingback. Adrián plays a third man pass into Pérez and drags the RCB with him.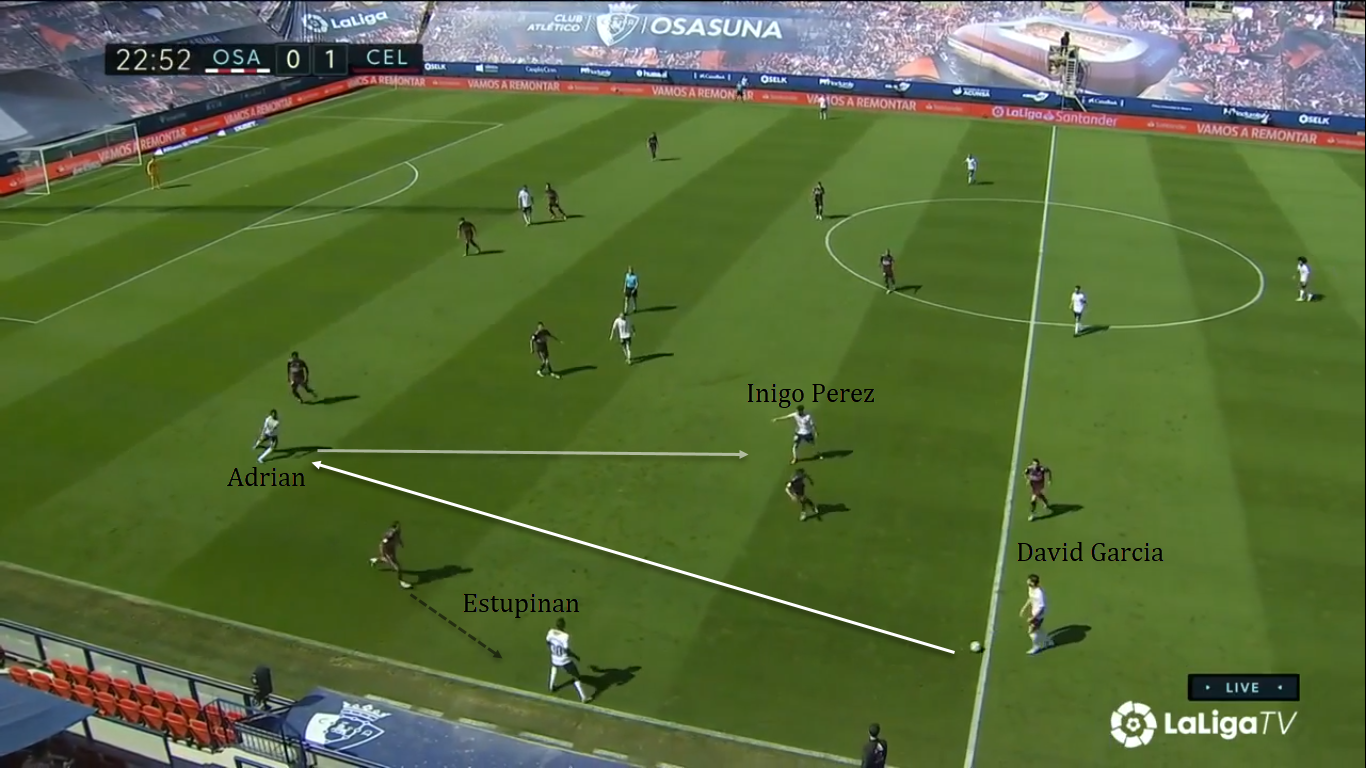 Pérez plays a first-time ball into Estupiñán's path, who delivers a brilliant first-time cross into the box for Enric Gallego, who levels the scoreline.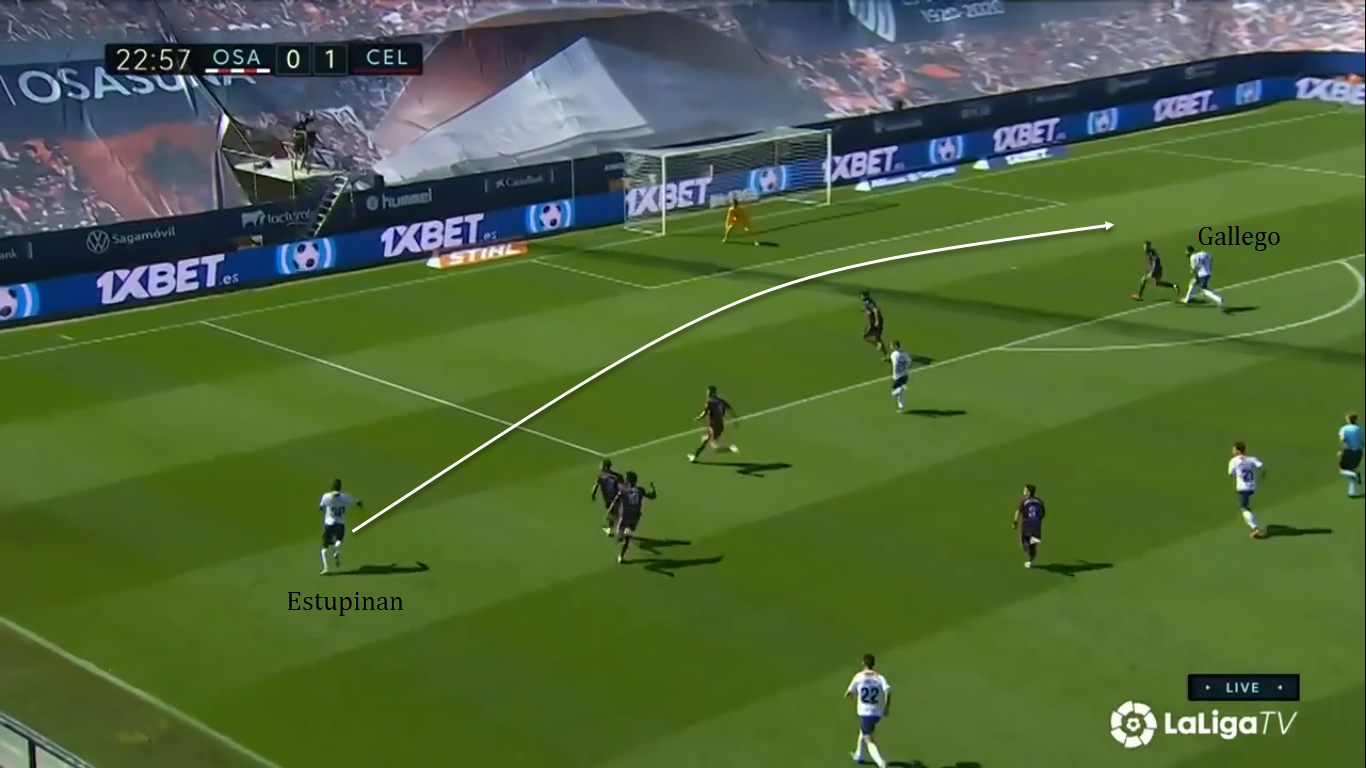 The key here was Estupiñán's awareness on when to make the run, as he waited for the wingback to get dragged before presenting himself as an option and then delivered a brilliant cross.
Estupiñán's strongest attribute has to be his vicious crossing ability. Not only is he able to deliver curling crosses into the box, his crosses often take a dangerous dip which makes it extremely hard for the defenders to deal with. Combine this with the flat trajectory of his crosses and his crossing technique deserves bundles of praise.
Another interesting aspect of his game is his ability to deliver threatening crosses from deeper areas. He can afford to do this due to the curl he gets on his deliveries. Also, the angle makes it harder to defend since the defenders cannot keep sight of their markers and the ball at the same time. Hence, there is always space to be attacked with some good movement inside the box.
Here, Estupiñán receives the ball inside his own half and gets some time on the ball while he attacks the vacant midfield region. He proceeds to deliver a cross towards Adrián at the far post. The Spanish forward gets a low shot on target which is saved by goalkeeper Iván Villar.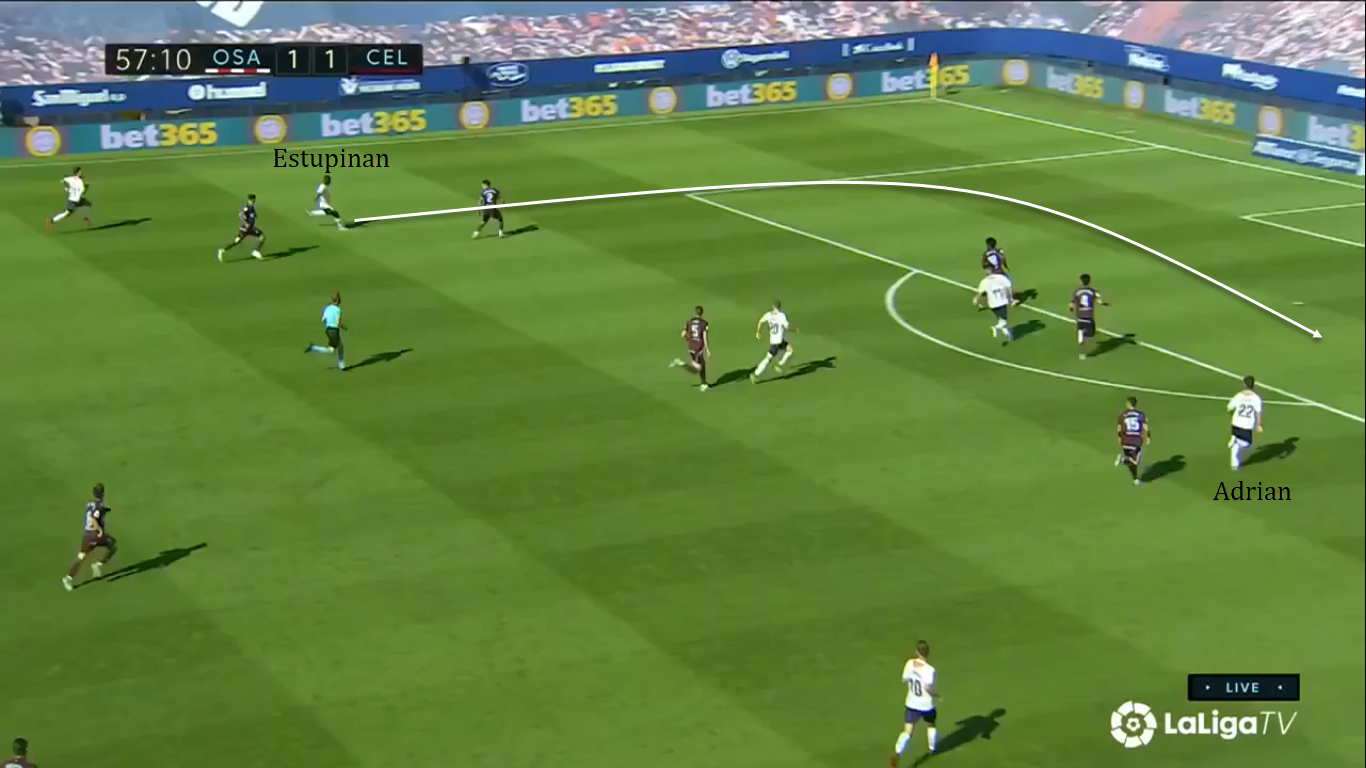 In this next sequence against Valencia, García drops and drags the fullback with him. This is a cue for Estupiñán to overlap and he immediately initiates his run. García plays a ball into his path with a first touch back-heel.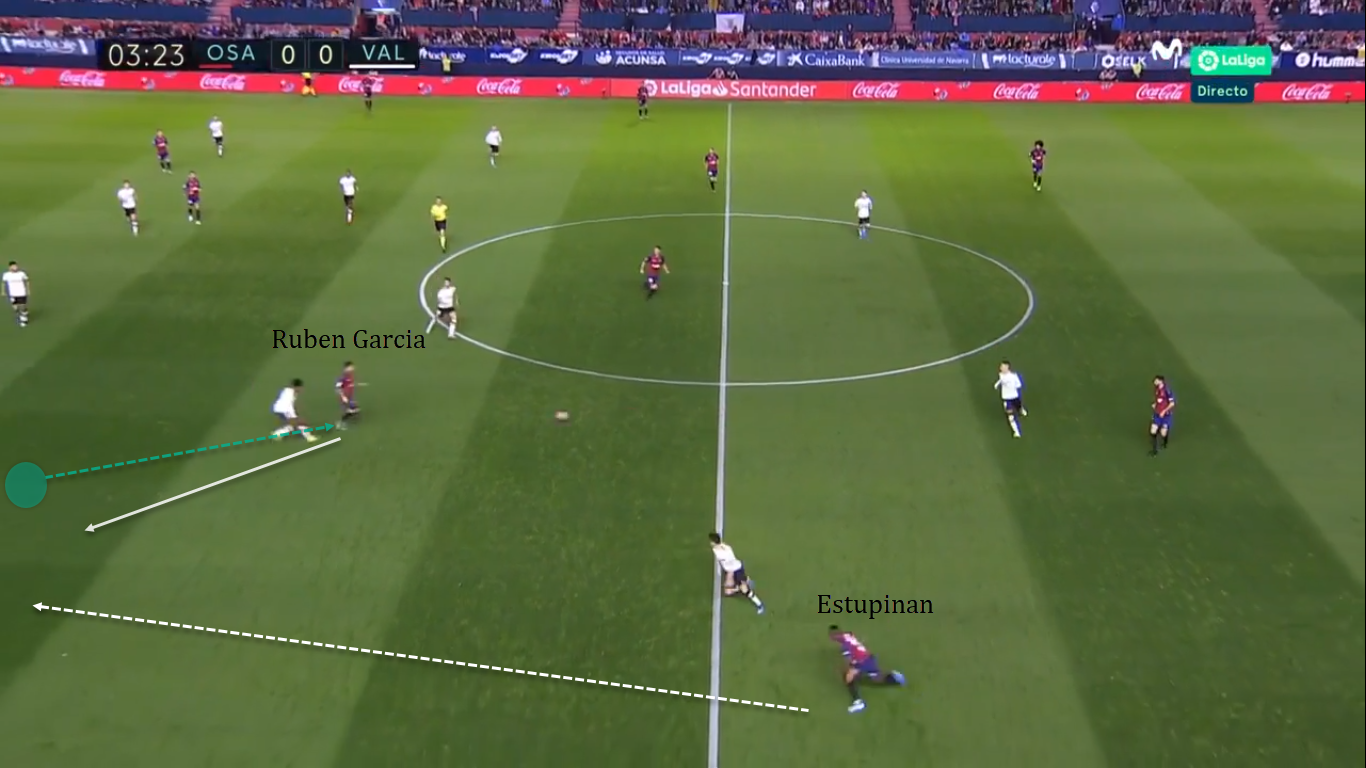 Estupiñán makes a blitzing run to meet the ball and then delivers an extremely dangerous deep cross into the box for Chimy Ávila. The cross was just beyond the Argentinian's reach, but Osasuna still manage to win a corner here.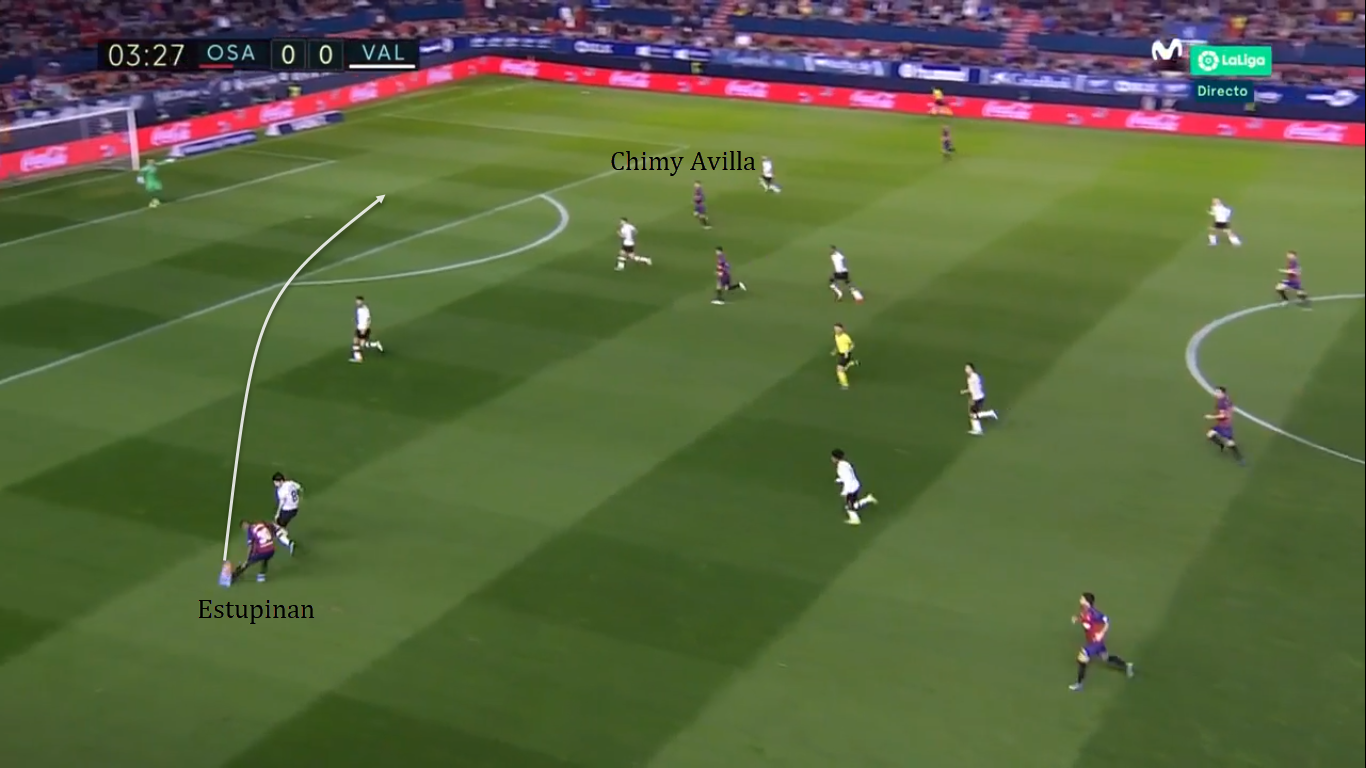 Estupiñán manages to unlock a new passing angle by using the outside of his foot to take opponents by surprise. He is also fairly comfortable on his right foot to be able to cut inside and deliver a dangerous cross or take a shot off his weaker foot. In fact, the only league goal he scored last season came off a brilliant shot from his right foot.
Here, the ball is crossed in from the right flank and the keeper gets a hand to it. The ball falls loose and Estupiñán hits it brilliantly with his right foot as it flies into the top right corner.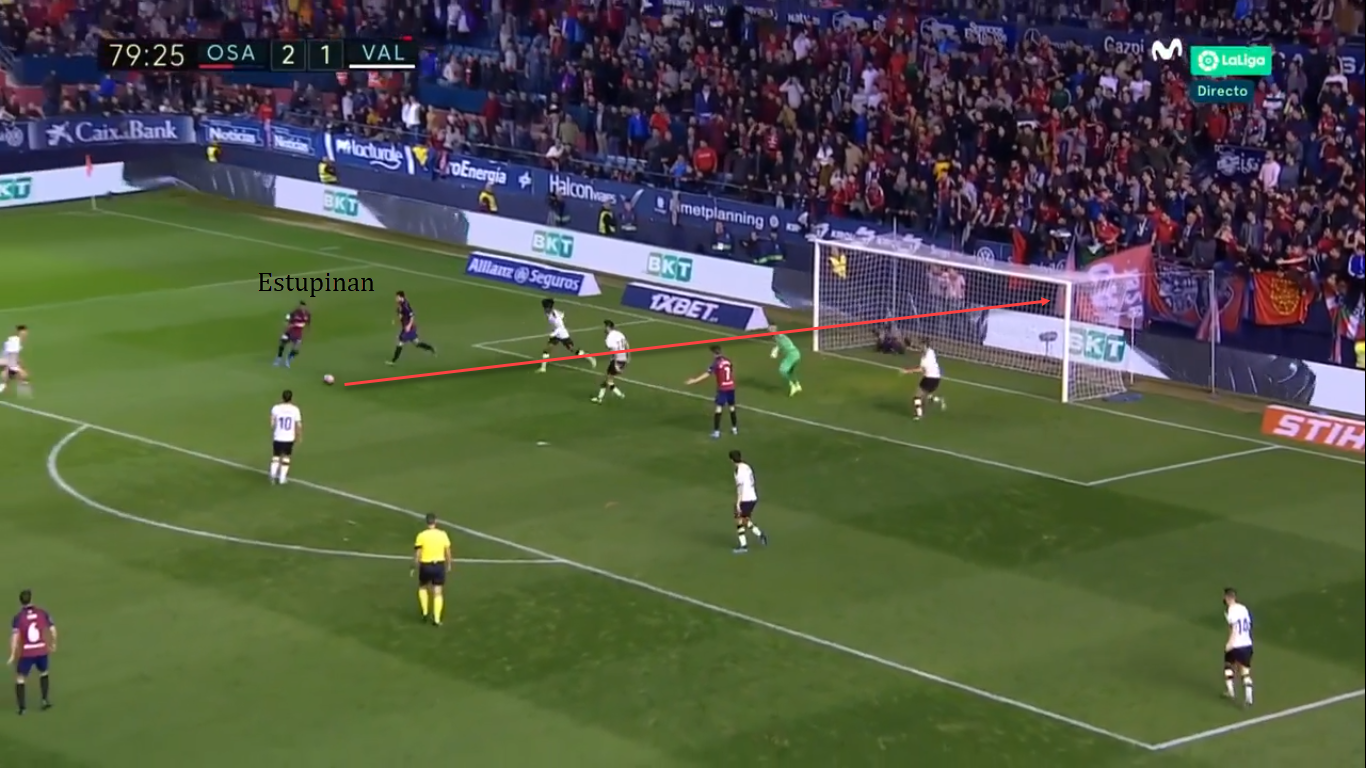 In terms of passing ability, Estupiñán is a mixed bag. In one run of the event, he would play sublime switches and then fail to make a simple pass in the next one.
It feels more of a concentration issue than a technical deficiency since the 22-year-old possesses brilliant first touch and technique in general, especially when he is afforded some time on the ball. However, he does not exhibit a brilliant passing range or the ability to make line-breaking passes on a regular basis. 
Defensive Profile
Estupiñán is a high-volume defender and he is proactive in his defensive approach. What this means is that he does not let go of any opportunity that invites him into a challenge.
The Ecuadorian is often quick to come out of his defensive line to challenge the wingers and win the balls quickly to initiate counter attacks. He is always aware of such opportunities, which is why he clocks a high number of interceptions.
In the next sequence vs. Sevilla, Jules Koundé delivers a pass into Lucas Ocampos but Estupiñán is alert and intercepts the ball to initiate a counter attack.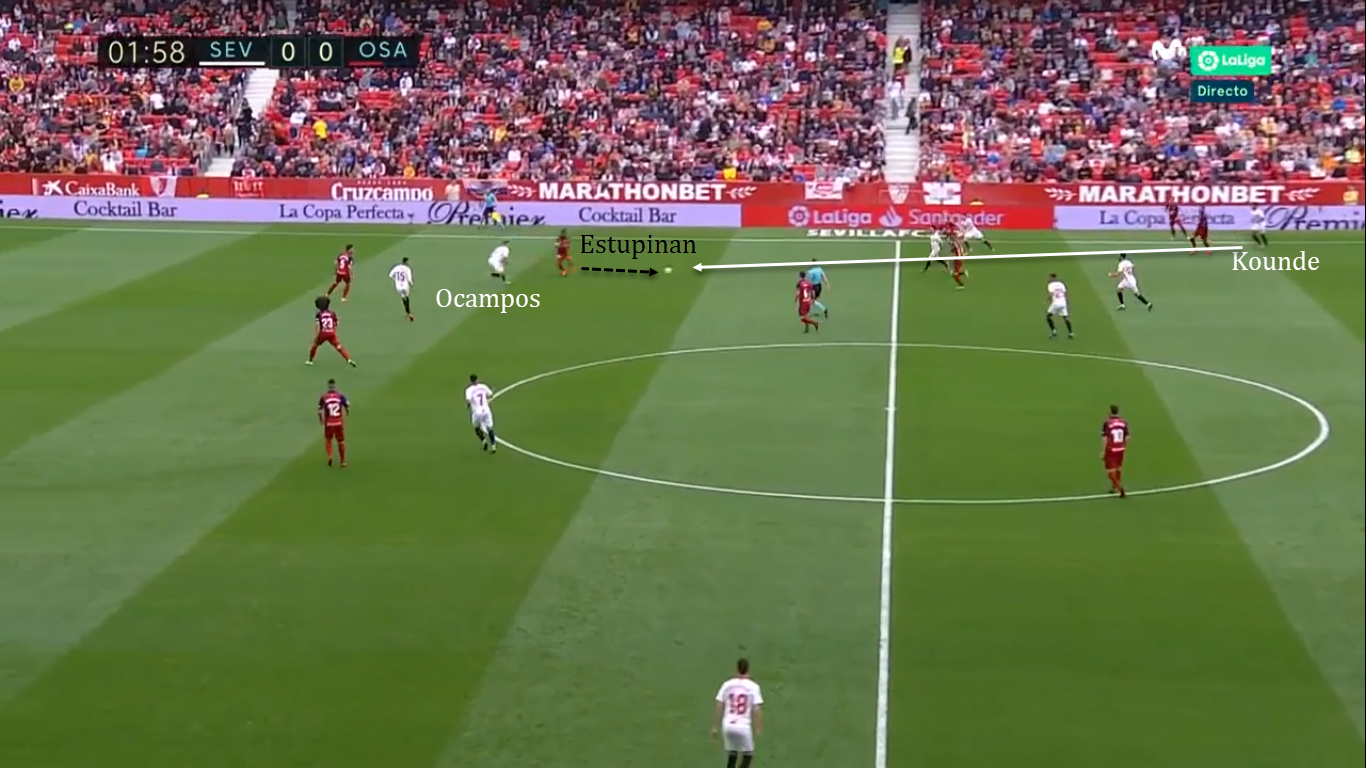 Estupiñán also shows great strength in his defensive action. Here, Ocampos drops deep to get on the ball but Estupiñán follows him closely and gives him a shove so that he loses his balance, although Ocampos manages to stay on his feet.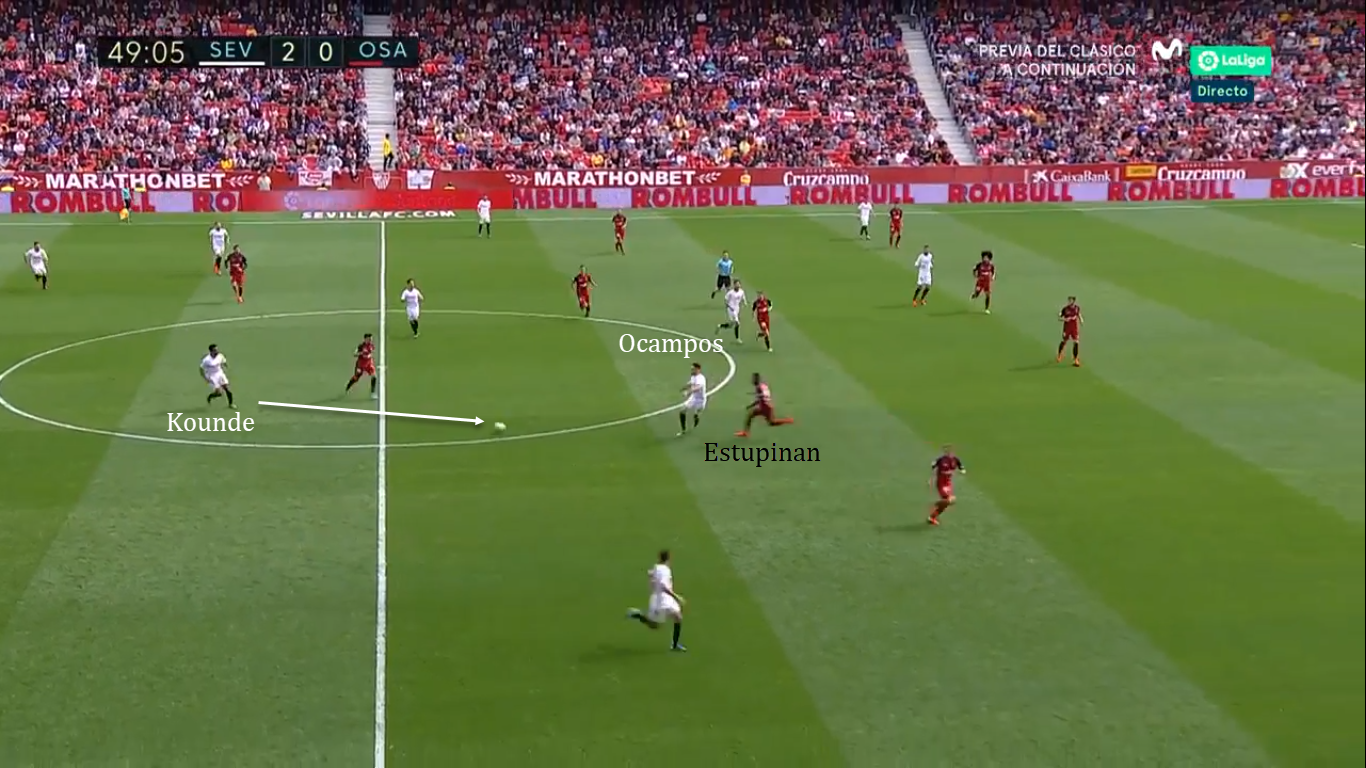 The Argentinian tries to trick him with a roulette but Estupiñán is focused and wins the possession with a tackle. This sparks Osasuna on a counter and this sequence ends with a dangerous shot from an Estupiñán cutback.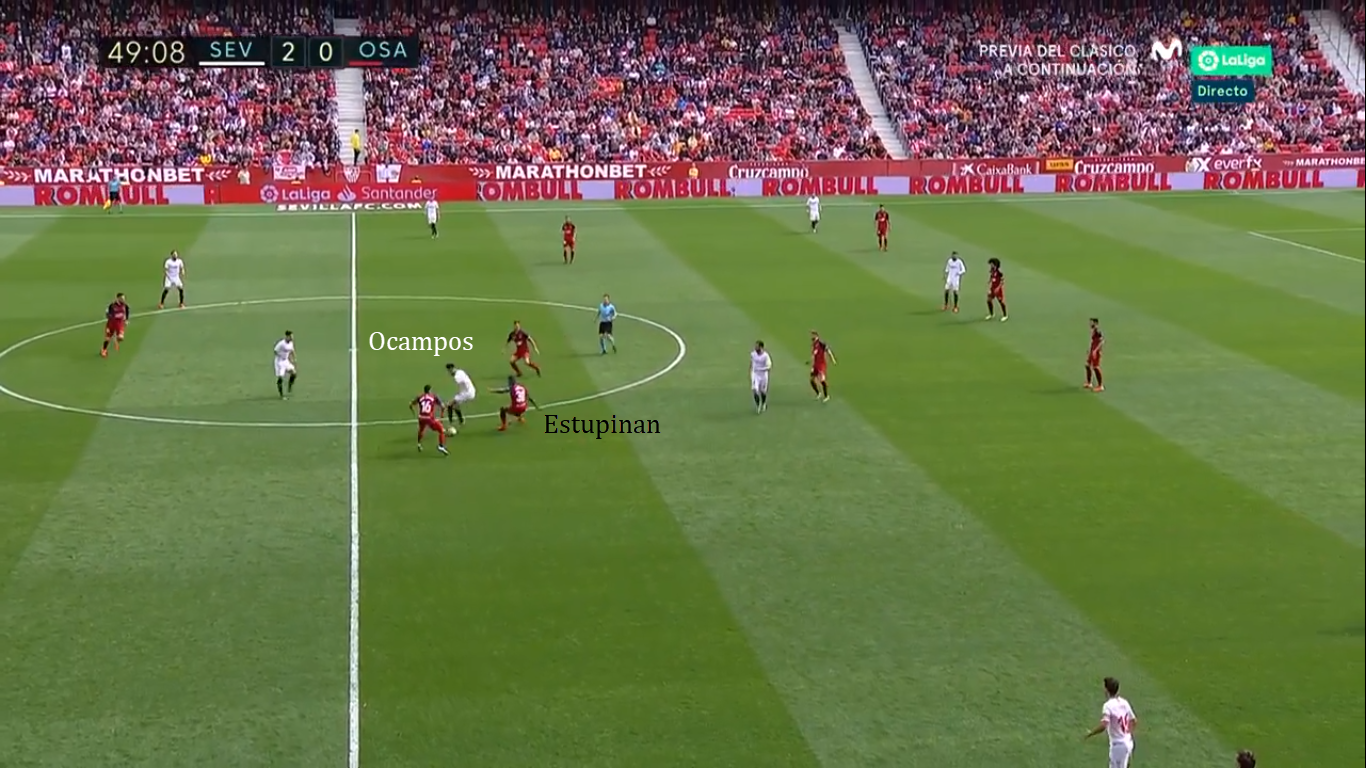 In order to maintain defensive solidity, Estupiñán very rarely presses high up on the pitch. He is usually in line with his defenders when the opposition is deep inside their own half. Due to this deep positioning, Estupiñán has to deal with a lot of 1v1s and he does extremely well in these scenarios.
In this example, Estupiñán is 1v1 against Hugo Mallo, who tries to cut inside. Estupiñán shields the ball and uses his strength to push Mallo off the ball. He then finds Iñigo Pérez with a simple pass.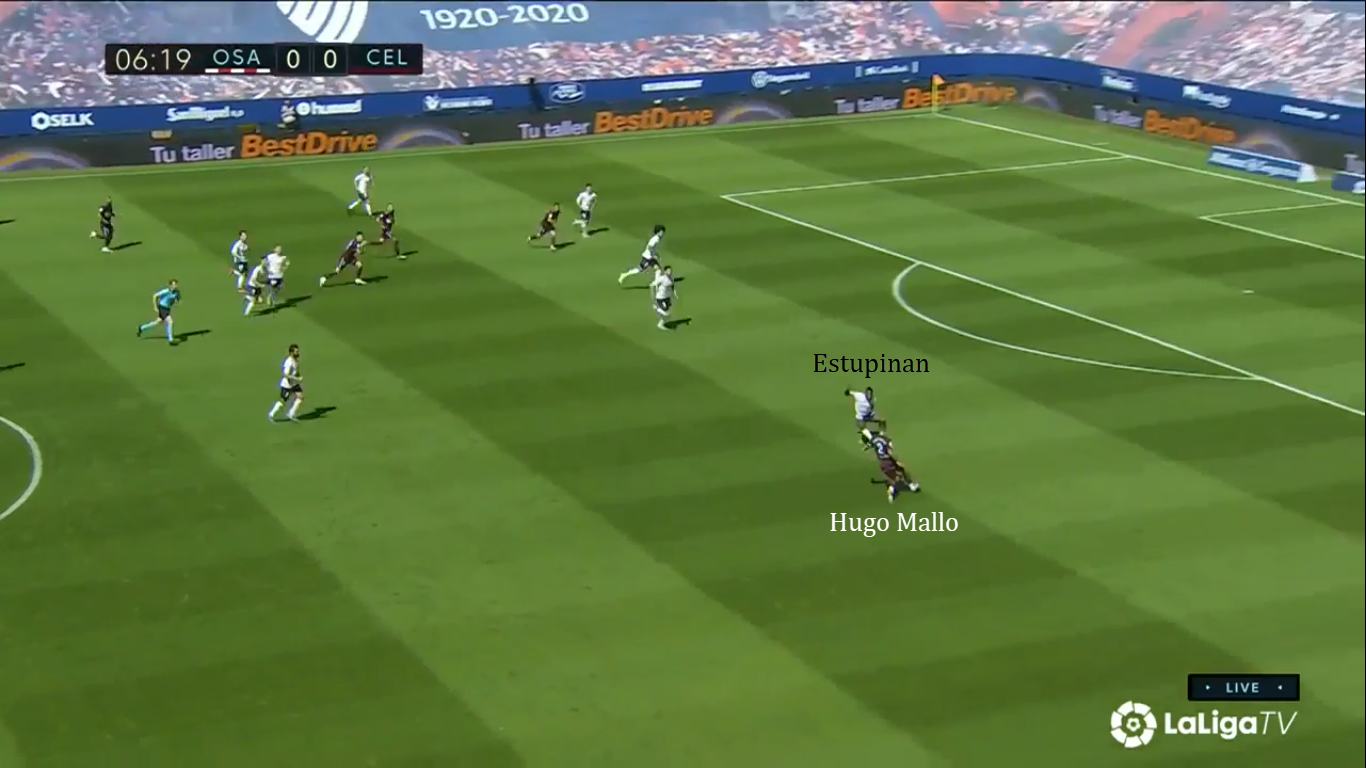 As mentioned before, Osasuna usually attacks in a 2-3-5 or 3-2-5 formation. This means that one of the fullbacks or midfielders join the front four. Hence, Estupiñán has to defend as an inverted fullback very often. This positioning helps him in dealing with counter attacks. 
Although Estupiñán doesn't have to track back very often due to his more defensive positioning, on the rare occasions that he has to, he can do that with ease due to his commendable recovery pace and strength. In this example against Valencia, Rodrigo Moreno receives the ball in front of Estupiñán and runs at the Osasuna defense.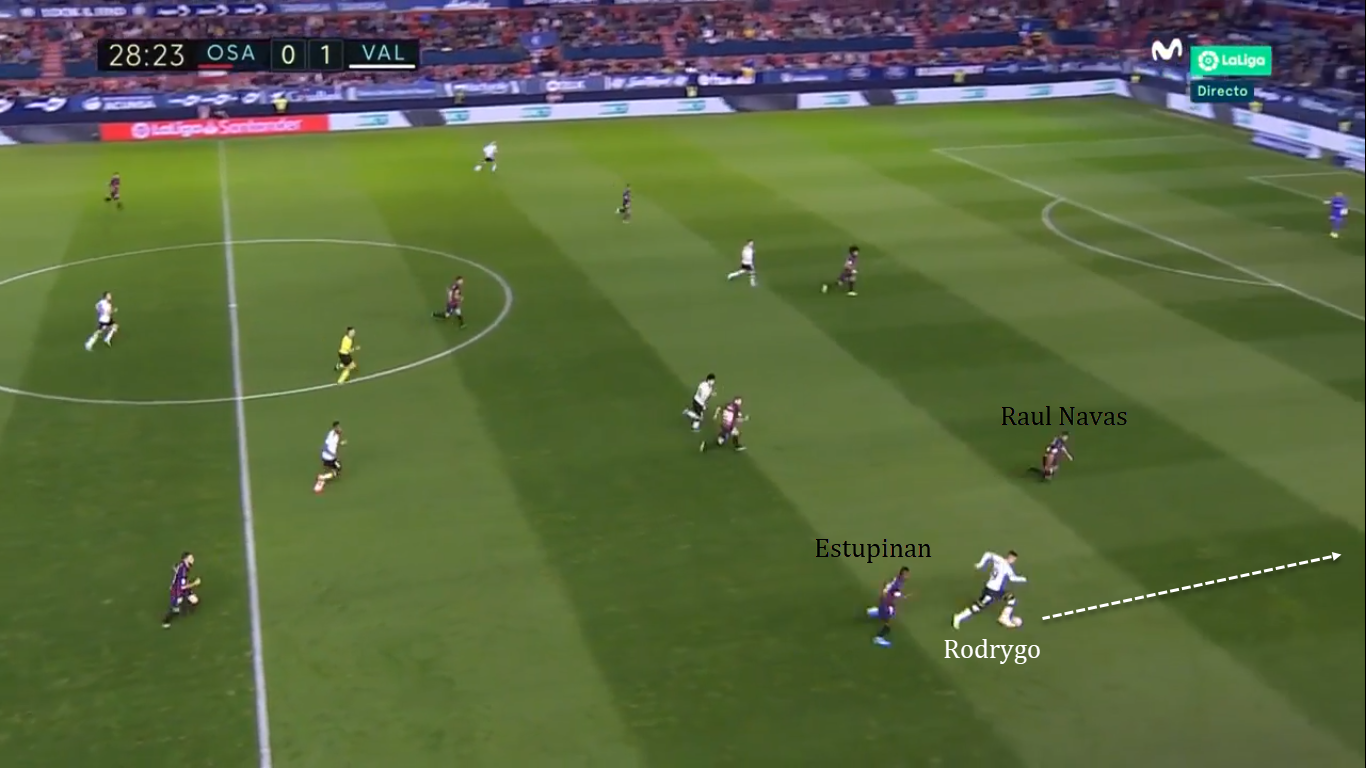 He manages to get past Raúl Navas with ease but Estupiñán catches up with him and knocks the ball away from him for a throw in.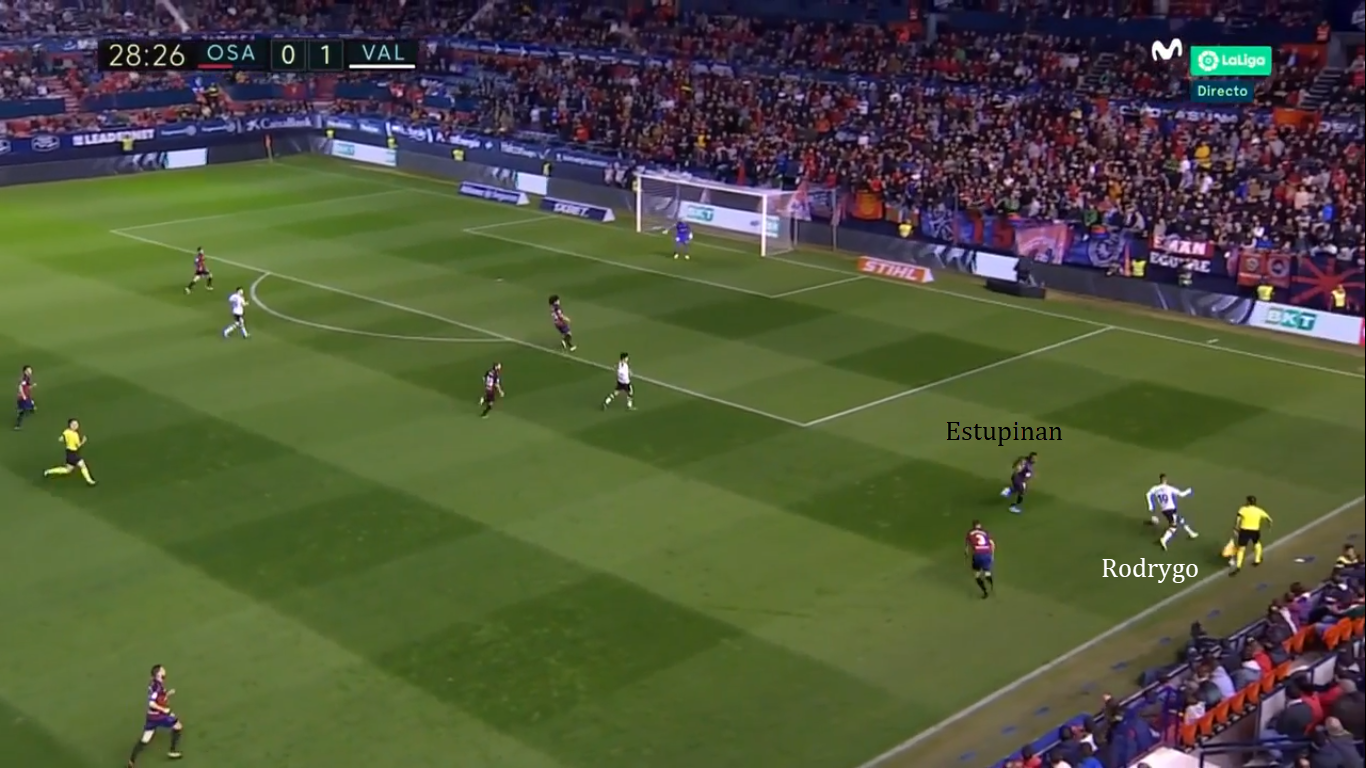 However, there are a number of cases of lapses of concentration in Estupiñán's play where he ends up losing his man. This is a common theme in different phases of his game, and it strikes hard in defensive actions. 
Areas of Improvement
Always hugging the touchline – Too predictable
Since Osasuna usually plays with a wide midfielder instead of an orthodox winger, it is a natural tendency for them to come inside, this means that the fullback naturally has to overlap in these situations.
However, there are some cases where the said midfielder (usually Rubén García) is hugging the touchline and Estupiñán can attack the space between the opposition's center back and fullback with an underlapping run, but he chooses not to.
This makes his line of approach very one-dimensional. Although he is still able to create plenty of chances due to his technical and athletic abilities, his ability to attack the space could still do with some improvement.
In the following example, Estupiñán plays a ball into Roberto Torres who is hugging the touchline. Here, Estupiñán could have made an underlapping run for support but he stands his ground.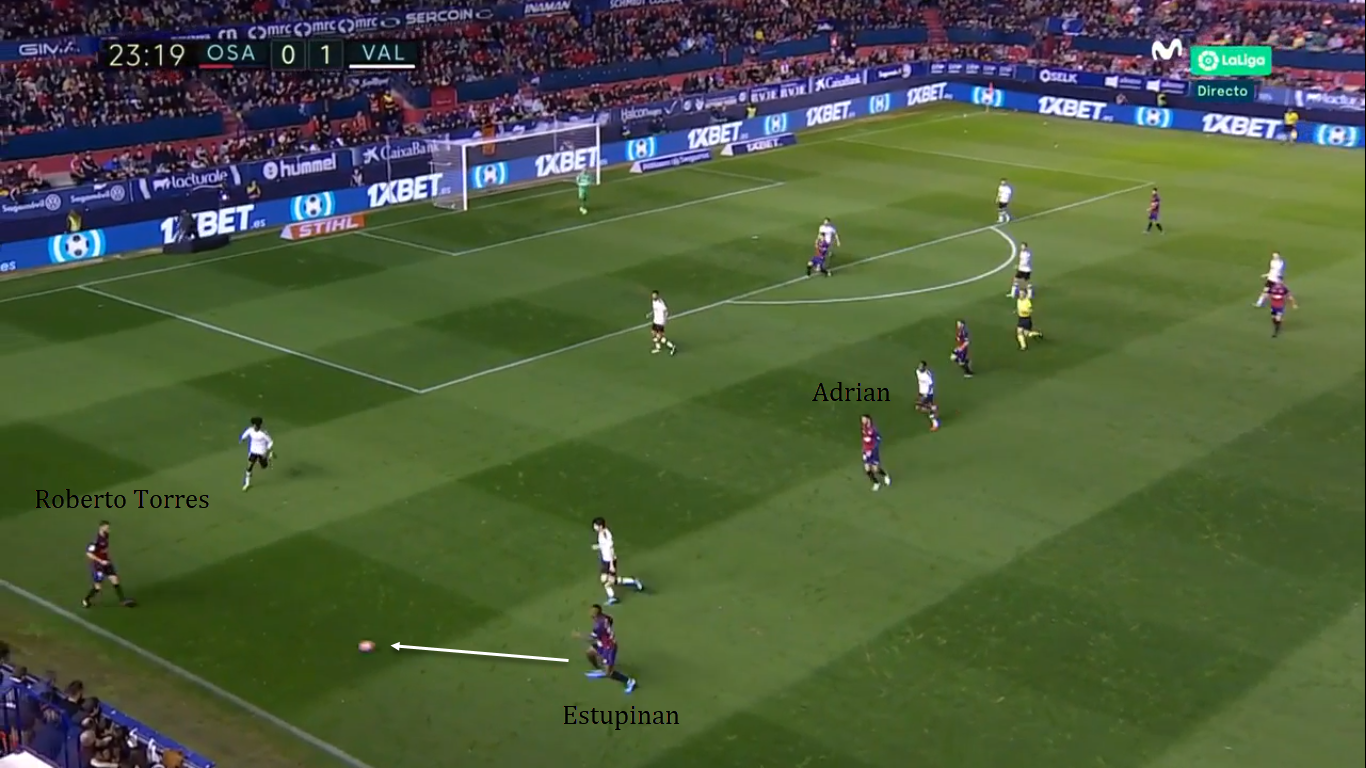 Considering Osasuna's approach, this could be an instruction given to him, but this makes his game one-dimensional and predictable on occasions.
Decision Making and Concentration
Being a high-volume proactive defender, Estupiñán often catches himself in no man's land and on occasions, he can be bypassed easily by a simple one-two by the opposition.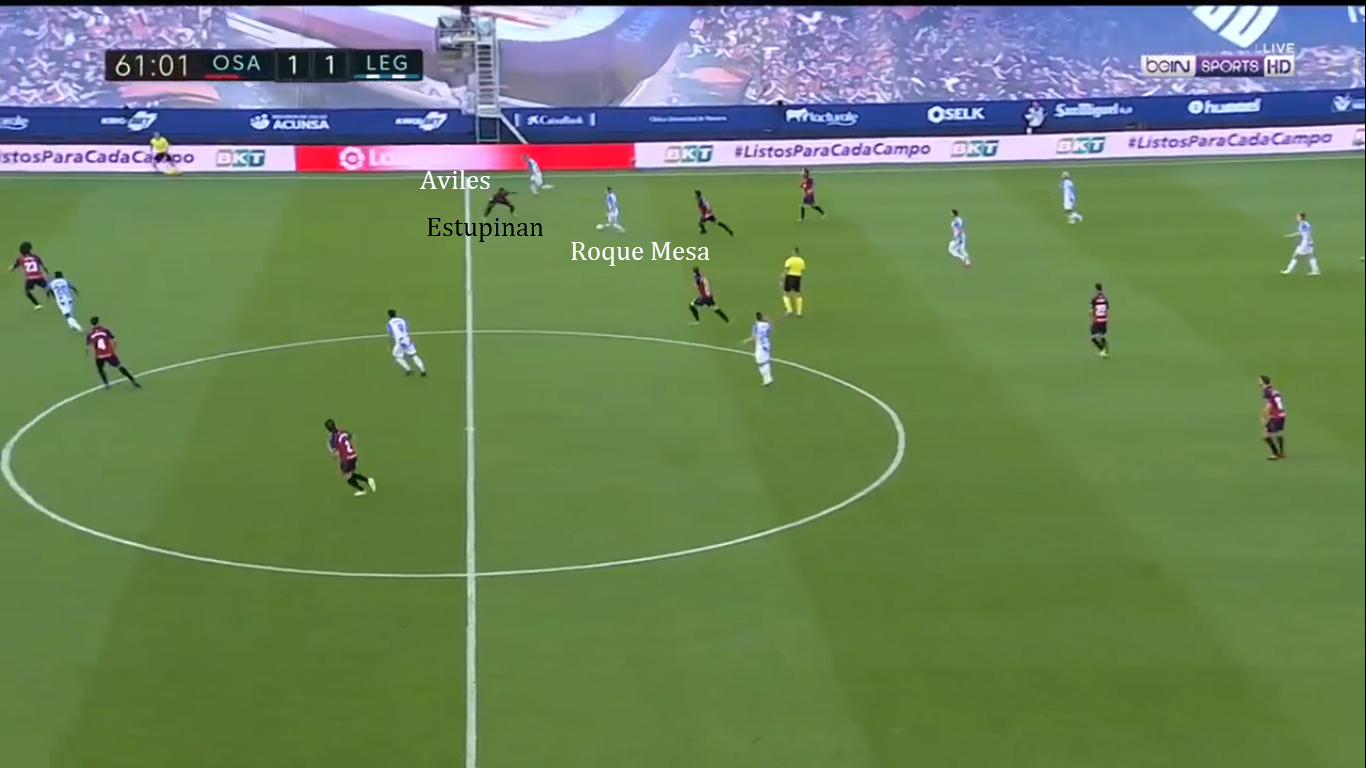 This indecision combined with his proactive nature means that he is often caught in no man's land, leaving a lot of space to be attacked by the opposition. This can be used by the opposition to their advantage too.
In this example against Leganés, Estupiñán loses the ball and then leaves his position in an attempt to win it back.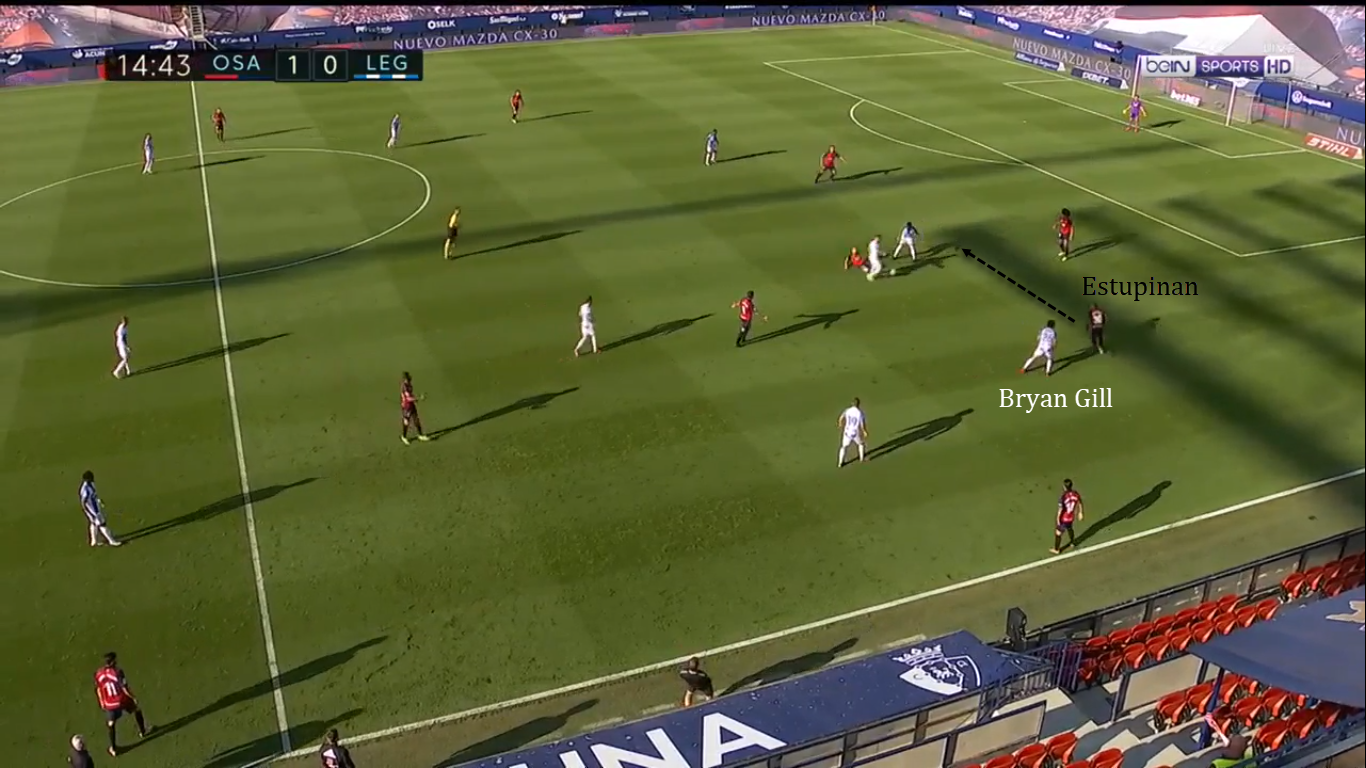 By doing this, he left Bryan Gil unmarked with a lot of space to be attacked. Fortunately for him, Leganés couldn't find the youngster in space but they still managed to get a shot on target.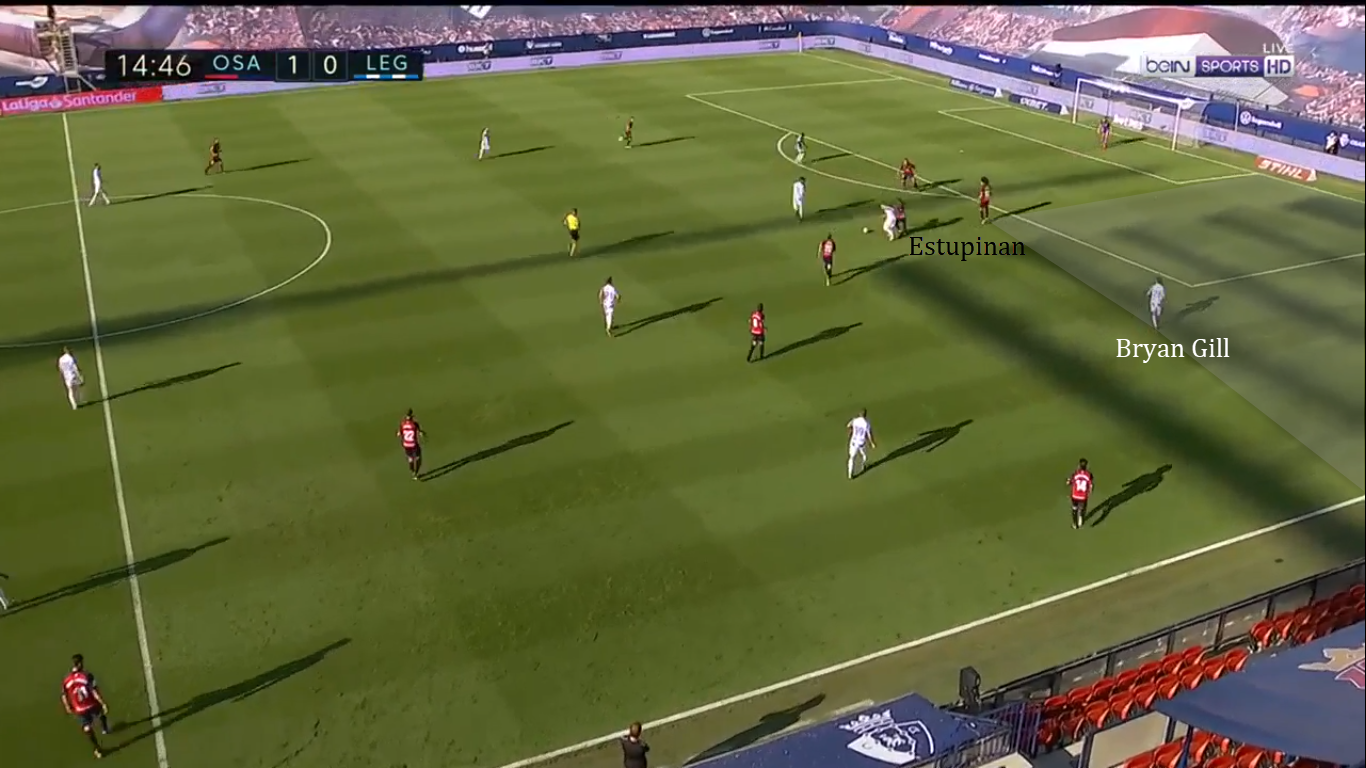 This is a common theme in Estupiñán's game where he ends up making poor decisions. The young fullback is often seen to lose his concentration and make ridiculous decisions in the process.
In the next example against Valencia, he decides to chest the ball towards his keeper while Denis Cheryshev is lurking in the six-yard box. As a result, the ball reaches the Russian forward whose shot hits Rubén Martínez and Estupiñán is fortunate once again.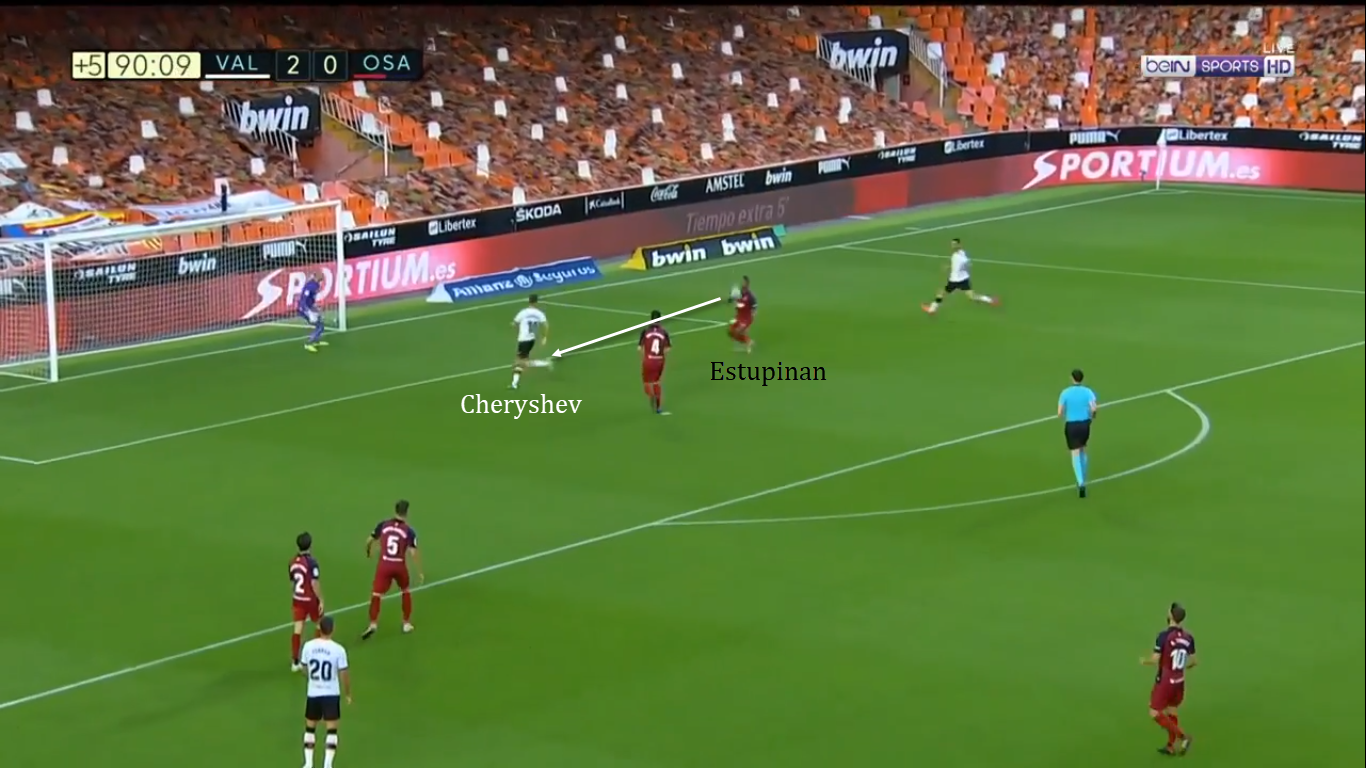 On the whole, Estupiñán exhibits poor defensive awareness. However, his good anticipation and strength make him look like a great defender.
Conclusion
After an exciting season for Osasuna, Estupiñán stays in LaLiga, as he has found his new home at Villareal. It's not hard to see why the Ecuadorian was such a wanted commodity in the current transfer window. However, he is far from the finished article.
With Unai Emery steering the Yellow Submarine, Estupiñán will enjoy more attacking freedom which can accelerate his growth. This feels like the perfect step before moving to a bigger club, provided that he persists with his progress.
By: Shaharyar Atique
Featured Image: @GabFoligno / Quality Sport Images / Getty Images