Player Analysis: Thiago Almada
Despite a significant slump in local competitiveness and constant economic plights, the Argentine first division (currently known as the Liga Profesional de Fútbol) continues to generate interest all around the world as the search for the next up-and-coming world-beater to come from such a prolific line of production continues.
However, in recent years this once constant conveyor belt of talent has significantly dried up. As clubs have become more and more damaged by the country's failing economy, attention has diverted from taking adequate time to develop youth players, instead favouring a quick sale that ensures short-term sustainability.
The Argentine national team serves as a damning indictment of this regression. Moving away from the scintillating generation that won both the 2005 and 2007 FIFA U-20 World Cups and reached three international finals at senior level, Argentina can only count on the likes of Lautaro Martínez, Leandro Paredes, Nicolás Tagliafico and Rodrigo de Paul as players who are currently leaving their mark in Europe after starring in the local league first.
In fact, their most recent high-profile export, centre back Lucas Martínez Quarta, has had a difficult start to life at Fiorentina, struggling with form and discipline after years of being part of a glorious River Plate side that marched on to two straight Copa Libertadores finals, winning one against arch-rivals Boca Juniors.
From Rejection in Argentina, Triumph in Chile and Uruguay, to Achieving Glory in MLS: The Redemption of Taty Castellanos
Next in line though is someone that has true potential to hit the ground running whatever his next destination turns out to be, whenever he feels right to take the next step in his career: 19-year-old Vélez Sarsfield starlet Thiago Almada.
At first glance, Almada ticks several boxes that characterise another quintessential South American prodigy. He was born in the tough neighbourhood of Fuerte Apache, the same place where another then-promising up-and-comer emerged in Carlos Tévez. In fact, Tévez made his first-team debut with Boca Juniors just six months after Almada was born.
The young Almada grew up idolising his hometown world-beater, to the point where he also supported Boca growing up and recently confessed he used to pick Tévez at Manchester City while playing FIFA. Like El Apache, he was also a precocious talent, joining Vélez Sarsfield's esteemed youth system aged 5 and featuring on The Guardian's Next Generation list in 2018, having made his first-team debut in August at 17 years old.
The Vélez team Almada came in was one that made full use of their youth development. Managed by former Argentina international Gabriel Heinze, the young winger slotted in alongside the likes of Matías Vargas, Nicolás Domínguez, Maxi Romero and Lucas Robertone, all exciting talents that combined to make El Fortín a particularly easy team on the eye, supported by the strong presence of veterans like Fernando Gago.
During Heinze's tenure, Vélez became unafraid to stand up against the juggernauts of Argentine football, with highlights including a 1-0 win against River at El Monumental and a 2-0 defeat of Independiente, in which Almada scored with a beautiful finesse shot after cutting inside from the left, in the space of two weeks in 2019.
That 2019/20 Superliga season would prove to be Vélez's best campaign under Heinze, finishing fourth and ensuring qualification to the following year's Copa Libertadores, but it would also be El Gringo's final season at the Estadio José Amalfitani. In addition, by the start of the following season, all of Vargas, Domínguez, Romero and Robertone had left for Europe, with Almada remaining as the last man standing among that stellar group of youth products.
In came another former international centre back, Mauricio Pellegrino, and he set out to offer a different role to Almada. While under Heinze he was a cog in a well-oiled machine, granting him cameos and using him as a tricky wide player, the former Valencia manager moved him to the centre and built a team of more experienced players around him, namely Juan Manuel Lucero, Cristian Tarragona and Ricardo Centurión.
Photo: WhoScored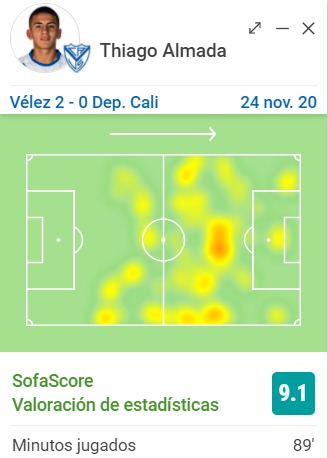 Photo: SofaScore
This would prove to be the move Almada needed to truly flourish at the Liniers club. Since football returned from lockdown in October, he's been seeing much more of the ball and combining much more often with his teammates, leading to a total of 8 goal contributions in 16 games in all competitions. While early rumblings have been quick to liken him to Tévez due to his similar upbringing, he's building a profile more akin to Sergio Agüero when he first broke through at Independiente.
Most impressive though has been Almada's turn into the true leader of this Vélez side since Pellegrino's arrival. He's been particularly influential to the team's run in the 2020 Copa Sudamericana, snatching the ball from Centurión to take a stoppage-time penalty against Peñarol in the Round of 16 and scoring twice in the next round to dispatch Deportivo Cali, before losing to Lanús in the semifinals.
So what's next for Argentina's latest mercurial talent? His recent form and profile as a tricky, low-centre-of-gravity attacking midfielder with an eye for goal have already caught the attention of several high profile teams in the last couple transfer markets. He was part of a slew of Argentine players linked with Leeds United in the summer (none of whom joined the Whites), with Almada even finding similarities between Heinze's and Marcelo Bielsa's work, while both Manchester clubs have entered the conversation in the last month and a half.
Almada, however, is in no need just yet to hurry his jump to the elite. While these clubs have made interesting moves and acquired some of the most coveted young talents in the world, such as the likes of Facundo Pellistri and Almada's compatriot Nahuel Bustos, they have so far found first-team opportunities hard to come by. At just 19, Almada might do well to stick around at Vélez for slightly longer and develop further under a system that is already close to getting the best out of him.
And Vélez have good reason to keep him, too. In 2021 they will return to the Copa Libertadores for the first time in seven years, and the club have also tied Almada to a contract that runs until 2023 and includes a release clause of $25 million, which might be a relatively small fee in European terms, but for a South American club, it is a rather comfortable cushion for negotiation.
Almada has also stated his desire to try and win silverware with Vélez before moving abroad, as well as fighting for a tightly contested spot in the national team squad. As long as El Fortín stay competitive and keep pushing on multiple fronts, the wonderkid is likely to develop further and become better adjusted for a top European team. After all, heaven knows Argentina need such a move to materialise to keep the production line going.
By: Santi Bauzá
Featured Image: @GabFoligno / Pool – Getty Images
This article was made with contributions from Fernando Romero Núñez.