Player Analysis: Tiago Dantas
In today's footballing atmosphere, a player is scouted for months, even years, before he is signed by a club. It is not uncommon for a player to be scouted for 10-20 matches and still be discarded when a top European club is involved. The more a player is scouted, the further it reaffirms the positives and negatives seen in him. That was the case with Tiago Dantas, who joined Bayern Munich this summer after being scouted by the Bavarian club for six years.
According to German news outlet Bild, Bayern Munich manager Hans-Dieter Flick specifically pushed for the transfer of Dantas. "I've known Bayern's coach for a long time, and about six years ago we invited him for a lecture. There was also a tournament and he saw Tiago Dantas playing," said former Benfica head scout José Boto. "Since then, he's been a fan and always asked about him." 
Born in Lisbon, Dantas joined Benfica's academy in 2008 at the age of seven and quickly built a name for himself as one of the most exciting talents in Portugal. After winning the Campeonato Nacional de Juniores (Portugal's premium U-19 competition) in 2017/18, Dantas recorded 4 goals and 2 assists in 8 matches as Benfica advanced to the 2019/20 UEFA Youth League Final in Nyon, Switzerland, where they would lose to Real Madrid.
Despite his impressive performances at youth level, Dantas made just one appearance for Benfica's senior team, coming off the bench in the 85th minute in a 2-2 draw against Vitória de Setúbal in the Taça da Liga on December 21, 2019. It's why, upon learning of Bayern's interest, the 19-year-old midfielder approached Benfica president Luís Filipe Vieira and asked for permission to leave.
"Good afternoon, president. The opportunity has be loaned to FC Bayern has arisen," wrote Dantas in a letter to Vieira per Portuguese outlet A Bola. "They have already submitted an offer and I would like to ask you to let me go. The (Benfica B) coach (Renato Paiva) has given me little consideration and I never questioned his decisions. It is a once-in-a-lifetime opportunity and I have asked him to let me go."
Dantas joined Bayern Munich on a season-long loan on October 6, with Bayern reserving an €7.5 million option to buy, a bargain in comparison to the €88 million release clause in his Benfica contract. But what exactly is it about the diminutive Portuguese teenager that has caught the attention of Flick?
Player Profile
Due to work permit issues, Dantas has only played for Bayern Munich II, currently 18th in Germany's third division, although he has trained with the first team squad on several occasions. In manager Holger Seitz's 4-3-3, the Portuguese has played alongside 30-year-old captain Timo Kern in the midfield trio, operating on both the right and left side of midfield.
A versatile, deep-lying playmaker, Dantas has showcased his excellent passing range and line-breaking passes in a deep midfield position, although he has also shined brightly in an attacking midfield role for Portugal and Benfica, feeding his attacking teammates with pinpoint through balls.
As someone who likes to have the ball at his feet as much as possible, Dantas often drops deep to provide a safe passing option and progress the ball past the pressure. At just 169cm and 58kg, he is a diminutive, agile player who isn't afraid to dribble out of tight spaces and advance possession into the final third.
Modern Playmaker
It only took one match — a 0-0 draw against FC Kaiserslautern — for Dantas to stamp his authority on the game and demonstrate his world-class potential to Bayern fans. He is the epitome of a modern playmaker; excellent under pressure, energetic with a top-notch technique, and the personality and confidence to dictate the flow of possession from any midfield position.
The below example against CD Mafra gives a perfect description of Dantas's agility and speed of mind. The Portuguese midfielder drops near the halfway line to receive a pass from right-sided center back Pedro Álvaro, and his body orientation allows him to see where the opponents are as he receives the ball.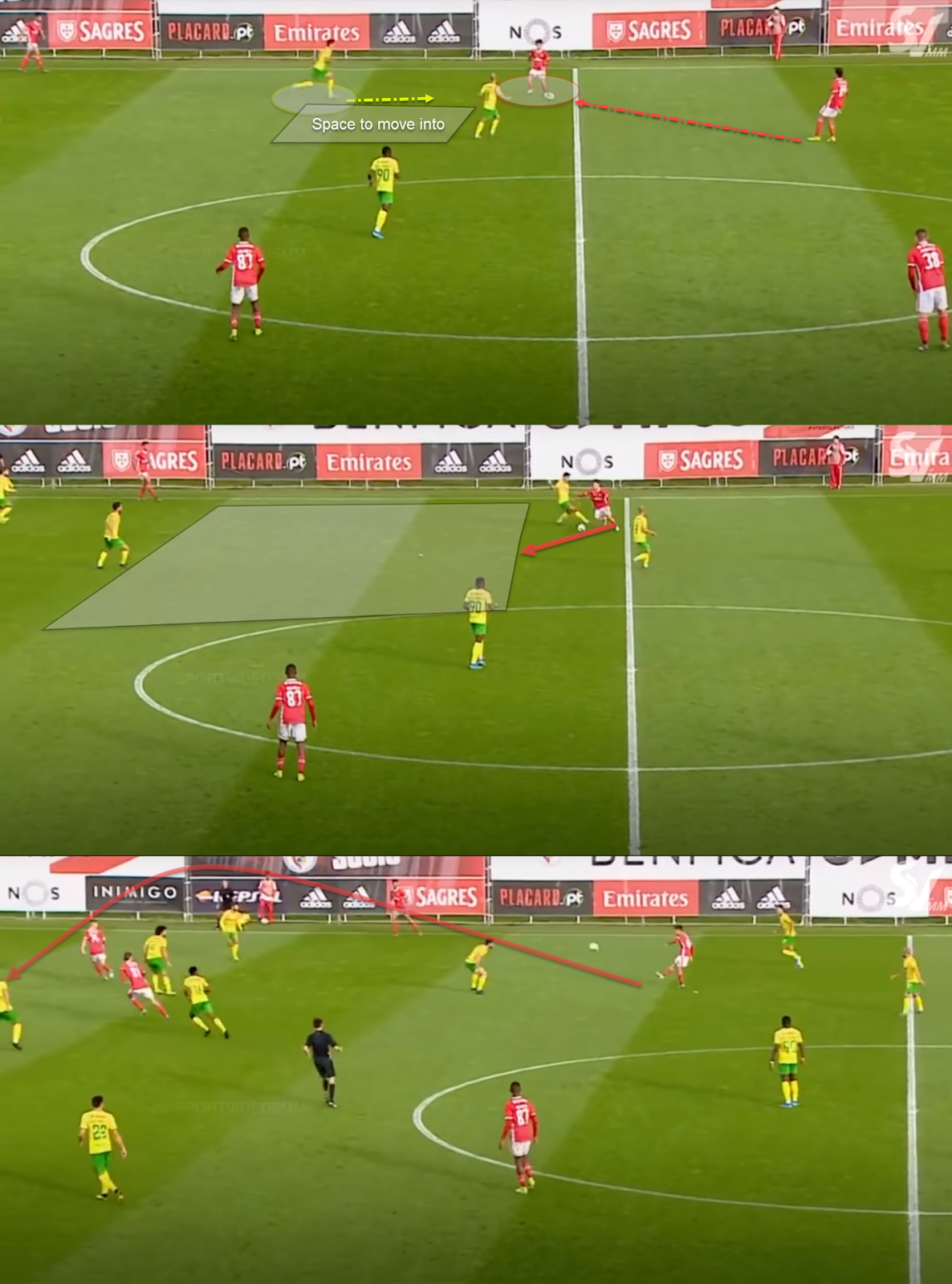 As one player moves forward to cover the passing lane, the other highlighted opposition player advances upon Dantas, leaving space for him to move into. Using his momentum against him, he nudges the ball forwards and skips past the marker. Spotting his teammate's run behind the defence, Dantas plays a well-weighted pass over the defence straight into his path. 
This sequence of play is just one sample from an assortment of examples where he complements his all-round awareness with the agility that his small frame provides. Having a player who can progress the ball on his own, rather than act strictly as an anchor, is a need of the modern game as both transitional play and intense pressing becomes the norm.
The teenage talent is also a massive threat in the final third as well. Though he isn't someone who will regularly get into goalscoring positions, his ability to pick out passes from open play and set-pieces alike makes him one to watch out for. With his technique, it's no surprise to see Dantas take set-pieces very often, and he even manages to make the net bulge on numerous occasions. 
One of Dantas' most substantial assets, his incisive passing in the final third, also highlights two of his weaknesses. From the half-spaces, he is more often than not successful in playing a ball at the end of runs into the box. From deeper down the pitch, we get to see the full extent of the Portuguese's passing range — a trait which has seen him earn comparisons to former Bayern man Xabi Alonso.
A Game Played Behind the Lines
Everything in Dantas' game revolves around finding space, and he absolutely loves to do this behind the lines. Whether it is by threading a through ball or positioning himself to receive in an optimal position, his progressive style of play is apparent whenever he plays.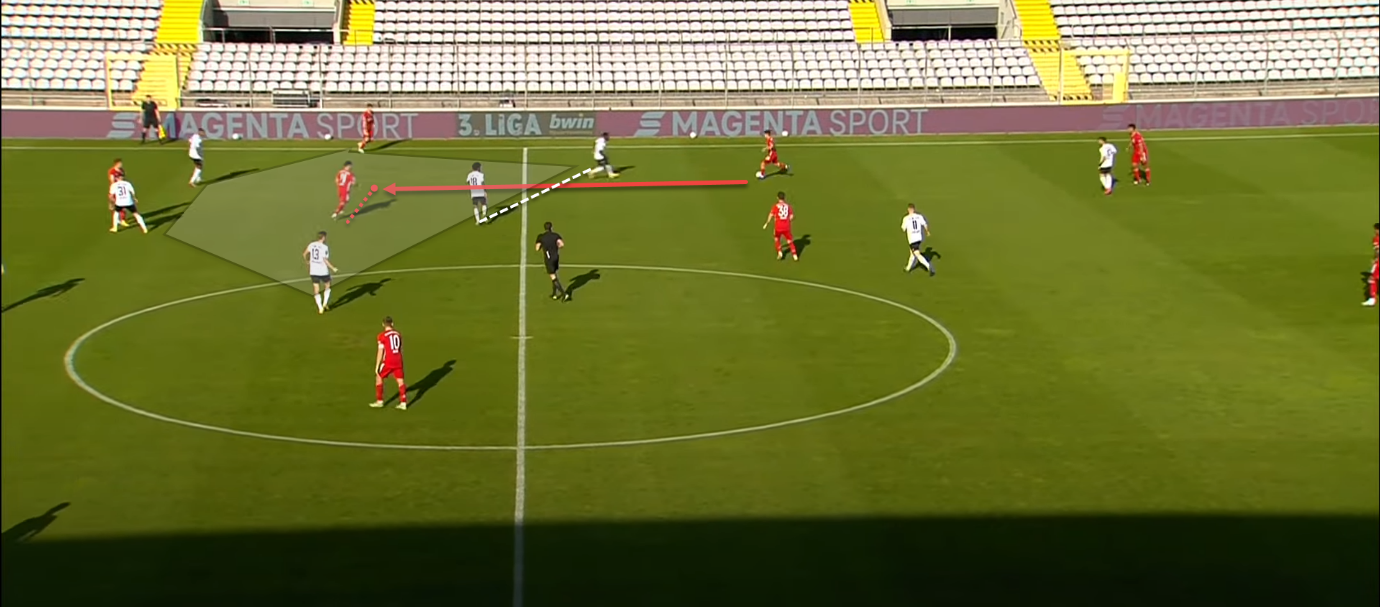 In the above example against SV Waldhof, he receives the ball on the far side, before shifting inside and spotting space behind the opposition lines that his teammate is moving into. Playing an inch-perfect pass as always, he breaks the opposition's block to find Nicolas-Gerrit Kühn, allowing Bayern to break on the transition.
With this pass, two Waldhof players who were previously facing the ball are now chasing it. Kühn, who was a few passes away from receiving the ball had it been less direct of a build-up, now receives with at least two passing options and in a decent amount of space. Dantas is always looking for space, and he tends to drift between the channels and receive the ball behind the second line, a testament to both his positional intelligence and his movement off the ball.
In the below example against Ingolstadt, Dantas occupies space in his preferred spot: in between the lines. As Jamie Lawrence instead chooses to dribble forward rather than pass it to him, Dantas advances forward to look for space in between the lines; Lawrence eventually plays the ball towards the left wing as Dantas advances into zone 14. 
As he shows no reluctance to end up around or in the box, the 19-year-old sometimes finds himself in positions where he can put the ball in the back of the net. Though this is not regular, as his five goals in 49 games demonstrate, he shows no hesitation in pulling the trigger for the shot or for that final killer pass.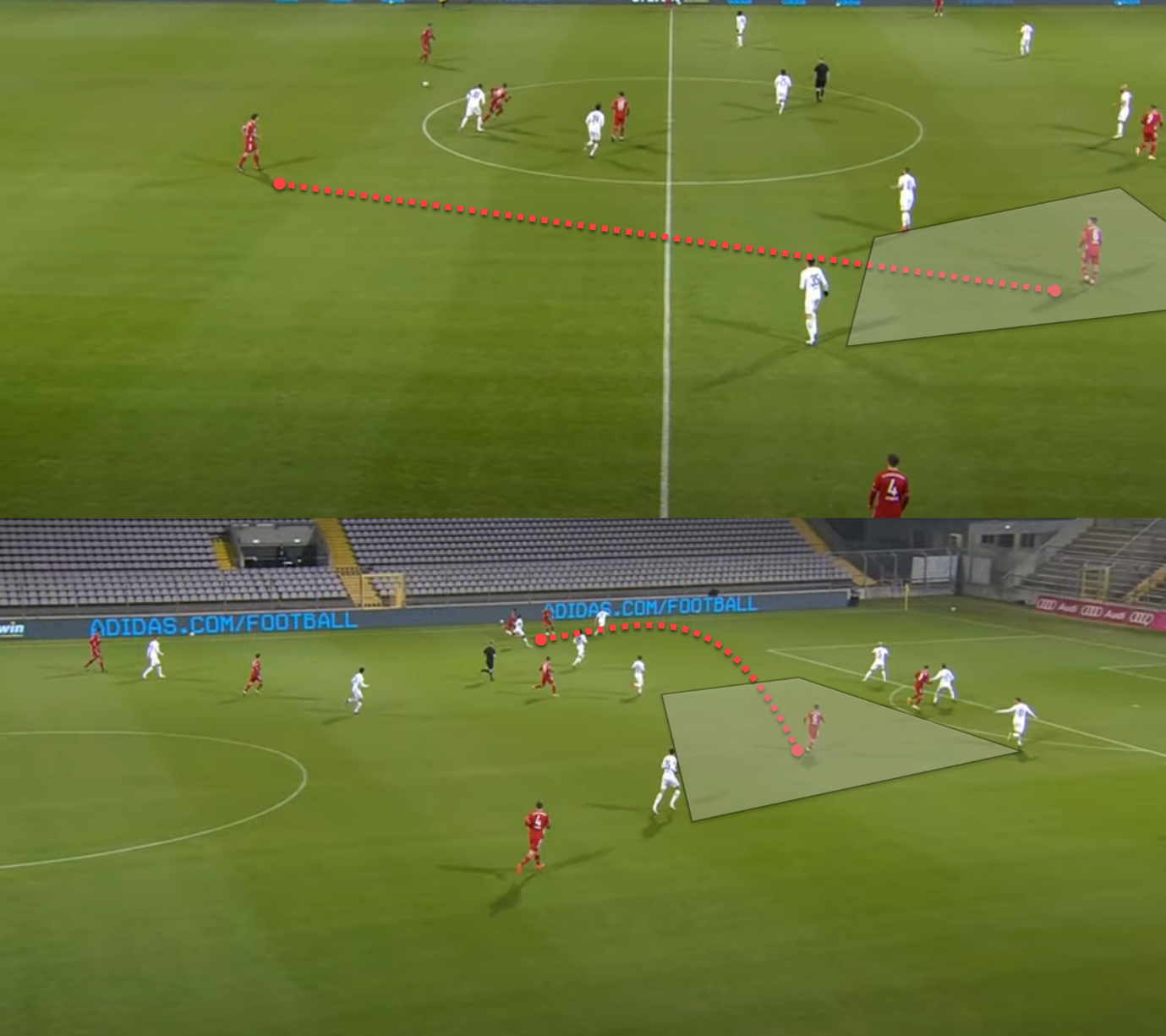 Though he is not someone who will come out from a 1v2 or 1v3 from a standstill with tricky dribbling, his technique helps him escape his marker and dribble past another player with his close control. His body orientation when receiving is rarely wrong, and his first touch allows him to drive into space from the get-go. When dribbling, the ball stays glued to his feet, and his quick, short steps allow for an easier change of direction. 
Defensive Qualities and Areas of Improvement
Dantas is an energetic player who shows an above-average work-rate on both ends of the pitch. Akin to Barcelona's Riqui Puig, he uses his agility and energy to maintain the intensity of the press and hassle the opposing players on the ball. It's not tackling that the Portuguese excels in, but persistence to prevent the opposing player from receiving in space.
Nevertheless, there are certain things that Dantas must improve in if he is to make a lasting impact in Bavaria. Firstly, Dantas is very one-footed when looking for the incisive pass or when shooting. Though he isn't ambidextrous by any stretch in other aspects, it is in the final third where his weakness is most apparent.
Furthermore, Dantas also leaves plenty to be desired when it comes to his vision in the half spaces. Laying off a ball between the defenders when playing in the channel on the left is muscle memory for him at this point, but when playing on the right flank, there are fewer opportunities to play incisive passes and through balls, and this often leads to him looking to favour chips over the defence from the right.
At just 5'7″ and 58kg, it's not hard to see why Dantas is a target for more physical players. Though his close control means he is rarely pushed off the ball, he needs to work on his muscle strength if he is to make the grade in the Bundesliga.
Conclusion
As he approaches his 20th birthday, Tiago Dantas will be looking to avoid the missteps of the last teenager who left Benfica to pursue a new challenge — Renato Sanches. He has made some impressive first steps, having already begun his German lessons, sitting next to Thomas Müller in the dressing room and learning from 'Der Raumdeuter,' and impressing for Bayern's reserve side. Dantas can be registered for the first team in January, and will likely get a string of appearances under Flick during the Rückrunde.
It has been a transitional summer in many ways for Bayern Munich, with midfield maestro Thiago Alcântara joining Liverpool, 21-year-old midfield prospect Michaël Cuisance joining Marseille, and Marc Roca arriving from Espanyol. Bayern have felt Thiago's absence in many ways this season, but perhaps the long-term answer to the Spain international is Dantas.
From his technique to the inch-perfect passes to the sharp, yet graceful agility, Dantas is a diamond in the rough. Paul Scholes once described Andrea Pirlo as someone who could "run the midfield with a glass or red wine in one hand." The same can be said of the Portuguese midfielder; he elegantly serves his team while dominating the opposition. 
By: Anurag Agate
Featured Image: @GabFoligno / DeFodi Images – Getty Images