Player Analysis: Tommaso Pobega
"Pobega is a total midfielder. He has not been a regista. He has nothing to stand out in but he is good at everything and he delivers important performances. His time arrived for the national team of Italy, that's a good thing."
Those were the words of Torino coach Ivan Jurić from his press conference prior to the Granata's 2-1 victory against Udinese in Week 13 of the 2021/22 Serie A season, singing the praises of central midfielder Tommaso Pobega.
The 22-year-old joined the Torinese club for a one-season loan from AC Milan, and he has fitted in seamlessly into Jurić's 3-4-2-1 formation, having scored twice and provided two assists in 11 Italian league games so far.
Pobega was in the Triestina youth system before joining the AC Milan set-up in 2013. He earned his first experience of playing senior football during the 2018/19 season, when he spent a season on loan at Serie C club Ternana. 
For the following campaign, he spent the season on loan with Pordenone in Serie B. The Trieste native was one of the best midfielders in the division, helping the Ramarri (the Green Lizards) to fourth place in the table and qualifying for the play-offs.
Pobega kept making the leap and he spent his first season in Serie A on loan at Spezia. Despite playing only 20 times in the league during the 2020/21 campaign, he still managed to score six goals as a central midfielder.
Although the 22-year-old had been linked with a move to Atalanta, AC Milan decided to keep the midfielder contracted to the club but sent him on loan to Torino for this season. 
According to WhoScored, Pobega averages 39 passes per game with a passing success rate of 82.8 percent. He also averages 1.7 long balls, 0.9 key passes, 1.6 shots, 0.5 dribbles, 1.8 tackles, 1 interception, and 0.8 clearances per match. 
Whether it is winning the ball back for his team, carrying the ball in midfield, or getting into scoring positions, the midfielder has displayed his ability to perform multiple tasks in Jurić's system.
His form for Torino also earned him a call-up for the Italian national team for Italy's World Cup qualifiers in November. Although he was not given any playing time in the draws against Switzerland and Northern Ireland, a player with his attributes could still be of importance the Azzurri in the future.
Pobega had also impressed for the Italy Under-21 squad, scoring three times in six games for the Azzurrini under the tutelage of Paolo Nicolato. He also started three matches at the 2021 European Under-21 Championship, where the Italians lost 5-3 after extra time to Portugal in the quarter-finals.
Despite the defeat against the Portuguese, Pobega made his contribution in that match with a goal, and he started in a team that contained senior Italy strikers Giacomo Raspadori and Gianluca Scamacca as well as other midfield prospects like Nicolò Rovella, Davide Frattesi, and Samuele Ricci. 
One of the things that typifies Pobega as a player is his ability to advance from the midfield and score goals. He scored Torino's second goal in its 3-2 victory against Genoa and it also was an example of how the Granata can also make a quick transition towards goal.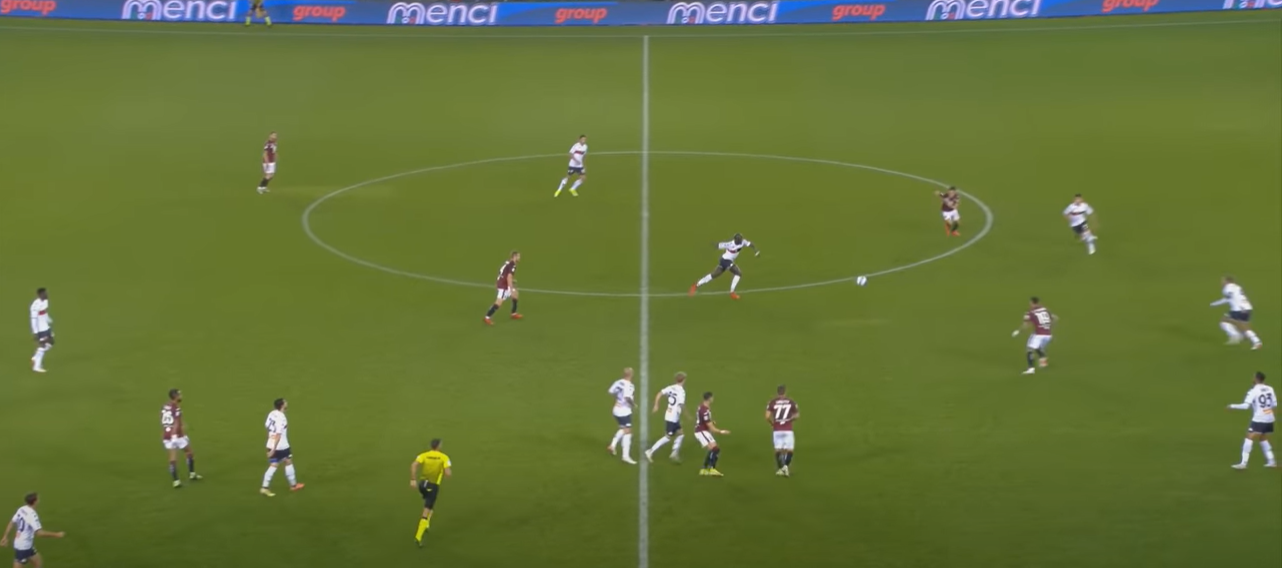 In the first photo, you can see that Pobega is wearing the #4 jersey, he is wearing orange boots, and he is placed in his own half. Saša Lukić has headed the ball into the opposition half, and the Genoa players try to close down Josip Brekalo, who eventually manages to pass the ball to Antonio Sanabria.

After Brekalo makes the pass, Pobega has already sensed that the break is on and he starts dashing into the Genoa half. Sanabria takes a touch and then starts running at defenders. The dribbling of the Torino forward also takes the attention away from Pobega, who notices that there is more space opening up for him to run into.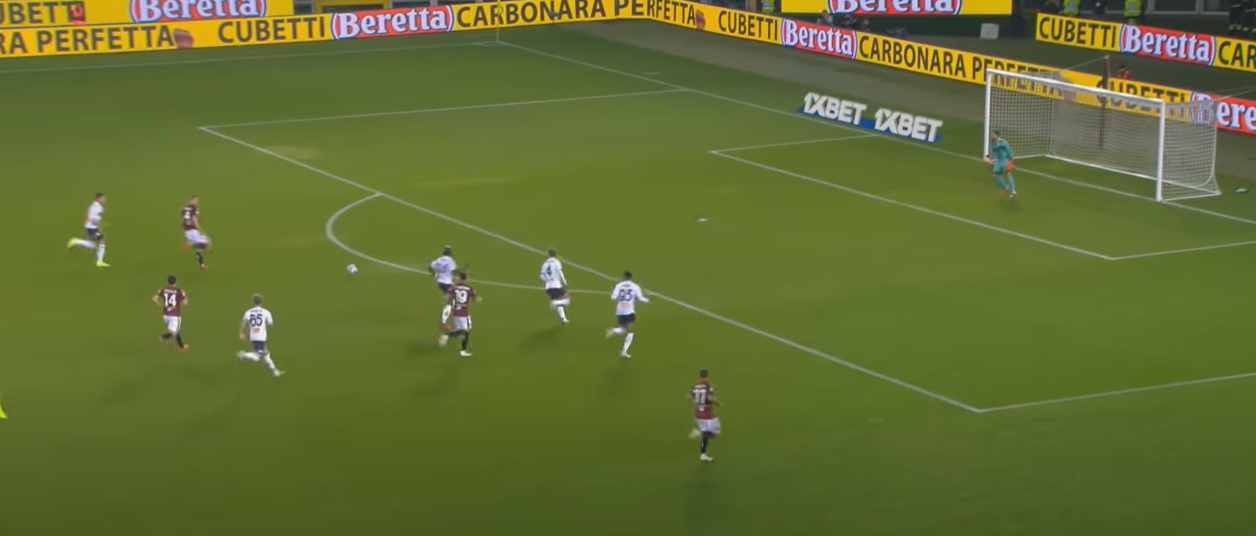 Sanabria eventually notices that Pobega has joined the attack, he looks left, and slips the ball through two defenders. Pobega takes a touch but he does not fully break his stride.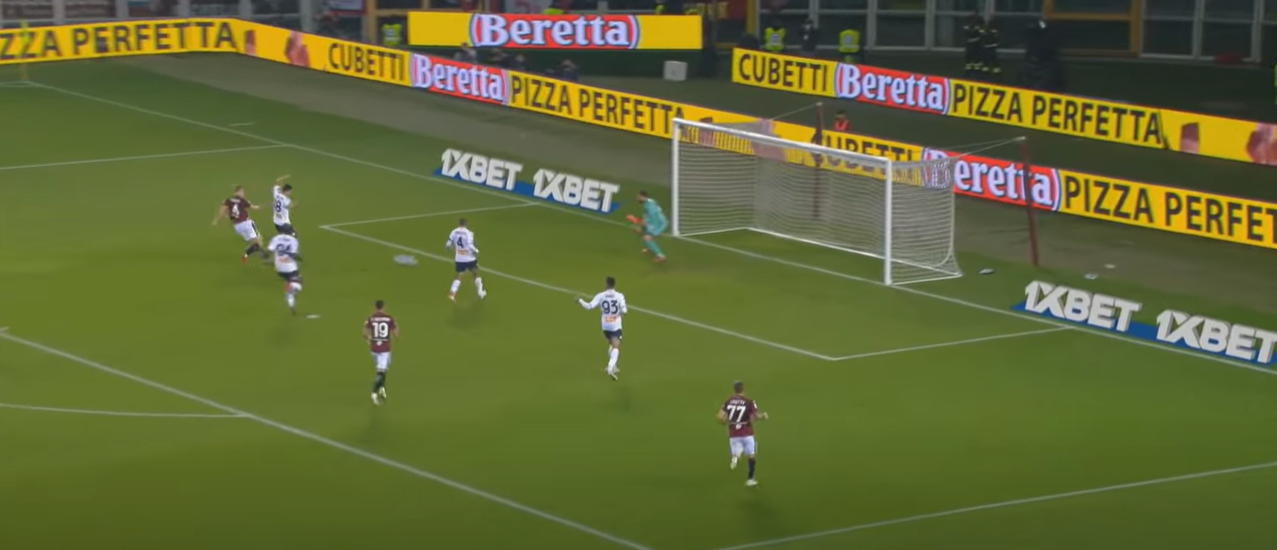 Genoa right-back Paolo Ghiglione has tried to keep track of Pobega's run but he cannot close the Torino midfielder quick enough. After the midfielder took a touch, he beats Salvatore Sirigu with a low and angled left-foot drive.
This type of move truly encapsulates Pobega as a player. He was intelligent enough to know that there was a chance for Torino to create an attack and he also had the speed and energy to get into space without showing any signs of fatigue.
He then notices the spaces to run into so he can get into a position where he can cleanly control the ball and place the ball in a realistic position to shoot.
With no option for Torino to purchase Pobega outright, Granata president Urbano Cairo will probably lament the opportunity to sell a player for a substantial profit. However, that should not take away from the progress that he has made throughout his career and particularly in Turin so far. 
After all these loan spells, AC Milan will eventually have to decide whether it should keep loaning him out or utilize him for its own needs. With Franck Kessié expected to leave the Rossoneri at the end of the 2021/22 campaign and Tiémoué Bakayoko struggling to make an impact, Coach Stefano Pioli will need another midfielder who can operate in the double pivot.
AC Milan already has another bright Italian starlet in Sandro Tonali starring in midfield. Not only will bringing Pobega back for the 2022/23 season avoid the need to spend money on another midfielder, he can develop an understanding with Tonali in midfielder that could last for years. 
The former Brescia starlet can provide the vision and technique while the Trieste native can provide the industry. A duo of Tonali and Pobega would be worth utilizing at international level for Italy considering that both players are under 22 years of age and have time to further develop.
There are many young Italian midfielders starting to shine in Serie A and Pobega is another one that is starting to gain more attention. He has impressed in his spells at Spezia and Torino, but with his array of talents, his future away from Turin will likely be an exciting one.  
By: Vito Doria / @VitoCDoria
Featured Image: @GabFoligno / DeFodi Images