Player Analysis: Vitaly Janelt
When it comes to producing top-class footballers, Germany has always been a gold mine. Each country has natural characteristics associated with its players — Serbians tend to be flexible and hardened, Spaniards are elegant and associative, Brazilians use samba as a lifestyle on the pitch, and Germans are known for their intelligence and teamwork.
Vitaly Janelt is the prototypical German player who is always thinking about how he can best improve the team, not in an individual manner, but a collective manner. After spells with Hamburg, RB Leipzig and VfL Bochum, Janelt has emerged as a crucial piece for Thomas Frank's Brentford at 23 years of age, with the Bees challenging for a mid-table spot in their first-ever season in the Premier League.
Positioning
Janelt's role at Brentford is not the most eye-catching, but it is nevertheless one of the most essential roles on the pitch. The German normally positions himself as a midfielder on the left side of Frank's trademark 3-5-2, but he also can adapt to more advanced positions when Frank has to improvise and search for a draw or a comeback, or even shifting into the right side of midfield when Brentford form a 4-3-3 in possession on certain occasions.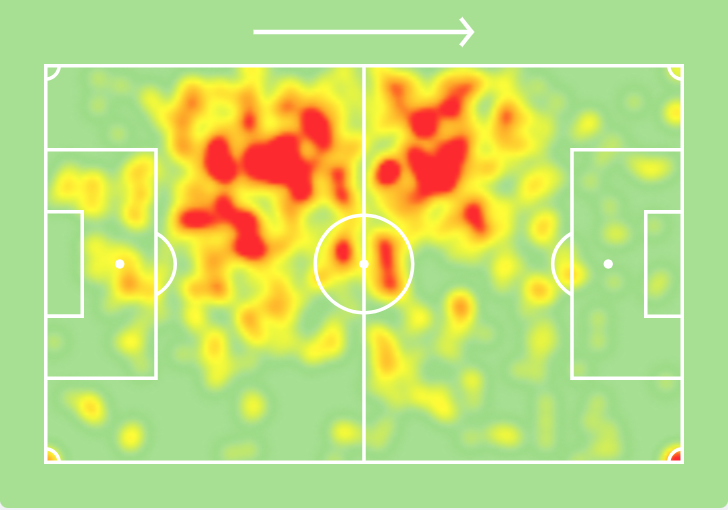 Janelt's 2021/22 Premier League heat map [SofaScore]
Frank's style of play is predicated on the counter-press. The Danish manager doesn't necessarily want his team to starve the opponent of possession, but instead win the ball back in advanced areas to quickly reach the penalty box in a sequence of two or three touches, or three to four seconds.
At the moment where Brentford need to defend, both in their high pressing as well as in their own half of the pitch, things don't change much: Janelt continues on the left side of the pitch. Even so, Janelt is the midfielder who typically moves up to lead the pressure and joins the other attackers to try to win the ball back.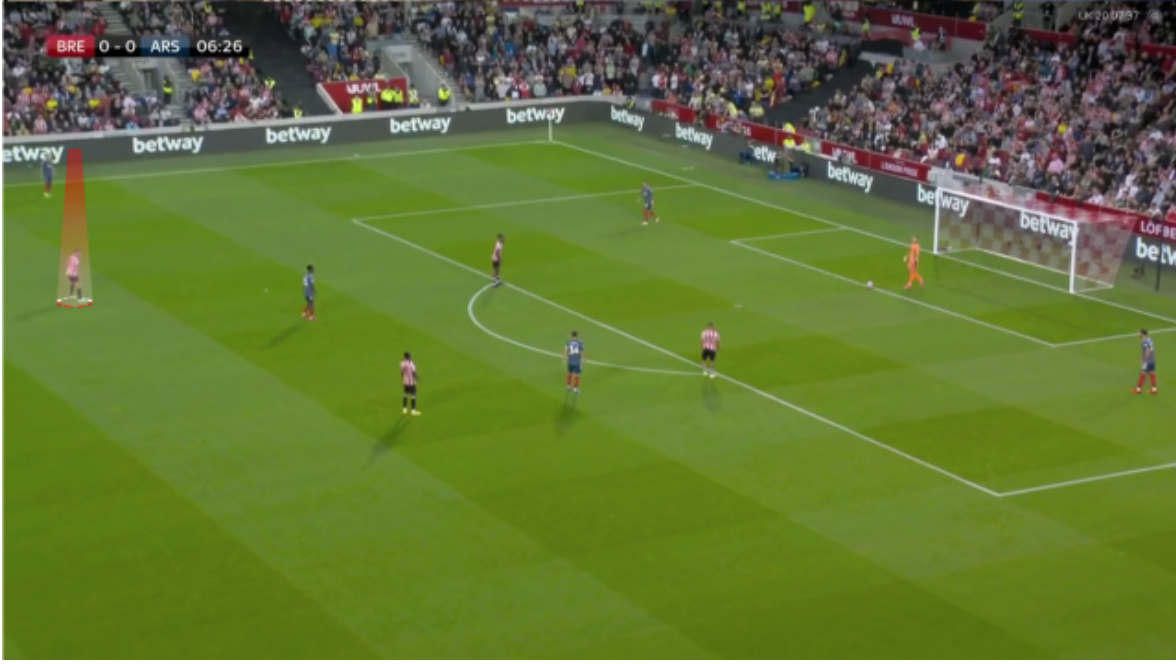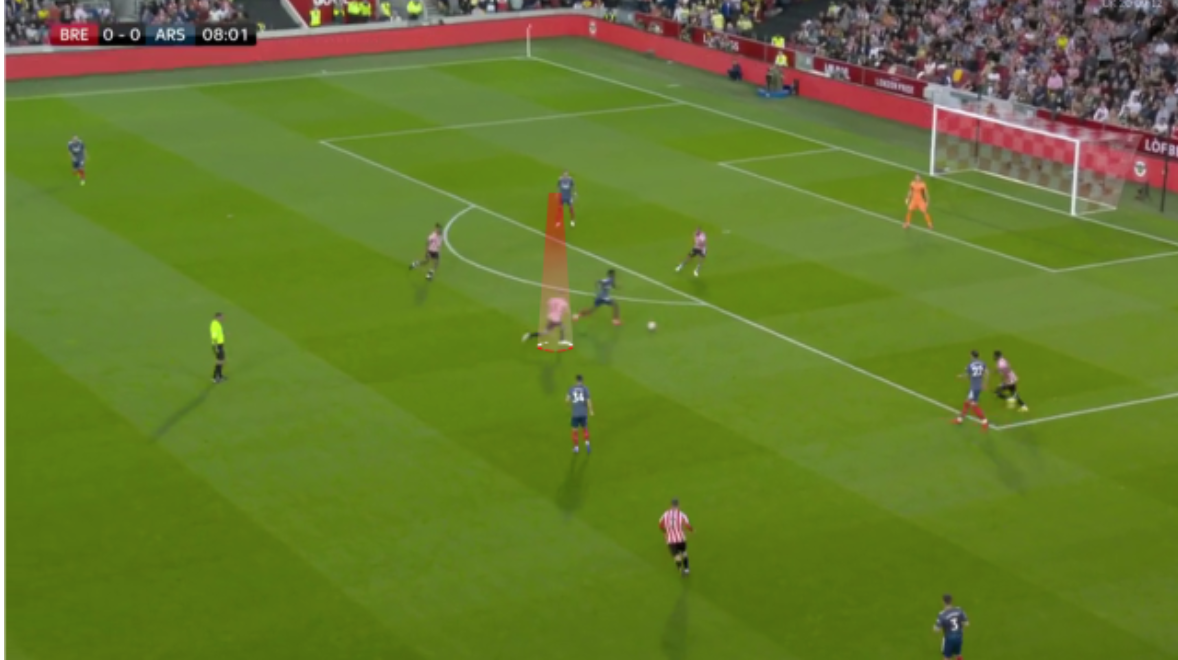 He sometimes positions himself almost like an attacking midfielder when Brentford try to rob the opponent of possession in the final third. When Brentford defend in their own half, against a team that tries to calmly build possession, Janelt positions himself in the left side of the pitch.
Janelt positions his body well to get close to the ball, using his intelligence and positional awareness to wait for the opponent, anticipate his movement, and win the ball back. One of his biggest strengths is his great positioning to defend whilst being one or two meters away from his box and trying to prevent a scoring opportunity.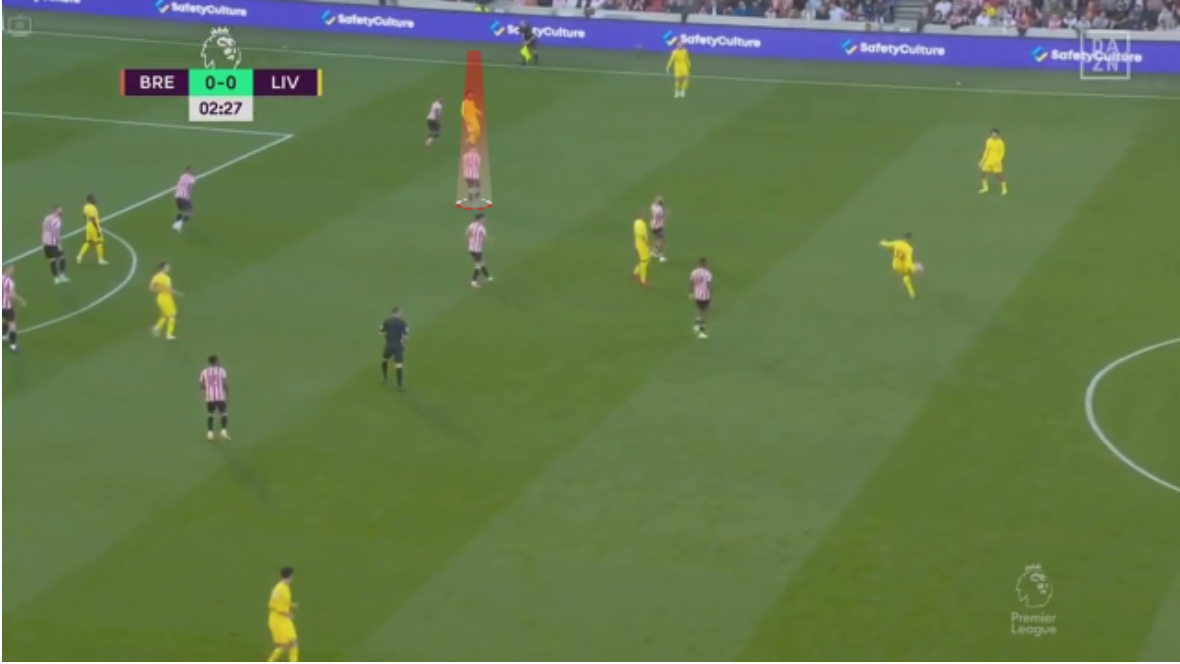 When Brentford want to patiently build up from the back, one thing that happens on certain occasions is Janelt dropping deep, pushing forward, and in general, mixing up his positioning to stay unpredictable and undetectable for the opponent.
Whilst next to the holding midfielder Christian Nørgaard, he moves horizontally so that Sergi Canós can push forward, or, depending on who his midfield partners are, he'll move further up the pitch and act as the most advanced interior midfielder.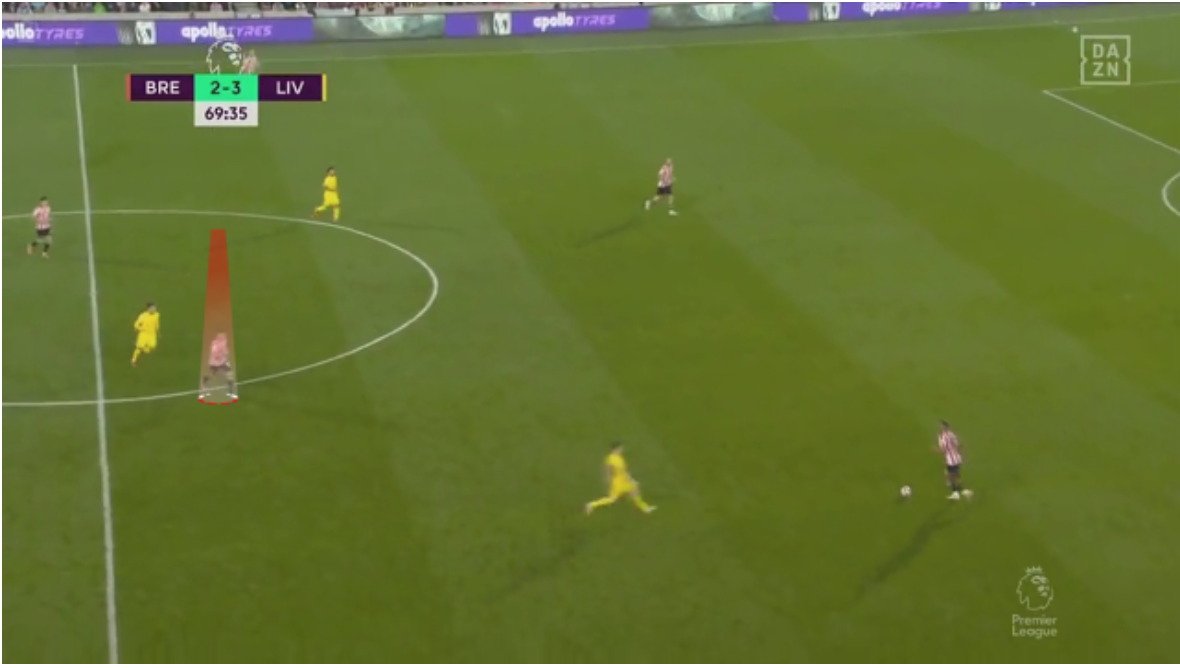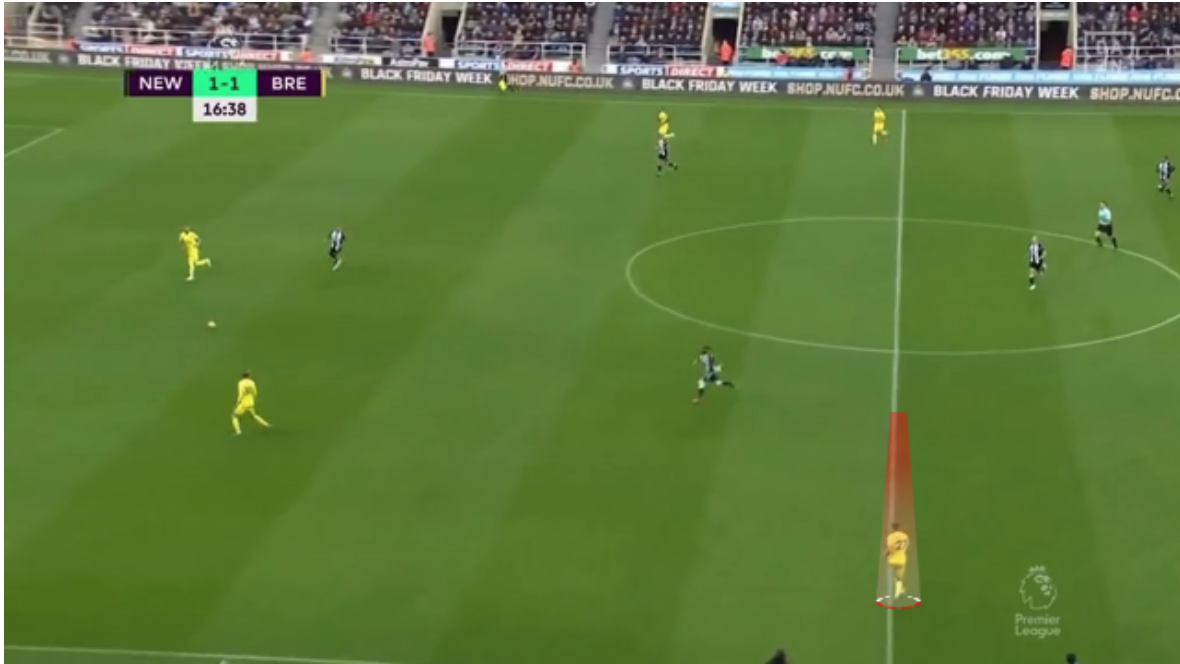 Finally, when the team wins the ball back and finds itself in the opposing box, Janelt occupies one of three functions: supporting his wingback as a pivot or a decoy, both to lure in opponents and drag opponents out of position, as well as receiving the ball and crossing the ball with his first touch.
The German may also find himself at the edge of the opposition box, searching for an opportunity to get a shot off, or he may even pop up into the box to act as a surprise attacking option. This attacking nous has already paid dividends, with Janelt scoring an equalizer in Brentford's 3-3 draw against Liverpool on September 25.
Distribution of the Ball
Janelt's ability with the ball at his feet isn't the best in the Brentford squad, but it certainly isn't the worst either. He currently averages a 76% passing accuracy in the Premier League, a low figure compared to other players, but the context of his role allows us to understand why this number doesn't quite stand out with regards to his competitors.
Brentford is not a team that patiently builds from the back, that prides itself on positional play, and that prioritizes midfielders with world-class passing range. Instead, they are predicated on the notion that, once they win the ball back after forcing a mistake from the opponent, they attack instantaneously.
Mathew Benham & Brentford: A Story on Innovation through Statistical Analysis
It is because of this strategy that Janelt's passing numbers are not the best — whilst he completes 84% of his passes within his own half, he completes 66% in the opposition's half. When the Bees try to build from the back, that is where we see the best Janelt with the ball.
Janelt performs well under pressure, although he is far from the most aesthetically pleasing midfielder in the ilk of Paul Pogba or Marco Verratti. His size makes him a physically imposing player, but not the most elastic.
He has the ability to switch it up with his impressive left foot, playing short passes and picking out players with pinpoint long balls, and when he seeks to push the play forward, he can play a progressive pass as well as any other Brentford player. We can see below how he utilizes his body to leave Nicolas Pépé behind, links up with Nørgaard, and exploits the open space in front of him.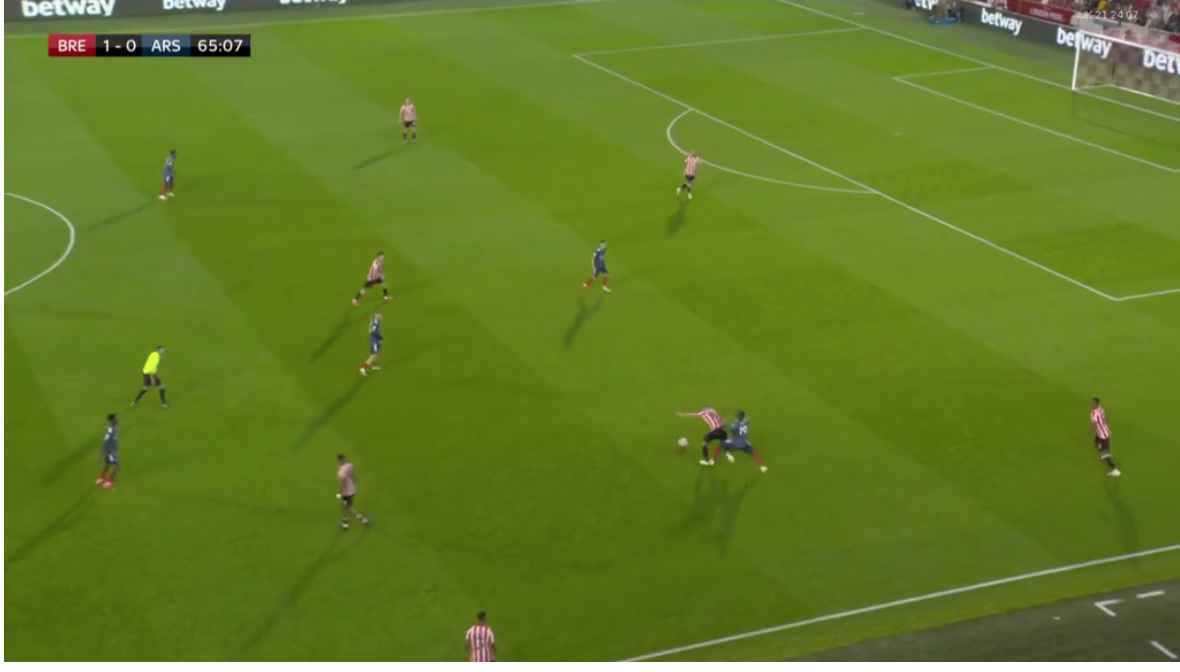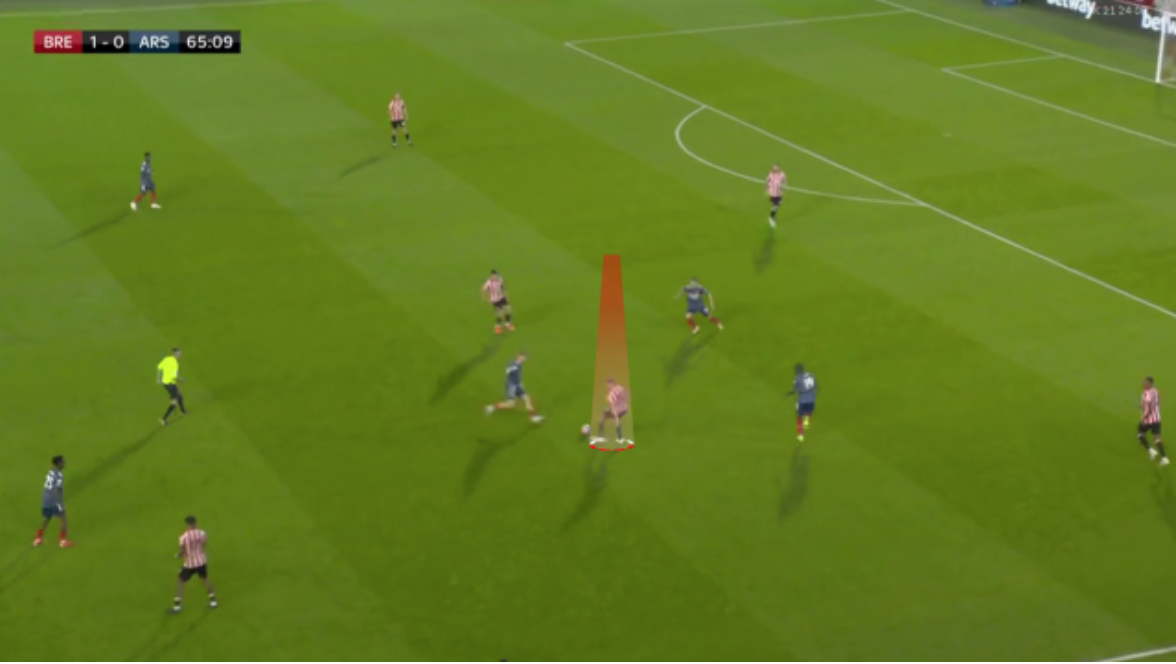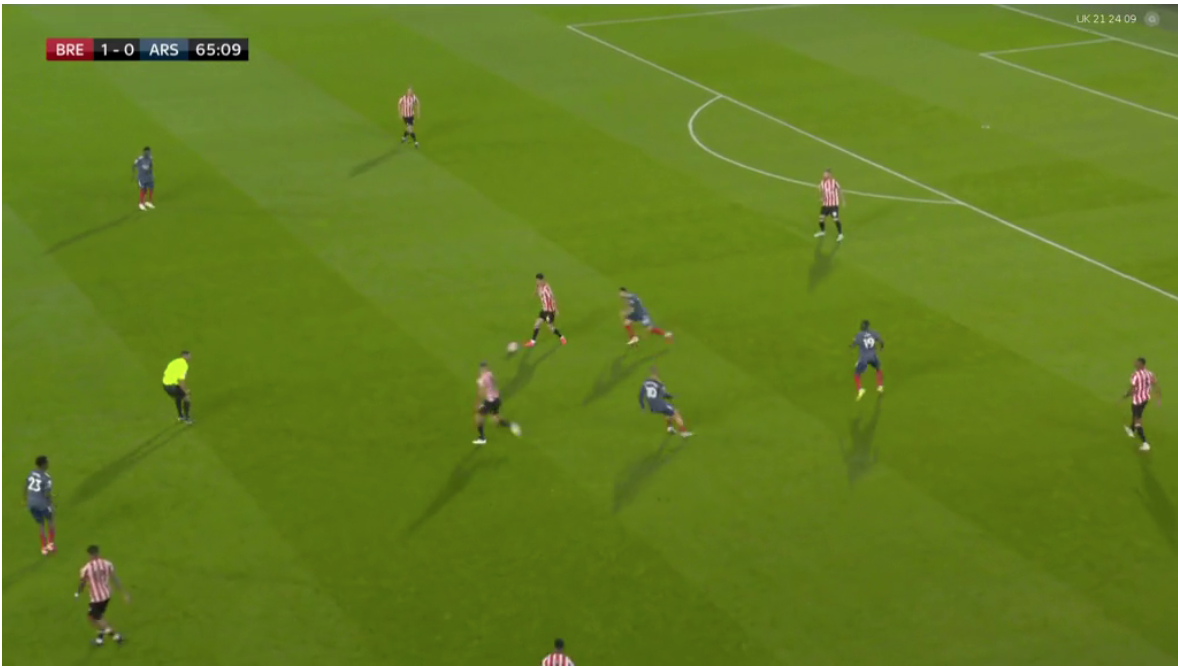 Whenever he gets the ball, he looks to make progressive passes to Bryan Mbuemo or Ivan Toney, Brentford's two central forwards.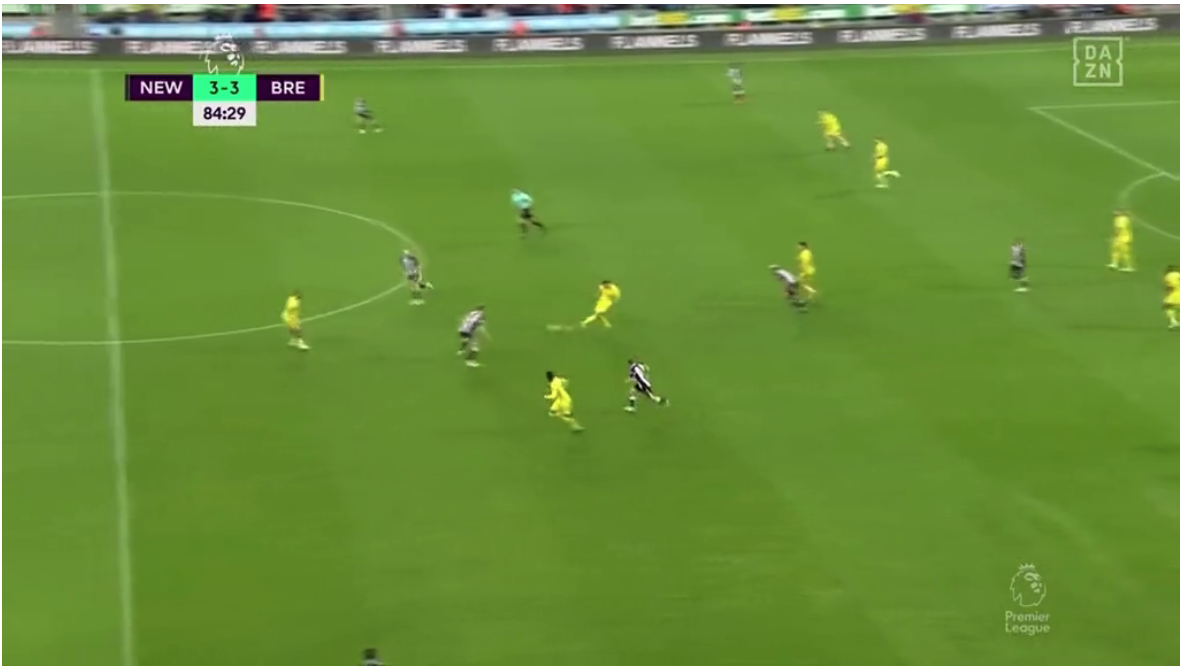 On the other hand, he isn't a player who progresses the ball over long distances. Instead, the ball sticks on his feet for two or three touches, before Janelt eventually takes a decision — the majority of times, the correct one.
It is very difficult to win the ball off of Janelt as he does well to keep the ball under pressure thanks to his physical strength. It is rare to see him attempting passes between the lines, which is why he registers very few key passes.
Nevertheless, this exemplifies a positive: he recognizes his weaknesses, and prioritizes the things that he does best, such as the short pass or a pass towards a teammate who is playing with his back to goal.
Off-the-ball Movement
One of Janelt's biggest strengths is his intelligence to evade markers and receive the ball in ample space. His off-the-ball runs practically render him undetectable for opponents as they cannot follow him during the entire match, whether it's because he deceived them with his movement or because he simply refuses to stop running. He is a first-class workaholic.
When it's time to defend, he is able to run up and down the entire pitch in order to prevent against counter-attacking situations. He is capable of tracking back and finding his man to mark and even stopping them with a tackle. In the below example against Newcastle, we see his excellent work-rate to intercept the ball in the box after sprinting from the center circle.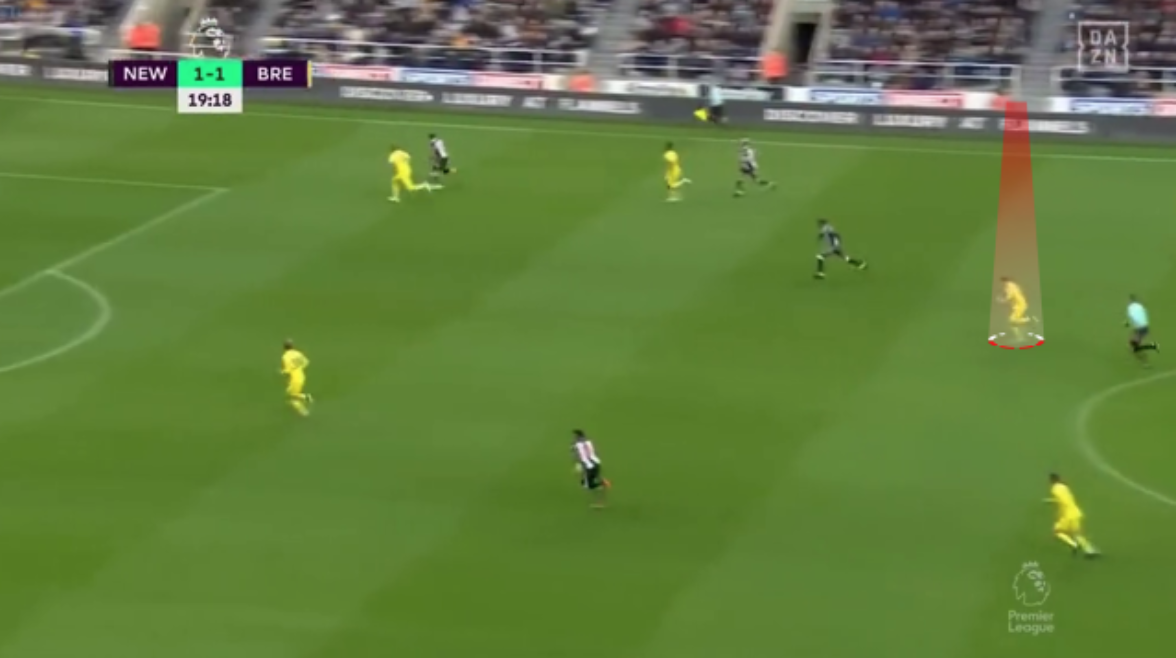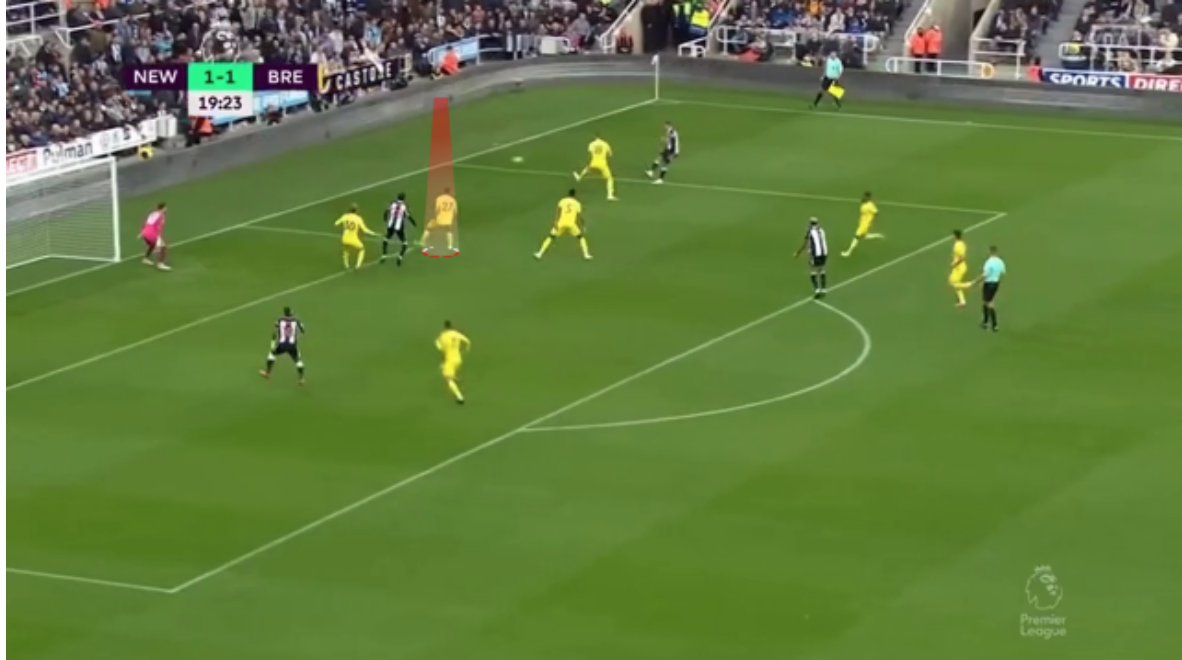 Janelt knows when to leave his line and push forward or provide a supporting passing option for his teammate. He interchanges positions with the holding midfielder Nørgaard, when the Danish midfielder pushes up to attack or when he has to cover for a teammate.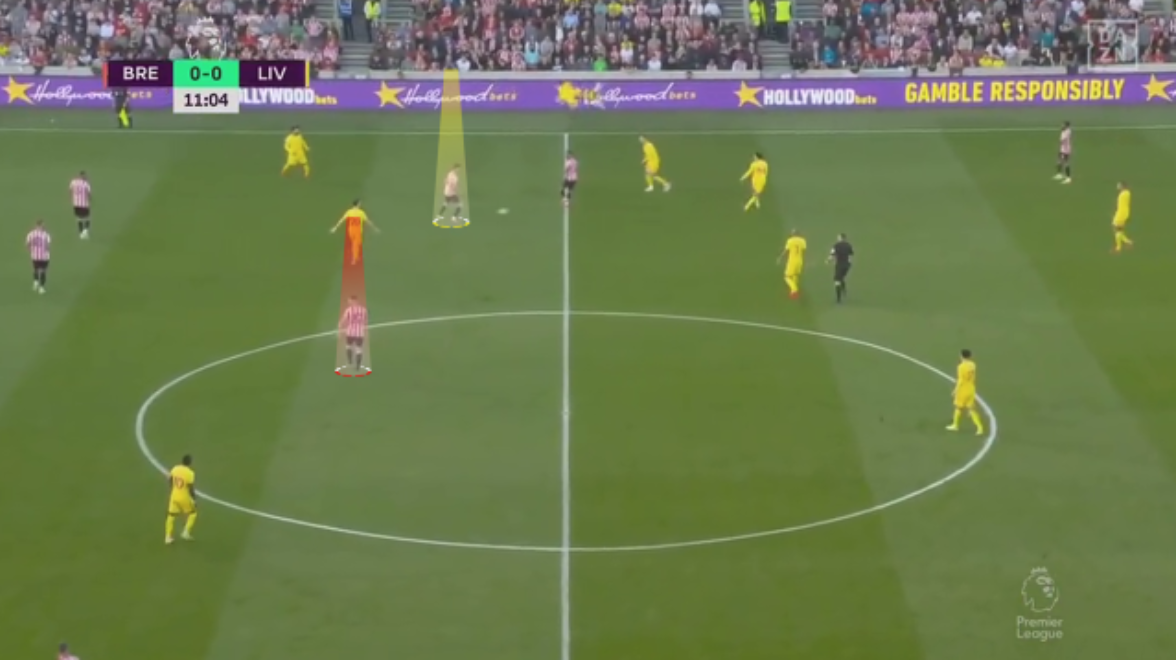 On the other hand, he usually scans the pitch before receiving, although not frequently. That is why on certain occasions, he could lose the ball by moving it up the pitch, since he is not able to visualize the passing lanes beforehand.
Janelt is very difficult to get past, be it through a pass or a dribble. His intelligence out of possession makes him a wall every time the opponent tries to pass the ball between the lines. In the image below, Mohamed Salah tries to link up with Trent Alexander-Arnold, but he is unable to do so thanks to Janelt.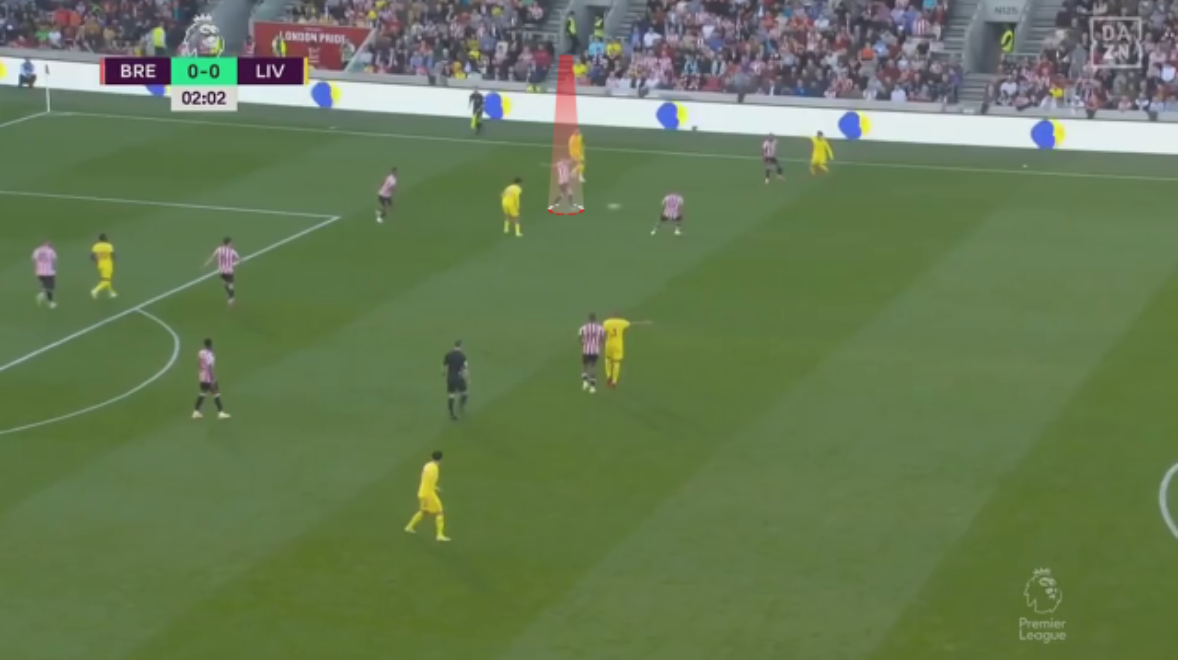 Later when the team has to attack, he offers a lot through his off-the-ball movement or third-man runs. He is constantly looking to create one-two situations with his teammates in order to release the ball, attack the open space, and receive in ample space.
We can see an example of this below, pushing forward and exploiting empty space, and proving undetectable for Liverpool's defense.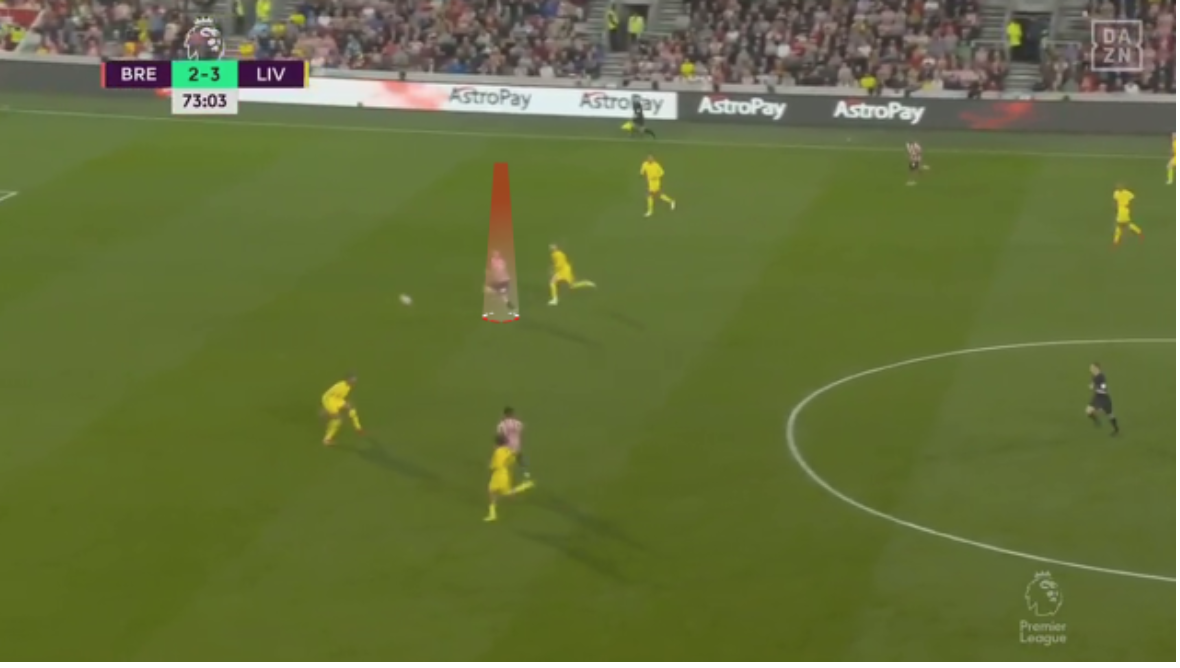 In addition, he is often a threat to the last line of defenders, and if the opposing midfielders fail to mark him, Janelt is incredibly incisive to exploit the box in search of a header. We see an example of this against Liverpool when, after Pontus Jansson's shot careens off the crossbar, Janelt controls the loose ball before heading in from close range.
Defensive Nous
Vitaly Janelt is far from the most creative playmaker and likely won't make a Mesut Özil-esque assist to his teammate, but he is, without a doubt, one of the finest defensive midfielders in the Premier League. His relentless dedication to intercepting and winning the ball back through tackles on the ground, slide tackles, or just by using his sheer physical brute, is his most noticeable trait.
His recent performance against Watford, a 2-1 win, saw him fill in on the left side of Brentford's back three and impress with three tackles, five clearances, three fouls won and three key passes. He won six out of eight aerial duels, eight out of nine ground duels, and also completed seven out of twelve long balls and three out of three dribbles.
Statistically, Janelt is very close to the league average in terms of aerial duels, in which he is always fierce and wins almost all, ground duels, tackles, blocks, interceptions and pretty much every defensive aspect. As his team waits in the box for the opponent to attack, Janelt positions himself almost like a center back, even if he is playing in midfield.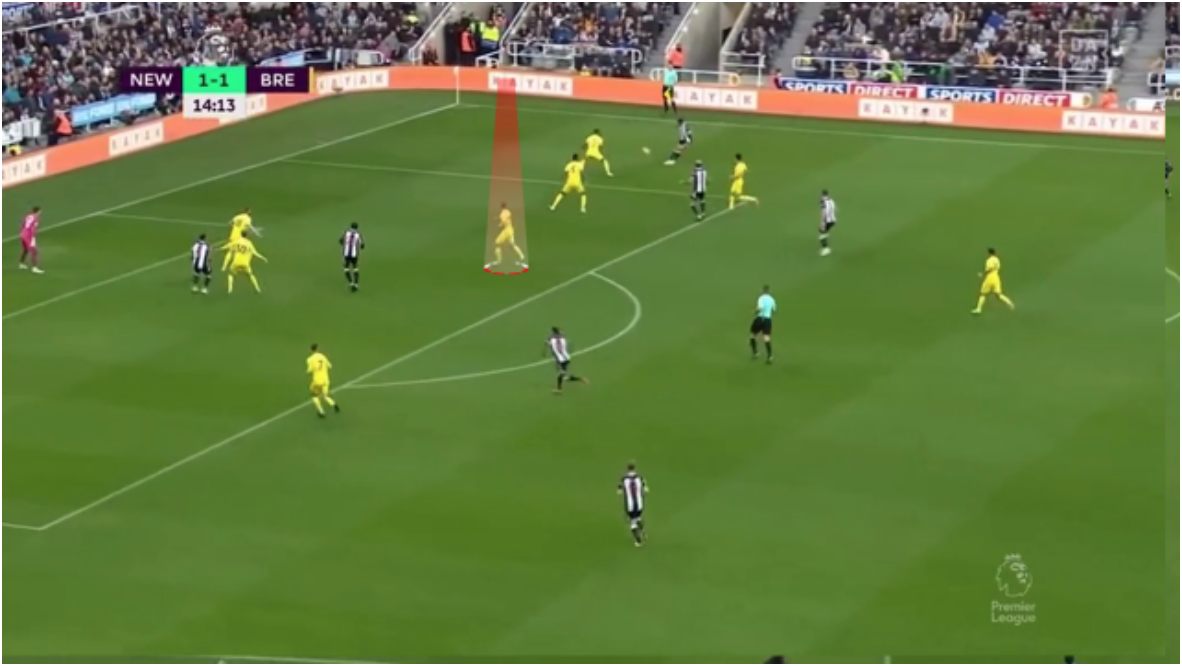 When it comes to pressing high up the pitch, one of Thomas Frank's most dangerous weapons is Vitaly Janelt. Whenever he decides to go and pressure the player that has the ball, Janelt comes out with possession most of the time.
His pressure are effective both in terms of winning the ball back from an opponent as well as pushing the rival's possession towards the flanks, where they are typically dispossessed by another Brentford player. What's more, he times his tackles and interceptions well and rarely concedes clumsy fouls in dangerous locations.
Moreover, his imposing physique allows him to be a menace off the ball and regain possession from players who aren't as smooth under pressure or who simply don't pay attention long enough to see the German monster appear before their very eyes.
Conclusion
More than anything, Vitaly Janelt is a mental warrior. If there's anything that this Brentford side need, it's what he provides: leadership, concentration, and an infinite energy. The batteries just don't seem to run out for Janelt who almost always lasts the 90 minutes and never loses his composure.
He certainly isn't the most aesthetically pleasing player, but whichever manager has him at his disposal will not only use him, but love him as well. The work that he does for Brentford is worth of applause and with a contract that is set to expire in 2024, big clubs will certainly be keeping their eye out on the German workhorse.
Janelt is a player who, like everyone else, has his deficiencies but is intelligent enough to compensate for his weaknesses and accentuate his strengths. At 23 years old and with plenty of room for improvement, his capacity to press high up the pitch and his discipline and awareness to anticipate passes and win the ball back have made him a starter in the Premier League.
After winning promotion with Brentford and the UEFA European Under-21 Championship with Germany in 2021, even brighter skies are on the horizon for Vitaly Janelt in 2022.
By: Bryant Marquez / @bryantmt_
Featured Image: @Juanffran / Rob Newell – CameraSport