Scouting Report: Josh Dasilva
At 19 years old, Josh Dasilva's career had reached a crossroads. Having been offered a contract renewal by Arsenal, he decided to seek pastures new and move on from the club he had resided at since he was just 8. Deliberating his decision for seven months, Dasilva pondered about the number of first team opportunities he was receiving, only featuring three times for the Gunners in the League Cup. 
As a result, unlike fellow Hale End graduates such as Bukayo Saka, Ainsley-Maitland Niles and Eddie Nketiah, Dasilva had decided the route to consistent first team minutes was elsewhere. In the summer of 2018, he jumped ship from the North of the capital to the West, joining Championship side Brentford, who were willing to take a gamble on the English youngster. 
Dasilva's development has skyrocketed during his time at the Bees. Now in his third season with the club, he has made over 100 appearances and scored 18 goals. Since the start of the 19/20 campaign, he has become an essential piece to manager Thomas Frank's system, only missing eight league games out of 80. 
"He is hitting new numbers and new standards every single day in training and I can't praise him enough," says Frank. "Of course, he can create and score goals and that is fantastic, it is really very rare to have that ability."
Whilst former star players Ollie Watkins and Said Benrahma have made the step-up from the play off finalists to the Premier League, Dasilva has remained a pivotal attacking tool for Frank's side. He has developed a superb understanding with teammates Bryan Mbeumo and Ivan Toney, whose goals have particularly garnered plaudits since joining in the summer from Peterborough. 
Positioning
Setting up in a 4-3-3 formation, Dasilva has found his home on the right of the midfield three, where he is given licence to join the attack. His role has solidified since the season prior, where he often also played on the left of the three.
As can be observed from the following heat maps, he tends to spend a lot of time out wide in an awkward area that opposition central midfielders don't like to be pulled to, causing positional problems for opponents.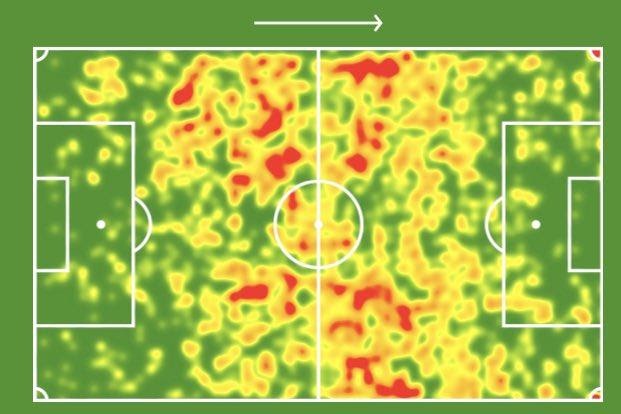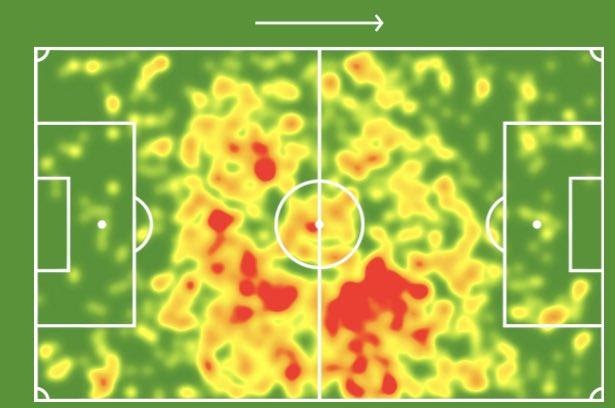 Josh Dasilva's heat maps in 19/20 (top) vs 20/21 (bottom) (SofaScore)
Even in Brentford's off-the-ball shape, Dasilva is often slightly higher than the other midfielders, positioning himself behind the frontline, before dropping back into the midfield line as the opposition progresses play.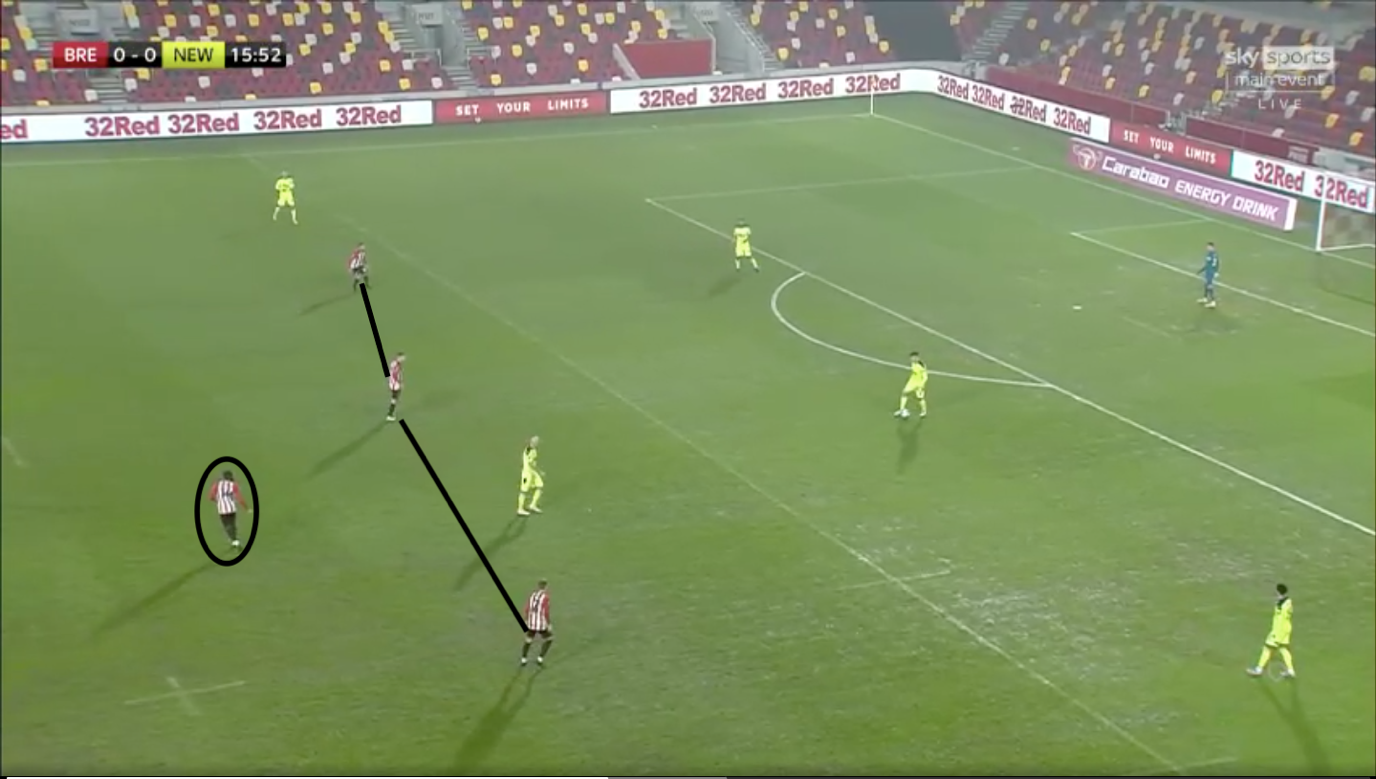 Combination Play/Chance Creation
He is often involved in combination play out wide with the right-back and right-winger – an important part of his role in the team's chance creation methods. In this instance, he positions himself in the right half-space in front of the opposition defence and receives the ball from the right-back.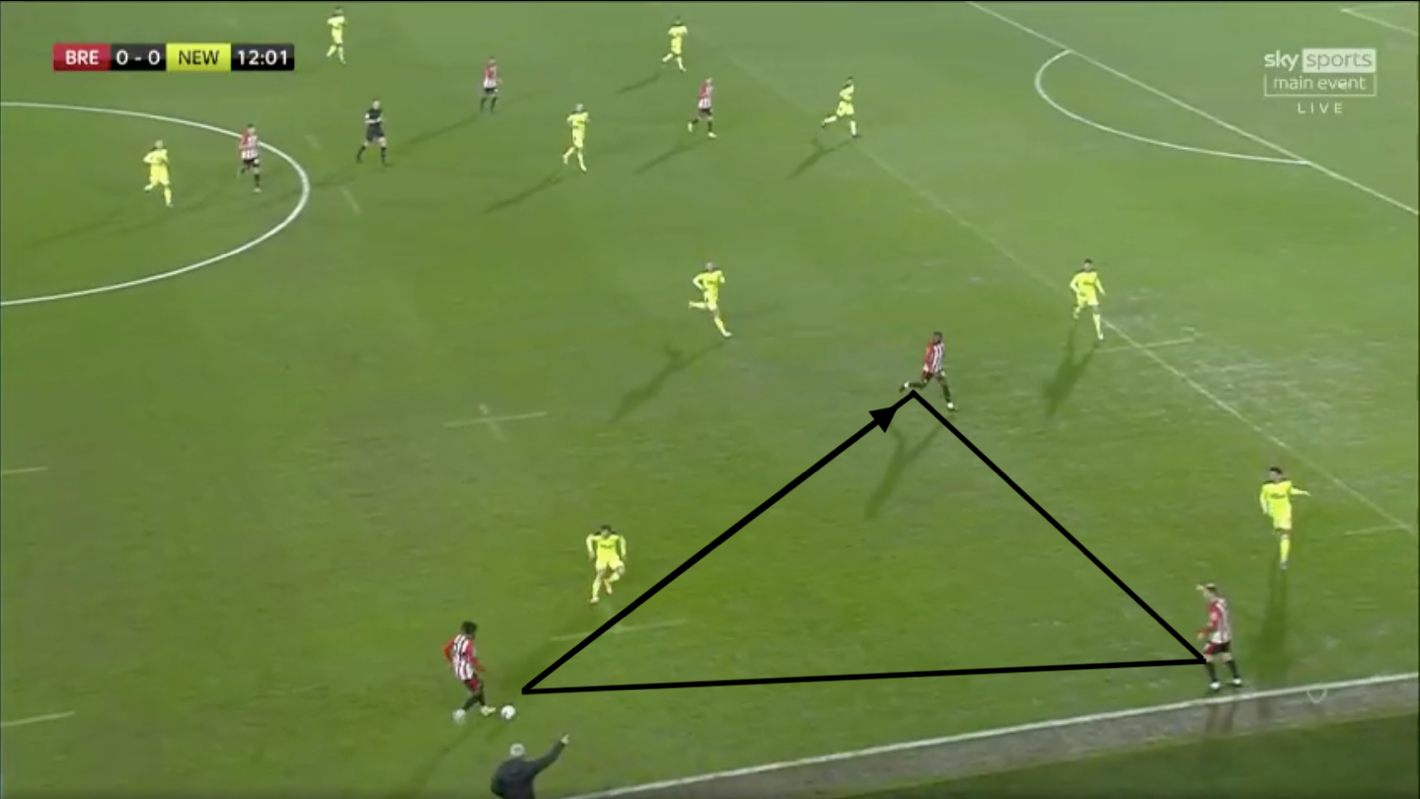 After receiving the pass from the right-back, he gives it to the right-winger, before play is recycled.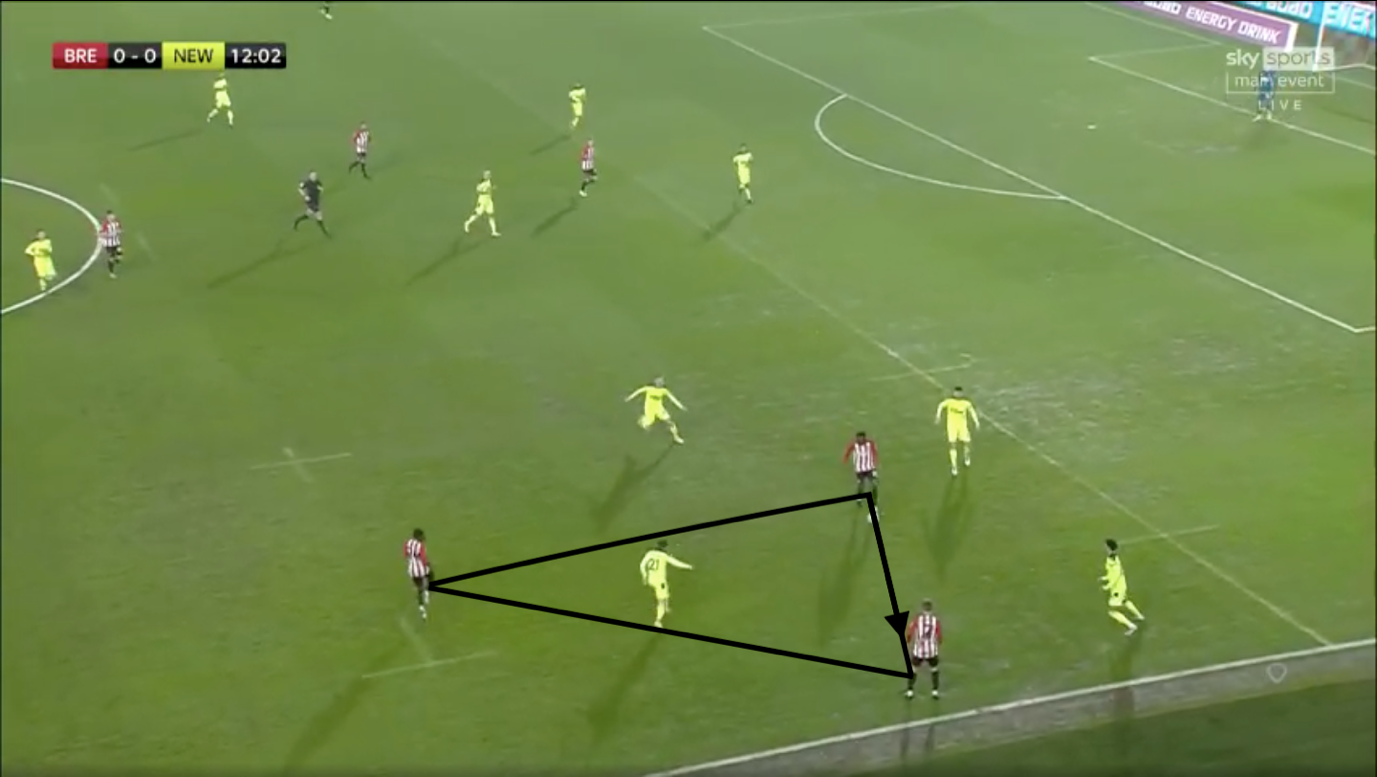 Following this combination play, Dasilva often finds the opportunity to set himself in an optimal position to unleash his signature left-foot curlers. His prime position is at the edge of the box from the right-hand side, with his ball-striking technique being as clean as they come. 
His off-the-ball movement is also key to his team's chance creation methods. Here, his eager forward run drags the opposition's midfielder back along with him, creating an abundance of space for his right-winger.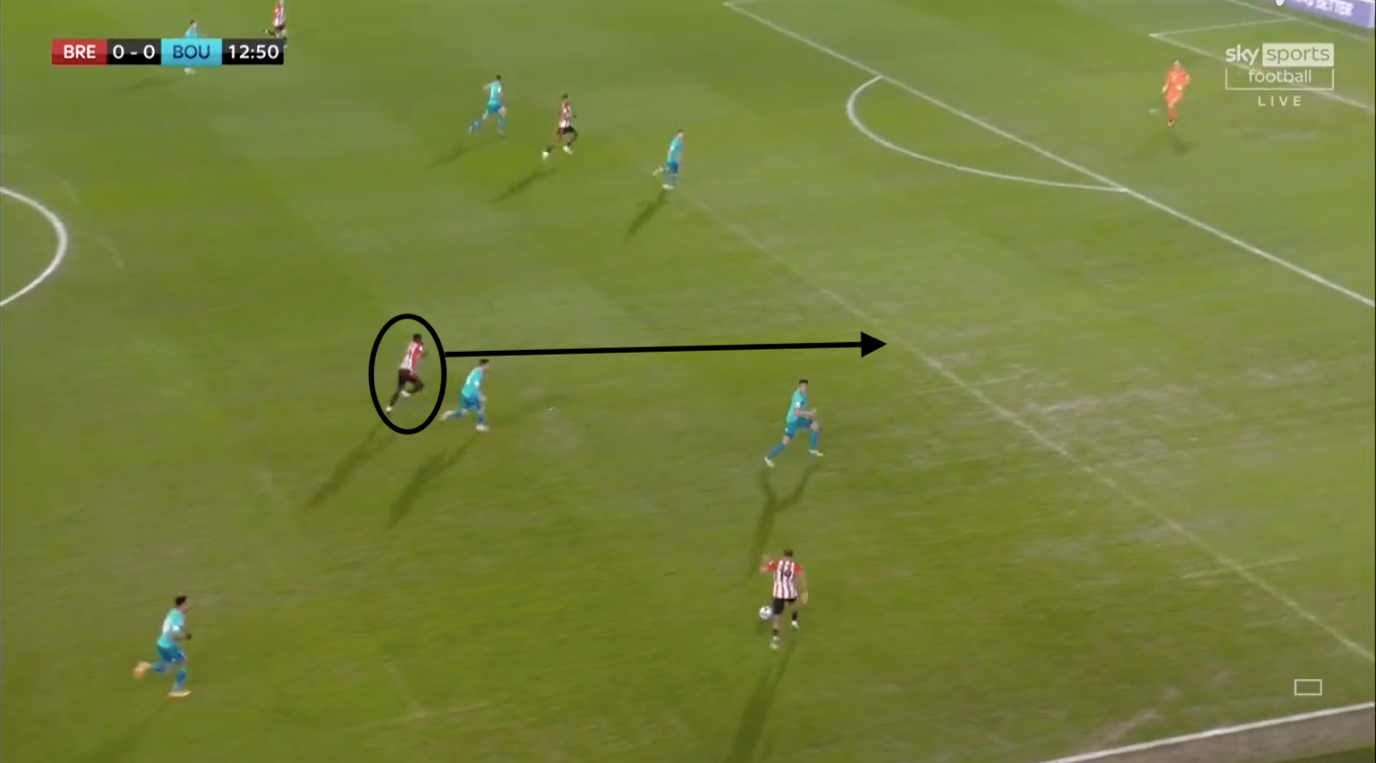 The right-winger (Mbeumo) can now drive inside into the space created by Dasilva, where he has 2-3 passing options or a shooting opportunity.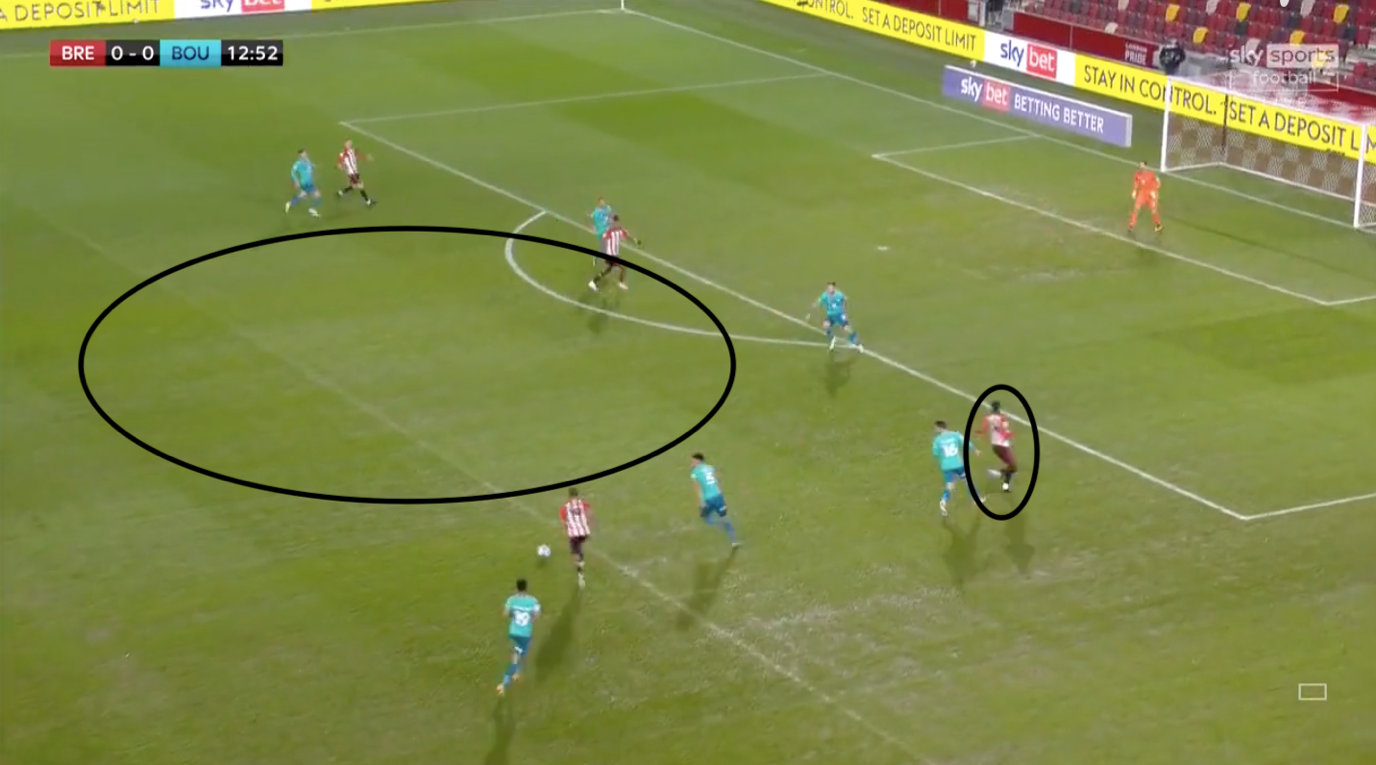 Ball Progression
The rotation with the other central midfielders means he can occasionally play from a little bit deeper where he excels in resisting pressure and driving the play forward for his team. Here he receives the ball to feet from teammate Vitaly Janelt and is immediately closed down by an opponent approaching him from his right shoulder.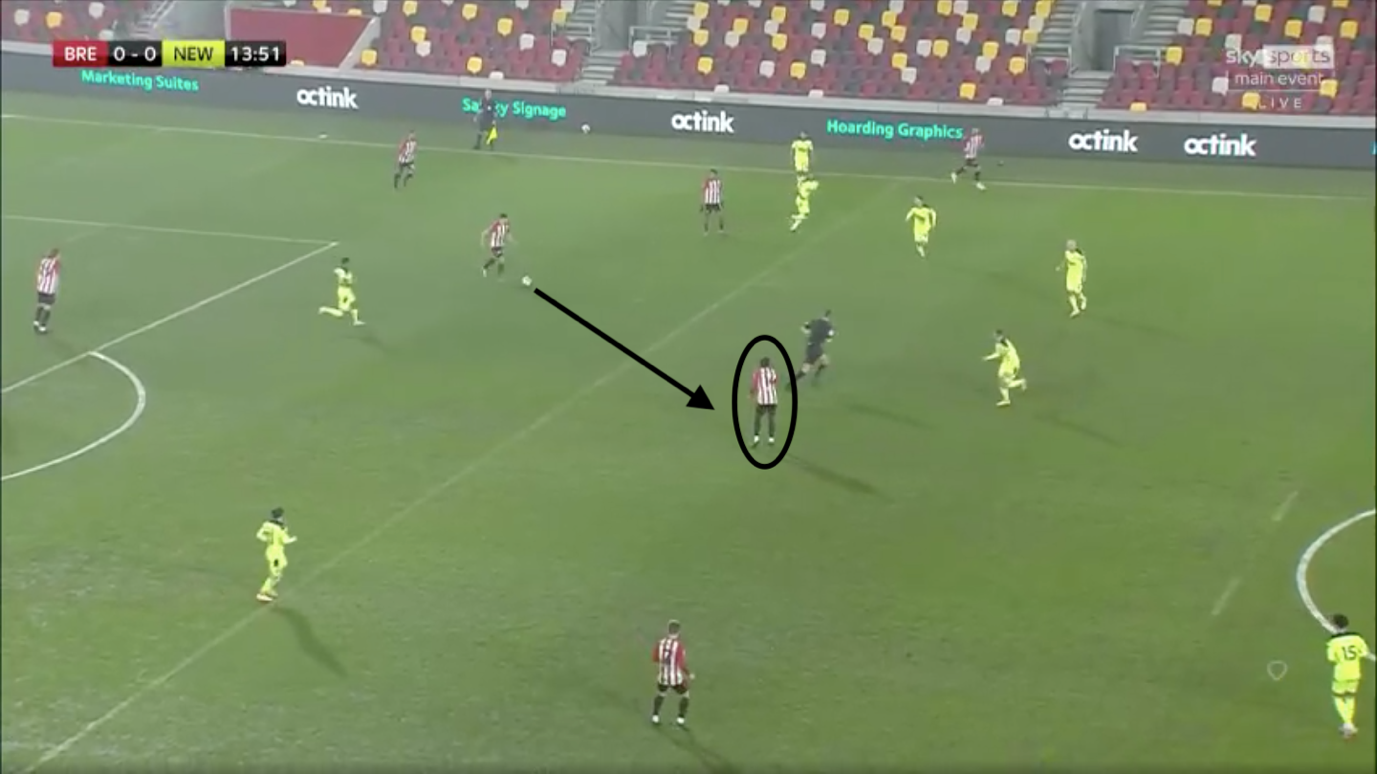 Dasilva's superb awareness combined with his physical prowess allows him to keep control of the situation. He controls the ball elegantly with his left foot ensuring he maintains possession of the ball as he turns anti-clockwise.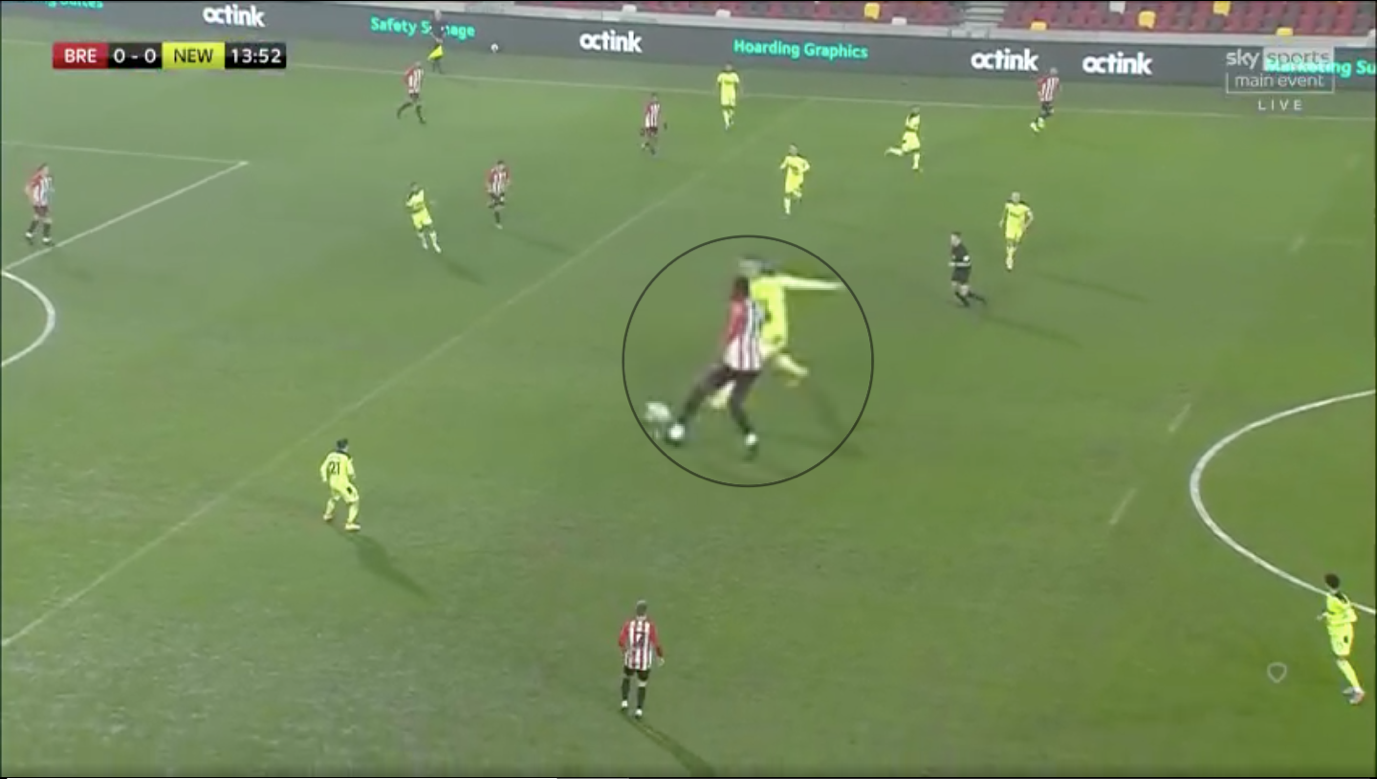 The excellent turn combined with his swift acceleration allows him plenty of space as he leaves his marker for dust. He can now use his powerful ball-carrying ability to start an attack.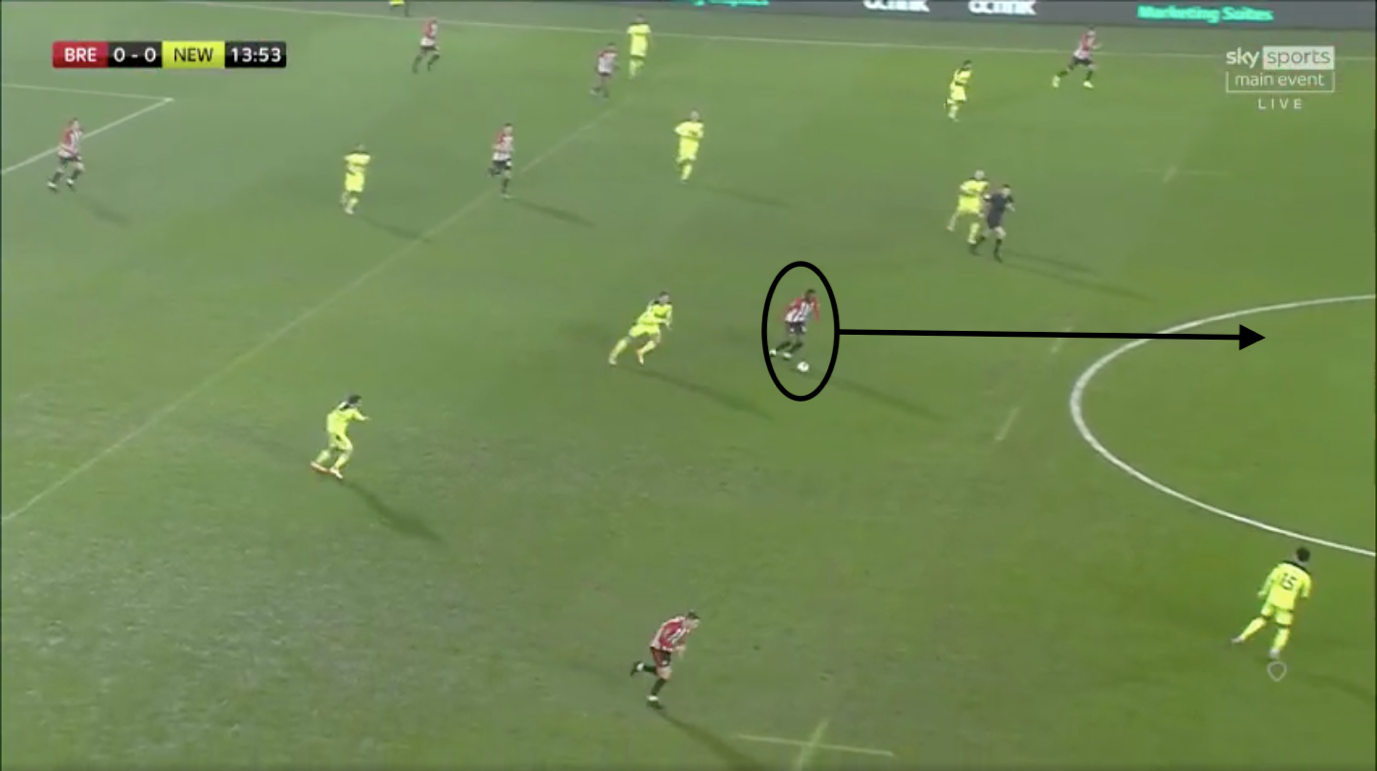 His frightening pace and robust drive allow him to exploit the open space ahead of him with ease, before finding himself near the edge of the box and being closed down by an opposing centre-back. He offloads the ball to the right-winger and a chance is created via a cross.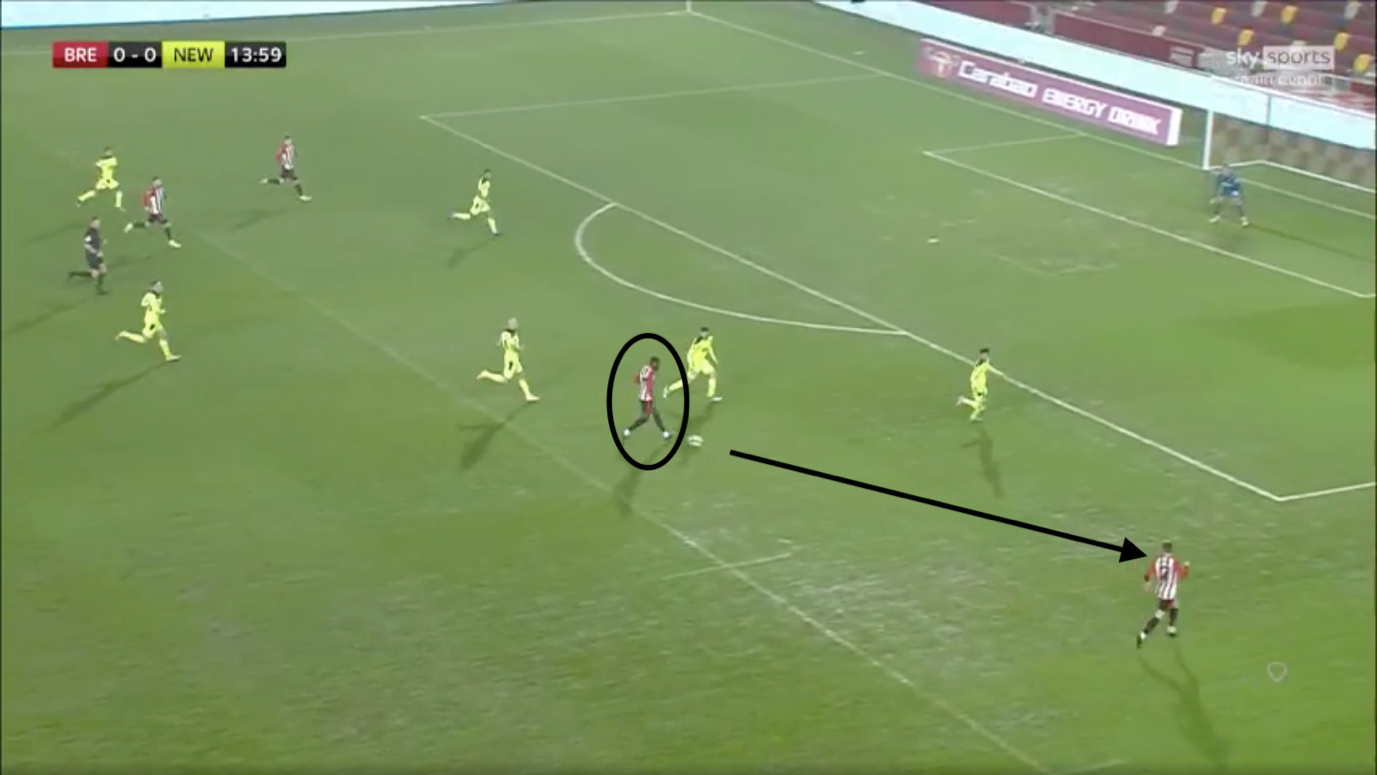 This is just a sample of how effective Dasilva is in these situations, with it being arguably the most impressive facet of his game. He has the numbers to back it up too, completing just under 3.5 progressive runs per 90 – only by Blackburn's Joe Rothwell out of Championship central midfielders.
His numbers showcase an impressive dribbling ability too, yielding a success rate of over 65% – only bettered by a handful of Championship midfielders. Furthermore, the 22-year-old performs a good number of forward passes, pulling them off successfully more often than not, with a 78% accuracy rate. This is only exceeded by three Championship midfielders.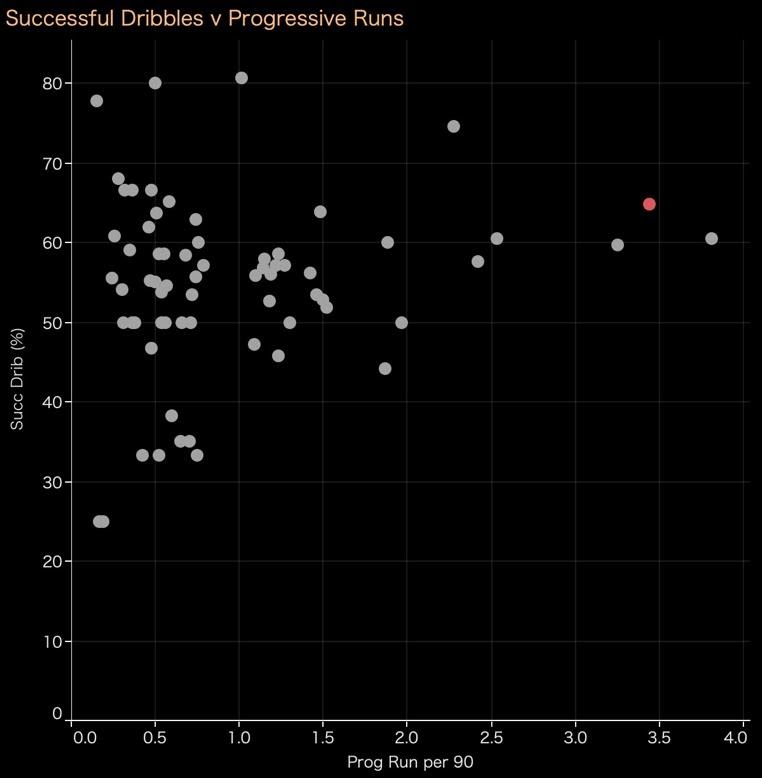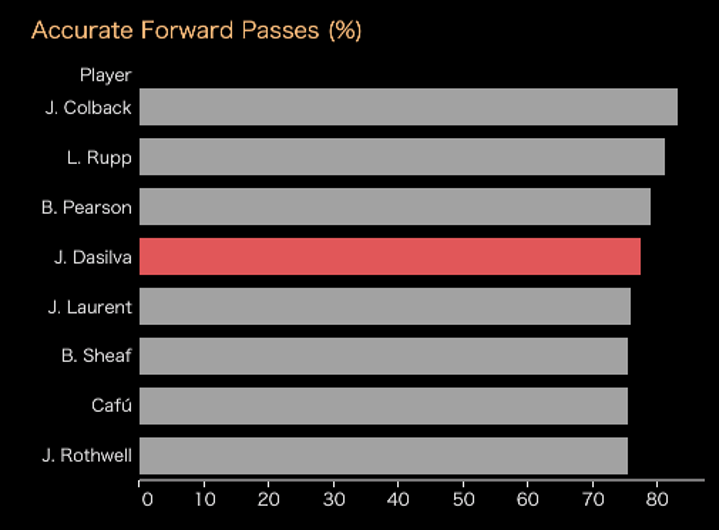 Josh Dasilva's successful dribbles vs progressive runs per 90 minutes and accurate forward passes (%) compared to other EFL Championship central midfielders. Minimum 10 games played. (@TomQuartly)
Defensive Contribution
Defensively, there's scope to improve for Dasilva. His defensive numbers support that he's clearly an attack-minded midfielder. Most of his energy is utilised in offensive transition, meaning his defensive output is quite sombre, performing under 5.0 successful defensive actions per 90. Similarly, he completes 2.5 interceptions per 90 – a figure below par amongst Championship midfielders.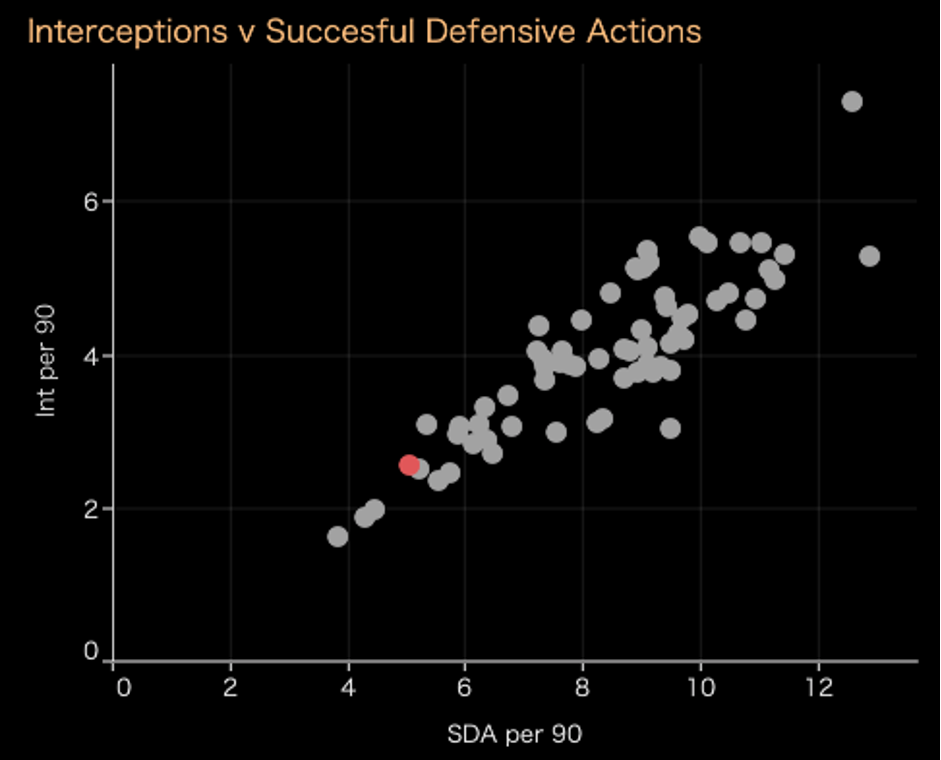 Josh Dasilva's interceptions vs successful defensive actions per 90 minutes compared to other EFL Championship central midfielders. Minimum 10 games played. (@TomQuartly)
Conclusion
Having watched him play a handful of times, it's obvious that Josh Dasilva is an exciting midfield talent, reinforced by the five England U21 caps he has earned since last year. He is an exceptional ball carrier whose short-term future undoubtably belongs in the Premier League – be it with Brentford or an alternative club. He can dribble from midfield into attack, as well as possessing the ability to break the lines, playing a good number of passes into dangerous areas. 
His future likely lies as a box-to-box midfielder, meaning he will probably need to elevate his defensive contribution if he is to excel in the role in the top tier of English football. He looks to be another one that got away from an Arsenal perspective, adding to the likes of Serge Gnabry, Donyell Malen and Ismaël Bennacer as prospects the Gunners let slip through their fingers. 
His playing style can be deftly compared to Ruben Loftus-Cheek, but his devastating drives from deep are almost reminiscent of Yaya Touré at times. This combined with his menacing ball striking ability make him a highly effective attacking tool for Thomas Frank in their push for promotion. 
If Brentford repeat their shortcomings of the previous season and fail to make the jump to the Premier League, Josh Dasilva is an asset they may look to sell given the fee they could command for the player. Despite recently signing a new long-term deal with the club, he may be persuaded if a club of the level as Everton or Aston Villa come knocking. Either way, expect to see the English youngster in the Premier League soon. 
By: James Lloyd
Featured Image: @GabFoligno / Sebastian Frej / MB Media / Getty Images