Player Analysis: William Saliba
After an impressive debut season in Ligue 1, Arsenal purchased 18-year-old French center back William Saliba for €30 million, before loaning him back to parent club Saint-Étienne for the following season. Saliba spent a long spell on the sidelines in 2019/20 due to a hamstring injury in May 2019 and a metatarsal fracture in November, playing just 1,172 minutes out of a possible 3,150.
Shortly after breaking into manager Jean-Louis Gasset's starting line-up in December 2018, Saliba became a leader a the back for Les Verts; in his first season at the top level, Saint-Étienne won 69.2% of their matches with him in the side as opposed to just 40% without him.
After an injury-riddled sophomore season, Saliba will now be looking to solidify a starting spot in Mikel Arteta's Arsenal, where he'll have the chance to form a stalwart defensive pairing with new signing Gabriel Magalhães and further develop as a player in North London.
Why Do Arsenal Need Saliba?
When Arteta took charge of Arsenal in December, the Gunners had conceded 27 goals in 18 league matches, but in the subsequent 20 league matches, they let in just 21; only four teams conceded fewer. They also benefitted from excellent performances from goalkeepers Bernd Leno and Emiliano Martínez; their 48 league goals conceded paled in comparison to their xGA of 56.1.
The likes of David Luiz and Shkodran Mustafi had their fair share of ups and downs under Arteta, but there is the feeling that Saliba will help shore up a leaky defense that still can't be relied upon.
Where Does Saliba Play?
Saliba played in a back three during both of his seasons in Ligue 1, typically playing on the right side of Loïc Perrin and Timothée Kolodziejczak, although he was mainly preferred on the left, with Wesley Fofana mainly playing on the right. Let's take a look at both of his heat maps from the 2018/19 and 2019/20 seasons.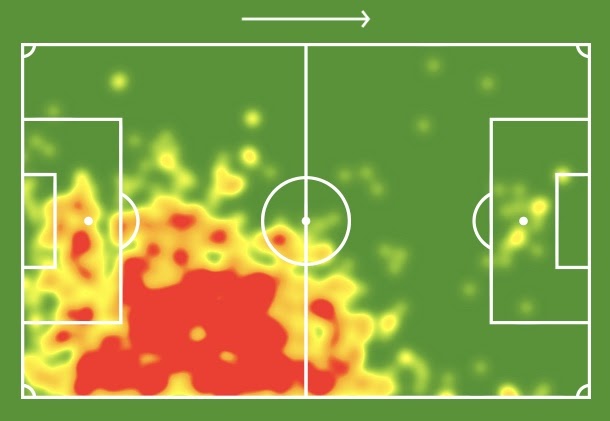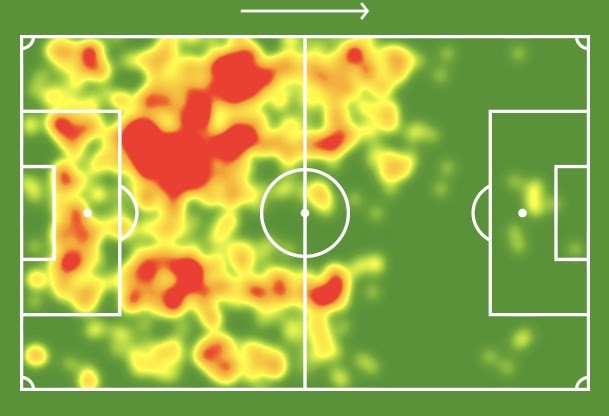 Out of Possession
To put things into context, Saliba played for a team that finished 17th in the league last season. Saint-Étienne play a mid-block, therefore, Saliba isn't accustomed to a high line as Arteta's team operates in.
While his recovery pace was an issue during his first few matches, it seems that the French defender has gotten quicker and learned to time his challenges better. In this example against FC Oleksandriya, he covers plenty of distance to clear an opponent's cross.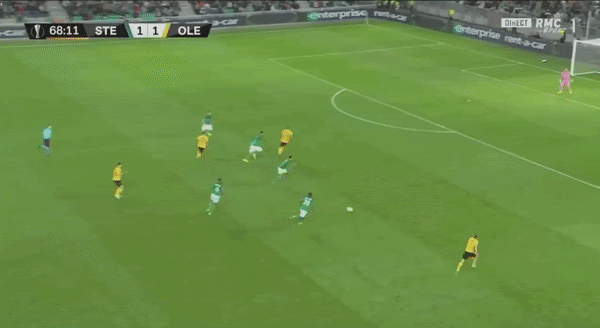 Saliba's main issue in his defensive game is his lack of focus. He often looks like he has lost interest about what is happening around him and this leads to him making mistakes. He either walks when he should be running or doesn't look around him, causing him to be unaware of his surroundings and make mistakes when defending transitions.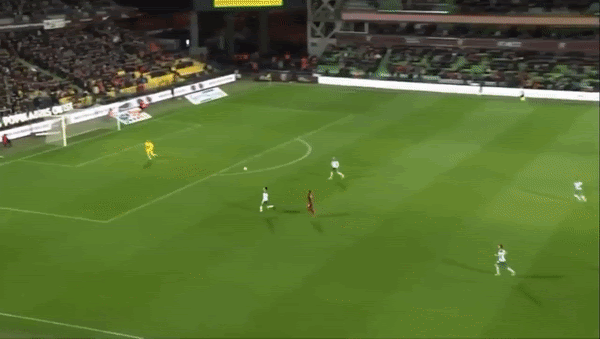 In the example shown below, Saliba waits too long to make a tackle and ends up being dribbled past by Lille winger and current teammate Nicolas Pépé, who scores.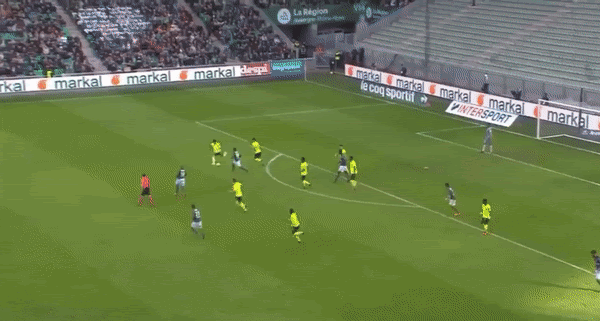 While Saliba struggled at tracking runs into the box in the 2018/19 season, he has improved in that regard, always scanning to see where the ball and his closest opponent are. In this example against Bordeaux, he constantly scans and checks his surroundings before clearing Yacine Adli's cross.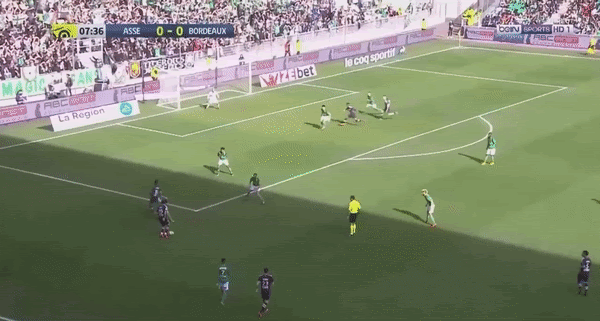 Saliba has also improved in his reading of the game when it comes to dealing with runners. In this example from March's Derby Rhône-Alpes, Saliba sees Lyon center back Marcelo preparing a through ball, and tracks Moussa Dembélé's run in behind before blocking the cross.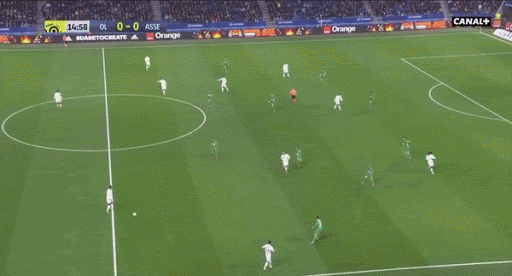 Now, let's shift to Saliba's best attribute: his physicality. Standing 6'4″, the Frenchman is the tallest out of Arsenal's defenders, taller than Gabriel (6'3″), David Luiz (6'2″), Rob Holding (6'2″) and Shkodran Mustafi (6'0″), and equalled only by fellow new arrival Pablo Marí (6'2″). Moreover, at 19 years old, it's possible he still has a growth spurt left in him.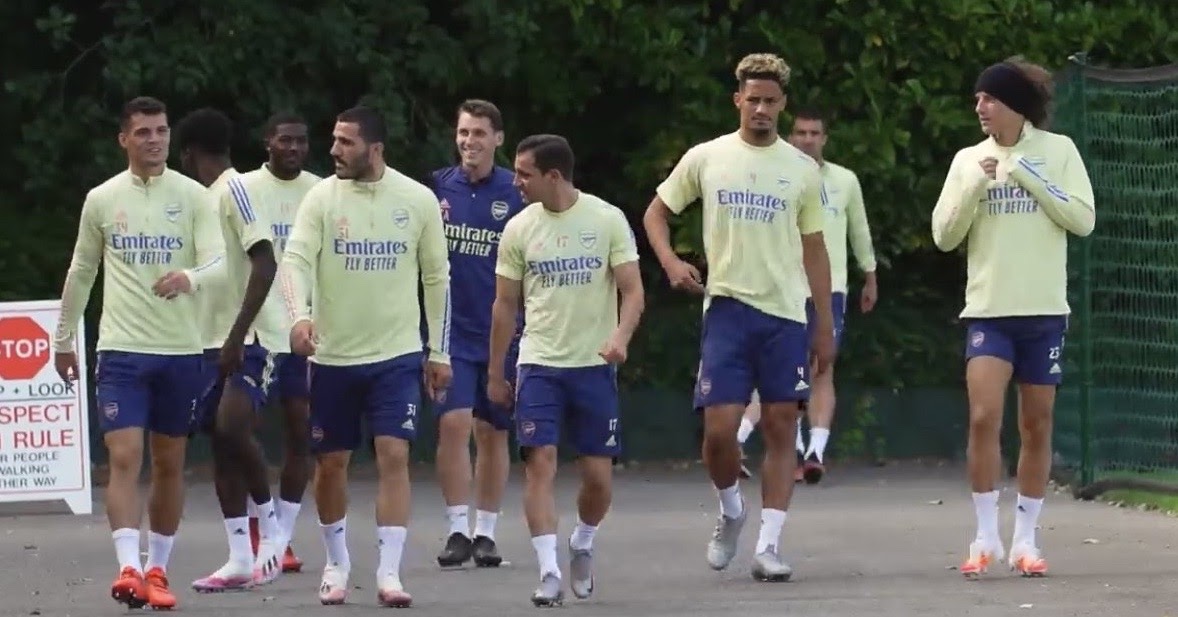 Whilst many Arsenal defenders have been criticized for being lanky or weak, Saliba is anything but; he's not just tall, he's physically imposing and he knows how to use his body to win ground and aerial duels. In the below example, he uses his body to box out Lyon's Lucas Tousart before winning the header.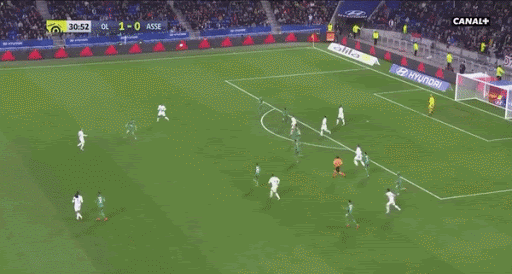 Saliba combines his physical attributes with his technical ability to shield the ball and safely recycle possession. In this example vs. Bordeaux, the Frenchman rushes to the corner to chase down a loose ball, using his body to 'box out' Josh Maja, to borrow a basketball term, calmly keeping possession under pressure before clearing it out of danger.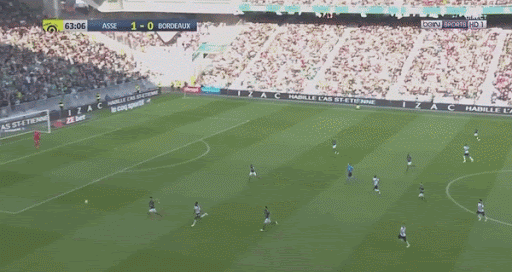 Saliba has an aerial success rate of 74.4%, placing him in the 95th percentile amongst center backs with 10+ starts in Europe's top five leagues. Furthermore, he ranks amongst the finest center backs in the continent when it comes to defensive duels won (76.7%) placing in the 98th percentile in the 2019/20 season.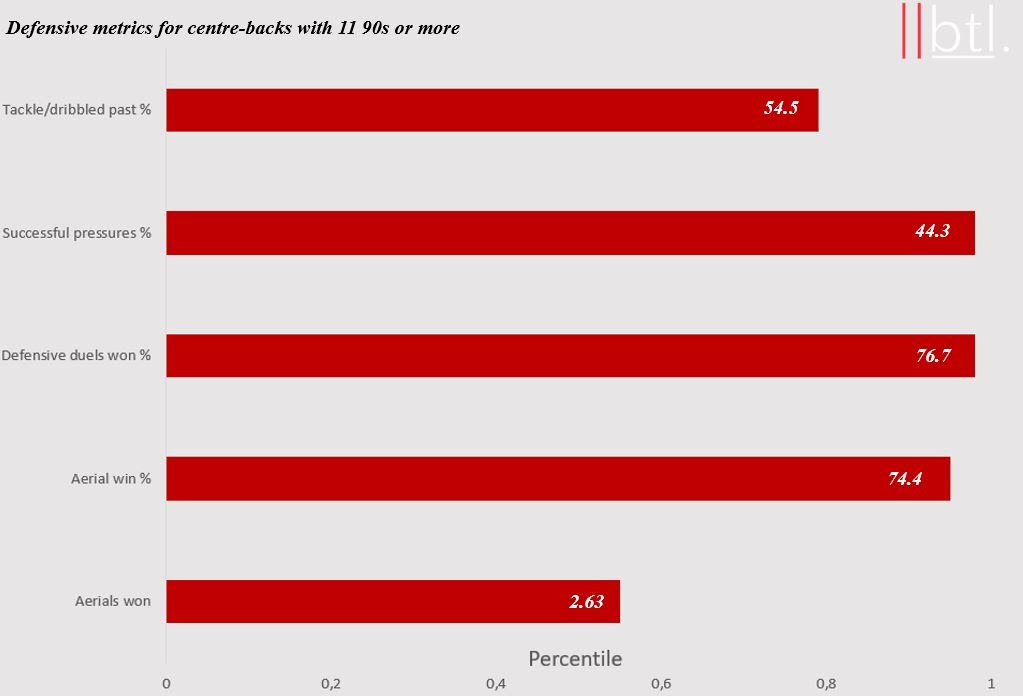 At 19 years old, Saliba is already proving to be one of the most exciting teenagers in football along with Eduardo Camavinga, Alphonso Davies, Mason Greenwood, Ansu Fati and co. But there's still plenty of stuff he needs to work on if he is to make the jump from a world-class prospect to a world-class defender.
In Possession
In order to evaluate how comfortable and effective Saliba is on the ball, we're going to evaluate several different aspects: his ability to break multiple lines of defense via long balls, his ability to pass the ball into space, and his ability to drive with the ball at his feet to evade pressure.
While his progressive passing isn't quite at the standard required for a team such as Arsenal, it's worth noting that Saint-Étienne suffered one of the worst seasons in their recent history last season, finishing 16th.  His stats in this regard fared much better in 2018/19, when Les Verts finished in fourth place, qualifying for the Europa League group stage.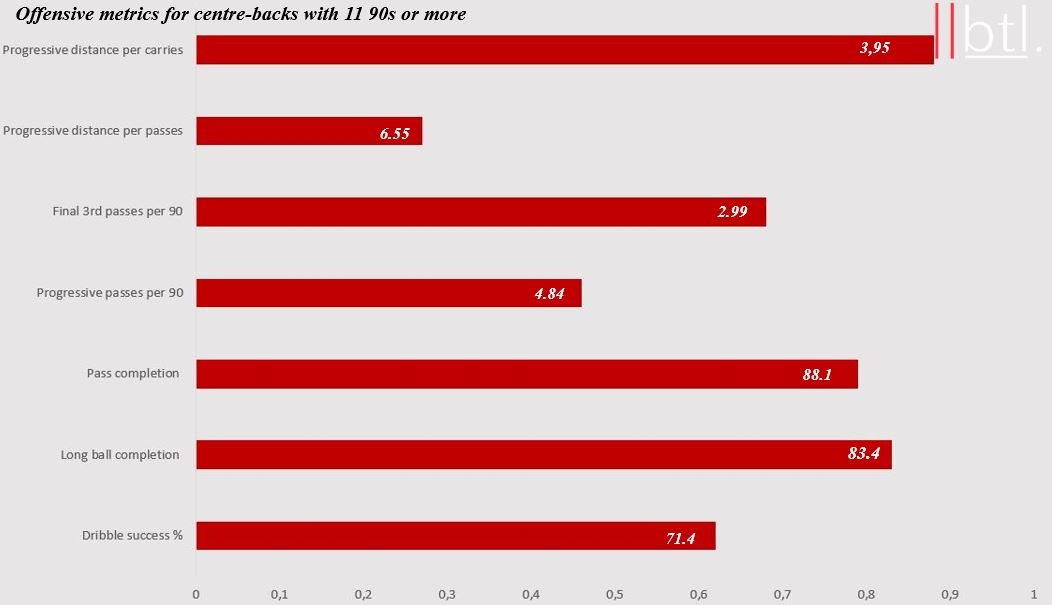 Whilst Saliba averaged a progressive distance per pass of 7.28 yards in his breakthrough season, he averaged just 6.55 in the 2019/20 season. Moreover, he was far less comfortable playing on the left of Claude Puel's back three as opposed to his preferred right.
Saliba began his career at AS Bondy, training under Kylian Mbappé's father, before heading to FC Montfermeil in an eastern suburb of Paris, where he would spend two years before joining Saint-Étienne's academy. Throughout his youth development, Saliba switched between playing as an attacking midfielder or a center forward, an experience that helped him hone his superb ball-carrying skills.
One of his youth coaches at Bondy, Tonnio Riciardo, stated in an interview with France Bleu: "William was ahead in his body type. He was a little clumsy in his movements because of his size, but technically, he wasn't bad at all. At the time, our under-13 team outclassed our under-15s. As a defensive midfielder, William was very strong in the duels, recovered many balls and broke the lines. He was always looking forward."
It just takes a brief viewing of Saliba to see how his time playing in an attacking position has influenced his ability to evade pressure and safely progress the ball, as seen in the example below against Montpellier.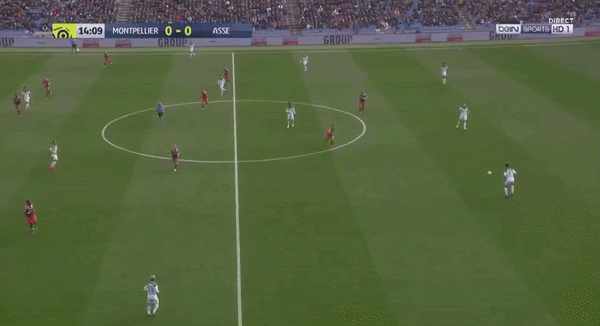 As well as being good under pressure, he is also aware enough to ask for the ball for a quick one-two, as depicted below against Bordeaux. This opens another passing lane to his holding midfielder and helps quick progression of the ball; if Saliba did not continue his run, Rémy Cabella would find himself under immediate pressure without a quick passing option to dish the ball off to.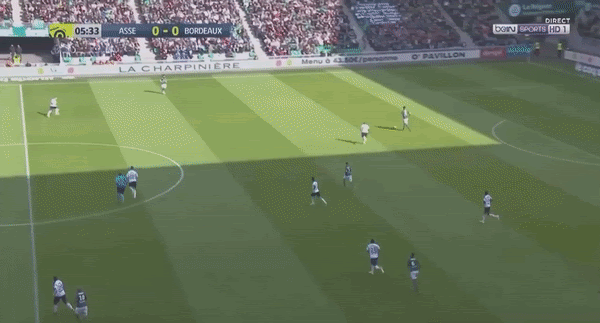 Apart from being able to evade pressure and progress the ball, what makes Saliba a genuine ball-playing center back is his ability to switch the play with his long balls and find attackers in behind the opponent's defensive line.
In the below example against Lyon, Saliba is scanning the pitch, looking for the right pass to make. As soon as he finds an open teammate, he switches the ball to the right flank and executes a nearly perfect cross-field ball. However, Fernando Marçal clears it for a throw-in before Loïs Diony can make contact with the ball.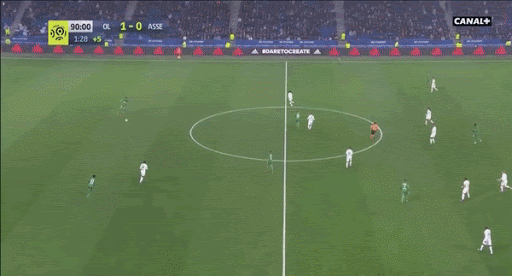 Saliba has the ability to pick out attackers in space and break multiple lines with his passing. Should Arteta continue with the 3-4-3 that has reaped plenty of success so far, the Frenchman would be able to advance from his preferred right-sided position before finding his forward in the final third, as seen in the below examples against Bordeaux and Lyon.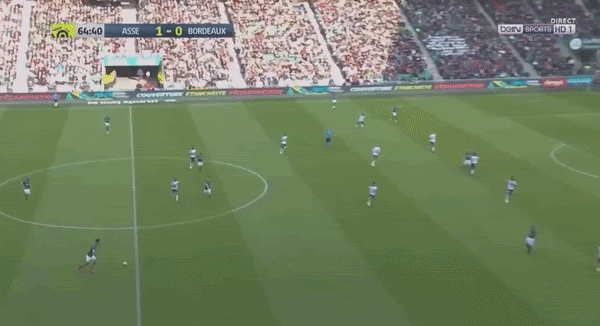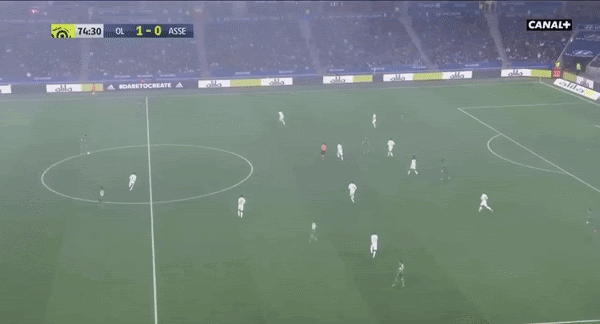 Conclusion
It has been a challenging season for both Saliba and Saint-Étienne — the former suffering a litany of injuries, the latter fighting relegation for the majority of the season after going unbeaten in Puel's first nine games, before losing the Coupe de France Final to Paris Saint-Germain. Nevertheless, Saliba will be looking to continue his rapid rise in London, whilst Puel will be looking to continue his youthful revolution at the Geoffroy Stadium.
Saliba must improve in certain areas such as breaking the lines with his passing if he is to reach the top level, but it is clear as day that he is already one of the best young center backs in football, and for €30 million, he could end up being a massive bargain for the Gunners.
In less than a year, he has already made strides in areas such as reading the game and defending transitions, and he'll only improve playing in a possession-heavy side and working under a progressive manager such as Arteta. For a team that has struggled so much on the defensive side in recent years, it appears those issues may be coming to an end soon.
By: @JKFootb4ll
Featured Image: @GabFoligno / Arsenal