Rémy Cabella – The Newcastle 'Flop' Thriving Once Again at Lille
Remember Rémy Cabella, Newcastle fans? That slight little attacking midfielder signed as part of the 'French Revolution' at St James' Park in the mid-2010s? That's right, the guy signed under Alan Pardew for around £12m, who would contribute a measly two assists and just one goal, before being shipped straight back to France with Marseille at an eventual £2m loss.
Well, he's back! Or more accurately, back on the radar. Having been on a journey spanning five clubs since his departure from the North-East, including a spell in Russia with FK Krasnodar, Cabella is back in a 'top five' league at the age of 32 with Lille, where he is displaying the same qualities which caught the eye of Newcastle's scouts eight years ago. 
As I will examine in this article, Cabella is not just playing well, but on a level similar to the global stars such as Neymar and Lionel Messi at the top of Ligue 1. Cabella's spell in England is a story of underutilised and misprofiled ability. When paired with a coach who understands how to maximise these qualities, we see Cabella at his best. 
Alan Pardew, Paulo Fonseca, Napoleon and Having Something to Prove
When trying to understand who Rémy Cabella is, as a player and an individual, it is useful to look back at that year in England. Back in 2014, long before the days of the Saudi takeover, £12m was deemed a significant sum for Newcastle. Having essentially played a background role in Montpellier's title win of 2012, Cabella would flourish in the aftermath, securing a spot in France's squad for the 2014 World Cup and a move to the North East.
It has since been claimed by the Montpellier president that offers from 'top six' clubs were on the table for Cabella at the time, but the player chose mid-table Newcastle, much to his disappointment. Cabella arrived in England to much anticipation, with manager Alan Pardew quick to describe his qualities to the press.
'Rémy's a bit like Manchester City's David Silva and Samir Nasri, he's got that ability to find the extra second to make that pass', he told reporters. It is somewhat confusing then, considering that Pardew knew what kind of player Cabella was, that he deployed him in such an unsuitable role.
Anyone who had watched Cabella would've known that he was effective in central areas. Described in a Guardian article from the time as having a 'low centre of gravity afforded by his 5ft 7in frame', a 'balletic sense of balance' and the 'ability to move possession on swiftly'. This, combined with the aforementioned ability to 'find the extra second' and his less-than-athletic build, should have made it an easy decision to place Cabella in the centre of the pitch, with limited defensive responsibility.
This, however, was not the case. As Cabella himself told the Chronicle years later, "I played on the right or on the left and it was a little bit difficult for me because I had to defend a lot and run a lot. Me? I need to touch the ball, play with my team-mates, score and assist. If I played in my position, it would have been different. I'm sure of it." Cabella was clear that "the difference was the physicality." "To play in England, you have to be strong", he said. 
It would appear from this account that he was deployed carelessly. It is one thing trying to help a young Frenchman adapt to the North East of England, at the same time facing a step-up in the level of opposition, without throwing in the avoidable difficulty of playing in an unknown role and position and asking him to do things which he isn't very good at.
Cabella is also conscious of the physical disadvantage that his height and build provide. He hails from Ajaccio, Corsica, whose most famous export also held a reputation for his small stature. Napoleon's short height, we now know, was a myth. Cabella's however is a reality. Used properly and well supported, a weakness in one tactical role can become a devastating strength in another, Newcastle missed this opportunity. 
For a club that paid a significant sum to sign him, on a six-year deal no less, it is a wonder that such care wasn't taken. Regardless of this, Pardew would not last the season and Cabella would follow him through the door in the summer. What relevance then, are these events almost a decade ago, to Cabella's situation now? Well, it is interesting to see above, an example of misprofiling, careless selection and a managerial mismatch, as the situation at Lille could not be more different. 
Champions of France to the surprise of practically everyone in 2021, Lille have been undergoing a rebuild over the past couple of years. Almost all of that team has been sold, quite rightly so at the prices on offer, leaving a refreshed squad with something to prove. What better man to lead them then, than a manager with a similar mission?
Paulo Fonseca joined at the start of the season, having been deemed to have failed in his first job in a 'top five league' with Roma. As Alex Barker notes, 'despite reaching a Europa League semi-final', he left 'with his reputation damaged'. The former Shakhtar coach returned to the dugout in Lille aiming to replicate the beautiful football and player development that was displayed in Ukraine.
This is not dissimilar to Cabella. Having spent some time in Russia, often competing at a European level, he returned to his boyhood club in Montpellier in 2021. This was far from a dream homecoming, as he joined in April following the sanctions imposed on Russian sides, leaving him little time to catch up with his teammates and only a short contract that was not renewed. Despite managing just five appearances in Ligue 1, his season prior to this in Russia featured 4 goals and 6 assists, which is presumably the evidence Lille referred to before securing his services in the summer.
Cabella, like Fonseca and somewhat like Lille, has something to prove. Returning to a top league at the age of 32 and looking for a chance to prove his abilities again. As previously discussed, in order for this to happen he needs a manager who can enable that performance. Fonseca appears to be a perfect fit in this regard. 
Fonseca's Lille and Cabella's Tactical Role
Lille have lined up this year in a 4-2-3-1 for a majority of their games this season, with a three-at-the-back option available as an alternative. As displayed in the graphic below, the central attacking midfielder, most often Cabella or the similarly gifted Angel Gomes, has a vital role in providing a central link between the midfield and attack. It should be noted that Cabella will be started on the left-hand side now and again, but when Lille have the ball he generally occupies central areas typical of a number ten regardless of his starting position.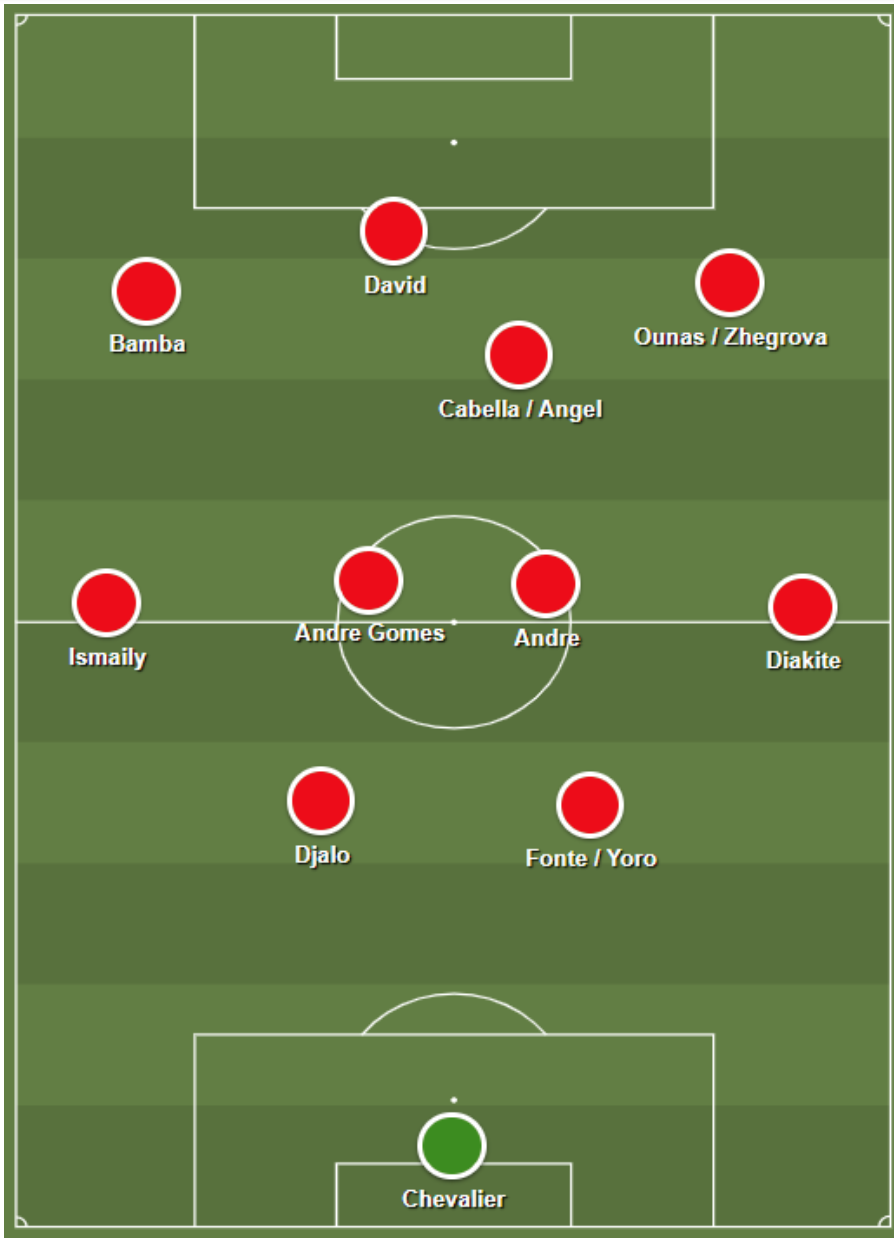 Fonseca's Lille look to entertain by playing on the front foot, as he himself puts it 'playing the type of match the supporters need'. They will aim to dominate the ball, typically using one or both full-backs to stretch the opponent's shape, whilst Cabella and his colleagues overload the middle of the pitch. 
As Adam Scully of Total Football Analysis writes, Fonseca 'wants his teams to be in control of games by keeping possession of the ball as much as possible'. At the time of writing, this has been highly effective. Fifth in the league with 41 points, scoring 40 goals in 23 matches from an xG of 42.7, Lille are fantastic fun to watch. 
Out of possession, Lille do not press intensely like most possession-based sides. Instead employing a mid-block with a high defensive line, remaining 'compact vertically and horizontally'. They only engage the opposition once they have progressed the ball into the middle third, rather than pressing their backline directly. 
This is a tactical trend that Fonseca began to explore at Roma, in order to adapt to players like the aging Edin Dzeko. Similarly, this suits Cabella, whose physique does not suit hard pressing. Instead, the opposition come to him, allowing him to make challenges for the ball on his terms, which he has proved remarkably good at.
Lille will often crowd the area on the edge of the box when attacking, which allows Cabella's quick feet and magical creative instinct to flourish. As Scully notes, Fonseca's sides show a 'keenness to play through the central areas to try and reach players between the lines'.
The wingers will play narrow alongside the attacking midfielder to exploit the half-spaces. Cabella is adept at this tight combination play and will often rotate positions with the wide players. Lille's attackers move dynamically, Cabella finds them with a slide rule pass, and goals soon follow. 
Olympique Lyonnais: Failure, Success, and Everything in Between
Cabella's Data – Matching Some of the World's Best
Lille's high attacking output is reflected in Cabella's data this season, which is some of the most eye-catching in the division. Firstly, a metric that immediately stands out is his 'shot creating actions', described by FBref as a pass, take on, or foul won which leads directly to a shot.
Cabella ranks remarkably high for this, with 6.64 actions per 90 minutes. This places him in the top 99th percentile among all attacking midfielders and wingers in Europe's top five leagues. As well as this, he ranks second in Ligue 1 altogether, ahead of global icons such as Lionel Messi and Neymar. 

You will notice above that he is beaten by one player, Lyon's Rayan Cherki. A remarkable talent whose contribution is undeniable, but this requires an important caveat. Cherki's per 90 figure is incredibly high and part of the reason for this is because of his playing time. He has been on the bench for a lot of the season, often coming on into more open-game states. As his starts increase we would expect to see the figure come down significantly. 
A similar caveat can be applied to Cabella's numbers. As shown in the graphic, he has still played a significant number of minutes, far more than Cherki and not far off Messi, but he has missed 6 games out of 23. We would expect his numbers to drop off a little with more games, but not hugely. The games he has played, he has started and generally lasted 90 minutes. 
The next data point of note is his progressive passes per 90. This is any pass that progresses the ball at least 10 yards up the pitch, or any pass into the opposition penalty box. Again, Cabella is operating on a top level, among the 99th percentile in Europe for this metric. 
He's even ranked 19th in Ligue 1 as a whole, which is remarkable in a category dominated by deeper-positioned players, who typically have more of the pitch to progress into. This is likely enabled by his tendency to find spaces in midfield and play threaded passes to attackers in and around the box.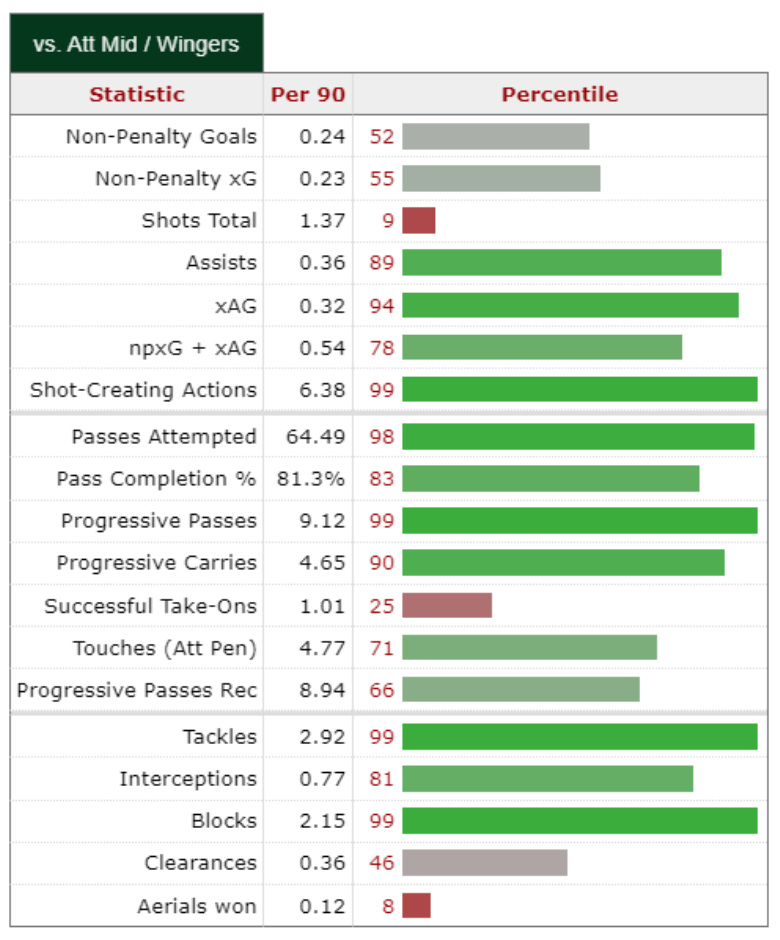 A final category of note is Cabella's defensive contribution, mainly his tackles and blocks per 90, both 99th percentile yet again. As previously touched upon, this is helped by Lille's mid-block, waiting for the opposition to play into midfield, where Cabella can time a challenge without having to press as intensely as players in other top sides. He is also quite happy to help out the two defensive midfielders, often seen popping up on the edge of the box to intercept a stray pass, and happy to help his team when defending set pieces. 
This data is mightily impressive for a 32-year-old player, not deemed worthy of a renewed contract at Montpellier last year and seemingly consigned to life outside of a top league. With the empowerment provided by Fonseca, who is a great stylistic match for him, Cabella is able to display his ability in full. 
So What Does This Look Like on the Pitch?
Long story short, it's fantastic fun. Each Cabella appearance contains a number of brilliant moments, artful escapes from onrushing opponents, imaginative passes and an ability to create space and time for himself, as referred to by Pardew all those years ago. What follows is a selection of some of the best. To begin with, a match in the early weeks of the season, fittingly against Montpellier.
The first of his two assists in this match acts as a great example of Cabella's vision and incisive passing. We can see him below, marked with a blue dot, taking up an intelligent position to receive the ball. He has spotted an open space where he can receive under little pressure from the opposition.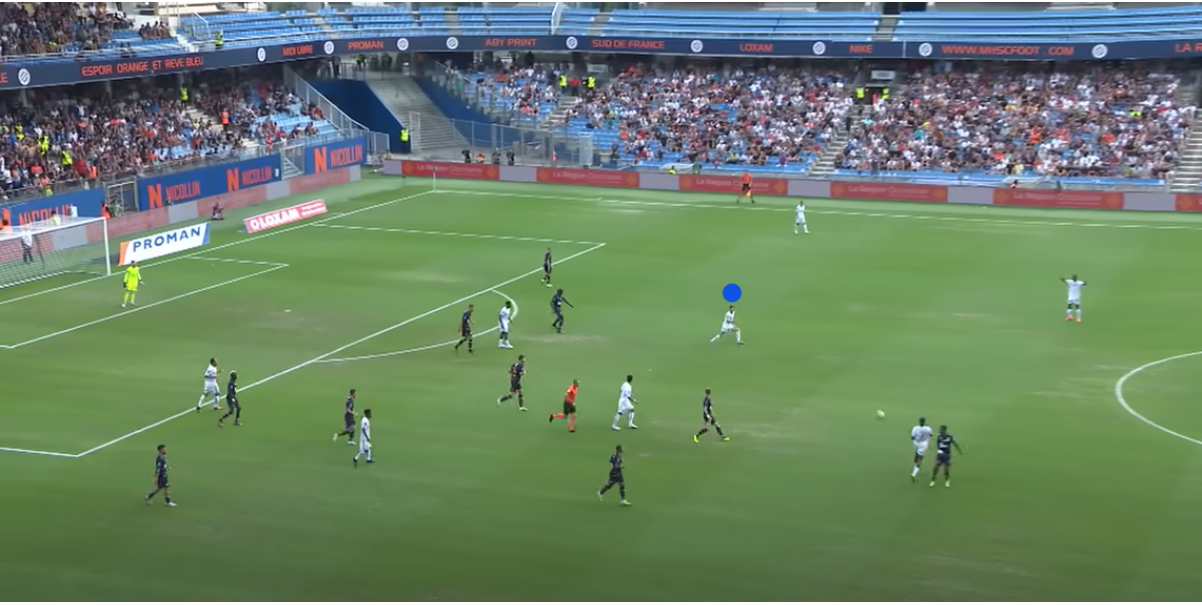 Upon receiving the ball, he quickly turns towards the box, carrying the ball forward and waiting for his teammates to move and make intelligent runs.
Thanks to his patience, he is presented with a plethora of options. Typically though, he chooses the most creative and effective one.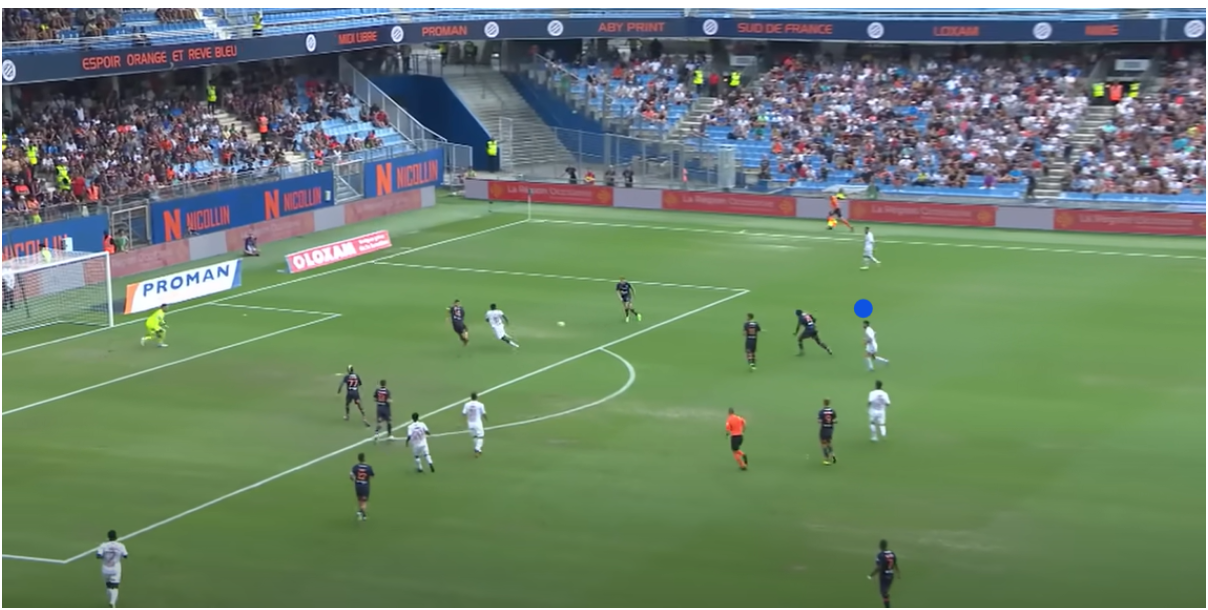 A pass directly through the Montpellier midfield and defensive lines, taking three players out of the game and finding the feet of Jonathan David, who finishes superbly. This is an example of the progressive passes and shot-creating actions that stood out in the data. Cabella has a good eye for game-changing passes.
Fast forward a few months and we can see that Cabella is still providing this creative spark for Lille. In this example against Strasbourg, he receives the ball in the centre of the pitch following a pass from his goalkeeper, Lucas Chevalier.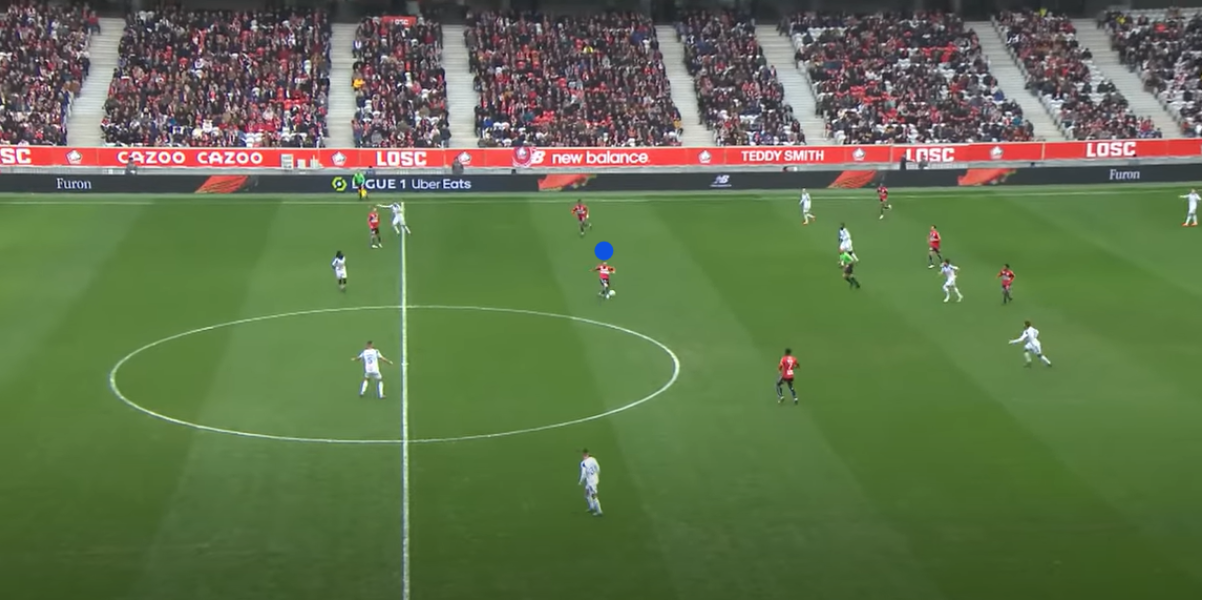 Once again, he quickly turns and carries the ball through the centre, always with his head up, assessing his options as his teammates move around him.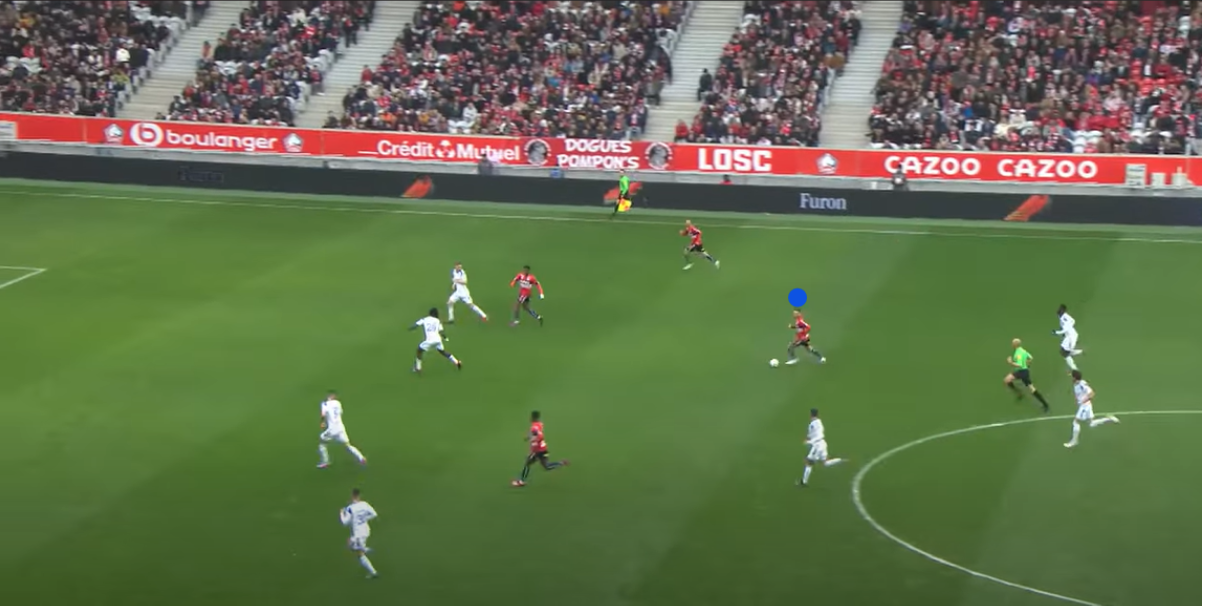 He executes another brilliant pass to meet the diagonal run of Jonathan Bamba, again eliminating two opposing defenders and penetrating the box to devastating effect. This pass, like the last example, is threaded through the eye of a needle.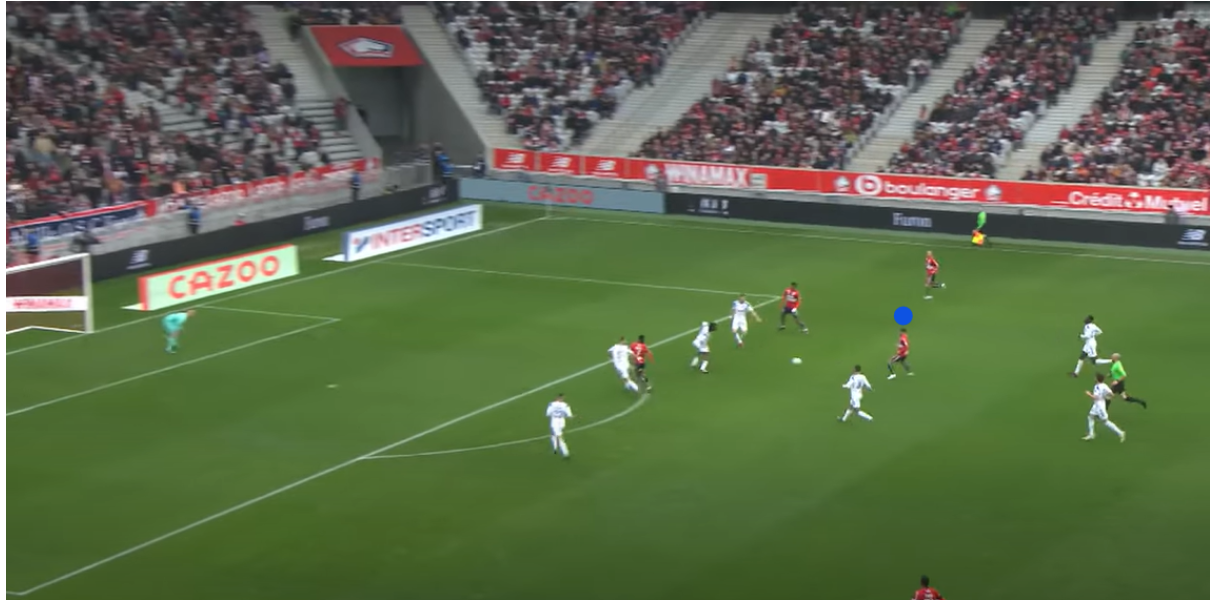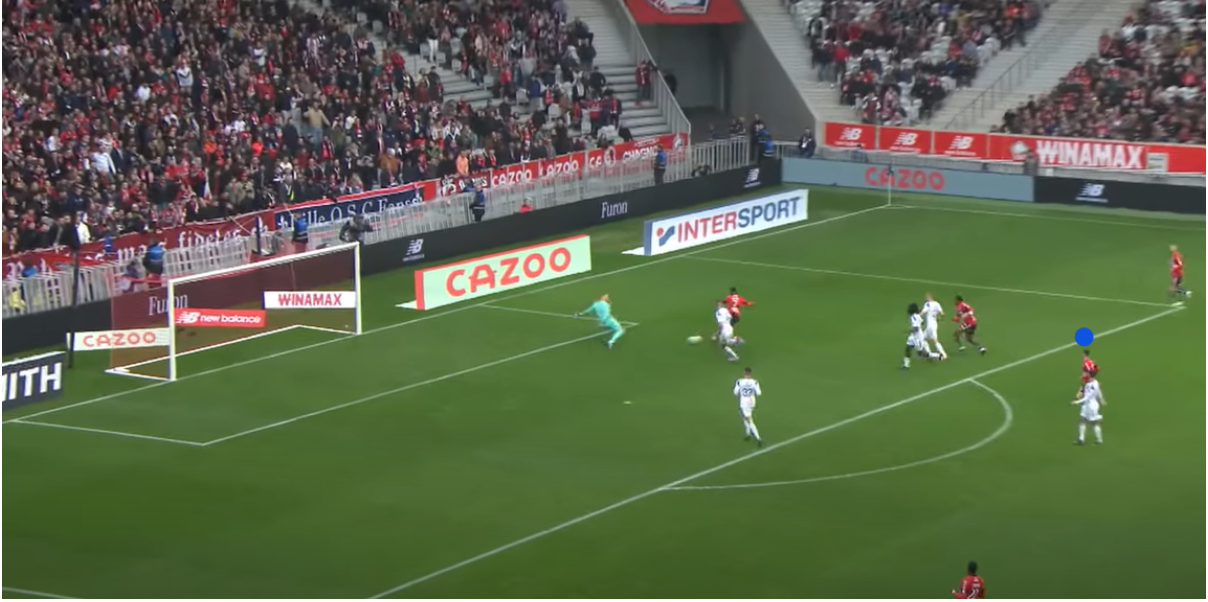 Bamba's shot is saved, before David rushes in to score from the rebound. Even when Cabella isn't assisting goals directly, he is still creating. This ability to progress play before breaching the box with a pass is immensely valuable to Fonseca's team.
Without dynamic players like Cabella, a team looking to dominate the ball like Lille run the risk of becoming stale. Creative runs might be made, but they need someone with the vision and execution of Cabella to find them with the vital pass. 
Of course, there is a risk of losing the ball associated with these ambitious passes, but it is a necessary one for sides looking to create like this. Cabella produces these in high volume, as reflected in his stats, so he knows he will likely get more opportunities. Theoretically, it only needs to work once to be worth the risk. 
A good final example of Cabella's contribution comes from Lille's recent tie against Lyon in the Coupe de France. As shown below, Cabella receives the ball in the left half-space, as Lille look to penetrate the box.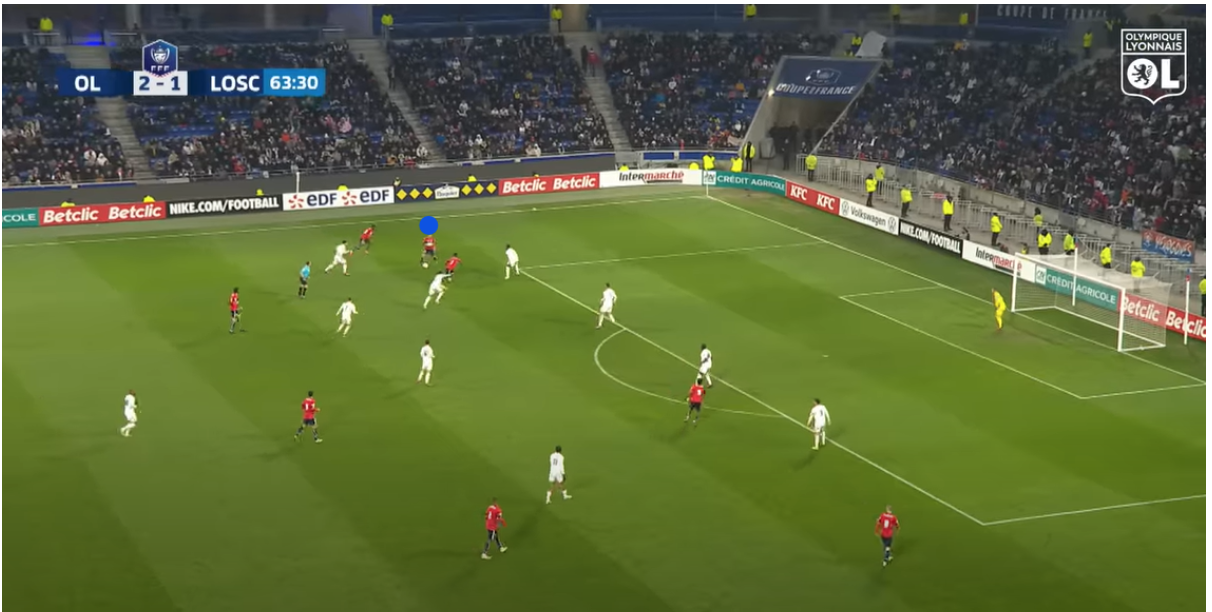 Realising that the area is crowded, Cabella looks to move the ball on to Jonathan Bamba, who is making an overlapping run to his left. Two Lyon players subsequently rush to Bamba in order to defend against him.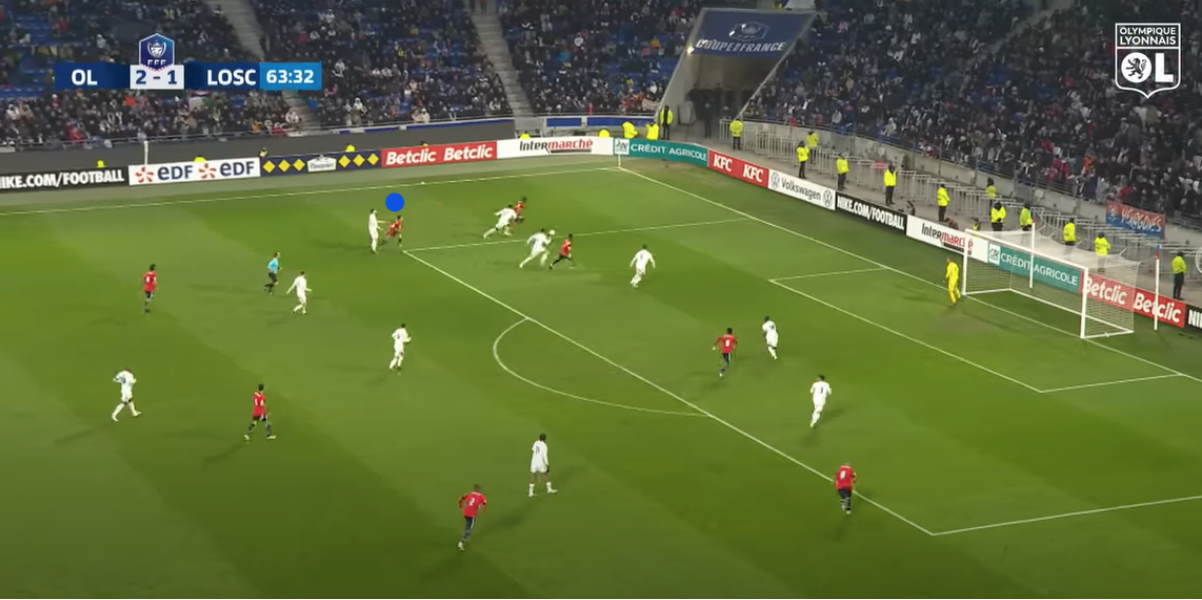 Cabella has the awareness to drift into the now-vacated space, making himself an option. With one pass, and by Cabella essentially standing still, Lille have changed the situation. Bamba, having been shut down by the two defenders, cuts it back towards Cabella who is totally free inside the box. He now faces another choice, to commit to a pass or shot, or wait for the onrushing defender to react.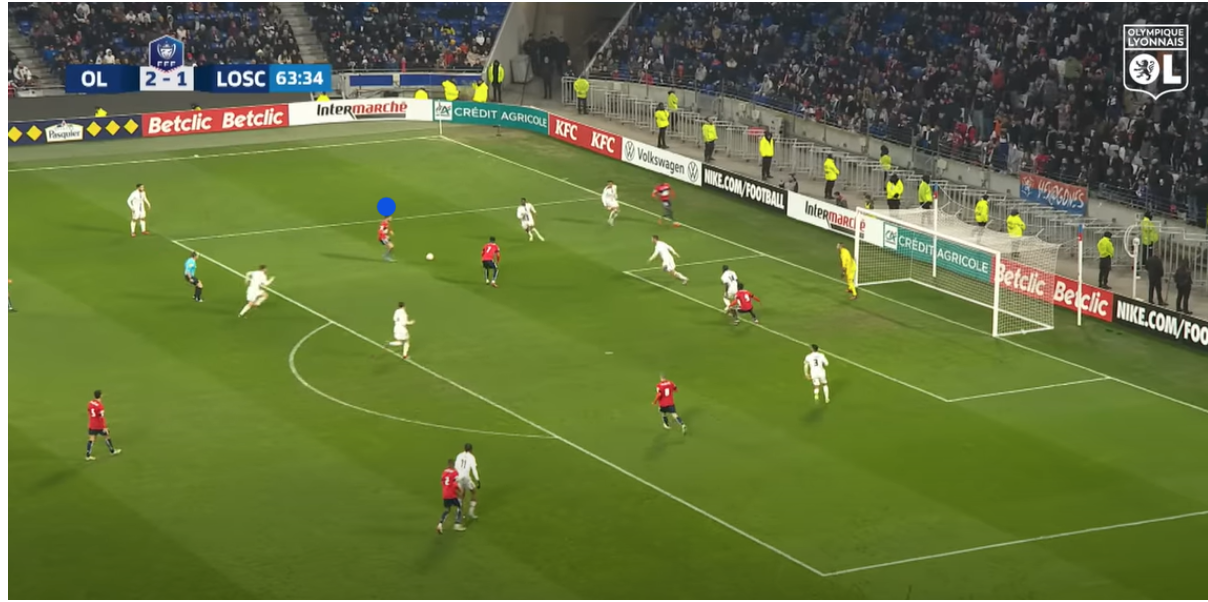 What happens next is a testament to Cabella's intelligence and skill. He feigns to shoot at goal, triggering the defender to lunge in.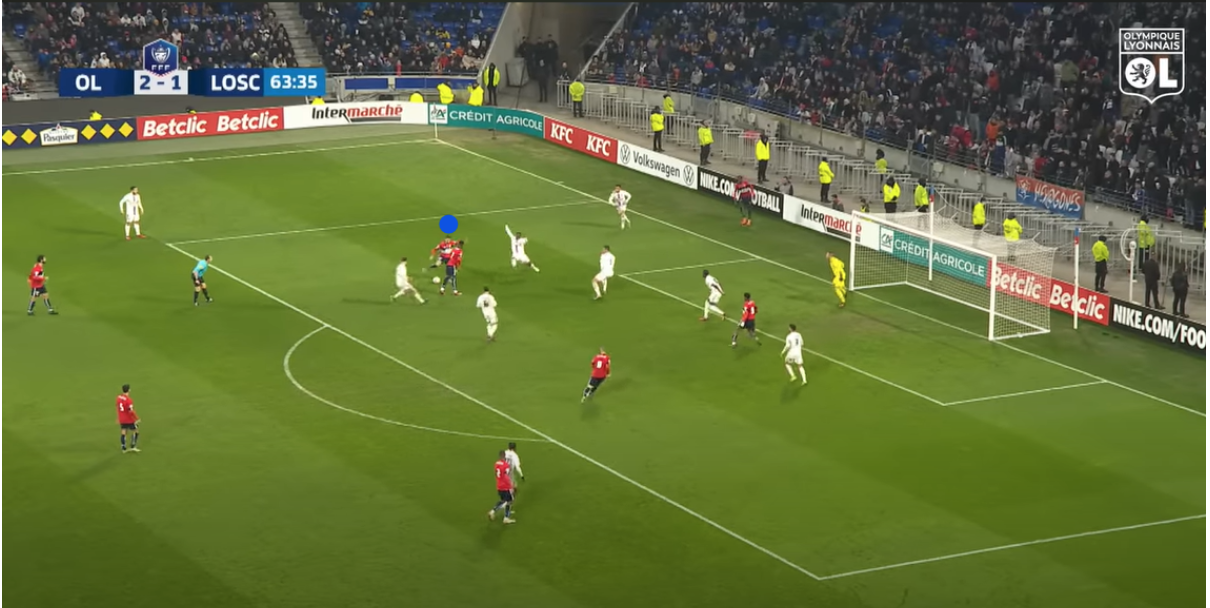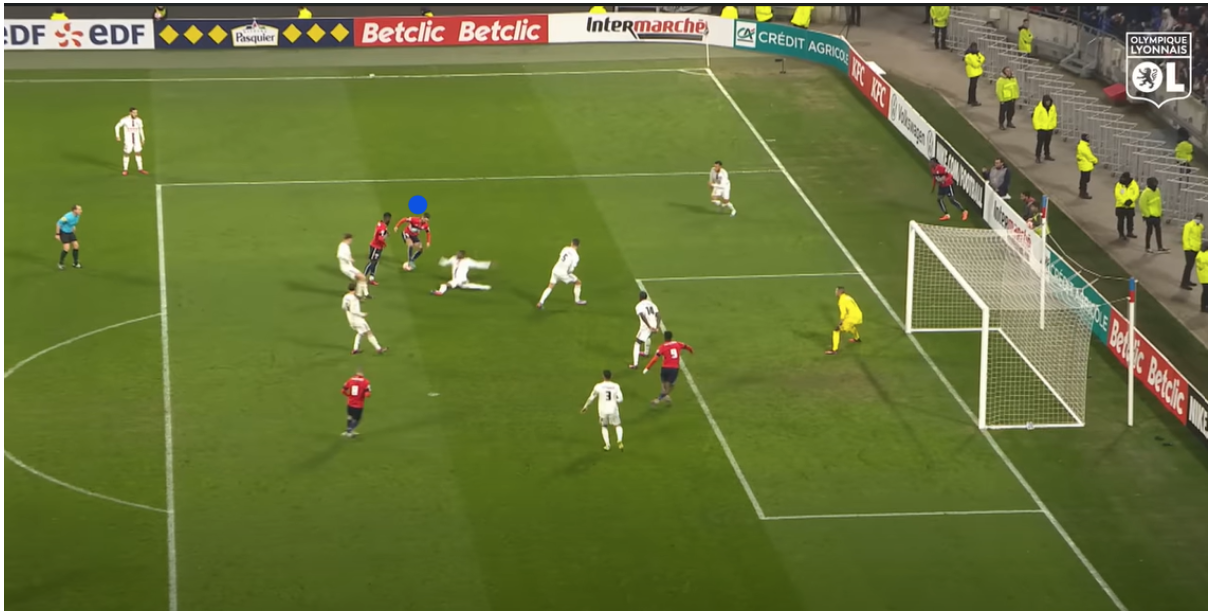 He doesn't shoot though, instead merely stopping the ball with his studs. The defender is now out of the game, having dived in and flown straight past him. Cabella has a simple square pass to make, which Edon Zhegrova finishes brilliantly.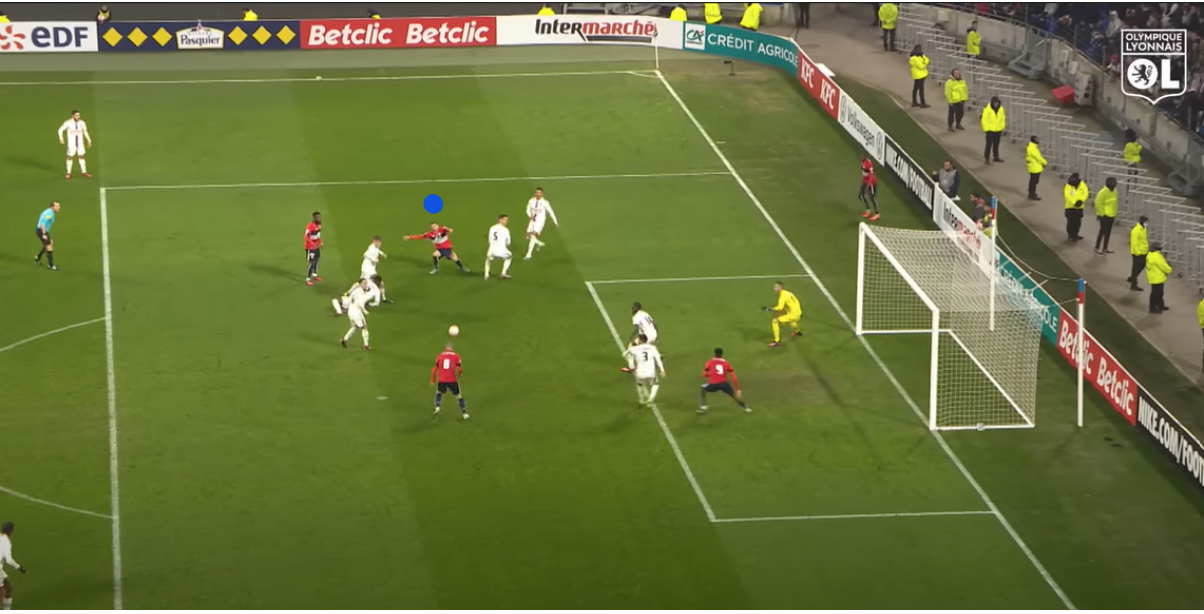 This goal is a demonstration of Cabella's speed of thought, quick feet and spatial awareness. A lesser player may have chosen to dribble at a defender instead of passing to Bamba to open up space, let alone have the composure to perform a fake shot in the box and provide the assist. Cabella is brilliantly selfless here.
Conclusion
So there you have it. A 32-yea- old playing his best football in years, mixing it with some of the games biggest stars and brilliantly exciting to watch. Not bad for a 'flop' and yet another reminder that just because a player failed in the Premier League, it doesn't make them 'rubbish'. As we have seen, there are reasons that his stay in England didn't work out, most of which only emerged after he had left and were for the most part out of his control. 
It's a reflection of Cabella's personality though, that he was able to revive his career and find his best level once again. One only needs to look at the player's Instagram page to get some insight into his nature. The first thing you'll notice if you choose to do this, is that in every picture, regardless of time or place, he has a beaming smile that simply never leaves his face. It's something that fits with the way he plays, creative, dynamic, exciting, always combining with others. It's also something he has been asked about before, 'why are you always smiling?'
His answer, as reported by the Guardian in 2014, is refreshing. 'I'm always smiling, yes', he said. 'I love my job. I love my life. Of course, if we lose I'll not be smiling but I always try to have a joie de vivre. I know how much people would love my job, how lucky I am and that drives me on. I've got exactly what I want which is why I'm happy all the time'. There are few things better than seeing good things happen to good people.
By: Oliver Haines – @OTG_UK
Featured Image: @GabFoligno / Baptiste Fernandez / Icon Sport
Bibliography
Alex Barker – Get French Football News (GFFN)
Transfer Analysis | Lille – A New Era Dawns For Paulo Fonseca And Losc
https://www.getfootballnewsfrance.com/2022/transfer-analysis-lille-a-new-era-dawns-for-paulo-fonseca-and-losc/
Adam Scully – Total Football Analysis
Pragmatism and purposeful possession: What can be expected from Paulo Fonseca at Lille? 
https://totalfootballanalysis.com/head-coach-analysis/paulo-fonseca-at-lille-202223-tactical-analysis-tactics
Eric Devin – Guardian
Attack is proving the best form of defence for Lille and Paulo Fonseca
https://www.theguardian.com/football/2022/oct/24/lille-attack-defence-paulo-fonseca-monaco
Ciaran Kelly – Chronicle Live
'I wanted to stay' – Remy Cabella reveals truth about Newcastle exit and what really went wrong
https://www.chroniclelive.co.uk/sport/football/transfer-news/newcastle-remy-cabella-truth-exit-21211446
Louise Taylor – Guardian
Rémy Cabella brings smile and flair to Newcastle side in need of spark
https://www.theguardian.com/football/2014/aug/30/remy-cabella-newcastle-united
Images and Footage
FBref.com, Ligue 1 Uber Eats Official – YouTube.com, Olympique Lyonnais – YouTube.com