Reading FC – A Case for Hope?
Reading Football Club, where to begin? Last season saw the club's 150th anniversary, opportunities handed to numerous youth players and survival guaranteed for another year in the EFL Championship. Those are the positives. 
The negatives? A look at the table shows survival by an uncomfortably slim margin. Just 41 points, good enough for 21st place, four points away from relegation. A six-point penalty for breaching financial regulations didn't help matters, although even if this deduction were to be reversed, their league position would remain unchanged.
Reading began the season with Veljko Paunovic in the dugout, following a positive 2020/21 campaign. An often ambitious coach, praised for the faith he showed in academy prospects during his tenure and the positive intent with which he approached most games. In the opinion of many fans, Paunovic did an admirable job in uncertain and testing circumstances. 
Despite his best efforts however, Reading quickly found themselves in trouble last season. Key players including Michael Olise and Omar Richards were sold and the squad was left threadbare at times. Midfielders playing in central defence, untested youngsters being called to the first team to plug gaps. The loss of Lucas Joao through injury for a total of 24 games was also deeply felt.
One Player From Each Championship Team to Watch This Season – Part Two
The squad's lack of both quality and depth meant that despite any coaching miracles, Reading were likely destined to struggle. A 0-7 home drubbing against Fulham in January soured the mood amongst the fans, perhaps irreparably.
The decision to make a change seemed obvious to all, and by February Paul Ince was announced as the new manager on an interim basis. Father of winger Tom Ince, who had joined less than a month prior, this was a move seemingly made more out of convenience or desperation, rather than part of any kind of plan.
Despite a win in his first game in charge, losses 1-4 away to Blackpool and 0-4 at Nottingham Forest saw supporter confidence hit an all-time low. The tension at this time was palpable, with the threat of relegation and the consequences which would follow becoming starkly clear to the fanbase.
What followed however, was a streak of excellent results, including a point away at Bournemouth, a win versus Blackburn and a vital draw against Barnsley at Oakwell which all but knocked the home side out of the survival fight. The mood upon leaving Yorkshire that day was one of relief, with it clear to most that Reading had just about done enough. As it turned out, this was true.
It could be claimed that Ince's appointment was the deciding factor in securing survival. However, as shown by Twitter user @cabin_13 below, the metrics demonstrating the quality of Reading's performances remained essentially the same, even after the managerial switch. From these numbers, it appears that Paunovic would've been on course for survival had he stayed. 
As I close out my #ReadingFC 2021/22 sheet, just gonna add things to this thread. pic.twitter.com/MFCSS7PfOs

— steven (@cabin__13) May 9, 2022
However, it is fair to say that the board could not have assumed this at the time, and we must consider the intangible factor of collapsing dressing room morale, which would've surely worsened had 'Pauno' stayed on longer.
The most simple explanation behind Reading's survival is that there were three teams markedly worse than them in both squad quality and depth throughout the campaign. Peterborough's squad was never Championship quality, Derby were docked a total of twelve points and suffered utter chaos on and off the pitch, whilst Barnsley's playing and coaching staff were ruthlessly poached in the previous summer, leaving them with an inexperienced third-tier standard squad.
This Summer – Replace and Revitalise
But can Reading bank on the same being true this season? Are there still three teams obviously worse than them, and if so, have Reading improved sufficiently since last year? 
Paul Ince remains in place, as do the owners, the Dai family. As an ownership that has seen the extinction of two clubs in the last decade, there has always been a worry for the future of the club if relegation were to strike. They have spent big, but have done so irresponsibly, with no obvious plan and in clear breach of EFL profit and sustainability rules.
James McAtee – The Manchester City Teenager Ready to Cut His Teeth in the Championship
The sidelining of experienced voices in favour of using agent Kia Joorabchian as a one-stop shop for transfers, has resulted in an unbalanced and overpaid squad. This shambles is detailed in Philip Buckingham's excellent piece in The Athletic last year, which goes into more detail than we need to here regarding this topic.
This summer, however, has seen some positive moves. With the ownership seemingly listening to the demands of major fan groups in promising increased transparency, evidence of a basic strategy and the appointment of competent professionals to help enact it. There seems to be an acceptance that what has gone on before simply cannot continue. Dai Yongge can even be seen once again at home games
Mark Bowen, former Director of Football and Manager, returned to his role in May. Clearly trusted by the Dai family, he appears to have once again been granted responsibility and autonomy over all football operations.
Alongside him came Brian Carey as the new 'Director of Professional Football', following three years as Head of Scouting at Tottenham. Former Assistant Manager Eddie Niedzwiecki also returned to the club, in the role of Director of Player Development.
All of this is clearly encouraging. The ownership appear to have taken steps to employ experienced football professionals and empower them with roles of great influence. Whether these individuals are the right fit, or once again just the most convenient option, remains to be seen.
On the recruitment front, it makes sense to talk about departures first. A total of eleven senior players left the club in the summer, all of them on free transfers. Often the reason for their non-renewal was that the club needed to trim its enormous wage bill, while some of the better players chose to flee for greener pastures. Wages in 2021 totalled over double the club's entire annual revenue, whilst the club made a pre-tax loss of almost £100m over three years.
Last year's best player, John Swift, departed for West Brom. With the second most assists  in the entire division last year (13) along with 11 goals, he is perhaps the player that will be missed the most. Academy product Andy Rinomhota (19 starts) left for Cardiff, Josh Laurent (41 starts) joined Stoke, along with centre back Michael Morrison (29), Danny Drinkwater (31), Baba Rahman (29), among others to leave the club. 
As it is clear to see, some of the players that Reading relied upon the most last year have departed, meaning they began the summer with approximately zero central midfielders over the age of 19, no left back, one right back, and only one senior goalkeeper.
Clearly, there were gaps to be filled, and at time of writing, some still remain to be. As a condition of Reading's agreement with the EFL, they must seek review and authorisation from the league before registering any new signings. This hand-holding has meant that moves have been slow, with their scope limited to loans and free transfers due to FFP restrictions.
Middlesbrough's Joe Lumley came in between the sticks. A proven second tier 'keeper, but by all metrics a worse option than Luke Southwood, who started 25 games last year yet left on loan to League One for reasons which are unclear.
A horrendous visit to Rotherham in the third game of the season showed why Boro fans were so happy to see him go, when Lumley let the ball straight through him and made zero saves in a 4-0 drubbing. Lumley was able to redeem himself quickly following this, however, and remains a capable option.
On the left side of defence, arrives Nesta Guiness-Walker, a third-tier player, capable of playing at left back or centre back. Having worked under Bowen briefly at Wimbledon last year, this appeared to be a signing of convenience.
Michael Duff: The Manager to Lead Barnsley Back to the Championship?
He does provide versatile cover, and has performed impressively so far this season, demonstrating positional discipline and impressive stamina as a left wing back. At the time of writing, it appears that another left back signing is on the horizon, with Baba Rahman linked with a return. This should be a priority for Bowen et al.
Next up is Sam Hutchinson, who joins from Sheffield Wednesday. Another experienced Championship player, born locally in Windsor, he is able to play at the base of midfield but seems to be fancied by Ince as a centre back. A replacement for Michael Morrison, Hutchinson can provide vital support alongside the two young centre backs Tom Holmes and Tom McIntyre, so long as he can maintain fitness.
In midfield, we see some interesting additions. Jeff Hendrick is a quality player, dropping down on loan from Premier League club Newcastle to be the new engine in Reading's midfield. This is an exciting transfer, at only 30 years old he still has plenty to offer and will suit a counter-attacking style of play. 
Alongside him comes Mamadou Loum on loan from FC Porto. He has a full season of football in La Liga under his belt for Alaves and can provide solidity and depth to the base of midfield. The final midfield signing for now is Tyrese Fornah, on loan from Nottingham Forest.
Unproven in the Championship but an impressive talent, he has proven a solid defensive player with the ability to carry the ball forward well under pressure as well as contributing in attack with well-timed runs into the final third. These signings between them appear to possess the same base traits as the departing Laurent and Rinomhota, if not Drinkwater. Whether this level of depth will be sufficient remains to be seen.
One Player From Each Championship Club Who Will Play in the Premier League – Part One
In attack, Reading's strongest position in terms of depth, Tom Ince returned to the club permanently. Although an unsurprising move, he has done well in the leading creative role and appears to be comfortable taking up playmaking responsibilities.
Finally, the cherry on top, Shane Long returning to the club after a decade away. With a goal on his home debut, he appears a low-risk transfer who provides experience and an alternative profile to the prolific but often unavailable Lucas Joao.
Paul Ince's System – Five Games In
So will this make any difference, have all the gaps been filled and are these replacements of similar quality to their predecessors? It would appear that Reading have consciously tried to find similar profiles to the ones which they lost, particularly in the case of the midfielders and central defence.
The squad is in decent shape depth-wise, although another wing-back on each side is probably necessary. It is also Ince's ability to make this team function that will determine Reading's fate, and give them the best chance of survival. So far, there's been a huge reason for optimism.
In their first three league games this season, Reading lined up in a 5-4-1, as shown below against Cardiff City.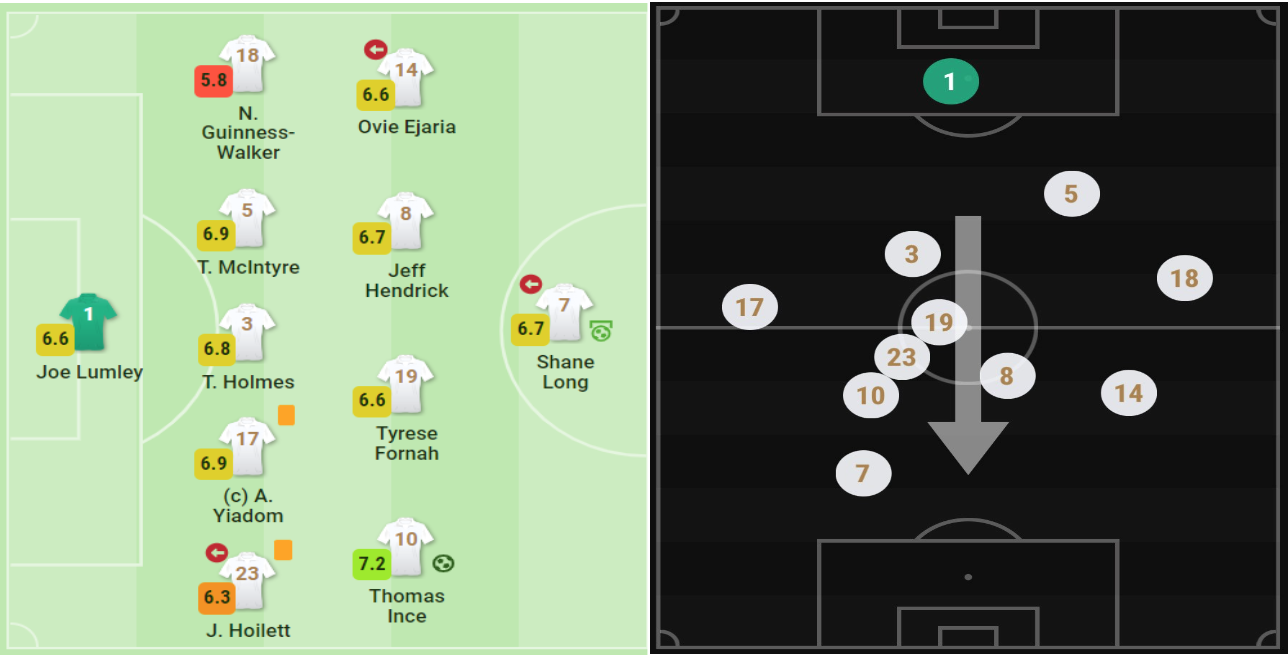 Photo: SofaScore
As we can see from the average position map alongside, the formation is fairly flexible in possession. Yiadom, a right back by trade, moves out of the back three to take up his natural position, forming a back four. This allows Junior Hoilett to advance forward. In this example he found himself drifting into central areas in order to support Fornah.
The back five is visible in a low block, with Hoilett on the right [Cardiff City FC – YouTube]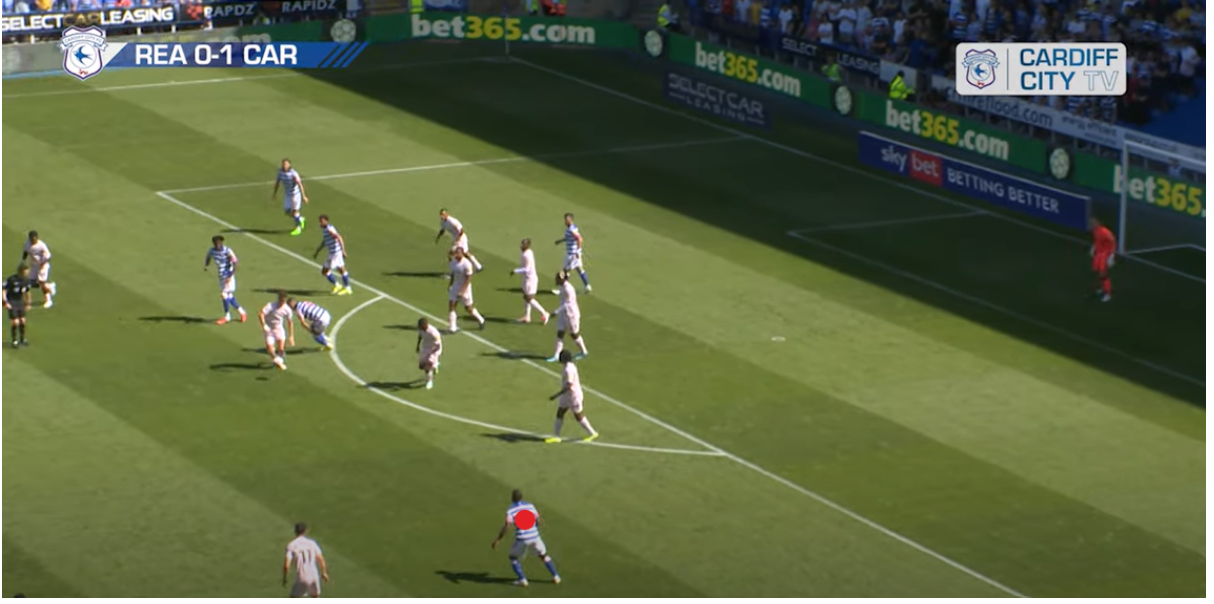 Hoilett 'tucking in' during the offensive phase [Cardiff City FC – YouTube]
On occasion versus Cardiff, Yiadom would maintain his position as the right-sided centre back in a three, holding a high line. This provided Reading with a more solid base for constructing attacks, as well as providing pace to cover the counter-attack.
This led to a half-decent start to the season, with Reading unfortunate to lose against Blackpool on the opening day, having had the better chances and generally looking solid. Back in Berkshire against Cardiff City, the 2-1 win lifted fans and gave the impression of a team with promise.
A week later, however, back down to earth with a 4-0 loss away to newly promoted Rotherham. A disastrous performance in goal from Joe Lumley set the tone. The scoreline flattered Rotherham, but this result led Ince to tweak his system going forward.
The next game against top-of-the-league Blackburn Rovers saw a change to the midfield structure. The arrival of Mamadou Loum, a true defensive midfielder, facilitated a switch to a 5-3-2. The extra man in midfield allows for more solidity out of possession, as well as additional control when building attacks.
As shown below, Ovie Ejaria was sacrificed, placing more responsibility on Guinness-Walker to provide width on the left. What is also interesting is the positioning of Tyrese Fornah, number 19. The addition of Loum has provided Fornah with licence to get forward, utilising his creative abilities better than when he was tasked with deep build-up play.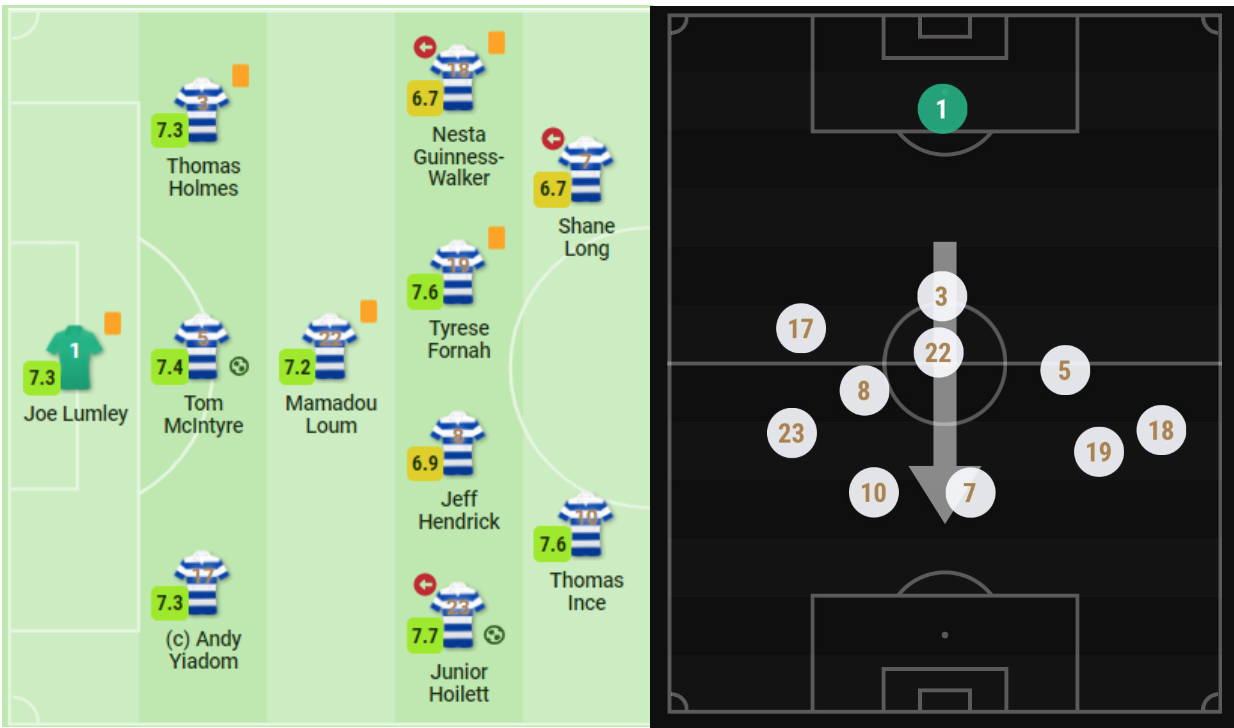 Photo: SofaScore
We can now see the three at the back taking shape more explicitly. Junior Hoilett can be seen tucking in again, who scored an excellent goal from a tight angle for 2-0. 
Despite having less of the ball than Blackburn, Reading were able to use natural width and a high line to pin Rovers in and control the play in certain periods. Paul Ince deserves credit for the bravery shown at times this season.
A high line is ambitious, but logical considering the pace available from his defenders. Ince uses this in moderation and is happy to retreat into a deeper block when out of possession. Ince was to proclaim after the game "this is us!". As seen below, the back three are positioned on the halfway line as McIntyre switches play, with Loum for company just ahead.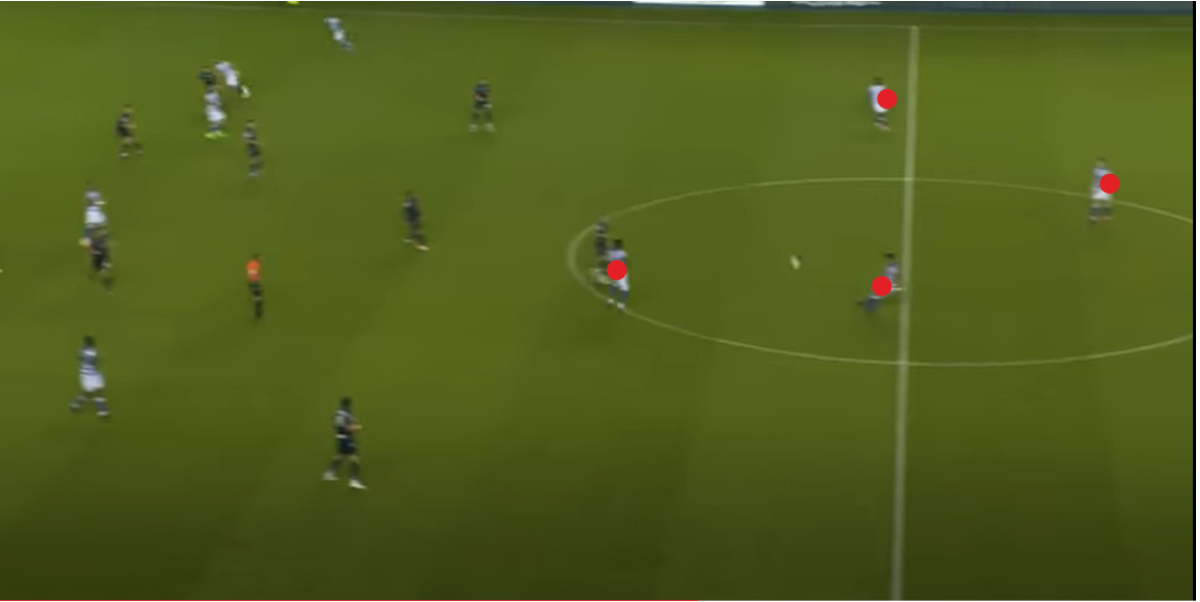 The switch of play finds Hoilett on the right, who is presented with a plethora of options. He opts to shoot, and scores, but the possibilities created by Reading's commitment are evident. Below we can see six players forward in the attacking phase, providing width to drag the opposition out of their shape and create gaps for the likes of Ince, Fornah and Hendrick to exploit.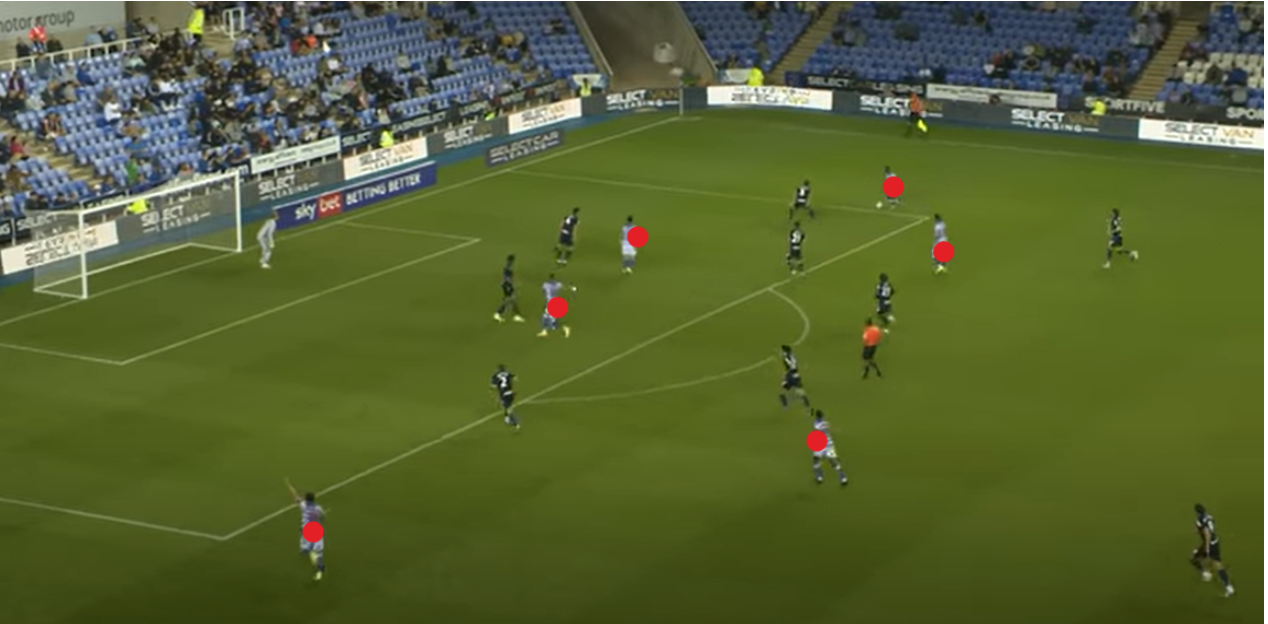 Photo: SkySports – YouTube
Switches of play such as this are a factor behind Reading being one of the most 'long ball' teams in the division. As shown below, only two teams have played long balls more often. However, Reading's long passing is often not a mindless hoof to a target man striker, but a switch such as this.
It is a symptom of Reading's attempt to get the ball higher up the pitch quickly, in order to exploit the opposition numerically and create overloads whilst the opposition are still disorganised.
The squad doesn't lend itself particularly well to patient passing and build-up play. What it does have is physicality, with strength, height, stamina and a good turn of pace. These attributes are crucial to this system's effectiveness. 
The teams who are the most "long-ball" in the Championship:

1️⃣ Rotherham – 26.6% of passes are long balls
2️⃣ Birmingham – 24.2%
3️⃣ Reading – 22.2%
4️⃣ Hull – 20.8%
5️⃣ Millwall – 20.4%
6️⃣ Wigan – 19.9%
7️⃣ Bristol City – 19.6%#RUFC #BCFC pic.twitter.com/AMvG4IH27L

— The Second Tier (@secondtierpod) August 23, 2022
To follow this win, Reading pulled off another great result against Middlesborough. 1-0 this time, but perhaps just as impressive. The three central midfielders remained in place, although Paul Ince did make an alteration by moving Junior Hoilett to the left, with Yiadom taking the right wing back role.
This was presumably done in order to counter the threat of Ryan Giles, the Boro left wing-back, as well as the underlap from Marc Bola on that side.  Middlesbrough dominated the ball, with 73% possession, yet Reading retained their shape well in a low block, facing a barrage from a side widely fancied for promotion.
Reading also continued to commit numbers forward when opportunities arose. This is demonstrated through the winning goal, a tremendous strike by Fornah. The move begins yet again from a diagonal switch pass from Tom McIntyre, something which has become a valuable asset.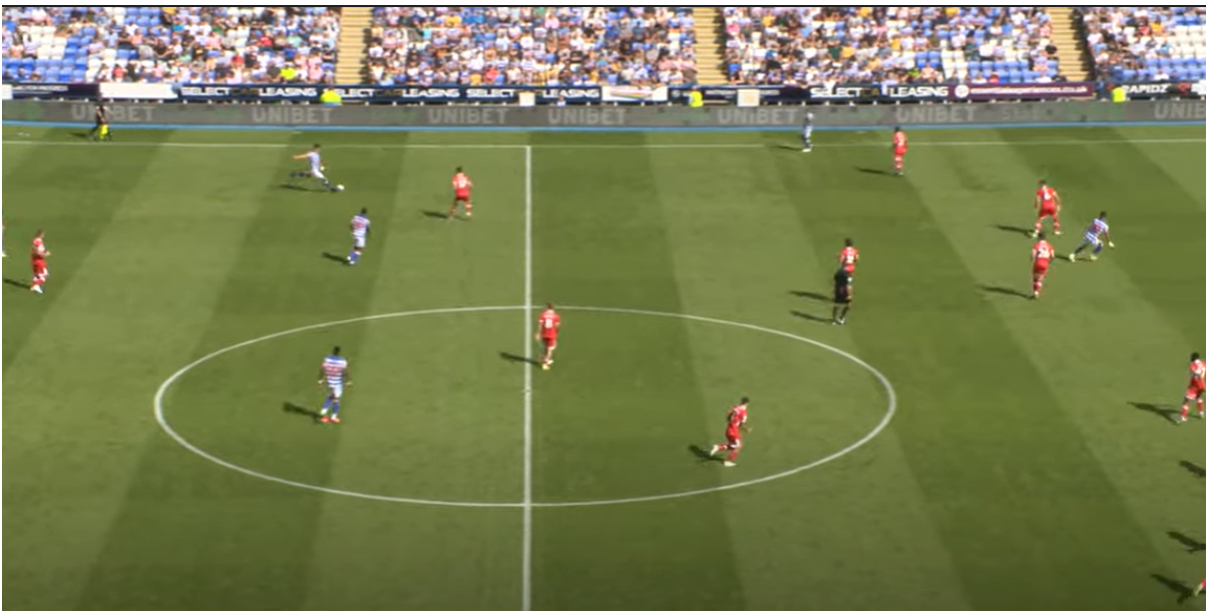 Photo: Reading FC – YouTube
This pass finds its way to the feet of Yiadom, who looks up to see three team-mates already in the box, occupying Boro's three centre backs, with the central midfielders on their way to meet the cutback.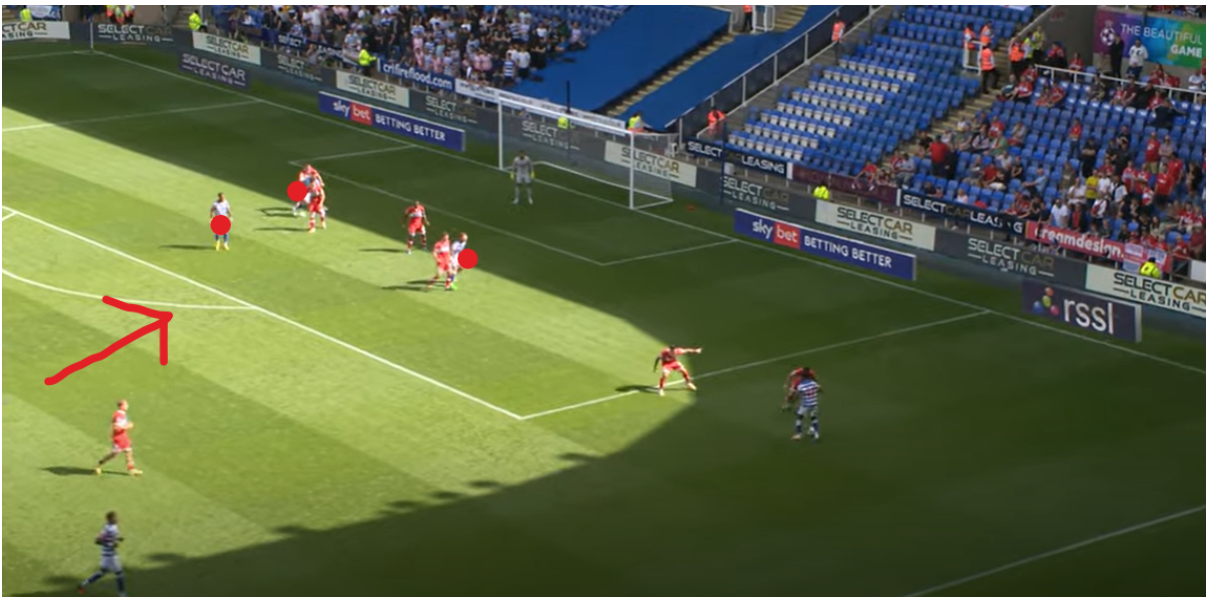 Photo: Reading FC – YouTube
And sure enough, the resulting cross is knocked down to the edge of the box where the onrushing Fornah unleashes a beautiful strike to match his perfectly timed run, shown below.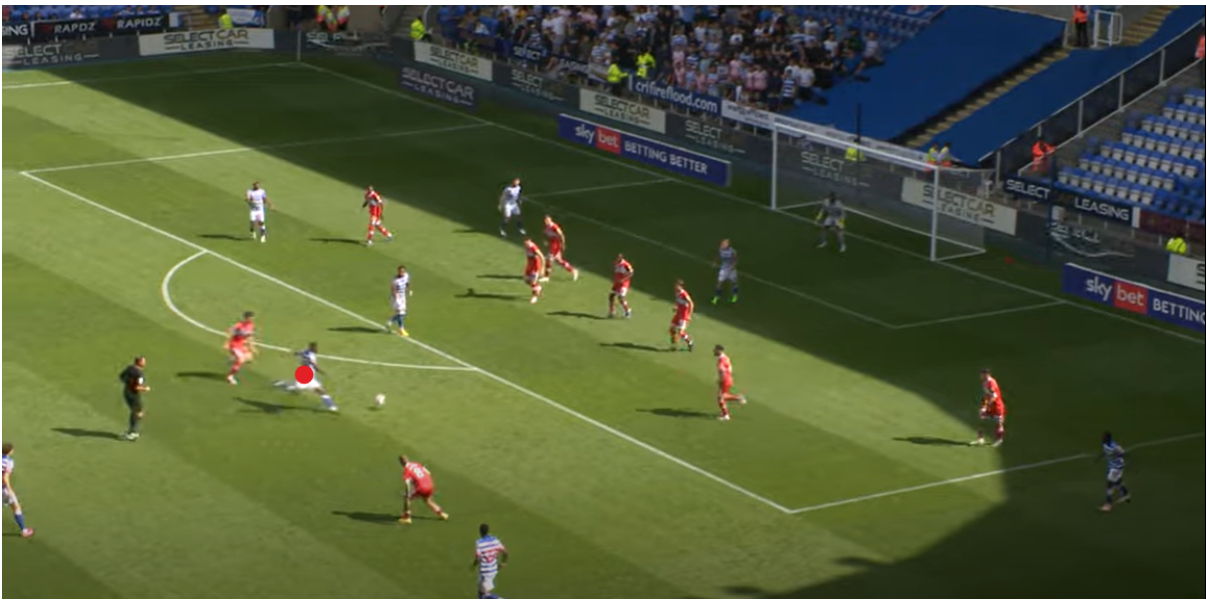 Photo: Reading FC – YouTube
Reading are a side which are happy to endure long periods out of possession, having faith in their ability to withstand the onslaught from the division's better sides, a belief which was not present last season by any means. Having lured the opponent onto them, they will throw men forward in order to exploit the gaps. Reading are a defence first side, but when they attack, they go all in.
In more evenly matched affairs, Reading have been able to more than hold their own, and create opportunities in greater volume. All of this has led them to a fantastic 3rd place in the division, with five games played.
It goes without saying that a month ago the average Reading fan would've bitten your arm off for such a start. Tell the same fan six months ago, and they'd probably laugh and walk away.
Whether Reading can continue this form is highly unpredictable. Injuries will surely strike, so this thin squad may begin to suffer during the heavy winter fixtures. Opponents will also start to spot the diagonal switch and cut it off at one end or the other, so Ince will need to find new ways to progress the ball up the pitch with the same speed. 
All in all, this is a marvellous start. For the sake of the fans who have spent the last twelve months staring down the barrel of relegation, let's hope that survival this year is achieved far more comfortably. How high can Reading push once that is achieved? That's the fun part. We will have to wait and see.
By: Oliver Haines / @OTG_UK
Featured Image: @Juanffrann / Bradley Collyer – PA Images