Renato Sanches: The Next Addition to Stefano Pioli's Rossoneri?
An integral component of AC Milan's Scudetto triumph was their strength and versatility in midfield. Sandro Tonali and Franck Kessie formed a formidable double pivot in Stefano Pioli's 4-2-3-1 while Ismael Bennacer and Tiemoue Bakayoko provided them with a range of abilities and depth to sustain their title charge.
With Kessie set to depart the San Siro on a free transfer this summer, 24-year-old Lille midfielder Renato Sanches could be the ideal replacement for the Ivorian and allow the Rossoneri to prolong their dominance in Serie A. 
After a breakout season for Benfica in 2015/16 and an impressive showing at Euro 2016, Sanches earned himself a high-profile and ill-fated move to Bayern Munich. His three years for the German outfit, including a disastrous loan spell at Swansea City in the Premier League, lowered his stock from among the most talented young midfielders in Europe to yet another failed wunderkind.
Analyzing the Numbers Behind Stefano Pioli's Scudetto-Winning Milan
At Lille, though, the Portuguese midfielder emerged as an exhilarating midfield presence, proving instrumental in the club's success under Christoph Galtier and remaining a key player despite their underperformance in Ligue 1 this campaign. 
Sanches is an incredibly well-rounded midfielder in possession. He's capable of playing as a box-to-box midfielder in a midfield three or two, a deeper-lying playmaker, or an advanced eight. Regardless of his specific position, his role is always to enable the team to progress the ball through the thirds and create opportunities in the final third. 
He is able to execute this function in various positions across midfield due to his completeness as a passer and ball carrier, and he also possesses excellent vision, quickly spotting gaps between opposition lines which can be exploited with line-breaking passes.
Sanches possesses an excellent first touch and is especially adept at adjusting his body angle to resist opposition pressure while making forward passes. Despite being right-footed, the Portuguese international is relatively comfortable with both feet.
Ismäel Bennacer: Milan's Algerian Regista at the Heart of their Scudetto Triumph
His passing range and ability to switch the play are also useful, and he is equally adept at deploying that strength when launching counter-attacks for his team or when shifting the play laterally when his team is in settled possession. 
From a passing perspective, Sanches is at his best when he is given time and space to receive the ball, assess his available options, and dictate the tempo of attack. He can participate in quicker, shorter one-twos or exchanges of passing in the final third, but such a role doesn't maximize his passing ability. 
What makes the 24-year-old particularly exciting, though, is that he compliments this range of passing qualities with excellent ball-carrying. Sanches is an elegant and confident ball-carrier, deceiving opposition defenders with deft feints and turns to wriggle through challenges.
He takes many touches on the ball when carrying it, allowing him to change direction more easily when carrying. He's also rapid with the ball at his feet. Many players are fast without the ball, but Sanches possesses a rare kind of speed when in possession of the ball which allows him to blitz past challenges when carrying. 
The dual-threat that Sanches possesses makes him a nightmare to defend. Stand off him, and you give him time and space to orchestrate attacks with his passing. Close him down, and he can drive past the opposition and exploit the gaps they leave in behind with his ball-carrying. 
Were he to join AC Milan, Sanches would provide Pioli with an added threat in possession. In comparison to Kessie, he brings different qualities that would alter the way the Italian champions would play.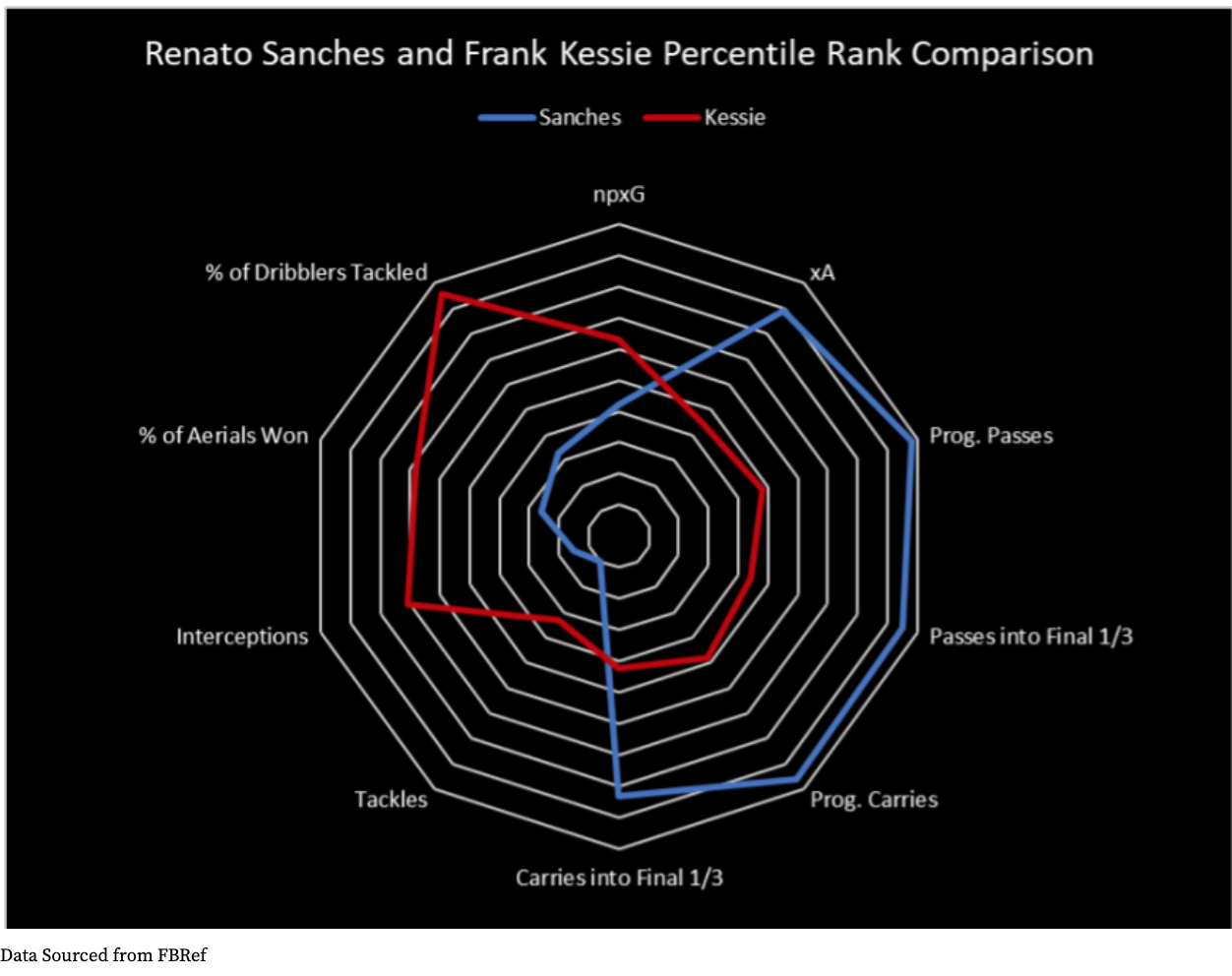 As can be seen by the radar chart above, while Sanches contributes significantly more value in possession, Kessie contributes more defensively. The Ivorian is a more robust physical presence and is particularly excellent in one-on-one defensive duels.
Sanches, while possessing impressive energy defensively at times, is not a sustained defensive asset for his team in the same way. He would benefit from being paired with someone like Bennacer, who is a superb all-around defensive midfielder who could compensate for Sanches' lesser productivity rather than Tonali. Alternatively, it could allow Piolo to shift from a 4-2-3-1 to a 4-3-3, adding further versatility to his tactical template. 
Renato Sanches is genuinely an elite progressive midfielder, possessing uncanny completeness in his passing and dribbling. At 24 years of age, he seems set to come good on the promise he showed as a teenager and cement himself as among the most exhilarating midfielders in Europe. 
By: Vishnu Anandraj / @vishnua711
Featured Image: @GabFoligno / Gualter Fatia / Getty Images