Takehiro Tomiyasu: Arsenal's Jack-of-all-trades in Defense
Arsenal began their major rebuild in the 2021/22 summer window, which was desperately necessary after finishing 8th the previous season and not qualifying for Europe for the first time in 25 years. £150m spent, the most of any of PL side; 20 departures, permanently or on loan, with only 7 of those still on the books. 
This rebuild was the 'open heart surgery' that Ralf Rangnick recommended for Manchester United, one which they will need to go through to help Erik ten Hag get them to their destination. In hindsight, this has proven to be a smart window for Arsenal, as they directly strengthened their spine and trimmed their squad, made easier by the lack of games in that campaign. 
William Saliba left on loan, again. This time to the south of France, where he developed his game further, winning YPOTY and coming back this season and slotting straight in. Ben White signed for £50 million and has been ever-present in Mikel Arteta's plans. Martin Ødegaard returned on a permanent basis, after a successful loan spell, becoming the youngest Arsenal captain since Cesc Fábregas. Aaron Ramsdale has established himself as the clear No.1, and chief orchestrator for the boisterous home support.
Nuno Tavares and Albert Sambi Lokonga have not influenced the squad as much as the other signings, but both have shown glimpses of their talent and need more minutes to fulfill their potential.  The last signing of this hectic window? Japan International Takehiro Tomiyasu signed from Bologna on deadline day amid a mini-crisis.
The 2021/22 season started terribly for Arsenal with 3 out of 3 losses, conceding 9 along the way and scoring none in response. Rock bottom of the PL, and to make it worse, Spurs were top. Tomi went straight into the starting XI and made an immediate impression, with his introduction to the starting XI coinciding with a 2-month unbeaten run for the Gunners. 
Injuries hampered the second half of the last campaign, and may have delayed his reintroduction back into the squad this season, but he has seen more and more minutes recently, and after the great debut season he had in red and white, should he be nailed on as a starter in his sophomore year?
So, Is He a Full Back or a Centre Back?
Every time you mention Tomiyasu around Kaveh Solhekol, I am 99% sure he winces, slightly. In the now (in)famous clip of Sky Sports Deadline Day show, Chief reporter Solhekol gave us all the inside scoop on the £20m transfer.
The confusion about his position is somewhat warranted as he has featured across the backline in his young career. Starting in his native Japan with Avispa Fukuoka, he played 70% of his games at CB, and he continued this trend at Japanese-owned Belgian outfit Sint Truidense where he featured at CB for 38 of his 39 appearances. 
It was at Bologna where his role on the pitch slightly changed; starting as an RCB in a 3, then moving further right into the wing-back role, gaining a host of admirers with his performances, including Milan and Tottenham, but it was Arsenal who made the move.
Standing at 6'2, Tomi doesn't fit the modern-day full-back profile when it comes to his height, but it's a position that he has continued to fill for the Gunners. Tomi may lack the pace to keep up with the speedier wingers, but he is conservative in his tackles, and a good reader of the game, which means he rarely gets beaten 1v1. 
This season, when both players have been fit, White has been the preferred option at RB, and more recently, Arteta has experimented with Tomi at LB, ahead of the natural leftie Tierney and injured Zinchenko. However, despite being a success to a certain extent, the 3-2 win over Liverpool being one of them, it may only work in certain games against left-footed right-wingers, as they play towards Tomi's more dominant right foot most of the time.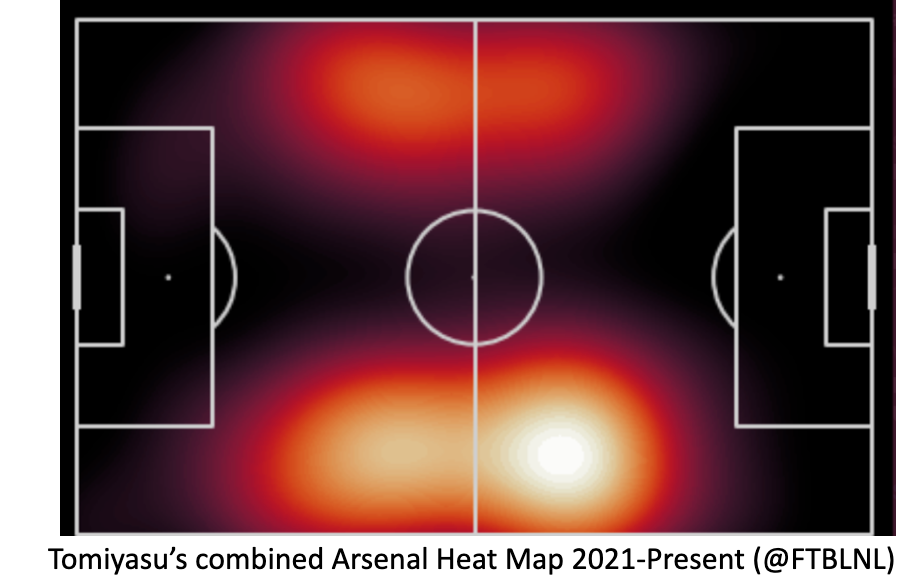 Additionally, playing an RB over a fit LB in Kieran Tierney may cause some unwanted unrest. After the 3-2 win over Liverpool a few weeks ago, the first game Tomiyasu played over Tierney, the Scotland international was very complimentary of both the manager and the Japanese defender, but it was clear he didn't expect this to be a permanent thing.
Another position Tomi could play to a high standard is the CDM role. This position is not alien to him, as it was one of the first he played with his local club in Fukuoka, and he has featured in the inverted LB role that Oleksandr Zinchenko plays, to some success. He has all the natural abilities to play there; height, high duel success rate, good reading of the game, a wide range of passing and two-footed, similar to a modern-day Sergio Busquets. 
Okay, We Can Just About Agree He Is a Full Back, but Is He Any Good?
Prior to this season, Tomiyasu has always been one of the first names on the team sheet at every club he has played for, usually after only a few games. The main reason, in my opinion, is his reliability and versatility. Arsenal's current defence is a far cry from the horror shows of yesteryear.
David Luiz, Shkodran Mustafi and Hector Bellerin come to mind as players whom you don't know what you're going to get from one week to the next. The Arsenal defence was a shambles and too easily crumbled under pressure. When one goal went in, the floodgates opened, and the porousness of the defence was always evident in the annual thumping Arsenal used to endure at the Etihad.
Reliability is a quality all the best players have in their locker; consistently performing at the same level is easier said than done, and Tomi always puts in solid displays when called upon. Throughout his career, he has only picked up 1 red card, as an 18-year-old in Japan, and has not made any errors leading directly to a goal in his short Arsenal career. 
He always puts in a shift in red and white and is currently the cherry on top of our metaphorical defensive cake. When Arsenal need to hold onto a lead? Bring on Tomi to help shut up shop. Injury to any defender or red card? Bring Tomi in and shuffle the defence around. He's versatile and can operate anywhere in his half to a good standard, which is why I believe he would feature for most PL teams. 
Tomi's biggest tangible asset is his aerial dominance. He ranks in the 98th percentile for aerials won, winning 2.09 p90. Tomi is great at reading the flight of the ball and uses his height advantage over wingers, jumping and winning the duel before the opposing player has a chance. 
The young defender also ranks highly defensively compared with other FBs, winning more than 50% of his aerials and ground duels in his Arsenal career, tackling 72.7% of dribblers faced and ranking in the 70/80 percentiles for tackles, interceptions and clearances. He is a player whose anticipation and ability to read the game rarely allows him to get caught out.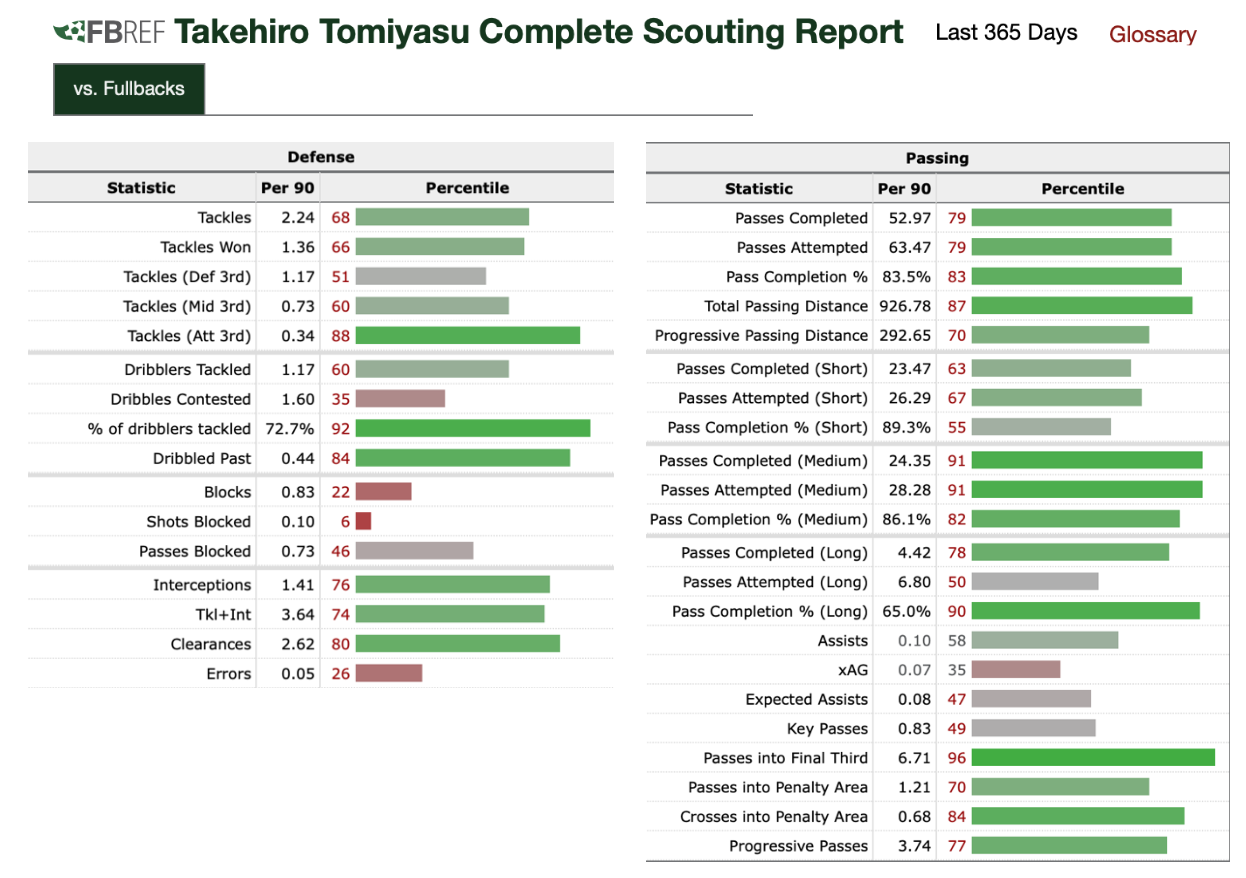 He is the perfect defender in a tactician's system and the thing that makes him the cheat code? His ability to play with both feet, to such a high level. This skill allows Tomi to play on both sides of the pitch with ease. His passing stats are also encouraging and highlight his wide range.
He often starts the attack with progressive passes, ranking in the 77th percentile and in the 96th percentile for passes into the final third. One aspect of his game we continually see is his cross-field ball to the other FB, the majority of the time on his weaker foot, which helps beat high-intensity presses.
The most significant deficiency in Ben White's game is his crossing, and Tomi is so advanced of White in this regard. In the clips below, we can see how good his crossing can be, as these are both on his weaker foot. 
Injuries
There aren't too many glaring deficiencies in Tomi's game, but injuries are turning out to be his kryptonite. His fitness issues have affected his status as a starter for the Gunners this season and as Arsenal have started the season so strongly, it has been a puzzle on how to incorporate the Japan international back into the squad without affecting the balance and team morale.
The games he missed last year were one of the main reasons for Arsenal not making the top 4, as they had to rely on Cedric for the business end of the season, who is not at the required level. The strength in depth Arsenal now have in defence would soften the blow of losing Tomi, however, but the injuries are one of the only major question marks over the defender, and if he could reach his full potential.
He has not had any significant injuries, with the majority calf and muscular, but the frequency of these is concerning, missing on average 9 games in his past 3 seasons. He was withdrawn after only playing 15 mins in the last UEL group stage fixture against Zurich, which may only be a precaution but highlights how susceptible Tomiyasu is to these niggling injuries. 
Conclusion
Takehiro Tomiyasu was seen by the majority as squad depth when he signed for the Gunners, but that notion quickly changed, and he is now an integral member of the squad, featuring in 11 out of the 18 games so far this season. His positional fluidity and reliability make him a favourite of the coach.
As mentioned in my previous piece about Ben White, I do think Tomi's best position is at RB, but it will be interesting to see Mikel Arteta's preferred line-up when all players are fit, as he always had to contend with at least one defender injured or coming back from injuries. As an Arsenal fan, these are good problems to have, but it is refreshing to see genuine competition for places in defence, which we haven't had in my recent memory.
Tomiyasu is precisely the type of player we need at the club, a player who understands the size of the club and the privilege to wear the cannon. Instead of complaining about being dropped, he puts in a solid performance in his next outing, which makes him undroppable. Certainly, becoming one of my favourite players with his selfless nature.
By:  @Az20283 / Aziz Aden
Featured Image: @GabFoligno / Koji Watanabe / Getty Images