The Curious Case of Mason Mount: From Youth Product Proving His Worth to Indispensable
In part one of this series, I explicated my thoughts on Mount as a personality, as the new face of Cobham, and as an icon of the new epoch that awaits Chelsea. Mount, according to reports from The Athletic, sets the tone in training both under his former boss Frank Lampard and now under his current manager in Thomas Tuchel. I reasoned that his leadership is what has set him apart from his contemporaries of the same age. 
In this section, a positional analysis and player profile will be undertaken. As I mentioned in the article on N'Golo Kante, a player's position is a relatively moot point in today's game. A player's position can vary multiple times during a game, in some cases multiple times between phases – defensive shape and attacking shape often differ for most top-level sides.
In Chelsea's case since, the arrival of Thomas Tuchel the German coach has opted for  3-4-3 – Édouard Mendy, Ben Chilwell, Andreas Christensen, César Azpilicueta, Reece James – N'Golo Kante, Jorginho – Mason Mount, Timo Werner, Kai Havertz. This is where Mount has really shown his quality and versatility. 
Mount's Versatility in the Final Third Phase (Attacking):
Given Tuchel is amongst the best in world football at implementing his conceptualization of Juego de Poisicion, he has opted for different variations of his 3-4-3. Mount has featured most prominently as a 'left 10' as well as a left-central midfielder under Tuchel.
The varying skills required to play this position at the highest level is truly what makes Mount irreplaceable for Tuchel, just as he has under Southgate and his former boss Frank Lampard. Below is Mount's heat map under Tuchel from January until May of last season. The heat maps exemplify Mount's versatility under Tuchel.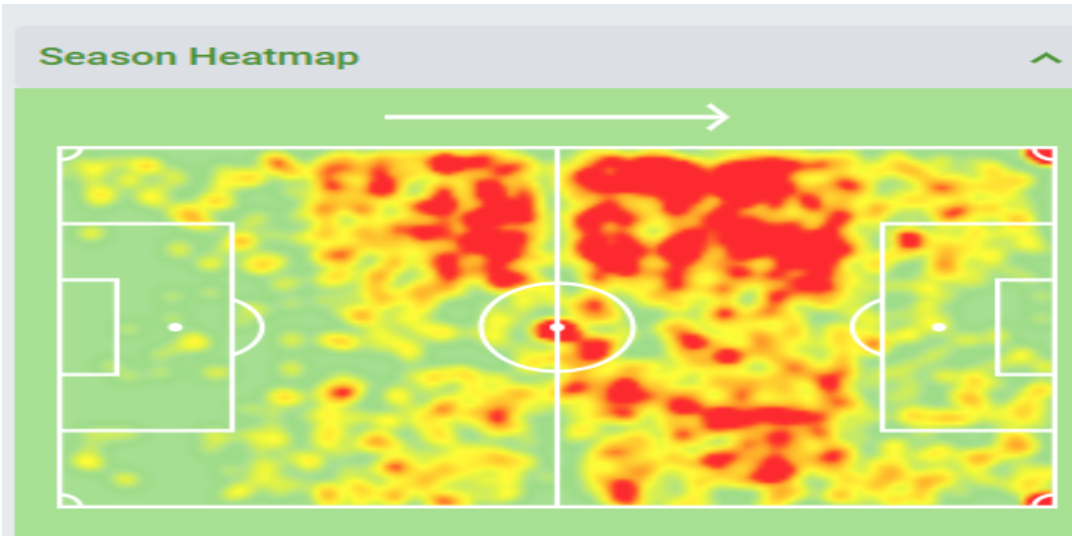 Photo: SofaScore
As seen below versus Southampton, Mount played on the left of the front three after coming on for Callum Hudson-Odoi in the 65th minute.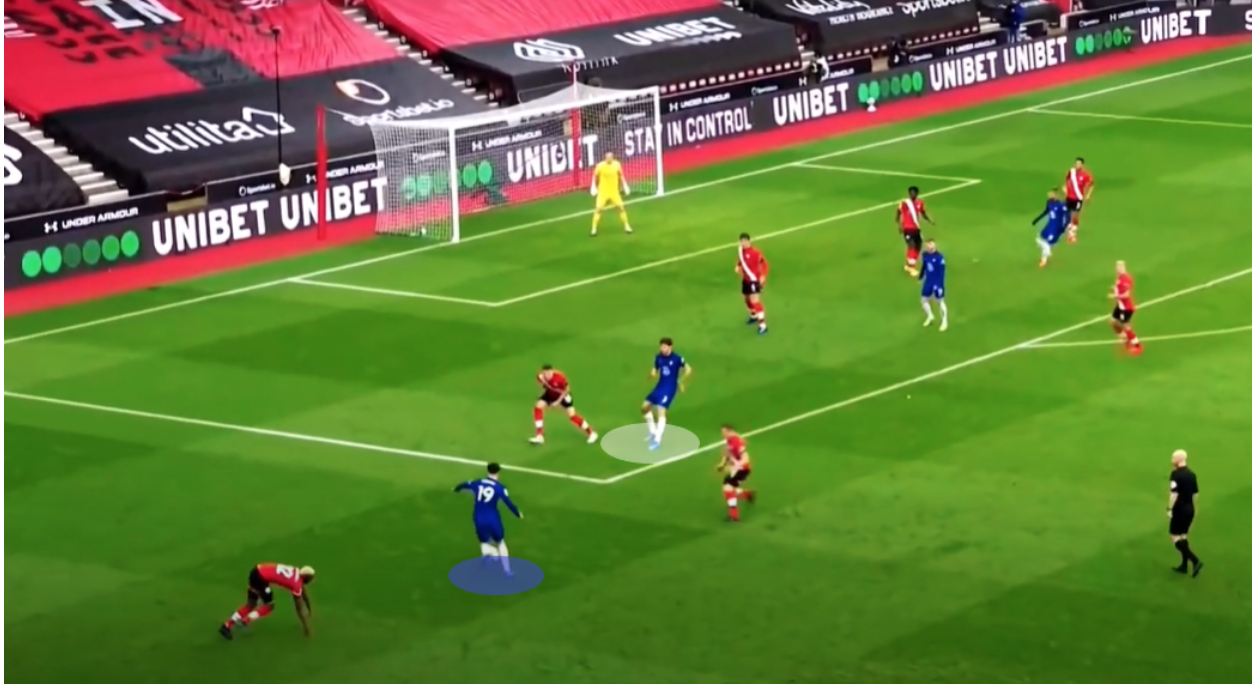 In the example below versus Fulham, Mount is playing centrally off the split strikers with Kai Havertz and Timo Werner playing on either side.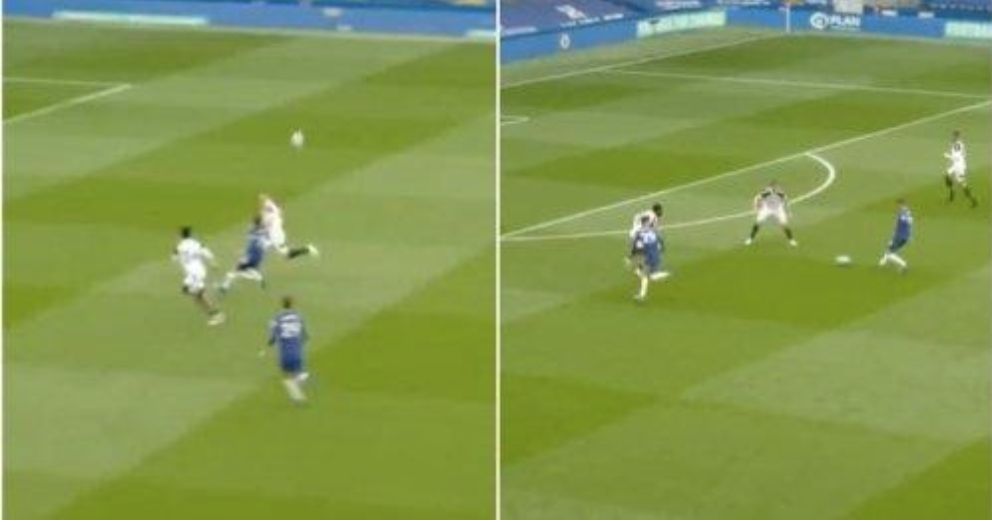 Coming off a hat trick over the weekend, playing on the right of the front 3, Mount showed his class. As the popular saying goes, form is temporary class is permanent. Tuchel in his pre-match interview labeled Mount as a hybrid between a number eight and a number 10. This speaks to Mount's versatility, but also his integral profile within the squad.
Along with Timo Werner, whose off-the-ball exploits also go under the radar, Mount is invaluable to Chelsea without the ball. Key to this is his understanding of pressing triggers, positional play and body orientation. A good presser orients his body to cut off passing lanes but also ready for a quick change of directions, which Mount does to perfection at 22. 
Mount ranks amongst the 90th and above percentile amongst midfielders for non-penalty goals, npxG, shots total, assists, xA, shot-creating actions, progressive carries, touches (Att Pen), progressive passes received and pressures. Those are some exemplary stats for a 22-year old, one who plays in different positions and expends seemingly unlimited energy in the counter-press. Contrary to most of his critics – predominantly found on Twitter he doesn't produce enough. Below are Mount's remarkable stats under Tuchel's tutelage.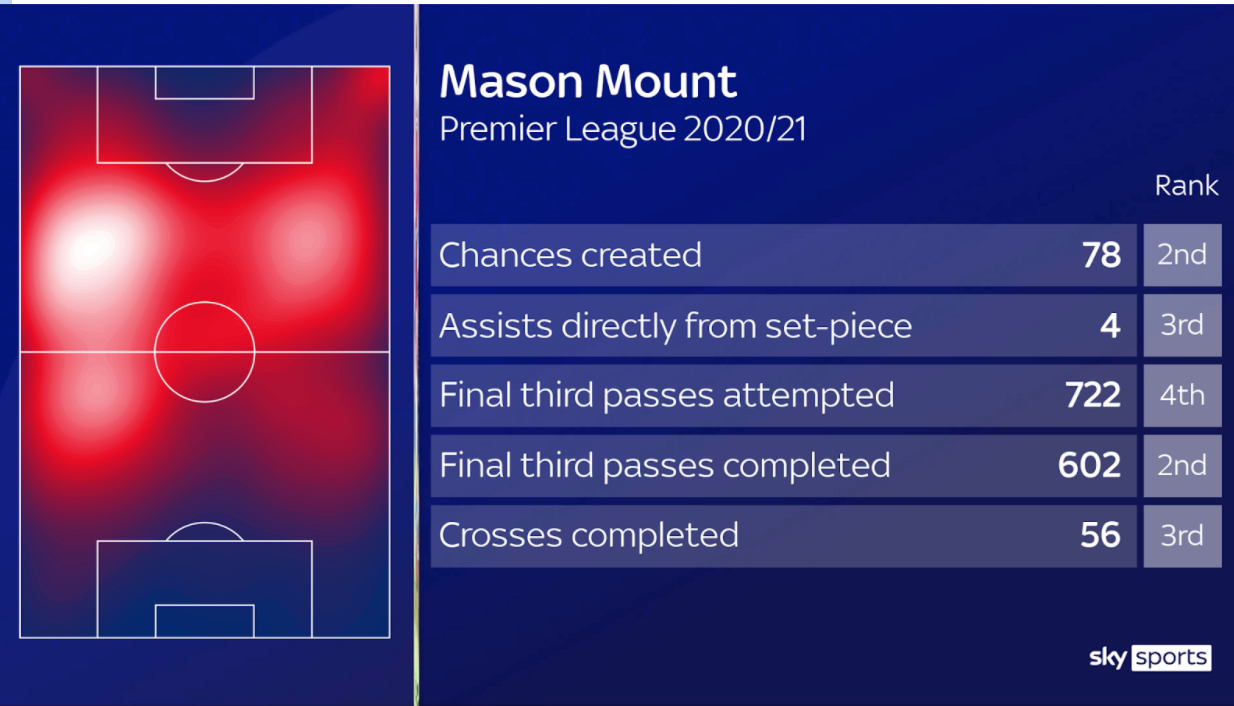 Photo: Sky Sports
Mount is a mainstay in Tuchel's team and will continue to be for a while to come. The irreplaceable, playmaker who seems infamous on football Twitter may not get his plaudits from the casuals, but anyone who knows anything rates Mason Mount. 
By: @MedianoEra
Featured Image: @GabFoligno / Sebastian Frej / MB Media / Getty Images