The Magic of Allan Saint-Maximin
I first noticed the star power of Allan Saint-Maximin thanks to Hatem Ben Arfa. When I first started watching football seriously in 2013, I was obsessed with talented dribblers. I scoured YouTube for all the highlights I could find of the best dribblers in the world doing crazy things.
I watched hours of Ronaldo stepovers, Messi body feints, and Ronaldinho manipulating his hips like a hula dancer. As I went deeper, I began to see the same name over and over again in the recommended tab next to my video, "Hatem Ben Arfa."
I can't remember the first time I clicked one of those videos but when I did, a new world was opened to me. Ben Arfa blew my mind, I couldn't believe a guy could be that good and not play for Barcelona or Real Madrid. Some of the goals he scored for Newcastle were absolutely insane, and they became seared into my earliest football memories. 
Fast forward to the present day; I am an avid football fan and have begun to analyze the game more thoroughly thanks to community spaces like Twitter, resources like the Coaches Voice and Spielverlagerung, as well as free data sites like FBref.
So, inevitably my love of old Ben Arfa dribbling shows combined with my newfound interest in the tactical side of the game produces new questions, such as, why am I so intrigued by Newcastle's Allan Saint-Maximin? How has he become one of my favorite players?
In simple terms, I think it has a lot to do with his profile and its similarity to Ben Arfa's. Saint-Maximin is a powerful, tricky dribbler with an incredible first touch, ridiculous ball-striking ability, and the bravado of a gladiator who knows he has the crowd on his side.
These are all attributes that he shares in abundance with Ben Arfa, down to the triple name. But answering these simple questions activated the analytical side of my brain: Just because he looks good doesn't necessarily mean he is good, right? 
Ben Arfa never became a truly world-class player because he had issues. He struggled with the adaptation to English football when he joined Newcastle, and his form had high but narrow peaks that were often followed by deep, wide valleys where he looked lost and uninterested.
He picked up lots of injuries during his time at Newcastle that left him devoid of much of his physical quality, essentially ruining his peak years of fitness. So what about Saint-Maximin, does Ben Arfa's Newcastle heir-apparent have what it takes to hold down his predecessor's throne?
I'll try to answer this question in two distinct ways, first by applying the all-important eye test to actual footage of Saint-Maximin for Newcastle, then by looking at some of Saint-Maximin's underlying statistics to help understand or refute the eye test's conclusions. 
First, let's profile Saint-Maximin. He's an across-the-line forward with a versatile 172cm frame and great upper and lower body strength. He is typically deployed off the left-side where he can fully maximize his powerful right foot by cutting inside to deliver incisive passes across the edge of the box or get a shot on goal.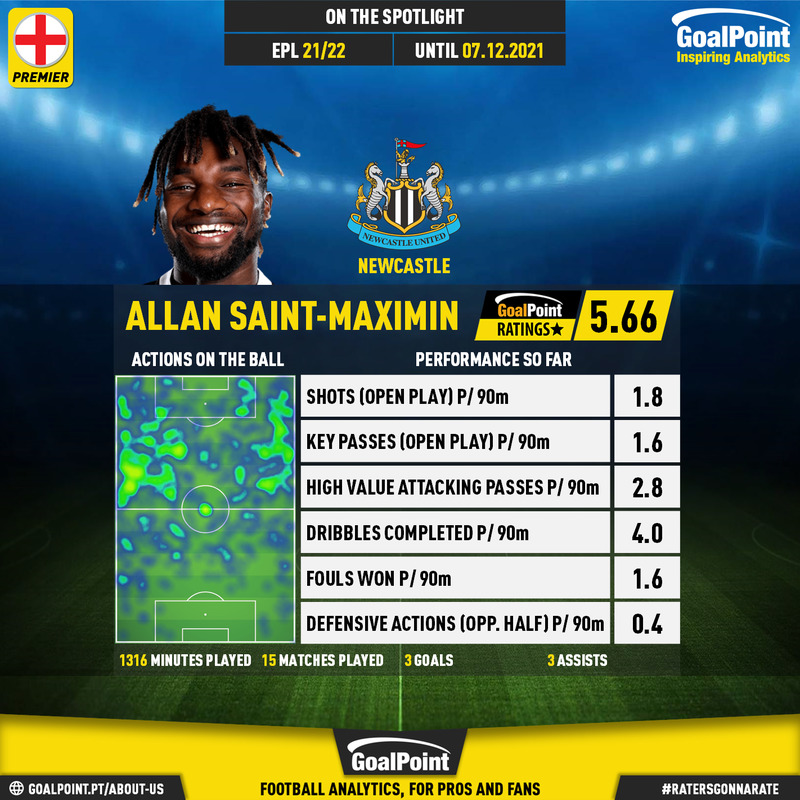 Photo: @_Goalpoint
If you just analyzed Saint-Maximin's statistical profile, you might think he is heavily right-side dominant, passing with his right foot 88% of the time. The eye test refutes this and shows a player who has the ability to strike the ball incredibly well with his left foot.
While it is certain that he prefers to execute dribbling moves, first touches, and passes with his right, there is clearly lots of room for his left foot to grow. His toolkit heavily skews toward chance creation via incisive through balls, powerful crossing (when deployed on the left) or dribble combinations leading to shots and goals.
When deployed off the left he also has the ability to switch play and does so decisively when the defense tries to trap him with two or more defenders. He is naturally ball-dominant which means he can sometimes drift in and out of games if he isn't getting enough service. This happened against Arsenal last weekend where he struggled to make an impact.
When he did pick the ball up against Arsenal it was often so deep that the opposition was able to swarm him and force turnovers. Saint-Maximin is popular amongst Newcastle fans for a reason, he plays heavily off the crowd and the added cosmetic touch of his signature tied-on headbands makes watching him that much more enjoyable and iconic.
Saint-Maximin's most important attribute is his ball-striking which is world-class and his most devastating weapon. In a heroic display against Brentford on November 20th where he looked like the only Newcastle player really interested in the game for periods, he showed just how important his ball-striking is even when he isn't scoring.
Mathew Benham & Brentford: A Story on Innovation through Statistical Analysis
Around the 38th minute, Saint-Maximin received the ball on the left touchline with defenders ahead of him, one blocking his view of the byline, and another level with him seemingly blocking his path across the top of the box.
He burst into motion, shaking the first defender by angling his run slightly toward the Newcastle goal and driving forward, forcing the defender to track back and laterally, this opened a pocket of space in-between both defenders. He hesitates on the ball, stopping it dead as if intending to touch it between both defenders and into the box.
This freezes the defender ahead of him allowing him to blow past and approach the edge of the opposition box unobstructed. This is Saint-Maximin's sweet spot, he loves to score from here and has done so consistently since he joined the Magpies.
After shaking his defenders, he releases a powerful and accurate shot across his body that ricochets off another defender before falling to Joelinton in the box who has space and time to take a touch and smash the ball into the corner of the goal. It was Joelinton's goal but there's no doubting that Saint-Maximin created it.
This is one of the things I saw in Ben Arfa during his Newcastle days that Saint-Maximin also brings – the ability to create purely by drawing attention to himself.
You see this trait in NBA superstar players who force double-teams when they receive the ball in dangerous areas, the best are still able to make their move, and if they can't a free teammate is often there to clean up or receive a pass for a wide-open shot. This je ne sais quoi, if you will, cannot be taught. 
How Joe Willock Can Change Newcastle's Fortunes for the Better
Another key element of Saint-Maximin's game is his incisive passing and desire to push his team forward. He regularly drops into the deeper left-halfspace, sometimes below the midfield D to receive the ball with the intention of turning and feeding a runner higher up the pitch.
One noticeable link-up Saint-Maximin has looked for this season is new teammate Joe Willock who is an attacking #8 willing to make driving runs into the box. Often when Saint-Maximin receives on the half-turn, Willock looks to make a forward run or puts himself in a position between defenders in order to give Saint-Maximin an option.
A prime example of this came against Watford in the league this September. Saint-Maximin receives a loose ball in the attacking right halfspace, he dribbles toward his own goal before dropping his shoulder and taking a sharp right turn around a defender in order to drive hard toward the opposition goal.
Willock makes a darting run between two defenders and Saint-Maximin pounces, releasing a perfectly weighted through-ball with the outside of his right boot that breaks two opposition defensive lines and puts Willock through on goal.
Moments like these are perfect examples of how intelligent, aware, and therefore versatile Saint-Maximin can be. He is effective across the front line because he can react in an instant to the defensive lines he sees ahead of him.
He is also a safe passing option on the half-turn due to his body strength and ball security. He is truly a unicorn in this Newcastle team and any chance they have of avoiding relegation surely lies with him more than even the appointment of new manager Eddie Howe.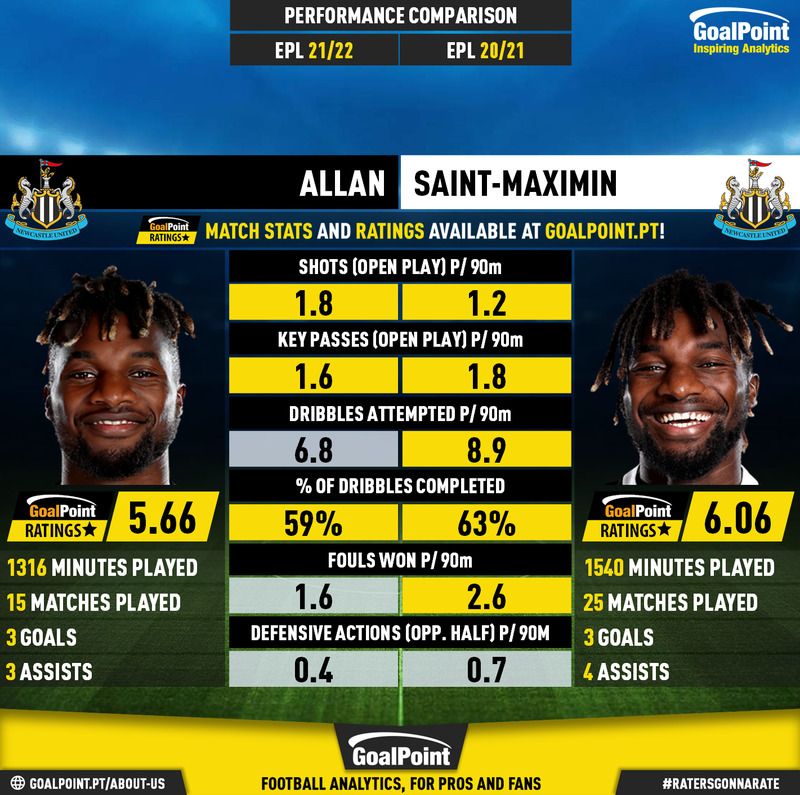 Photo: @_Goalpoint
Moving on from the Eye Test and looking closer at some of Saint-Maximin's per90s it is clear why the opposition tends to double team him when he receives the ball in danger zones. Saint-Maximin contributes 3.41 Shot Creating-Actions (SCA) per 90 minutes which puts him in the 90th percentile this season compared with other Premier League forwards.
He creates most of these shots via a dribble, or a pass showing how incisive his passing can be. Supporting this shot creation metric are Saint-Maximin's key passing stats, he is producing 1.63 key passes per90 and completing 1.09 passes into the penalty area per90 which rank in the 81st and 94th percentiles respectively.
This adds to the eye test assertion that he is a highly versatile forward who possesses a number of different tools to break down defences. Another interesting number that adds to Saint-Maximin's statistical profile are his 4.8 Non-Penalty Expected Goals Plus Assists which account for just over 40% of Newcastle's total Expected Goals this season. Pretty impressive stuff from a player who is still just twenty-four. 
The problem that new manager Eddie Howe will have to solve to really unlock Saint-Maximin's game is getting his shooting numbers up. It's not just an issue with the player but with Newcastle as a club, despite leading Newcastle in shots with 26, Saint-Maximin ranks in just the 19th percentile for shots per90 at 2.02.
Taking xG out of the equation when analyzing this is also important because Saint-Maximin's most effective shooting area is at the edge of the box or just inside the area which typically produces lower xG shots. That being said, Saint-Maximin's average shot distance of nearly 20 yards per shot is the furthest from goal amongst all forwards in the league.
To get the best out of him, Howe has to find ways to get Saint-Maximin in more comfortable positions. This might be impossible without adding another outlet to the squad, Miguel Almiron being the closest player they currently have to another defense-stretching forward like Saint-Maximin.
Perennially Maligned but Ever-Present: What Next for Steve Bruce?
When you subtract his goals from his xG, Saint-Maximin ranks in the 85th percentile, proving further that he has elite potential as a goalscorer if he is able to get into the right positions. 
There's no doubt that Allan Saint-Maximin is a world-class talent with the ability to help bring Newcastle back to the top of the English Football pyramid.
His blend of natural physique, technical capability, and ridiculous ball-striking make him effective across the front line of the attack and his skillset will complement any forwards that Newcastle add to their squad in January and beyond.
It is a footballing pedigree too often defined by "Streets Won't Forget" players who possessed incredible ability but struggled with injury or motivation issues as was the case with Hatem Ben Arfa.
Newcastle are stepping into a new era full of financial promise but still riddled with on-pitch uncertainty. Saint-Maximin is one of the only true shining lights at the club right now. Not only must he be a creative focal point on the pitch, but also a talismanic one off of it. 
By: Aden Suchak
Featured Image: @GabFoligno / Alex Livesey – Getty Images