The Renaissance of Matteo Guendouzi
Dubbed a problem child by Arsenal, criticised for his on-field antics against Brighton and cast aside shortly after, Matteo Guendouzi was something of an enigma during the first few years of his senior footballing career. However, the young Frenchman has potentially found a forever home with Marseille.
Born in Poissy, France, he was part of Paris Saint-Germain's acclaimed (and poorly utilised) academy. Upon realising he was not ever likely to get first-team football in the capital, Guendouzi headed to Brittany, signing for FC Lorient's academy. 
Guendouzi made his first-team debut for Lorient in a 2-1 defeat to Nantes in October 2016, he went on to make eight more appearances in the 2016/17 campaign which unfortunately ended with Le FCL being relegated to Ligue 2.
Made in Morocco, Flourishing in France; Is London Calling For Nayef Aguerd?
The following season the young Frenchman featured 21 times for Lorient. His performances attracted the attention of Premier League outfit Arsenal and a move to North London was imminent.  When Guendouzi sealed his transfer to The Gunners, then manager Unai Emery is quoted as saying:
"He is a talented young player, and a lot of clubs were interested in him. He has big potential and gained good first-team experience last season with Lorient. He wants to learn and improve and will be an important part of our first-team squad."
Under Emery, Guendouzi was featured primarily as a box-to-box midfielder, occasionally being employed as a defensive midfielder when injuries required. His close control and skill on the ball were a welcome addition to Arsenal's rather static midfield at the time.
Some of his movements could be considered frenetic and he could be rather hot-headed at times, perhaps a sign of immaturity in his game. On the whole, Guendouzi was a bright spark in what can only be considered an uninspiring season for Arsenal during the 2017/18 campaign.
Unfortunately, this was not the basis for a successful career with the North London club as Emery left the following season and Mikel Arteta became the new manager things took a rather sour turn for Matteo Guendouzi.
His time at Arsenal came to an abrupt end after an on-field altercation with Brighton's Neal Maupay whereby Guendouzi grabbed the Brighton man by the throat and proceeded to brag about the perceived difference in wages.
There was no way back for the young midfielder after this, and he was promptly shipped out on loan to Hertha Berlin the following season. Guendouzi made 24 appearances in the German capital, scoring two goals in a relatively successful season.   
At the beginning of the 2021/22 campaign with still no place for him in Arteta's plans, Guendouzi signed for Marseille on loan with an option to buy. It's safe to say that his time in the south of France has been a rather successful one, the former Lorient man has found a new lease of life under Marcelo Bielsa disciple Jorge Sampaoli. 
At Marseille, Guendouzi can be most often found playing as a Central Midfielder, and he has proven to be a very useful creative outlet for OM.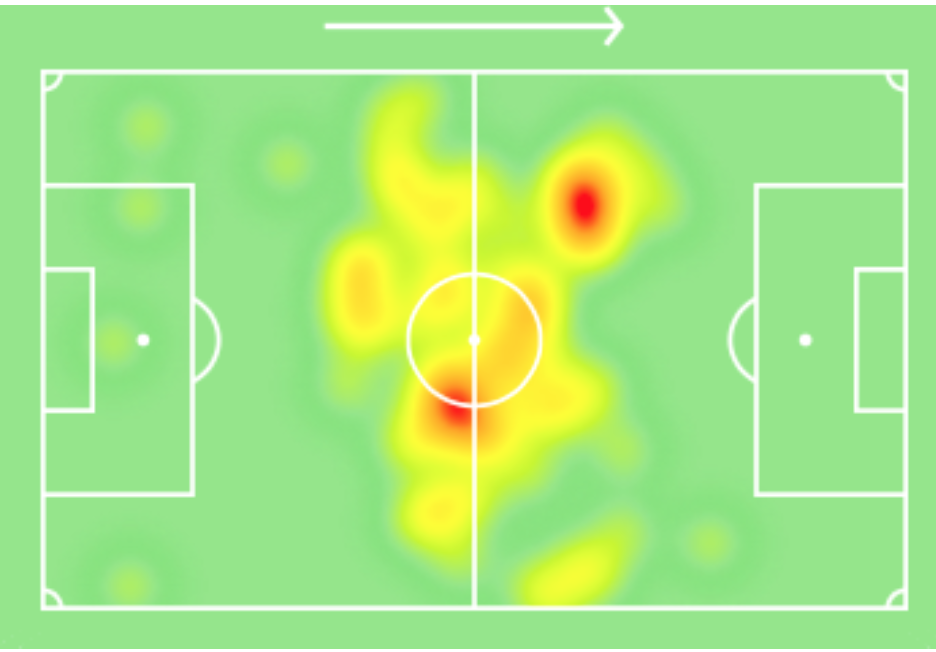 Guendouzi's heat map from the 2021/22 season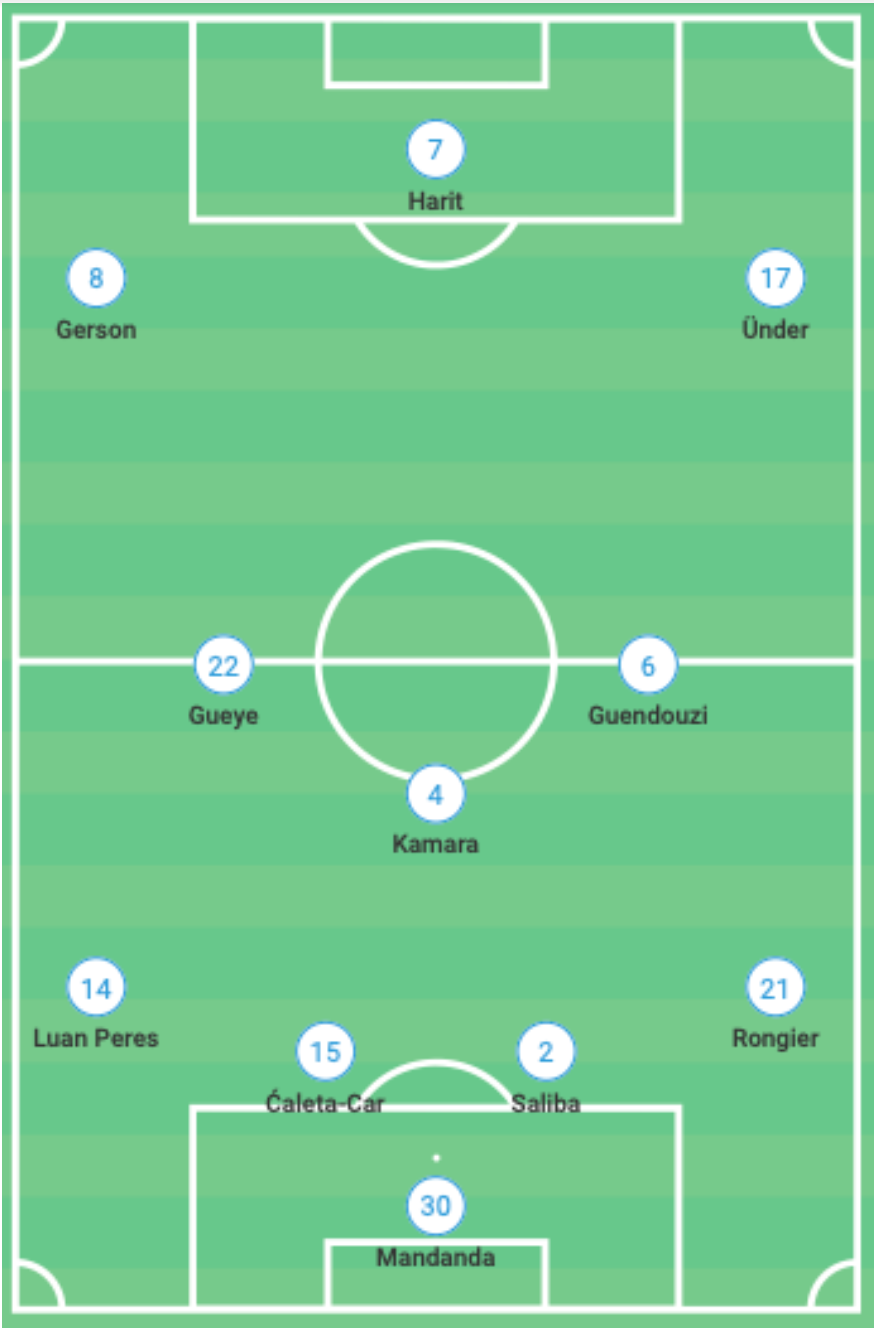 Marseille's regular line-up under Sampaoli
It's no secret that the new Aston Villa signing, Boubacar Kamara has been an incredible defensive midfielder for Marseille. His defensive prowess has provided the freedom for Guendouzi to get more involved in the attacking phases of play. 
Comparing Guendouzi to Fellow Ligue 1 CMs
The 2021/22 season has been something of a renaissance for Matteo Guendouzi, he has cemented his place in the team and proven to be a key player. He finished the season with six goals and eight assists to his name. His passion and hunger on the pitch have adhered him to the fans who love his tenacious determination, visible in every game.
He is also loved by teammates as he stepped in to protect Dimitri Payet when fans rushed onto the pitch during a Ligue 1 game against Nice in the Derby de la Mediterranée. The altercation left Guendouzi with strangle marks on his neck. 
Looking at his passing stats, it shows that Guendouzi is a very competent passer of the ball. He is an incredibly progressive player, who always looks to move the ball forward.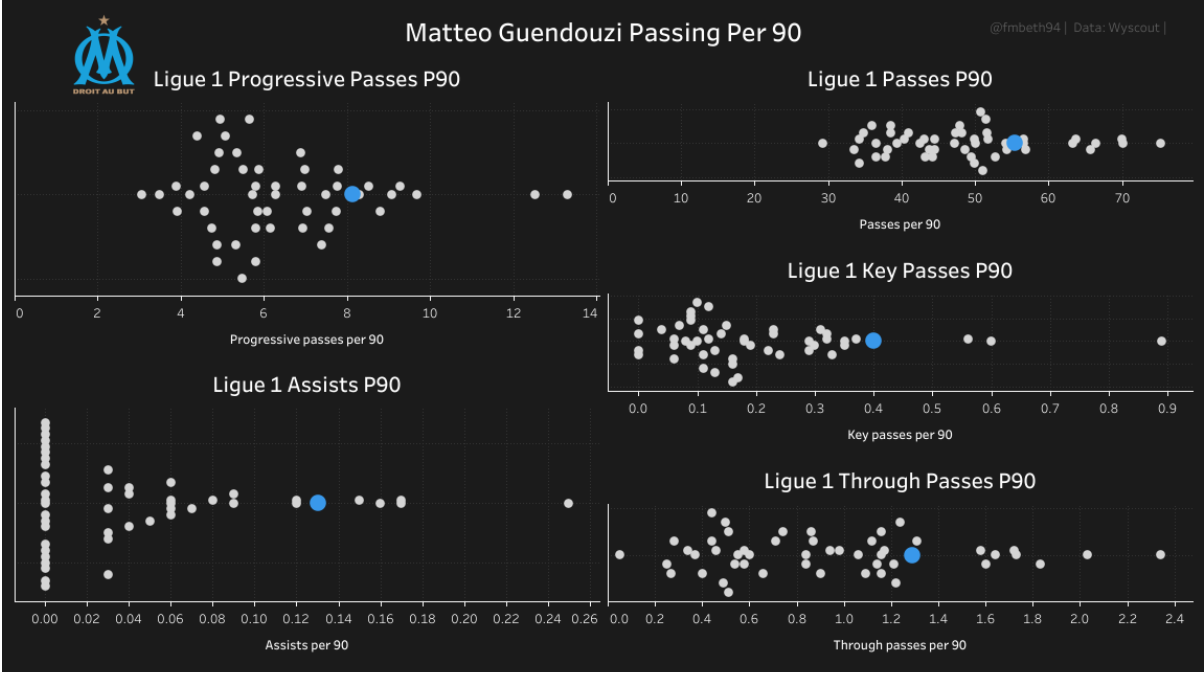 Guendouzi carries the ball well and is able to scan the pitch quickly and effectively to see where his teammates are and quickly decide who is the best passing option.
He is an incredibly intelligent player who can often shift his body or simply drop deeper to create enough space to get a pass off to a teammate. He shows maturity beyond his years in his ability to read and anticipate the play.
The data shows just how much Guendouzi is a positive influence for Marseille on the pitch, making progressive runs and passes much more frequently than most of his Ligue 1 counterparts.
The 23-year-old averages 20 carries per 90, with a 10-metre average distance per carry, this demonstrates his progressive nature when in possession and his desire to attack.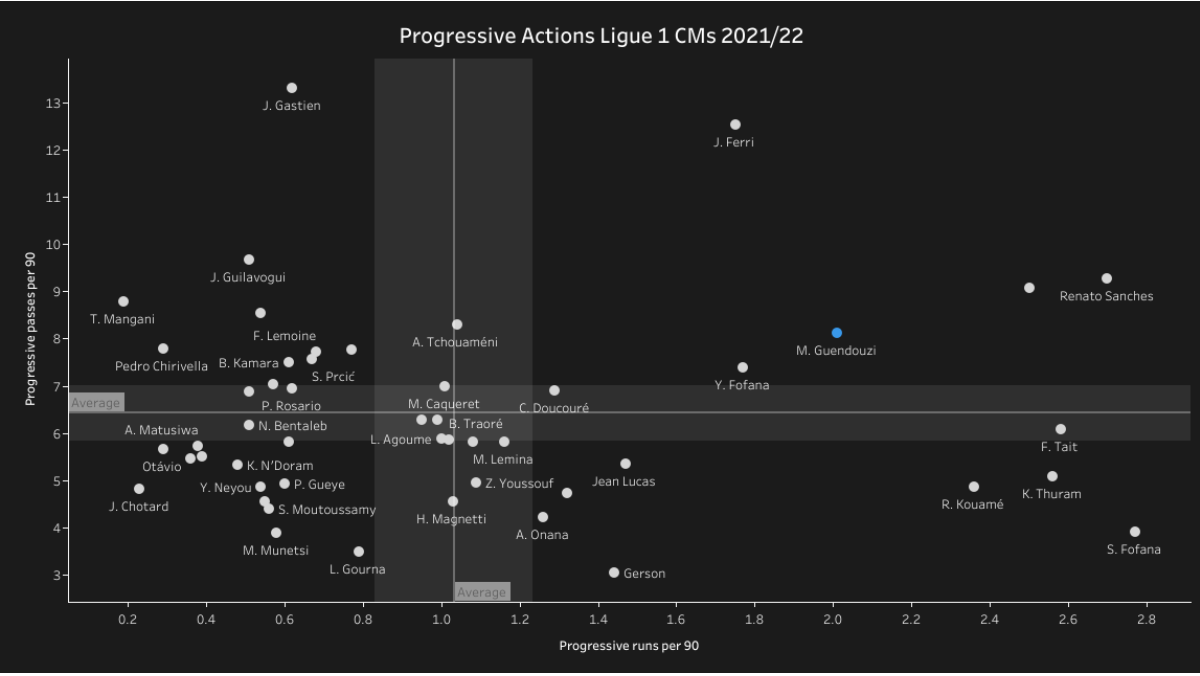 In terms of his shooting, Guendouzi is not shy in having a shot on goal, once again performing at an above-average rate with his shots per 90 and his xG per 90.
Overall, the Marseille man is performing well above average in his attacking output. His ability to occupy the half-spaces on the right side of midfield has paid dividends for Sampaoli's team.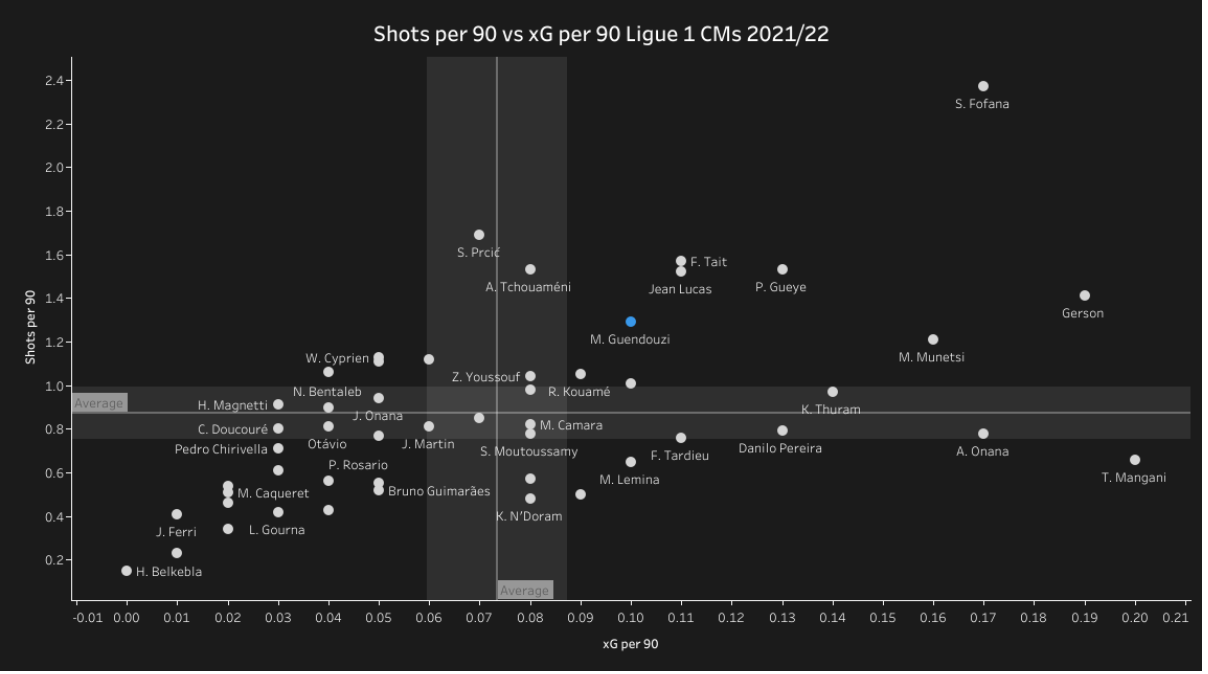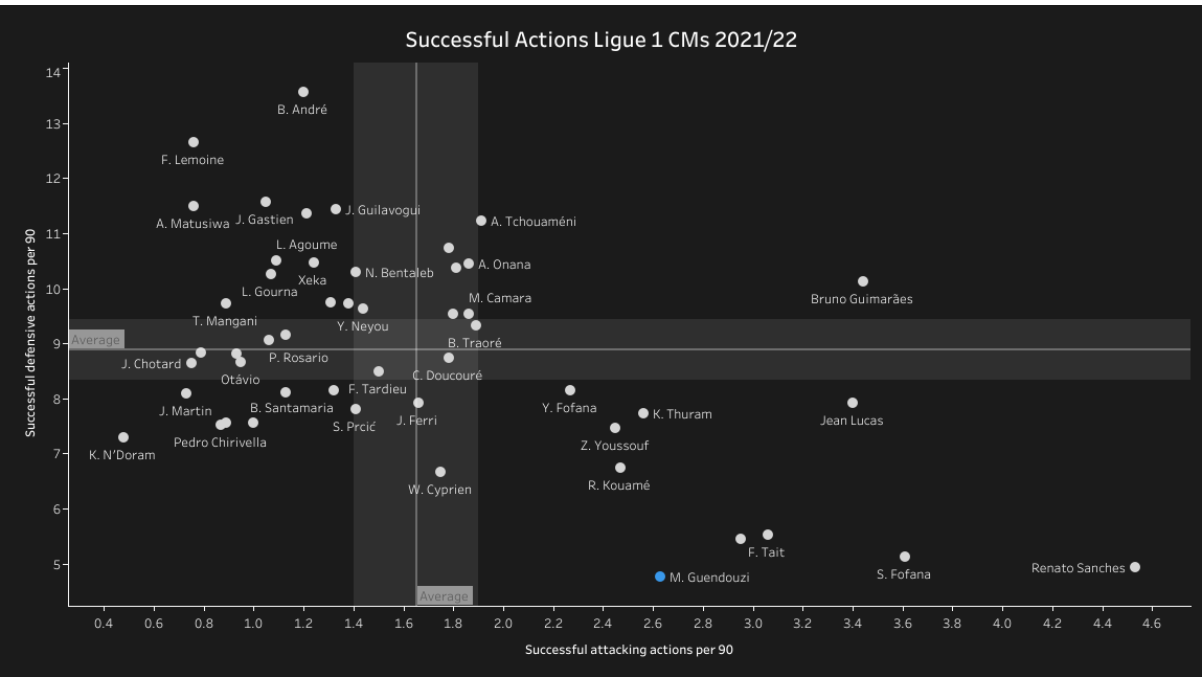 A point of potential contention about Guendouzi's style of play is his often below-par defensive output. Statistically, he tends to engage much more in the attacking phase of play rather than defensively. As the above image shows, the majority of his actions are attacking rather than defensive.
With the departure of one of the best defensive midfielders in Ligue 1 in Boubacar Kamara, there is a possibility that Sampaoli will look to Guendouzi to increase his defensive output during the next season.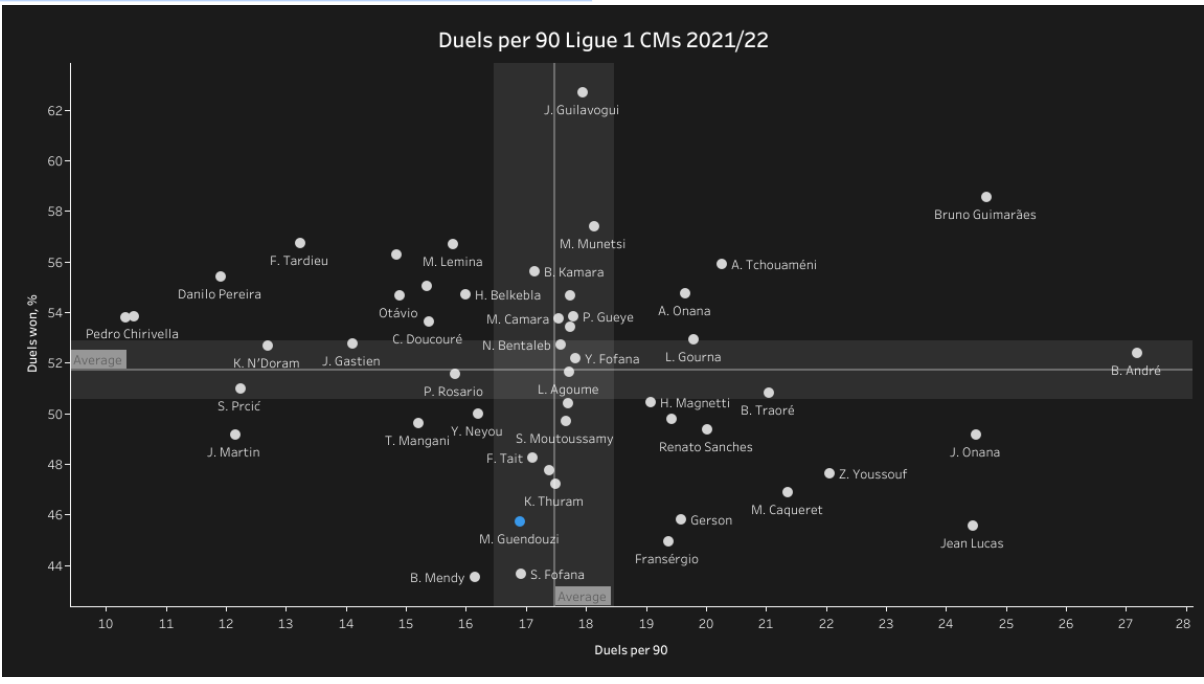 It is worth noting that while Matteo Guendouzi still possesses great tenacity and aggression in his play, while this may not necessarily equate to engaging in duels or defensive actions, it does provide a positive effect for the team defensively. He is actively engaged in Sampaoli's desired high-pressing game, willingly chasing down opponents and putting pressure on the ball to force turnovers. 
How Does Guendouzi Compare to Central Midfielders in Europe's Top 5 Leagues?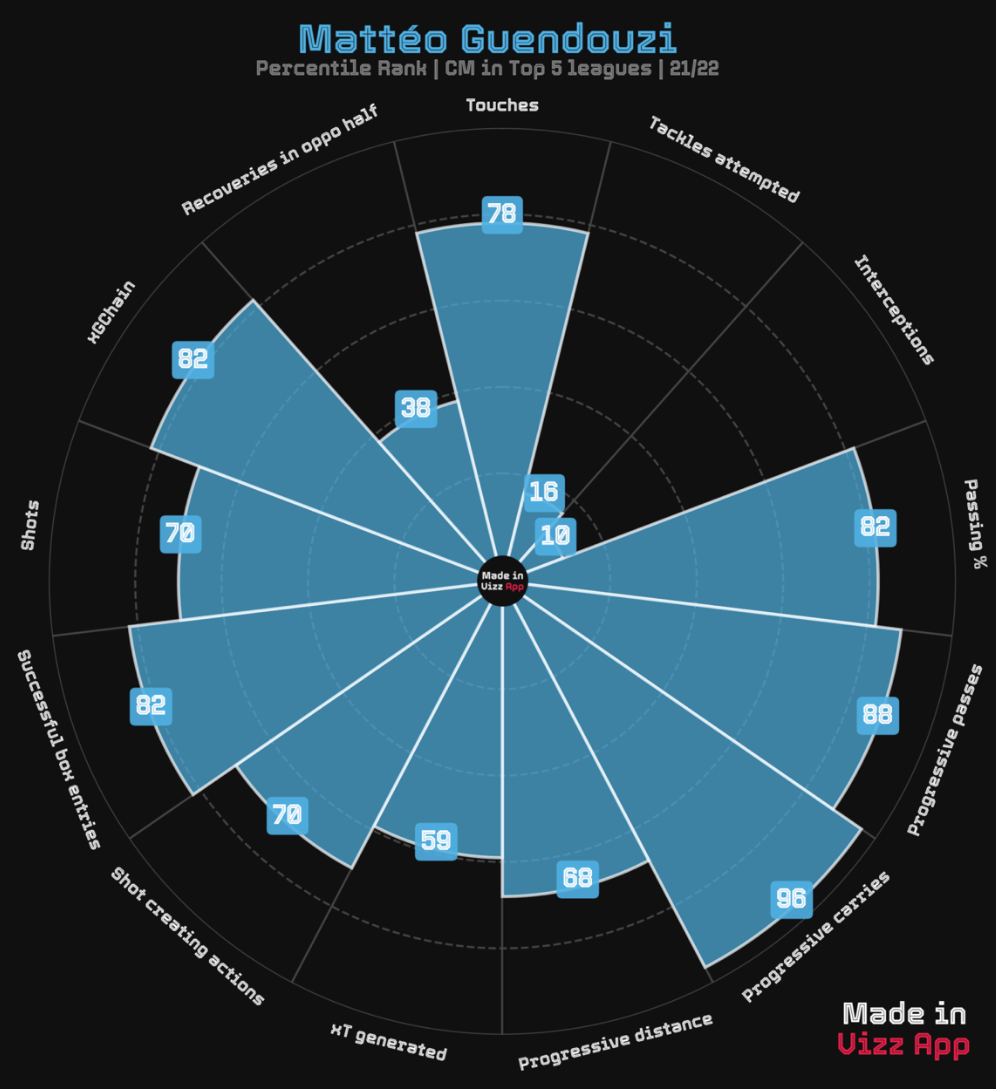 In comparison to central midfielders in the top 5 leagues, Guendouzi performs rather well, whilst his defensive output could be considered suboptimal, there is no doubt that his offensive abilities make him one of the most exciting midfielders currently. There is certainly an argument that he is becoming more of a playmaker at Marseille than a typical box-to-box player.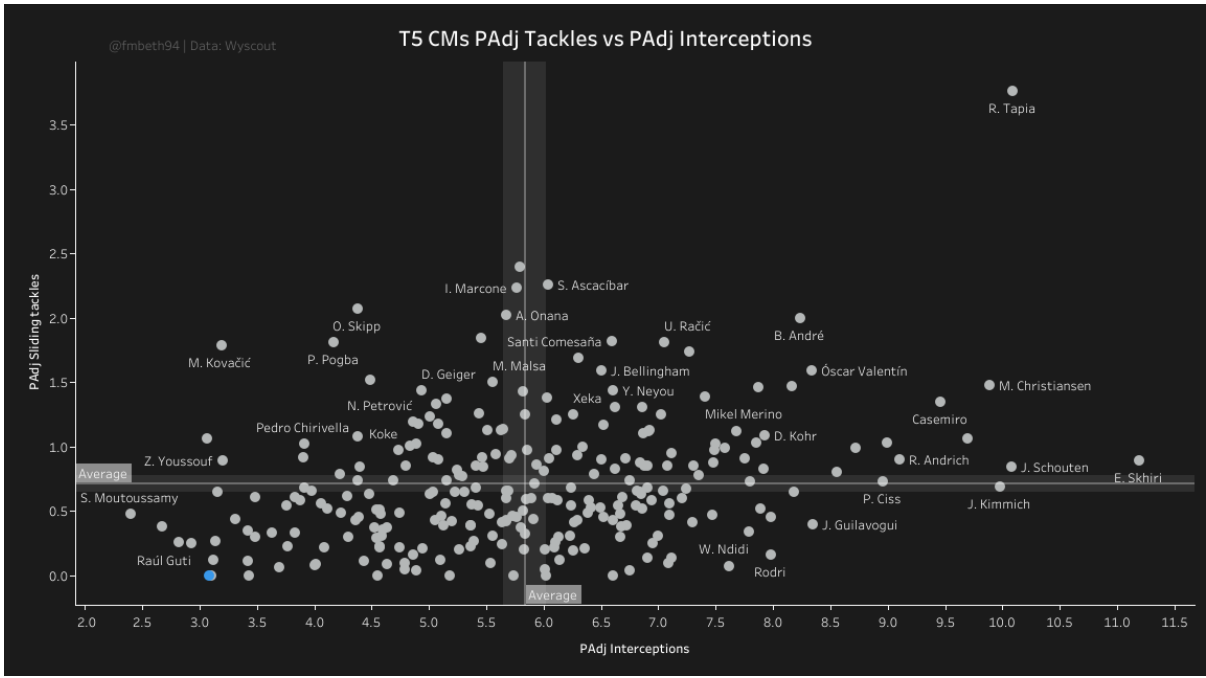 His passing stats are still impressive in comparison to T5 midfielders, his ability to look up and scan forwards and chose the right pass proves to be one of his best qualities. This element of his game is critical to helping his team construct attacks and demonstrates his intent to be at the heart of those attacking phases of play.
The willingness to take on this role for Marseille further demonstrates a maturity in his game, while he may be impulsive and rash on occasion, Matteo Guendouzi is more than happy to be an orchestrator in midfield when others may shy away from the responsibility.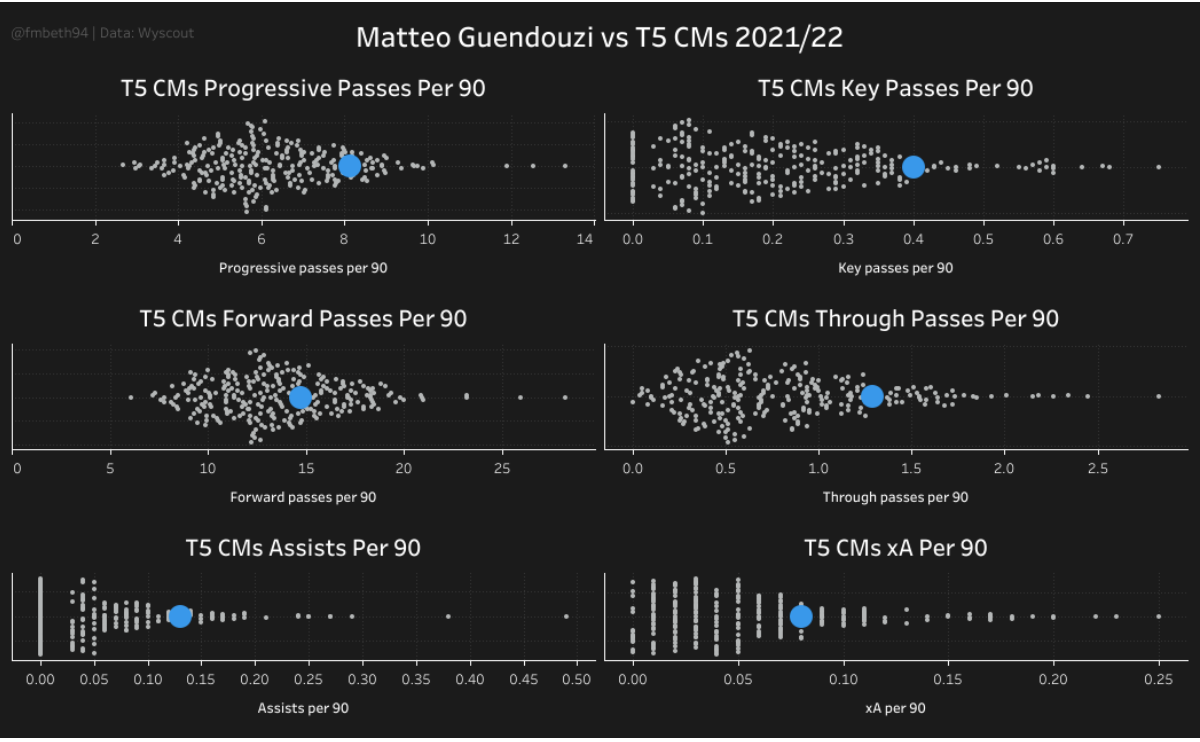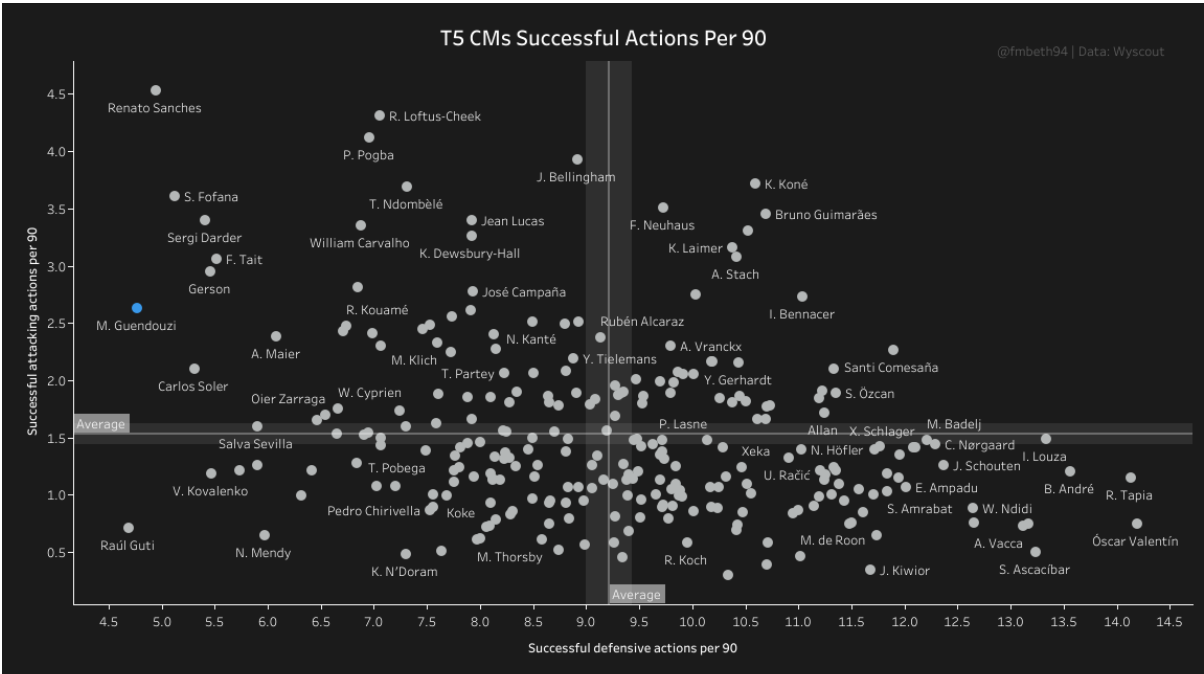 The number of successful actions he completes per 90 is drastically lower than most of his T5 counterparts. Whilst he does complete higher than average attacking actions there are still plenty of players performing better than him in this metric.
This could be influenced by the gulf between Ligue 1 and other Top 5 European Leagues. A lack of successful actions could simply mean he takes many shots compared to how many he actually scores. However, switching attention to dribbling, Guendouzi is back well above average and his willingness to be a ball carrier for his team shines through.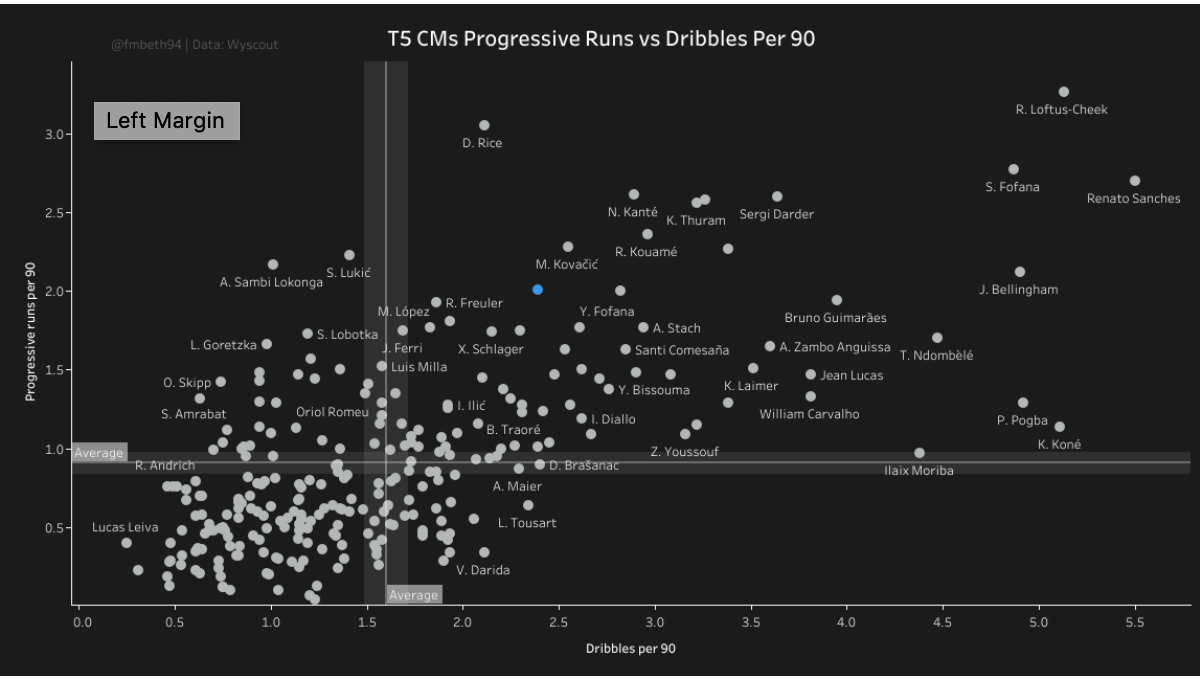 Matteo Guendouzi's 2021/22 Season in Numbers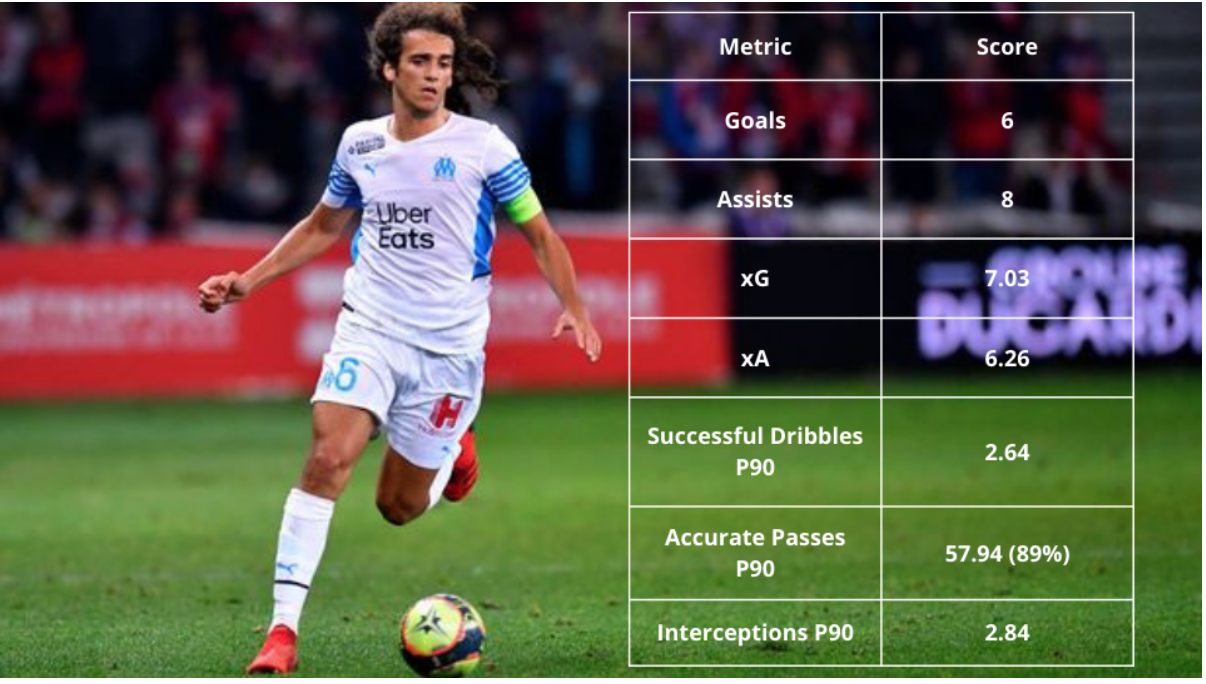 On the pitch, the numbers suggest something of a renaissance for Matteo Guendouzi, after a turbulent few years in North London, he seems to be settled in Marseille. His performances have endeared him to the fans who are rather pleased with his attitude on the pitch.
Off the pitch, there have been many changes in Guendouzi's life, he has become something of a role model at Marseille, and young players look to him for advice and guidance. He has become a father and it is highly likely that the added responsibility at home has helped to tame the Guendouzi outbursts on the pitch.
As tenacious as ever and always ready to fight for the shirt he is wearing there is now a thoughtfulness to his approach, the rash decisions are becoming less frequent, and the ill-judged tackles are being cut out of his game.
Matteo Guendouzi is an incredibly exciting player who is back on the right trajectory, there is no reason why he can't go on to become one of the best midfielders for club and country. Under Jorge Sampaoli's direction and with the OM fans behind him the future looks incredibly bright for Matteo Guendouzi.
By: Bethany Limb / @fmbeth94
Featured Image: @GabFoligno / Xavier Laine / Getty Images