Tyrell Malacia – What Does He Bring to Manchester United?
As the news broke early last week, Manchester United hijacked a deal for Feyenoord's promising 22-year-old left-back Tyrell Malacia and snatched the player from the hands of Lyon – a deal that shouldn't come to much surprise to United fans, as Erik ten Hag reportedly wanted to sign Malacia last summer for his former side Ajax but a deal wasn't possible due to the huge rivalry Ajax have with Feyenoord, but the interest remained. 
It wasn't the Dutch player that many Red Devils fans thought they would be grabbing their attention to their phones, as the ever-changing Frenkie de Jong deal still rambles on but Malacia is set to become the first arrival of Erik ten Hag's reign in the Premier League with the Dutchman having pinpointed his countrymen as a player who can challenge and compete with the unreliable Luke Shaw next season. This should also lead to the departure of Alex Telles and Brandon Williams – both players being made surplus to requirements since ten Hag's incoming. 
Back to Malacia, the 22-year-old's rise in the Eredivisie is familiar to many Dutch players; he was in the Ajax academy from the age of nine and wasn't the most highly touted but like many players, he honed and grafted on his craft.
This earned him his senior debut in a Champions League clash with Napoli in 2017, as the then 18-year-old completed the full ninety minutes in a 2-1 win over the Italian side at De Kuip – and even back then the player was showing the same explosive and dynamic tendencies from the wing as dose to this day. That performance gave Tyrell the platform to show his talents on the first-team stage – ending that campaign with 11 appearances in all competitions, a figure which has since risen season-upon-season. 
The last season was a real big step in his development and specifically his importance to the team – making 50 appearances for Feyenoord and was named in the Europa Conference League's Team of the Tournament after helping the Dutch side to the final but could only finish as runners-up.
The final itself was a real announcement to the world stage that the left-back was one to keep an eye on – already laying down the foundations for a great career with his learning and development being managed brilliantly. 
Tyrell Malacia's Style of Play
Despite, his evident coaching and development he doesn't have a nailed-on profile that can be completely recognized – and this is understandable considering he's still learning and still enhancing his game. His raw technical and blessed physical attributes allow him to delve as an overlapping or inverted weapon. 
From the offset, Tyrell's physical attributes set him truly apart from other full-backs – the Dutchman is blessed with blistering pace, a strong, powerful running style, and a low center of gravity is a perfect physical blend for a modern-day full-back especially one of who is going to play in an Erik ten Hag system.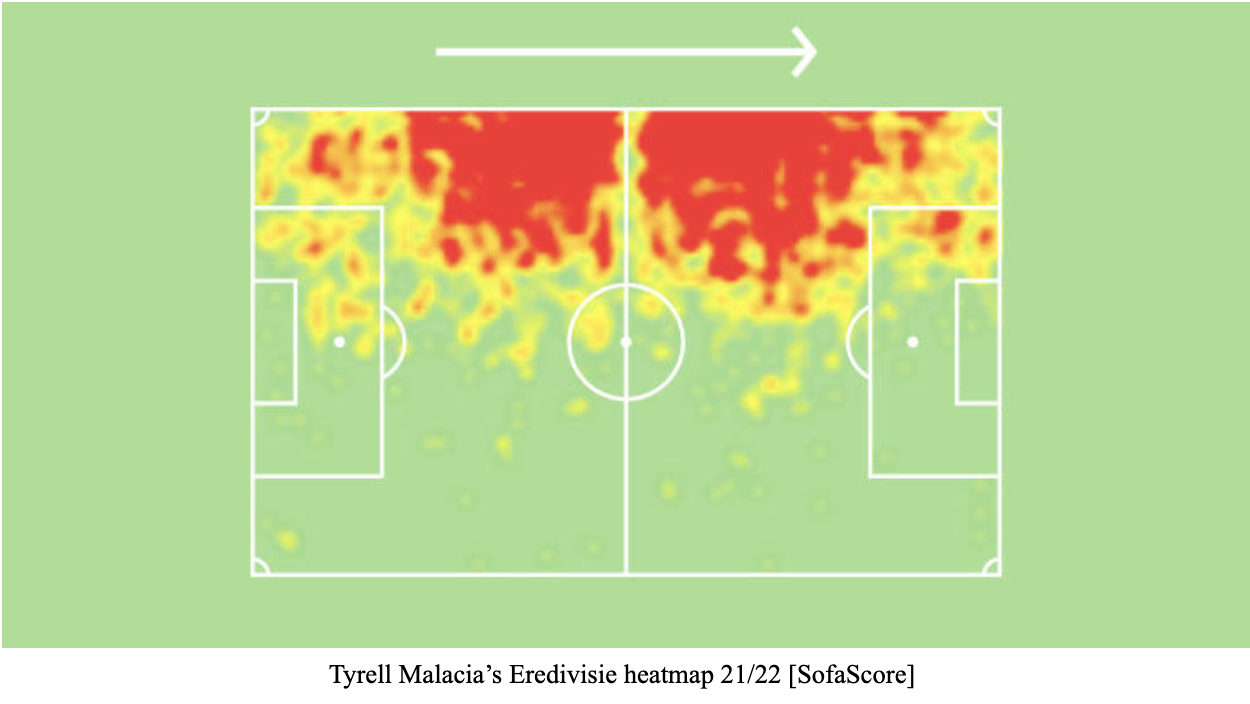 His pace is a key part of his game – offensively and defensively; his explosive vertical movement allows him to stretch oppositional lines from deep and allows him to be an off-ball threat and this pace also allows him to anticipate and be proactive quicker to danger – he can force his opposition man wide knowing he has the burst to keep up with him and execute the required defensive action.
This also means that his recovery pace makes a vital part in defensive transition –  a potential weakness within ten Hag's system, and having a player who can lessen the chances of giving up chances on the transition, can only be a plus. 
Malacia is an aggressive player – he's always looking to force things going forward and this is seen in his execution of attacking actions; he naturally drives into attacking zones from a deep, bullet-like when he picks up the pace with the ball, at the end of these runs, you usually see him releasing the ball with a sly-through ball or potential one-two with an overlap or invert run being made – his actions always have a purpose. 
How Will Tyrell Malacia Fit Into Erik ten Hag's System? 
As mentioned earlier, Erik ten Hag's full-backs have an important and demanding role in his system and I think it's best we briefly look over what that is and then look into how Malacia will fit into it. 
The Dutch manager tends to shape up in a 2-3-5 or 3-2-5 in possessions – a similar set-up to Pep Guardiola's City. The full-backs will take a balanced approach to their roles, with one staying high and wide and joining the '5' and the other inverting and forming part of the midfield.
It's usually the left-sided defender who stays high and wide but either fullback can switch roles due to the positional fluidity of ten Hag's system. This positional versatility is heavily desired in ten Hag's full-backs because it allows the fluidity and balance in the system to flow. 
Malacia has shown in the freedom he has in his role that he can be a high-volume runner off the ball and his runs can be particularly threatening in attacking areas. A positional role where he can rotate between the choice of being a high and wide full-back or an inverted one will only enhance his role in the team.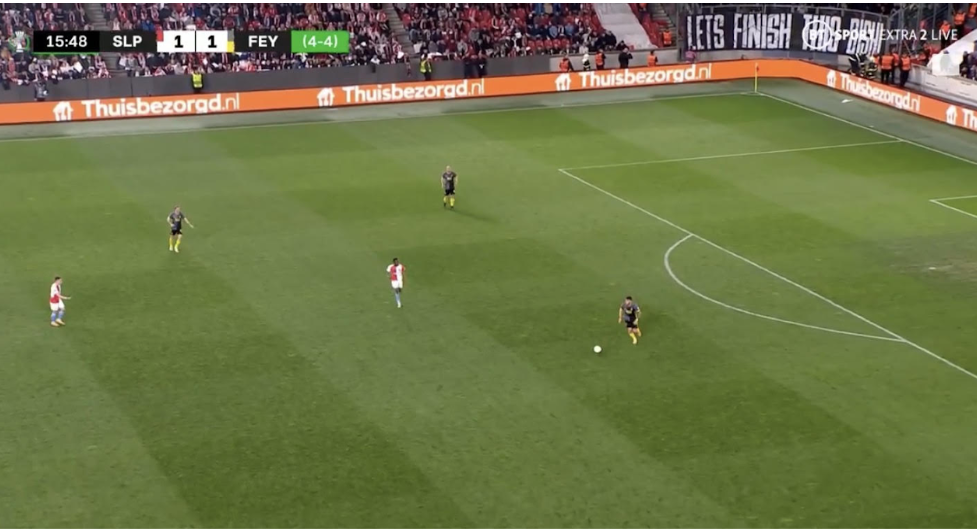 The LCB of Feyenoord sees Malacia making a run from deep and he looks to play a long looping ball towards him.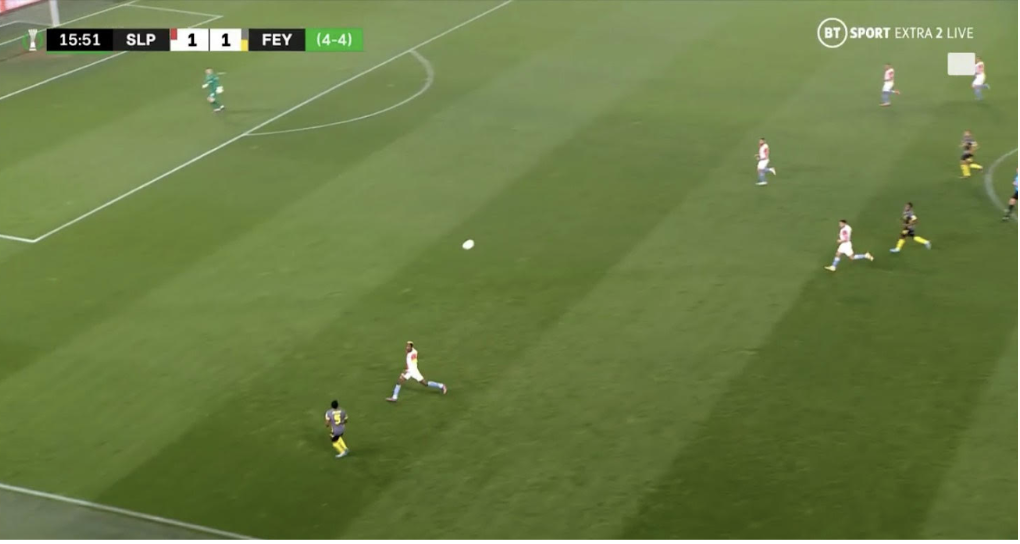 Malacia's run from deep stretches the opposition specifically the right back and makes the commit out wide. 
Another thing that is desired in ten Hag's full-backs is a high technical security of the football – being able to be comfortable in different areas of the pitch with the football and offer the technical capabilities of a midfielder, you can see the Pep similarities are evident in ten Hag's system. 
His technical ability can improve but the raw talent is there – as mentioned before, he has the attributes to fulfill such a high technical role, being a threat from specifically wide areas when flashing a cross into the box or inverting inside with his lovely drilled switch of the ball diagonally.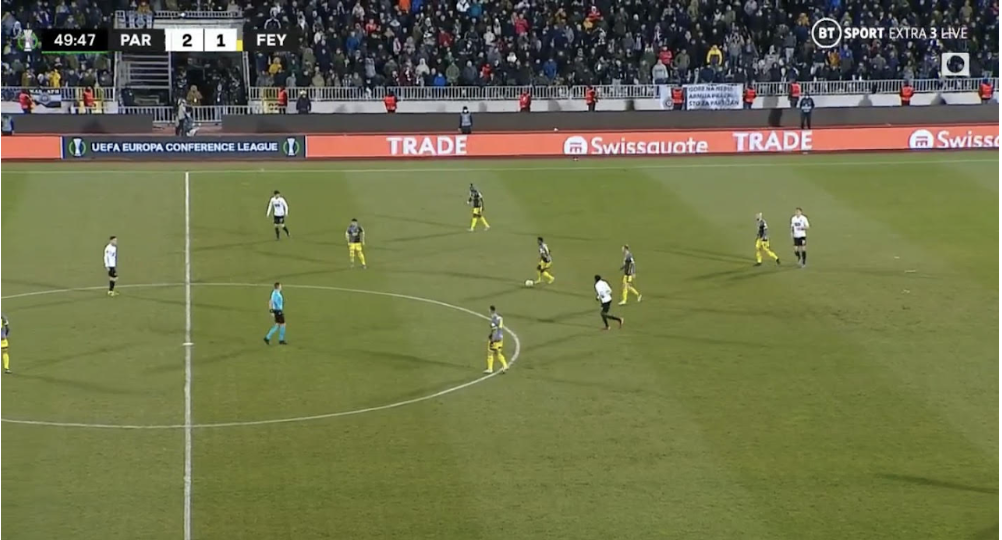 Malacia has the tendency to drift inside and get involved with the play, similar to Joao Cancelo.
By coming inside he looks to make things happen, and as seen in the image above he looks to play a cute through ball. 
And lastly, a not-so-desired aspect of full-backs for ten Hag but important as time goes on is the relationship amongst the players around you and for a manager like ten Hag who values automatism – knowing your role and movement alongside your teammates'.
This enhances the positional fluidity around the team but also keeps the mental strength of the team strong and for a demanding role like a full-back, relationships must be formed especially with the winger in front of you. 
His partnership with Luis Sinisterra on Feyenoord's left flank was frightening for a large part of the season – both players were intertwined by the end of the season, knowing each other runs and tendencies, and it is easy to see a similar partnership arising between him and the likes of Marcus Rashford and  Jadon Sancho – two players who benefit massively from a productive relationship with their full-back. 
Conclusion 
To conclude, Malacia at 22 years old has shown skills and traits of a top full-back in the making. He's been a key part of Feyenoord's successful season in their close pursuit of the Eredivisie and ECL title and has broken through into the national team earning plaudits from manager Louis van Gaal. 
His development as a player should take another significant step when coached under Erik ten Hag who has a prestige reputation in developing players. 
For Manchester United, its hard to see a negative with this deal (that's a first) the player has room to grow and already exciting talent that can be coached and enhanced, even more, the manager has a good understanding of the profile of player he's getting, and in a position a year ago looked locked down under the then in-form Luke Shaw, it seems more and sterner competition is needed to give the Englishman the mental kick he seems to always need and for the reported price of £15 million, it's hard to say Manchester United aren't getting a good deal here. 
By: Raphael Adelugba / @xGConvertor0
Featured Image: @GabFoligno / Soccrates Images / Getty Images