Weston McKennie: Andrea Pirlo's Jack-Of-All-Trades
When Andrea Pirlo replaced Maurizio Sarri as Juventus manager on August 9, 2020, nobody knew how his team would shape up. He was appointed with zero experience at all in professional football; he was originally hired to coach the Under-23 side but then took over from Sarri after Juventus were eliminated from the Champions League by Lyon. He didn't even have a UEFA Pro Licence, the required licence to coach a professional team in the top 5 European leagues.
Pirlo himself didn't know exactly which system he was going to deploy, but he gave some hints during his first press conference when he said: "I want my team to control the ball and when we lose it, we have to regain it quickly." Those words came on August 25th. Four days later, Juventus announced the signing of Weston McKennie on loan from Schalke 04.
It was immediately all too clear that the American midfielder was set to play a leading role in the Juventus midfield because of his skills. In fact, there are rumors that Chief Football Officer Fabio Paratici fell in love with him during the lockdown. Last spring, Bundesliga was the first major league to restart and so Paratici spent a lot of time watching games from Germany's top flight.
In those hours consumed in front of the television, he got intrigued by McKennie's footballing style, full of energy and athleticism, always focused on defending on the front foot. So, when Pirlo asked for a midfielder that would help the team regain the ball quickly, Paratici immediately thought that the answer was none other than McKennie.
He was right. McKennie hit the ground running as he started the first game of the Serie A season against Sampdoria and overall, he has started 19 of the 29 matches he has played in all competitions. He has become a key player for Pirlo, who has deployed him in every role in the midfield, either as a central or a wide midfielder.
As per Fbref, he ranks second amongst Juventus players for the amount of pressure to the opposing player who is receiving, carrying, or releasing the ball, 239. He did that 128 times in the middle 1/3 and 58 times in the attacking 1/3, first among Juventus' midfielders. In short, McKennie is the fuel that allows Juventus' engine to run.
With him on the field, the team has a completely different approach. They're more proactive, more eager to prevent any possible threat by pressing the other team in their half. You get the impression that they outrun every opponent. If you knew McKennie before his Serie A stint, you could have envisioned his defensive skills would have been really useful for Pirlo, but he has surpassed all expectations. As of right now, the Texan is one of, if not the, most important player in midfield.
In his dissertation at Coverciano, the Italian coaching school, Pirlo described the basic principles of his attacking philosophy. One of those points focuses on the importance of depth. In his mind, strikers and midfielders should apply pressure on the opponents' defensive line with constant cuts and movements in the penalty box.
McKennie is the ideal player for this strategy. With Cristiano Ronaldo constantly playing on the left side of the attacking line, there's always space in the penalty box as one or two defenders gravitate around the Portuguese forward. No matter who plays alongside Ronaldo, be it Álvaro Morata or Dejan Kulusevski or Paulo Dybala, the second striker is forced to move away from the penalty box in order to play with greater width.
In Pirlo's own words, a player's role is constantly variant. "The meaning of a role is changing. It is no longer a fixed position that identifies the characteristics of a player, but more and more the different functions and therefore the tasks that a player performs in the match that identify it."
Again, paraphrasing those words you could say that players like Morata, Kulusevski and Dybala are Juventus' strikers only on paper as the real striker is McKennie, the one player who constantly moves alongside all the attacking line or cuts into the penalty box in order to receive the ball in the best possible position to shoot or provide an assist.
The stunning goal he scored at the Camp Nou against Barcelona in the final UEFA Champions League group stage match sums up how valuable he has become for Juventus. He plays a ball wide open on the right to Juan Cuadrado and then receives it deep in the penalty box, only to score with an amazing side volley.
There are plenty of these situations. For example, in the image below he changes positions with Kulusevski, leaving the midfield in order to play as a winger. He receives a long ball from the Swede and, reading perfectly the situation, he sees that Dybala is running towards space left open by the movement of Genoa's Andrea Masiello. He serves Dybala with a soft header and the action ends with the Argentinian scoring.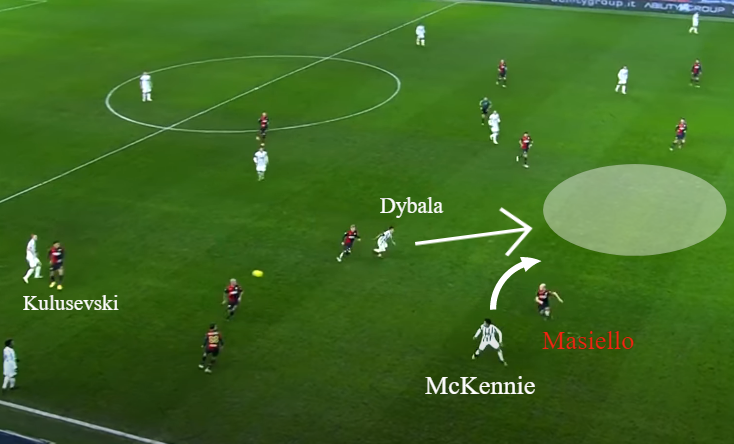 In the below example vs. Milan, he performs in the exact way Pirlo wants each of his players to act. Cristiano has the ball in his feet with two opponents close to him, and McKennie sprints towards the penalty box in a space that nobody is covering as Diogo Dalot is trying to cover Kulusevski's pass and both Franck Kessié and Samu Castillejo are looking in that direction, ignoring McKennie's movement. He receives the ball in space and only a great save by Gianluigi Donnarumma denies him a goal.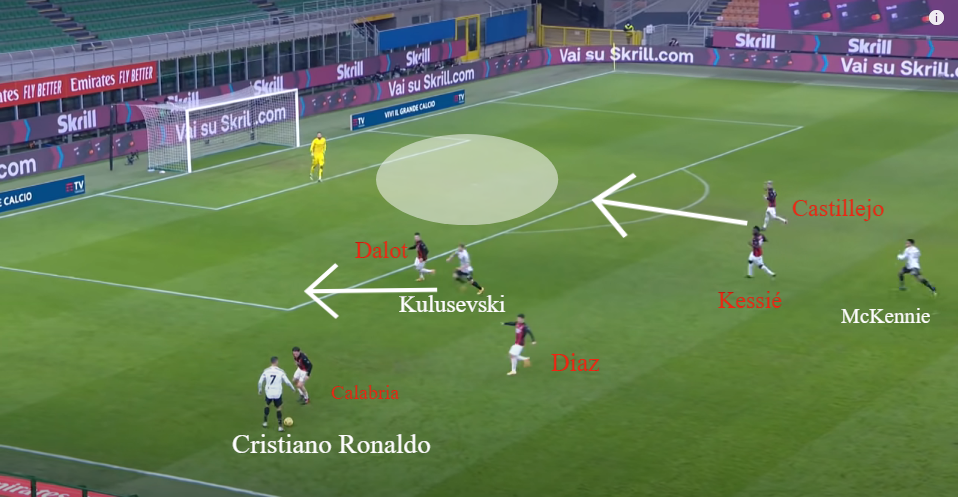 In Weston McKennie, Juventus have found a jewel. He needs to improve on a technical level, as he only attempts 41 passes per game the majority of which are short passes that don't help the team in progressing through the field, but this is the only negative note of his season so far.
The 22-year-old American has proved that he can defend, he can attack, he can read the tactical situation, he knows when to pull the trigger and put pressure on the opponent, he can adapt to every scenario. Because of his constant movement, you can feel the difference between when he's playing and when he's not.
Only time will tell if Andrea Pirlo's managerial career will be a roaring success in Turin, but one thing is for certain: Pirlo's idea of liquid football is bringing out the best in McKennie. Moreover, with Schalke currently rooted at the bottom of the table, and Juventus in desperate need of a midfield overhaul, it seems all but certain that Juve will make his loan permanent and secure his long-term future in Italy.
By: Andrea Agostinelli
Featured Image: @GabFoligno / NurPhoto