What Do Arsenal See in Aaron Ramsdale?
Arsenal are in the midst of a lengthy rebuild under manager Mikel Arteta, and whilst they are struggling to offload out-of-favour fringe players, they have been pretty busy in terms of incomings. Ben White, Albert Sambi Lokonga and Nuno Tavares have been brought in, whilst Martin Ødegaard looks set to return on a permanent basis. These signings all fall into the under 23 bracket, suggesting that the Spaniard has opted to prioritise youth over experience. 
Another player who is poised to sign for the Gunners is 23-year-old England goalkeeper, Aaron Ramsdale. However, the reported £30million price tag has caused confusion and, to some extent, uproar amongst the fanbase. This is understandable considering Arteta and technical director Edu have already made some questionable decisions regarding the goalkeeper situation.
It was just last summer when they sold Emiliano Martinez for less than £20 million and replaced him with Iceland's 2nd choice goalkeeper, Runar Alex Runarsson, who looks completely out of his depth at the Emirates. Since then, the former has gone on to become one of the league's top goalkeepers whilst Arsenal's current #1, Bernd Leno, has struggled to fulfil the role that Arteta requires from his goalkeeper. 
Ramsdale received a fair share of criticism last season for his performances for Sheffield United, with and many believing he was a large factor in their relegation. The Staffordshire-born stopper was brought in to replace Dean Henderson last summer, but many feel he failed to fill the gloves of the Manchester United man. Now, Ramsdale could become the 6th most expensive goalkeeper of all time, despite having back-to-back relegations to his name, so what is it that Arsenal see in him?
Firstly, it's important to note that Ramsdale's role at Arsenal will be significantly different to his role at Sheffield United. Last season, Chris Wilder's side were a team that sat back, soaked up a lot of pressure and conceded a lot of shots. They were also a team that were encouraged to play it long in order to win second balls in midfield.
Ramsdale was rarely required to act as a sweeper or play out from the back. At Arsenal however, Ramsdale will have far more responsibility in terms of playing with his feet, be it short or long, and will be required to do far more sweeping. It's a massive step-up for the 23-year-old and a huge mental challenge – one which he'll be eager to take on.
It's clear that the Gunners have prioritised bringing in a goalkeeper that is homegrown, after passing up on both Maty Ryan and André Onana. This narrowed it down to the likes of Ramsdale, Freddie Woodman and Sam Johnstone. Arsenal see the Blades stopper as the best option here as not only does he fit the U23 age profile they're primarily looking for, but he also has Premier League experience already to his name. 
The decision to pursue Ramsdale is almost definitely data-driven, seeing as the club adapted their recruitment strategy to an analytics-based model last summer. Ramsdale may not pass the eye test for a lot of viewers, but data shows that he's actually a solid goalkeeper. Despite conceding 13 goals from outside the box last season, his statistics show that he had a pretty decent season in the sticks for the Blades.
In terms of shot-stopping, Leno is marginally superior, yielding a save percentage of 71.6% over the last two seasons, compared to Ramsdale's 68.5%. In the same time frame, the latter has conceded 125 goals with an expected goals against (xGA) of 117.6, whilst his German counterpart has conceded 78 goals with an xGA of 74.5. Of course, it's important to apply context and consider the fact that Ramsdale faced far more shots than Leno considering the quality of teams the two play for. Generally, these figures are pretty similar. 
Furthermore, according to the brilliant GK analytics expert, John Harrison, Ramsdale had a good season in terms of shot-stopping. After a rocky start, the England international showed over the course of the season that he saves at a level above what is expected of a hypothetical average Premier League goalkeeper. According to the expert's model, the Sheffield United man performed better than fellow England duo Dean Henderson and Jordan Pickford, as well as David De Gea, Kasper Schmeichel and Maty Ryan.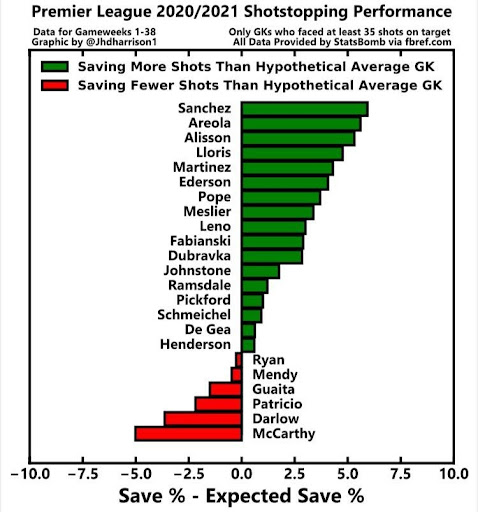 Arguably Ramsdale's biggest strength is his bravery. The England international is renowned for hurling himself in front of anything and everything and doesn't shy away from rushing off his line. Although his positioning and decision-making are his main weaknesses, these are things that can be corrected and improved with coaching and experience.
Arguably the most important aspect of goalkeeping for Mikel Arteta's style of play is their distribution and how comfortable they are playing out from the back. Despite averaging more than double the number of long passes per game (10.3) than Leno (4.3), Ramsdale has greater long pass accuracy (68.9%) than his German counterpart (64.2%).
Furthermore, the former Bournemouth stopper is considerably more accurate when passing into the final third (68.3%) compared to Leno (34.3%). Of course, Ramsdale was instructed to go long far more often under Chris Wilder than Leno, but the accuracy of his distribution has clearly caught the attention of Arteta and Edu. 
The power and distance Ramsdale is able generate with his long kicks is something Arsenal aren't used to with Leno. The German generally struggles to generate such power and distance with his long kicks, meaning Arsenal are more vulnerable to losing play closer to their goal.
In contrast, Ramsdale's long kicks will result in Arsenal's play breaking down further up the pitch, where their attackers will have opportunities to create chances through counterpressing. Besides, even if they don't regain possession, they won't be as vulnerable to an attack from the opposition seeing as the ball is further up the pitch. 
Leno often plays floated passes when bypassing the opposition's attackers. Seeing as these types of passes lack power and speed, they are easier to read for the opposition. Ramsdale tends to hit zippier passes that are harder to telegraph and dispossess and is generally more confident with his kicks than the German. Fans often get nervy when Leno has the ball at his feet whereas Ramsdale could provide some assurance in this aspect – perhaps not in the short term given his inexperience in such a role, but at least in the long run. 
Seeing as Ramsdale is more accurate in general with his distribution, it may see Arsenal gain more control on games. They won't be required to build play as deep and under as intense pressure as they do with Leno. Of course, the Englishman is young and inexperienced at playing this role so he will make mistakes, but in the long term it could be a net positive for Arsenal.
Overall, whilst his performances last season were questionable at times, he improved dramatically towards the end of the campaign and was rewarded with Sheffield United's Player Of The Year award to add to the one he won for Bournemouth the season prior. It's unlikely he's going to just act as a stopgap until Leno leaves, where the Gunners will then pursue another #1. Instead, the hefty transfer fee suggests that Ramsdale will be integrated as the #1. 
Whist the fee is excessive, there's little doubt that the Gunners needed to address the goalkeeping situation and bring in someone more suited to the role than Leno. Whether Ramsdale will be able to adapt to the role required by Arteta remains to be seen, but he is a definite improvement in terms of distribution and technical quality.
It's a huge gamble by Arsenal and Mikel Arteta, but the potential is definitely there. However, he will need time and will make mistakes along the way. It's unlikely he'll ever become a world class goalkeeper, but his good technical quality and decent shot-stopping ability suggest that he's capable of playing regularly at a possession-based team like Arsenal.
Despite this, when you consider how accessible the likes of Andre Onana, Alphonse Areola and Mike Maignan were this summer, it's only natural to doubt that this was the smartest move Arsenal could've made. 
By: James Lloyd / @Jlloyd2000
Featured Image: @GabFoligno / James Williamson – AMA – Getty Images