What to Expect from Chelsea's Newest Signing David Datro Fofana
In February 2021, an unknown Ivorian 18-year-old prospect was signed by Molde in an attempt to rejuvenate and rebuild after being trounced to the Eliteserien title in the 2020 episode of the pinnacle of Norwegian football by a substantial 19-point gap. Molde's performance had only minimally regressed from the antecedent season; a deficit of 6 points from 2019 to 2020- equating to only 0.2 points per game.
Yet, led by Kjetil Knutsen, Bod∅/Glimt jumped from runners-up with 54 points (therefore 1.8 points per game) to 81 points and thus an increase of 0.9 points per game. Molde needed reinvigorating. Fast forward to January 2023 and the western outfit is still basking in the glory of their victory in the 2022 season; the eventual champions by an 18-point margin. 'The protagonist to this title charge?', I hear you ask. David Datro Fofana; the (now) 20-year-old wonderkid in a breakout season.
As we all know, Molde have further strengthened their title credentials for the upcoming Eliteserien season by finalising (according to Fofana's agent, Aneke) a record-breaking move to Chelsea. The fee is not disclosed as of yet but is allegedly reported by credible sources to be in the region of £11 million which comfortably usurps the previous Eliteserien record set by Bod∅/Glimt's transfer of Erik Bothiem to Krasnador which was in the vicinity of £9.5 million.
This cash flow will facilitate not only a replacement for their outgoing talisman but also a bolstering of an already title-capable squad which will stand them in incredible stead and it would be hard to bet against them to retain their position as Seriemester. And so, this poses us with a myriad of questions; why did Chelsea sanction this move? Is he an immediate starter? What should we expect from him? Can he replicate his performance levels in Norway in a much harder league? What are his strengths/weaknesses? I will attempt to solve these queries (and hopefully many more) in the below analysis!
Finishing
Datro Fofana has been the primary talisman in Erling Moe's 3-5-2 system this year at Molde. He is an extremely avid shooter who frequently pulls the trigger in the 18-yard box. He ranks first for shots per 90 across the 2022 Eliteserien season with an average of 3.81 and this close proximity inclination facilitates a strong metrical performance when it comes to the percentage of his shots that are on target; not to discredit his innate shooting ability whatsoever.
He ranks second in the latter statistic; with just over half of his shots hitting the target. These numbers indicate a high-volume shooter and an effective one at that. This description, I believe absolutely epitomises Fofana. In terms of his technique, I noticed Fofana's inclination and preference to place the ball rather than 'pummel' it past the keeper; he predominantly opts (when plausible) for a side-footed finish on his stronger right foot although (from short range) he is equally effective on his weaker left foot when placing the ball.
This divulgence towards precision is evident in his penalty-taking. All the penalties that he has scored have been placed all but perfectly into the right corner, with a stuttered run-up that inhibits the generation of power and yet nevertheless he is yet to miss from the spot. However, his skill set is not merely limited to his preferred side-footed conversion. He shows capabilities to drive, chip or poke the ball back across the goal when a softer, placed finish is less feasible.
Additionally, David is a competent and accurate header of the ball with an impressive inception of power from relatively disadvantageous positions (mechanically speaking), he directs the ball emphatically and efficiently with his head. When it comes to aerial prowess, I have found it hard to contemplate that Fofana is only 5'11'' and thus is often shorter than his opposite man yet in these headed duels his athleticism is great enough to usurp and dominate those who have innate advantages on him; an impressive and useful facet of his game.
In terms of superficial numbers, Fofana has recorded an impressive goalscoring tally both domestically and on the European stage this season. He has netted 27 goals across 3315 minutes this year. In the Eliteserien, he was joint 3rd in the golden boot race and his numbers per 90 are similarly strong. Below is a typical Fofana finish with the striker placing the ball with the side of his right foot.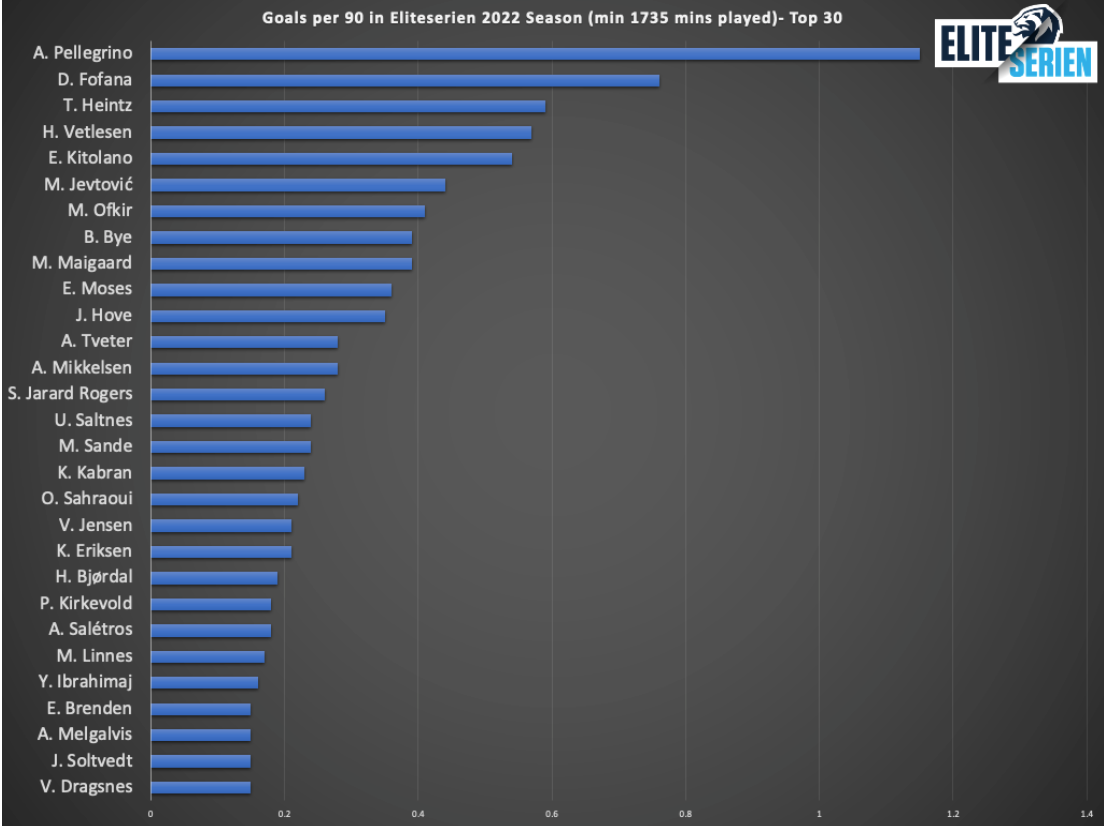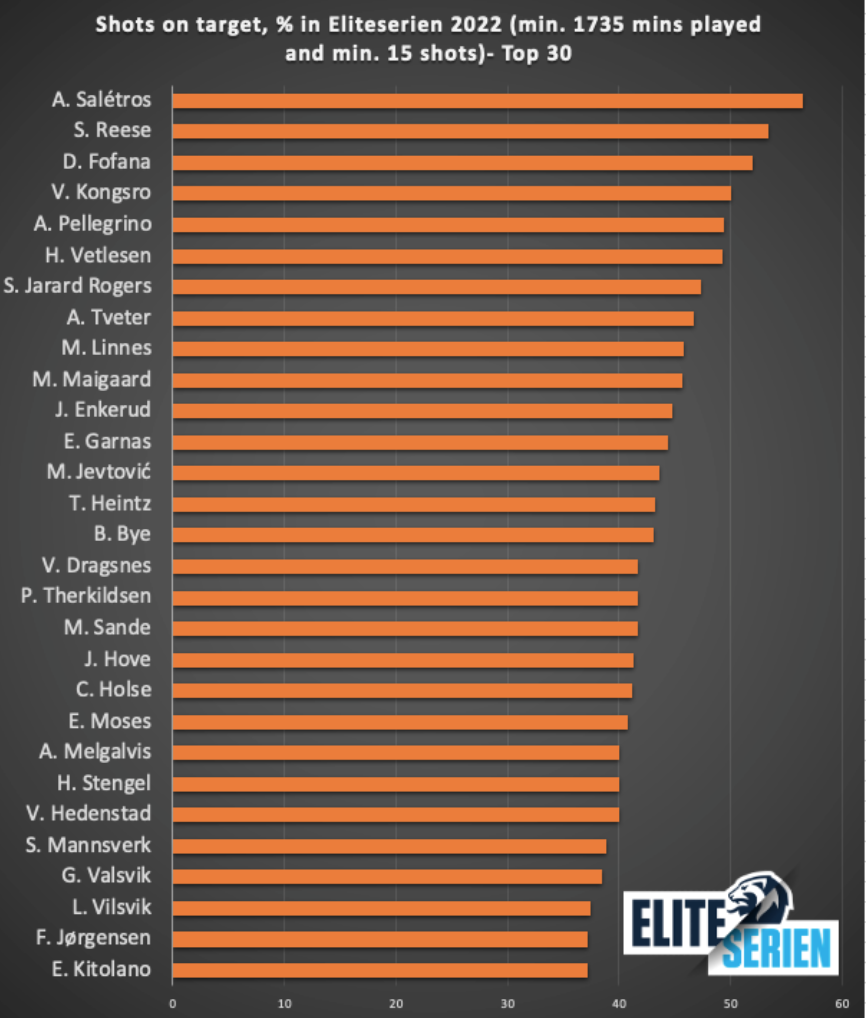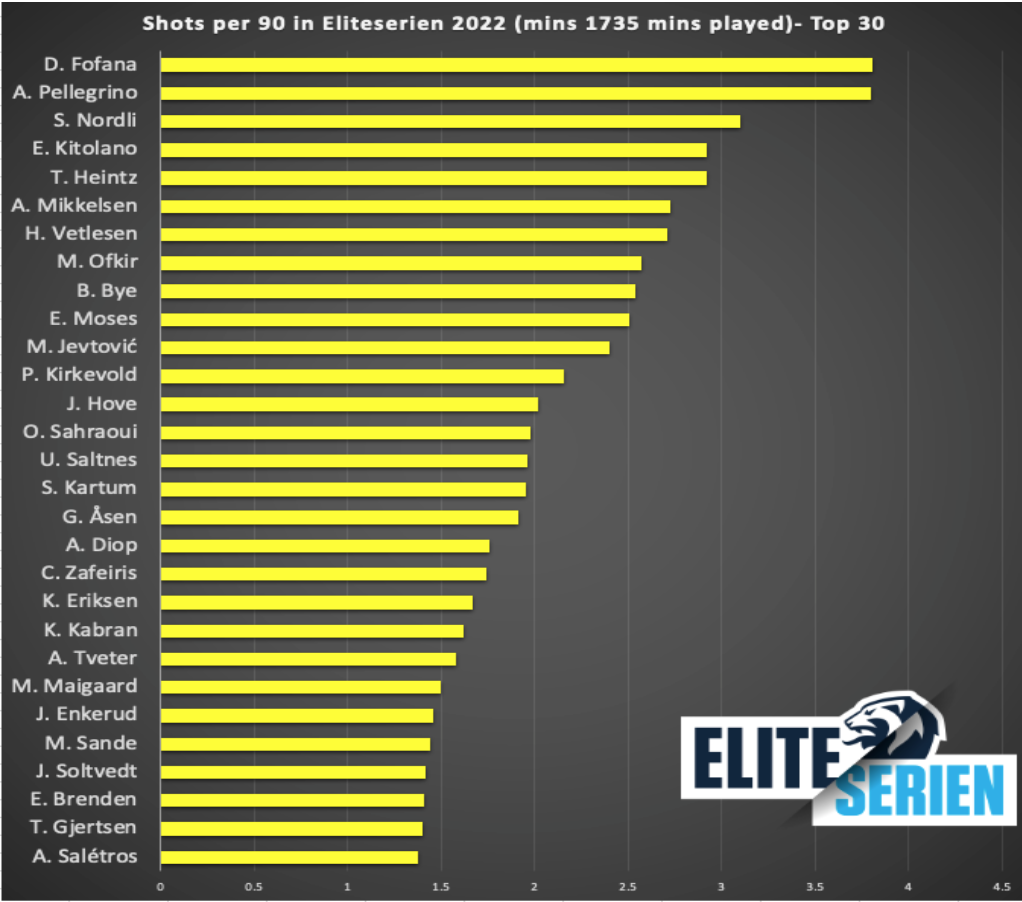 On-Ball Ability:
It is difficult to truly summarise Fofana's on-ball ability. At points, he is an exciting ball carrier portraying raw pace and physicality and variations in stride length and ball control proximity all of which in conjunction create a fearful, dominant player (at Eliteserien level but these innate skills seem superficially translatable to English football) who can easily bypass opponents as is exemplified in the attached video. 
Similarly, Datro Fofana can utilise spontaneity in decision-making on the ball and immense control to create opportunities for himself which would otherwise be unviable. He has shown proficiency in bringing the ball down with control and maintaining possession and also uses inertia followed by immediate jolting movements often incorporating a feint or socio-affective ball manipulation to beat his defender. The former of these attributes are exemplified in the solo chance creation (and conversion) below.
However, on many occasions, Fofana is easily dispossessed and despite having unparalleled quantitive dribbling numbers, his success rate with these dribbles is at best subpar. He often underestimates the ability of his opponent to dive in and take the ball from his 'grasp' and sometimes the weight with which Fofana carries is overcooked and movements end up being clunky, abrupt or rushed which leaves him bereft of any control in possession.
Therefore, in my opinion, ball-carrying or dribbling is irrefutably the most inconsistent facet of Fofana's game. However, the negative effects of this clunkiness can be minimised by assigning him a role in which he acts as an interconnector or finisher rather than a creator or progressor in deeper areas. 
The below video perfectly encapsulates the self-anithesising nature of Fofana's ball-carrying ability. At first, he uses explosive agility to bypass his defender using his innate ambipedal ability, outmuscling another but then shortly after he loses the ball due to over-dribbling, so to speak.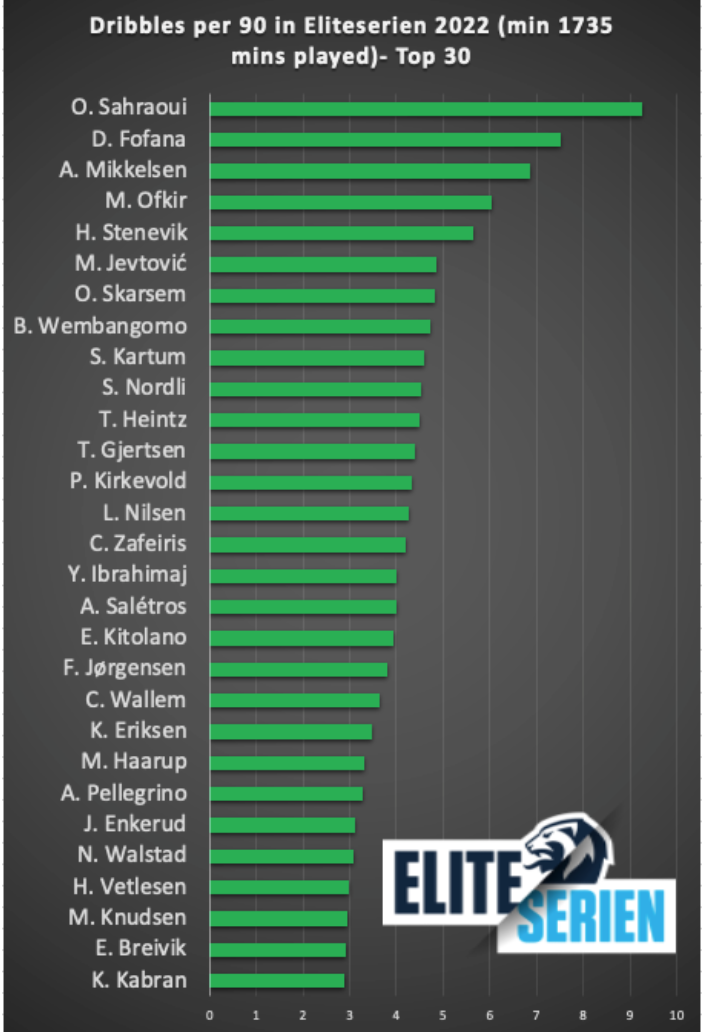 As previously mentioned, I can visualise a reality in which Fofana acts as an interconnector for his team. Albeit somewhat of a rarity at Molde, when requisite he showed proficiency to drop into zone 14-shuffling to 12 or 13 horizontally respectively or operating as a playmaker in the half-space. From my observations, he looks more comfortable in the left half-space due to the angle it gives him on the half-turn off of his right foot to then progress yet he showed ability in the right half-space yet was noticeably more risk-averse in such a tactical configuration.
He displayed strong anticipation to recognise his plausibility within a passing lane and occasionally utilised 360º scanning to premeditate or plan his next move. Whilst not overly direct, Fofana usually opted for a progressive option that would facilitate future progression; passing into space or wide areas. Furthermore, as any young attacker is taught religiously, he effectively moves into space or into a position where he can pin the defensive line to aid Molde's attacking structure.
Defensive Work Rate/ Pressing
Last but by no means least, I believe that Fofana's defensive work rate deserves mention. Personally, I feel that Fofana's defensive work rate and ability to pressurise opponents is undervalued and underrated based on the (minimal) discourse I have seen on David.
In terms of offensive duels; Wyscout defines these as duels for the player in possession of the ball i.e. contested possession. Fofana ranks second in this metric league-wide. This is somewhat indicative of frequent dispossession but more importantly for me, in this case, is Fofana's desire to actively seek the ball back after his or (speaking outside the realm of the above metric) a teammate's dispossession as evidenced by an average of 3.18 ball recoveries in the opposition half per 90.
Technically, Fofana uses his surprisingly imposing figure (considering the aforementioned height caveat) to force either a retreat or dispossession of his opponent with effective, low body positioning when at an arm's length to his opponent which expedites his ability to first proactively dictate movement and if requisite it allows him an optimal biomechanical position from which to accelerate upon tracking back.
Molde's PPDA this season was 10.84, a relatively low number in comparison to the rest of the league and whilst I do not have the data to evidence it I can only be convinced that Datro Fofana (as the de facto leader of the Gegenpress or pressing actions) played no small part in this.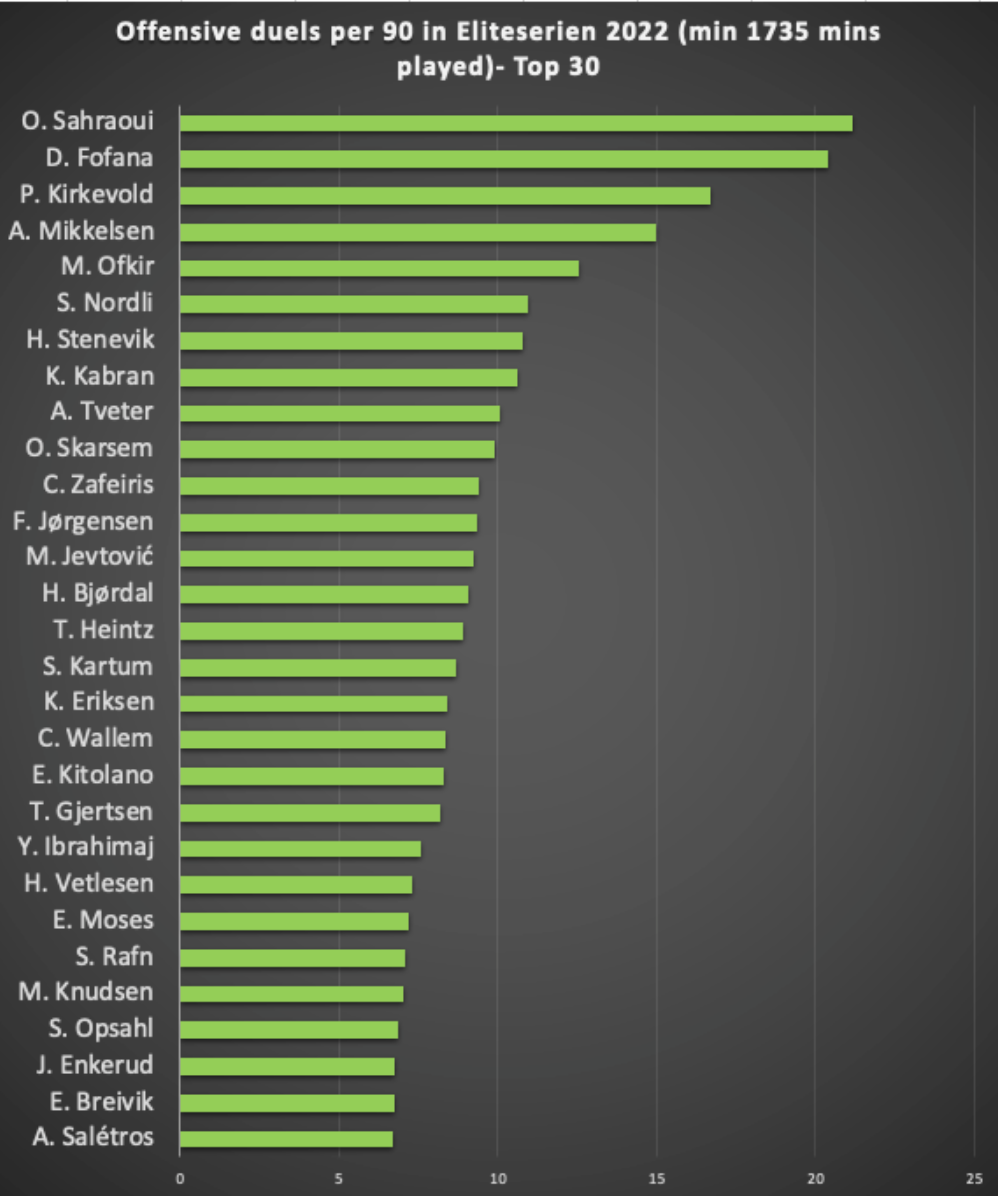 Chelsea have been extremely active this January, in Todd Boehly's first full window at the helm of the West London outfit. Deals have now been finalised for Andrey Santos, Benoit Badiashile and Fofana himself. This portrays explicitly a transition to a youthful, future-proof, profitable recruitment structure at a club renowned for strange (if not woeful at times) recruitment policies and ongoings.
In Fofana, I feel they have a profile suitable to slide into an out-and-out no9. role in which I can foresee him 'hitting the ground running' albeit I expect some tactical difficulties at first with Fofana's aforementioned flaws yet if used correctly, due to his innate physiological traits combined with an exciting, prosperous and dangerous skillset I believe Chelsea may have found their talisman for years to come.
By: Max Nicholls / @maxnicholls14
Featured Image: @GabFoligno / Daniel Chesterton / Offside
Data via Wyscout