Why Bayern Munich Are Signing Omar Richards
What do Shane Long, Alex McCarthy, Gylfi Sigurðsson, Michael Olise, and Omar Richards have in common? Yup, that's right. They are all graduates of Reading FC's productive academy. The Royals have assembled quite the production line in recent years, and their youth set up arguably doesn't receive the plaudits it deserves. 
Olise and Richards are the two youngsters hitting the headlines for Reading this season, and although Olise attracts the most hype, Richards' performances haven't gone under the radar. The 22-year-old has played almost every game for Veljko Paunović's side as The Royals have mounted a promotion charge. Richards has flourished under the tutelage of the Serbian coach and is now widely regarded as one of the best left backs in the Championship – arguably the second-best in the league to Brentford's Rico Henry.
As with almost every Championship prospect, Richards quickly gained plenty of admirers. He was typically linked with a move to the Premier League, rumoured to be on both Everton and West Ham's radar.
This transfer saga took an unexpected, wild turn when The Athletic claimed that Richards was set to sign for Bayern Munich. No need to rub your eyes, you read that correctly. From the Championship to the Champions League; from the Madejski Stadium to Munich. This is a fairytale move for the Lewisham-born left back. He only nailed down a spot in Reading's starting XI last season, so the possibility of him starting the 2021/2022 season as a Bayern Munich player is a truly jaw-dropping prospect.
As if losing one of their prized-possessions was bad enough, Richards is set to leave for Germany on a free transfer, after signing a pre-contract agreement with Bayern. That is a sucker punch for Reading who would ordinarily have been able to demand upwards of £15m for their flying fullback. The Berkshire outfit have been punished for their complacency regarding the management of Richards' contract; allowing one of their most valuable players to run his current deal down was a rookie error.
But Reading's loss is Bayern's gain. 
As Richards' previously irregular game time suggests, he's taken a while to become a regular for The Royals but, at 22, he is now a linchpin in the Reading defence. What's most striking about Richards' development of late is that he didn't have one particular 'breakthrough' season and he didn't suddenly burst onto the scene as many youngsters do. He had to learn to bide his time at Reading and is only really fulfilling his potential during his fourth season around the first team. Richards' development has certainly not been linear.
The right back thrives when given permission to bomb forward, and Paunović's system allows him to do this. Reading line up in a 4-2-3-1 formation with the fullbacks sitting high and wide. The two wide forwards tend to drift inside which means that both fullbacks, typically Richards and Thomas Holmes, supply the width and provide extra options in the final third. Midfielder Josh Laurent tends to sit deep, guarding the backline and covering for Richards when he bursts forward.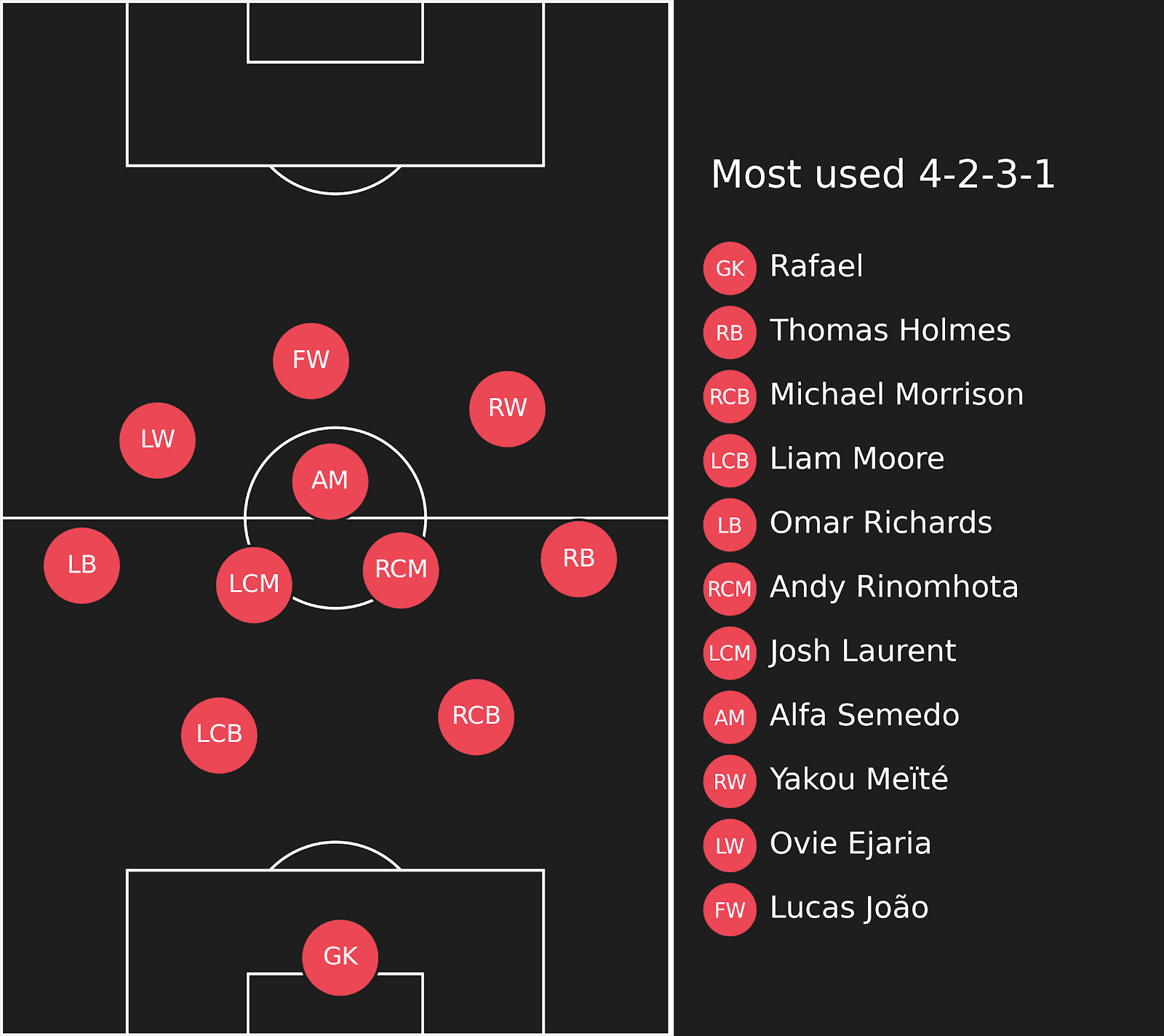 Photo: Twenty3/Wyscout
When watching Richards, one thing quickly becomes clear; not only does he love to dribble with the ball, but he's very good at it too. No defender in the Championship has completed more dribbles than him. He is a powerful dribbler and very difficult to knock off the ball when in full stride.
As well as this, Richards is excellent at manipulating the ball in tight spaces and is able to burst away from his marker by just dropping a shoulder or throwing in a step over. Time and time again he is able to wriggle through a cluster of players using quick feet and close control.
While Richards is an incredibly exciting player to watch, his end product needs to improve if he is to beat out the likes of Alphonso Davies and Lucas Hernandez for a starting spot. After 20 Championship games, he has zero assists to his name with just 1.13 xA. This pass map from Reading's 1-0 win away at Queens Park Rangers shows that Richards isn't currently a huge threat in the final third, and this side of his game needs improvement if he is to make it at a higher level.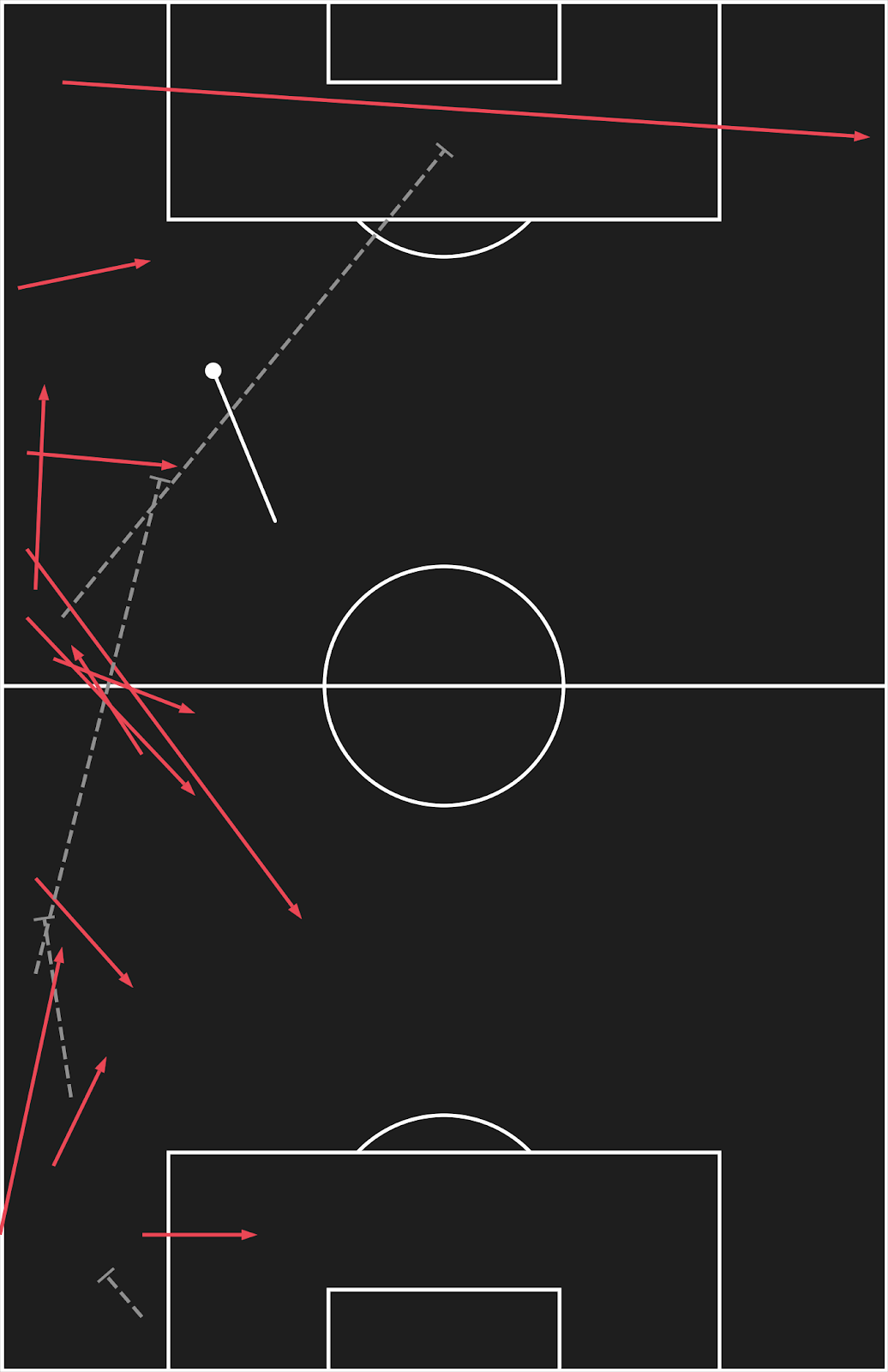 Photo: Twenty3/Wyscout
Richards is, however, an incredibly reliable defender and a forceful tackler. He has completed 51 tackles this season – the most in the Championship. The Reading man is calm and composed in 1v1 situations. He times his challenges to perfection, meaning wingers rarely get the better of him. Richards is fairly similar to Aaron Wan-Bissaka in the way that his gangly frame allows him to make tackles that you normally wouldn't expect him to win. The Manchester United right back is the only player in the top two tiers of English football who has a better tackle completion rate than Richards. 
An active and forceful defender, as well as being a direct and robust dribbler, Richards is the archetypal modern fullback. The 22-year-old possesses bags of pace as well as having the technical skills to evade opposition defenders in confined spaces. While not being particularly productive in the final third, he boasts an impressive array of skills and has been a stand out player in the first half of this Championship season. 
Comparisons have been drawn between the signing of Omar Richards and Alphonso Davies' move to Bayern Munich from 2018, and you can see why. Bayern are yet again taking a gamble on a promising, yet raw left back who has an abundance of pace but just needs a touch of fine-tuning. The Germans will hope that, like with Davies, they can help polish Richards, ironing out his flaws to help him thrive at a higher level. 
Although comparisons between the two players do seem premature at this stage, Davies made a name for himself playing MLS football, and one could argue that the Championship is just as demanding – both in a technical and physical sense. It would be reactionary and unrealistic to suggest that Richards could emulate the achievements of the Canadian, who is two years his junior, but Davies' rise to stardom goes to show that the step up to Bayern from an inferior league isn't unnavigable.
This move has come as such a shock, not because Richards isn't a quality prospect, but because the European giants shopping in the Championship is just so rare. It's a huge leap for someone who still has less than 100 senior appearances to their name, and it wouldn't come as a surprise to see Richards take a while to acclimatise to his new, much more glamorous surroundings.
Whether the 22-year-old can actually carve out a long and successful career for himself in Bavaria is yet to be seen. After all, the most electric left back in Europe is standing in his way. However, a move to Bayern is clearly too good to turn down, and the fact that some of Europe's biggest clubs are now beginning to pay attention to Championship players is a testament to the league's ability to consistently produce promising homegrown talent. 
By: Thomas Owen
Featured Image: @GabFoligno / NurPhoto