Wilfried Zaha: Crystal Palace's Talisman
The Eagles' legend-in-the-making has proven to be one of the Premier League's finest attacking talents in the last several years.
In spite of Crystal Palace's mid-table mediocrity in recent years, with the club finishing in the bottom half of the Premier League in every season since 2015, Ivory Coast international Wilfried Zaha has risen to stardom in his lackluster side. Known for his crafty footwork and nifty skills, Zaha is the ideal Premier League winger with elite end product.
With recent transfer sagas to the traditional top-six clubs including Arsenal and Manchester United, Zaha's flashy style of play definitely catches the eye. Under new manager Patrick Vieira, Zaha will operate as the focal point of the Crystal Palace attack in order to potentially finish in the top half of the league.
Late Bloomer
Although Zaha began his career at Crystal Palace, he moved to Manchester United in the winter transfer window of the 2012–13 season for a reported £10 million. Despite being Crystal Palace's most expensive departure at the time, Zaha failed to impress manager David Moyes, leading to a loan move to Cardiff City a year later. 
Odsonne Edouard: The Final Piece of the Crystal Palace Jigsaw
On his return to the Red Devils, Zaha again fell out of favor with new manager Louis van Gaal, who had just coached the Netherlands national team with superstar Arjen Robben.
In an interview, Zaha mentioned that "[Van Gaal] gave me two options: you're either a wing-back or a striker. Those are positions I'd never played before; it was like I was being set up to fail." He added that "This was after coming back from the David Moyes era and I was just shattered with how everything didn't work out for me."
Ultimately, Zaha returned on loan to his parent club Crystal Palace, where he scored a stoppage-time equalizer in a 3–3 draw against Newcastle on his second debut. His transfer was eventually made permanent in February of 2015, and he would go on to win the Crystal Palace Player of the Year award the following year. 
Now, after over half a decade with the club, Zaha leads the club in all-time appearances with 247, scoring 52 goals and providing 26 assists in his tenure. Only 29 years of age, Zaha will undoubtedly go down as a club legend in several years' time, especially if the squad continues to impress this season and in the future. 
Positional Play
Zaha has already racked up 5 goals and 1 assist this season, impressing alongside loanee midfielder Conor Gallagher. Crystal Palace currently sit 11th in the Premier League after 17 games in a tightly-packed mid-table race against Aston Villa, Leicester City, and Brentford.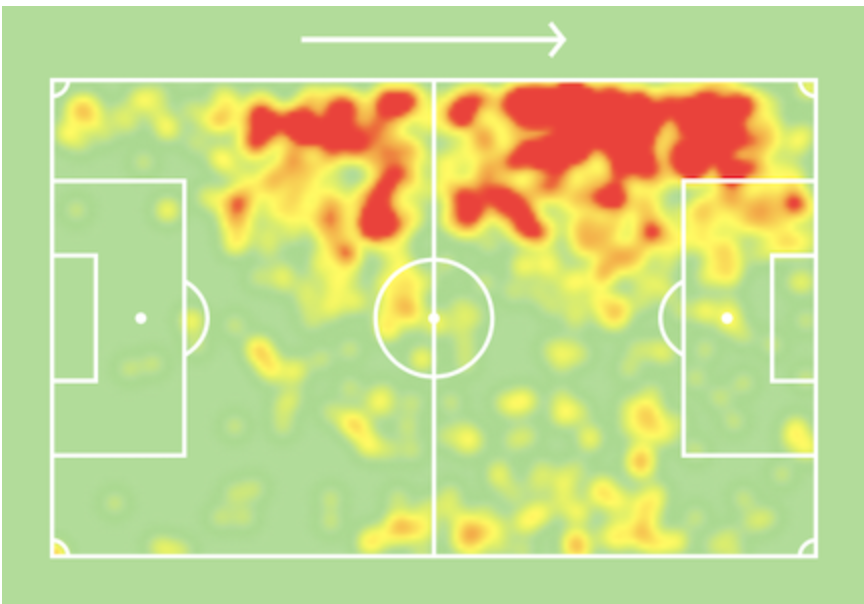 Zaha's heat map indicates his preferred left-wing position for Crystal Palace. (SofaScore)
Operating primarily as a left-winger, Zaha is joined by Odsonne Édouard and Jordan Ayew in attack, with Eberechi Eze, Michael Olise, and Christian Benteke coming off the bench in support. The starting trio has heavily contributed to Crystal Palace's 24 goals so far, making them the 8th most prolific team in the Premier League this campaign.
While Crystal Palace have often relied on Zaha's individual brilliance in previous seasons, the additions of Gallagher and Édouard have lessened the load on Zaha with a more refined edge to the club's attack. Rather than Zaha receiving the ball out wide and cutting in to shoot on his stronger right foot, Vieira has looked to incorporate the entire frontline in excellent build-up play in the final third to create chances.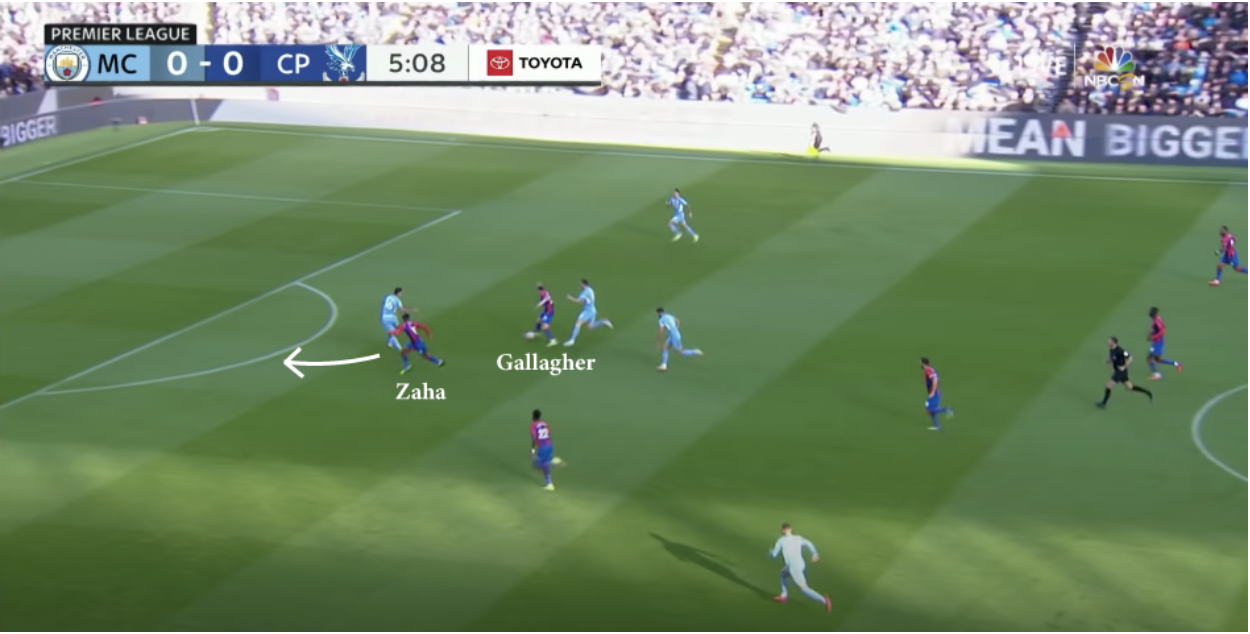 Gallagher feeds the ball through to Zaha in Crystal Palace's 2–0 win over Manchester City. (NBC)
Zaha's goal against Manchester City at the Etihad is a perfect example of the team's new playing style; Gallagher pounced on defender Aymeric Laporte's loose pass, and a quick one-two between Zaha and Gallagher led to an early goal against the reigning champions.
Their second goal in the 2–0 win would come from Zaha's patience in the penalty box, with Olise eventually setting up the late-arriving Gallagher for his second goal contribution of the game. 
In Vieira's system, Zaha often drifts into wide areas to collect the ball, looking to either cross to a target-man or cut the ball back to midfielders arriving at the edge of the box. More often than not, Zaha will take on opposing full-backs to create space for a shot or pass, utilizing his exceptional dribbling ability.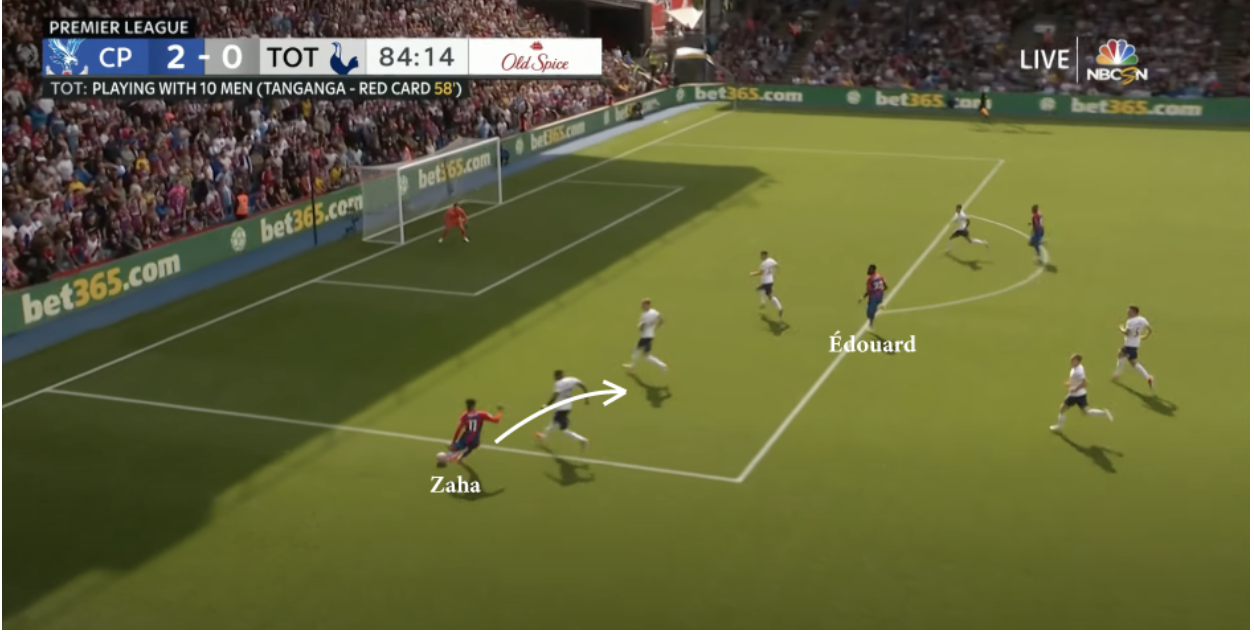 Zaha finds Édouard on a counter-attack for Crystal Palace's second goal against Tottenham Hotspur. (NBC)
Zaha has excelled in this left-wing position this season, aggressively applying pressure on opposing defenders to regain possession and consequently isolating defenders to create one-on-one situations out wide.
He leads the club in progressive passes received with 116, looking to start counter-attacks from wide positions with his burst of pace and change of direction.
70% of Crystal Palace's shots come from the middle, while only 24% of the attacks occur through the middle, indicating the tendency to create from wide areas and finish from crosses or cut-backs into the box. 
Skills Galore
When asked about his dribbling skills, Zaha responded that "I always keep my head up when I'm running at a full-back, then do my trick and watch for their first flicker of movement and knock the ball the other way. It will take them a moment to turn and from there you have your advantage."
Evidently, Zaha's defining trait is his natural dribbling ability, especially in one-on-one situations. His 38 carries into the final third ranks 6th in the league this season, and he has the 8th most progressive carries with 114. Furthermore, his 37 passes and 28 carries into the penalty area are amongst the top five in each respective category as well. 
Zaha also falls in the 78th percentile for dribbles completed compared to attacking midfielders and wingers. Remarkably, he leads the league in fouls drawn with 61, a testament to opposing defenders' inability to contain Zaha's trickery. 
Perhaps Zaha's most infamous characteristic is his displays of attitude on the pitch. The winger has a tendency to get in defenders' heads, exemplified by Tottenham Hotspur defender Japhet Tanganga's red card following a heated exchange with Zaha for a heavy challenge.
Half-time of the clash against Manchester City saw Zaha forced into the tunnel by teammates after yet another argument with striker Gabriel Jesus. 
As the most fouled player in the Premier League, Zaha has often been accused of "diving," or going down too easily. However, as the primary ball-carrier on his team, Zaha is the primary target for opposing defenders, as shutting Zaha out of a match essentially diminishes Crystal Palace's entire attack.
"I don't really buy into [the notion of 'diving'] but I read stuff on Twitter and think half of you lot don't even watch me play," Zaha mentioned. "If you watch me play, you'll see how often I get kicked. I don't go off the pitch and cut myself to act like I've been kicked."
Defensive Liability
Despite his sublime attacking output, Zaha's failure to track back means that the Crystal Palace defense is prone to attacks down the opposing right flank. At times, left-back Tyrick Mitchell finds himself isolated against opposing wingers or full-backs, with Zaha nowhere to be seen for defensive reinforcement.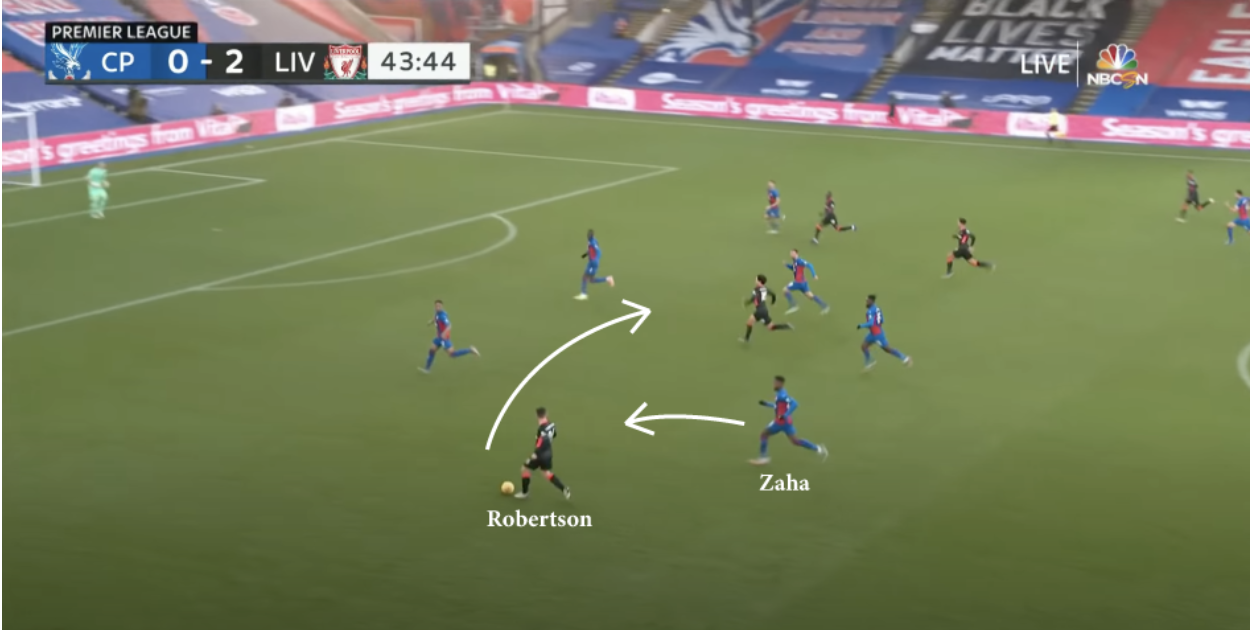 Andrew Robertson loses Zaha for a free cross in Liverpool's 7-0 demolition of Crystal Palace. (NBC)
This season, however, Crystal Palace has maintained 52.1% possession on average, an increase from previous years. This change can be attributed to Vieira's tactics, as the club focuses on playing out from the back rather than pouncing on counter-attacks through Zaha.
Still, Zaha lies in the 81st percentile for pressures compared to attacking midfielders and wingers, explaining his eagerness to press high up the pitch rather than remain in his defensive half.
Yet, Zaha himself has noted that "The thing [Vieira] says now is that 'I don't want you involved in that [defensive] side of the half, so stay up on this side,' which is perfect. It saves my energy for attacking, which is the main thing."
In the past several years, Zaha has established himself as one of the finest attacking talents in the Premier League, with his awe-inspiring dribbling garnering extensive media attention. With an improved Crystal Palace squad this season, Zaha hopes to finish higher up in the table following countless disappointing seasons in the bottom half. 
"All the players are smart enough to see what the club is trying to build and where the club wants to go; we've made some really exciting young player signings and I think that shows the direction the football club wants to take," Vieira announced. "I hope Wilfried will be part of that and I am looking forward to working with him and trying to take Palace as high as we can."
By: Jason Cheng / @jcheng025
Featured Image: @GabFoligno / Marc Atkins – Getty Images