Williot Swedberg: Sweden's Next Top Talent
Allsvenskan, the Swedish top-flight, started in the first week of April and we can already see some individual starlets that will make a major difference for their teams this campaign. Defending champions Malmö are still gearing up, having lost several important pieces but nevertheless building for a customary title challenge.
As we enter the seventh matchday, Hammarby sit atop the table with five wins and one draw — three points above Mjällby AIF and four points above Malmö and AIK. The Stockholm-based side are searching for their first league title since 2001.
Playing in 4–3–3, with the defensive midfielder — Loret Sadiku — typically dropping between the two center backs and executing in the defensive aspects of the game, the other two midfielders offer far more dynamism and creativity.
Viktor Gyokeres – Coventry's Swedish Revelation This Season A Key Factor In Sky Blues' Success
The 30-year-old Kosovoan is partnered by 31-year-old Swedish midfielder Nahir Besara and 29-year-old Jeppe Andersen, but further forward, the 18-year-old attacking midfielder Williot Swedberg has emerged as one of the biggest assets in Hammarby's impressive start to the campaign.
Born in Stockholm on February 1, 2004, Svedberg lived in Valencia, Spain for three years and went on trial at Tottenham, but after playing at local club Sickla IF, he has spent the past 11 years at Hammarby. He was sent out on loan to Hammarby's feeder club IK Frej in the third tier in 2020, and he hasn't looked back since returning.
Svedberg showed signs of his promise last season but has unleashed that potential this season. Having played more in midfield, he played 19 matches in the league, alternating between starting (8) and substitute (11, with two goals and two assists.
This season, he has been utilized in the front three and impressed. A natural midfielder, he can play as a winger on either flank due to his ability to use either foot and his accurate technique. With five goals, he is level with Alexander Jeremejeff in the league's top scorer charts.
In his first goal of this season, while he entered to play on the left wing, Swedberg was pushed to the middle and started to do his main role: act as the slightly advanced midfielder, playing in between lines and dropping deep.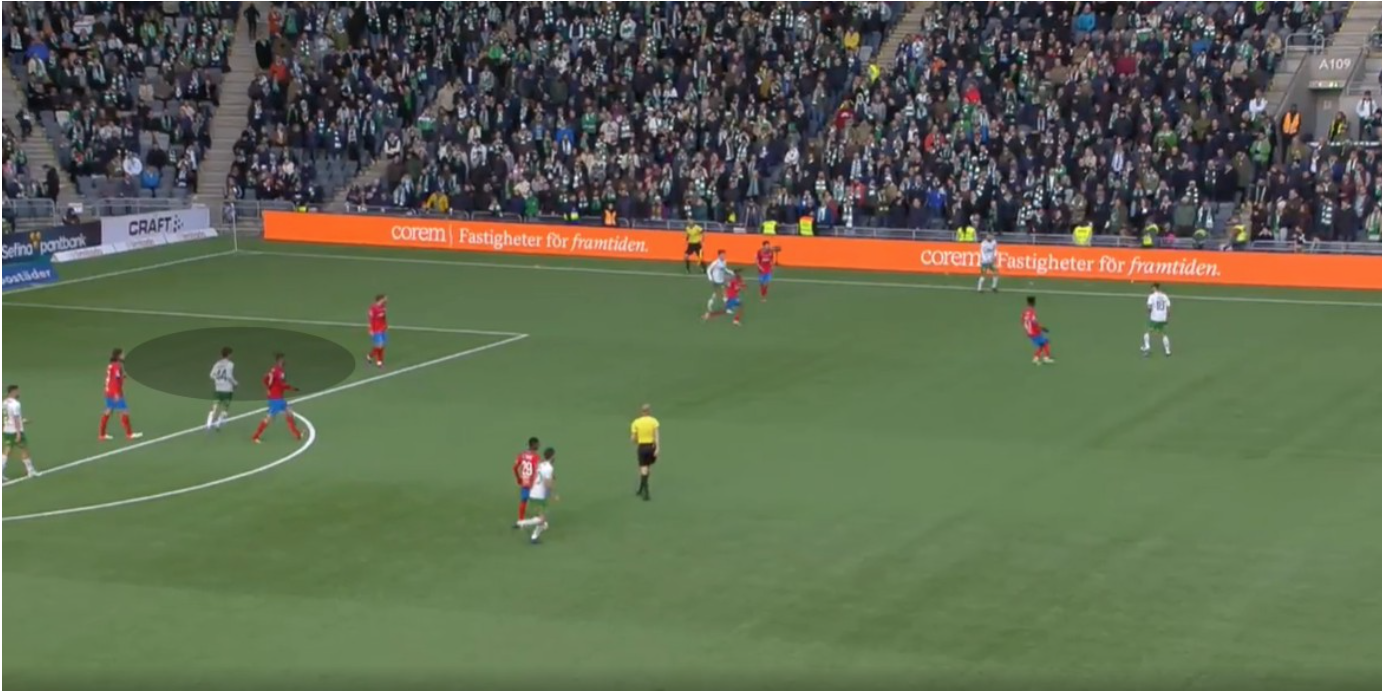 Swedberg gives more dynamism to the midfield sector because he has the speed to progress and he receives the ball by turning his body to make the game flow. He is a player of great agility and good physique, aspects that have allowed him to flourish in an advanced role.
He has characteristics that allow him to make smart decisions on the ball, whether in controlling the ball while turning in order to speed up the game, or by finding a teammate who is picking out space between the defenders.
The teenager also controls possession and looks for spaces against deep blocks, always with his head held high and attentive to his surroundings.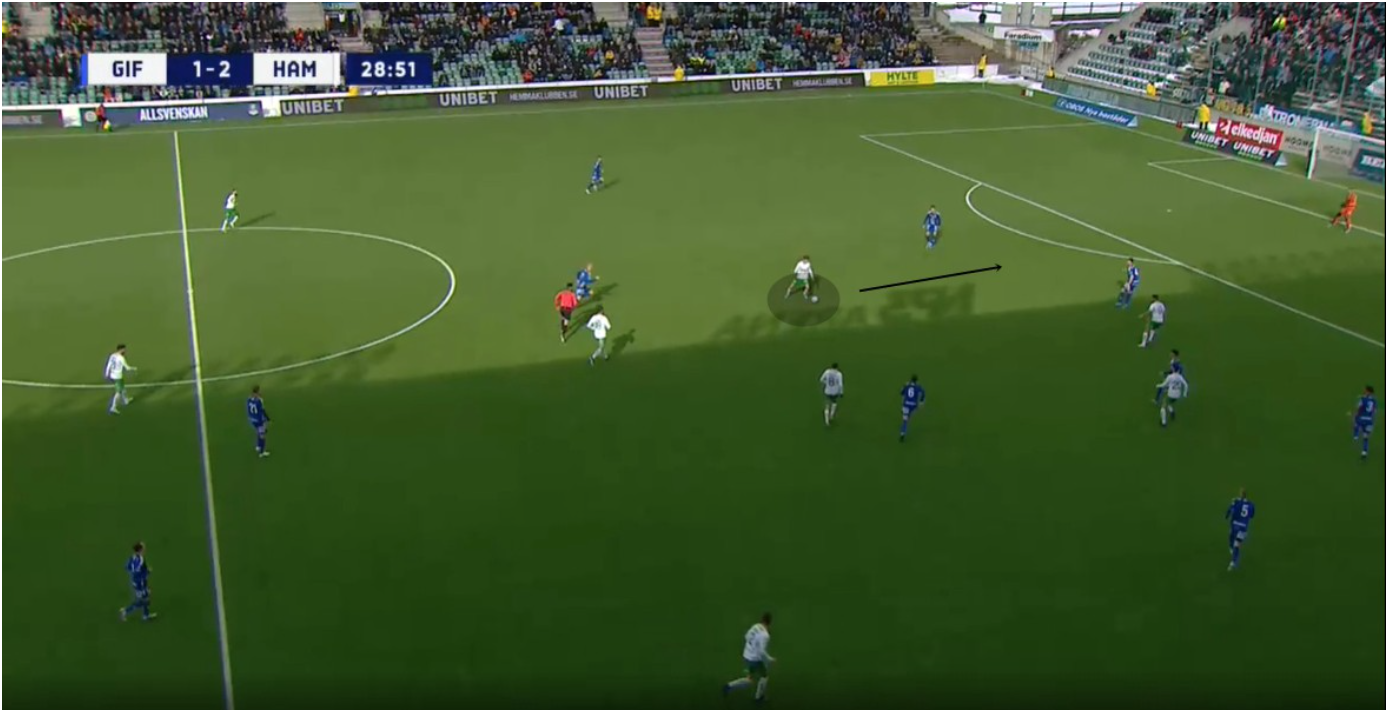 When the team attacks from the opposite side, the youngster floats with more freedom to pull a marker infield, giving freedom for the left winger to push up, or he receives with ample space in the middle to try to progress the ball.
In the above image, he receives freely and advances to score a goal with a beautiful shot from outside the area. He finishes with quality with an impressive efficiency in front of goal, and he uses his body well to get maximum power and accuracy with his shots.
In short, Swedberg is a player who enjoys finding his way into the penalty area, and even when playing as a midfielder, he doesn't relinquish this trait, constantly pushing forward to increase his team's numerical superiority in the final third. The results have been instant — five goals that showcase his cunningness and intensity in attacking space.
Swedberg dazzles with his enormous intelligence and ability to read the game on a tactical level. At 18 years old, he has the maturity to understand what is asked and executes with mastery.
It is certain that his time at Hammarby will be short, as the youngster looks set to play in one of Europe's major leagues soon. Last year, Barcelona representatives traveled to Sweden to observe Swedberg closely.
He has managed to remain grounded nd has acknowledged that he still needs a few years before he's ready for a move to a club of Barça's caliber. "Barça is not just any club. I wouldn't say no to Barcelona, ​​although Valencia are my favorite team in Spain. But I'm not at that level yet."
Regardless of who signs him, Swedberg is a player who will provide plenty of attacking firepower to his next team. A raw talent with an impressive shooting ability and who has been bulking up, expect Swedberg to be on the move soon — perhaps even with a league title under his belt.
By: Matheus Soares / @mathsoaresr
Translated by: Zach Lowy / @ZachLowy
Featured Image: @GabFoligno / imago images/Bildbyran