How Cristian Romero, Rodrigo Bentancur, and Dejan Kulusevski Have Changed the Dynamic of Spurs' Ball Progression
Tottenham Hotspur, since the peak Mauricio Pochettino days, haven't been a side that are truly capable in possession. 
The appointment of Jose Mourinho meant that Spurs' offensive plan was rendered to fast transitions after winning the ball back in a deep defensive shape, mainly centred with Harry Kane and Son Heung-Min improvising with the space behind the opposition defensive line. 
Despite huge calls to change the style in the summer, Spurs opted instead for Nuno Espírito Santo: a manager that also has a safety-first approach. He is a pragmatist in the true sense of the word. 
After a torrid time in front of goal, Spurs finally decided to appoint not only a manager that is world-class at coaching in passing patterns. 
Antonio Conte has improved Spurs. Despite inconsistent results and some frustrating performances, his principles of play are starting to show. 
The January transfer window was always a pivotal moment in Conte's tenure, and the Italian made it clear he wanted to improve the squad. However, at the time, the January transfer window did not feel like a triumph but instead another missed opportunity. 
They failed to get Adama Traore or Luis Diaz, and got rid of four players and replaced them with just two in Rodrigo Bentancur and Dejan Kulusevski. 
The Juventus duo have come into the team and instantly improved it. Cristian Romero, a summer signing but feels like a January one due to his injury picked up early in the season, has also improved the side considerably. 
All three players excel with the ball at their feet which is an extremely refreshing trait for this Spurs side, who now look capable of playing right through the heart of an opposition. 
Progression From Deep
Cristian Romero has changed the dynamic of Spurs' ball progression in their own defensive third. The Argentine international is an incredibly smooth operator in possession.
He always tries to punch the ball forward through a lofted pass or by creating the angle himself to make a forward pass. He will happily take on a player even if losing it would cause a very dangerous situation. 
A long punt up the field is only seen as an absolute last resort, which is a swift change as this was the Spurs' defenders' first resort not too long ago. 
The example below shows this well. Romero is pinned in an uncomfortable situation: West Ham have three players committed to pressing him into clearing the ball for a throw-in, or just conceding possession.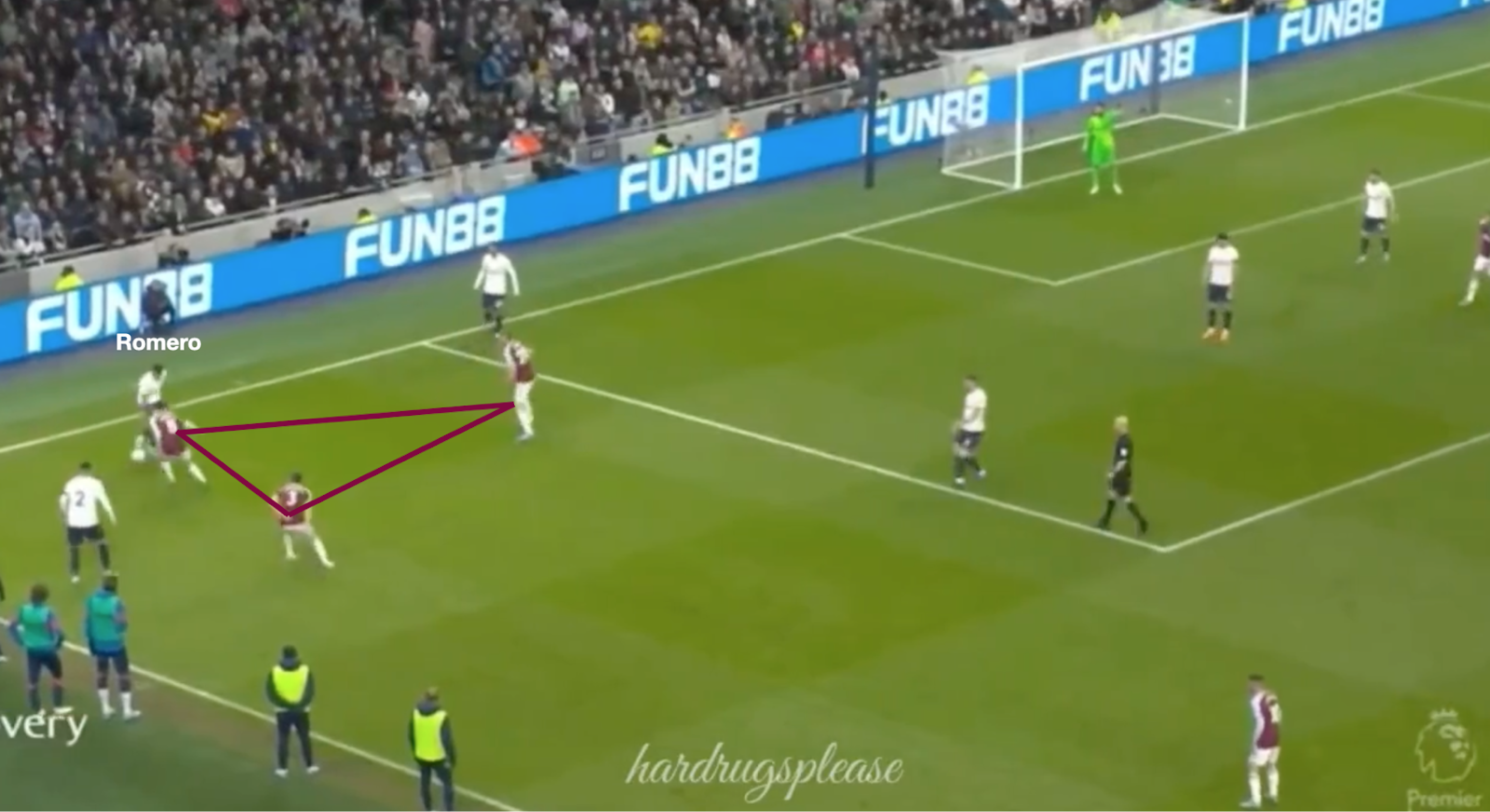 Romero is determined to play through this pressure. After a slick one-two with Matt Doherty – who is showing improvement and is certainly more fluid in possession than Emerson Royal – he escapes this press and Spurs then have a lot of space to exploit.
As you can see, Kane, Son and Kulusevski are now on the move. This came to nothing, but it is still a good example of how Romero's bravado and clever passing can see Spurs play through a press with guile that hasn't been seen for several years.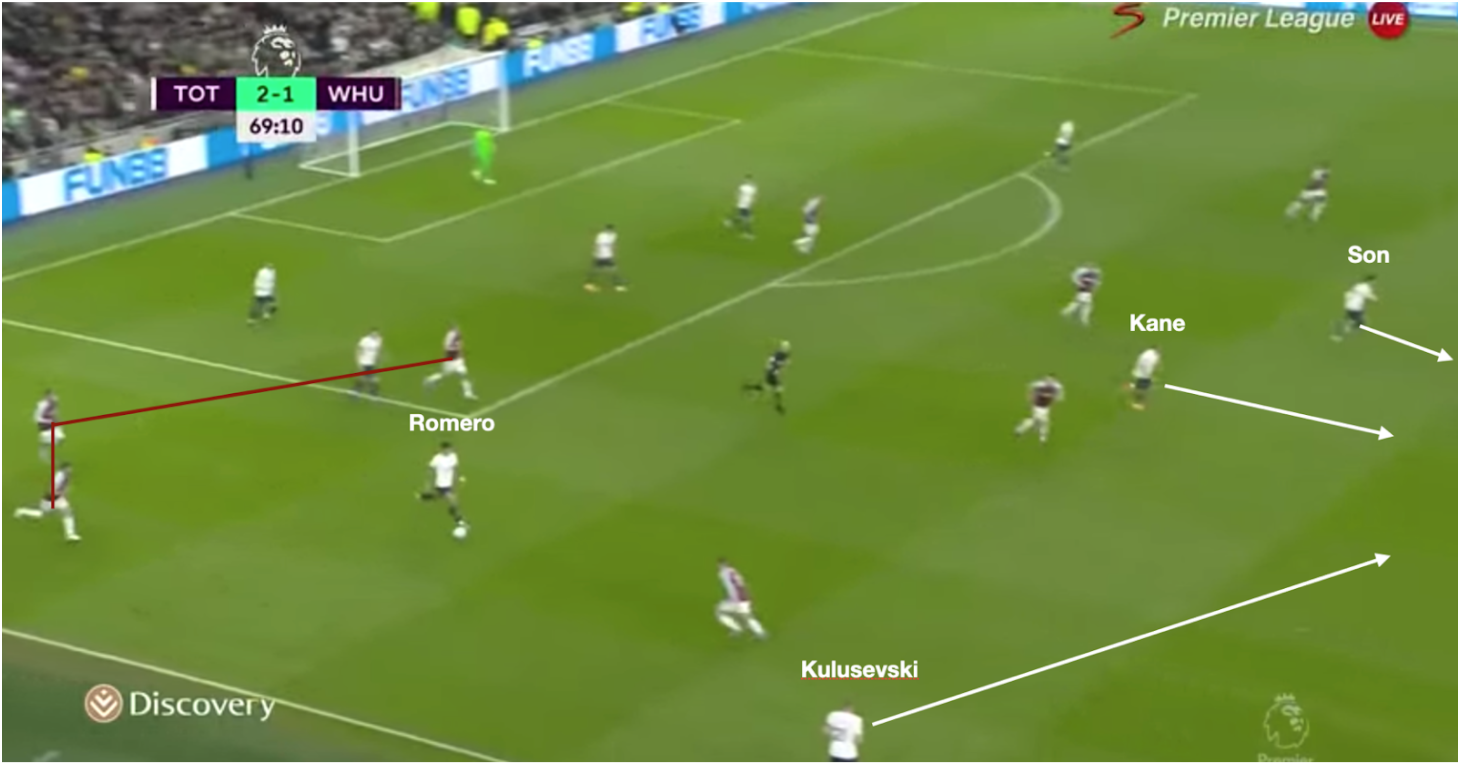 Presence in the Final Third
Any keen viewer of previous Conte sides at Inter, Chelsea and Juventus will be aware that his outside centre-backs have a presence in the final third through underlapping runs. 
Alessandro Bastoni was excellent in this role for Conte last season in Inter Milan's title-winning side. Romero often has license to push forward into the right half-space, with Kulusevski or Doherty the ones to keep the width on that side. 
His opening goal for Spurs against Brighton, with albeit a huge slice of luck, showed how effective a maverick-like run can help Spurs break teams down.
Below is the build-up for that goal. As the ball is played out to Sergio Reguilon, Romero has vacated his right centre-back role to join Spurs' high offensive players. The space is being partly protected by Pierre-Emile Hojbjerg.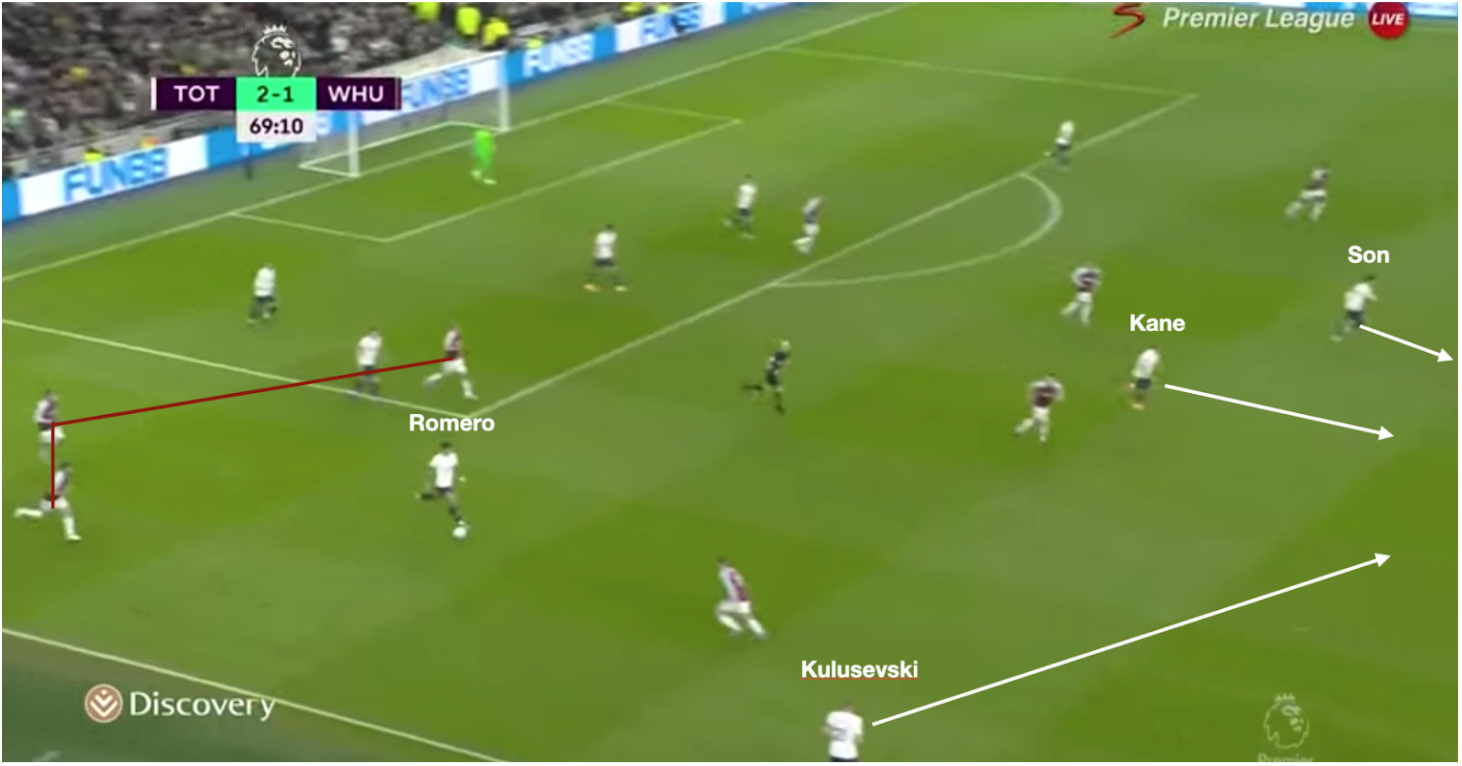 He ends up dropping in by the penalty spot and Kulusveksi's shot deflects off him into the back of the net. It's a huge slice of luck, but one he deserves after his efforts to contribute in the final third. 
This is the 36th minute with the score 0-0; it is not in the last seconds of a game. It is a tactical design by Conte to cause chaos with an unexpected runner. This will be a common sight as the season goes on.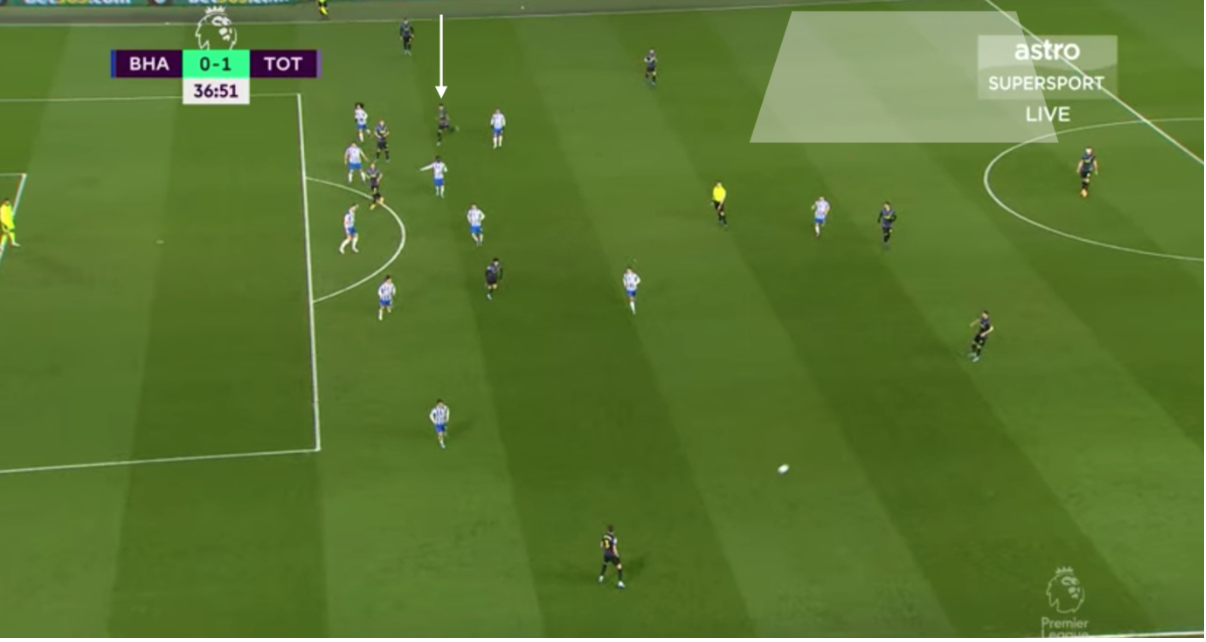 Improved Midfield Control
Not only has Spurs' ball progression changed in defence, but it has also returned in midfield – all due to Rofrigo Bentancur. The 24-year-old is, again, an extremely smooth operator.
It was a needed injection into Spurs' midfield which has long been renowned for a lack of creative and good ball-players. 
The Uruguayan international is press-resistant; he is calm under pressure, always trying to find a forward option. If not, he will keep the ball at good tempo, constantly punching his passes with good speed and accuracy. 
He helps Spurs' build-up in many different ways. He is always scanning his surroundings to make himself available to defenders.
The most refreshing dynamic of his passing game is you can see by his body shape that his intention is always to shift the ball up the pitch which you can see in the example below.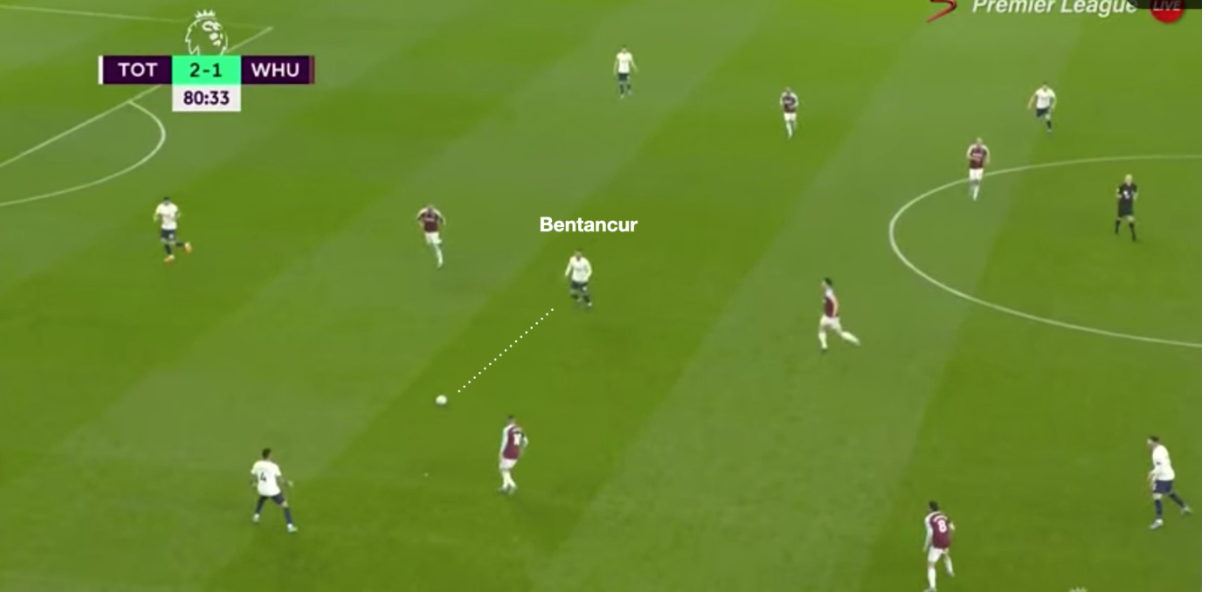 After receiving a safe pass from Romero, he rushes to the ball, immediately fizzing it into Doherty, who is now in the space beyond West Ham's midfield pressure and between the lines. This sort of energy and tempo from deep was a much-needed addition. 
It seems like a simple enough action, but Spurs' other midfield options would most likely take a few touches to make sure they are secure on the ball then move it on safely.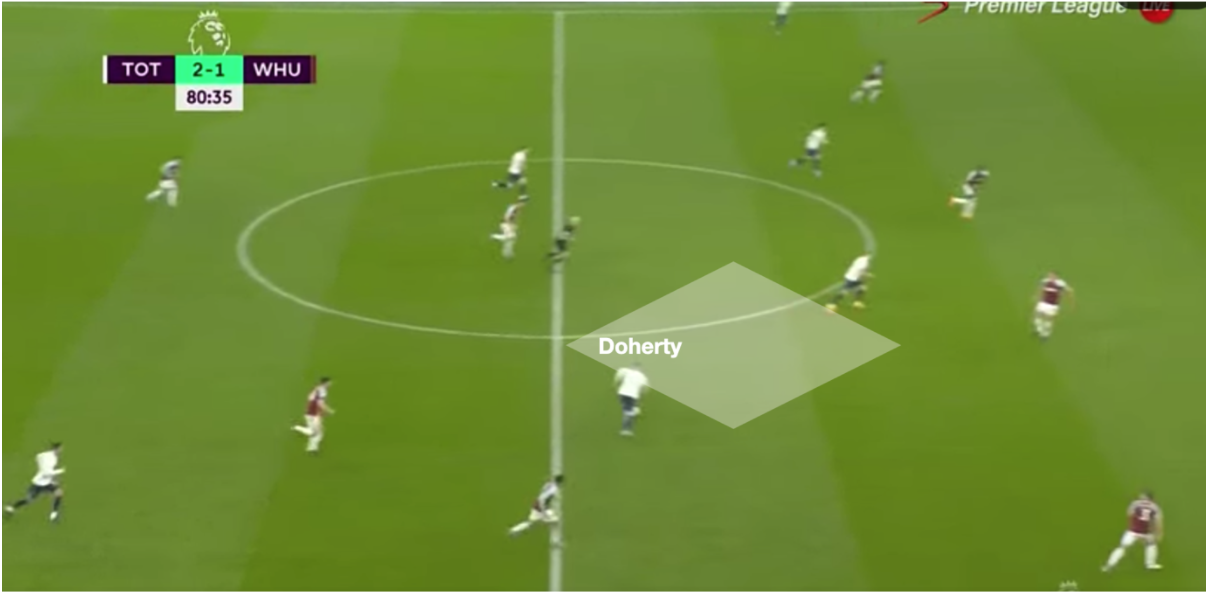 Bentancur's passing has even been a catalyst for some Tottenham goals recently. For Son's second goal against West Ham, his wonderfully weighted ball around Declan Rice was picked up by Kane – who then found Son with a great pass.
KANE ➡️SON = GOAL!

The dynamic duo strike again as Tottenham carve open the West Ham defence to make it 2-0 🔥 pic.twitter.com/hrCxXQcv45

— Sky Sports Premier League (@SkySportsPL) March 20, 2022
For Spurs' second against Brighton, Bentancur dribbles the ball forward about 20 yards before feeding Kane in on goal, who finished well.
Spurs' lack of midfield creativity has forced Kane to take that burden on himself, but Bentancur's more creative passing presence will only benefit the England captain. He has been desperate for some midfield service since Eriksen's departure. 
Kulusevski Finally Allows Tottenham to Have a Trio in Attack
Harry Kane's game has also been hugely helped by the addition of Dejan Kulusevski from Juventus, who has been placed on the right-hand side of the attacking front three. 
His skillset merges with Kane and Son's well. He hasn't got the dynamism of Son, or the strike of Kane, but he has a nice cocktail of creativity, movement, and decision-making which has made Spurs a much more balanced and dangerous side in the final third. 
However, despite possessing an underrated amount of pace, he's more of an intelligent, technical footballer. The 21-year-old can glide past players as he uses his body well, with his big frame and equally big strides.
Antonio Conte's Biggest Tactical Problem at Tottenham: He Has Defenders That Aren't Comfortable on the Ball
The Swede's positional sense is very impressive given his age. He comprehends when to operate centrally in response to the movement of Kane, or to make an overlapping run of his right-wing-back down the line. 
He also has a good idea as to when to stay wide himself, such as his impeccable stretching of Manchester City's back-line in the amazing 2-3 win.
Before Kulusevski's arrival, when Kane and Son weren't firing, or they have been nullified by an opponent, Lucas was too erratic and one dimensional to be a consistent third-party source driving force. 
But now the Swedish international has given opponents a whole different problem. Stopping a duo is obviously a lot easier than stopping a trio. If one is nullified (Kane) then the other (Son) struggles. However, now, there is a completely new dimension. 
Kulusevski is too creative and dangerous to be afforded space and time. Defensive units must be on the top of the game to stop these three in action. 
Six combined goals and assists in seven starts is very impressive for a young player fresh into the Premier League. 
Ben Davies Is Antonio Conte's New Successful Experiment in Tottenham's Defense
This trio will only get better. If they stay fit, Conte will be hopeful Spurs can be playing on Wednesday nights next season. 
Conclusion 
Fabio Paratici has come under some criticism as managing director, but there can be little denying that these three signings have transformed the way Tottenham look in an offensive sense.
There is still work to be done, and Conte will know this more than anyone – but he will certainly be happy with the instant effect these players have had on Spurs' ball progression and dynamism in the final third. 
By: William Furness / @w_furness1
Featured Image: @GabFoligno / Marc Atkins / Getty Images / Chris Brunskill / Fantasista / Getty Images / Robbie Jay Barratt – AMA / Getty Images