The Best U-21 Defensive Midfielders in Eredivisie
After a brief spell of underwhelming performances by both the national team as well as the domestic clubs in Europe, Dutch football is on the rise again. While the Netherlands has always produced top talents, it seems more and more Eredivisie teams are giving youngsters a chance to prove themselves than ever before.
In this series, we will be taking a look at the underlying data to determine who the best U-21 defensive midfielders, central midfielders and attacking midfielders in the Eredivisie are. In this article, we'll be focusing on the defensive midfielders who were 21 years old or younger when the 2019/20 Eredivisie season commence, using data from Wyscout to evaluate their strengths and weaknesses.
Before we look at their actual numbers, it's important to stress that we have filtered out midfielders who have played fewer than 900 minutes this season. There are seven U-21 defensive midfielders in the Eredivisie: Lisandro Martínez (Ajax), Teun Koopmeiners (AZ), Oriol Busquets (FC Twente on loan from FC Barcelona), Ryan Gravenberch (Ajax), Edson Álvarez (Ajax), Dante Rigo (Sparta Rotterdam on loan from PSV), Godfried Roemeratoe (FC Twente).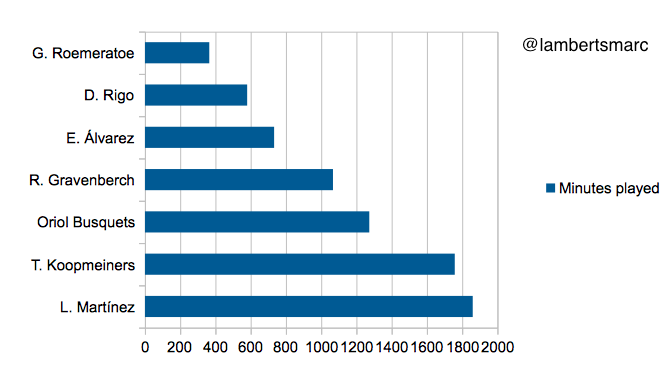 However, we have filtered out Rigo, who found himself below Deroy Duarte, Adil Auassar, Abdou Harroui, and Laros Duarte in manager Henk Fraser's pecking order during his loan spell in Rotterdam this previous campaign. Likewise, Álvarez has struggled for minutes since his €15 million move from Liga MX side América last summer, and will be looking to turn things around during his sophomore season in Europe.
Furthermore, a special exception has been made for Gravenberch, who played 2,225 minutes in all competitions during the 2019/20 season, with just 480 of those coming in the Eredivisie. After beginning the season with Jong Ajax in the Eerste Divisie, Gravenberch became a regular starter for Ajax in December, making eight starts before the season's early cancellation in March.
As such, this leaves us with five U-21 defensive midfielders to evaluate: Busquets, Martínez, Gravenberch, Roemeratoe and Koopmeiners.
Defensive Quality
Before delving into their quality on the ball, we need to know how these players shape up when it comes to protecting the defense. To measure their defensive quality, let's take a look at their interceptions per 30 opponent possessions, as well as their successful defensive actions per 90.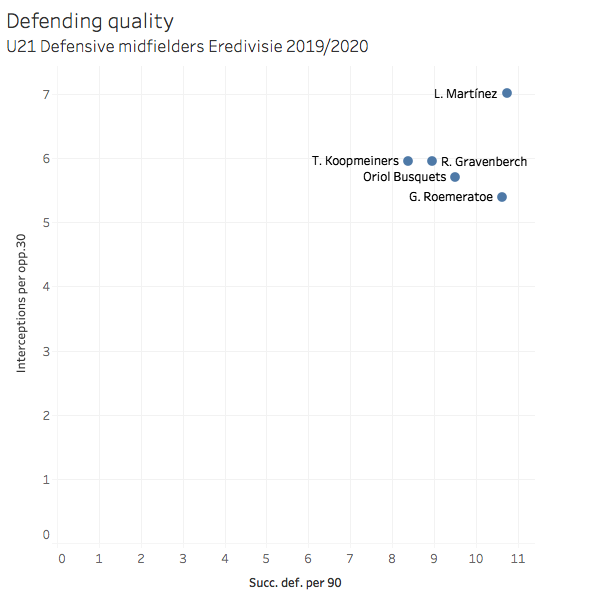 We can reach a few conclusions from looking at the above graph. In terms of successful defensive actions per 90, Martínez scores the highest with 10.73, closely followed by Roemeratore with 10.63. Busquets finishes third with 9.51, whilst Gravenberch (8.91) and Koopmeiners round out the top five.
It's more or less the same story when it comes to interceptions per opp. 30, which measures how aggressive defensive midfielders are when it comes to regaining possession. Martínez once again places first with 7.01, whilst AZ captain Koopmeiners finishes a distant second at 5.96. Gravenberch (5.95), Busquets (5.71), and Roemeratore (5.4) trail closely behind.
Ball Carrying
Now, let's take a look at how these five U-21 midfielders shaped up when it came to ball carrying. The X-axis indicates the progressive runs per 90, whilst the Y-axis indicates the dribbles per 90. Together, these two metrics demonstrate how well a player carries the ball into the attacking third.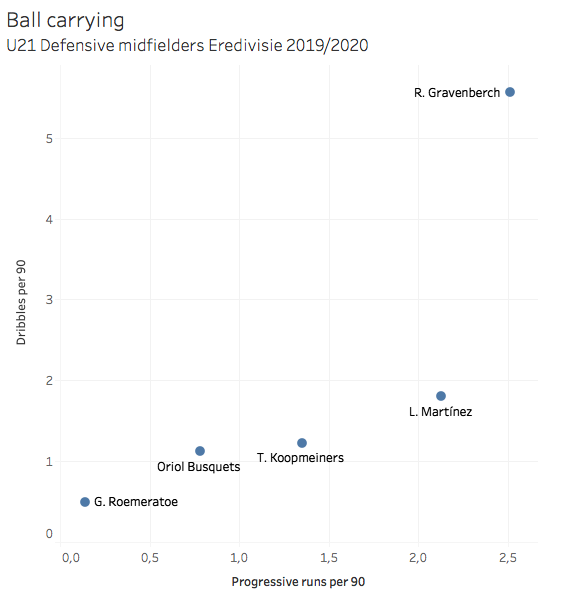 If we look at dribbles per 90, Gravenberch destroys the rest of the competition, despite being the youngest of the bunch at 18 years and 3 months old. The Dutch midfielder averaged 5.56 dribbles per 90 in the Eredivisie. Martínez finishes a distant second at 1.8 dribbles per 90, whilst Koopmeiners (1.23), Busquets (1.12) narrowly trail him. Once again, Twente's Roemeratoe finishes fifth with 0.5 dribbles per 90.
Progressive runs are runs that cover a distance of at least 10 meters when advancing into the opponent's half, 15 meters when going from your own half to the opponent's half, or 30 meters when being in your own half. By using these distinctions, we prioritize the impact of the run over its distance, measuring which runs enable their respective teams to advance towards the opposing goal.
Once again, Gravenberch leads the way with 2.51 progressive runs per 90, followed by his Argentine teammate Martínez at 2.13 per 90. Koopmeiners (1.35), Busquets (0.78), and Roemeratore (0.14) complete the rest of the top five.
Passing Quality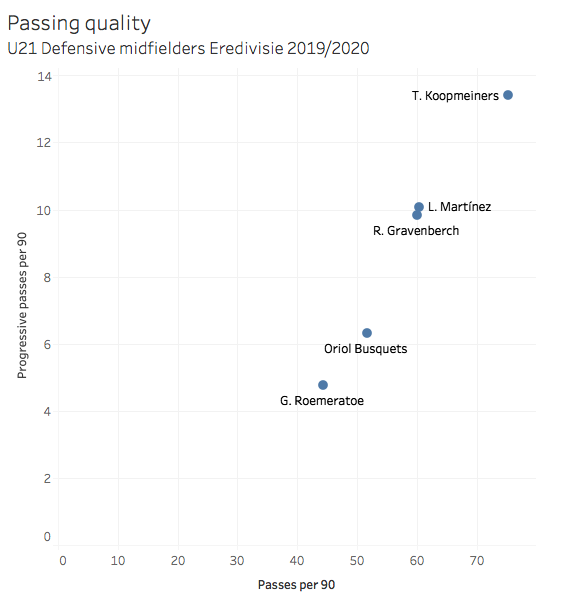 In the graph above you can see how the players do in terms of passing quality, especially in progressive passing. A modern defensive midfielder not only looks to his defensive duties, but can also dictate the pace and tempo of the midfield game when constructing an attack. In the X-axis you see the total amount of passes per 90 per player and in the Y-axis you see the progressive passes per 90 of each player.
Koopmeiners had the highest amount of passes per 90 during the 2019/20 Eredivisie campaign with 75.18; out of those passes, 13.4 were progressive passes. Once again, Martínez finishes second with 60.38 passes per 90, with 10.08 of those being progressive passes that have helped Ajax advance play. Gravenberch trails closely behind with 60.03 passes per 90 and 9.84 progressive passes per 90.
On the other hand, Busquets places fourth with 51.67 passes per 90 and 6.31 progressive passes per 90, whilst his Dutch teammate once again finishes bottom with 44.36 and 4.78. It should be noted that whilst Ajax and AZ, who finished in first and second in the table, respectively, enjoyed the lion's share of possession against the bulk of Eredivisie teams, newly promoted Twente, who finished 14th, tended to be more conservative, averaging just 50.1% possession as opposed to Ajax (60.1%) and AZ (57.8%).
Attacking Ability
The modern defensive midfielder is not only tasked with breaking down counterattacks, intercepting passes, and protecting the backline, but with organizing possession and being the launching point of attack. As such, let's measure these players's attacking ability by evaluating two metrics: Key passes per 90 and Final third passes per 90.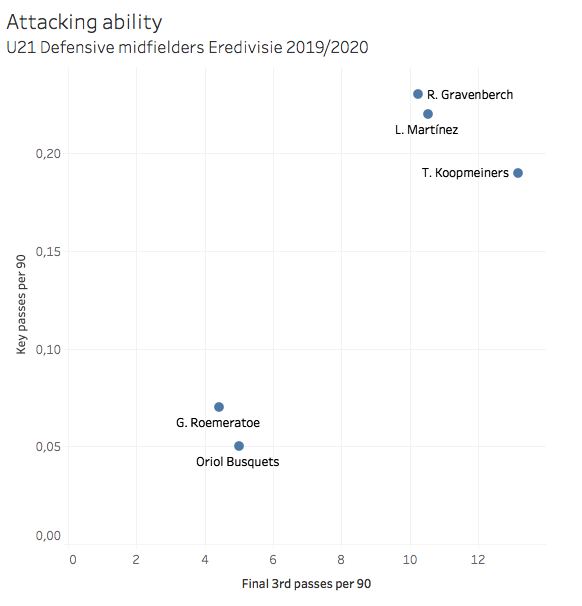 Koopmeiners comes out on top with 13.6 passes into the final third per 90, whilst Martínez finishes second with 10.54, followed by Gravenberch with 10.26. Busquets once again ranks fourth with 5 passes into the final third per 90, followed by Roemeratore with 4.4.
In terms of key passes per 90, Gravenberch finishes first with 0.23, edging out the Argentine, who averages 0.22. Koopmeiners comes third with 0.19, followed by Roemeratore (0.07) and Busquets (0.05).
Long Passing
We've already evaluated these five players in terms of progressive passing, but another way to measure their attacking threat is by looking at long balls from midfield. In the X axis, we've plugged in the total amount of long balls from each player, whilst in the Y axis, we've used the long ball accuracy.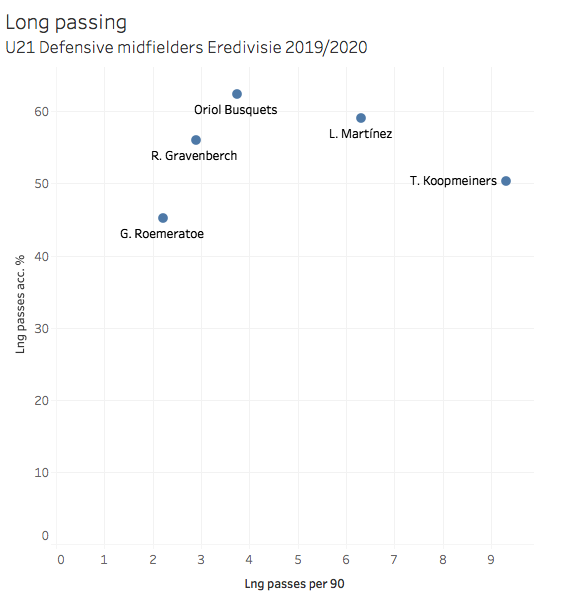 Once again, Koopmeiners finishes first in terms of the quantity of long balls, playing 9.3 long balls per 90. Martínez comes second with 6.32, followed by Busquets at a distant third with 3.74, whilst Gravenberch (2.89) and Roemeratore (2.21) round out the rest of the list.
In terms of long ball accuracy, Busquets places first with 62.34%, narrowly edging out Martínez with 59.9% and Gravenberch with 56.17%. Koopmeiners places fourth with 50.38%, whilst Roemeratore places bottom with 45.16%.
Teun Koopmeiners
Along with the likes of Calvin Stengs, Myron Boadu and Owen Wijndal, Koopmeiners is one of many players who have ascended through the ranks of AZ's academy before becoming a starter, forming a solid pairing with Fredrik Midtsjø at the base of midfield. On the defensive side of things, the 22-year-old doesn't stand out amongst his age mates, but on the attacking side, he's arguably the best of the bunch.
The Dutchman organizes AZ's attacking play with line-breaking long balls and cunning passes into the final third, and it comes as no surprise to see him linked with the likes of Milan, Everton, and Napoli.
Although Koopmeiners has mainly played in the holding midfield role, he has also deputized as the left-sided center back at times, and could be used in the back four more frequently as Arne Slot looks to cope with the departure of veteran defender Stijn Wuytens.
Lisandro Martínez
Having arrived from Defensa y Justicia for €7 million last summer, Martínez has proven to be a bargain buy for Ajax during his first season in Europe. While he played as a center back for Newell's Old Boys and Defensa y Justicia, Erik Ten Hag has mainly used him in a holding midfield role at Amsterdam.
Martínez is the most all-round player of the five U-21 defensive midfielders, finishing in the top two for nearly every single metric. He excels in ground duels and interceptions, but he also does well on the attacking side of the game. Whether it's in defense or midfield, expect the Argentine to play a key role for club and country over the coming decade.
Ryan Gravenberch
It has been nothing short of a breakthrough season for Gravenberch, who became the youngest ever player to play an Eredivisie match for Ajax in September 2018, breaking a 26-year record previously held by Clarence Seedorf.
Whilst midfield arrivals Razvan Marin and Edson Álvarez failed to hit the ground running in their first season in Amsterdam, Gravenberch has become a regular for Ten Hag's side, and he'll be looking to lock down a starting spot going into next season.
At 18 years of age, Gravenberch is an all-round midfielder with the ability to shut down counters, break the lines with his passing, and burst forward with the ball. He has done well to fill the lofty shoes of Frenkie de Jong this season, but don't be surprised to see him partner De Jong in midfield for the Dutch national team in the coming years.
Oriol Busquets
Since joining Barcelona's academy at 8 years old, Busquets (no relation to Sergio) has ascended through the ranks of La Masia, before arriving at newly promoted Twente on loan. Whilst the Catalan midfielder didn't stand out in terms of his attacking numbers, he sufficed in terms of defensive production, helping The Tukkers remain in the top flight.
Similarly to Koopmeiners and Martínez, Busquets has also deputized in central defense, playing eight matches as a center back for the Dutch side. After a torn meniscus sidelined him for nearly the entirety of 2018, he has bounced back from his injury and shown glimpses of his potential in Holland.
Whilst Busquets has been tipped for a second straight loan spell, with Real Valladolid, Celta Vigo, Deportivo Alavés being linked as potential suitors, he has spent the past few weeks training with the Barcelona first team, as he attempts to convince new manager Ronald Koeman of his value. It's a tall order for the 21-year-old, but with veteran midfielders Arturo Vidal and Ivan Rakitić set to depart Camp Nou this summer, Busquets might just get the opportunity that he's waited his entire life to seize.
Godfried Roemeratoe
Having played just 112 minutes for Twente's first team prior to the campaign, Roemeratoe began the 2019/20 Eredivisie as a regular for Gonzalo García's side, impressing with his ability to shield the ball under pressure and break up counterattacks. With García instituting a 4-3-3 at the De Grolsch Veste, Roemeratore competed with Busquets for the sole defensive midfielder position throughout the first half of the season.
However, his fortunes took a turn for the worse on December 17, when he was subbed off after 66 minutes after a 2-5 defeat to second tier side Go Ahead Eagles in the KNVB Cup. After coming off the bench in a 0-3 loss to RKC Waalwijk just three days later, Roemeratoe failed to make another appearance for the first team, with Busquets being preferred as the first-choice defensive midfielder.
The 21-year old spent the rest of the season in the reserves, and it's no surprise that he finished in last place for nearly every single category, especially in the attacking metrics. Nevertheless, with Busquets returning to Barcelona, Roemeratoe has the potential to regain his starting spot in the upcoming season.
By: Marc P. Lamberts
Featured Image: @GabFoligno / BSR Agency