Scouting The A-League: Midfielders
The Australian A-League has had a rather turbulent time since its establishment back in 2005. The last few years have seen something of a revival, after a period of stagnation there has been a new lease of life for the A-League.
There has been a renewed quality of players not only moving to the league but also those being developed through the academies, Connor Metcalfe and Nathaniel Atkinson being great examples and who will undoubtedly be mentioned later in this article and others. 
The league has changed in many ways since its inception, the technical qualities has improved dramatically, and teams are implementing the high-pressing style of play seen in Europe. Players are developing a wide-ranging skill set that enables them to be able to adapt to different situations and offers plenty of benefits to the national team.
Many European clubs are also enjoying the development of the A-League as players who are often on short term contracts can prove to be inexpensive gems for clubs in Scandinavia and The Netherlands. This article will likely form part of a wider series where data collected from Wyscout will be used to assess who are the 'best' players in the A-League. In this particular piece we will be looking at the midfielders who currently grace the league. 
The modern-day central midfielder rarely has just one role, they are very often expected to be the link between defence and attack. This manifests itself in many different ways, midfielders are required to be ball carriers, willing to run with the ball at their feet in order to have a progressive influence on the team's attacking phase.
A CM is also expected to be able to pass the ball incredibly well to play through the lines and release the attackers into goal-scoring areas, and they are then expected to help out defensively and read the game well to help cut out opposition attacks and counterattacks.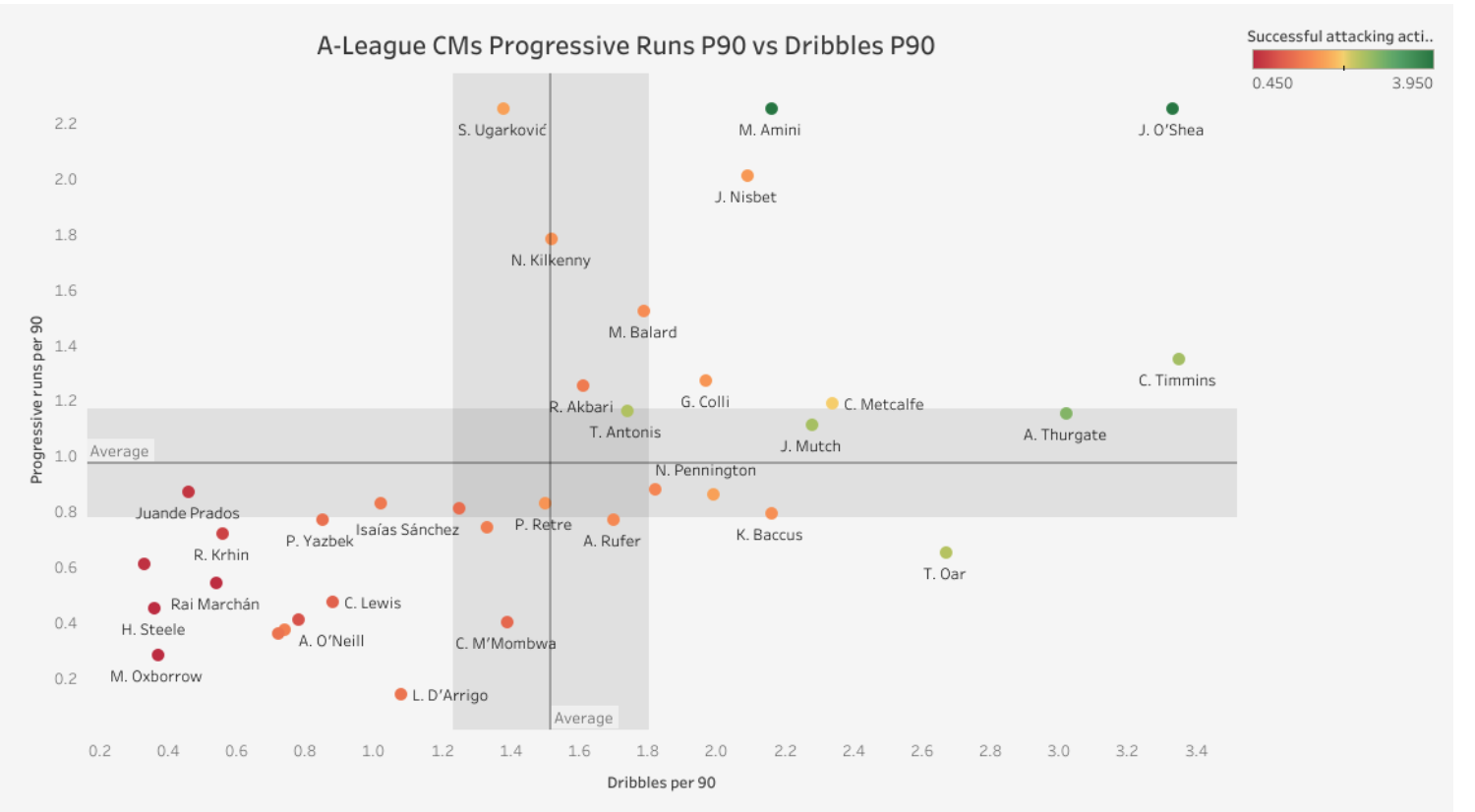 Looking at the central midfielders in the A-League (with over 900 mins played) the first player to stand out based on his ability to progress the ball is 33-year-old Jay O'Shea. The Brisbane Roar man averages 2.2 progressive runs and 3.3 dribbles per 90.
This demonstrates that he has great control and is at ease when in possession. He is successful in 58% of his dribbles which is a great sign of his abilities, and he is also very successful in most of his attacking actions generally. The next player worth noting is Mustafa Amini of Sydney Wanderers as he averages 2.1 dribbles per game and 2.2 progressive runs per game.
These stats put him right up there with O'Shea as the most progressive player in terms of ball carrying. Finally, young midfielder Angus Thurgate of Newcastle Jets stands out with an average of 3 dribbles per 90 and 1.15 progressive runs per 90.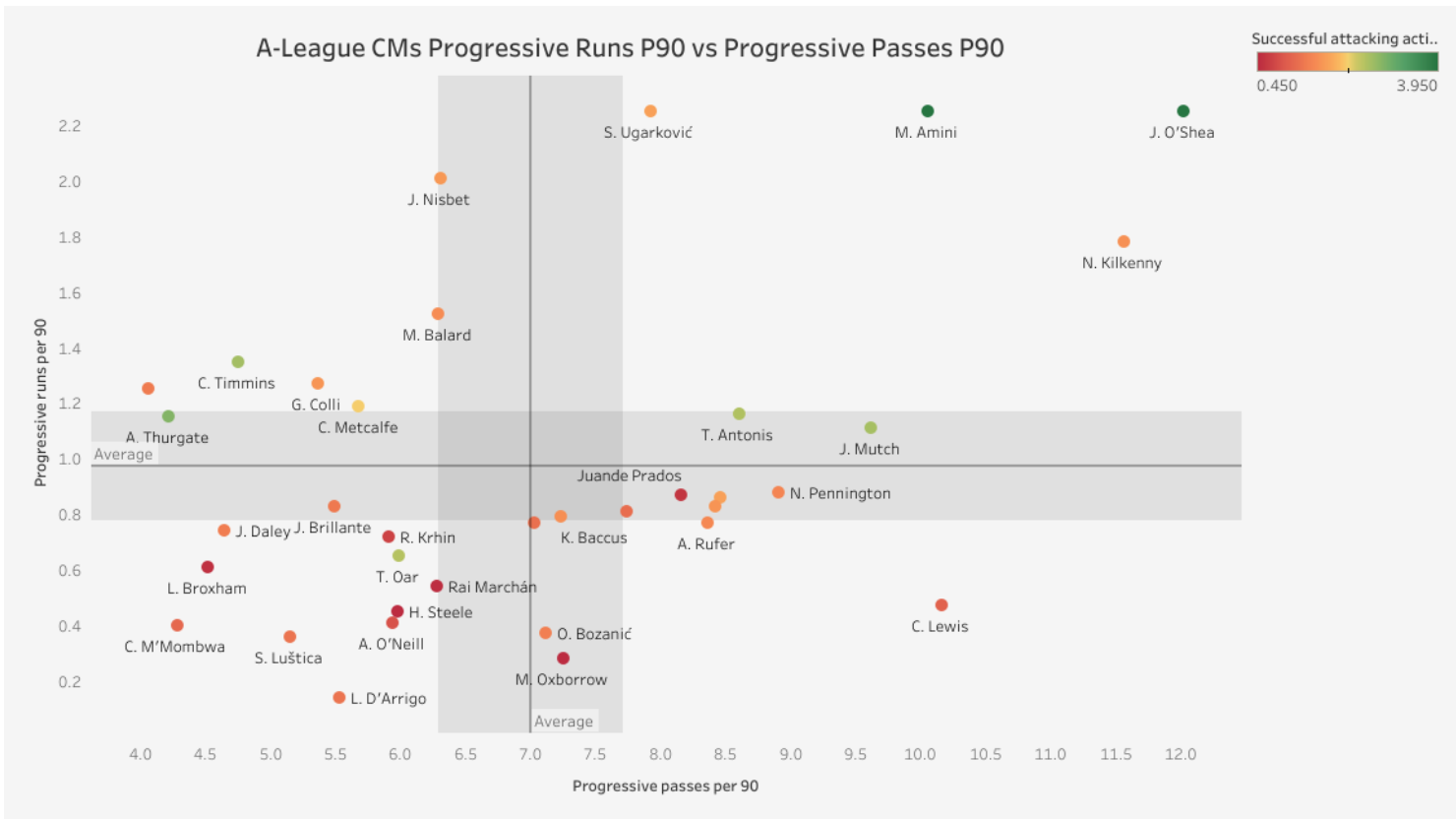 The Irishman O'Shea once again stands out with his passing ability as he averages 12 progressive passes per 90 meaning he has fantastic vision and is able to pass through the lines. Amini also has a high average of 10 progressive passes per 90. These two are very good progressive midfielders in the A-League based on these metrics.
Looking at Angus Thurgate again, we know he makes an above-average amount of progressive runs per 90. In terms of progressive passes, he averages 4.2 which while it is at the lower end of the spectrum it is worth acknowledging that he is quite successful in his attacking actions making him a reliable outlet in midfield.
Delving a bit deeper into his stats, he has a 50% success rate with his dribbling and an 85% pass accuracy, both of which are decent stats for a CM. It is also worth paying attention to St Pauli-bound Connor Metcalfe, whilst his stats are not currently glaringly obvious, he was above average in the first piece of data analysis of progressive runs per 90 (1.2) and dribbles per 90 (2.3).
Whilst he makes a below-average number of progressive passes, he does have a reasonable success rate with his attacking actions with an average of 2.2 successful attacking actions per 90. Moving on, assessing how the A-League midfielders' passes translate into key passes and whether that leads to a high number of expected assists per 90, guess who stands out again? Jay O'Shea? Yes, you guessed it.
He averages 60 passes per 90 with 0.82 of those being classed as key passes. This leads to an xA per 90 of 0.29, by far the highest in the league. This indicates that not only is O'Shea an excellent ball carrier and passer of the ball, but this is also then converted into creativity as his high amount of xA per 90 shows, he is able to create chances for teammates.
Angus Thurgate averages 49 passes per 90 with an average of 0.27 key passes. These statistics are not standouts however, they are fairly decent and as a 22-year-old, he has plenty of time to get better and become even more important to his team. 
Whilst not necessarily an integral part of a central midfielder's game, it is always beneficial to the team if they can chip in with a few goals throughout the season. Following the theme of this analysis piece so far, Jay O'Shea once again stands out.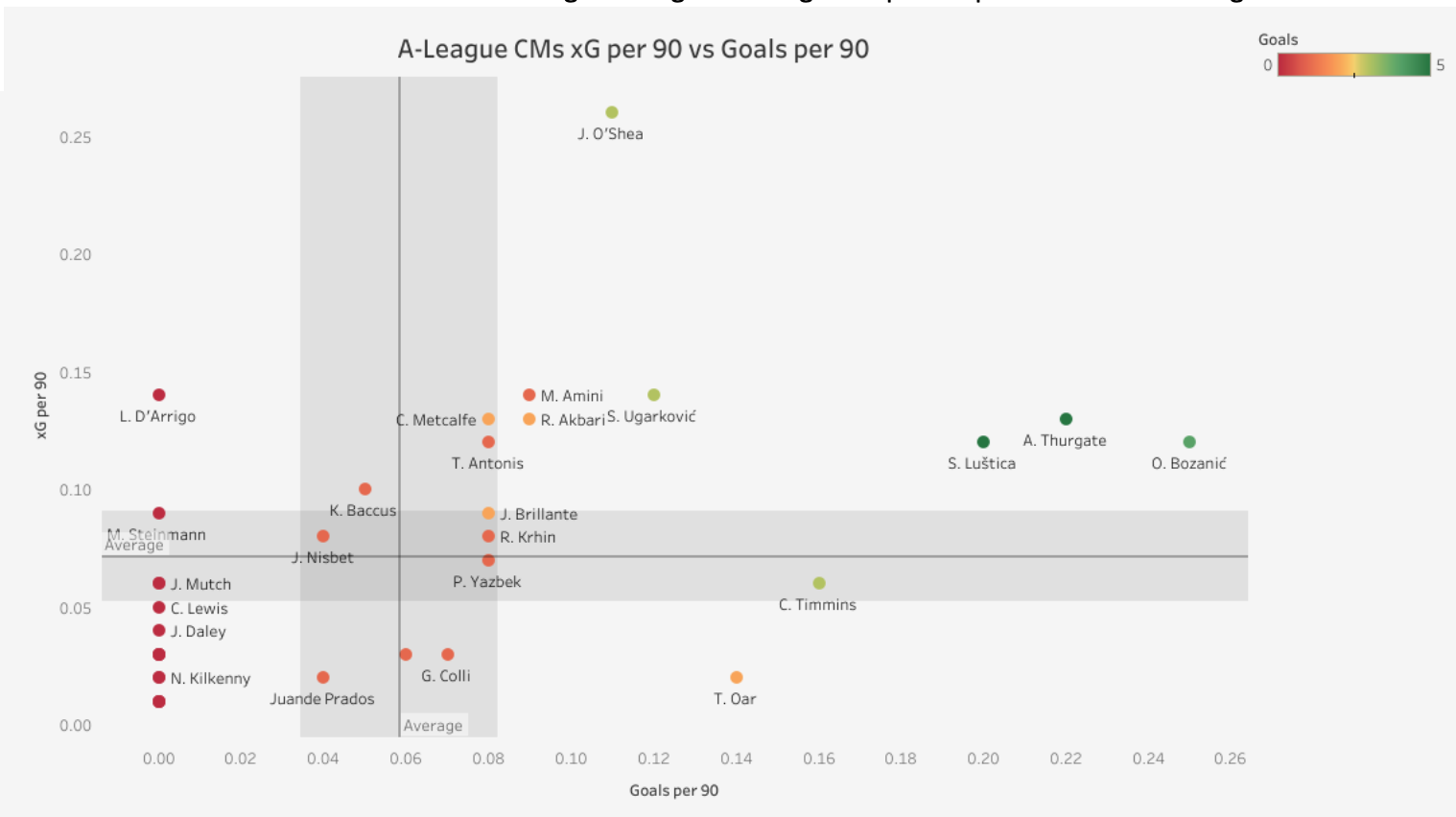 He scored 3 goals in the season which is averaged out at 0.11 goals per 90 from an xG per 90 of 0.26 which is a slight underperformance, yet he is still one of the best goal-scoring central midfielders in the A-League. The other stand-out performers within these metrics are Steven Luštica of Western United with 5 goals, the very talented Angus Thurgate demonstrates his goal-scoring abilities as he also scored 5 while Oliver Bozanić grabbed 4. 
Defensively O'Shea doesn't perform well at all as he is below average in both possessions adjusted tackles and interceptions, he is also very unsuccessful in his defensive actions. From this we can garner that the 33-year-old is a very useful player in terms of attack, he actually contributes very little defensively.
Once again, I find myself talking about Angus Thurgate, the New South Wales native is incredibly successful in his defensive work. He averages 7.4 PAdj interceptions which is the second-highest in the league.
He makes 5.19 interceptions per 90 which shows he has a great ability to read the game and is proactive as he is able to intercept the ball rather than being reactive and forced into tackles. Thurgate enters into 9.5 defensive duels per 90 and is successful in 56% of them, again not outstanding but nonetheless it is a solid defensive output from the young midfielder.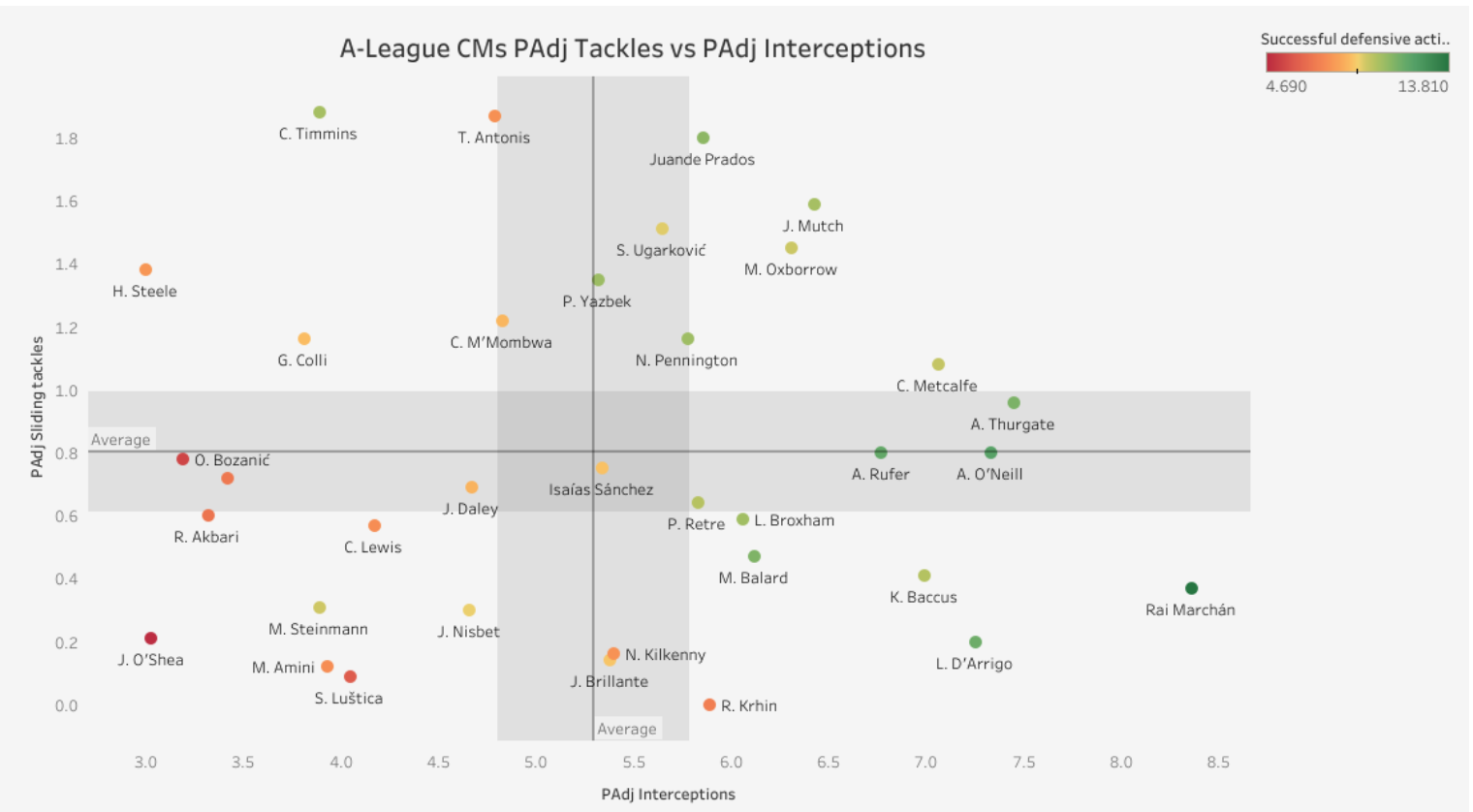 To sum up, there are some exciting midfielders in the A-League, Connor Metcalfe will be moving to St. Pauli ahead of the new season and he is certainly one to watch. Veteran Jay O'Shea performs very well in the attacking phase of the game as demonstrated by this piece of data analysis.
If I had to pick a player who could be classed as the overall 'best' midfielder in the A-League right now, I would have to go with Angus Thurgate. Whether it be defence or attack, he is reliable and has a great output for his team. At 22 he has a very bright future ahead of him, whether it be in Australia or elsewhere, Angus Thurgate is one to keep an eye out for. 
By: Bethany Limb / @bethlimb
Featured Image: @GabFoligno / Chris Hyde / Getty Images