More Than a Trivia Answer: The Story of VVV-Venlo
Last Saturday saw a plethora of major stories across football — Real Madrid beating Barcelona at the Camp Nou, West Ham grinding out a 1-1 draw against Manchester City  — but the most shocking headline came in the Netherlands, when Erik Ten Hag's Ajax put 13 goals past VVV-Venlo in their own stadium. The league-record 13-0 victory allowed Ajax to maintain their lead atop the Eredivisie, whilst sending VVV to 14th in the table, just two points clear of the relegation zone.
Founded in 1903 in the Dutch-German border town of Venlo, Sports Club Venlo '54 (as they were then called) participated in the first ever professional match in Dutch football on August 14, 1954, with Venlo defeating Alkmaar '54 (now known as AZ Alkmaar) by a 3-0 scoreline courtesy of a goal from Klaas "de Kip" Smit and a brace from Henk van der Sluis.
Venlo would go on to finish 7th in the 1954/55 NBVB season, the first ever professional league in Dutch football. 11 months after its formation on December 20, 1953, the NBVB merged with the KNVB, and in 1956, the Eredivisie was born. But it was that exhibition match in Alkmaar that introduced the start of professional football and drew a clear line between amateur football in Holland and the 'big leagues.'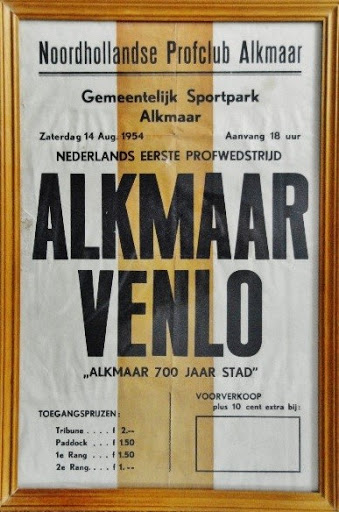 Photo: Algemeen Dagblad (AD)
VVV-Venlo got an early taste of silverware when they won the 1958/59 KNVB Cup, but three years later, they were relegated to the Eerste Divisie, and they would not return to the top flight until 1976. They lasted just three years before returning to the second tier.
After earning promotion in 1985, Venlo finished 5th in back-to-back Eredivisie seasons, qualifying for the UEFA Cup play-offs but were eliminated in the preliminary rounds both times. They advanced to the semifinals of the 1987/88 KNVB Cup, beating Feyenoord in the quarterfinals, before being eliminated in extra time by Roda JC, who lost in the Final to PSV. That brief spell which featured the likes of Stan Valckx, Ger van Rosmalen, Remy Reijnierese, Jos Luhukay, Jos Rutten, and John Roox is widely regarded as the finest era in club history.
They yo-yoed between Dutch football's top two tiers over the next few years, but after being relegated in 1994, they remained in the Eerste Divisie until winning promotion in 2007. VVV-Venlo immediately returned to the second tier, but they bounced back to the Eredivisie and would remain for the next four years, before being relegated once again in 2013.
Under the management of Maurice Steijn, VVV-Venlo steered its way out of the second tier in 2017, narrowly avoiding the drop for their first two seasons in the Eredivisie. In 2019, Steijn departed after a 5-year-spell at the club, swayed by the financial promises of Saudi club Al-Wahda.
The club turned to journeyman coach Robert Maaskant to replace Steijn, but he was fired in November after his gung-ho attacking style saw VVV leak goals on a weekly basis. Jay Driessen took charge on an interim basis, and on December 19, Hans de Koning was hired on a contract until the end of the season. De Koning steered VVV-Venlo out of the relegation zone, and by the time the Eredivisie season was suspended in March, Venlose Trots were 13th in the table.
Despite having the lowest budget in the top flight (€2.4 million), they have managed to stay up in the top flight for four consecutive seasons, and if they can pull it off again this season, it will be their longest spell in the Eredivisie in 60 years. CEO Marco Bogers has acknowledged the difficulty of this challenge, saying, "VVV-Venlo at the moment is too small a club to be a structural member of the Eredivisie, unless more revenue is made."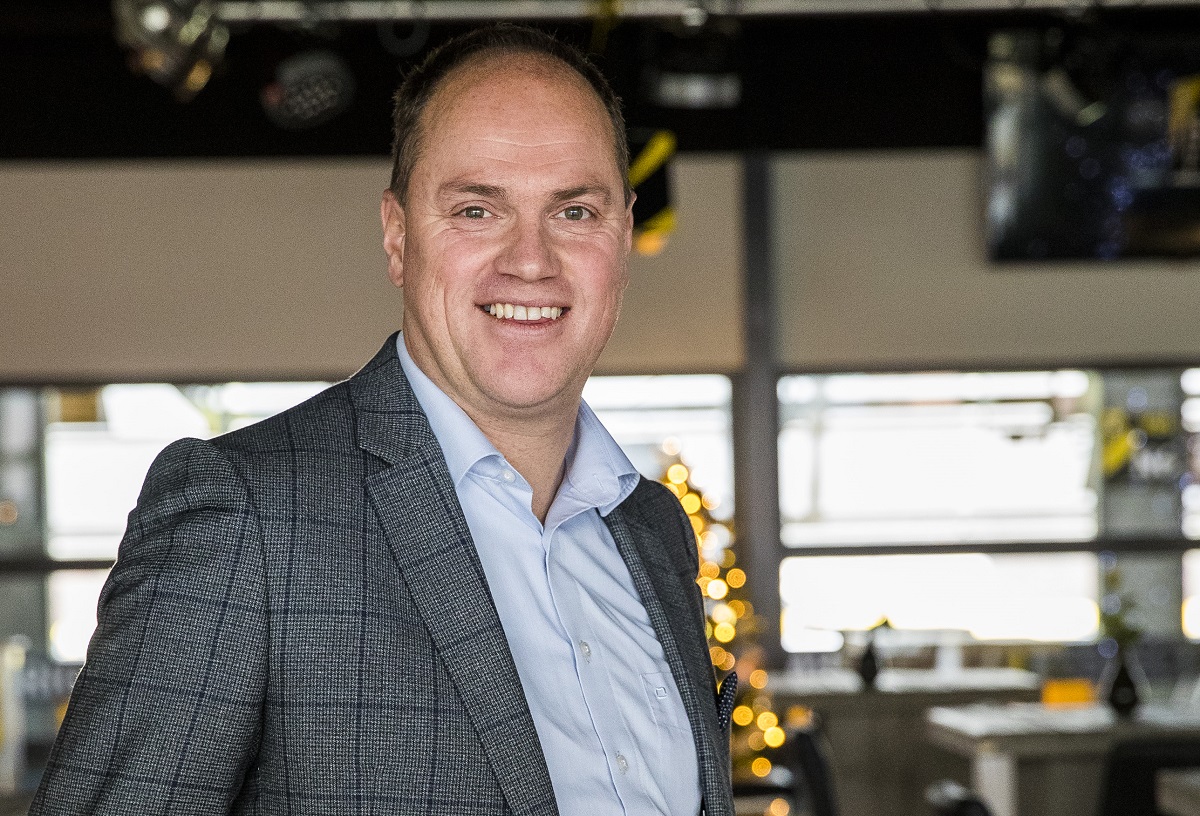 Photo: Laurens Eggen / EGLAPHOTO.COM
After renewing De Koning's contract for another year, Bogers and Director of Football Stan Valckx got to work in the transfer market. Giorgos Giakoumakis was brought in from AEK Athens for €200,000, and he's already proving his worth with 7 goals and 1 assist in 7 matches. Ante Ćorić — considered by Gazzetta Dello Sport as one of the 30 Best U-20 Players in Europe in 2017 — joined on loan from Roma, and the Dinamo Zagreb academy product made his full debut in a 4-2 victory over FC Den Bosch in the KNVB Cup.
The club headed to Italy to bring in another attacking midfielder, signing Zinédine Machach on loan from Napoli. Roy Gelmi has been a fixture in central defense since arriving from FC Thun on loan in January (made permanent this summer), whilst veteran defender Lukas Schmitz has cemented a starting spot at left back since joining on a free transfer.
On March 7, VVV-Venlo lost 3-0 to FC Emmen — the first loss of De Koning's reign and the club's final match before the Eredivisie's suspension due to COVID-19. Six months later, VVV-Venlo returned to De Oude Meerdijk for the 2020/21 season opener, with a vastly different outcome. Emmen got off to a 2-0 start, but VVV turned around the deficit via a hat-trick from Giakoumakis in his debut for the club. The hosts equalized in the 76th minute, but VVV-Venlo pulled off a 5-3 victory via an own goal from Caner Cavlan and a last-minute goal from Jafar Arias, who arrived on a free transfer from Emmen in July.
The next match saw VVV-Venlo muster a 1-1 draw against heavily favored FC Utrecht, despite having 26% possession and 9 shots compared to Utrecht's 26. VVV-Venlo picked up an early lead via a goal from Guus Hupperts, who joined on a free transfer from Belgian side KSC Lokeren, and they held firm thanks to resolute, compact defending, and earned a well-deserved point.
Their best performance of the season so far came on September 26, when VVV-Venlo travelled to the Abe Lenstra Stadion to face Heerenveen, one of the early revelations of the Eriedivisie campaign. Heerenveen took the lead after Danny Post handled the ball in his own box. Joey Veerman converted from the spot, and the 21-year-old midfielder continued to run the show, causing Tobias Pachonik and Simon Janssen to be sent off for ugly tackles on him, but despite the 1-0 loss, VVV-Venlo proved their defensive strength against the then league leaders.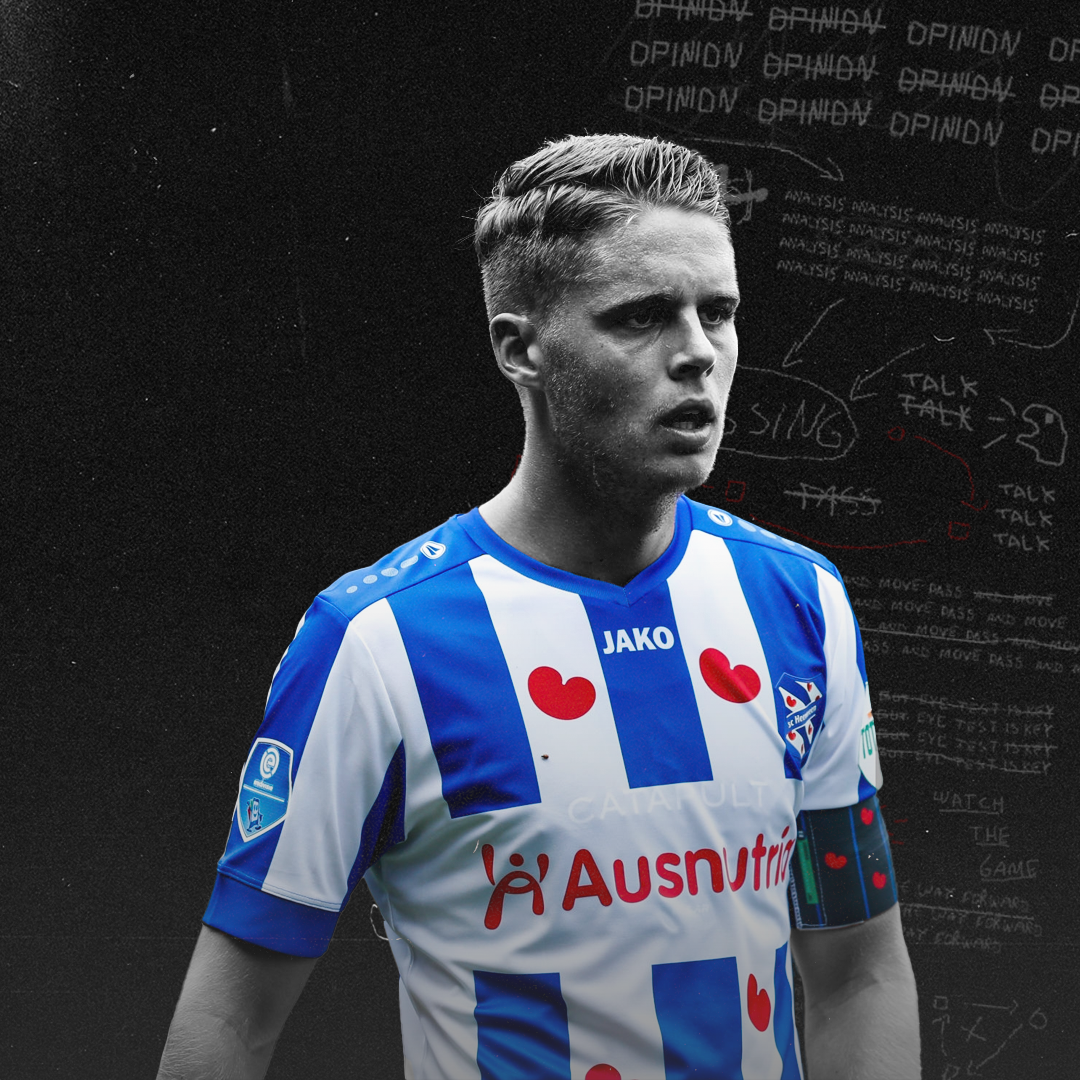 After a passionate display against a formidable opponent, VVV-Venlo delivered a pitiful performance against relegation rivals ADO Den Haag. They fell behind in the 3rd minute via a penalty goal from Shaquille Pinas, but equalized just seconds later from Giakoumakis. Content to sit back and defend deep, VVV-Venlo seemed headed for a draw, but in the final minute, substitute David Philipp snuck past the defense and slotted the ball past goalkeeper Delano van Crooij to snatch away the three points. It was a heartbreaking finale, and yet, a deserved victory for ADO Den Haag at De Koel.
VVV-Venlo paid a visit to last season's runners-up the following week, and AZ Alkmaar took the lead in the second minute with Jesper Karlsson's attempted cross beating Van Crooij from long range. AZ continued to mount wave after wave of pressure and were rewarded with a second goal from Calvin Stengs. However, just when AZ looked close to adding a third, Jonas Svensson was sent off before halftime for a reckless tackle on Joshua John.
De Koning's side managed to take a stronger grip on the game in the second half, and in the 86th minute, they scored following a corner kick, with Evert Linthorst connecting on Vito van Crooij's cross with a lovely flicked on header. They were awarded a penalty a minute later when Bruno Martins Indi pulled down Giakoumakis during a corner kick, with the Greek forward continuing his impressive run of form and converting from the spot.
The next week, VVV-Venlo suffered the most humiliating defeat in the club's history. Goals from Jurgen Ekkelenkamp and Lassina Traoré gave the reigning Dutch champions a 2-0 lead within 17 minutes, whilst Traoré and Dušan Tadić added to the lead before the break. By the time Christian Kum was sent off in the 51st minute, there was nothing stopping Ajax from inflicting the most lop-sided victory in Eredivisie history.
Following the match, De Koning said, "We have had good games before against Ajax and that is what we need to focus on, where we need to get confidence from. We need to dig a hole, throw this match in it, pour concrete over it and then probably in 10 years it will come up again."
Three days later, they hosted FC Den Bosch, currently 16th in the Eerste Divisie, at the Covebo Stadium for a cup fixture. Erik van der Ven's second-tier side proved to be more formidable than expected, but the Pride of the South prevailed with a 4-2 victory courtesy of a brace from Giannoukis and goals from Pachonik and Arias.
Their latest match saw them lose 2-1 to Gronigen, with a late consolation goal from Giannoukis papering over what was another hapless performance. They currently find themselves hovering above the relegation zone with 5 points from 7 matches, and after facing some of Holland's top teams, they'll need to improve if they are to take points from bottom-half opponents Heracles Almemlo, Willem II and RKC Waalwijk over the next few weeks. Only time will tell if VVV-Venlo will continue to punch above their weight and bounce back from their record-breaking defeat with another escape from relegation.
By: Marc Lamberts
Featured Image: @GabFoligno / ANP Sport / Getty Images