How a Youth Team Coach and Joey Veerman Could Take SC Heerenveen to the Top
An open training session at FC Volendam sparked an intriguing combination of two varying footballers by an idle spectator: "Joey De Bruyne", he giggled to himself. This seemingly impalpable comparison between a Premier League-winning Belgian and young Joey Veerman did in fact draw similarities.
Whilst ignored by Ajax and PSV Eindhoven for playing 'monotonous football', the twenty-one year old's daring simplicity proceeds the breakout of the 'Frenkie de Jong type', and his six-foot one frame makes him perhaps more robust than the Barcelona star.
Of course, there is room for improvement, and a severe knee injury certainly stifled his progress, but Veerman is back on track. The £495k move to Jansen's progressive Heerenveen side has helped him rise to one of Europe's most promising central midfielders.
Tidy finish. A short back lift for a player of that stature really is a rarity. Whilst Jansen may be tweaking his formations to find the perfect match, one thing stays the same: Joey Veerman in the heart of the midfield.
Characterised by 2.3 tackles as well as 2.5 key passes per game last season, he has the capability of operating as a number six, eight or just off the striker. A unique talent. If Heerenveen can continue to beat off interest from top clubs, there's no reason why Veerman won't be playing Champions League football in blue and white next season.
Giving the Youth a Chance
Saturday's 1-0 win over VVV Venlo saw Heerenveen's starting eleven hold an average age of 23. What's more is that their midfield consisted of 21-year-old Veerman, 19-year-old Oliver Batista Meier and 22-year-old Rodney Kongolo. Something special is happening in northern Netherlands, and it's for the most part down to manager Jonny Jansen.
Klaas-Jan Huntelaar, Hakim Ziyech, and more recently, Martin Ødegaard and Kik Pierie, Heerenveen are the Dutch equivalent of Atalanta's Scuola di Calcio. But whilst the Italian outfit have managed to break through the barrier of losing out to their players after one good season, Heerenveen still struggle.
Pierie was the first to go last season. A £4.5 million fee to Ajax was a big shame, but there's no way a young Dutch player ever turns down the champions, especially when you consider the amount of minutes Ajax give young players. Morten Thorsby and Michel Vlap soon followed, heading to Sampdoria and Anderlecht respectively. Jansen's promising side was quickly disintegrating. But he had a couple of weapons up his sleeve.
Working with the youth sides for the past nineteen years, it's inevitable that you develop a knack for noticing top players early, and that's what Jansen has done. Loaning in Oliver Batista Meier from Bayern Munich and Jon Paul van Hecke from West Brom, these shrewd signings and the promotion of youth players has given Heerenveen an edge over their opponents so far this season. 
They are currently in second place with three wins out of three. Not a bad start. But do they have the finances to keep them permanently? That's another question altogether.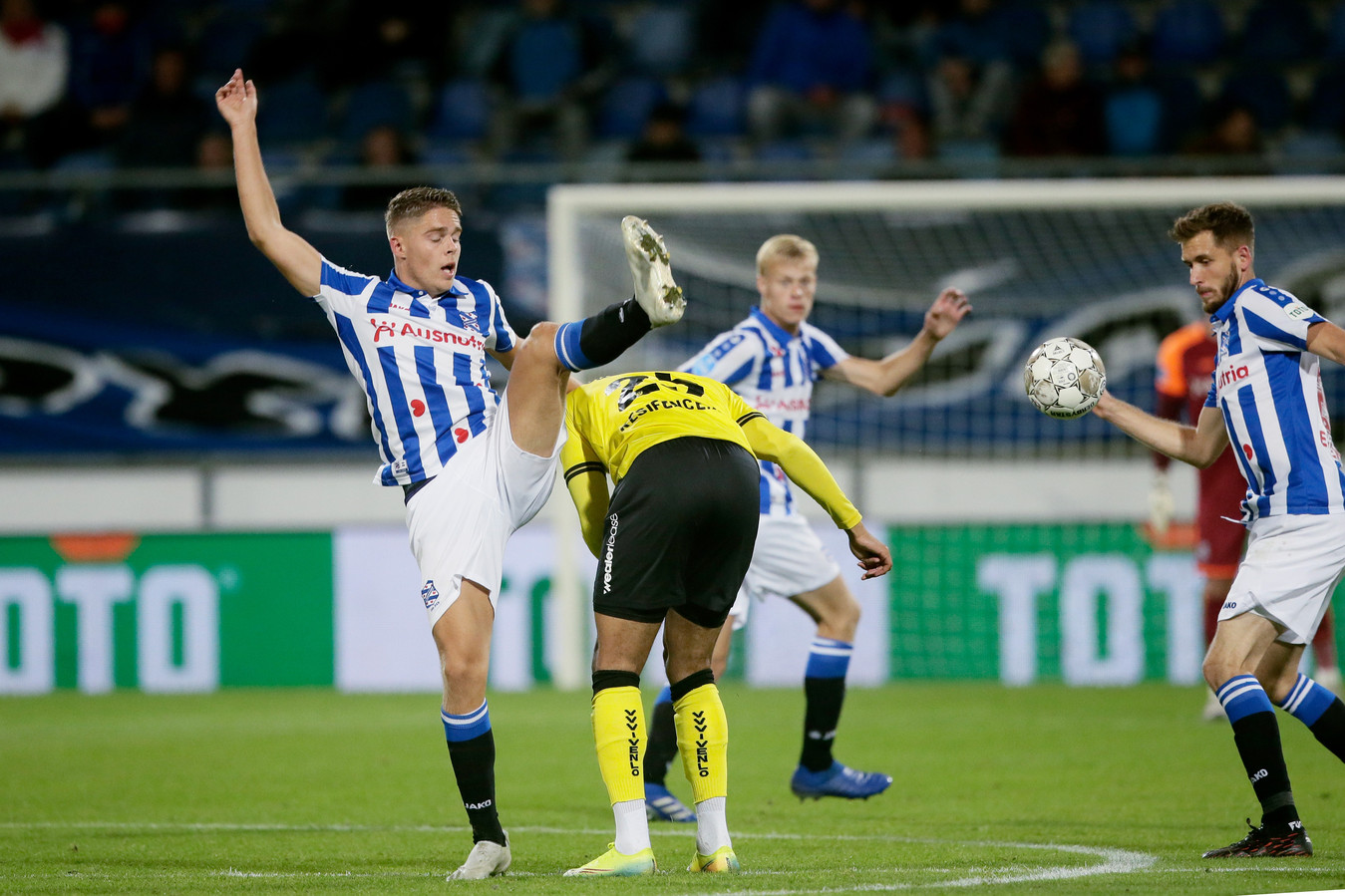 Photo: BSR Agency
Furthermore, pairing the youthful Arjen van der Heide and Mitchell Van Bergen with the experienced front man Henk Veerman gives Heerenveen's attacking line a nice balance. Jansen usually deploys a 4-3-3 formation though has already shown that he will switch to a 4-4-2 depending on the opponent. Having a flexible manager in a side like this is an invaluable trait.
Whilst occasionally slipping into a feeder club for the European giants, can SC Heerenveen finally find the balance they are looking for?
Mitchell Van Bergen
The Abe Lenstra Stadium in southern Friesland jumped to a ferocious roar as Mitchell van Bergen skipped between FC Twente's Calvin Verdonk and Javier Espinosa, sneakily sliding the ball through Verdonk's legs and unleashing a venomous cross into the box.
Exquisite, yet incomplete. The video was titled De Perfecte Tien: the perfect ten. Although a huge statement given he plays out wide, it may not be entirely indistinguishable from reality.
With more successful dribbles – 2.3 per game (WhoScored) – than the highly coveted Steven Bergwijn and more key passes – 1.8 per game – than Neymar last season, Mitchell van Bergen doesn't seem to have caught the eye of many. He should. Deployable on either wing, his "weaker" left foot comes as a shock to defenders, who usually jockey him as a solely right-footed forward.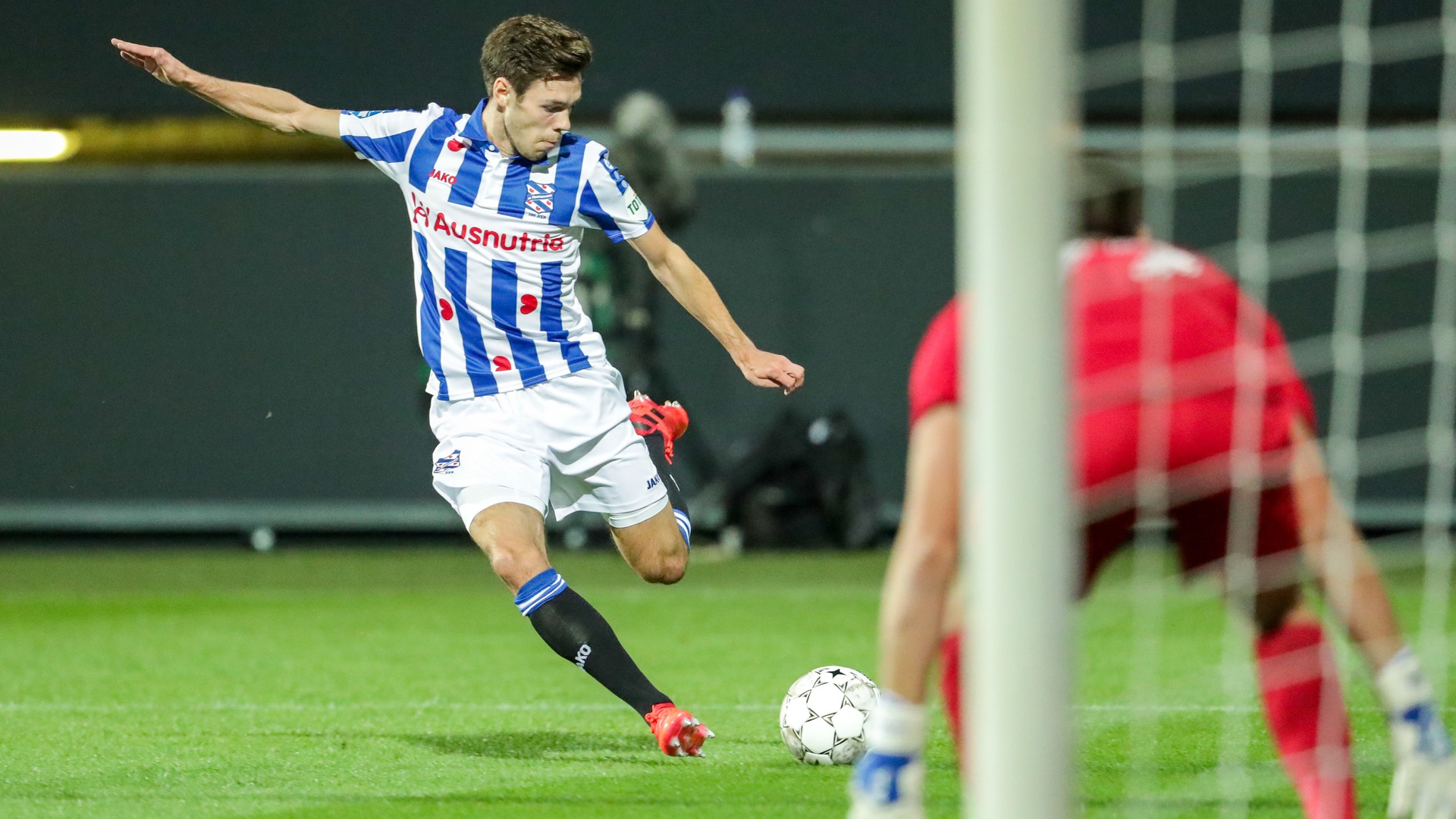 Photo: Orange Pictures
Joining from Vitesse in 2018, Van Bergen's running gait is mildly reminiscent of Brazilian Douglas Costa. Tall and straight, this style sucks in spectators, mesmerises coaches, and obscures almost every defender's perception of where the ball will end up next.
Aesthetically, it's the pinnacle of wing play. Hugging the touchline or darting inside, Mitchell van Bergen's tremendous ability to glide beyond players has him as one of the hottest Dutch players on the scene. A catalyst for Heerenveen.
Bringing van Bergen to the fray on a more consistent basis seems a masterstroke from Jansen. Combined with the emergence of the incredibly talented Van der Heide on the other wing, Heerenveen have replaced what seemed like horrific losses with talented players with plenty of resale value.
Whether they will be able to clamber up into the European places remains to be seen, but one thing is a certainty: SC Heerenveen are one of the most intriguing and entertaining sides in the Netherlands, if not Europe. And they can only get better.
By: Tom Quartly
Featured Image: @GabFoligno / BSR Agency / Getty Images