Gerardo Seoane: The Revolutionary Swiss Manager Ready For the Bundesliga
5 years ago Young Boys Bern were the joke of Swiss football, finishing runners-up six times between 2007 and 2017, and even blowing a 13 point lead in the 2009/10 campaign. Just as English football has adopted the term 'Doing a Spurs' to refer to Tottenham Hotspur's title drought, fans of Swiss Football became accustomed with the phrase veryoungboysen to describe YB's own inabilities to lift a trophy.
Yet the arrival of head coach Adi Hütter in 2015 changed the dynamic, and by the end of the 2017/18 season Young Boys Bern had managed to end their 32 year drought as Hütter's side comfortably displaced FC Basel by a 15 point margin atop the Swiss first division. A bureaucratic city whose 140,000 residents are mostly unconcerned with footballing matters, on the April evening when Bern's title was confirmed, scenes of absolute ecstasy ensued, marked by a pitch invasion and shower of flares that greeted the full time whistle in the Wankdorf Stadion.
Though Young Boys, Bern had developed a youthful side with the potential to withstand a succession of title charges, question marks were raised when Hütter left for the Bundesliga that summer, taking over the vacancy which Niko Kovac had left at Eintracht Frankfurt. Having taken Young Boys from a 14-point deficit in the 2016 title race, to comfortable champions two years later, Hütter's departure sunk many fans back into the hopeless bottle job mindset of yesteryear.
In came Gerardo Seoane, a little known Swiss manager who had guided Luzern to a respectable, albeit inconspicuous 3rd place finish in the table. Though his previous experience didn't radiate brilliance, Seoane pledged to continue the blueprints which Hütter had laid out, playing the fierce pressing style which he had owned in his time at Salzburg and brought across the border to Bern. With the taste for silverware back on the lips of the Young Boy faithful, Seoane would need to prepare for a season of intense expectations, one which would kick off with the biggest match in the clubs modern history.
Having won their league title, Young Boys Bern would be placed in a two legged playoff final to qualify for the Champions League, the opportunity to complete the shift away from perennial failures, with entry into the most illustrious competition in club football. Between the picturesque start for Gerardo Seoane lay Dinamo Zagreb, perpetual champions of the Croatian topflight who had failed to lift the title just once in the past 13 seasons.
Following a 1:1 draw in Bern, the tie lay tightly in the balance for the away leg a week later in Croatia. A game with the monumental significance to define Seoane's reputation amongst the fan base, Young Boys started poorly, falling behind to a Izet Hajrovic strike in the 7th minute. Perhaps overawed by the occasion and raucous atmosphere in the Maksimir Stadium, Bern failed to register a shot on target in the opening 45 minutes, succumbing to sloppy attacking play and desperation in defense as Zagreb's 20-year-old Dani Olmo ran the backline ragged.
The bottle jobs of Swiss Football were living up to their name, and it seemed inevitable that YB would again fail one step away from realizing dreams. Yet that was the old face of Young Boys Bern, and Gerardo Seoane wasn't ready to tarnish his legacy just weeks after taking over. An inspired bit of trickery from substitute Roger Assalé brought Young Boys level in the 64th minute, drawing a penalty which Guillaume Hoarau cooly dispatched.
Just two minutes later and Hoarau was again on the scoresheet, popping up at the back post to capitalize on Zagreb's chaotic marking on a set piece. Young Boys had turned the tie on its head, and with Dynamo now requiring two goals to advance, the sweet symphonies of the Champions League theme must have begun reverberating around the brains of the traveling Swiss faithful.
Ultimately the Croatian champions wouldn't even manage the solitary goal, falling to a 2:1 defeat and realizing Bern's dreams of Champions League football. The following morning hundreds of fans arrived at the airport to greet their heroes. Though the massive flags and dangerous flares never stood a chance of passing through airport security, the YB fans nevertheless made a raucous atmosphere on that Wednesday afternoon, startling the streams of businessmen groggy from an early morning flight.
Though Hoarau unsurprisingly warranted the greatest appraisal from the supporters, the new man Gerardo Seoane had passed his first test with flying colors, proving his capacity to continue the project Hütter had begun.
In the ensuing two and half seasons under Seoane, Young Boys Bern have continued their meteoric rise, taking advantage of the turmoil at FC Basel to win three consecutive league titles. Though their maiden Champions League campaign ended in a 4th place finish, Seoane's side are currently in the round of 16 in the Europa League, dispatching of Bayer Leverkusen with emphatic style to reach the deepest stage in Europe since their Semi Final appearance in the European Cup in 1961 season.
Like his predecessor Adi Hütter, Gerardo Seoane's exceptional work has not gone unnoticed. With the recent news of Marco Rose's departure for Borussia Dortmund, a new manager will be in the Borussia Mönchengladbach dugout next season, a position which Seoane's name has been mentioned for in various German media outlets.
The Making of Adi Hütter: Exceeding Expectations in Austria and Ending Years of Hurt in Switzerland
In this piece, we will analyze Seoane's tactics at Young Boys Bern, looking specifically at tactical similarities between his YB side and Marco Rose's Gladbach. Like Adi Hütter, Rose is a manager schooled in the Red Bull philosophy, demanding intense pressing and forward passing to quickly break defensive lines. With Seoane superbly carrying on the Salzburg philosophy which Hütter first implemented at Young Boys in 2015, a transition to a similar blueprint at Gladbach would be a seamless shift for the 42-year old Swiss manager.
The most glaring similarity between Young Boys Bern and Mönchengladbach comes in their attacking approaches. Though Gladbach are currently on a 10 match winless streak, at their best this season they were a free scoring outfit with an impressive ability to exploit unorganized defenses in transition moments.
This was on full display in one of Gladbach's first matches in 2021, where they came back from a 2:0 deficit to defeat league FC Bayern with 4 unanswered goals. Perhaps the pick of the bunch was their second goal, combining outstanding gegenpressing with a succession of quick forward passes.
Within a matter of seconds Bayern had gone from controlled possession to picking the ball out of their net, succumbing to the impressive verticality of Gladbach's game which has proven unstoppable when the side is on the same wavelength.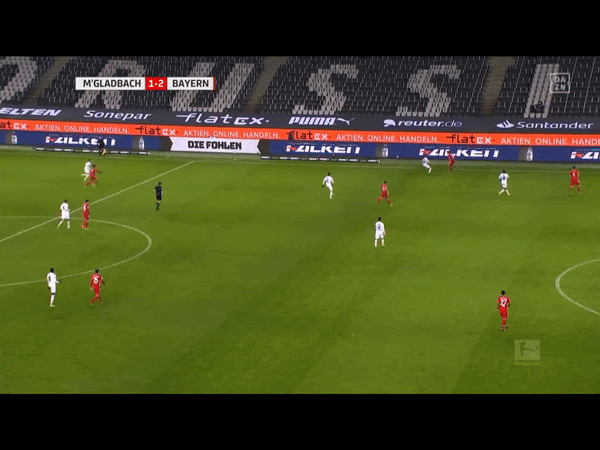 Young Boys Bern display many of these same principles, looking to force their opponent into giving away possession in their own half, before taking advantage of the disorganization with passes through or behind the opposition lines. Particularly in domestic competition where many of the sides are unable to cope under intense pressure, this style has prospered.
In the clip below, Young Boys trap their opponents FC Zürich, pressing them until a stray ball forces a poor touch which Seoane's men can pounce on. From there, Young Boys exposed the gaping whole between Zürich's midfield and defensive line with a smartly played forward ball that allowed Meschak Elia to turn and feed his strike partner Jordan Siebatcheu.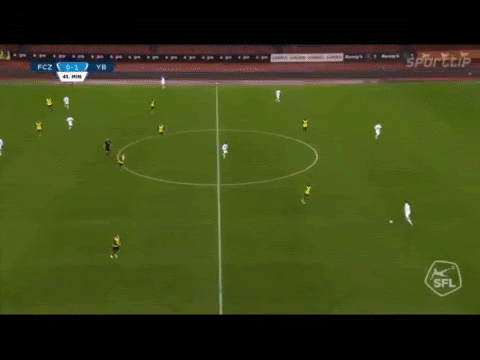 In the Europa League encounter versus Bayer Leverkusen, YB again looked to circumvent Leverkusen's pressure with quick forward passes through or behind their German opponents. Though their third goal in the first leg was slightly fortunate after a poor through ball was let through by defender Aleksander Dragovic, there was nothing lucky in the build up to the Swiss Champions decisive go ahead goal in the second leg.
Aware of Elia's pace advantage on the centerhalf partnership of Edmond Tapsoba and Jonathan Tah, Young Boys would look to find the Congolese striker with balls in behind, gaining valuable yards up the pitch as his hold up play allowed the midfield and strikers an opportunity to shift into the final third.
Though the goalkeeping error from Niklas Lomb played a pivotal role in the goal, Seoane's tactical plans to circumvent Die Werkself's pressing system with vertical balls behind the backline allowed YB to make up for their talent deficit across the pitch and secure a startling victory.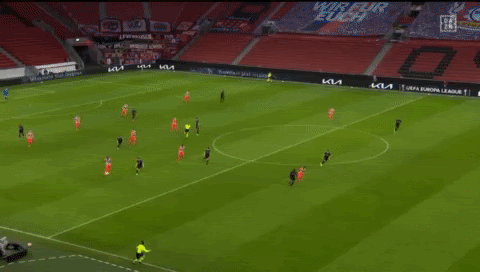 Seoane's tactical ideals are all about pressing triggers, forcing the opponent into wide channels where their options are limited and Young Boys can get numbers around the ball. This can be an extremely powerful tool if executed well, limiting the opposition's time in possession, and reducing the lengthy recovery runs required when a faulty press is broken. However, against an opponent who is capable of combining through the middle of the park and breaking these lines of pressure, YB's have been left chasing shadows.
This was one of the main reasons why Ajax was able to dominate Seoane's sides so easily in their 3:0 victory in the Round of 16 first leg. If Young Boys are able to cut down the middle of the pitch and prevent passing lanes into the central midfield, then Seoane's system works exceptionally, however against a side as strong and composed in possession as Ajax, YB's pressing triggers did very little but tire out the Swiss champions and lead to holes in the side which Ajax was ultimately able to exploit late in the game.
As Young Boys Bern tired, more and more gaps opened for Ajax's midfield to exploit. This allowed both Edson Alvarez and Ryan Gravenberch time and space to run with the ball and create an easy goal that turned a second leg recovery into a Goliath task for Seoane's XI.
The physical demands of both Marco Rose and Gerardo Seoane's style are no secret. Looking to press high up the pitch and then quickly transition the ball into shooting positions means that there are rarely opportunities to rest in controlled possession phases. For Gladbach this has resulted in a Bundesliga high 21 points spurned from leading positions this season, a wretched trend reflected in their Swiss counterparts Europa League form.
Of the 13 goals Young Boys have conceded in their 9 Europa League matches, only 1 has come in the first half, and 9 have come in the final 30 minutes of their matches. Clearly Seoane's pressing tactics are effective, however without an implementation of more controlled possession phases to allow his side to rest on the ball, Gladbach fans will be faced with another season of heart breaking late defeats if the Swiss manager comes in without evolving his style.
Gerardo Seoane is an interesting name in the discussion for the manager post at Borussia Mönchengladbach next season. Though the likes of Ralf Rangnick and Erik ten Hag present more stylish appointments, Seoane has many of the characteristics to elevate the blueprint which Rose has laid out. With a similar pressing scheme and verticality in possession, Seoane is clearly in the Red Bull mold despite never working at a club within the RB network.
The results which Seoane has achieved with Young Boys should also not be understated, dominating domestic competition, and earning some very impressive results in Europe. Along with the 6:3 aggregate victory over Mönchengladbach's great rivals Bayer Leverkusen in the Europa League, Seoane has also beaten a Cristiano Ronaldo-led Juventus 2:1, and twice held a lead versus AS Roma before succumbing to defeat late in the second half.
Though the task of winning silverware at Gladbach will be considerably more challenging, Seoane's record of churning out results in domestic competition is phenomenal. In 133 matches in all competitions Seoane has lost just 20 times, only 11 of those coming in the league. Whilst FC Basel has left the back door open in recent years with their lack of reinvestment from player sales, the way in which Seoane's Young Boys have taken a stranglehold on the Swiss topflight is immensely impressive, highlighted in their 7:1 victory over the record champions in early 2018.
Ultimately Seoane is a left field choice, and if the opportunity to appoint either Ten Hag or Ragnick presents itself, Gladbach would be hard-pressed to reject either of these more established alternatives. However, Seoane features many of the attributes required in a modern Gladbach manager, and at just 42 years old, he could build a legacy at Die Fohlen Elf, whilst building upon the developments in Rose's 2 years in charge.  
By: Adam Khan
Featured Image: @GabFoligno / ANP Sport / Getty Images Sport