How Bournemouth Returned to the Premier League under Scott Parker
AFC Bournemouth's top-flight return arrives at an interesting moment in the club's history. After earning promotion back to the Premier League at the second time of asking, the Cherries are hoping to pull off a surprise or two under Scott Parker in 2022-23.
"You see regularly it in teams that get promoted: the challenge we're going to face next year will be very, very difficult," Parker said during his final press conference of the Championship season.
"It's a big, big league and a big, big jump. In saying that, teams like Brentford have proven you can [stay up] if you do it the right way. If you recruit well, there's a chance and that's exactly how we're going [about it]. We've got a squad that is growing and maturing here, hopefully we can [sustain Premier League football]." 
Parker, still only 41, has made a significant impact at Bournemouth since arriving from Fulham last summer, introducing a new style of play to lift Eddie Howe's shadow from the Vitality Stadium.
Unlike his predecessor, the former West Ham and Tottenham midfielder places emphasis on controlling possession, passing out from defence, and switching play from right to left. 'Parkerball', albeit unlikely to set pulses racing, was key to Bournemouth's promotion-winning campaign and is better suited to the Premier League than Howe's frenetic style.
After Returning to the Premier League, How Can Scott Parker's Cherries Beat the Drop?
Parker instructs his side to play with the same tactical principles regardless of the shape he employs, though his preference for a single-pivoted 4-3-3 has been evident throughout his managerial career.
His approach paid off in bucketloads in Bournemouth's 3-0 win over Huddersfield Town back in April, with each of his team's goals the result of stage-managed verticality:
Jaidon Anthony broke the deadlock versus Huddersfield, scoring at the far-post assisted by Dominic Solanke. Although the 22-year-old deserves credit for completing the move, his role in securing the lead for Parker's squad was relatively inconsequential: the most important phase of play happened on the opposite wing.
After shifting play from one side of the pitch to the other, Adam Smith receives the ball just inside his half with an open body position. The 31-year-old turns instinctively and plays a simple pass down the flank to free-roaming central midfielder Jefferson Lerma, who tees up Ryan Christie in one touch.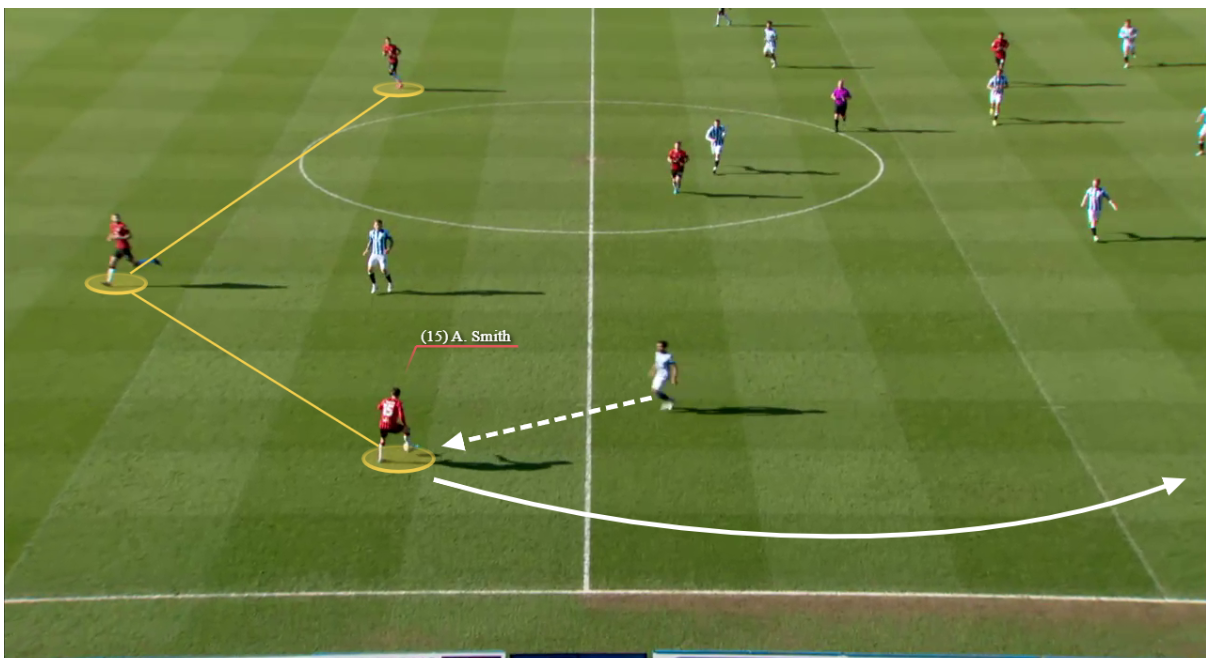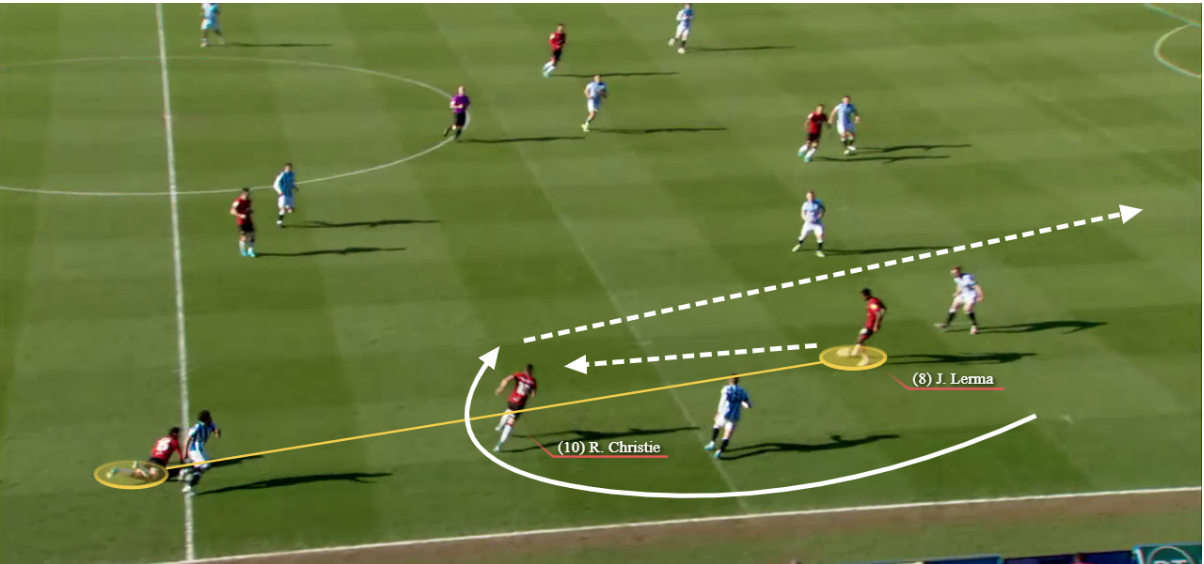 By the time Christie sends a through ball into Solanke's path, four Bournemouth players are running towards the Huddersfield penalty area, including Anthony – who is completely unmarked at the back door.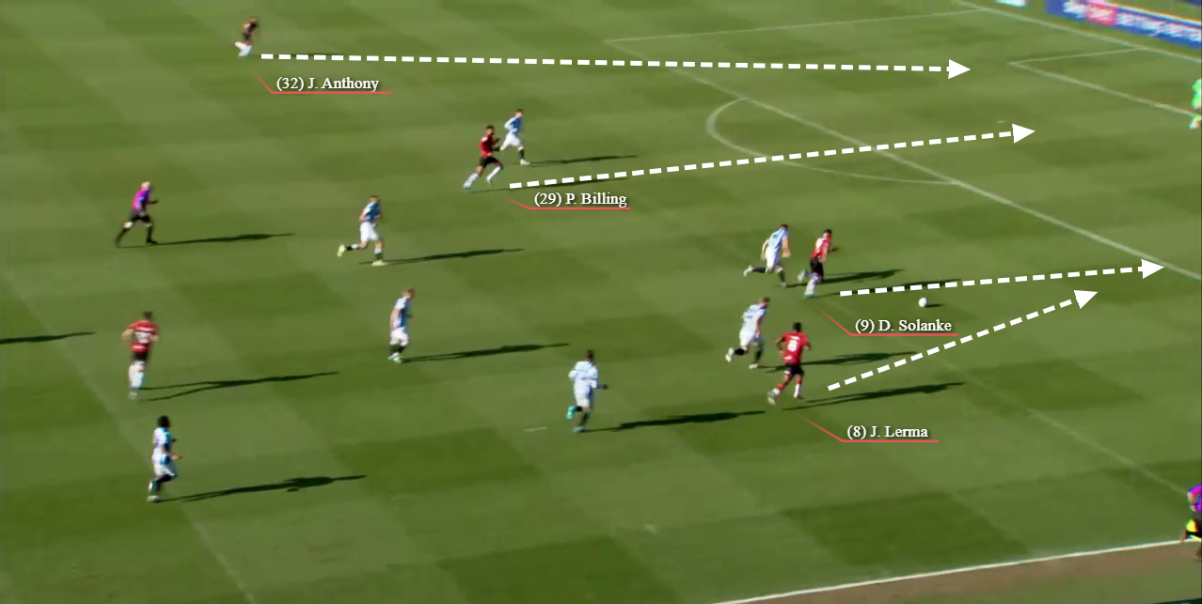 With half-an-eye on their top division homecoming, Lerma's pass was the most important element of the play for two reasons. Firstly, it was the perfect execution of a set-play. Christie's rotational movement was not an accident: it was choreographed by the horizontal passes to Smith, which effectively started the move.
From there, Bournemouth's forwards knew to attack the box – and did so with vigour. Secondly, the Cherries snapped into action at the right time. Shifting possession to the right triggered Huddersfield's press, creating an opportunity to break the lines.
Why is that significant? Because it demonstrates Parker's willingness to release the handbrake for long enough to orchestrate fluid, offensive moves. In other words, Bournemouth return to the Premier League with clear ideas about how they will convert possession into goals – and that's always handy.
Also of note: the south coast club routinely out-xG'd their opponents en route to promotion, finishing the season with 1.64 xGF and 1.01 xGA per 90 according to Wyscout. They enjoyed the lion's share of possession (57.6%) and shots (11.5 v 8.5) too, underscoring the fact that Parker's side earned their way back into the Premier League.
Bournemouth finished second in the Championship, two points behind table-topping Fulham, and with a goal difference of +35. They were effective at both ends of the pitch, hitting the net 74 times while limiting the damage to just 39 goals against. It, therefore, should not come as a surprise that the team's centre-forward and goalkeeper ended the campaign top of the class. 
Dominic Solanke: Bournemouth's Star Striker Assured Again After Career Rollercoaster
Solanke enjoyed a breakout season under Parker, scoring 31 times in all competitions to keep pace with xG for the third time of his career. The 24-year-old also contributed five assists and developed into an integral part of Bournemouth's system.
However, it has not always been plain sailing for Solanke on the south coast. After joining the Cherries for £17.5 million back in January 2019, it took the former Liverpool and Chelsea striker 39 games to score his first league goals in black and red. 
He was criticised for not making the most of his 6-foot-2 frame in the Premier League, a defect underscored by his lack of penalty area composure. However, Parker and his coaching staff have made a significant impact on the Englishman.
Per The Athletic's Ahmed Shooble, Parker told Solanke to "put on more muscle and be more aggressive and direct in his overall play" last pre-season: the Reading-born marksman delivered and is starting to look like the complete forward many expected he would become.
"I didn't do what I wanted to do last time I was there in the Premier League," Solanke admitted after Bournemouth's promotion was sealed. "But I'm a different player now, mentally and physically. I'm looking forward to next season."
Mark Travers, by contrast, is an unknown quantity in the top-flight. The 23-year-old goalkeeper has played a starring role for Bournemouth since locking down the starter's job last summer, narrowly outperforming his xGA. 
Following the departure of Asmir Begovic in July 2021, Parker's decision to adopt Travers as his #1 choice between the sticks was met with surprise across the Championship. He only had four senior appearances to his name before Bournemouth's season-opener against West Brom, with supporters raising concerns over his lack of experience.
Travers quickly put those fears to bed. He was an integral member of Parker's promotion-winning squad, producing a run of solid performances during Bournemouth's winter of discontent, including this point-blank stop in a 1-0 loss to Middlesbrough:
`
In a season of ups and downs for his club, Travers was a constant source of solidity. He finished the campaign with 20 clean sheets, the Championship's Golden Glove, and an unbreakable grip over his place in the line-up – beating out competition from midseason loan signing Freddie Woodman. 
But he will face sterner tests next season. Bournemouth enter their comeback season in the Premier League hoping to avoid an immediate return to the second division and they must adapt to maximise their chances of survival.
Parker's team suffered at the hands of their own conservativism at the turn of the year, winning narrowly or dropping points versus opponents they should have beaten handily. Bournemouth's form in March was particularly concerning: they lost 2-1 to Preston North End before trundling to draws against Reading and Peterborough.
During the Cherries' winter slump, Solanke was isolated in the final third, with his teammates losing control of matches they dominated in the opening exchanges.
Bournemouth's key to Premier League survival is playing without fear, as paradoxical as that sounds. Although his team will not be able to dictate play in the top-flight as they did in the Championship, Parker must instruct his team to play to their strengths: building play from the backline and attacking in numbers when appropriate.
Mark Travers: The Irish Shot-Stopper Heralded As The Best Goalkeeper In The Championship This Season
Unlike the Norwich City squad that was relegated in 2021-22, the Vitality Stadium side are in a healthy position heading into their upcoming campaign. Bournemouth's roster already includes players capable of making the jump to play at a higher standard, including Phillip Billing, Jefferson Lerma, and Solanke.
However, the Cherries must strengthen this summer. If he persists with his 4-3-3 as expected, Parker will be keen to add to his midfield options. There were times last season when his side lacked a creative spark in central areas, with free agent Joe Rothwell reportedly on the 41-year-old's radar. The departing Blackburn Rovers midfielder is a keen ball-carrier and would boost Bournemouth's press resistance, which will be tested against Premier League opposition.
Signing a battle-tested left-back is another priority for Bournemouth, despite Jordan Zemura's impressive performances in the Championship. The diminutive 22-year-old was often targeted by opposition forwards last term and is better offensively than he is in his own end.
Parker, then, must learn from his time with Fulham. Bournemouth earned promotion to the top-flight by applying their coach's tactical principles in must-win matches and will only survive in the Premier League if they carry on in the same trajectory next season.
There is work to be done on the south coast – but the Cherries are working from a solid base and have one of England's most promising coaches in their dugout. If not a recipe for survival, it is a great place to start.
By: Luke James / @LukeJames_32
Featured Image: @GabFoligno / David Horton – CameraSport