How Diego Simeone's Atletico Madrid Pounced on Real Madrid Passivity and Ended Their Unbeaten Start
After beginning their season with six straight wins, Real Madrid faced off against Atlético Madrid at the Wanda Metropolitano on Sunday. Whilst Real were coming off a 1-0 win against Union Berlin that saw Jude Bellingham score in the 94th minute, Atleti had seen their share of late drama with Lazio goalkeeper Ivan Provedel scoring in the 95th minute to snatch a draw away from home for Maurizio Sarri's side.
Atleti would take the lead within four minutes via Álvaro Morata, with Antoine Griezmann doubling their advantage shortly after, but Toni Kroos halved the deficit before the break for Los Blancos. Carlo Ancelotti took the opportunity to sub on Spanish center forward Joselu for Croatian midfielder Luka Modrić at halftime, but it wasn't enough as Morata restored their two-goal advantage immediately after the restart, securing a 3-1 victory for Atlético Madrid.
Crucially, Real's performance in the derby reinforced lingering worries that have overhung the start of their season: squad limitations. In particular, in the forward positions and at full backs as they look to cover for Dani Carvajal and Fran García. The hosts started with their 5-3-2 to face Real's midfield diamond. The latter of which suffered greatly due to Vinícus Jr.'s absence, and this led to an alarming lack of threat in their attack to test Atletico's defence, with their only attacking weapon besides Rodrygo being Bellingham. 
To make matters worse, Atlético's forwards, Morata and Griezmann, displayed a statement performance in the derby, highlighting the sharpness Simeone's side still exhibit and ability to greatly impact the game when out-of-possession. Nahuel Molina and Samuel Lino operated as wingbacks for Atleti with the latter assisting Morata's first goal just four minutes from the whistle. Lino also impressed from a defensive point of view, completing more tackles (6) than any other player. 
In Morata's opener, you notice Madrid's defensive issues as they didn't press high leaving Atleti progressing the ball from the back, with Molina and Lino making the pitch as wide as possible, Real couldn't cope with them always having time to switch play from behind to Lino to get the ball to his preferred foot and make in-swinging crosses for Morata. 
Madrid's passive behaviour off the ball cost them in the game. Although Ancelotti's side have not always been the most intense pressers, they ended this game with a PPDA (passes per defensive action) of 10.60, much higher than the rates they managed earlier in the season against Celta Vigo (8.0) and Getafe (5.1). This does show a clear passivity off-the-ball from Real, as they looked to lull Atlético into a false sense of security and pounce on mistakes. 
Notice how when Morata and Saúl pin David Alaba and Antonio Rüdiger back, forcing them to stay behind, Morata's blind-side movement attacks far post in behind Alaba, who is unaware of Morata's movement and is caught out. This was a common thread throughout the game. The centre backs for Real lacked the ability to track forward runs from Griezmann and Morata and the defence often capitulated to third-man runs.
Atlético's shape out of possession was their key to this victory. Alternating between 5-4-1 and 5-3-2 with one of Saul, Griezmann and Marcos Llorente engaging situationally to press. Griezmann dropped left leaving Morata alone to close passing option to Eduardo Camavinga and sometimes Modrić, who were dispossessed five times in the game – the top two highest in the game. 
Notice how Atlético are staggering and Lino jumping to press the ball at the flank, covered always by Mario Hermoso and José María Giménez covering Hermoso close to his near opponent to prevent him from receiving and turning free, with two lines. Mutual covering and shifting to the ball side worker very efficiently for Simeone's men as they severely limited Real's option when out wide.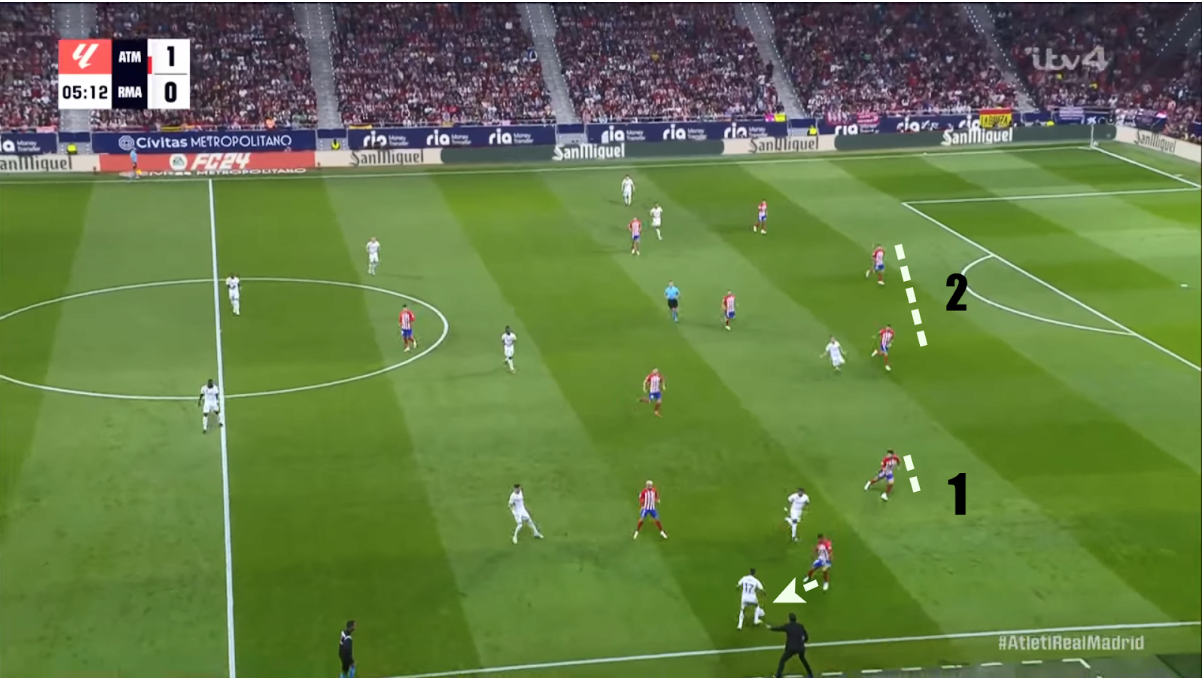 Moreover, Griezmann's goal occurred nearly the same way as Morata's goal, with Lino going inside with Saúl running into the left-hand channel to assist the Frenchman with an excellent left-footed cross. Morata pinned Alaba back, freeing Griezmann to move at the far post with Fran García unable to cover behind him.
Notably, in the following sequence, Griezmann and Molina are used as successive third men, with a nice up-back through combination, with Molina eventually finding space for a cutback, albeit intercepted by Lucas Vázquez.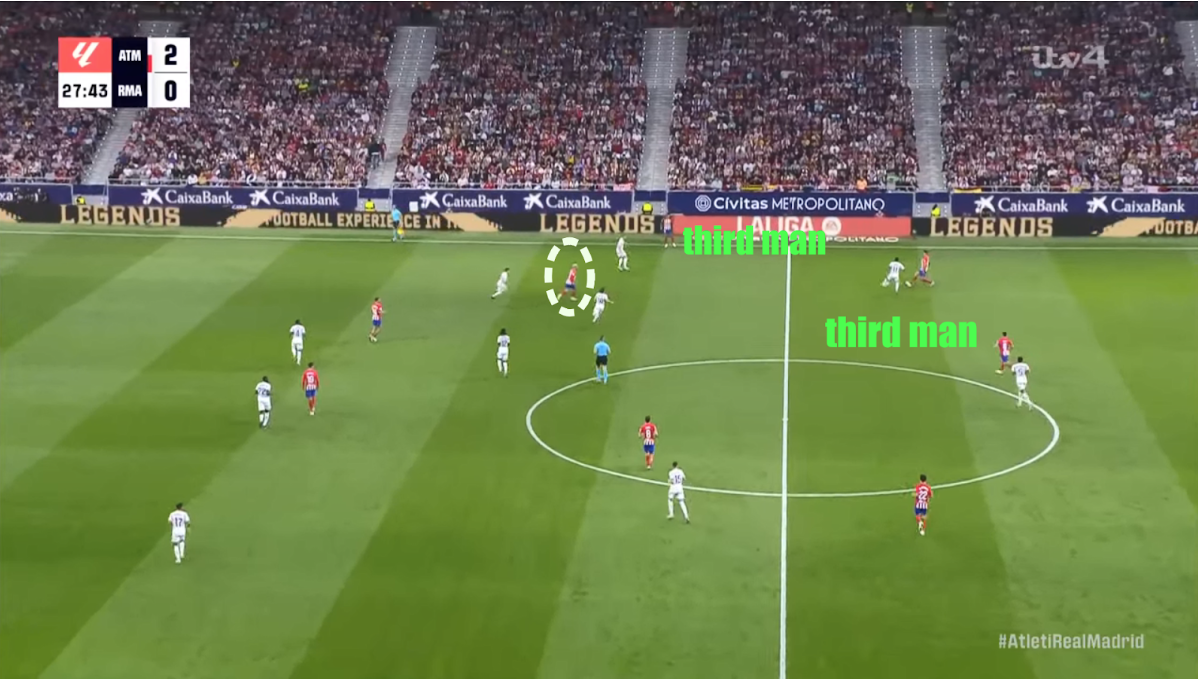 To Atleti's credit, they severely reduced Real's shot creating opportunities in the game. Real's twenty shots only amounted to an xG of 0.85, thereby illustrating the lack of clear-cut chances conceded as half their shots came from outside the box. To draw conclusions from this game alone would be reductive, however, the issues explored here underpin underlying problems Real may face this season in Europe and in the upcoming Clásicos and Derbis Madrileños, which may well define where the title falls this season in Spain. 
Atleti will be looking to build on that momentum as they travel to Osasuna before hosting Cádiz, Feyenoord and Real Sociedad to start October. As for Real, they bounced back with a 2-0 win against newly promoted Las Palmas, with Brahim Díaz getting a rare start and breaking the deadlock before the interval, whilst Joselu doubled the lead in the 54th minute.
Los Blancos will travel to Girona for a match that will see the first-placed team in La Liga face off against the second-best side in Catalonia — with neither of those two sides being FC Barcelona — for the first time since 1952. Girona and Barcelona are the last two undefeated teams in Spain, with Real Madrid currently sitting one point above Barcelona, one point behind Girona, and eight above Atleti, who have two games in hand.
By: @Elbadry0198
Featured Image: @GabFoligno / Flor Tan Jun / Getty Images