Tactical Analysis: Ajax 4-0 Borussia Dortmund
On Tuesday night in matchday three of this season's UEFA Champions League, Ajax picked Borussia Dortmund apart at the Johan Cruyff Arena, winning 4-0 against the German outfit. A Marco Reus own goal opened the scoring in the 11th minute before a beautiful strike from Daley Blind doubled the home side's lead. In the second half, goals from Antony and current Champions League top scorer Sebastien Haller completed Ajax's victory. 
Erik ten Hag had assembled something of a super team back in 2018/19 before the majority of their star names moved on to bigger and better things, but this win felt like a statement from a new Ajax team saying: "We've rebuilt, and we're ready to go again." In my opinion, the 4-0 scoreline was reflective of an extremely impressive Ajax performance, rather than a bad Dortmund one. 
What I enjoyed about it most was that Ten Hag's side were 10/10 in all areas of the game.  Tactically, technically, physically, and psychologically. Aside from the obvious superb pressing and dominance in possession – things we've come to expect from Ajax – they counter-attacked with vigour, they won the majority of their individual battles, and even stand-in goalkeeper Remko Pasveer made some terrific saves.
The Ajax Renaissance: How the Dutch Club Rose to Fight With Europe's Best
Erling Haaland racked up three shots on target in the game with a combined post-shot xG value of 1.56, but Pasveer denied him his customary goal and kept a well-earned clean sheet. Let's take a look at how effective Ajax were both out of possession and in possession. The opening 10 minutes of the game was a bit of a whirlwind. 
Both sides were pressing and countering with ferocity and the speed of the affair was breathtaking, but it started to tip one way. The home side muscled their way into the superiority of the contest and the effect it had was staggering. 
Antony, Haller, and Dusan Tadic was Ajax's front-three and depending on which side Dortmund were building from, Haller and another would pressurize Mats Hummels and Manuel Akanji, while the opposite winger would block the pass into the full-back. 
If Dortmund played through the initial line of pressure into midfield, Ryan Gravenberch and Steven  Berghuis, the two advanced midfielder's in Ajax's 4-3-3, were absolutely fantastic at closing in and not letting Dortmund out. Full-backs Blind and Noussair Mazraoui did the same out wide.  Ajax squeezed the space tremendously and overwhelmed the German side, forcing them to start playing long after about half an hour. 
We regularly talk about the technical and tactical benefits of pressing so high and so aggressively  – winning the ball close to the opposition's goal, stopping the opposition from building up, etc. –  but I don't think we talk about the psychological effect that it can have on the pressing team's opponent, and that was clear to see on Tuesday. 
After about 35 minutes, the Dortmund players looked like they had just finished a triathlon. They just couldn't string together more than two or three passes and all of them, particularly the midfielders, were red in the face and couldn't catch a breath. The difference between the energy in the sides was evident in the two chances below.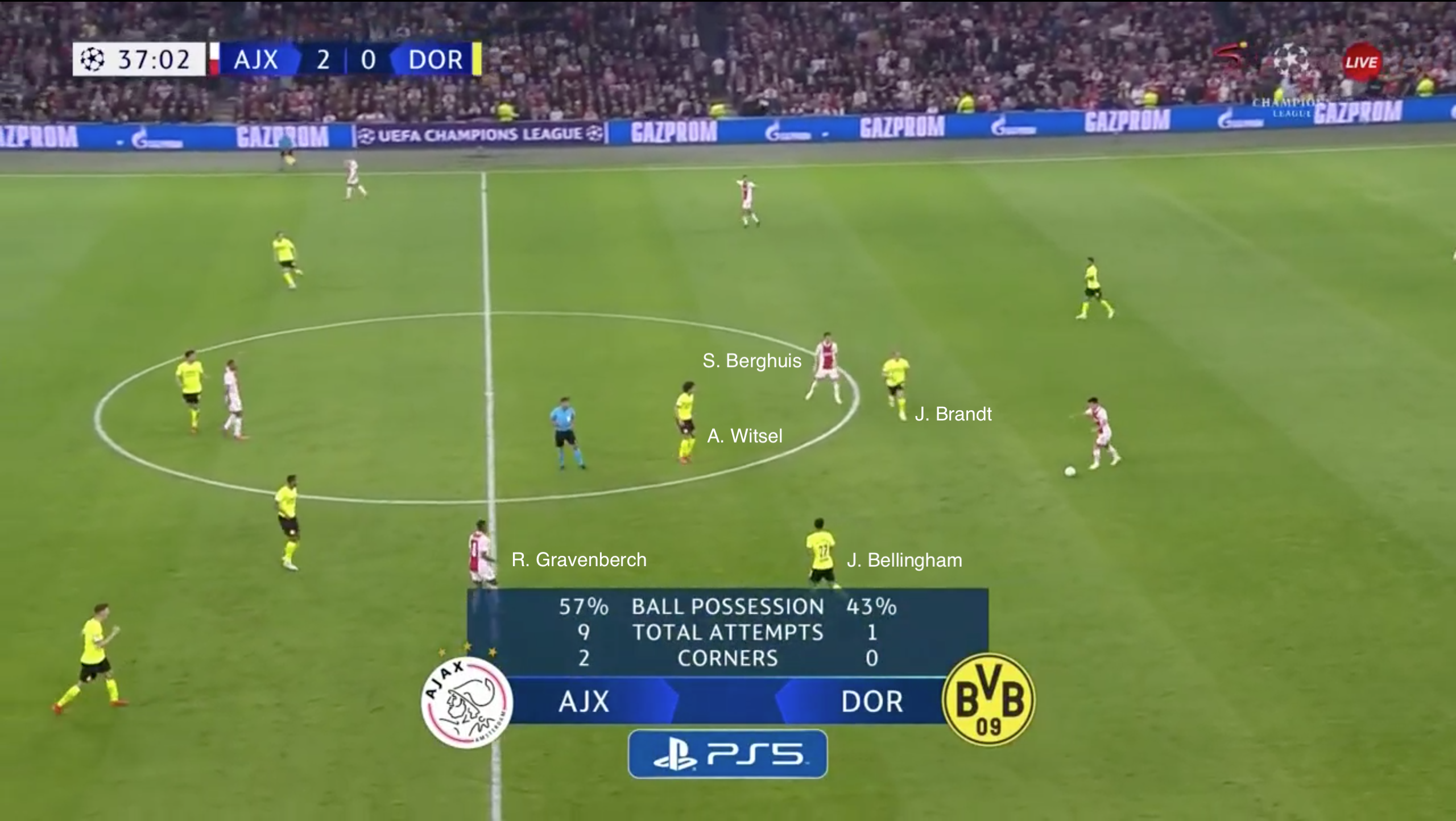 Here, Ajax start the attack with midfield pivot Edson Álvarez, who switches the ball out to Antony on the right-wing. At the moment the pass is played there is probably just two yards of space between Julian Brandt and Steven Berghuis, and Jude Bellingham and Ryan Gravenberch.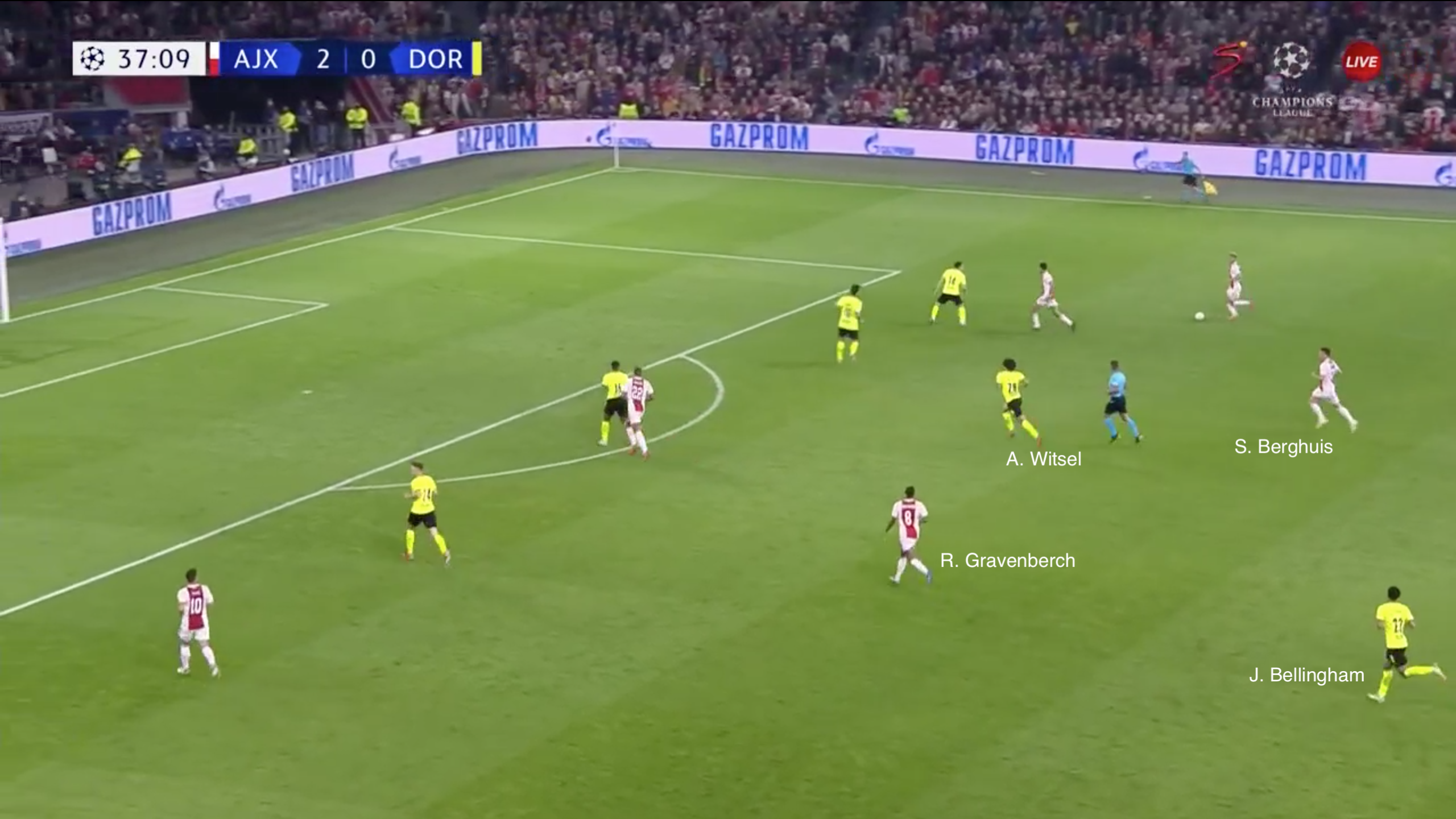 Only seven seconds later, just before Antony plays his pass, the distance between Bellingham and  Gravenberch has almost doubled, and Brandt isn't even in the picture. This isn't an issue with attitude or commitment in the Dortmund midfield, they had just been pounded down so much already that they just couldn't keep up with the Ajax players. 
The ball ends up with Gravenberch in acres of space on the edge of the box, but he fails to take his chance. Less than five minutes later, Dortmund get their own opportunity to score and the difference in reaction is stark.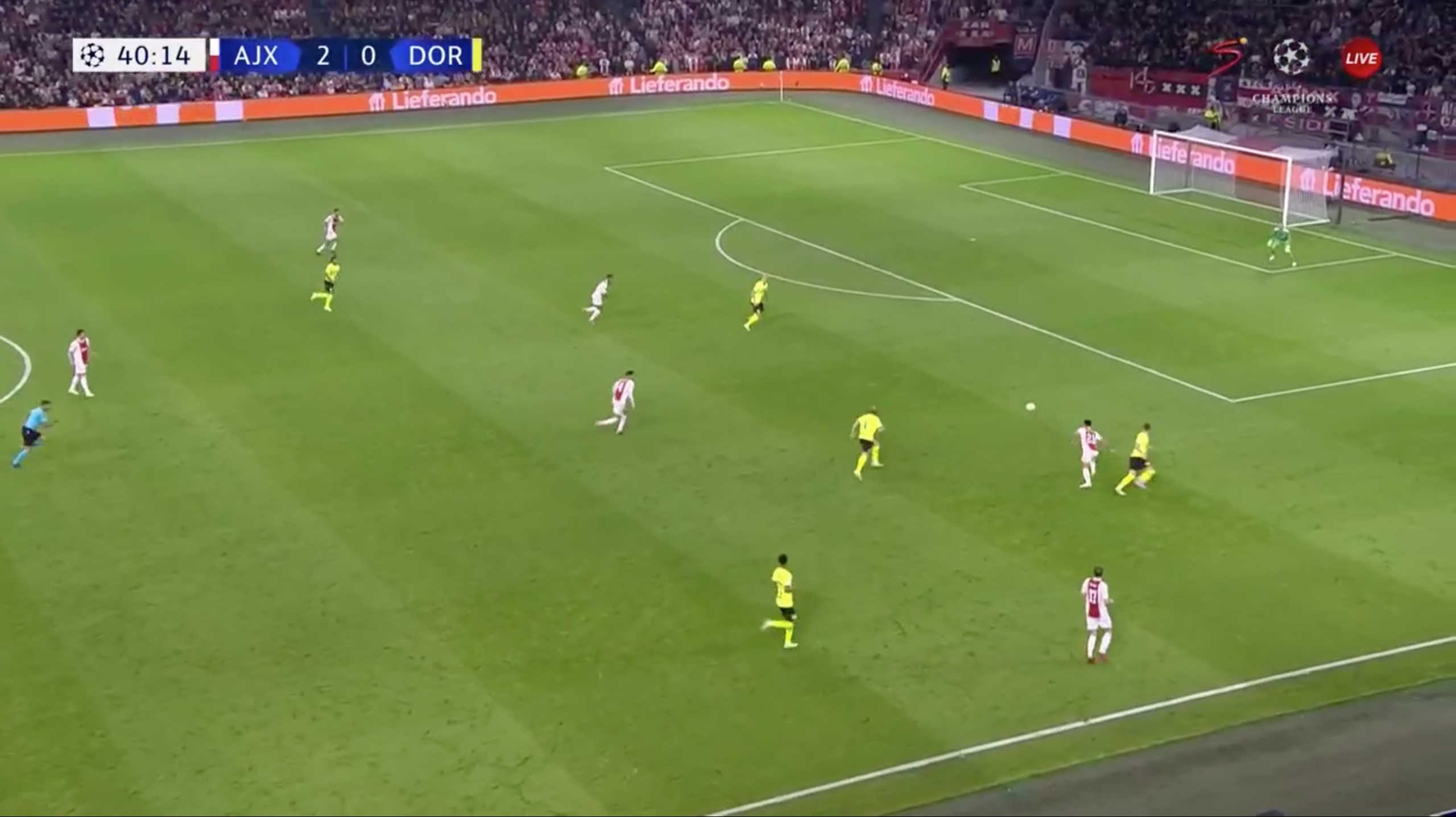 A poor touch from Lisandro Martinez allows Marco Reus to nick the ball and play towards  Haaland, and it looks like a sure-fire opportunity for Dortmund to nick one back. The ball is rolling towards one of the world's most lethal strikers, about 25 yards from goal, with no defenders in his path and Ajax not even close to being in a defensive shape.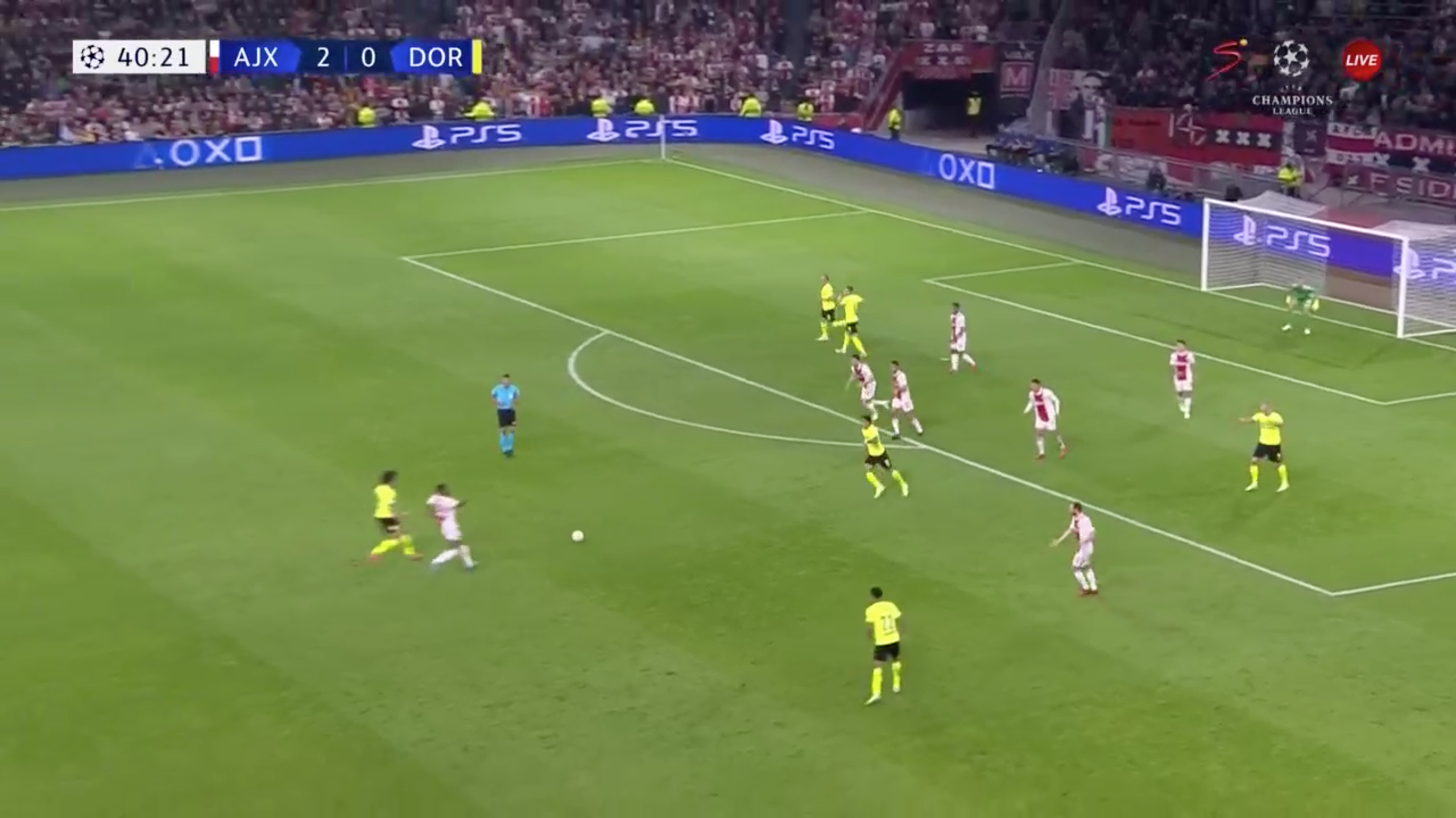 In just seven seconds, Ajax have managed to restrict Dortmund's attack, getting seven players back in to defend really compact, six of which are now between the ball and their own goal. The speed of recovery was astonishing from the home side and this level of intensity and aggression was emblematic over their performance. Ajax were equally as effective when in possession, using the width of the pitch very well. 
A pattern of their game was overloading the left side of the pitch to drag Dortmund's players across, only to switch quickly to the opposite flank where Antony, who had a phenomenal game,  could attack. They had clearly made an effort to expose Dortmund left-back Nico Schulz, who was completely unable to deal with Antony. He was subsequently taken off at half-time. 
Repeatedly we were seeing Tadic, Berguis, Blind, Haller, Gravenberch and Berguis congesting the left-side, drawing the Dortmund players in like moths to a flame. Even Mazraoui at right-back was taking up positions centrally to create more space on the right. You can see it in action below.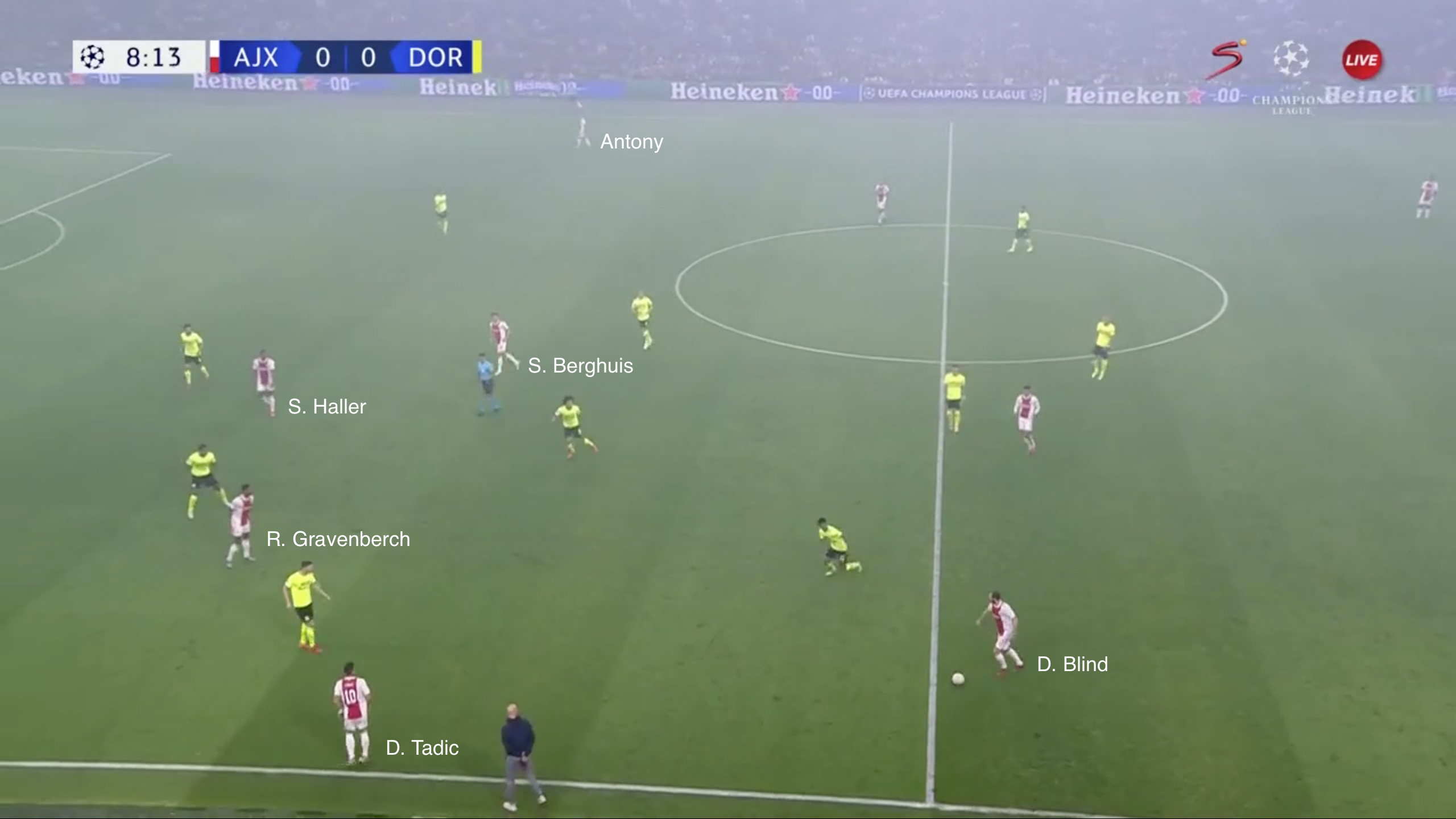 When Ajax were building up with their two centre-backs and Álvarez as the pivot, they would suck the Dortmund press in – the Germans were able to go man-to-man thanks to their 4-3-1-2  formation – but once drawn in, they would send longer balls to the full-backs who were high and wide. 
With no natural wide midfielders or wingers in Dortmund's system, Thomas Meunier and Schulz would have to jump out from their defensive positions in order to close down Mazraoui or Blind. If they didn't get there quick enough then the attacking full-backs were left with plenty of time and space to progress the attack. If they got there but failed to win the ball then they were easily played around leaving gaping spaces in behind. 
Alternatively, Bellingham or Brandt were having to apply the pressure to the attacking Ajax full backs, but that was giving them even more distance to cover when they were already energy sapped. Dortmund were constantly being pulled from left to right to left to right, and Ajax's work out wide eventually saw them rewarded with a goal – their third of the night. 
The play starts down the right with Anthony, and the ball is shifted out left through a few quick and precise passes. Tadic's cross to Haller isn't perfect but it lands at the feet of Anthony once more. As the Dortmund defense slowly and tiredly shuffle across, he is able to cut onto his left foot and curl a lovely finish into the bottom corner. 
This Ajax performance was probably the most complete by any team I have watched this season,  and if they can keep this level up then there is no reason they can't have a campaign similar to that by the famed 2018/19 Champions League semi-finalists.
The squad is full of exciting and ambitious young talent, being led by a brilliant manager in Ten Hag. The Dutchman clearly has a lot to offer the world of football, and with a variety of top-level jobs looking potentially precarious, he may have his eyes on a move to one of Europe's elite come summer 2022.
By: Jake Lane / @jakerslane
Featured Image: @GabFoligno / picture alliance