The Ajax Renaissance: How the Dutch Club Rose to Fight With Europe's Best
In September 2010, Ajax visited Real Madrid in the Champions League for a group stage game. It finished 2-0 as José Mourinho's team were largely untroubled – a Vurnon Anita own goal in the first-half was paired with Gonzalo Higuaín's strike in the second in a routine victory for the club from Spain's capital. Ajax hardly threatened – just one shot on target and a lethargic performance overall from Martin Jol's side was hardly inspiring.
When they returned home to Amsterdam, they got a scathing review from club legend Johan Cruyff.
"This isn't Ajax anymore," wrote Cruyff in his De Telegraaf column. The club he loved was in a mess – their identity was lost, they were no longer a force in Europe and in a world where mega-transfers and massive contracts were becoming the norm, Ajax were left behind.
He criticized the club's decision-making and hierarchy as well as their transfer activity, believing they had purchased too many overpaid players rather than promoting from the youth team, which was the norm in Amsterdam. The Champions League successes in the 1970s and perhaps more famously, in 1995, all of which featured a core group of young local footballers enjoyed the greatest success – he felt staying true to that philosophy was the only way to compete with Europe's elite in a game largely favouring the financially elite.
Cruyff's column was a call for change, and thus began the transition dubbed as their Velvet Revolution, taking the name from the 1989 transition of power in Czechoslovakia. By November that year, Cruyff had called on people who had followed his methods and been successful with it over the years. The likes of Dennis Bergkamp, Wim Jonk and Marc Overmars followed to help repair Ajax. Frank de Boer signed on as head coach, replacing Jol, and a renewed youth-centred approach was to follow.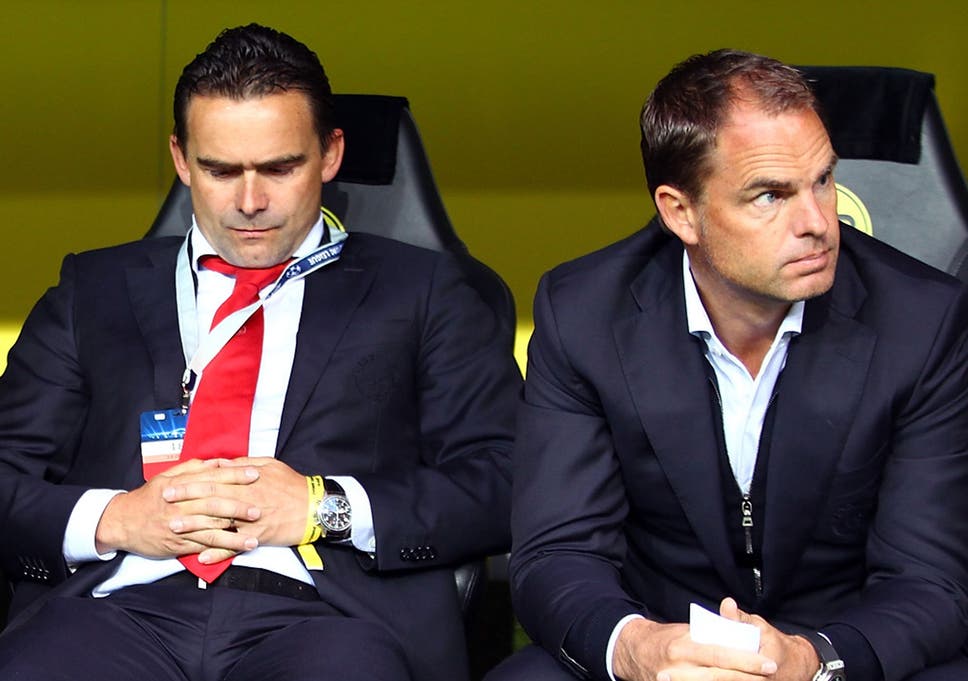 Photo: Getty Images
The former Barcelona player and his disciples were adamant – and they had the fans' backing. The player's heroics in the '70s and his impact on the Dutch game overall was too hard to ignore. In the 14th minute (commemorating his famous shirt number) of home games, they would chant in support of his ideology: "Stand up if you support Johan! Stand up if you support Johan!"
To calm fans down, the board appointed him as a member of the board in 2011, but that relationship didn't get off to the best of starts. Behind his back, they also reached an agreement for Louis van Gaal. While the goal of the club was clear, this wasn't the smartest idea – the pair hadn't been on good terms.
To the fans, they were both heroes of different eras, and perhaps that is where the feud between the two stemmed from. They had similar ideologies, a belief that their philosophy was the right one. After months of arguments, in February 2012 the Amsterdam Court of Appeals judged that Van Gaal's appointment was not valid. He would then move on to take the Dutch national team job.
The ruling also meant that the board was under fire and had to go. For months, they had resisted Cruyff's revolution, but now, after stabbing him in the back, they were in the wrong and the fan pressure on them was immense. The group of ex-players, now featuring Edwin van der Sar as well, took over.
While all the drama was going on in the boardroom, Ajax were maintaining some consistency on the pitch. Under De Boer's management, they won three-successive league titles between 2011 and 2014, but their European record was still below par.
In all three title-winning seasons, they were knocked out in the group stages and then the Round of 32 in the Europa League – an unacceptable record for a club of this stature. De Boer himself remained neutral. Both Cruyff and Van Gaal were crucial to his playing career and he continued to do what he was brought in to do: win games.
In addition to that, their transfer activity was also questionable. Key players like Luis Suárez (2011), Jan Vertonghen (2012), Christian Eriksen (2013) and Daley Blind (2014), amongst others, all departed and were never replaced with adequate quality. Soon, their poor handling of transfers caught up to them. PSV Eindhoven would claim the next two league titles with help from a young group of their own.
In March 2016, Cruyff sadly died, but his legacy would continue. The changes he wanted to see were implemented largely by the changes he made himself in the early 2010s – the old guard of Ajax were bringing fresh ideas.
---
The arrival of Peter Bosz brought joy to plenty of Ajax supporters. His style of attacking football fit the club's persona perfectly and his reputation was good. Having managed the likes of Heracles Almelo and Vitesse Arnhem in the Netherlands previously, Bosz was returning to his home nation from Israel, where he was the manager of Maccabi Tel Aviv – the club where Johan's son, Jordi Cruyff, was the sporting director.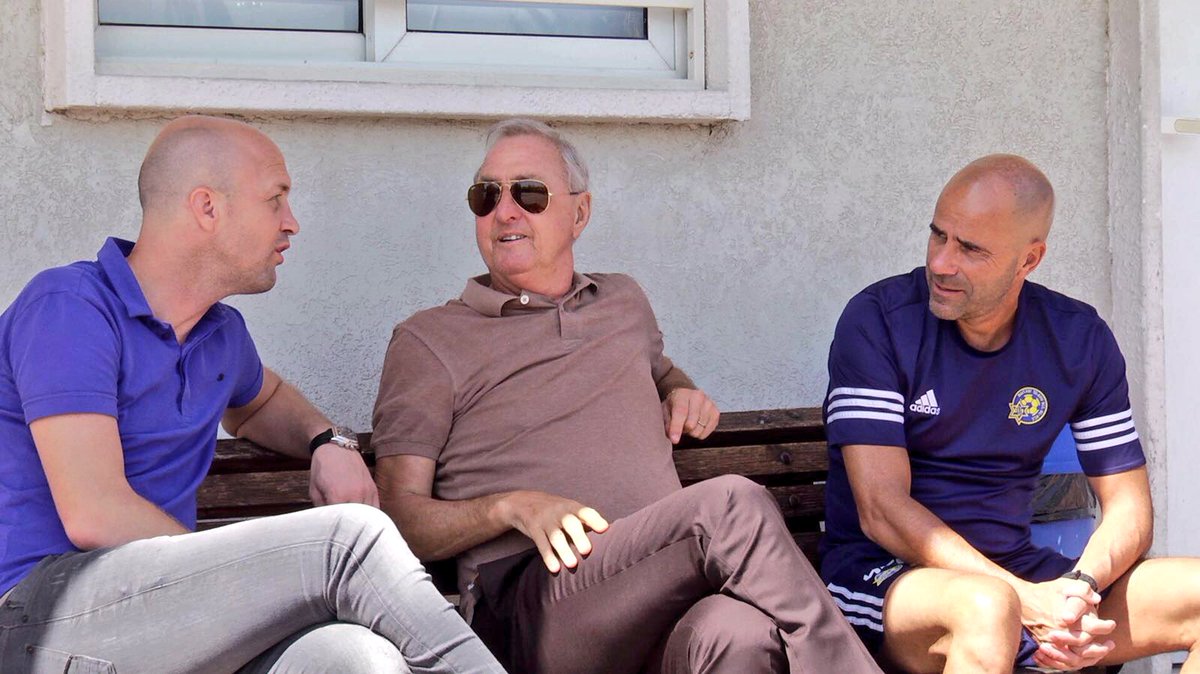 Photo: Jordi Cruyff Twitter
Ajax's decision to appoint Bosz had a bit of influence from the Cruyffs. In March 2016, weeks before Johan's passing, Bosz spent a week talking to him. About that experience, he said: "In one week I learned enough for 10 years."
The board were happy to take a chance on him because of his playing style and his hunger to win. "The clubs that he has managed have always played technical attacking football and that fits with Ajax," said club CEO Van der Sar. "He has a clear vision and we are delighted with the fact that he is coming to Ajax."
Van der Sar himself had earned a promotion to become the club's CEO earlier that year. He returned to the Amsterdammers in 2012 as a marketing director, establishing key links around the world and extending the Ajax brand.
With TV revenues limited and the league being far less popular than the likes of the Premier League and LaLiga, the Champions League and transfers were the only key source of revenue for Ajax. Van der Sar helped fix that, and they now have partners in almost every continent. His rise to becoming CEO was well-deserved, and not only has he improved Ajax off the pitch, but on it, there has been a substantial change.
Bosz's arrival raised the positivity around the club drastically. The coach was the perfect fit for Ajax as they returned to their roots. This was what Cruyff wanted – a club that's run like a family business. In the boardroom, Van der Sar was becoming an unlikely, unexpected management expert; on the pitch the likes of Bergkamp and Jaap Stam were involved in the coaching side of things; on the touchline sat Bosz, who grew up being inspired by the glorious Ajax sides of the '90s.
Such was his fascination with Van Gaal's teams that he would travel to Amsterdam from Rotterdam, where he lived, to observe training sessions whilst also keeping a scrapbook of Cruyff's articles in order to enhance his learning.
Most importantly, though, the soul of the team were the players, and this Ajax felt like Ajax again. Youngsters like André Onana, Davinson Sánchez, Justin Kluivert, Kasper Dolberg and Matthijs de Ligt became integral parts of the first team.
Another player, Hakim Ziyech, was a handful for opposition defences down the right side. His signing earlier in the 2016/17 season was a signal of the direction Ajax were taking – young players with potential to grow made far more sense than the signings they were making earlier in the decade.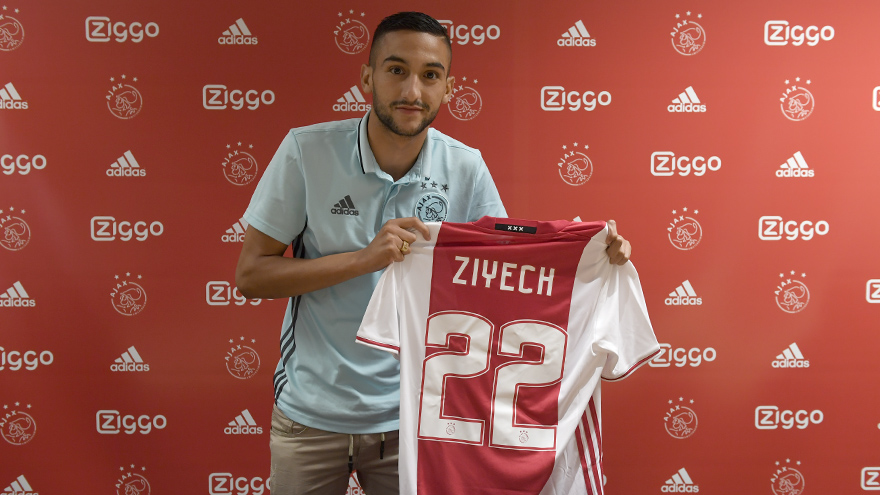 Photo: Ajax / Louis van de Vuurst
That season, they weren't able to win any trophies but they dazzled in Europe, where they reached the final of the Europa League in convincing fashion. Along the way, they beat the likes of Schalke and Lyon, and this was a team everyone could get behind.
Bosz was happy to give youngsters a chance – he truly believed that if they were good enough, they were old enough. Sánchez came from Colombia and adapted to European football seamlessly; De Ligt was only 17 and in his debut season. He showed the maturity of someone in his late 20s, proving to be captain material.
"No one could quite believe what we were seeing and there was a feeling in the stadium which was almost non-Dutch and non-Ajax, as if the people and players became one body," said Auke Kok, Cruyff's biographer, to The Guardian. "It was intimidating and an emotional release from the fans who'd been watching disappointing, boring games for too long."
They dramatically beat Lyon in the semi-final with a starting team that included seven players under the age of 21. On 24 May 2017, exactly 14 months after Cruyff's passing, Ajax played their first European final in 21 years, hoping to win their first European trophy in 22 years – the last was Van Gaal's Champions League which included a similar homegrown group of youngsters. Unfortunately, Mourinho's Manchester United proved to be too experienced for them as Ajax hardly troubled, but this was a great season.
In the summer, Bosz would depart for Borussia Dortmund, but that didn't halt Ajax's upward trajectory. Sánchez, the star defender, would leave for Tottenham Hotspur as well. The Colombian's presence and eventual departure gave Ajax a renewed model to follow: they intensified their scouting in South America.
Having signed him for just €5 million and sold him for €42 million a year later, this was an incredibly profitable deal. Sporting director Overmars was crucial to this, as he facilitated the arrival of scout Henk Veldmate.
Veldmate was the man that brought Suárez to the Netherlands when he was working with Groningen. Having joined as the Head of Scouting at Ajax in 2016, the experienced scout has targeted South America, bringing in talents that have been crucial to the first team.
Indeed, for every Sánchez and David Neres, there is a Lisandro Magállan and Luis Manuel Orejuela, but this method has contributed heavily to Ajax's first team in recent times. Nicolás Tagliafico and Lisandro Martínez are two more examples of this working out, and certainly in the future, their network in South America will work out.
I spoke to Van der Sar at the Dubai International Sports Conference in December 2019 about this model:
"Four or five years ago, we were focusing a lot on the Scandinavian regions but because they're very much like the Dutch talents we felt we needed to go for something else which is why we started looking at South America.

Players like Neres from Brazil and Tagliafico and Martínez from Argentina and now we're looking at Mexico too. That way, we can find the right balance between South American grinta and the Dutch or European style and provide more experience to the players."
Also at that conference, Van der Sar spoke of a renewed strategy which saw them move for older players, many of whom had a connection with Ajax and Dutch football. Klaas Jan-Huntelaar moved back to Amsterdam in 2017 after seven years in Germany with Schalke. Daley Blind joined him in 2018 after four years in England with Manchester United. Both played for Ajax earlier in their careers.
They were joined by Dušan Tadić, a player who had Eredivisie connections, but no links with Ajax. His career had stalled at Southampton but was rejuvenated after returning to the Netherlands in 2018. Van der Sar believed adding these older names was crucial to support the younger players they were bringing through, and it has worked out well for them.
De Ligt was one of the rising stars in a generation that was destined for greatness. He was joined by Donny van de Beek and Frenkie de Jong (signed from Willem II), who would rise through the ranks and into the first team.
In March 2019, over nine years after Cruyff's rant in De Telegraaf, Ajax went back to meet Real Madrid and dazzled. They won 4-1, eliminating the reigning European champions on their march to the semi-finals of that season's Champions League. Juventus were put to the sword in the last eight and had it not been for Lucas Moura's late heroics, they would've beaten Tottenham to make the final of the Champions League.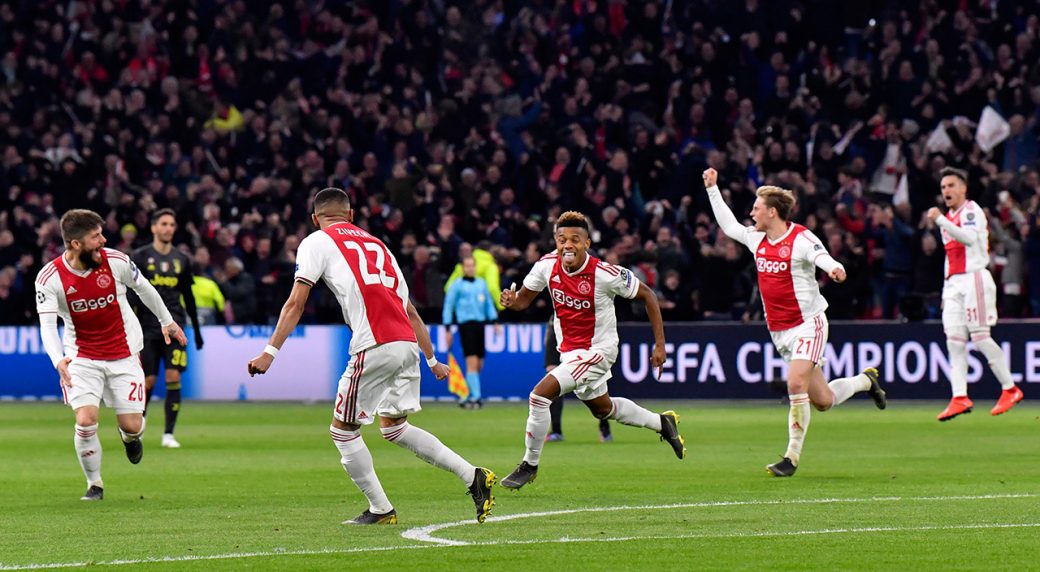 Photo: Martin Meissner/AP
That Ajax team was special and it was dismantled quickly. De Jong struck a deal with Barcelona in January, months before Ajax made it to the semi-finals; De Ligt left for Juventus that summer; Ziyech and Van de Beek moved to England with Chelsea and Manchester United in 2020 while the likes of Neres and Onana are sure to find new homes soon.
That is part of the charm for these players – the club recognise that other leagues are far more prestigious and lucrative than the Eredivisie and they won't stand in their way if they want to move, provided they give it their all before it. The four players were crucial to Ajax's success over the last few years and earned deserved moves abroad.
In Rory Smith's piece for the New York Times in February 2019, he wrote about how Ajax prepared themselves and the players for these situations, giving examples of players they've developed previously who have moved on to greater things.
They summoned a group of players in the summer of 2018 – Onana, Dolberg, Kluivert, De Jong and De Ligt – and compared them to Van der Sar, Zlatan Ibrahimović, Patrick Kluivert, Eriksen and Barry Hulshoff respectively through a film. Van der Sar said the film was to persuade players to stay and fulfil their potential in the Netherlands first, before moving away.
That tactic worked. Five of those six stuck around for that famed Champions League campaign, and when they left, they left with the best wishes of the club. No bad blood, no rage, no drama. It showed the identity of the club, how they stick together for good things and how they support decisions.
When they did leave, there was an exclusive emotional video made for each of them for Ajax's social media channels. For De Jong, it was a compilation of his skills in midfield, with the hashtag #FrenkieFuturo and the caption "Barcelona, enjoy the future, like we do."
For Van de Beek last week, it was a video of him making a call to his father as he said he achieved his goals with Ajax and was taking the next step. #DreamLikeDonny, said Ajax. Similar tributes have followed for others such as Ziyech, who didn't have the typical Ajax education as a youngster.
Many of them keep a bit of Ajax at their new clubs. When talented youngster Abdelhak Nouri collapsed in a friendly in the summer of 2017 and had to end his playing career, it shook many of his team-mates. As a tribute to him, several ex-Ajax players wear his shirt number. Kluivert wore the number 34 at AS Roma, Van de Beek at Manchester United, Amin Younes at Napoli, Joël Veltman at Brighton and Hove Albion and more. Ajax are a family, and this is their tribute to a member that was so dear to so many of them.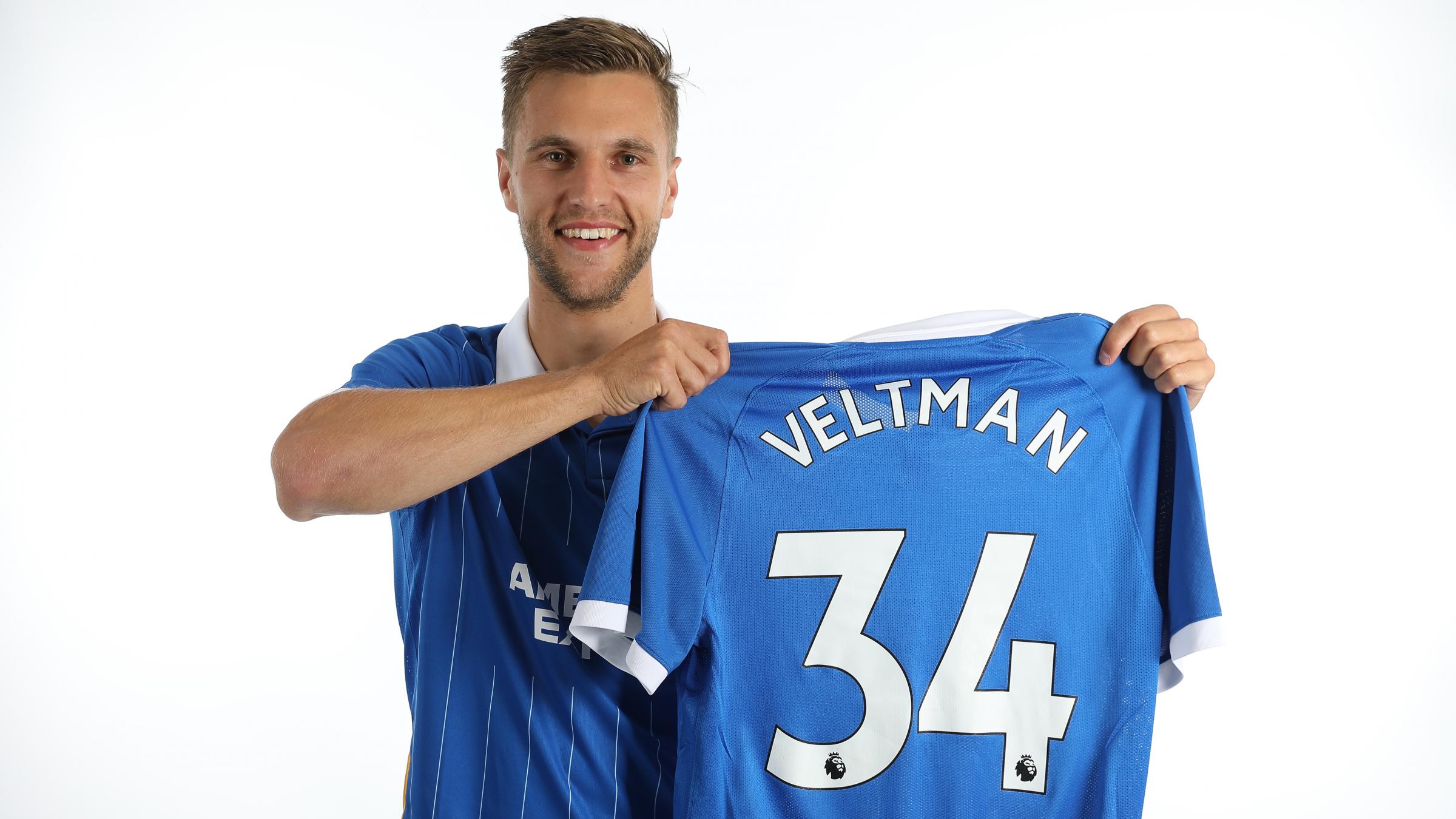 Photo: BHAFC / James Boardman
New coach Erik ten Hag took over in the 2017-18 season and has integrated talents from abroad and locally well. The academy has always been at the heart of Ajax's success and in recent times, De Toekomst has been important once again.
In recent years, they've increased their international links, forming partnerships in China with Guangzhou R&F while locally, they continue to create a pathway to the first team. The club take advantage of their second team, Jong Ajax, to give these teenagers a chance – many of them prove their quality at this level, showing their class as teenagers.
"I want to bring Ajax back on the world podium and deliver players for ourselves – to win trophies but also to (provide) the next step for (the players)," Van der Sar says to CNN. "Hopefully, as many Ajax players or ex-Ajax players are going to win the Champions League. I'd rather have it with our club. But then if not with a respective big club in other countries," he adds.
After the era of Cruyff, Ruud Krol, Jonny Repp in the '70s, the times of Kluivert, Edgar Davids and Clarence Seedorf in the '90s, now, it's time for Naci Ünüvar, Brian Brobbey and Kenneth Taylor to shine. Ryan Gravenberch and Sergiño Dest are already making their mark for the first team, whilst Sontje Hansen, Jurgen Ekkelenkamp and Quinten Timber could be given minutes next season under Ten Hag.
With a management consisting of the club's ex-players, the team playing the way that made Ajax famous decades ago and staying on top of the competition, Ajax are now the Ajax Cruyff envisioned. His call for change 10 years ago was the catalyst for change and now, despite losing stars each year, they're still able to challenge Europe's elite.
This is the new and improved Ajax, and they are a breath of fresh air in a game that was seemingly so distant from them not too long ago.
By: Karan Tejwani
Featured Image: @GabFoligno / Dean Mouhtaropoulos/Getty Images / Emmanuel Dunand / AFP via Getty Images