Tactical Analysis: Andoni Iraola's Rayo Vallecano
Scour the length and breadth of Europe – maybe even the world – and you'd be hard-pressed to find a football club quite as fascinating, or quite as baffling, as Rayo Vallecano. 
Known to many as the last of the Spanish neighbourhood clubs, Rayo's famous red stripe represents not just a football club, but an entire community. Vallecas, or the Independent People's Republic of Vallekas, lies on the periphery of Madrid both geographically and ideologically, standing proud as the hard-left barrio in the cosmopolitan capital. 
Its inhabitants are loud. Rayo Vallecano's "ultra" fans, Los Bukaneros, are intensely politically engaged, and use football as a social outlet, to have their voices heard. And so, while the team might be small, their home outdated, dangerous, quite literally falling apart; the spirit that courses through the Estadio de Vallecas on a LaLiga matchday is something quite uniquely thrilling to behold. 
Even so, atmosphere alone cannot explain the results. With a stand missing, rotting foundations, and a one-man ticket office, their crumbling stadium is statistically the strongest fortress in all of Europe.
Don't Stop Them Now: How Rayo Vallecano's Feel-Good Tale Has Made a Neighborhood Dream
Not even Manchester City or Bayern München have 26 points from a possible 30 at home – but a club who finished sixth in the Spanish second division last season, scraping through the play-offs, who are plagued with financial issues, and at eternal ideological war with their supporters, do – with a remarkable 20 goals scored and 4 conceded, to boot.
Many look to the man in charge. Andoni Iraola, the second-youngest manager in LaLiga, made 510 appearances at right-back for Athletic Club, and played under Marcelo Bielsa, Ernesto Valverde; alongside Lampard, Villa and Pirlo. His ideas are Bielsa-like – bold, courageous, high-octane – his demeanour reminiscent of Valverde – more reserved, calm and calculated.
He has worked miracles before in his short managerial career, taking Segunda side Mirandés to the 2019-20 Copa del Rey semi-final, beating Sevilla and Villarreal on the way, but this Rayo rollercoaster ride feels more significant. A resounding affirmation to the footballing world, perhaps, that Andoni Iraola is no one-season wonder. 
His philosophy is refreshingly high risk, high reward, relying squarely on athleticism and commitment to maintain some sort of order within the chaos, whereby attacks are full-blooded and direct, and defence is immediate and aggressive.
Completing the 2nd most high-intensity actions per game, according to LaLiga Beyond Stats, while also committing on average 3.2 men to the press after losing possession, it's a demanding system, relentlessly positive and incredibly courageous for a side of such limited resources. But it's working, somehow – particularly under the lights in Vallecas, where every game passes by like a whirlwind. 
In an attacking sense, one of the principal ways in which Rayo look to break through the defensive line is through extreme attacking width and verticality, using tireless full-backs Fran García and Iván Balliu to stretch and overload the opposition back-line.

Particularly on the left, Iraola's side have been devastatingly efficient at getting in behind the opposition full-back, utilising the frightening pace of Fran García and his wing partner Álvaro García – officially the quickest player in LaLiga this season – to storm to the by-line and look for the cut-back.
And indeed, with 79 crosses for Álvaro and 52 for Fran, the 1st and 10th most in the league respectively, the two-pronged attack of full-back and winger – owing both to Fran's extraordinary fitness and Iraola's rip-roaring tactics – remains one of Rayo's most potent weapons as they continue to rip up LaLiga scripts.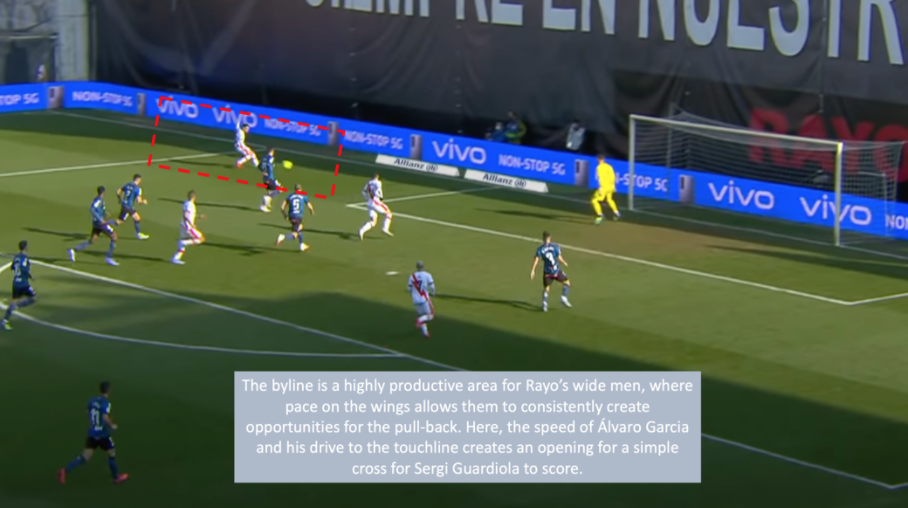 While the left is all about pace and power, Rayo's right side of Isi Palazón and Iván Balliu is more reliant on craft and guile, using inventive interplay and high-quality dribbling ability to break through to the by-line.
27-year-old winger Palazón, playing only his second season of professional football, is a magical dribbler with a low centre of gravity, really adept at twisting and turning through challenges and coming inside onto his marvellous left foot, and always aware of the tireless Balliu bombing down the wing on his outside.
Because again, the trick here is width, with the Albanian full-back hugging the touchline and making the pitch as wide as he can for his teammates, pulling markers away to afford Palazón some space, or peeling away himself and offering that run in behind.
Below, combining for a goal in a 3-1 win against Cádiz, we can see the type of wide sequences and movements that Rayo's right-hand side often initiate in order to drag defenders from side-to-side and pull apart the kinds of gaps that they love to attack.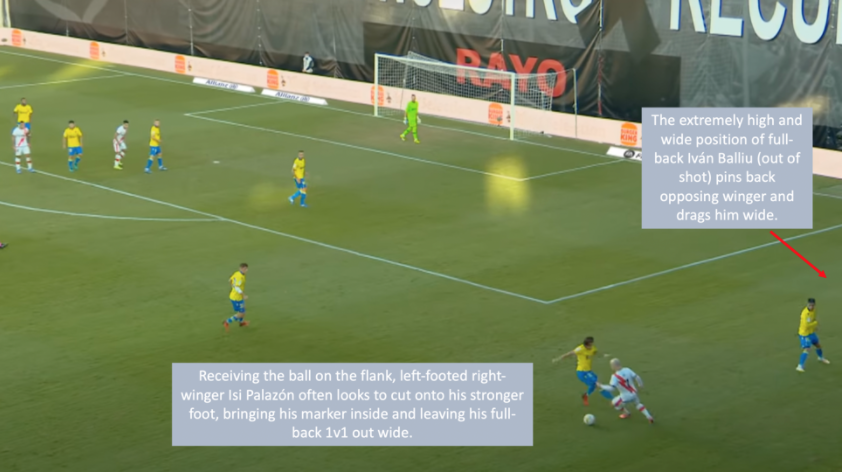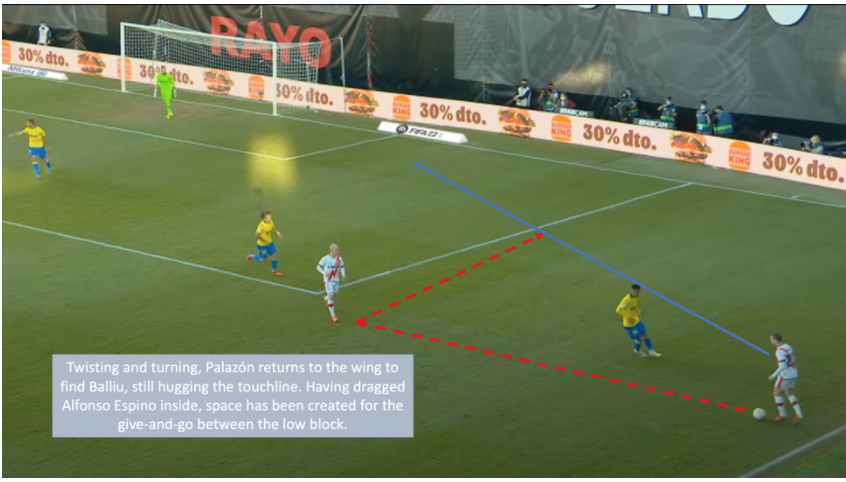 While such combinations and overloads in wide areas are particularly effective, they do occasionally come at the cost of defensive shape, something that Iraola's players are wary of. "We know there might be times when our opponents will catch us out on the break" says Palazón, "with our centre-backs open and our full-backs so high.
But these are the situations that we have to deal with. At Rayo, we know that if we want to win, we need to receive the ball in dangerous positions, because in the long run, more good things are going to happen from these situations than bad."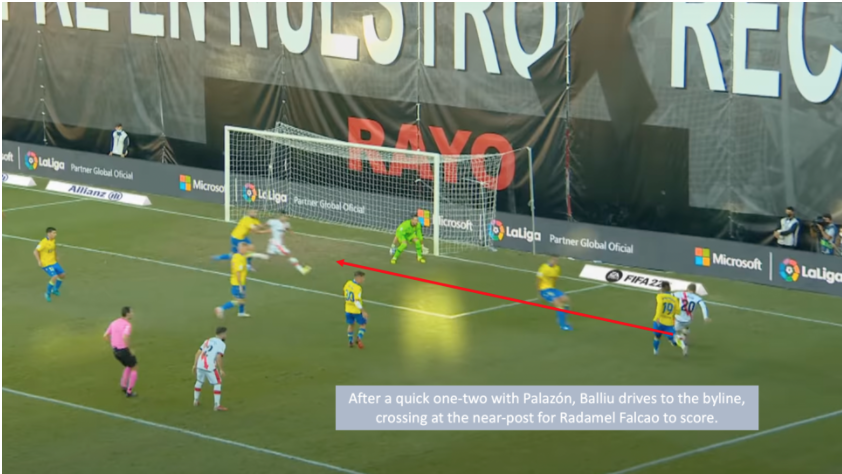 Similarly, in a more central role, 33-year-old Óscar Trejo seems to be enjoying his twilight years more than any other stage in his career, exploiting the extra space created by the wide full-backs to register more assists than anyone else in the division so far this season.
Dribbling past around three players per game, as well as providing close to three key passes per 90, his creative output is up there with the best in Europe, with the majority of his eight assists coming from receiving the ball on the half-turn and threading the ball through enemy lines. 
Perhaps most significantly though, is Trejo's ability to defend from the front, where his relentless pressing means that his 'attempts created through defensive actions' statistics are amongst the best in Europe.
Here, pickpocketing Sergio Busquets and threading the ball through to Radamel Falcao, his intensive defensive attitude and pinpoint passing from central areas helps his side to their first win over Barcelona in over 19 years, encapsulating the spirit and belief pumping through this team.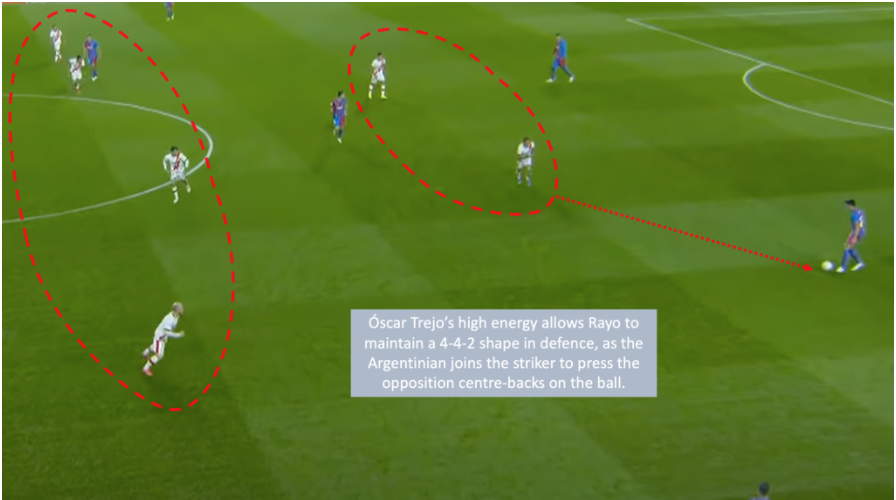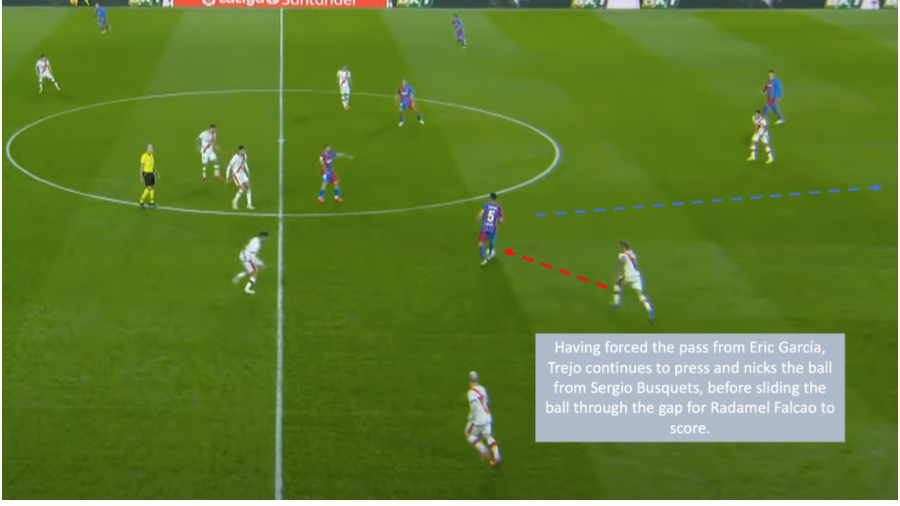 With Iraola's fluid, high-tempo philosophy, such pressing is also essential in ensuring that Rayo's potential weaknesses on the counterattack are protected. While Trejo finds himself in the top 1% in LaLiga for pressures made in the final third, Álvaro García has made the most interceptions of any winger in the league, whereas Isi Palazón sits in the upper quartile for pressures, tackles, interceptions and blocks.
Behind them, the holding midfield duo of Santi Comesaña and Óscar Valentín are the two players with the most pressures completed in Spain, with 440 and 417 respectively – the only two players to break 400 – showing just how hard this teamwork to protect their defence and pin the opposition back.
In a perfectly balanced midfield pivot, where Comesaña's progressive dribbling and tackling abilities complement Valentín's monstrous defensive statistics, Iraola has found a reliable core around which to build an exciting, free-flowing team. 
Defensively, six-foot-four centre-back Alejandro Catena has been another quietly brilliant performer, winning close to 80% of his headers – including a thumping finish against Alavés last weekend – while goalkeeper Stole Dimitrevski is recording some of the best save percentage numbers in Europe, conceding five fewer goals than his Post-shot Expected Goals numbers would suggest.
As ever, though, with expected metrics, it will be interesting to see if the North Macedonian can keep up such figures, and whether Rayo's form might waver if those incredible performances start to slip. That, really, seems to be the one lingering question. Sustainability.
Ronaldo and Real Valladolid: Understanding O Fenômeno's Purchase of a Modest La Liga Club
Iraola himself is always quick to dismiss any record finishes, telling the media that he is "convinced that this will turn". There are statistics that bring this side back down to earth, as while the home record is scarcely believable, they've won just once and drawn twice on the road, picking up just 5 points from a possible 30.
With Real Madrid, Sevilla and Atlético Madrid to visit Vallecas in the coming months, perhaps that might be a better time to really evaluate the true potential of this fearless football team.
For now, though, in a place where chaos reigns, Rayo's remarkable resurgence is something that should be savoured. You'll never find stability in this part of Madrid – not in any part of life – but at least Andoni Iraola has got the local football team playing with exactly the kind of grit and determination that any team from Vallecas should. 
By: Thomas Harris / @ThomHarris_
Featured Image: @GabFoligno / Quality Sport Images – Getty Images