Tactical Analysis: Asymmetry at Tottenham Hotspur
Perhaps the most notable and significant tactical element of Tottenham Hotspur since José Mourinho was appointed last November has been the use of asymmetric full backs, with the left-sided player tucking in to create a back three whereas the right-sided player sits in a more advanced position.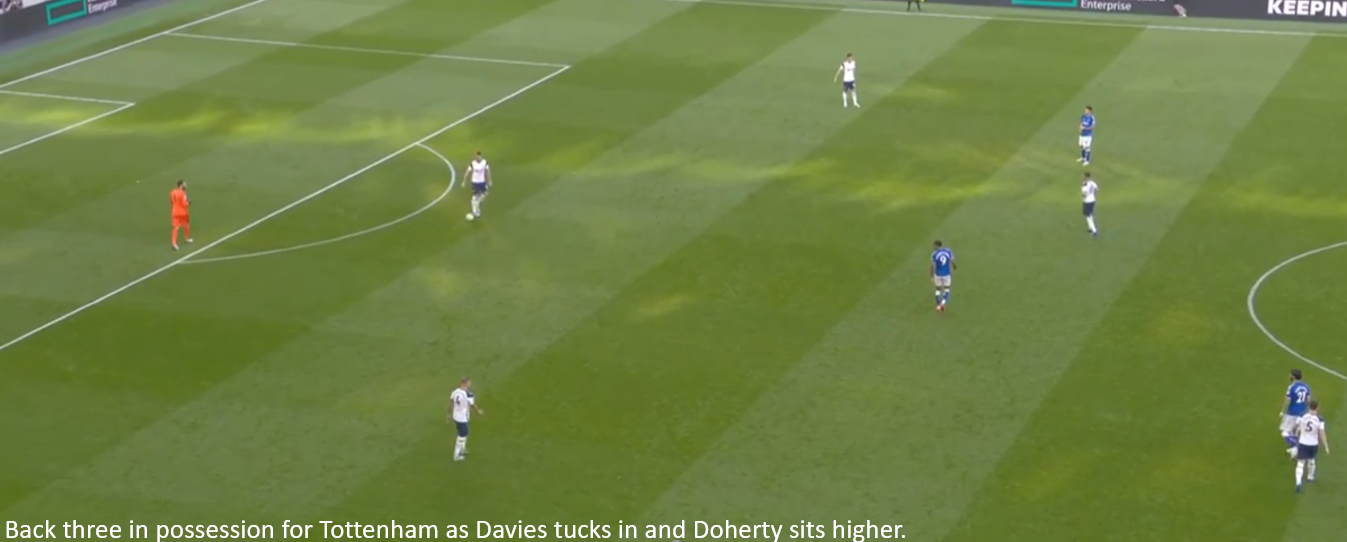 This asymmetric fullback setup creates a balance with the corresponding wingers, who have to adapt their movement and positioning due to the predictability of how the fullback on their flank will operate. Thus, the entire wide dynamic becomes rigid as there is a series of compensations which happen offensively in order to adjust to the difference in full back positioning.
These compensations are that the right winger typically tucks into the half space and rarely deviates while the left-sided attacker has the responsibility to hold width. In summary; asymmetrical full backs lead to asymmetrical wingers.
This can make Spurs seem turgid during consolidated periods of possession as they lack fluidity and movement to penetrate the defense. The structured set-up leads to lateral passing until the right back is found in space as the outlet. Rotations can happen, but because of the left back's requirement to tuck in, these rotations almost exclusively happen down the right.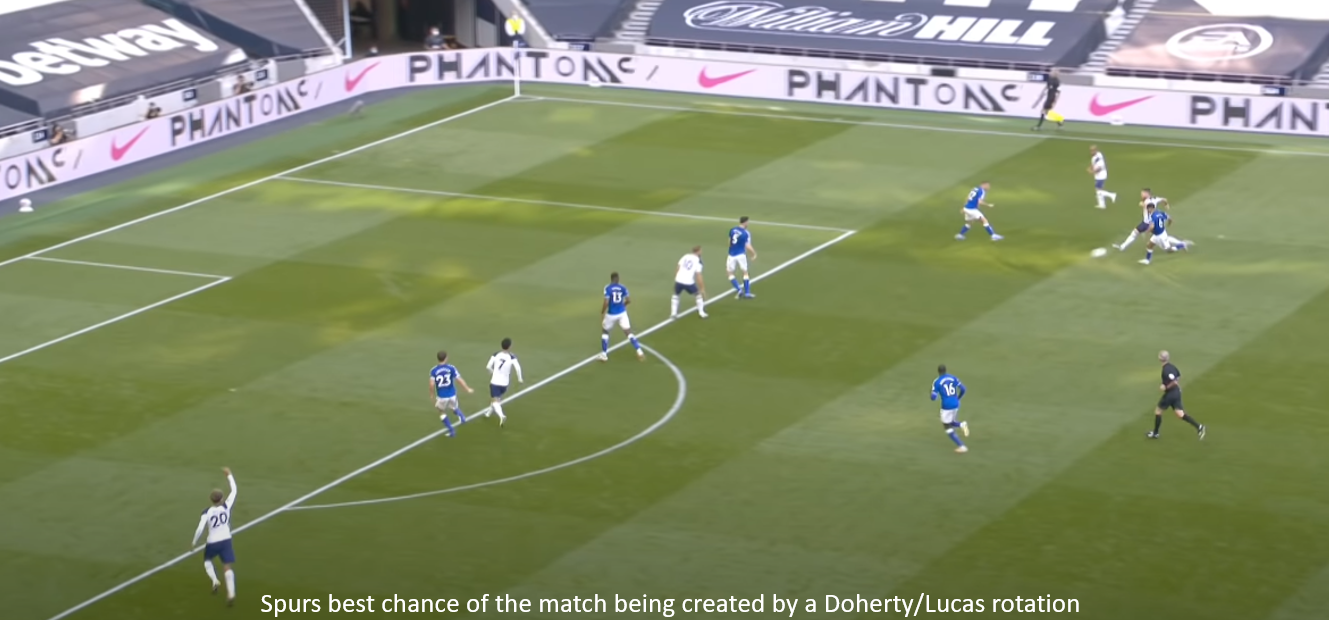 The rationale behind the asymmetry is that by having a back three in possession, one can achieve stronger deep circulation by achieving a numerical superiority against the first wave of pressure and maintain possession in central areas.
Tottenham can maintain a deep double pivot in conjunction with their back three because they choose to sacrifice a fullback (typically Ben Davies) rather than a defensive midfielder in order to achieve the three, furthering the team's ability to hold deep central possession.
Consequently, a centrally compact 3-2 build-up shape is achieved with the pitch constantly being stretched by the right full back and left winger, with the right full back acting as the outlet which makes it difficult for opposing teams to successfully press them.
This helps the team achieve an attacking shape of a 3-2-5, allowing them to occupy every horizontal zone, widening the pitch, and causing gaps to appear which the attackers can then exploit after a cross. Moreover, through overloading one side of the pitch on the right, they can draw the opposition's defence over, creating room to isolate Heung-Min Son on the left flank for either a shooting or dribbling opportunity.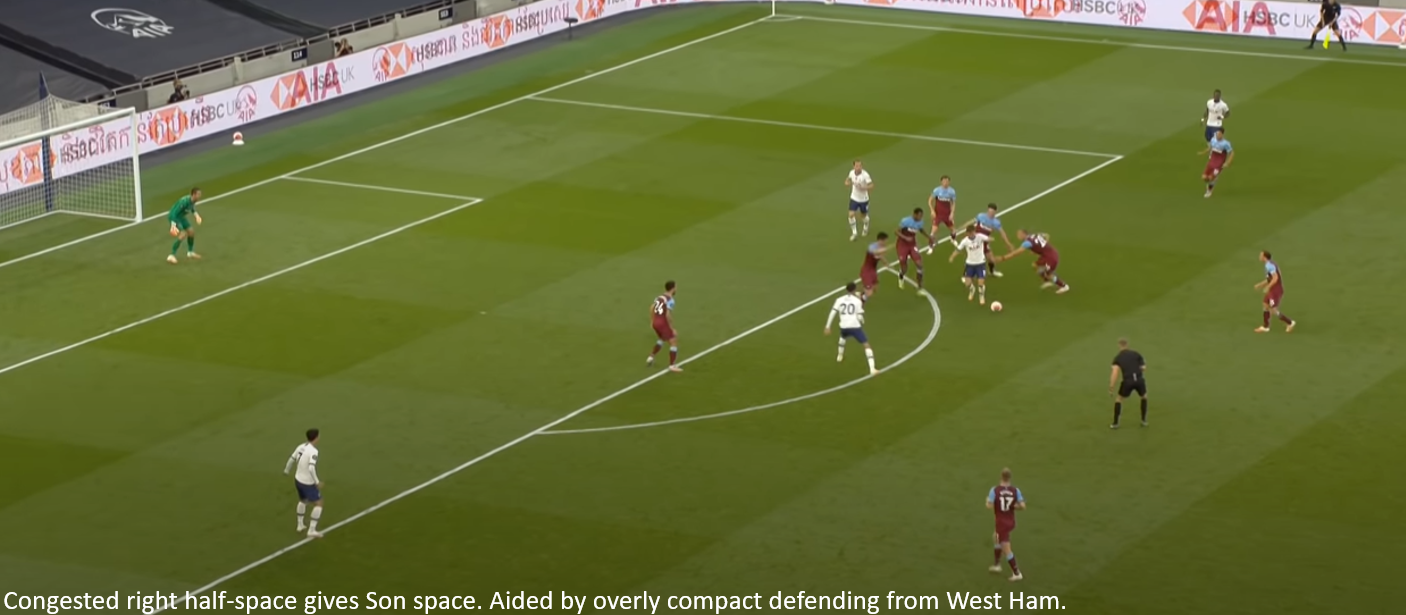 Tottenham have the profiles required to execute this strategy; in defense, Eric Dier and Toby Alderweireld are competent ball-playing defenders, with the latter possessing an excellent passing range to exploit space behind the opposing defense.
Pierre-Emile Højbjerg, Harry Winks and Giovani Lo Celso are all capable at circulating possession quickly while having the ability to play an intelligent pass in between the lines or attempt a longer switch out to the opposite flank, while Tanguy Ndombele and Lo Celso can break lines through their dribbling to alleviate pressure and create passing options through disrupting defensive shapes.
Matt Doherty, a wing back at his previous club, Wolverhampton Wanderers, another team that uses a 3-2 build-up shape, is afforded tantamount attacking freedom by occupying advanced areas, showing a consistent willingness to surge into the box. Although he may lack the ball progression abilities of Serge Aurier, he is better at driving forward and exploiting space, winning territory and crafting a crossing opportunity.
On the other flank, Ben Davies can act as the more reserved full back, and although he sometimes looks uncertain in possession, he has the team structure around him to compensate for shortcomings. Thus, before critiquing the potential issues which arise because of the shape, it is important to note stylistically it is tailored to the players Mourinho has at his disposal. 
This deep commitment can make infiltration in between the lines difficult because of the limited scope of movement afforded to players and because only two players are present to receive the ball in that area: the attacking midfielder and right sided attacker.
As one of the few players afforded positional freedom, Harry Kane's proclivity to drop deep and receive between the lines can help alleviate this issue as it creates the potential for rotations, as he can use his playmaking ability to pick out the likes of Dele Alli, Lucas Moura, and Steven Bergwijn in space. However, it is important to note that the only room for fluidity during the transition between defensive possession and verticality is the attacking midfielder or Kane dropping deeper or making a run in behind.

After the ball has been progressed from the deep central areas to the wings, opportunities for quick one-twos can arise between the right winger and fullback, although this can be easily contained through intense pressing and preventing transitions between defense and attack, limiting time and space for midfielders.
Because the 3-2 build-up shape often deters intense pressing efforts when Spurs have consolidated possession, the opponent frequently adapts to Spurs's game plan by allowing them to hold the ball deep and preventing attempts at short progression which are mostly oriented around the right back.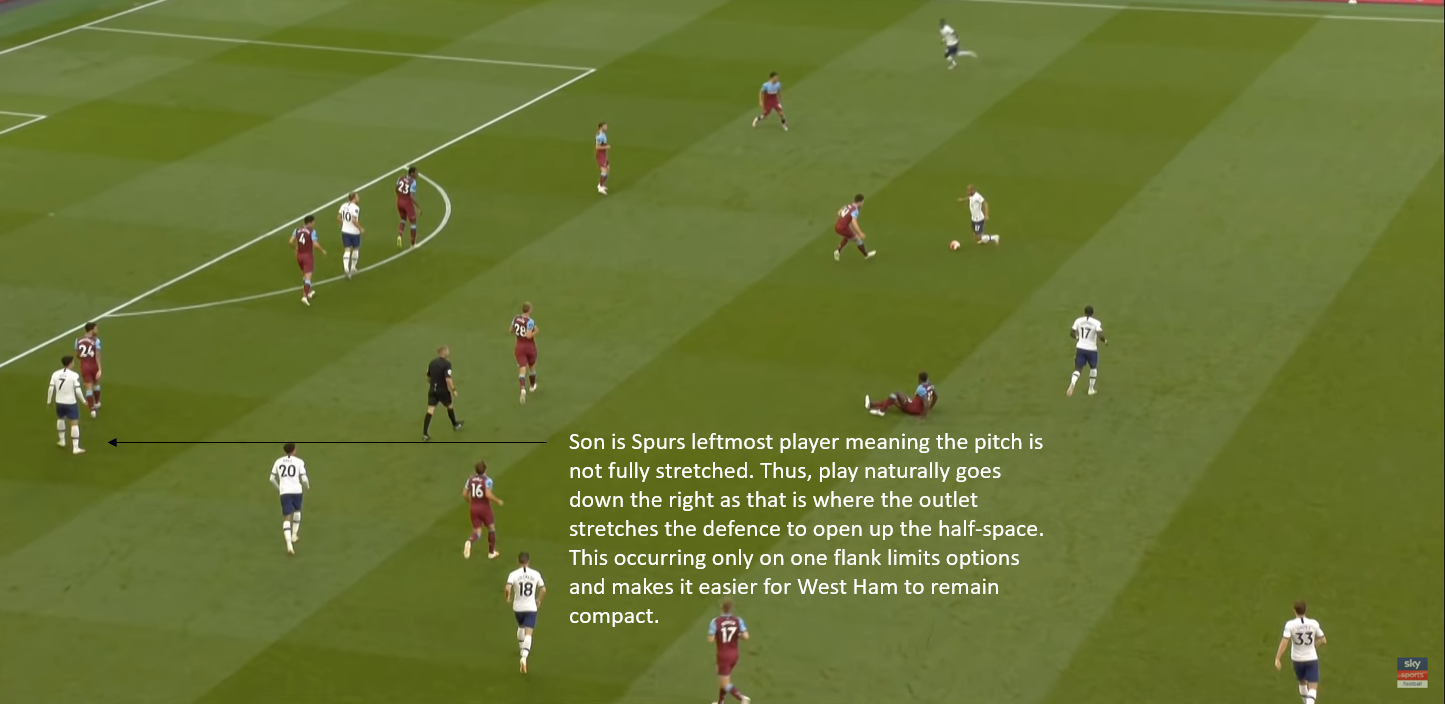 This means Spurs can often be stifled and either need to commit to a patient approach oriented around lateral or vertical-cum-backwards passing to move the opposition defence around in order to create gaps for the two players in between the lines, or pull the opposition forward in order to launch a direct attack.
Teams do not always respond with pressing however, which often results in a long pass forward where winning the second ball is prioritized. The long ball and right back approach are not necessarily dichotomous and perhaps explain why Doherty was bought even though he is not brilliant at dribbling.
As well as being a positional outlet, Doherty's height (6'1″) relative to his counterparts at full back allows him to be an aerial outlet, which then allows Spurs to consolidate possession in more advanced positions and transition more directly. The right back and Kane are the primary outlets for direct progression, where Spurs subsequently seek to win second balls and capitalise on the advantageous 3-2-5 shape for attacking space.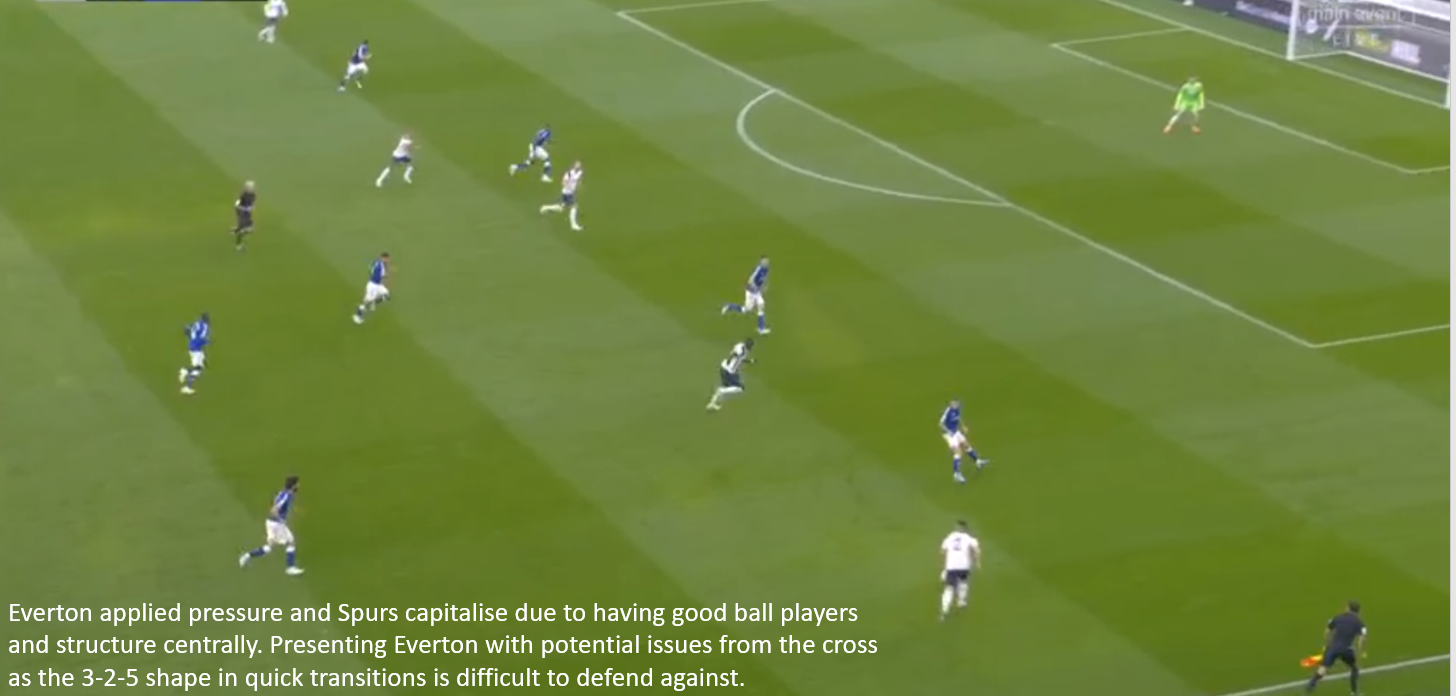 Tottenham are often criticized for committing too many players deep in order to retain possession and prevent against counter attacks, as these protective measures limit the potential options for progression.
Either the right back (Aurier/Doherty) will have plenty of space to roam forward and will act as the primary route of progression through midfield, or a player will attempt a long, hopeful pass forward, likely to Kane. This shape is successful in allowing Spurs to maintain deep central possession, but it limits their ability to progress the ball forward.
In addition, when attacks have been consolidated on the right wing, this asymmetry can lead to congested central attacks as Spurs lack a passing option on the left to force the opposing team to commit resources to marking. By allowing the opposing side to remain more compact centrally, Tottenham may struggle to create chances as the section of the pitch they can attack into is smaller, and thus the section of the pitch the opponent needs to defend is smaller.
The asymmetry restricts the size of the playing area should Son not fully commit to maintaining width and stretching the opponent's right side, which itself is negative as it reduces an extremely dangerous attacking player to a tactical necessity.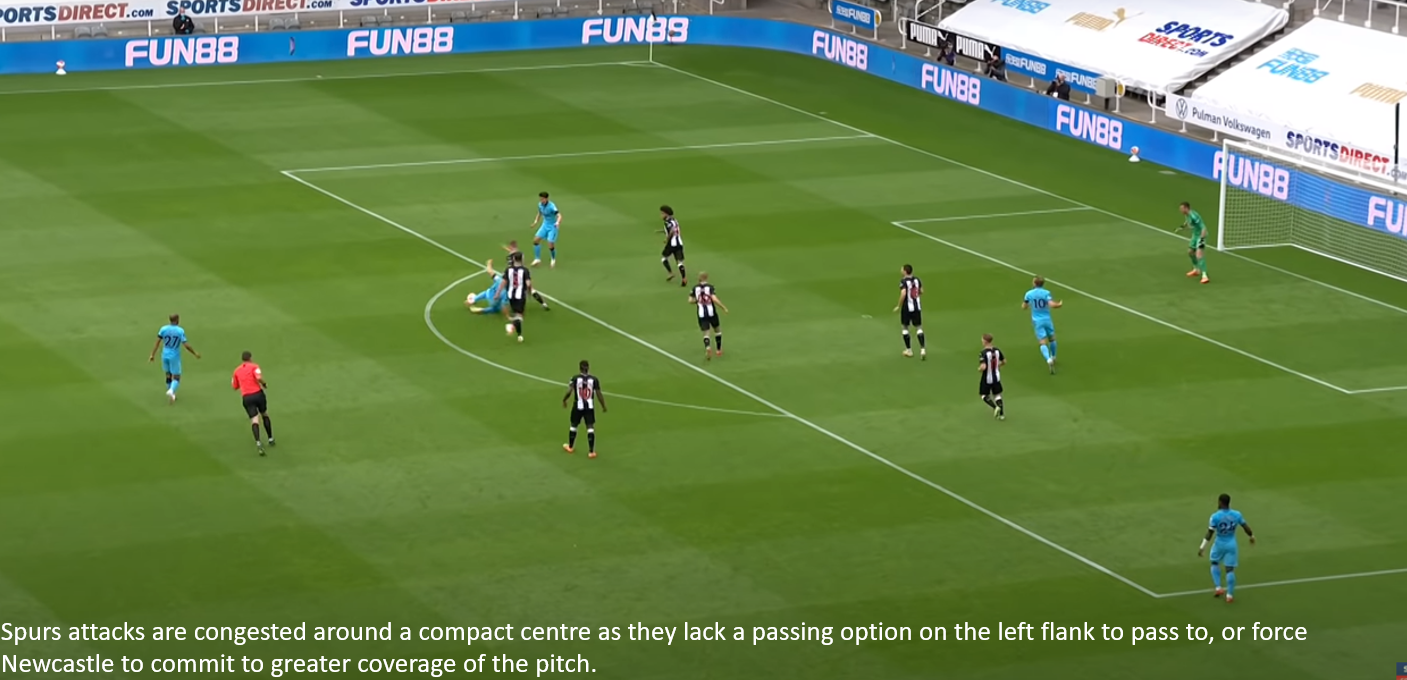 To counteract this, Mourinho could work with his players to automatise certain aspects of build-up play in order to facilitate quick transitions as the players's predictable positions can be used advantageously to allow them to be more proactive in possession.
Mourinho historically has been reticent to use this approach, commonly used by Antonio Conte and Maurizio Sarri, as it is not reactive but proactive, which can be backfire as the opponent may prepare differently than expected or one cog in the mechanical attack may not function correctly and the players may not react correctly, potentially causing them to lose possession in a dangerous area.
However, should opponents begin to press with greater intensity and numerical commitment to disrupt Tottenham's build-up, they still possesses the option to go long to Kane, although the amount of space available depends more on how many players the opposition commits forward.
Thus, through sitting in a consolidated defensive shape, the opponent can compact central regions for second balls and pressure the right back when he receives possession, while also quickly cutting the passing lane to the midfielder.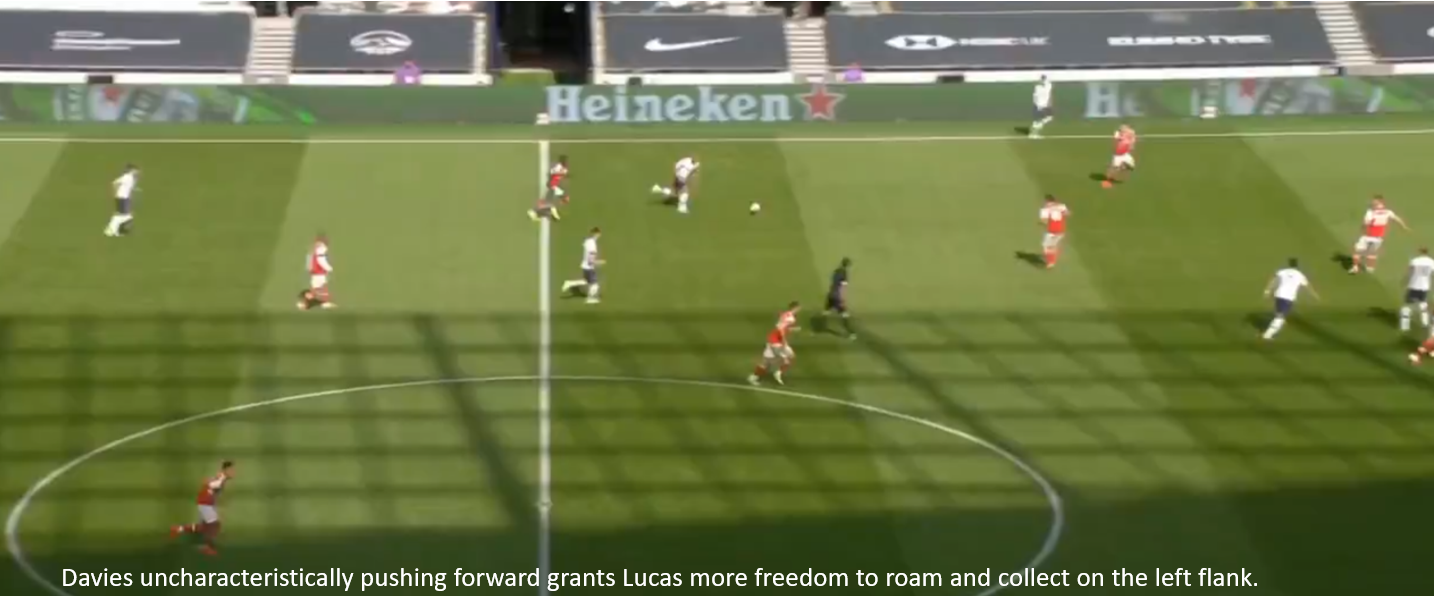 The signing of Sergio Reguilón from Real Madrid indicates a willingness from Mourinho to change his approach to something more dynamic, as the Spanish left back is renowned for his overlapping abilities and crossing threat. He isn't someone who will be filling Davies's role and acting as a third center back when the team is in possession.
This signing and presumed tactical alternation would allow Spurs to be more dynamic as freeing the left full back allows the left winger, typically Son, to be more dynamic in his movement. This could potentially lead to Spurs playing a 3-4-3, maintaining their present build-up shape and transitional 3-2-5, albeit featuring two wide outlets rather than one.
This would also allow Doherty to become more of a wide goalscoring threat rather than a progression outlet, whilst also affording the wingers more freedom to roam. Spurs could then mirror Wolves's build-up dynamics in a 3-4-3, as both teams have similar front lines, efficient possession recyclers in central areas, as well as a ball-playing center back to switch play.
The 3-4-3 would allow for the positional freedom while maintaining the fundamentals of the 3-2-5 build-up/transitional shape, while also providing the wide forwards with the freedom to carve out solutions and react to spontaneous events. They would achieve the best of both worlds; maintaining defensive balance and becoming more dynamic in attack.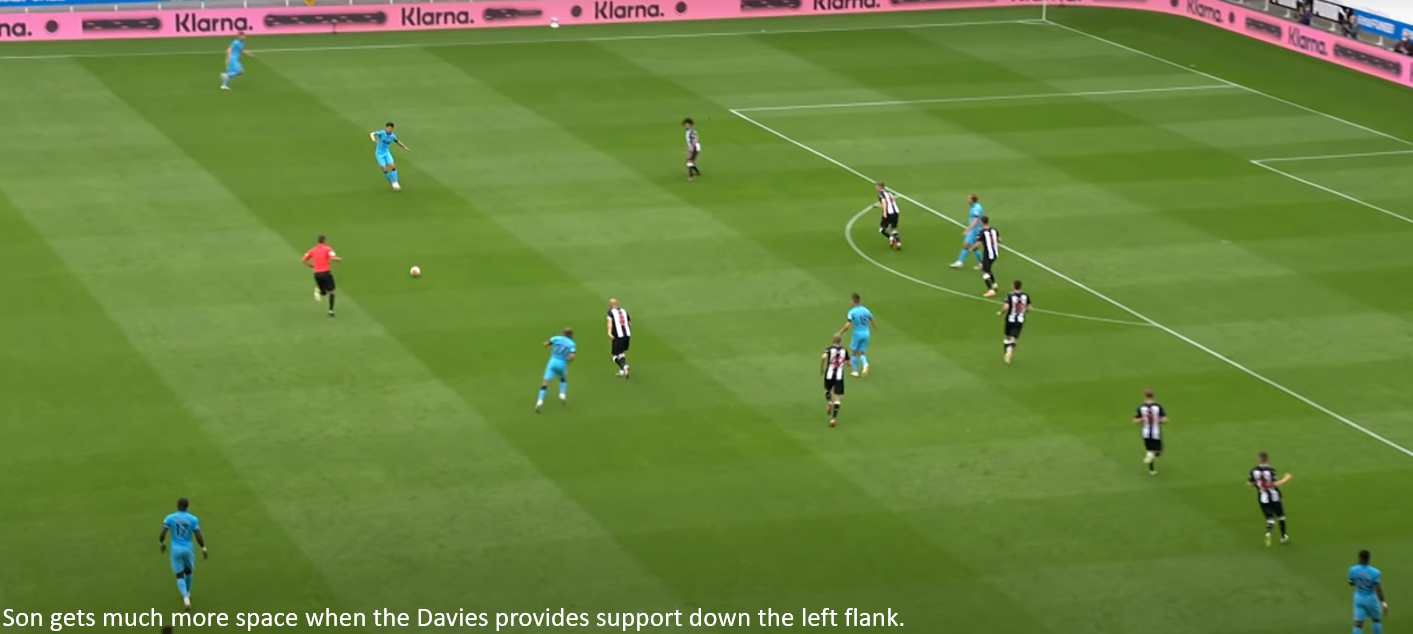 In conclusion, Spurs require fresh solutions which work in tandem with old routes of progression rather than a tactical overhaul. This could be achieved by allowing the left back (potentially wing back) with more freedom to attack, which would force players to adapt to a situation and introduce movement in between the lines, with the central midfielder (Pierre-Emile Højbjerg) acting as the third centre back on occasion.
At present, their possession plan is too conservative and rigid to consistently threaten organised defences. Spurs have the individual attacking quality to place significant emphasis on maintaining a strong structure to react to turnovers, but this can be maintained to a lesser extent even if they become more flexible in how they let their full backs attack.
By: @mezzala8
Featured Image: @GabFoligno / Nikolay Doychinov / Getty Images