Tactical Analysis: Borussia Dortmund vs. Bayer Leverkusen
Matchday 17 of the 2020/21 Bundesliga season began on Tuesday, January 19, with a variety of appetizing matches; Borussia Mönchengladbach narrowly defeated Werder Bremen at home, Wolfsburg took all three points at Mainz, and Hoffenheim thrashed Hertha Berlin at the Olympiastadion to put Hertha manager Bruno Labbadia in even greater jeopardy of losing his job, with Die Alte Dame hovering above the relegation zone.
The crown jewel of the fixtures came at BayArena, where third-placed Bayer Leverkusen hosted fourth-place Borussia Dortmund. Dortmund came into the match having defeated RB Leipzig and Wolfsburg under new manager Edin Terzić, before drawing to Mainz on Saturday. On the other hand, Leverkusen entered the match after taking just one point from their last four matches, with their only win in 2021 thus far coming in a 4-1 victory against Eintracht Frankfurt in the DFB-Pokal on January 12.
Terzić went with a 4-2-3-1 with Manuel Akanji partnering Mats Hummels in defense, the Swiss international coming into the side for Dan-Axel Zagadou, who suffered a muscle strain against Mainz. Thomas Delaney played alongside Jude Bellingham in the double pivot, replacing Emre Can in the line-up after the German picked up his fifth yellow card of the season against Mainz.

Photo: FBref.com
Bayer Leverkusen manager Peter Bosz went with his tried and trusted 4-3-3 formation, with Lucas Alario being preferred to Patrik Schick at the center forward position. Charles Aránguiz and Florian Wirtz were given the start in midfield alongside Nadiem Amiri after Julian Baumgartlinger and Kerem Demirbay started in the 0-1 defeat to Union Berlin on Friday. Furthermore, Lars Bender and Wendell started in the fullback positions over Aleksandar Dragović and Daley Sinkgraven.
The 17-year-old Florian Wirtz would often step forward from his midfield position and play as a #10, occupying positions behind Alario. This would create a 4-2-3-1 in the build-up, similar to Dortmund's 4-2-3-1. However, on separate occasions, Wirtz and Amiri would play side by side, as dual 8's, similar to systems utilized by Pep Guardiola at Manchester City. Their roles in the side are the main importance here though, which was to progress the ball through the channels. Positions are a very flexible term in this Bosz side, so Amiri and Wirtz would rotate into gaps where needed.
On the other hand, while out of possession, Leverkusen utilized a 4-2-2-2 structure which caused Dortmund a lot of issues. The away side mostly maintained their structure throughout the match, although the fullbacks would go forward frequently, and occasionally a 2-3-4-1 would appear, with Hummels and Akanji forming a makeshift back three alongside Roman Bürki in the first phase of build-up.
Photo: buildlineup.com
Dortmund's Dilemma in Attack
For the past few years, Dortmund's attack has been primarily based around the counter. Since his arrival from Red Bull Salzburg, Erling Haaland has energized that counter-attacking style of play by being a fast and physical outlet. However, on Monday, Dortmund struggled to get on the break and struggled to find Haaland in the few instances they did.
The main way that Leverkusen prevented this was through their pressing patterns and the composition of their press. They used the 4-2-2-2 where two forwards would press the center backs. One winger and one midfielder would go wide, covering the Dortmund fullbacks and wingers. Finally, the two remaining midfielders press onto Delaney and Bellingham's back, taking away the space to turn. 
In the image below, Leverkusen (black jerseys and red annotations) are using their two forwards to cut off the passing angles between center backs, while the other two lines mark their respective spaces. 

All telestrated photos created by using KeyframeSports / @KeyframeSports
Because of this pressing structure, Dortmund's only real option while building from the back became the goalkeeper, Roman Bürki. Unfortunately for Bürki, he completely lacked any options and was forced to go long on most occasions. Due to Dortmund's personnel, this was a nightmare scenario.
Jadon Sancho, Marco Reus, Julian Brandt, and even Haaland are far from proficient headers of the ball. This meant that Dortmund would almost immediately concede possession once they tried to create any sort of attack, and in fact, it was the cause of Moussa Diaby's first goal.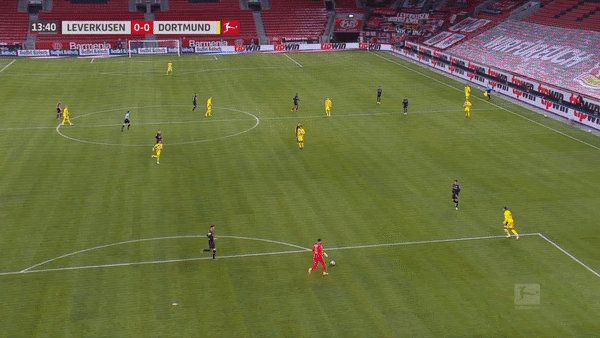 Further down the pitch, Dortmund found a lot of their issues in the center of the pitch, which was packed with Leverkusen players. Reus would also make darting runs behind the line, but this would come at the expense of zone 14, the most valuable area on the pitch.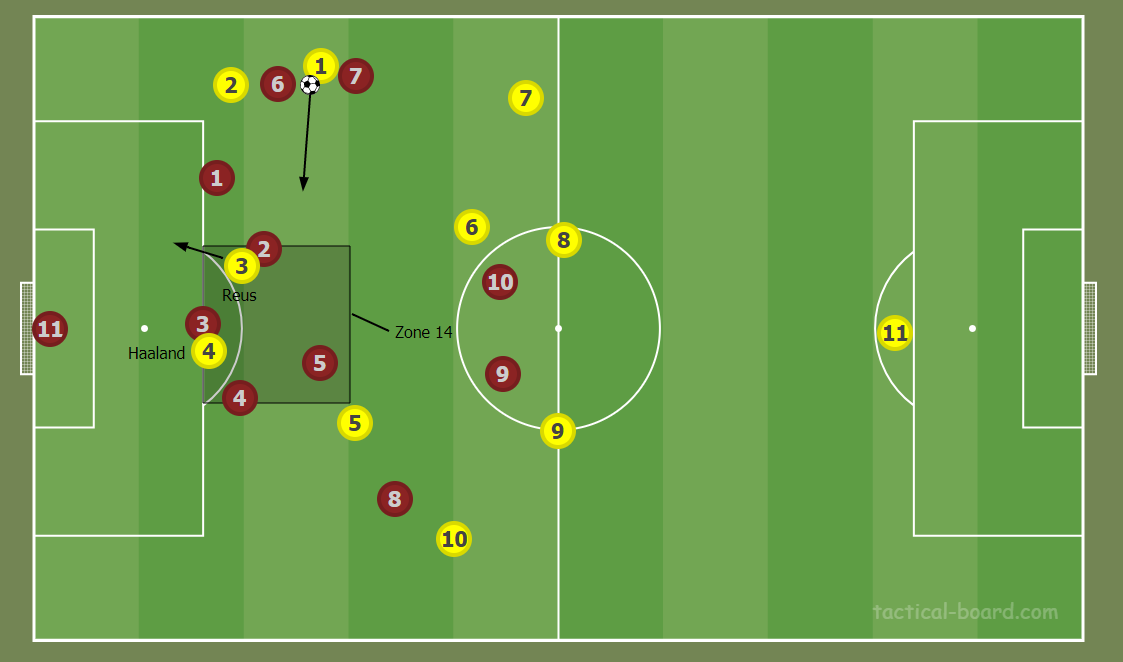 Photo: tactical-board.com
In the specific instance outline above, Brandt (2) has made a run towards the right corner and laid the ball off to Sancho (1) who looks for a pass to escape pressure. Due to Reus' (3) run in behind the defense, Sancho's pass towards that zone falls flat, because Reus has left his post for an alternative. This created plenty of issues in the center of the park because Bellingham would in turn replace Reus, in those areas, and leave the defense exposed. 

Leverkusen was able to exploit this issue numerous times, creating a variety of scoring opportunities. Their forward line got on the end of these chances frequently, taking 14 of the teams 23 shots between the three of them. Wirtz and Amiri also took three shots each, both keeping all of their shots on target. Bürki's 11 saves today were his highest in a BVB jersey. 
It wasn't all bad though, and near the end of the half, Dortmund were able to use Haaland to create some gaps in the defense. They'd also use combination play along the wings, where crosses from the baseline became their main threat.
Raphaël Guerreiro's runs through the defense were a major part of this and can be seen in the clip below. Sancho moves wide towards the sideline while Guerreiro moves through the half-space. Even though the defender eventually closed him down, runs like these caused a lot of Dortmund's chances.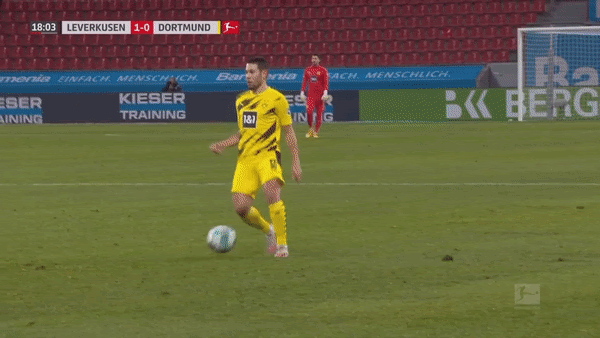 In the end, though, their goal would come from consistent pressure on the defense, and a great strike from Brandt who broke his goal-scoring drought.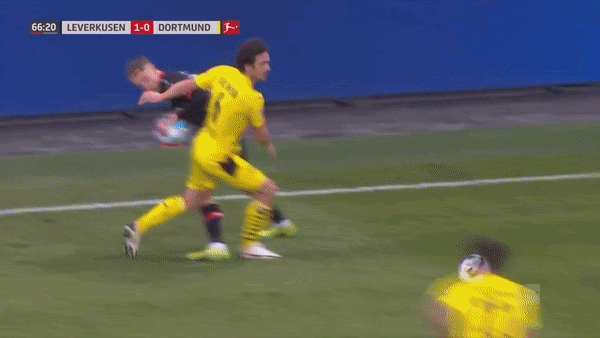 Dortmund's Adaptation (or Lack Thereof) and Leverkusen Punishment
It was abundantly clear that throughout this match Dortmund were missing their main midfielder Axel Witsel. Entirely unable to find space through the press, Dortmund's reversion to the long ball would be an issue throughout the first half. In the second half though, Terzić used Bellingham to manipulate the midfield and create space for line-breaking passes.
One such instance was when Hummels (yellow 9) had the ball and was looking for a forward pass. Bellingham (yellow 5) ran towards the center of the field, an entirely useless run if Hummels were to make that pass because the defender (red 9) moved with him. Over Bellingham's shoulder though, the Dortmund winger (yellow 4) was able to drop into space and receive the pass. 
Photo: tactical-board.com
Fortunately for BVB, Leverkusen altered their tactics slightly in the second half as well. Earlier, they had dominated possession through pressing and a high-intensity game. Now, Leverkusen was happy to sit back with a compact defense and absorb pressure. Dortmund were able to manipulate the defense much more because of this and dominate the half. To Leverkusen's credit, their defense stood firm for the entire half. 
They combined this with lethal counter-attacks, though, such as the one that Wirtz was able to score on. Due to increased pressure to score and Leverkusen's tactics, the Black and Yellow had committed most of their players forward, including their center backs. The defensive line, composed of Thomas Meunier, Hummels, Bellingham, and Delaney made a couple of errors and a couple of rash challenges. This eventually left Wirtz wide open at the top of the box where he finished well.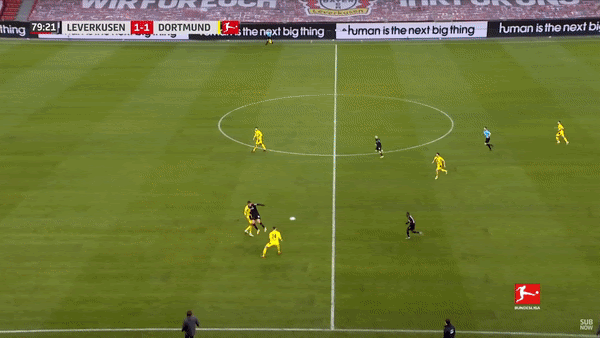 Conclusion
In contrast to a Dortmund side who were far from their best (tactically and technically), Leverkusen was flawless. Peter Bosz expected his players to press with intensity and close down the angles they needed to stop to win the game, and in the end, they did that. It was encouraging to watch Moussa Diaby continue to play well this season, along with Leon Bailey who seems to have found legs again after a down year. Furthermore, the development of Florian Wirtz will please the club's staff, knowing they're still trying to fill a Kai Havertz-sized hole. 
From the Dortmund perspective, their issues were easy to fix, but their failure to actually adapt to these problems would be the main story today. It was a haunting reminder of the importance of Axel Witsel and/or Emre Can, whose ability to dictate the tempo and help build from the back were in dire need today. It was also a mnemonic image showing us that Jude Bellingham might not be there yet and that he has more to learn. 
By: John Zuidema
Featured Image: @GabFoligno / Lars Baron – Getty Images