Tactical Analysis: Manchester City 4-3 Real Madrid
On April 26th, Manchester City and Real Madrid provided us with one of the most entertaining UEFA Champions League games in recent memory. This seven-goal thriller saw Manchester City walk away with a 4-3 win and aggregate lead to take to the Santiago Bernabéu Stadium.
Pep Guardiola will be disappointed that his side didn't secure a more comfortable victory considering how dominant they were for much of the game against the 13-time Champions League winners, but they will still be favourites to qualify for the final at the Stade de France where they may meet Premier League title rivals Liverpool.
Guardiola and Carlo Ancelotti have starkly different football philosophies and, as a result, Manchester City and Real Madrid approached the game in completely different ways. As expected, Guardiola looked to dictate the game through controlled possession, numerical superiority in attack and high pressing.
Contrastingly, Ancelotti was happy to defend deep and look to counter-attack and exploit the spaces behind Man City's high line, particularly through the Brazilian duo of Rodrygo and Vinícius Júnior.
Carlo Ancelotti vs Pep Guardiola: A Battle Between Two of Europe's Elites
According to The xG Philosophy, Manchester City finished the game with an xG of 3.08 to Real Madrid's 1.66. This came as no surprise as Guardiola's men appeared to be in control of proceedings for much of the game, despite conceding 3 goals at home.
So, how did the Premier League champions set up and how were they able to dominate so many phases of the game?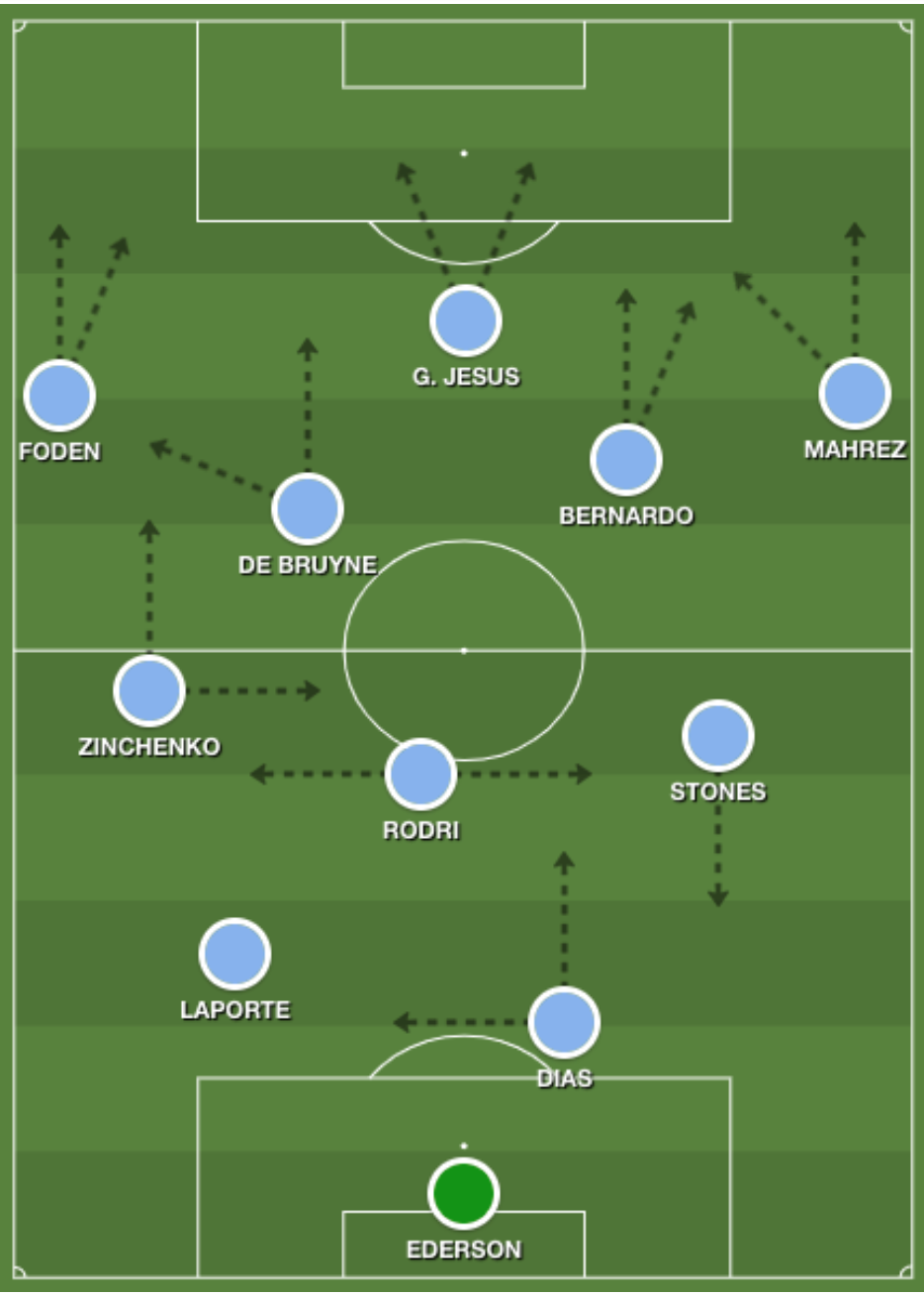 Manchester City's shape vs. Real Madrid
Pep Guardiola deployed his side in what appeared to be a 4-3-3 on paper but turned into more of a 2-3-5 / 2-3-2-3 in possession. This is perhaps the Spaniard's most popular shape as it gives his side quantitative overloads in central zones and spaces the pitch well for passing patterns.
Spacing is crucial to Guardiola's application of juego de posición (positional play) and the Man City players maintained this spacing rather consistently.
Retaining possession is crucial to the success of juego de posición as it allows players to move into their correct positions and make effective positional rotations, as the English club finished the game with a 59% share of possession, according to UEFA.com.
Positional rotations were common for Manchester City throughout the game. Zinchenko, De Bruyne and Foden created dangerous triangles on the left flank and the rotations were especially difficult for the Real Madrid players to track.
The skillsets of the trio made these positional movements seamless, especially as De Bruyne tended to pull out wide and find dangerous passing angles with an increased view of the pitch.
On the right flank, Bernardo Silva and Riyad Mahrez were regularly able to rotate positions and occupy each other's original zones, which was particularly effective for the first goal of the game.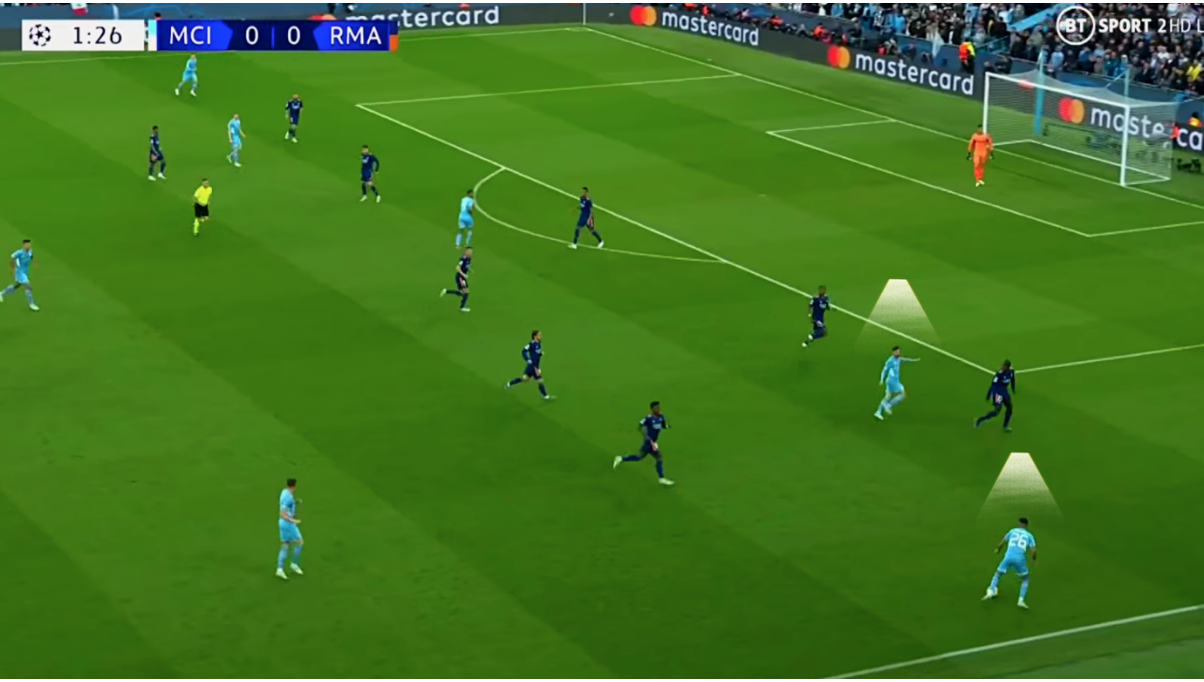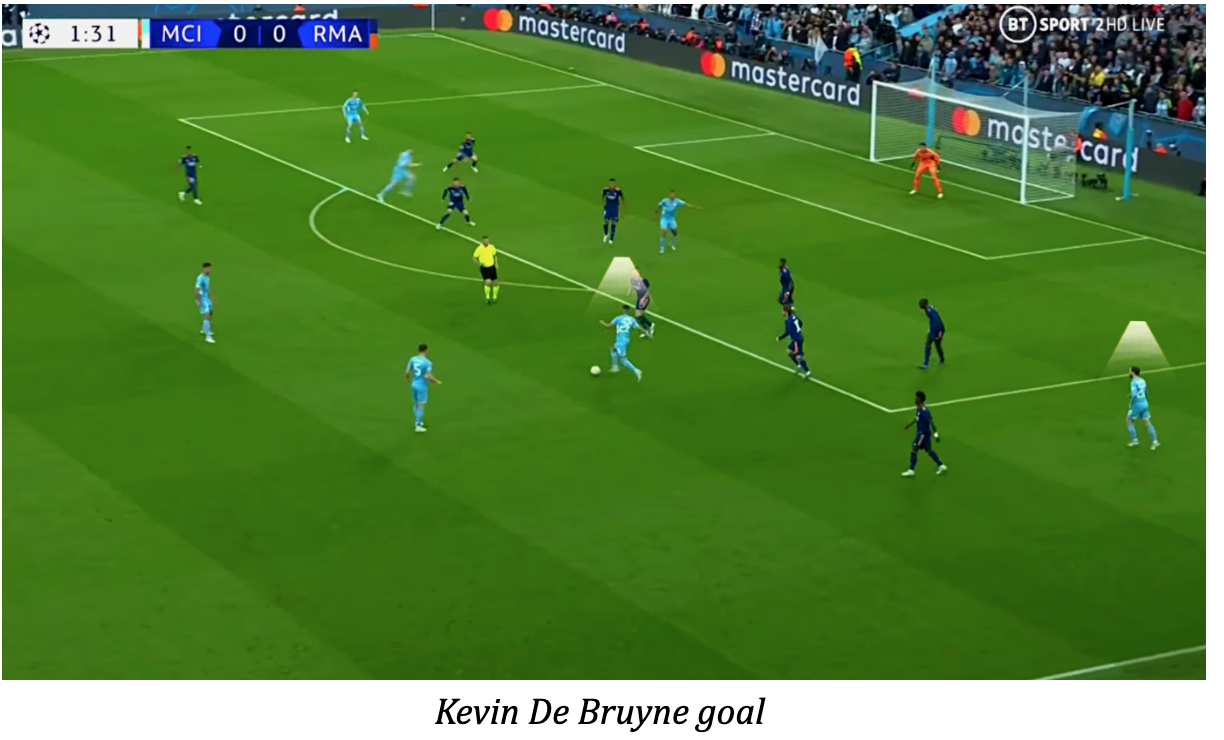 As can be seen in the above images, Mahrez receives the ball in his regular wide position on the right wing as Bernardo Silva underlaps into the right half-space. This run occupies Madrid's defenders and gives Mahrez space to cut inside.
Whilst Mahrez moves into a narrow position, Bernardo moves into his wide right position — such movements are crucial to spacing and the maintaining of passing options in the application of juego de posición.
As a result, Mahrez has the time and space to play a wonderful ball into Kevin De Bruyne to give Manchester City an early lead in the game.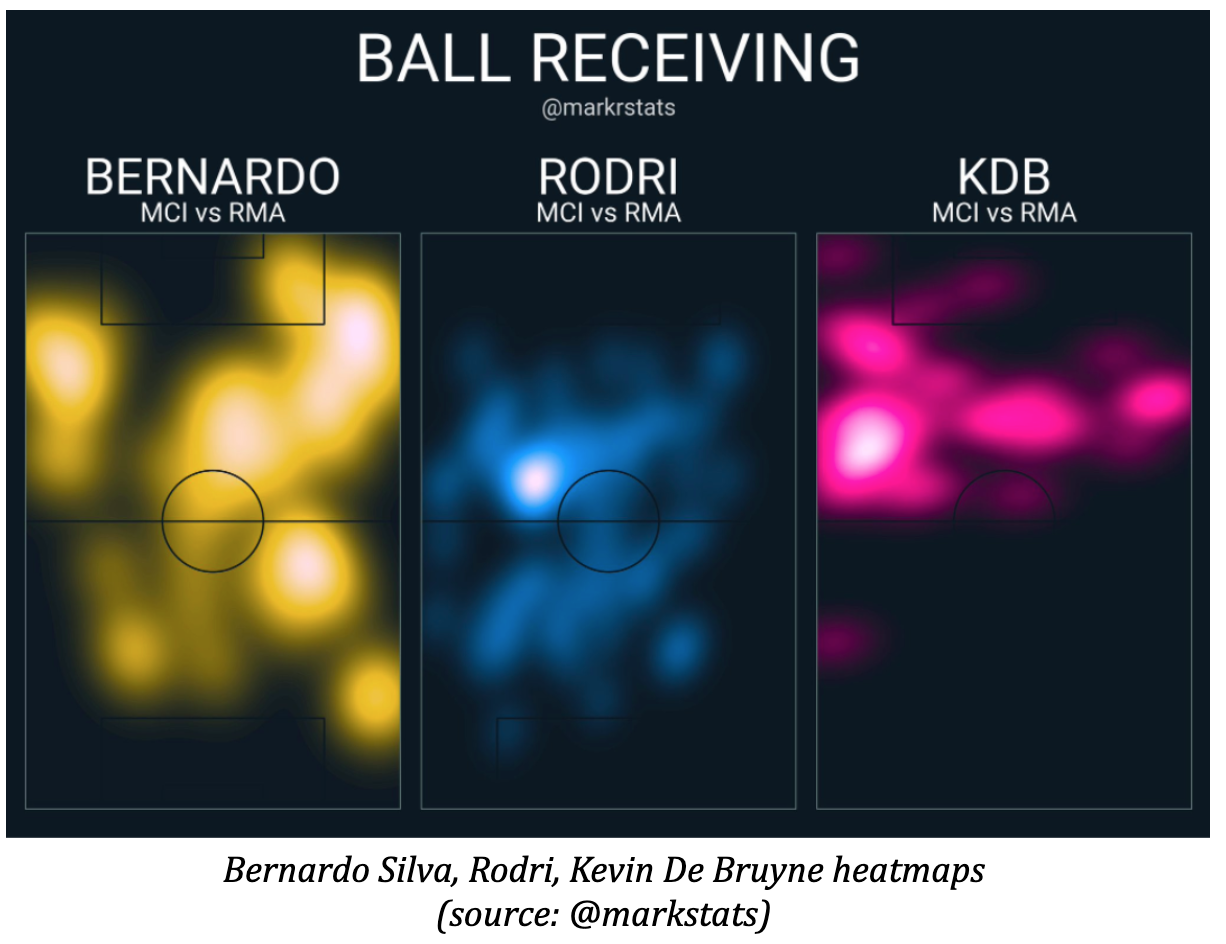 The heatmaps for Man City's midfielders show their positional versatility, especially with Bernardo and De Bruyne roaming into wide positions. Bernardo also played an important role in build-up by dropping to support the inverted right-back and giving Man City's shape more balance across the pitch.
The discipline in positioning can be seen consistently throughout the game for Manchester City. It may appear rigid, but it is, in fact, quite a fluid system in the respect of player movement.
The players understand their own starting roles as well as those of their teammates such that they can occupy a number of different roles throughout a game.
The strengths of positional play come in the form of passing angles, especially when the wingers stay wide as they are usually more technically proficient than attacking full-backs.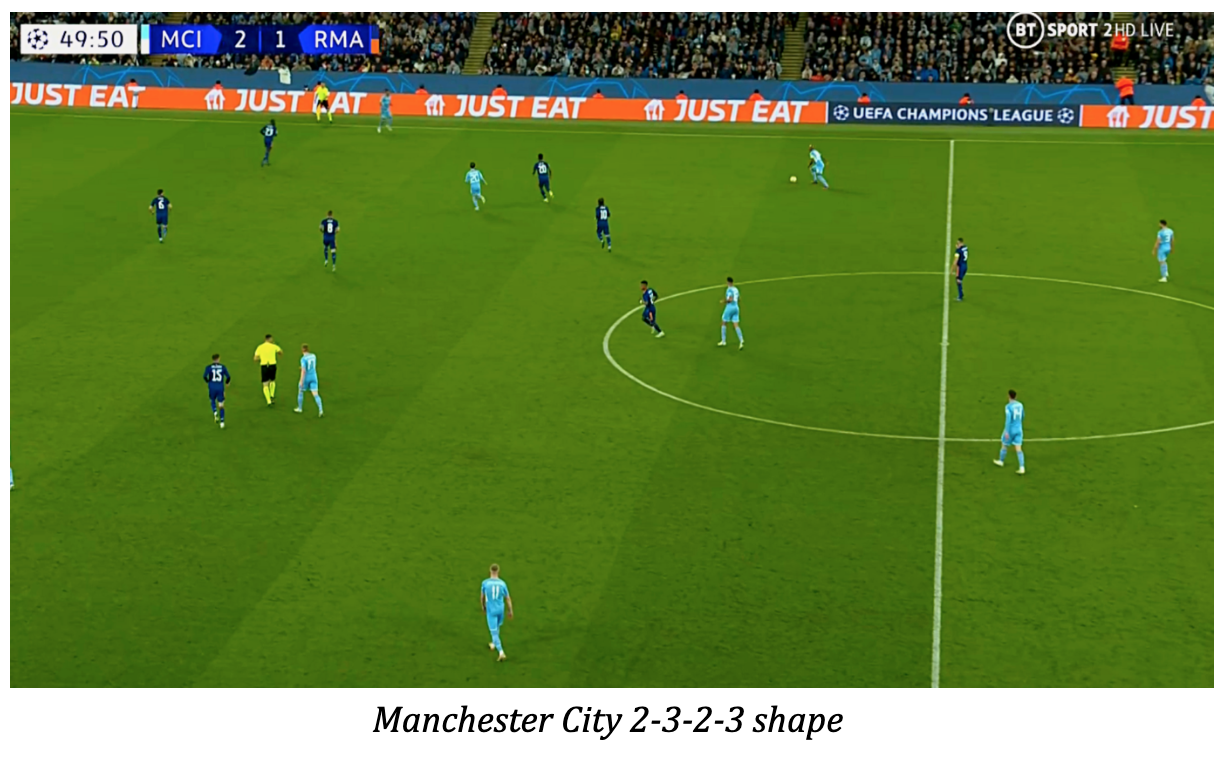 The image shows Manchester City's 2-3-2-3 on display, particular the wide spacing and the principle of not having more than 3 players in the same vertical or horizontal lines of the pitch.
It's extremely difficult for defenders to cover these spaces effectively and this gives Man City the opportunity to play between the lines and expose their opponents' defensive weaknesses.
Moreover, it's important to make the distinction between retaining possession simply to prevent one's opponents from having it and retaining possession to maximise positional play — Guardiola's side do the latter.
Manchester City's press was also very aggressive and that helped them in maintaining control of possession as they aimed to win the ball back as quickly as possible.
They defended in a 4-4-2 shape, which has been a common feature of Pep Guardiola's side this season. This involved De Bruyne stepping up and defending alongside Gabriel Jesus, especially from Real Madrid's goal kicks.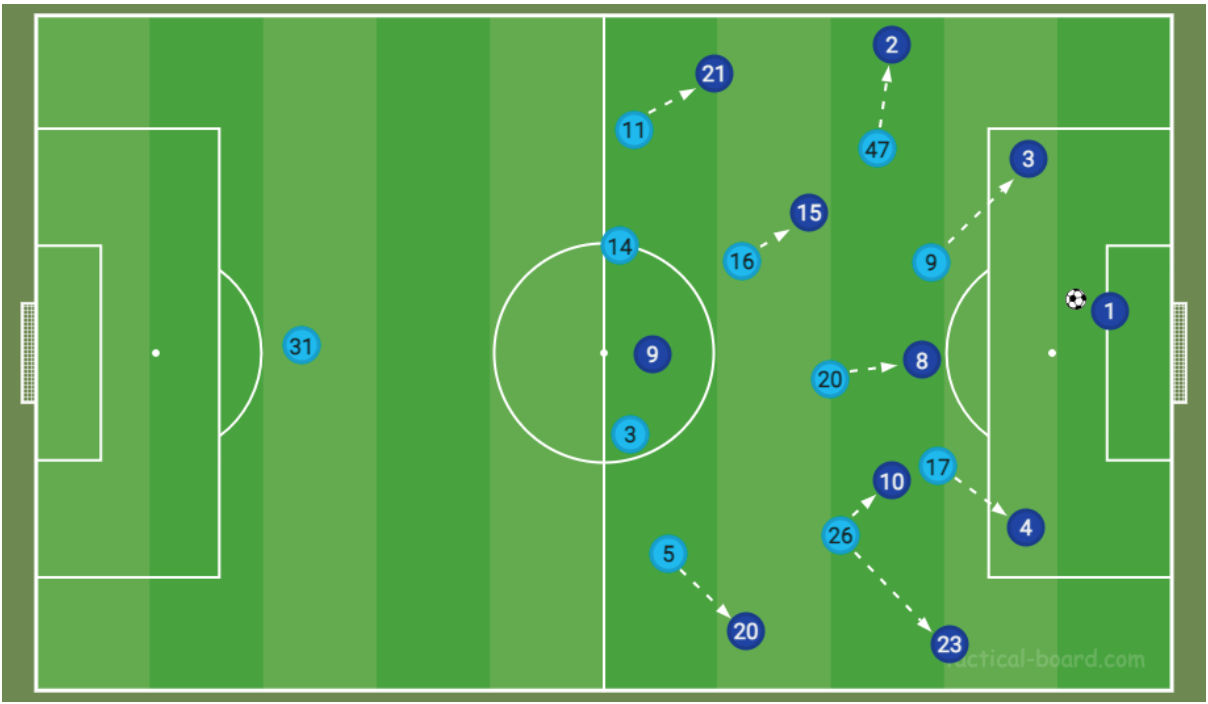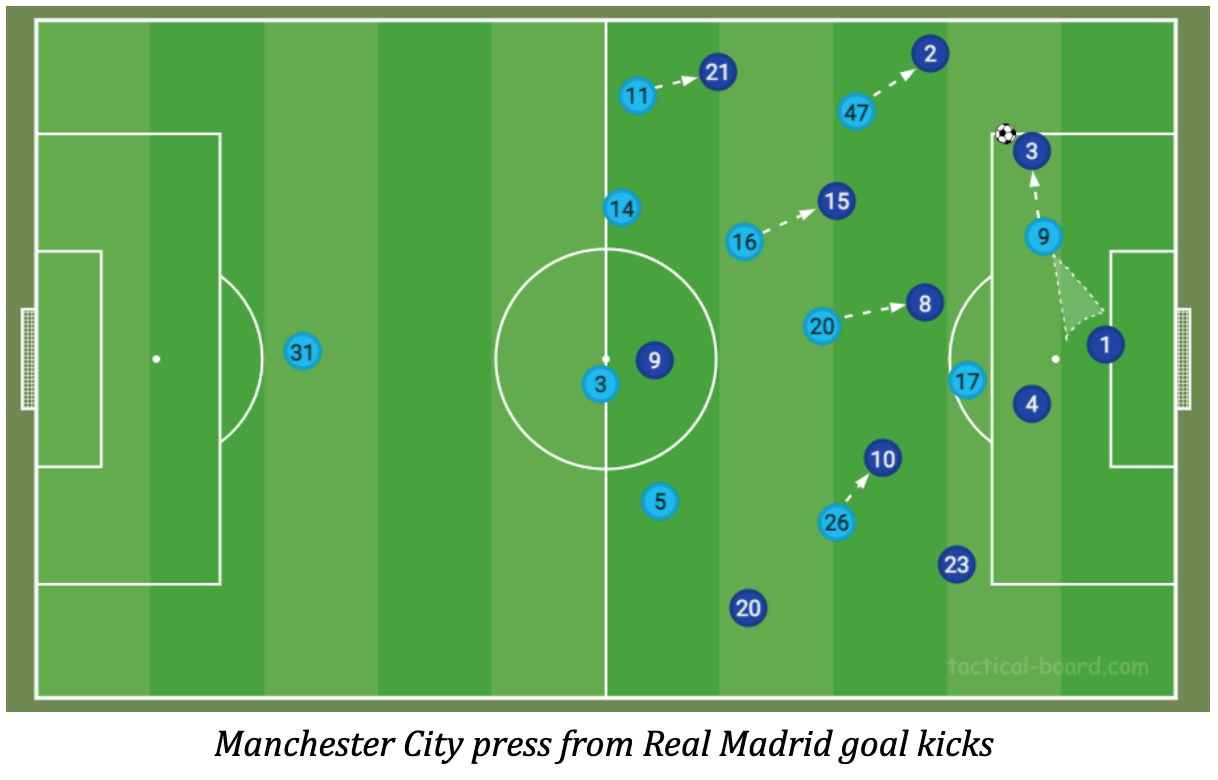 Man City deployed a man-oriented press in these situations and used pressing traps to force Real Madrid to play the ball into wide areas. This effectively cut the pitch in half and made pressing much easier.
In the above graphics, Gabriel Jesus essentially allows the first pass before initiating the press. He closes down the centre-back whilst he shadow covers the return pass to the goalkeeper.
This press aimed to force a bad pass or a long ball upfield for Rúben Dias or Aymeric Laporte to recover. The press suffocated Madrid ball progressors and gave Man City territory in dangerous zones.
The offensive benefits of Manchester City's system are plain to see, and it comes as no surprise that the Cityzens are able to score so many goals every season against even the best teams in Europe. That said, no system is perfect, and Man City's deficiencies often come in the form of defending counter-attacks. 
On that note, we can segue to Real Madrid's approach to this game and how they attempted to exploit Manchester City's perceived weaknesses.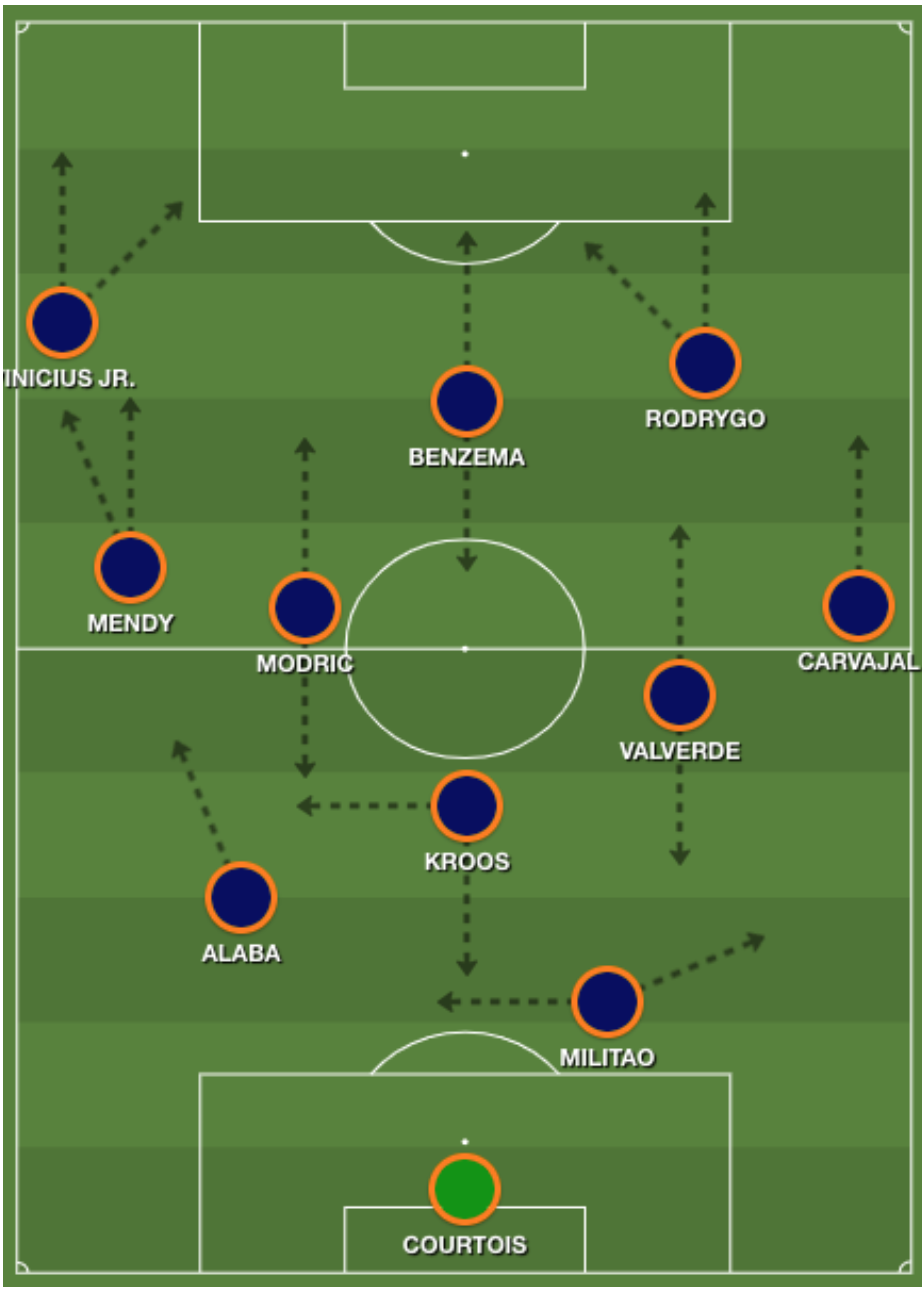 Real Madrid shape vs. Manchester City
Real Madrid set up in their usual 4-3-3 formation. In possession, we'd often see them attempt to play in a 2-1-4-3 shape with Toni Kroos playing as a deep-lying playmaker in place of the injured Casemiro.
This gave Los Blancos more capable playmakers in midfield to resist Manchester City's press, but it also made them more vulnerable defensively as they did not have a destroyer screening the defence, with Kroos, Modrić and Valverde all being more offensive-minded midfielders.
Vinícius Júnior maintained the width on the left flank as he played closer to the touchline, whereas Ferland Mendy played as more of an inverted wing-back, making underlapping runs on the inside of the Brazilian winger and ahead of Luka Modrić.
On the opposite flank, Rodrygo played as an inside forward, such that he could be closer to Karim Benzema for their link-up play. As a result, Dani Carvajal played as an overlapping wing-back on the right in order to maintain the width.
Benzema occasionally found himself isolated as Real Madrid's midfielders were being overrun in the centre and Mendy couldn't get high up the pitch quickly enough, so these situations saw Vinícius making more narrow movements to support Benzema, which ultimately resulted in Benzema's first goal.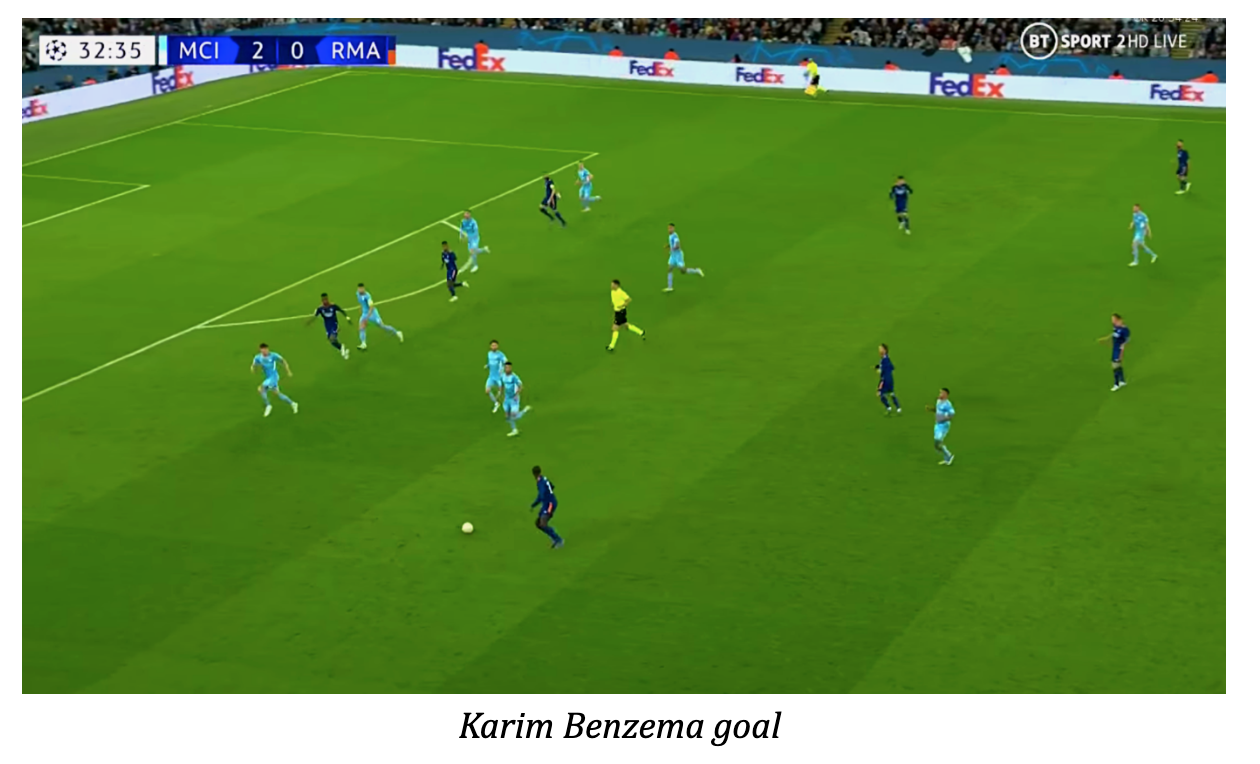 For Karim Benzema's first half strike, we can see Vinícius Júnior playing in a far more central position. This gives Ferland Mendy more players to aim for in and around the box whilst the midfield trio is on hand to counter-press if possession is lost.
Benzema pulls away to the far post and volleys Mendy's cross off the inside of the post and into the net. A brilliant finish from a brilliant player and a goal scored largely against the run of play as Man City had dominated the game up to this point.
Individual quality will always play a major role in the Champions League, and the French marksman arguably has more quality than any other player in world football at the moment.
Manchester City's hamartia has always been defending counter-attacks. The amount of width they play within possession often means players aren't close enough to the ball to counter-press when possession is lost.
This is one of the main reasons Guardiola's side have been known for committing tactical fouls early in opposition counter-attacks as the press isn't always a viable option. Man City's failure to stay narrow in transition played a major role in Vinícius Júnior's goal to make the score 3-2.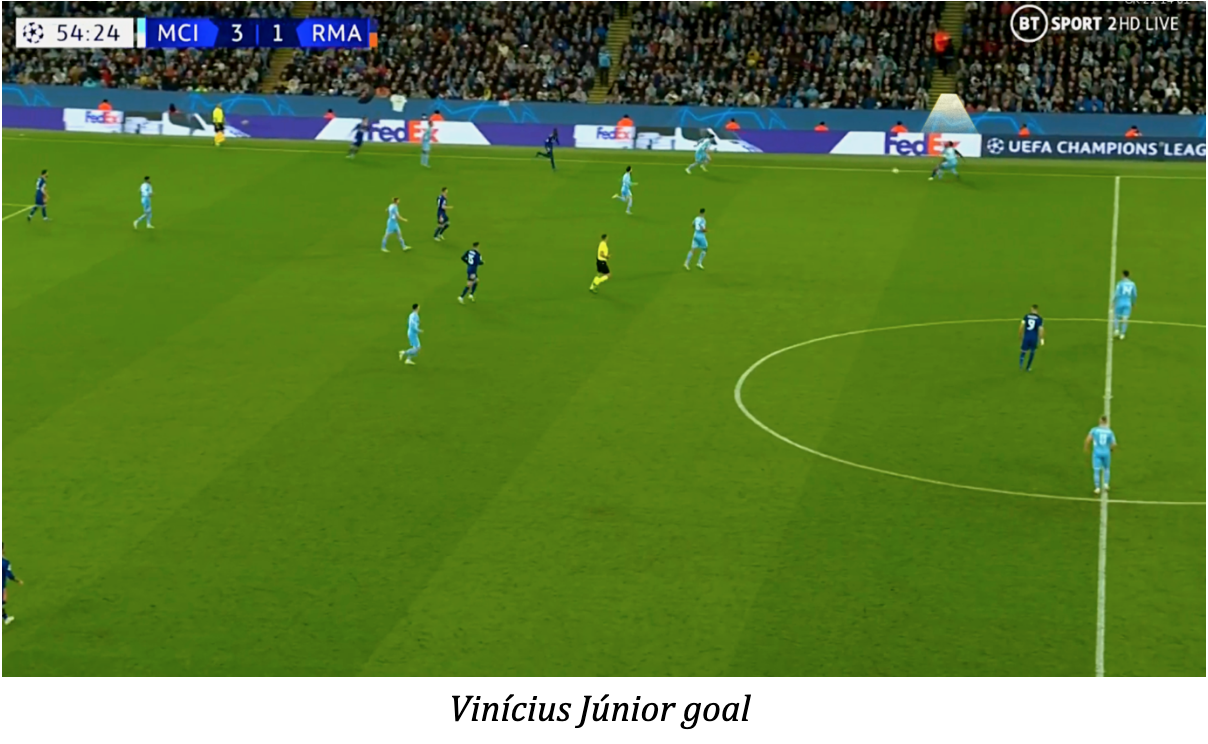 The Brazilian upstart spun Fernandinho with ease and sprinted halfway across the pitch before slotting the ball past Ederson with aplomb. Much of the focus of this goal was on Fernandinho's failure to stop Vinícius, whether that be with a tackle or a foul, but that misses the flaw in Manchester City's shape that puts their captain in this situation.
Fernandinho should do better, but Manchester City's midfielders and wingers are simply too far away from the ball and, subsequently, it becomes impossible to recover against Vinícius Júnior's blistering pace.
Rúben Dias also makes an error in stepping up so high but not preventing Ferland Mendy's pass from reaching Vinícius. It's a brilliant run and finish from the Brazil international, but it was certainly a preventable situation.
Manchester City are often able to recover in these situations when they have the benefit of Kyle Walker or João Cancelo's pace and athleticism — physical traits that are simply not possessed by Fernandinho or Oleksandr Zinchenko.
Real Madrid's best sequences and chances largely came from lackadaisical moments and individual errors from Man City's players, and those will always be punished by the best players in Europe at this stage of the Champions League.
All things considered, Pep Guardiola's men should've walked away with a comfortable win which would likely have seen them manage the tie at the Santiago Bernabéu Stadium and allow the Manchester club to book their place in the UEFA Champions League final.
A 4-3 win is still a good result, especially with the abolition of the away goal rule, and it means Real Madrid must win by 2 goals (or via the jeopardy of a penalty shootout). 
Both sides will likely be content with this result and see a pathway to the final at France's national stadium with a chance at immortality.
If the second leg is anything like the first, viewers are in for an absolute treat. Games like these are about as good as European football gets and a big reason why elite players are so desperate to play in this competition.
By: Lebohang Mwamuka / @lebzygold
Featured Image: @GabFoligno / Marc Atkins / Getty Images