Tactical Analysis: Milan vs. Inter
With Inter looking to challenge for the Scudetto while playing adventurous and risky football and Milan seeking to continue their great form under Stefano Pioli, the first Derby della Madonnina of the season both promised and delivered.
The defining individual on the night was Zlatan Ibrahimović, who at 39 years of age, spearheaded Milan to their first derby win in Serie A since the 2015/16 season and continued to show why he is one of the best strikers in Italy. In this article, I will predominantly look at the impact that man-marking had on proceedings; why it worked for Milan but failed for Inter.
When Inter were building up, Arturo Vidal dropped deep beside Marcelo Brozović to form a 3-2 build-up shape, and the defenders would stay narrow to protect against potential turnovers which could stem from Milan's high man-oriented press, with the wingbacks being solely responsible for providing width during the build-up phase.
However, Inter's midfield configuration altered depending on what phase of play the game was at, with Vidal and Nicolò Barella being tasked with man-marking Milan's double pivot of Franck Kessié (Vidal) and Ismaël Bennacer (Barella). Out of possession, it resembled more of a 1-2 corresponding with Milan's 4-2-3-1 as it pertains to defensive responsibilities.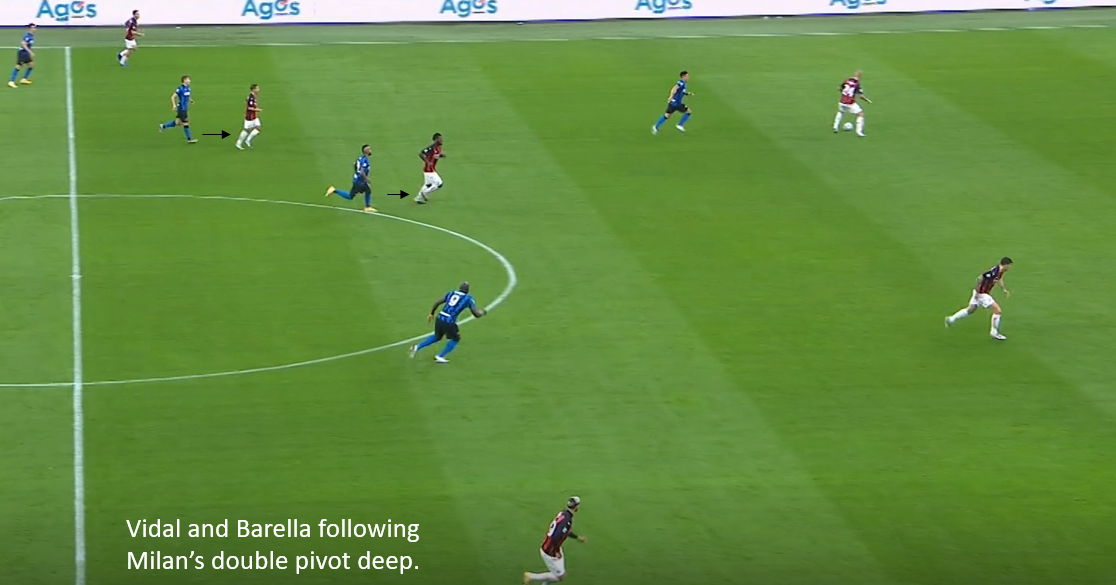 This sought to allow Lautaro Martínez and Romelu Lukaku to focus solely on pressing Simon Kjær and Alessio Romagnoli, as it removed the burden of having to worry about cutting off central passing lanes, meaning that more intent could be focused on winning the ball back in advanced areas by facilitating full commitment in two aspects: closing down the centre backs and cutting off the passing lane to full backs.
By following Bennacer and Kessié, all deep central players for Milan other than goalkeeper Gianluigi Donnarumma would have difficulty receiving possession which would force possession out wide, where Inter's wingbacks could engage quickly under the pretence that their centre back would be covering.
Inter placed significant emphasis on making it difficult for Milan to play out of the defence, and forcing play down the flanks to facilitate a touchline press, which would hide the weakness of their man orientation as it reduces the size of the playing area.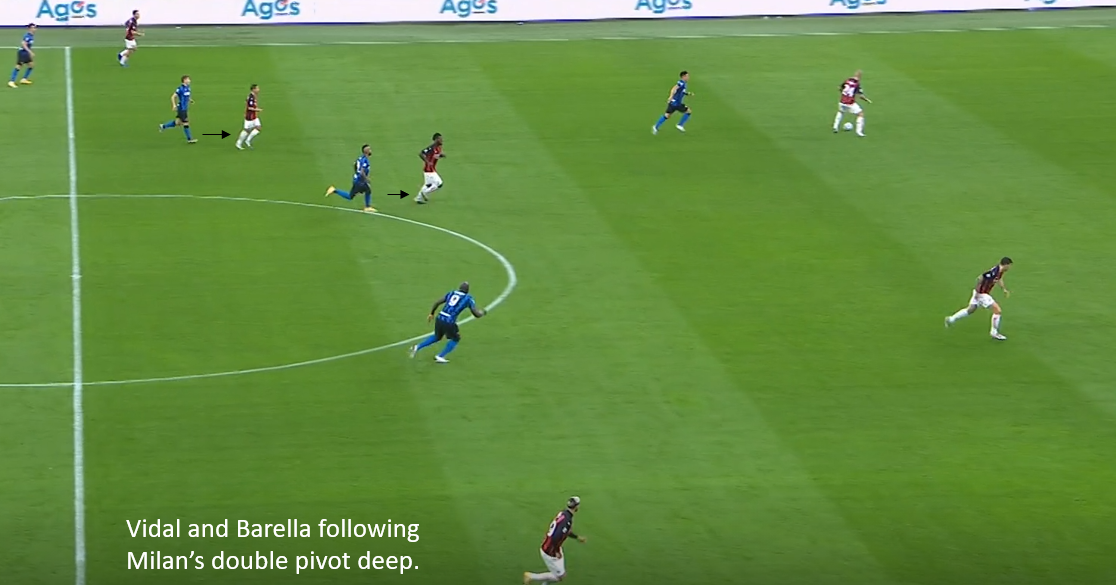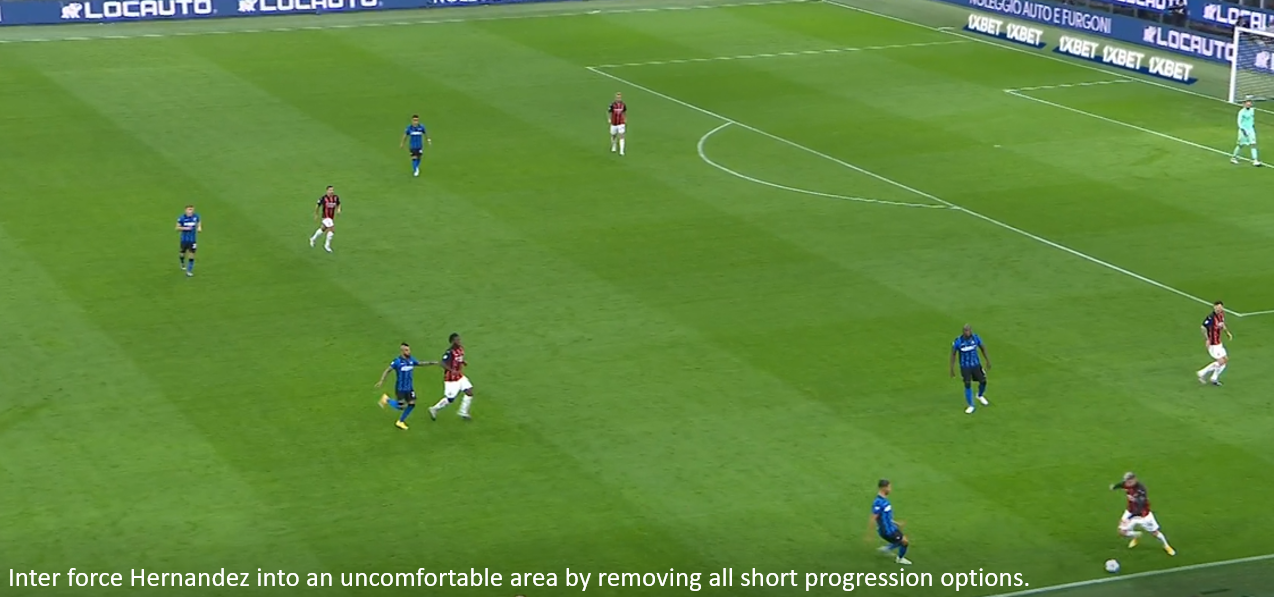 Kessié and Bennacer were intelligent in how they dealt with this marking scheme, as they exploited its susceptibility to positional manipulation by making Inter's midfield spacing undesirable, creating space to run into, where they would still be under pressure.
However, they would have space to run into which could potentially draw a foul, allowing them to beat their man and progress and affording them enough time to find another pass. In this marking system, Milan's double pivot always had the initiative as Inter were reacting to their movement, a feature they exploited well.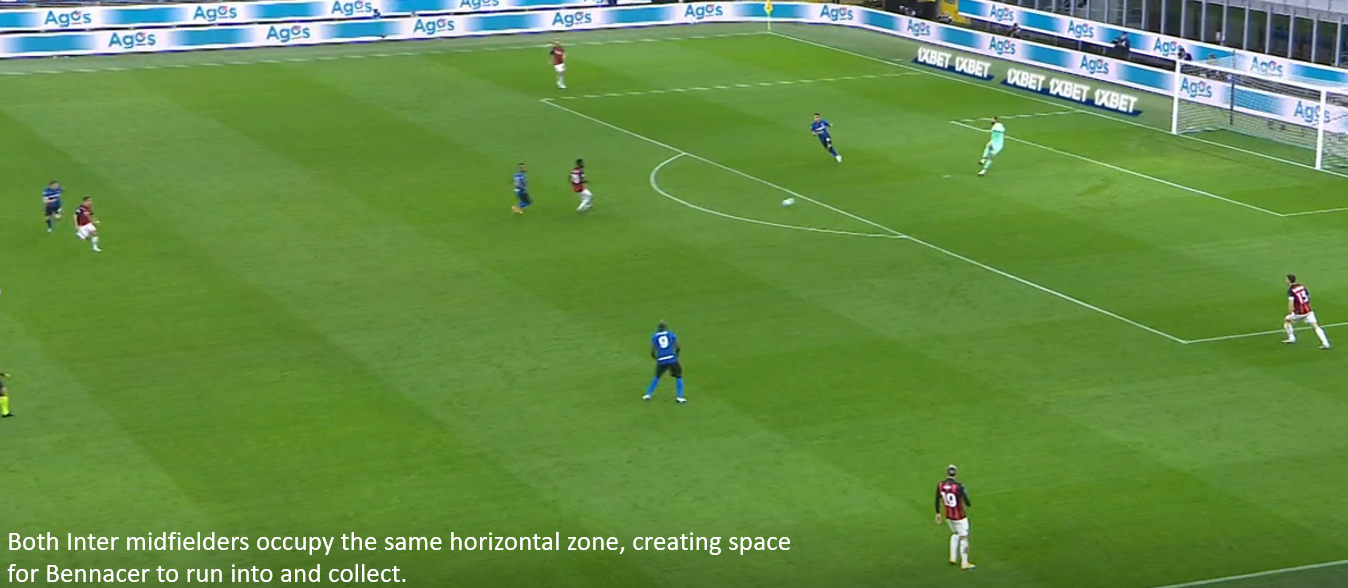 Milan's centre backs would also look to split which either created a short passing option for Donnarumma if required, or afforded him with the time and space in possession if Inter did not close him down as the two advanced players focused on pressing the centre backs. Thus, Inter's high pressing game struggled against Milan's adaptability to how they play out of defence.
Because of Milan's success in evading the man-oriented press, Inter's centre backs would be forced to cover plenty of space in order to prevent Milan from consolidating in higher areas. This forced Danilo D'Ambrosio and Aleksandar Kolarov to be aggressive in how they pressed as they sought to force a backwards pass to allow Inter to either re-engage in pressing efforts or restructure in order to better cover space allowing for a more stable period of consolidated defending.
Milan's attacking transition in the first goal exemplified this well, as Inter's man-marking doesn't adjust well to the lost duel, as the changed numerical situation forces a series of compensations which leave space available.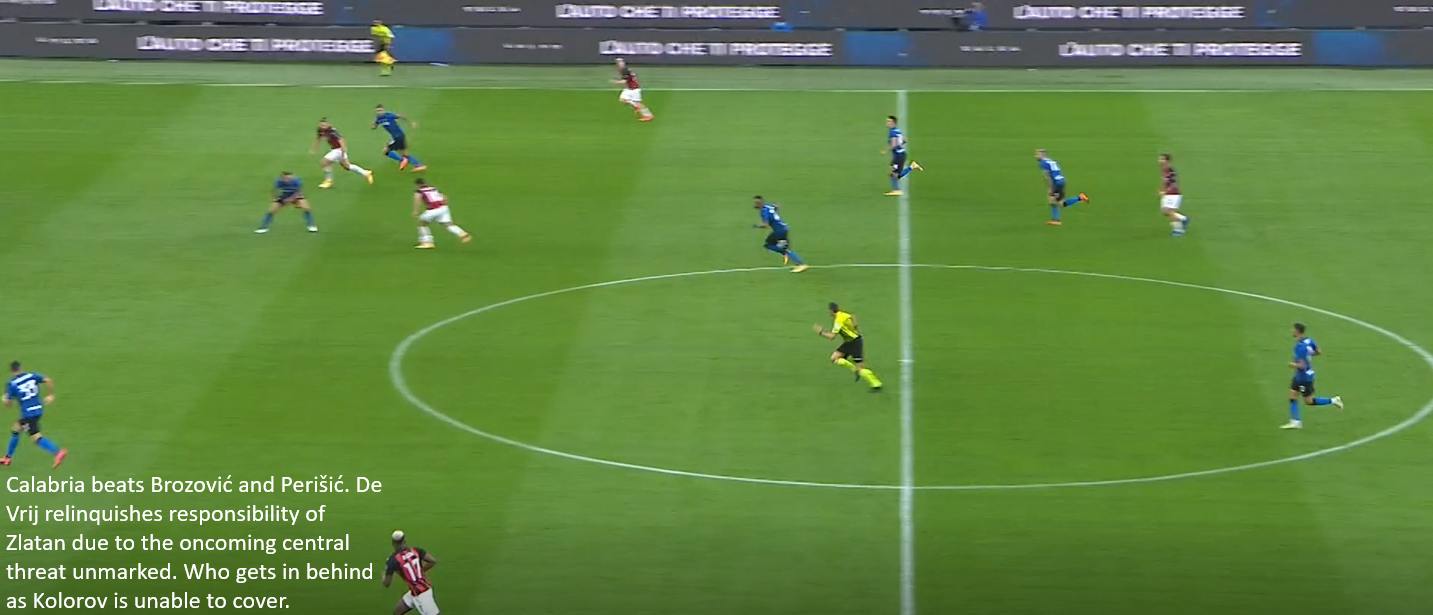 A domino effect occurred when Davide Calabria beat Ivan Perišić, as Brozović attempted and failed to compensate through aiding Perišić in closing Calabria down. This vacated space for Hakan Çalhanoğlu centrally in between the lines, which thus required Stefan de Vrij to close him down, which opened the pass to Zlatanin behind.
Through committing heavily to stopping the attack early and often failing, Inter created a succession of more and more difficult covering jobs. Aggressive pressing begot aggressive pressing to cover for exposed space, and Milan were able to duly capitalise. 
Milan's second goal was caused by a lost duel after a transition, as D'Ambrosio was left isolated against Rafael Leão. In this instance, Inter committed to the counter-press with Brozović being surpassed by Alexis Saelemaekers, which forced Vidal to cover, opening a passing lane to Çalhanoğlu who passed it to Leão to take it past D'Ambrosio and cross it to Zlatan, allowing him to score his second of the match.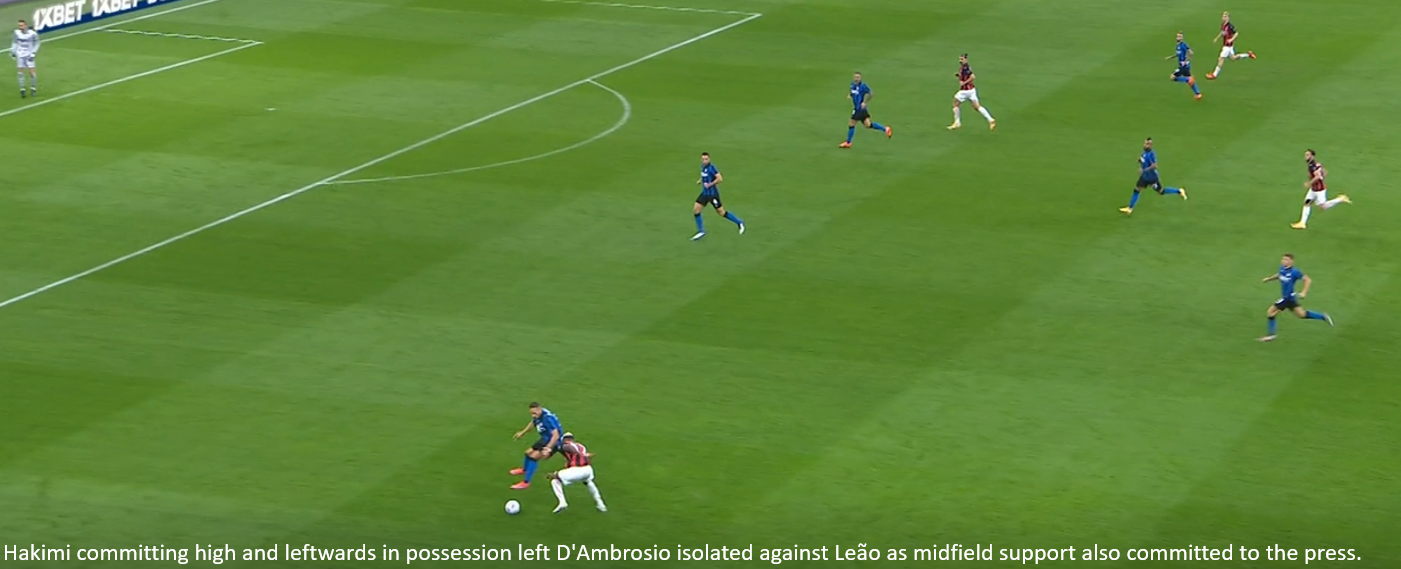 Opting for a system which places significant emphasis on centre backs winning duels was a questionable choice by Antonio Conte, especially when considering the players he had at his disposal as both Milan Škriniar and Alessandro Bastoni were out.
This required 32-year-old (D'Ambrosio) and 34-year-old (Kolarov) flanking centre backs, both of whom have spent the majority of their careers at full back, to aggressively pressure and look to recover ground after playing high with the additional responsibility of supporting attacks being placed on their shoulders.
On the opening day of the season, they were exploited by Fiorentina and chiefly Franck Ribéry, but Conte did not recognize his defensive flaws and respond tactically, and as a result, Milan took advantage.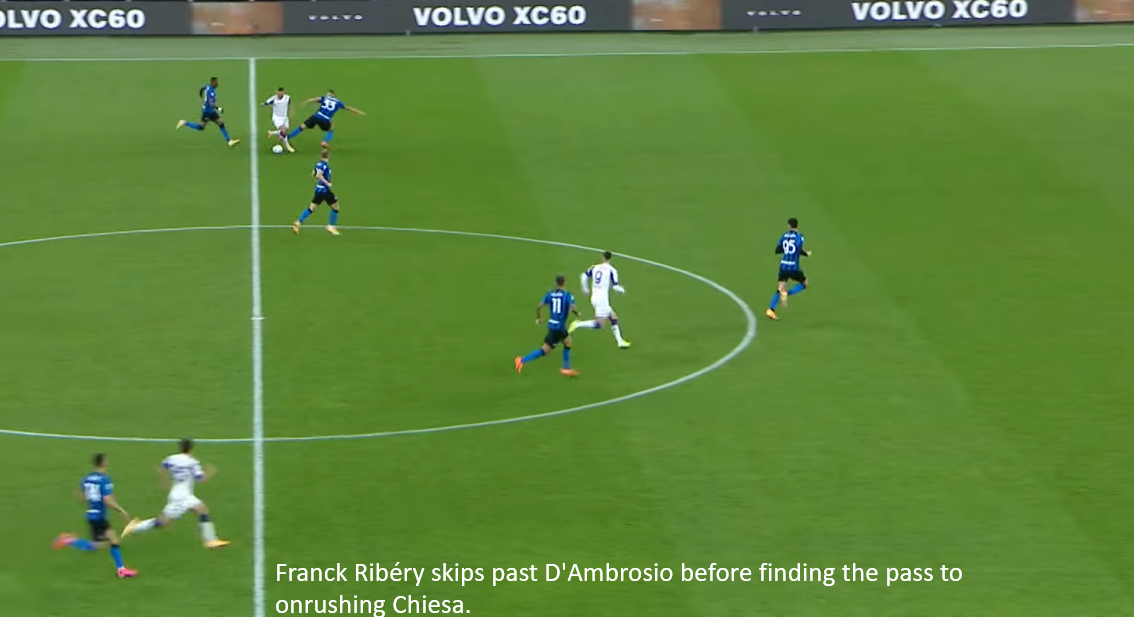 To attack with the numerical commitment that Inter desire, playing with man oriented centre backs is required as they are forced to counter press to stop quick transitions. However, they could have altered their approach coming into this match in response to the COVID-related absences of Škriniar and Bastoni, as covering large amounts of space and consistently engaging in duels is a difficult task for any centre back, especially aging fullbacks.
Defensively, Milan were man-oriented from Inter's build-up, with Bennacer marking Brozović, Çalhanoğlu on Vidal, Zlatan on De Vrij, and with the wingers covering their respective flanking centre backs while cutting the inside passing lane. The effectiveness of this strategy depended largely on how well Inter could play it long to one of Lukaku or Martínez. Overall, it left them exposed in midfield as Inter could transition quickly.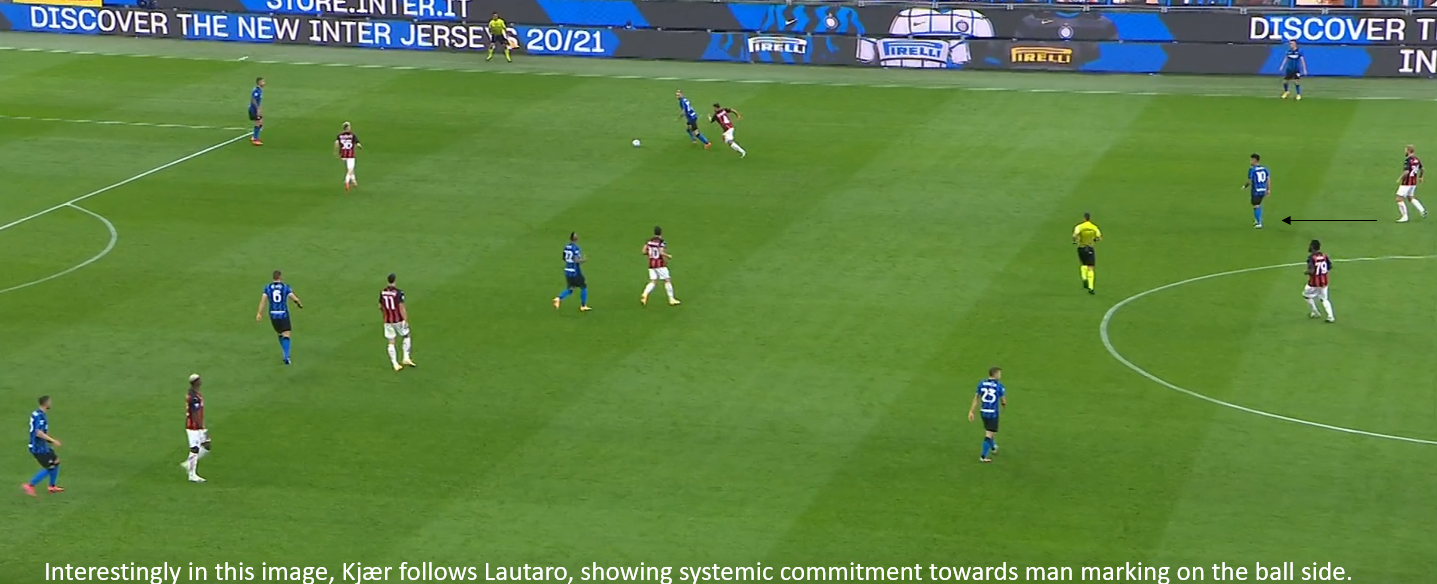 The rationale was related to stopping Inter from having uncontested possession, where they could consolidate before engaging in one of Conte's famous automatisms. By forcing them to go long, more unpredictability is introduced into the game as how a player controls the ball, and where and how it lands, with this unpredictability making a structured play more difficult to achieve.
However, as a result of this strategy, Milan risked leaving Hakimi, Lukaku, and Martínez with plenty of space to exploit in transition, and they needed their center backs to be constantly effective when engaging in these 1v1 duels.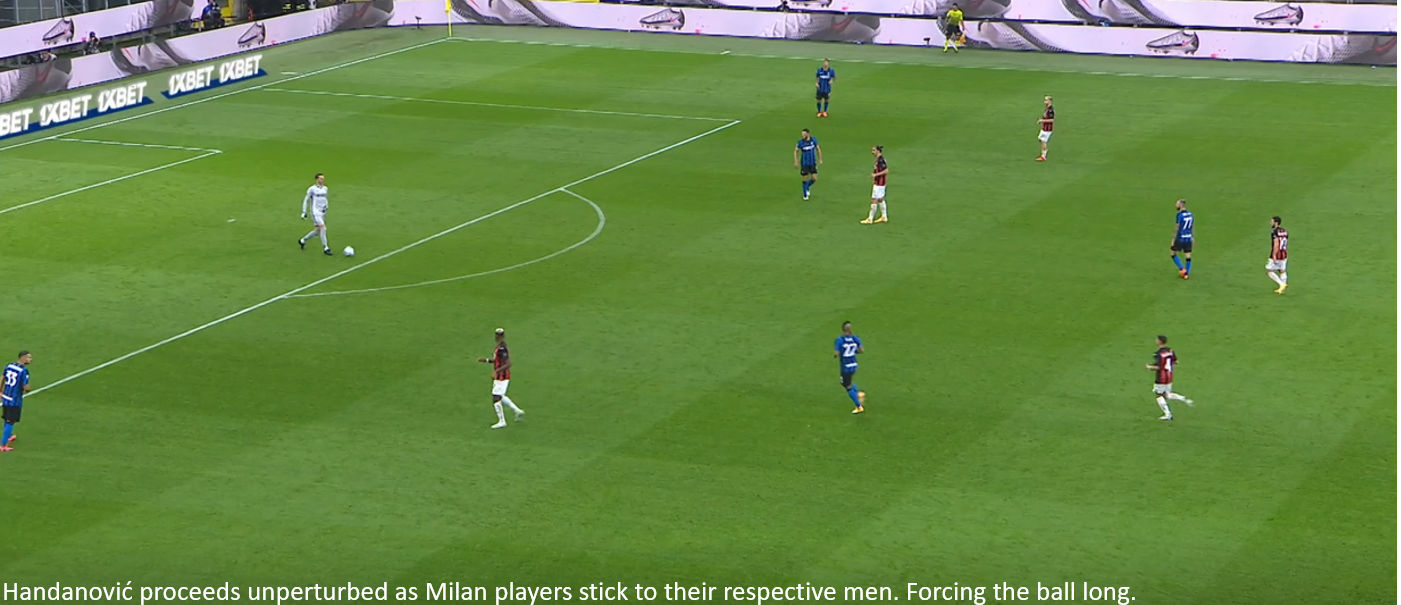 This frequently led to situations whereby Samir Handanović held uncontested central possession waiting for a passing lane to open up, similarly to Sassuolo's Andrea Consigli against Atalanta as they sought to expose a system failure in man orientation.
This worked at bypassing the press on occasion, but due to Inter's sloppiness in possession and impressive anticipation from Milan's defenders, they managed to adequately deal with Inter's attacking threats. As man orientation begets further man orientation, the game becomes increasingly focused on individuals winning their duels.

One thing that stands out in the above picture is the distance between Rafael Leão and D'Ambrosio, which indicates that Pioli sought to funnel distribution to the Italian defender before engaging in the press, with D'Ambrosio receiving possession acting as a trigger for Leão to adopt an intense press to unsettle him.
Thus, the system was more complex than simply man-marking, as Leão occupies a man-oriented pressing role, with the difference being subtle but substantial. This stopped Inter from building down their favoured left flank where they can subsequently switch to Hakimi as an outlet, forcing the wing back to become a more active figure in deep possession and helping to progress the ball, rather than as an attacking outlet to find Lukaku.
In essence, Milan wanted to limit the effectiveness of Hakimi by using Theo Hernandez to engage high, giving him space to receive but not allowing any room for progression.
Because Inter constantly push their wing backs extremely high and wide, Calabria and Hernandez were limited in how they could attack because of their responsibility to cover Hakimi and Barella out of possession, whilst they also had to drop narrower to cover for the aggressive centre backs who had to ensure neither of Inter's forwards could collect deep in space.
Hernandez often inverted his run to provide an option in possession while ensuring he was able to recover defensively, as he would rarely penetrate as deeply as he typically does when overlapping. He had to alter his role for this game, going from a key attacking figure with a relative degree of positional freedom to someone primarily oriented around nullifying Hakimi and covering space centrally.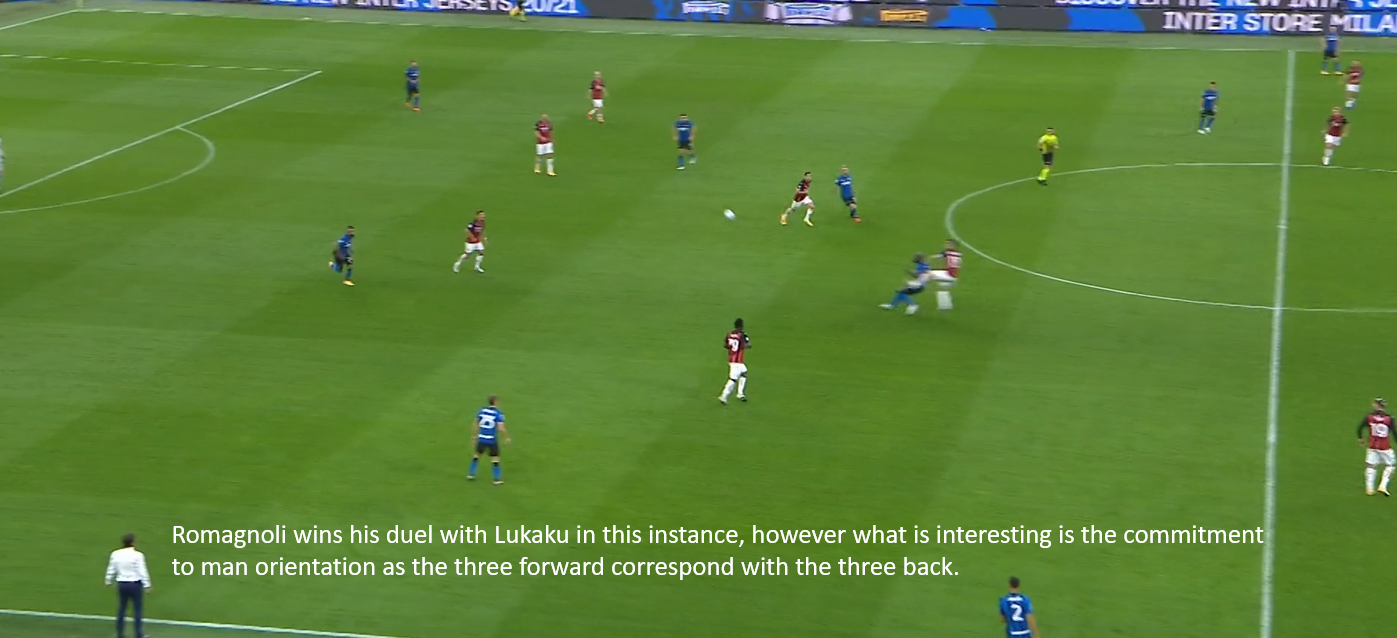 The utility of Inter's back three was demonstrated by their goal, as their zonal occupation allowed them to seamlessly transition after playing out of Milan's touchline press.
By committing heavily and failing to deal with Inter's constant maintenance of width and willingness to use centre backs in attacks, Kolarov continued to push further forward to receive, making Calabria's covering job difficult as he was exposed to a 2v1 situation which he defended well considering the circumstances.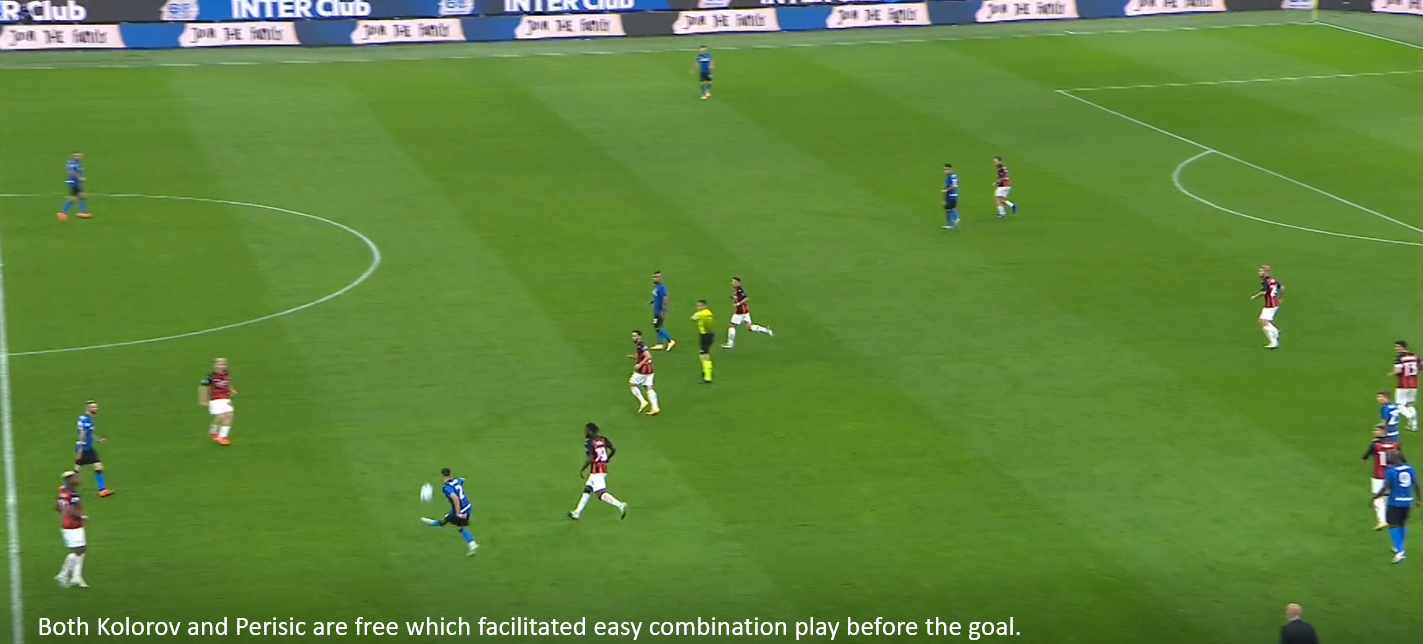 However, Milan were able to hold onto the victory despite several chances created by Inter such as Hakimi's diving header, which revealed why Pioli desperately wanted to pin him back, as his off-the-ball movement in combination with his pace makes him a lethal player for beating offside traps and makes him difficult to track when he seeks to attack space.

Nevertheless, Milan were the better team on the night, mainly because their players were more decisive and effective in their respective duels. Zlatan Ibrahimović deservedly receives the plaudits for roaring Milan to victory, however, Alessio Romagnoli in particular stood out in defence when contrasted to the struggling Aleksandr Kolarov and Danilo D'Ambrosio, the Italian containing Romelu Lukaku for the majority of the game and defending ably and aggressively.
In spite of his performance, Lukaku received chances which showed the vicissitudes of man orientation as even the best of defenders, on their best of games, can struggle at times due to the requirement to cover for two players after lost duels and receiving little to no cover themselves as the centre back. The system required that he step up, otherwise the result could have very easily gone the way of Inter.
By: @mezzala8
Featured Image: @GabFoligno