Player Analysis: Ben Chilwell
After completing permanent deals for Hakim Ziyech and Timo Werner, Chelsea announced their third signing of the summer transfer window with the arrival of Ben Chilwell from Leicester City for a reported fee of £50 million. The Englishman will look to solve Chelsea's problem position of left back, a position that has been one of Chelsea's major weaknesses for quite some time.
From 2006 to 2013, Ashley Cole was arguably the finest left back in world football, but he lost his place at 32 years old to César Azpilicueta, nominally a right back. Azpilicueta starred at left back under José Mourinho, playing a fundamental role as Chelsea won the 2014/15 Premier League title, but his position was tweaked upon the arrival of Antonio Conte.
Conte switched from a back four to a back three, with Azpilicueta starting as the right-sided center back and new arrival Marcos Alonso as the left-sided wingback. Azpilicueta's position changed once again in 2016/17, as he returned to his natural right back position under Maurizio Sarri, as Emerson and Alonso competed for the left back spot.
Both Emerson and Alonso have failed to impress under new manager Frank Lampard in the 2019/20 season, leading Lampard to play Azpilicueta at left back and Reece James at right back on several occasions. It has become evident that Chelsea's left back situation must be fixed in the transfer market, and whilst Chelsea have been linked to the likes of Marc Cucurella and Sergio Reguilón, they have splurged the cash on Chilwell, who has reportedly been at the top of Lampard's transfer targets for months now.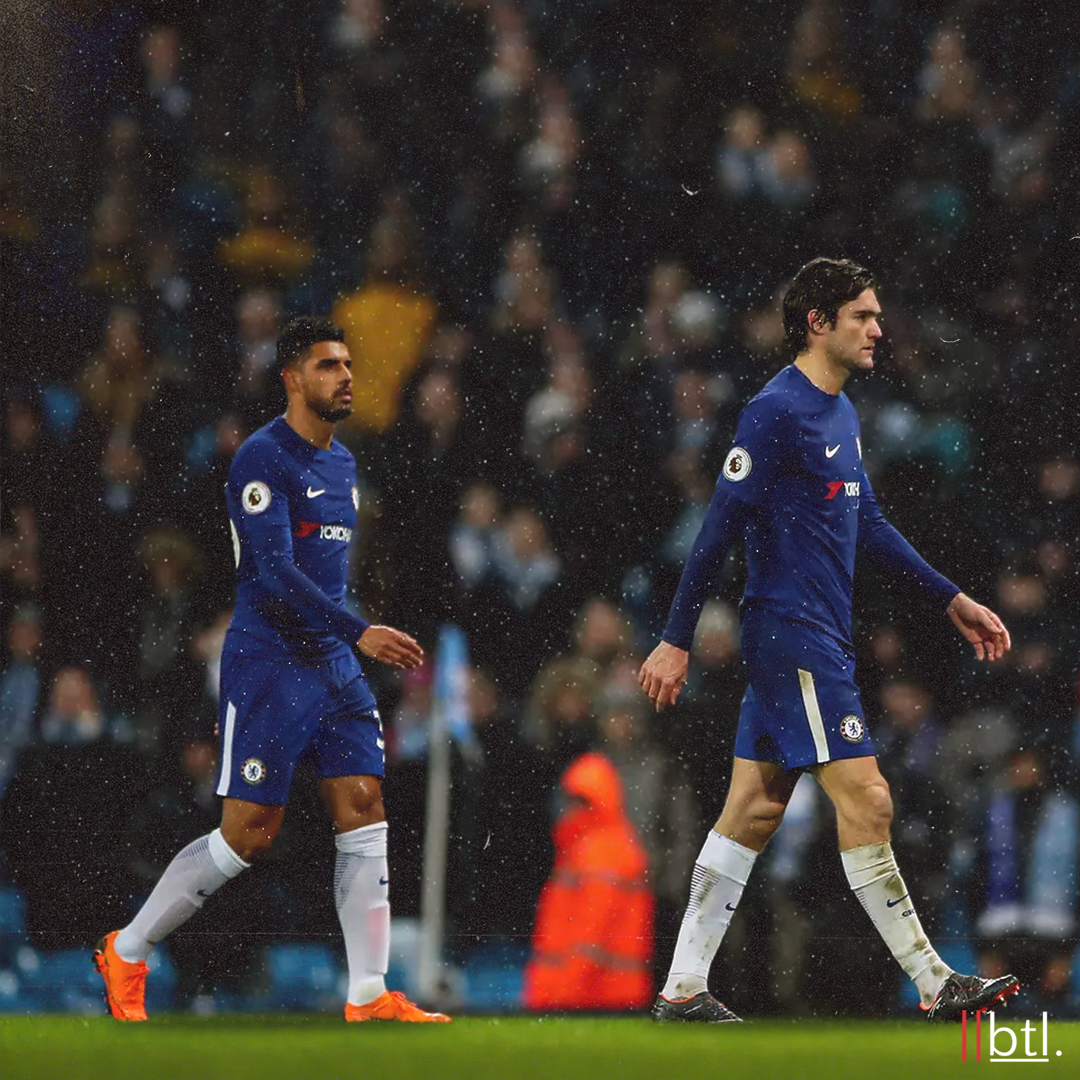 Under Lampard's direction, Chelsea have sealed the signing of Chilwell, who at 23 years old, has what it takes to follow in the footsteps of Cole as the starting left back for club and country over the coming decade. Let's take a closer look at why Lampard and co. were so desperate to get this deal over the line and just what can Chilwell bring to the table.
In Possession (Attacking Support)
Since breaking into the Leicester starting line-up midway through the 2017/18 season, Chilwell has been counted on to provide width on the left flank, allowing the left winger to cut inside and drift into more central areas. As a result, when Chilwell takes up wide positions, he can take advantage of his pace and make bombing runs forward as shown below against Manchester City.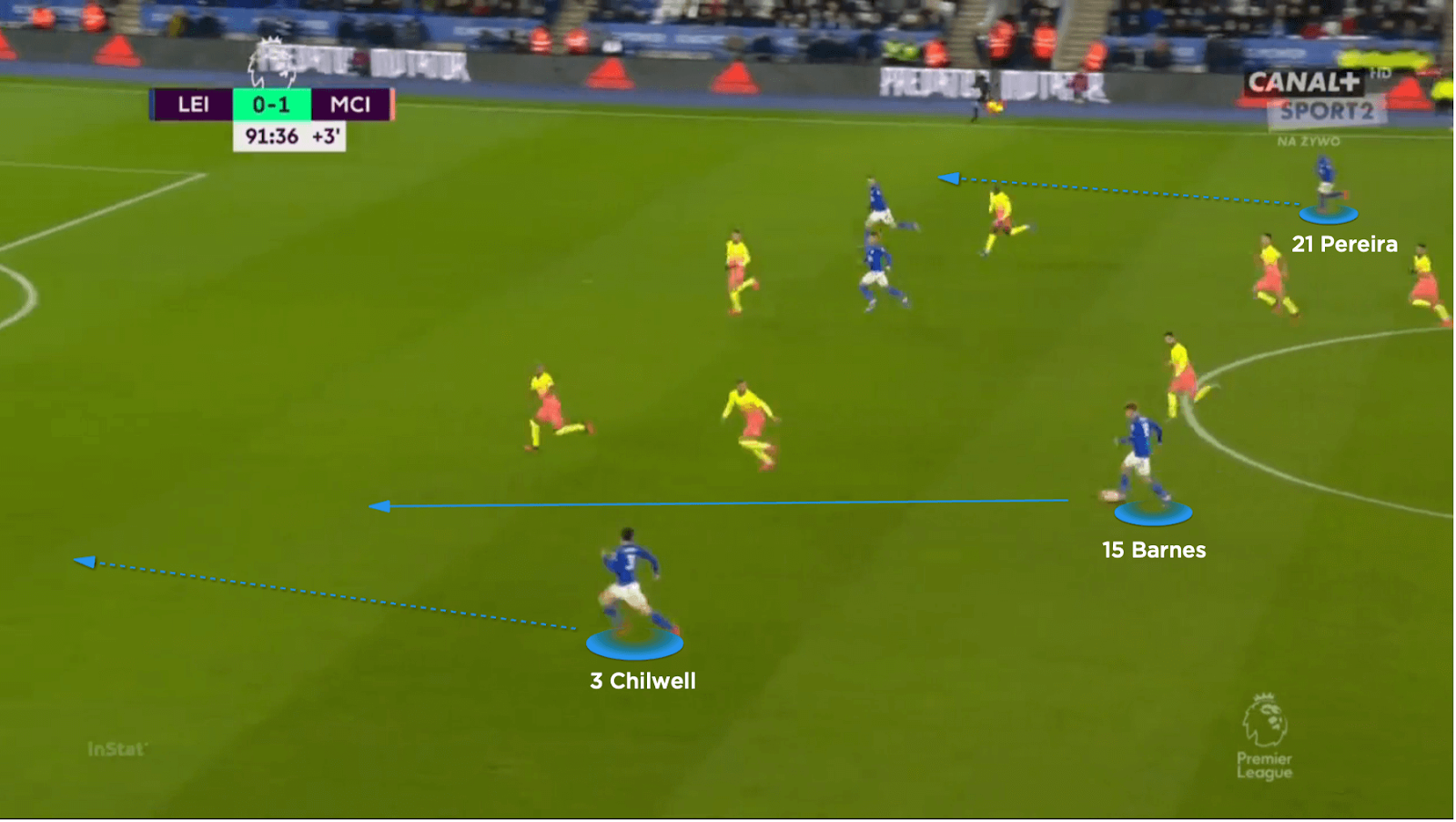 Photo: The Coaches' Voice
Ball Carrying
In addition to the buccaneering runs that Chilwell makes off the ball, he is just as impressive on the ball. Comfortable with dribbling with either foot, he is able to spring Leicester's counterattacks into life with his pace and guile.

In the above example, Leicester have just regained possession from Liverpool, and Chilwell takes a strong touch to put himself in an ideal position to take on Trent Alexander-Arnold, who is crouched down and ready to put a foot in to intercept the ball.

Chilwell takes a soft touch, choosing to slow down the pace of the attack and waiting for Alexander-Arnold to step in. He picks the right moment and advances past Alexander-Arnold, who was ready to bodycheck him and accept the foul at that point, but he didn't get the chance, as Chilwell slivered past his compatriot like Teflon.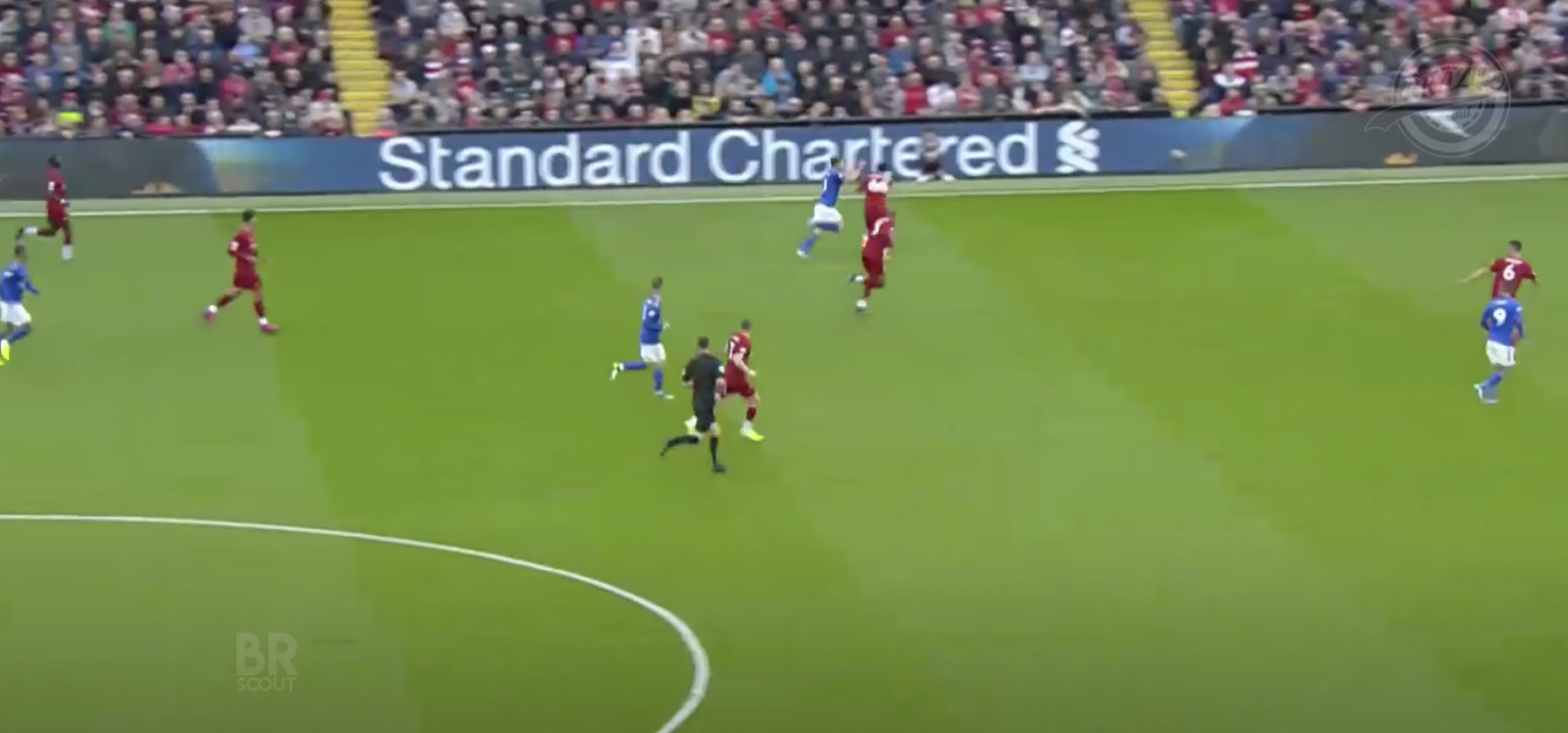 Chilwell eliminated the Liverpool right back with a deft acceleration and change of direction, gliding down the pitch before weighing up whether to put in a cross or pick out a teammate with a regular pass.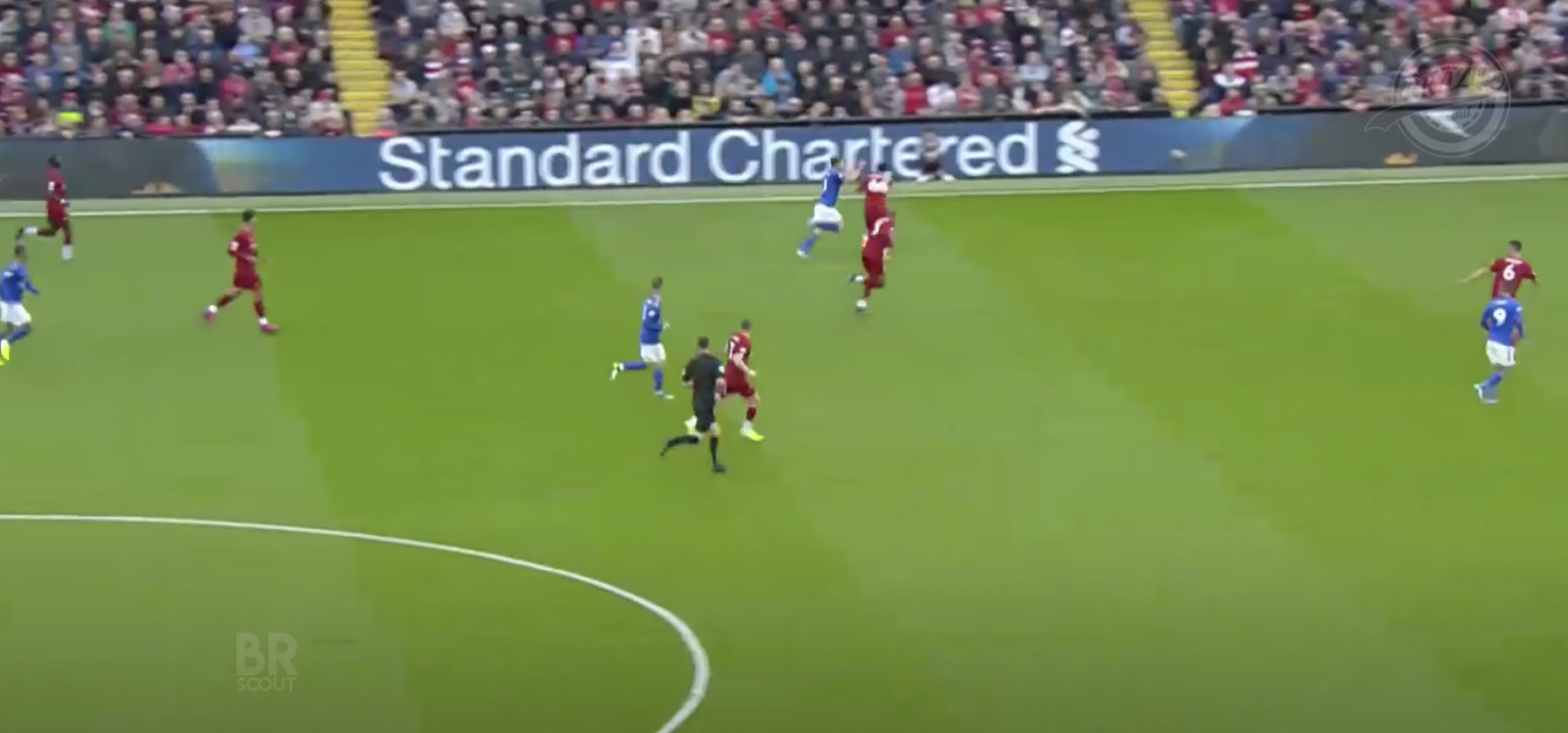 Passing in the Final Third
If Chilwell isn't progressing the ball further forward with his dribbles, he's constantly looking to create attacking opportunities for his teammates by analyzing his options to play a cutback pass or a cross.

In this example against Chelsea, Chilwell once again finds himself with the ball on the left flank against a recovering defense, when he takes note of the gap between him and the full-back opposite to him (Reece James), as well as Barnes asking for the ball at the top of the box.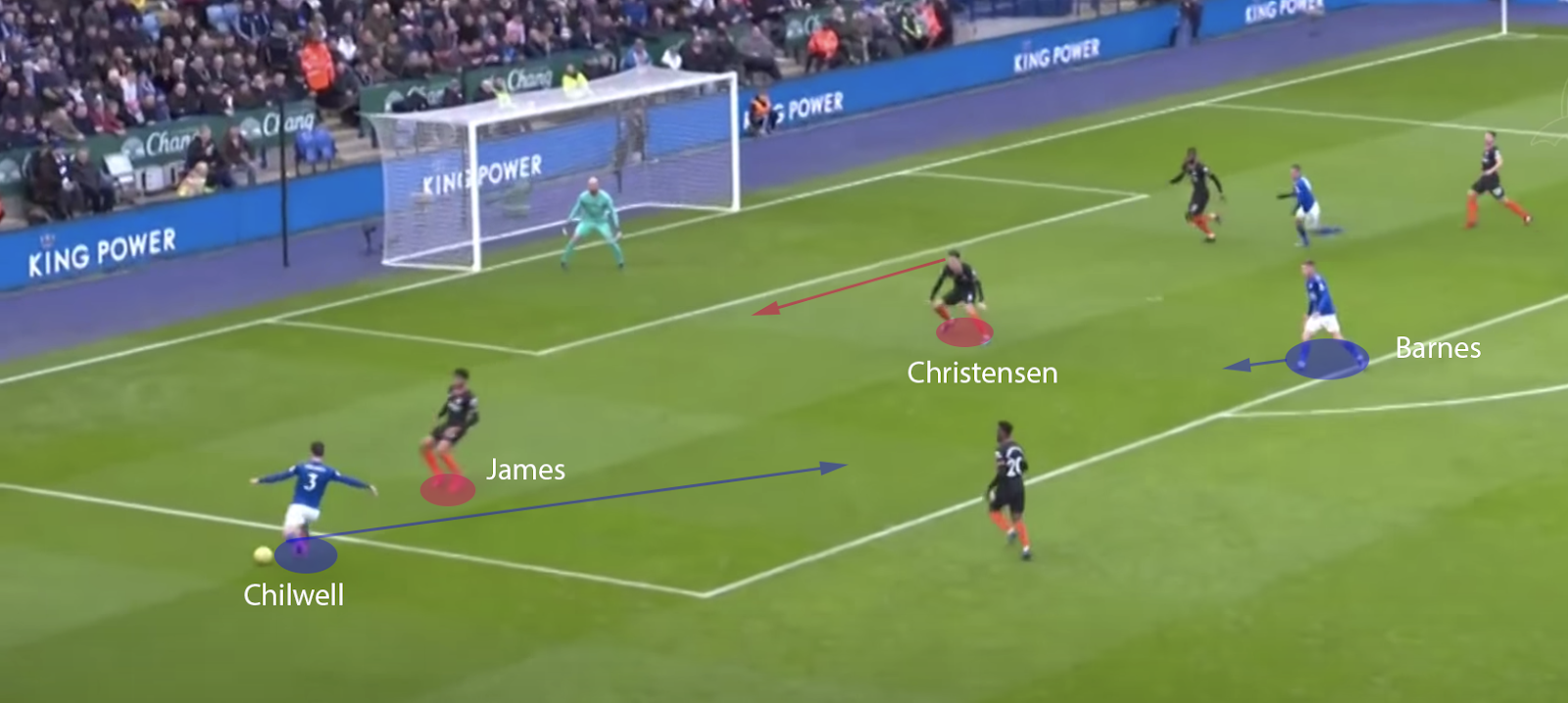 As he pushes down the left flank, he notices that Danish center back and future teammate Andreas Christensen's attention is glued to Barnes, who is waiting for the cross. He continues his run, forcing Christensen to step back and focus his attention on blocking the cross. Chilwell plays a fine cross to an unmarked Barnes, who skied his shot to Row Z.
Out of Possession (Defensive Abilities)
Proactive Defending and Awareness
Chilwell is a proactive defender, but unlike many defenders in his profile, he does not usually overcommit in his challenges, allowing him to recover if being beaten. 
In this example against Southampton, Leicester lose possession in a dangerous area and Chilwell sprints into action, closing down Danny Ings. Chilwell's recovery speed allows him to make up large distances, nullify runs in behind, and eventually win the ball back.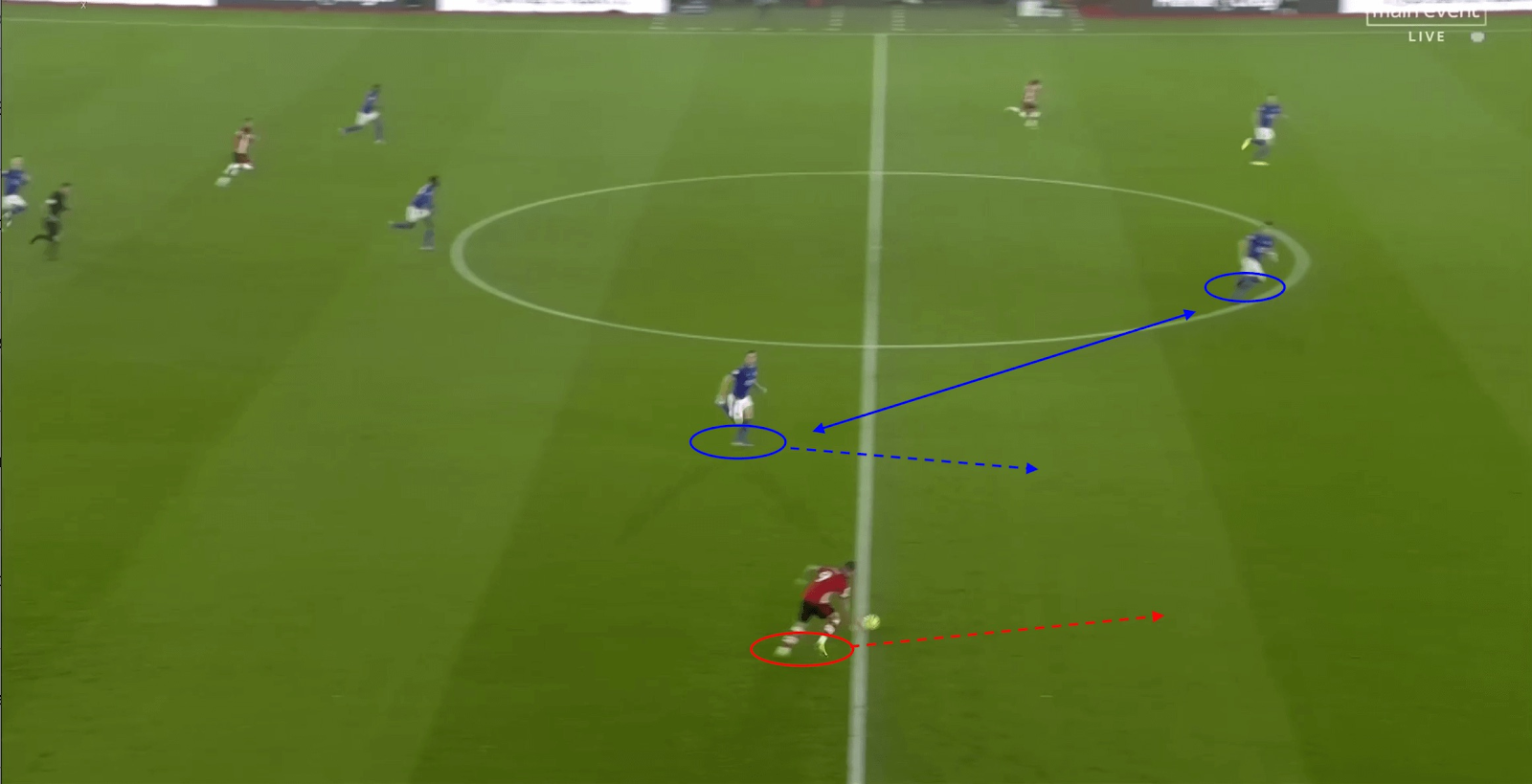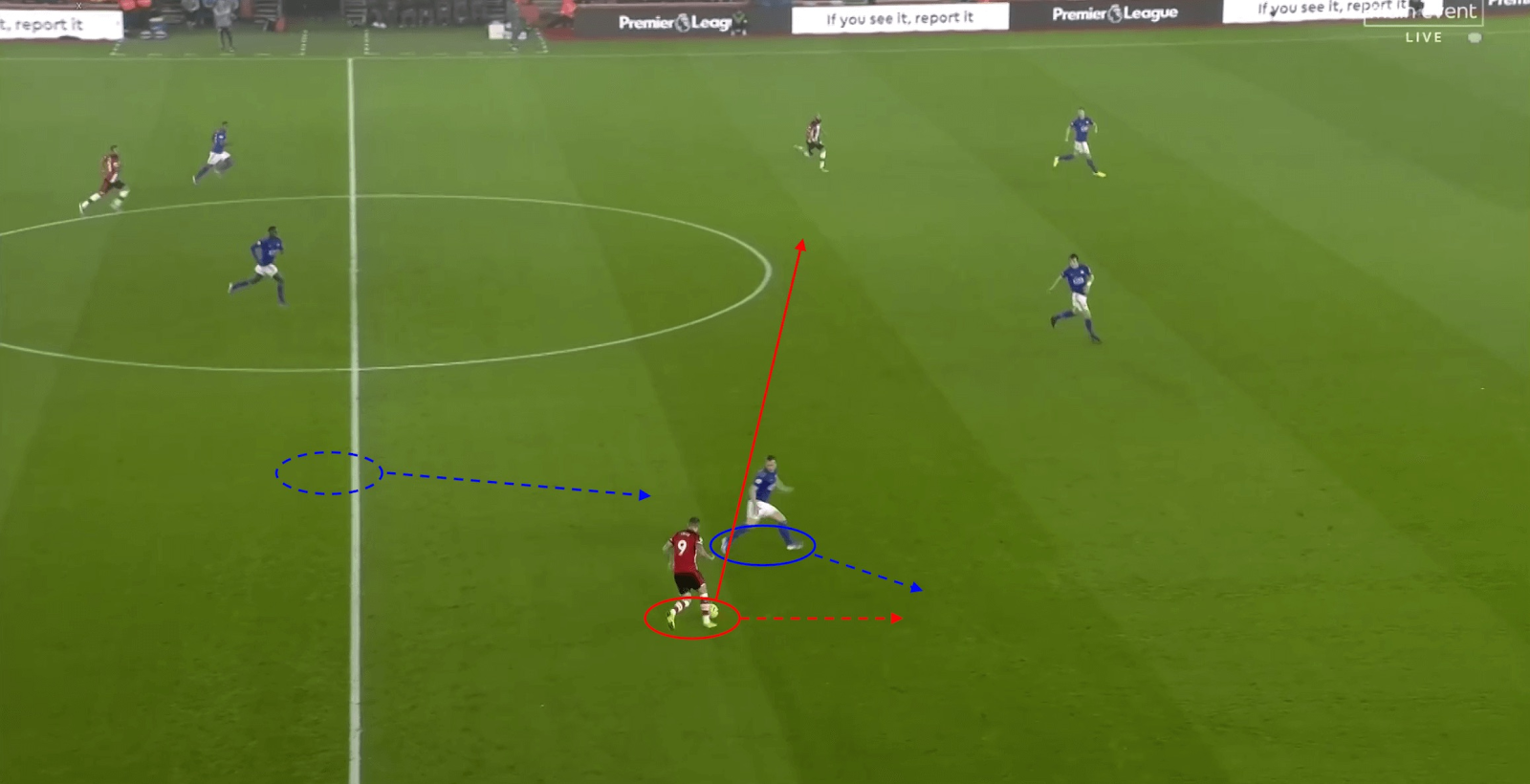 Game Examples Summation:
Chilwell is a capable attacking fullback, capable of spreading the pitch with his movement and creating space for his winger to exploit.
Combined with his natural vision to pick out passes in the final third, Chilwell's sheer pace and proactive nature allows him to recover in defensive transition, slow down the counter, and contain the opposition forwards as he waits for support to arrive.
Comparative Analysis
In addition to the qualitative information and in-game examples of how Chilwell likes to play, it behooves us to analyze how Chilwell's numbers shape up against his competitors. We'll be judging Chilwell against other left backs who have played at least 1,000 minutes last season. Tables will be presented in each category with averages taken with highlights of red cells representing an underperformance to the average, while green highlighted cells will show overperformance.
In-House and League
In regard to in-house options, Chelsea FC currently have Emerson and Alonso as their left back options. However, due to a lack of confidence from Lampard in regard to these two, Azpilicueta has been deployed to play on the left-hand side at times instead of either option, with Reece James occupying the right-hand side. However, Azpilicueta is not a traditional left back and therefore will not be analyzed at as such, but this does further highlight the greater problem. 
Alonso is known for his strong left foot when it comes to shooting or taking free kicks, and he also has the ability to play a quality cross from the left side. However, he is much slower than both Emerson and Chilwell, which causes him to be exposed on the counterattack more often than not.
In contrast, Emerson is a quicker fullback with much more confidence on the ball, enabling him to take players on and progress into dangerous areas. Naturally, his ability to recover and make overlapping runs are excellent, although his final ball still needs plenty of improvement.
Let's take a look at how Chelsea's three left backs shape up against each other in terms of expected goals and assists.

Source: FBRef
In terms of overall production, Chilwell and Alonso both contributed to six goals each while Emerson failed to register a goal or assist in his time on the field. Chilwell lagged in comparison to Alonso for goal scoring and actual G90+A90, but he and Alonso both outperformed their xG90+xA90.
Overall, Alonso seems to be the strongest in terms of goal production. The Spaniard was heavily utilized as a left wingback by Lampard, scoring 3 of his 4 goals and assisting 1 of his 2 in this more advanced position. On the other hand, between all left backs who have played over 1,000 mins in the Premier League, Chilwell places 4th for xA90, a testament to his decision-making, timing, and the weight on his passes in the final third.
Now, let's look at how productive each player is in terms of their passing in the final third.

Source: FBRef
Chilwell and Emerson both attempt more passes than Alonso, but Chilwell suffers when it comes to passing completion. This is due to the fact that Chilwell, relative to both Emerson and Alonso, attempts more forward passes as noted by his headlining of progressive distance in his total passes.
In the attacking phase, Alonso once again outperformed both Chilwell and Emerson in most categories. Although Chilwell averaged more final third passes, it's clear there is room for improvement in his crossing when compared with Alonso and left backs in the rest of the league as he places 12th. Ultimately, we can gather that although Chilwell is not the finished article, his involvement in the passing game and progression of the ball is an upgrade to both Chelsea left backs.
Additionally, the Englishman still places in the top five amongst Premier League left backs in terms of key passes, despite ranking lower than both Alonso and Emerson. His amount of passes in the final third pass rank similarly at 5th, but it's clear that he needs to improve in terms of his crossing accuracy.
By evaluating shot creating actions and goal creating actions per 90 mins, we can evaluate how effective Chilwell, Alonso and Emerson are in producing a pass, dribble, or drawing a foul which lead to either a shot or a goal.

Source: FBRef
In the table above, Chilwell lags in comparison to both Emerson and Alonso in terms of shot-creating actions per 90 minutes, or SCA90. However, it must be noted that Chelsea is a more dominant team in terms of shots, averaging 16.4 shots per game as opposed to Leicester's average of 14.2.
Regardless, this is something that will improve for Chilwell at Chelsea as he still places 5th for this category when compared with other left backs in the league. In terms of goal-creating actions per 90, or GCA90, Chilwell places 6th in the league left backs but still remains behind Alonso, showing he can improve this part of his game.
Moving onto defense, we will compare Chilwell with his competitors in terms of tackles per 90, pressures per 90, areas of the field that he applies pressure in and interceptions. 

Source: FBRef
When it comes to tackling, Chilwell outperforms Alonso and equals Emerson, but in comparison to the rest of the league, he falls in the middle of the pack in both tackles per 90 and TklW90. What Chilwell does exceptionally well, however, is his pressuring. In the league he is 4th when compared with other left backs, and he outperforms both Alonso and Emerson in this category.
Even more impressively is where he pressures the ball. Chilwell has the 2nd most pressures out of left backs in the middle third of the pitch, showcasing his ability to play in a high line. Chilwell does underperform Alonso and Emerson when it comes to interceptions per 90, but this will improve in the future as his ability to cut out passing lanes develops.
For the penultimate category, it'll be necessary to look into Chilwell's ability on the ball. Knowing his tendency to carry the ball up the left-hand side frequently, we will analyze how well he performs in regard to others and progressing the ball up the field.

Source: FBRef
Although Emerson attempts more dribbles per 90, Chilwell still sits 7th when compared with the rest of the league in this category. On top of this, he also places 9th when it comes to players dribbles past per 90, whilst he also ranks 4th for carries per 90.
Chilwell's best trait is his ability to progress the ball up the field; his carries have proven to be an effective means of pushing the ball up and field and sparking the attack into action, as he places first in the league for progressive distance carried per 90.
Now, let's look at how Chilwell places in terms of aerial ability compared to the rest of his competitors.

As shown in the table, Chilwell is quite impressive in his ability to win aerial battles. Not only does he outperform both available options at Chelsea, he also places 1st amongst all left backs in the Premier League in terms of aerial duels.
Whilst Chelsea have conceded 26% of their goals from set-piece opportunities, Chilwell, who places 8th amongst all Premier League defenders in terms of aerial duels, will help them improve in terms of defending dead-ball situations; only Kurt Zouma has a higher aerial duel percentage in Chelsea.
Chilwell's Fit at Chelsea
If Lampard does stick with his 4-3-3 formation — which was his most utilized line-up in the 2019/20 season according to WhoScored, we can formulate an accurate idea of what will be Lampard's first choice line-up. There are still several players who could still join in the final weeks of the summer transfer window — Édouard Mendy and Declan Rice have been linked — whilst other players such as Azpilicueta and Mason Mount could enter into the line-up in their places.
Under Lampard, Chelsea have adopted a high intensity pressing style, often utilizing counter-pressing. This is where the team looks to immediately win back the ball after turning it over as a means to dominate possession and win the ball in dangerous areas of the field.
In the counter-press scenario depicted below, we can expect front-line pressure from Christian Pulisic and Werner on the left side of the opposition backline. Mateo Kovačić will progress the ball further and assist the press or cut out passing options in midfield.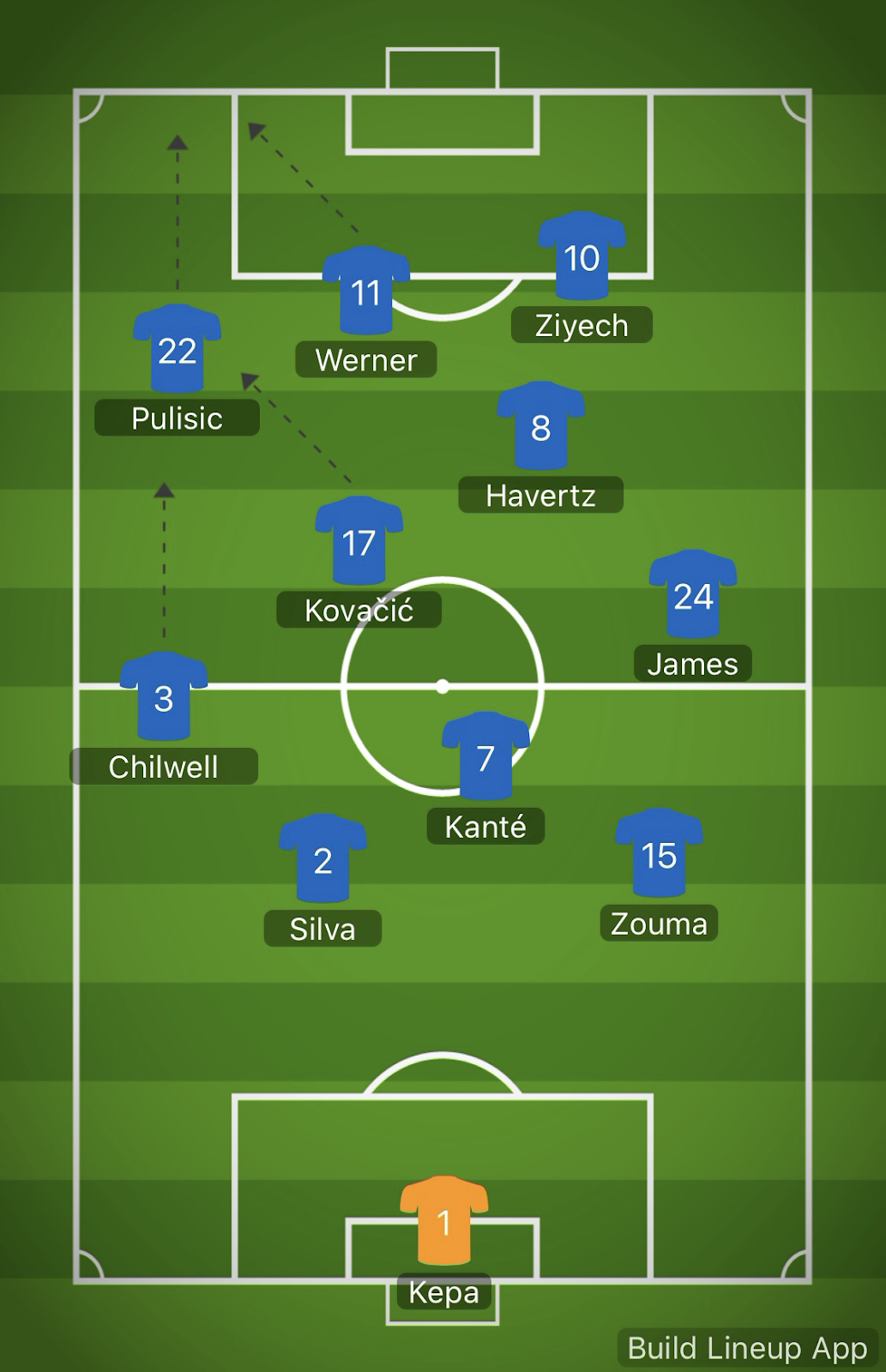 The rest of the players with no arrow displayed will occupy similar spaces to cut out passing options. Chilwell will also progress the ball forward and stick tight with the wide forward on his side to prevent any passing attempt over the top from the opposition. With Chilwell's ability to win the ball back effectively and press in the middle third of the field, opponents will struggle to play out the back and will likely succumb to Chelsea's possession dominance.
In the attacking phase, Lampard wants his full backs to progress up the pitch and support the attack. This means additional width can be created so as to overload the wide areas. In this scenario, Chilwell progresses the ball forward down the left-hand flank with his ball carrying, allowing Pulisic to take up positions on the inside and make runs into the box.
With both Werner and Pulisic as available options in the box, Chilwell can utilize his excellent passing ability in the final third to create opportunities in the attack. Conversely, he could also provide himself as a wide outlet for support, with Kovačić and Pulisic as passing options and Havertz sitting at the edge of the box as well.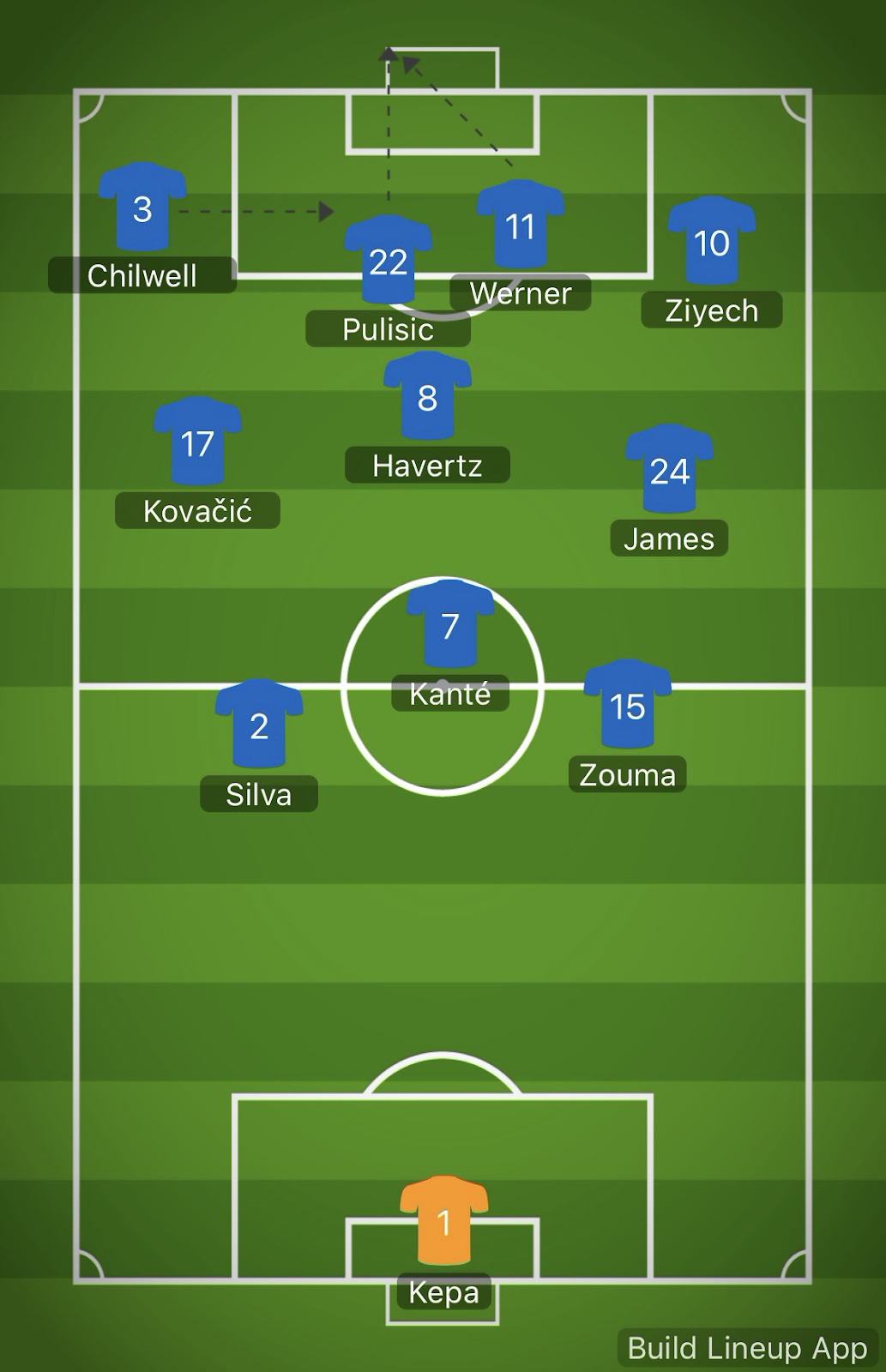 Conclusion
It's easy to see why Frank Lampard was so keen to get a deal for Ben Chilwell over the line and pay a substantial fee for the Englishman despite his underwhelming second half of the 2020/21 season. His reading of the game and vision in attack, as well as his ability to pick out quality passes in the final third are amongst the best in the league, and at 23, he's only going to get better. 
There still remain areas of improvement that will need to be addressed if Chilwell is to follow in the lofty footsteps of Ashley Cole, such as his passing accuracy, crossing, and interceptions. However, there is little doubt that he is one of the most promising left backs in Europe, and he'll be looking to push on in his development as he prepares for next summer's Euros.
By: Michael Nazarian
Featured Image: @GabFoligno / Bradley Collyers / EMPICS