The Importance of Speed in Modern Center Backs
The hardest thing in life to live up to is expectations. In football, expectations on clubs, managers and players have never been higher. As fans, on top of expecting players to give their all-in games, we want them to be the epitome of perfection in their position.
We expect strikers to be as equally proficient outside the box as they are inside of it. We expect midfielders to thread Xavi like through balls, cover the midfield like N'Golo Kante, and score goals like Frank Lampard. Now, these wild expectations have turned to centre backs.
Beforehand, there was no requirement on centre backs to be fast; or even bring the ball out of defence. Reading the game well, putting in strong challenges, and winning aerial duels was enough. However, that has all changed.
When this change came about is hard to say, but the best teams in world football now adopting a high press means that the role of the centre-back has changed forever. 
The demands of modern-day centre backs are multi-faceted, alongside being aerially dominant and reading the game well, centre backs are now expected to break midfield lines with either passing or driving with the ball.
They must have immense recovery pace when playing a high line, alongside being physically strong and comfortable defending wide positions.
As mentioned beforehand, the top teams in football play a high press and with it a high defensive line. To play this high line, defenders must have a very good reading of the game of knowing when to step up, and they also must have the recovery pace to track back when a striker has timed his run well.
For example, the all-conquering Bayern Munich team of 2019-2020 was noted to have an extremely high line. The centre backs for this team were David Alaba, who was formerly a left-back, so physically, he could meet what was demanded of him.
Alongside him was Jerome Boateng, who had been one of Europe's best centre backs for the large part of a decade due to his unreal passing abilities with both feet. An example of this team's high line is the famous 8-2 demolition of Barcelona in the 2019/20 UEFA Champions League.


Bayern's defensive line is very high and narrow, which was a deliberate game plan of theirs to force Barcelona to play out wide. Yet, there are instances in which their high line was penetrated. Here you have Luis Suarez, who timed his run to perfection to get in behind the centre-backs to latch on to a through ball. 
In the next frame, however, David Alaba, using his recovery pace, manages to get back and dispossess Suarez before he manages to get a shot off against Manuel Neuer in goal. Without his reactions and speed, the Austrian defender wouldn't have been able to catch up to the Uruguayan forward.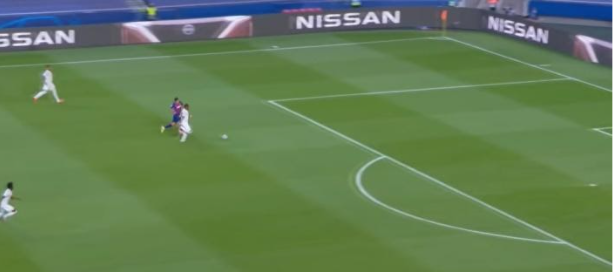 It was not only their physical attributes that allowed them to play these roles, as both centre backs completed over 90% of their passes and over 66% of their tackles in their league campaign.
The ability to do all these things to a high level is what allowed Bayern to play their high press and direct style of play.  All of this led to them securing six trophies in 2020, becoming only the second team to do so, after Barcelona did so in 2009.
Perhaps the most famous example of a centre-backs impact on a team is Liverpool's titan at the back, Virgil Van Dijk. When he was bought for £75 million from Southampton, many eyebrows were raised across the Premier League; however, he has proved that figure to be a bargain. 
The Liverpool manager Jurgen Klopp has described his style of play as heavy metal football, in which he emphasises his team to press from the front and to be at the opponent's neck for the whole ninety minutes.
To play this style of football, his team, like Bayern's, required the two centre backs to be able to play a high line and have the necessary recovery pace if the line is breached. Therefore, Joe Gomez or Joel Matip will often pair the Dutch International at the back. 
Against Wolverhampton Wanderers, Liverpool are caught on the counterattack. Adama Traore, arguably the fastest player in football, receives the ball on the wing, with Van Dijk covering.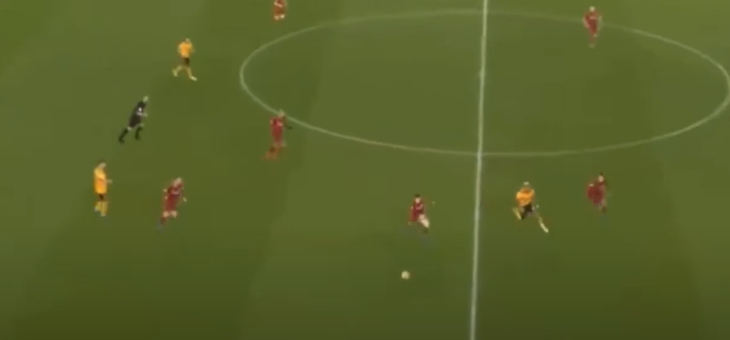 Though all odds point to Traore beating Van Dijk, the Dutchman forces him to take the wider route, and he manages to dispossess the Spaniard on the wing and play the ball back to Allison.

The big Dutchman is also required to start attacks as well.  As he often does from the left centre back position, Van Dijk aims a diagonal long pass to the right wing. This is often done to unsettle the opposition's shape and break down deep blocks.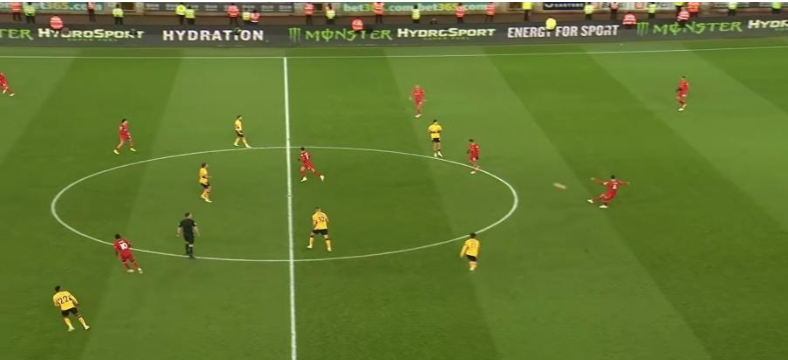 The ball to Mohamed Salah is weighted perfectly, which means he can take the ball in his stride with his first touch. Salah then cuts the ball back to Divock Origi who scores the 94th-minute winner. All this originated from Van Dijk's excellent passing ability.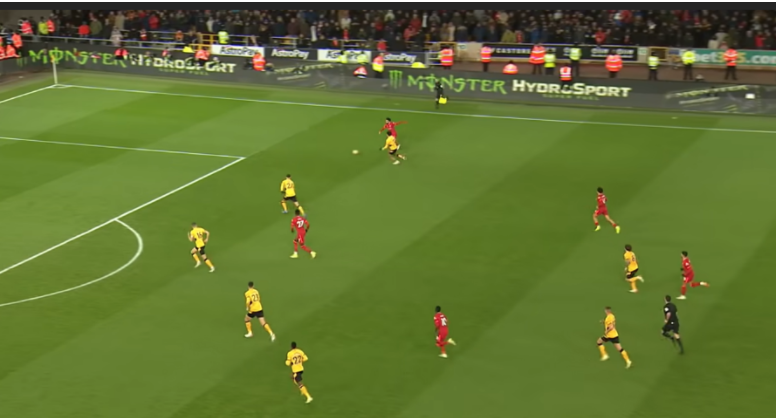 In the 2018/19 season, Liverpool only conceded 22 goals in the league, and only finished one point behind Manchester City in the Premier League and they won the Champions League. The following season, the Merseyside team conceded 33 goals, still, the lowest in the league, and they walked to the Premier League title, finishing 18 points above their nearest rivals, Manchester City.
In the title-winning season, Van Dijk completed 89% of his passes, 77% of his tackles, received only 1 yellow card and managed to score 5 goals to go alongside his defensive contributions. One of his most famous stats is that for 50 Premier League games straight, not a single player managed to dribble past the Dutchman. A fact so unbelievable it sounds false.
Since he has come to Merseyside, he has shown himself to be the best centre back in the world and has had a transformative impact on this Liverpool team, being a key part of their recent success. Nevertheless, the success of Liverpool's titan at the back and others around Europe who possess all-around qualities has meant those not blessed with pace, are seen as not good enough.
An example of this is James Tarkowski at Burnley. Ever since the Lancashire-based team entered the Premier League, Tarkowski has been a rock at the back for them. Burnley are infamous for playing in a deep block, which this season has led to Tarkowski winning over 83% of his tackles and he wins the most aerial duels out of any defender with 4.9 per game.
Even though he has done excellently since coming to the Premier League, a big move has not materialised for the England international. One of the reasons may be that he does not have the pace to operate in a high line. Also, this season he is only completing 70% of his passes, whereas centre-backs like Thiago Silva are completing about 90% of their passes. Although this number is heavily due to Burnley's style of play.
However, there are players who have not achieved the consistency or level of play that Tarkowski has shown over the last few years, who just because of their potential and physical attributes are seen as more desirable. For example, after one season of playing for Saint-Etienne in Ligue 1, William Saliba was bought by Arsenal for £27 million.
The U-21 French international has yet to play a game for Arsenal but his potential is for all to see. Being 6ft 4 inches, completing over 94% of his passes and tackles for a Jorge Sampaoli led Marseille this season and having immense speed means that Saliba is multi-faceted and can become a complete centre back in the future.
It seems like players like Tarkowski, who have perfected the "old" rugged style of defending are becoming less desirable by the "bigger" clubs in Europe and dare I say, becoming out of date. 
Football's ever-evolving state means that we ask players in every position to do more than ever before. Whether fair or unfair, centre-backs are now becoming the most harshly judged players on a pitch. Not everyone can have a transformative effect on a team like Van Dijk can, in which a player seems to possess all the attributes a perfect centre-back would have.
However, it seems like if a player is missing one of these attributes like speed or the ability to build up play, a move to one of Europe's top teams seems increasingly unlikely. It's why Bayern replaced Boateng and Alaba with Lucas Hernandez and Dayot Upamecano, and why Liverpool bought Ibrahima Konate.
It's why Wesley Fofana after one season at Leicester is seen as Leicester's next big money departure and the reason Arsenal bought William Saliba for £27 million at only 18 years old. It used to be that speed was a winger's ability, but now it looks like centre-backs have finally caught up. 
By: @abuy2j
Featured Image: @GabFoligno / Soccrates Images / Getty Images / John Powell / Liverpool