Trabzonspor's Recovery Mission Begins
After losing just three league games in last season's title-winning campaign, Trabzonspor have endured a dismal and disappointing defence of their first Super Lig title in 38 years. In the ten months separating their league title win with the eventual departure of manager Abdullah Avci, Trabzonspor lost nine league games – more than Avci lost in both the 2020/21 and 2021/22 seasons. This run was made to look all the worse with Galatasaray racing ahead with a record winning streak in the Turkish Super Lig and leaving the likes of Trabzonspor in the dust. 
Furthermore, the spiral of chaos went further than just a managerial change. Trabzonspor's long-time chairman, Ahmet Agaoglu, stepped down in the beginning of March 2023 citing "differences of opinion" as the reason for his resignation. In the weeks since losing Avci and Agaoglu, the Turkish champions have fumbled together a contingency plan to put an end to the wave of uncertainty that has enveloped the club this year. From the 9,278 club members eligible to vote, 1,231 cast their votes with businessman and lifelong Trabzonspor fan Ertugrul Dogan receiving 919 out of 1,129 votes to secure his position as chairman for a 20-month term.
Trabzonspor won one Turkish Super League, one Turkish Cup and two Super Cup championships under Ahmet Agaoglu, who took the helm on April 8, 2018. His appointment of Abdullah Avci will perhaps be the turning point in his legacy at the club. Avci brought success to the club and enkindled an extremely functional, disciplined and hard working approach which, in turn, brought trophies to a club who had once been starved of them. 
New Beginnings 
With Ertugrul Dogan beginning his new role as Trabzonspor chairman, one of his first jobs was to find a new manager to lead the club forward. With qualification for Europe seeming too far out of reach for Trabzonspor, the aim was to get a manager to keep supporters invested and with a view to getting the club back to competing for trophies next season. 
A Match Made in Heaven: Marek Hamsik's Impact at Trabzonspor
Whilst there were a range of reports linking Steven Gerrard to the club, this story certainly felt sensationalised at its root and not grounded in any sort of reality. Trabzonspor, in fact, took a very interesting approach in appointing a manager that many European football fans would not have been familiar with. Nenad Bjelica, known fondly in Croatia for his time managing Dinamo Zagreb – who he led to the 2018-19 league title – and Osijlek – where he led them out of a relegation battle and guided them to a 3rd-placed finish in 2020/21. 
Bjelica's time at Dinamo Zagreb was certainly intriguing if nothing else. Zagreb appointed Bjelica with only two weeks remaining of the 2017/18 season, replacing Nikola Jurcevic. He guided Zagreb over the finish line and secured the league title narrowly placing above Rijeka. Bjelica was credited with winning the 2017/18 title that season with Zagreb. 
The following season, however, saw Bjelica's Dinamo Zagreb race ahead with the league title playing an extremely exciting brand of football which made the most of especially talented players the club were equipped with at the time. Dani Olmo, Bruno Petkovic and Dominik Livakovic – incidentally, all key parts of their national teams in the most recent FIFA World Cup – made up the key components of the Zagreb side that triumphed over Croatian football at a canter in 2018/19. 
What Trabzonspor Fans Can Expect From Bjelica Tactically
Subsequent to Bjelica's surprising dismissal from his position at Dinamo Zagreb during the 2019/20 seasons' pause for Covid-19 – while his side still sat as comfortable league leaders in Croatia – Bjelica took six months off before finding his new role in management. This role came in the form of Osijlek, one of the Croatian football's challengers to the throne which Dinamo Zagreb have securely guarded for so long.
In 2020/21, though, Osijlek were languishing just above the relegation zone after a winless first four matches – despite finishing in the top four the previous four seasons – and felt turning to Bjelica would change their fortunes. Crucially, this decision worked wonders for the club, Bjelica turned around the club's fortunes and embarked on an extraordinary run of form in 2020/21 that shot Osijlek up to second in the table, finishing just eight points off Dinamo Zagreb despite effectively giving them an four game head start. 
Bjelica's Osiljek had a strong tactical identity. There were clear patterns of play that required a focused degree of coaching and Bjelica had his side executed these patterns of play very effectively. Firstly, when examining Osiljek in 2020/21, it is clear the centre backs were instructed to come forward with the ball and to make angled runs to receive the ball in build-up. Despite setting up in a 4-2-3-1/4-3-3, one centre back would often receive the ball central in the pitch as the left back would invert to make a back three in possession.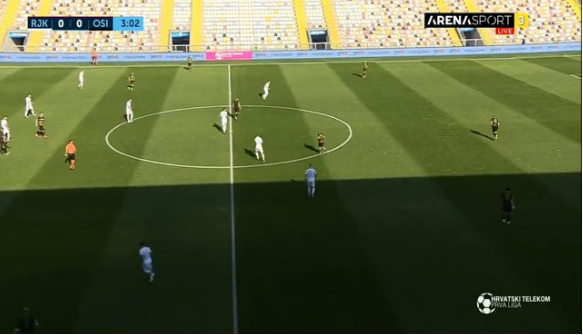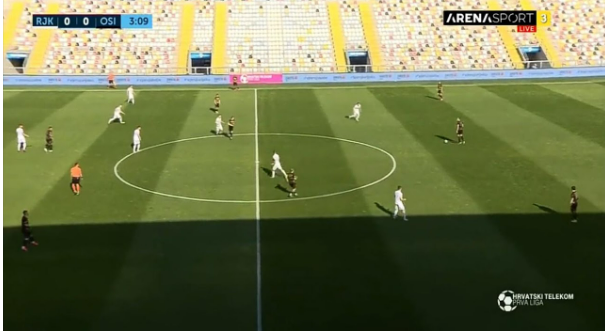 This approach enabled the right back to make runs high up in support of the wingers who would invert and look for knock-downs from the striker — often Ramon Mierez — who had the best goal-scoring season of his career under this system in 2020/21.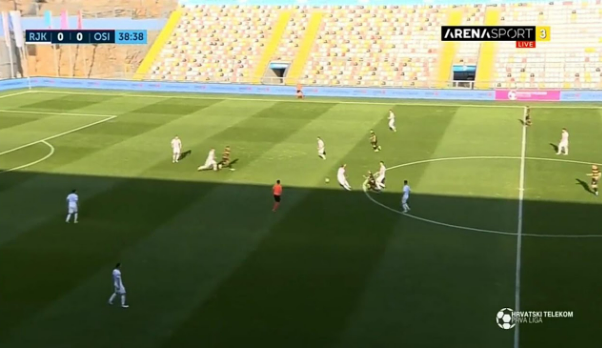 Another key component of this system was veteran defender Mile Skoric. The right-sided centre back was crucial in the build-up for Osiljek. He would often be the one to receive the ball centrally and play risky long diagonal passes into the wingers or into the feet of Mierez. Mierez's role at Osiljek is a role one could imagine Trabzonspor's Maxi Gomez filling in very well.
The Uruguayan striker is a physical presence who is adept at holding the ball up for others. Additionally, Bjelica has expressed a desire for his sides to finish attacking transitions with up to six players in the box. This is a crucial part of his teams' tactical identities. With the likes of Edin Visca and Yuzuf Yazici making inverting runs either side of Maxi Gomez, this has potential to, if implemented correctly, be incredibly dangerous for Super Lig next season. 
Intriguingly, Osiljek under Bjelica were one of the most intense pressers in the Croatian league in 2020/21. Out-of-possession, Osiljek's double pivot played very close together in order to prevent teams playing through the middle of them. Bjelica also demanded his back four set a high defensive line with four players back to defend counter attacks at all times. 
A common pressing trigger they displayed was when the ball would go to a fullback for an opposition team, Osiljek would engage a high press when the ball travelled wide, trying to force teams into playing a risky long pass. 
Conclusion
Despite eventually losing his position at Osiljek, Nenad Bjelica showed his clear ability to foster and sharpen a strong tactical identity that his sides can embrace. Trabzonspor is a team that has been sleepwalking through an identity crisis this season. The mental strength they exhibited last season has withered away and uncertainty has enveloped the whole club. Having a manager with a clear tactical plan that can get the best of the players he has at his disposal will be vital to their eventual upturn in fortunes. One could imagine the likes of Edin Visca, Maxi Gomez, Marek Hamsik and Marc Bartra thriving in a possession heavy, transition based and counter pressing style that Bjelica has worked to proselytize.
By: Louis Young / @FrontPostPod
Featured Image: @GabFoligno / Pixsell / MB Media / Getty Images