What to Expect from Jude Bellingham at Borussia Dortmund
When Jude Bellingham was presented at Borussia Dortmund on July 20, the German club's CEO Michael Zorc made it clear that the 17-year-old was going to play a role in the first team next season. Evoking the words of Austrian manager Jochen Fallmann, who once said, "There are no young and old players, there are only good and bad players," Zorc assured that Bellingham would immediately compete for a spot in Lucien Favre's first team squad.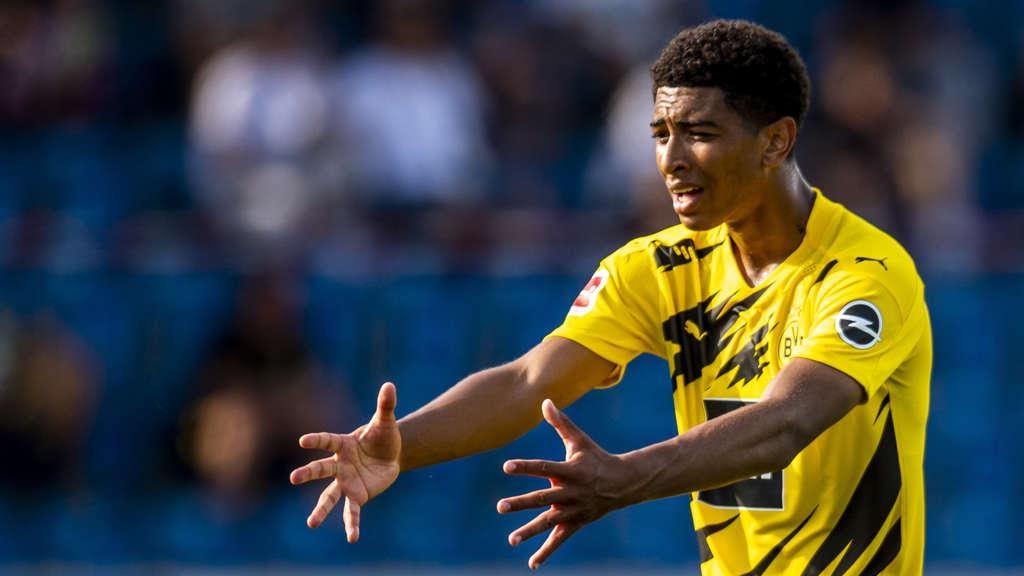 Photo: David Inderlied / dpa
Anybody who watched the English midfielder play for Birmingham City this past season would have noticed a certain composure and maturity in his game that belies his age. Bellingham joins a star-studded group of U-23 talent that already boasts the likes of Jadon Sancho, Erling Haaland, Mateu Morey, Reinier, Giovanni Reyna and Jadon Sancho.
Aside from his potential, one thing that the most expensive 17-year-old in football history offers is his versatility: he impressed in the central midfield positions as well as on both flanks at the St Andrews Stadium in the previous campaign, even playing as a center forward in a 3-2 away victory against Reading and a second striker in a 1-3 loss against Derby County.
In a recent interview with Borussia Dortmund's official website, Bellingham stated, "One of the things I'm proud of is that I can play in multiple positions. Last year I played out wide even, but I do think, my specialities are in the middle of the field: As a 10, 8 or 6."
With a relentless work rate and an excellent technique, Bellingham has thrived in a variety of positions in the Championship, but does he have what it takes to beat out the likes of Emre Can, Mahmoud Dahoud, Thomas Delaney, and Julian Brandt for a starting spot?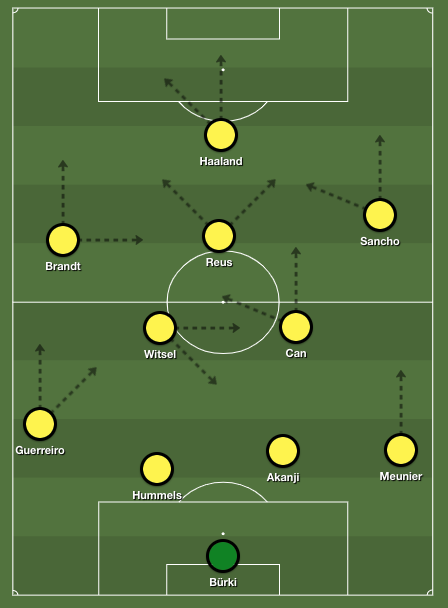 In case everyone is fit and available, Favre would most likely line up his team in a 3-4-3 or 4-2-3-1 shape – without Belllingham. But in both line-ups, there is one ideal position for Bellingham to start in: as the right-sided central midfielder.
Favre will need to rotate his squad in order to deal with next season's fixture congestion, which could see Bellingham fill in for Brandt in the 3-4-3 shape or Emre Can in the 4-2-3-1.
The teenage prospect is already impressing under Favre; in his debut against Austrian side SCR Atlach, Bellingham played a key role in each of Dortmund's first four goals before being subbed off at halftime for Witsel. He logged another 45 minutes in their second preseason friendly against Austria Wien, scoring Dortmund's 9th goal and setting up a goal from Taylan Duman.
It remains to be seen whether he can carry this form into official competitions and consolidate a starting spot, but it does appear likelier than not that Favre will continue with his 3-4-3 formation into next season. Bellingham has the potential to play a variety of roles under the Swiss manager in this system.
Operating as a Box-to-Box Midfielder in a 3-4-3
Bellingham's best chances of starting in the 3-4-3 come in the right side of the double pivot, where his energy and dynamism could come in hand whilst playing as a box-to-box midfielder next to a more disciplined anchor such as Can or Witsel. Bellingham could relegate Brandt to the bench, who has struggled for consistency and been criticized for his lack of defensive work-rate since arriving from Bayer Leverkusen last summer.
The Englishman is a real fighter on the pitch and even in his first two friendlies, he wasn't scared of any tackles and even went for a few slide tackles – with an impressive success rate. Bellingham has the potential to compensate for Witsel's lack of running, who at 31, isn't capable of providing the same attacking dynamism and creativity as he used to be.
Whilst the Belgian midfielder would still enjoy the bulk of responsibility in the build-up, Bellingham could help carrying the ball forward if the opposition attempts to mark Witsel out of the game. With Brandt operating in a false-10 role, Bellingham would constantly have a passing option between the lines, someone who is already emerging as one of the top creators in the Bundesliga.
Whilst Brandt isn't best suited for the right-sided midfield position or the false-10 position, he has the versatility and the tactical adaptability to adjust to different positions. With Marco Reus still yet to return after suffering an adductor injury in February, Favre could line up with Bellingham starting alongside Witsel in the double pivot, whilst Brandt, Haaland and Sancho look to combine up top.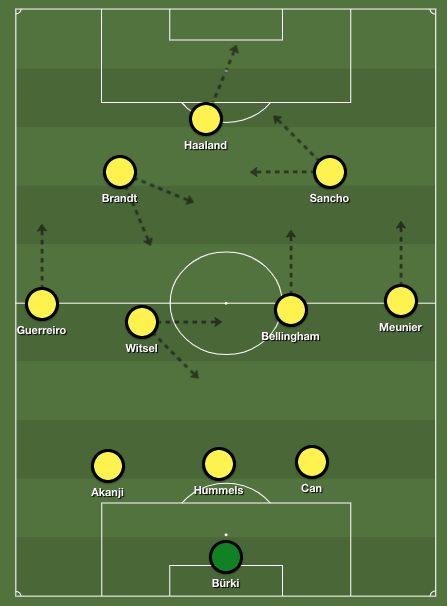 Bellingham's Best-Suited Role: RCM in a 4-3-3
Whilst Bellingham has the potential to become a starter in Favre's 3-4-3, his skillset is better suited to a box-to-box role in a 4-3-3, where he would have the freedom to shift to the flank and showcase his dribbling and crossing ability. He could act as a right 'wingfielder' similar to that of Kevin De Bruyne in Manchester City.
With Sancho on the right, Bellingham has the perfect counterpart for this role, and his compatriot's runs inside could provide Bellingham with the space he needs to overlap on the right and combine with the right back — either Morey or Thomas Meunier.
Bellingham's chances of cracking the line-up also depend on what role Favre envisions for Can, who has played both in the back three as well as the double pivot since joining from Juventus in January. Favre could partner Can with Witsel whilst playing some combination of Manuel Akanji, Mats Hummels, Łukasz Piszczek and Dan-Axel Zagadou in defense, but he could just as easily move the Germany international to the right side of the back three.
With Can at the defensive midfield position, Can could drop between the center backs to allow the fullbacks to push higher and in turn enabling Dortmund to switch fluently between a 4-3-3 and 3-4-3, even if a possible 3-4-3 shape wouldn't provide Brandt and Bellingham with that much attacking freedom.
However, there is also the possibility that Favre goes with Can and Hummels as his first-choice center back pairing should he decide to make the switch to a 4-3-3, which would see Brandt and Bellingham operate as midfield interiors whilst one of Reyna or Thorgan Hazard plays on the left flank.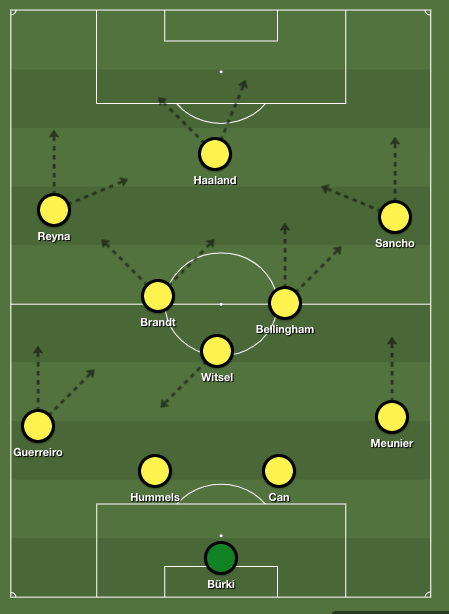 Combining with Marco Reus in the 4-2-3-1
Whilst Reus has not played for Dortmund since February 4, he made his return to training last week and could be ready to play in Dortmund's season opener on September 14, in the first round of the DFB-Pokal against MSV Duisburg. If Reus can stay fit, Favre would have no other choice but to find a spot for his captain in the line-up.
Reus was a versatile player in his prime, but injuries have taken a toll on his body, and at 31, it's hard to see where he fits in. He doesn't fit in as a winger in a 4-3-3 or a 3-4-3, but did find success when playing as a second striker in a 4-2-3-1 shape during the 2018/19 season.
In this scenario, Bellingham would once again play as a box-to-box midfielder, but with more defensive responsibilities to compensate for Reus's presence in the line-up. With Can alongside him in midfield, he would have an experienced leader who could compensate for his mistakes and allow him to push further forward.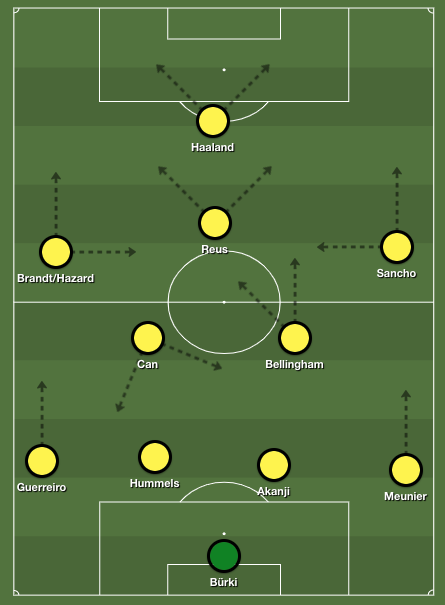 4-4-2 with Bellingham on the Flank
One major problem with the potential 4-2-3-1 shape would be that Brandt would have to play out wide and act as an inverted winger: a role that has failed to get the best out of his ability during his time at the Westfalenstadion.
Instead, Favre could tweak his shape and adjust it to a 4-4-2, where Brandt would start alongside Can in midfield, with the latter providing the much-needed cover and defensive work-rate to allow Brandt to pull the strings from deep. Bellingham would act as a wide central midfielder in this shape, while also being tasked with providing width from the flank.
With Can dropping centrally and Brandt pushing forward, Bellingham could either cut inside and operate in the LCM-spot, which would allow attack-minded wing-back Raphaël Guerreiro to push high up the pitch. To add more dynamism to their game and confuse the opponents, Guerreiro could also act as an inverted midfielder, allowing Bellingham to advance down the left flank and utilize his excellent dribbling and crossing skills.
This wouldn't necessarily be a traditional 4-4-2 similar to that of Diego Simeone's Atlético Madrid or José Bordalás's Getafe, but a makeshift 4-4-2 that mirrors a 4-3-3. Dortmund could overload the left flank and allow Reus to operate in between the lines, while Sancho would have more space to exploit 1vs1 situations and beat his opponents.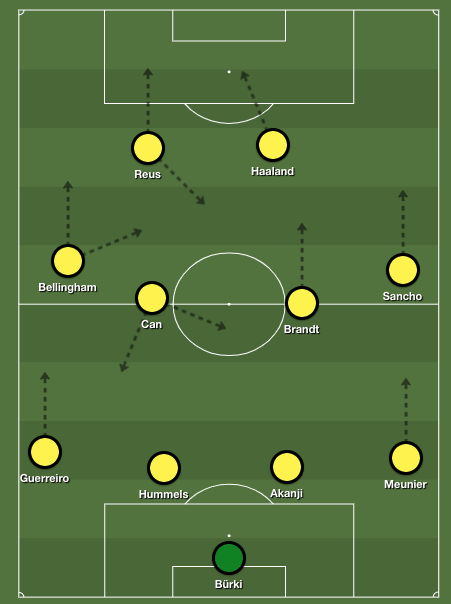 Conclusion
Speaking in an interview with Kicker in January, Favre confirmed that, despite recently using a 3-4-3, his preferred formation is a 4-3-3. The Swiss coach will be looking to shift between a 3-4-3, a 4-2-3-1, a 4-3-3, and potentially even a 4-4-2 this coming season, while he also attempts to make use of his entire squad in order to keep the spine of his roster fit and fresh throughout the campaign.
Bellingham will struggle to replicate the 3,033 minutes that he registered for Birmingham City across all competitions last season, but he'll have plenty of opportunities to showcase his talent for Die Schwarzgelben, as Favre looks to maneuver his way through a congested season.
By: Jan Perret
Featured Image: @GabFoligno / Daniel Kopatsch / Getty Images