What Can Robert Lewandowski Bring to FC Barcelona's Attack?
"Barcelona needed a goalscorer. He is a machine that scores goals. If you look at his stats he guarantees goals and every team needs a player like that. With him, Ansu Fati and Aubameyang we have that."  says Joan Laporta – FC Barcelona President. 

Barcelona have been struggling to score goals since their top two gunmen, Lionel Messi and Luis Suarez, left the club. The Spanish giants have been trying to compensate for the departure of their stars by bringing in attackers but to no avail. Memphis Depay who finished as the club's top scorer in La Liga last season with only 12 goals is the player with the least goals scored in La Liga for the Blaugranas this century since Ronaldinho and Saviola scored 14 goals each in the 03/04 La Liga season.
Pierre-Emerick Aubameyang showed glimpses of what an elite striker can do for Xavi's Barça by scoring 13 goals in the second half of the season in all competitions. Perhaps the coach might have requested for another elite striker because of his tendency of missing chances and also some deficiencies in his gameplay
Barcelona signed the Polish striker for €45 million plus €5 million add-ons which will be difficult to gain as speculated. FC Barcelona now have in their corner a consummate model of a modern-day striker. 8 Bundesliga titles, 1 UCL, 1 UEFA Super Cup,1 Club World cup, 3 DFB- Pokal, and many countless accolades, Robert joins Barça as a very decorated and well-established player.  The two-times FIFA World Best winner scored 344 goals in 375 appearances for the Bavarians which places him 2nd as the all-time top scorers of the club.
Why Barcelona Are Willing to Sell Frenkie de Jong to Manchester United
A lot of questions were raised about the player with regards to his age and the fee he was bought for. On and off the field, the striker has a lot in his bag to offer Barcelona. The 33-year old joined Barça as the 4th oldest player to join the club (for the first time) since Julius Muller, Hilario and Lilian Thuram.

With Anna, the player's wife drawing tailored diet plans for him and also acting as his personal trainer, the player looks as fit as ever. Robert only missed 28 games through injury in his 8-year stint at Bayern Munich. He was the player to score the most goals (35) in all the top 5 leagues last season so age doesn't really come to play here.

Robert Lewandowski's playing style has led many to believe he is only good at scoring goals. But in reality, he is a versatile striker. He is arguably the most lethal striker of this generation with speed, great positioning, technical skill, and aerial strength. Lewandowski is the player with the most goals(344) scored in Europe's top 5 leagues since he joined Bayern Munich 8 years ago followed by Messi ( 329) and Ronaldo ( 323).

He's a striker who prefers stretching out the opposition's defensive line instead of getting so much involved in build-up plays leading to him having 23.5 passes per game which is relatively low. He's almost outperformed his xG in each season and also records a high shot-on-target percentage because he shoots more in the box than outside.


Barcelona midfielders control games by passing the ball around but were less efficient in final ball circulation. Xavi had to extend the passing zones by using his wide wingers because the midfield couldn't create more chances through the central zones. Coincidentally, most of the chances that lead to Lewandowski's goals in the Bundesliga came from out wide as in-swings or sometimes cutbacks.
Due to low chance creation through the central zones by the midfielders, Xavi had to deploy the use of the third man runs in or around their opponent's box often. It was mostly Sergio Busquets exchanging passes between Pedri/De Jong/Gavi with Aubameyang moving his markers off their lines. One thing was always clear though they scored goals with that play- Aubameyang had a bad first touch.
He mostly distorted the play by misplacing passes or giving "safe " passes. Once again, this is where Lewandowski has an upper hand. Another prominent feature of the striker is his silky first touches and ball controls.  He clearly showed that aspect of him in the Joan Gamper trophy against Pumas by passing the ball beautifully to Pedri with his back facing the goal.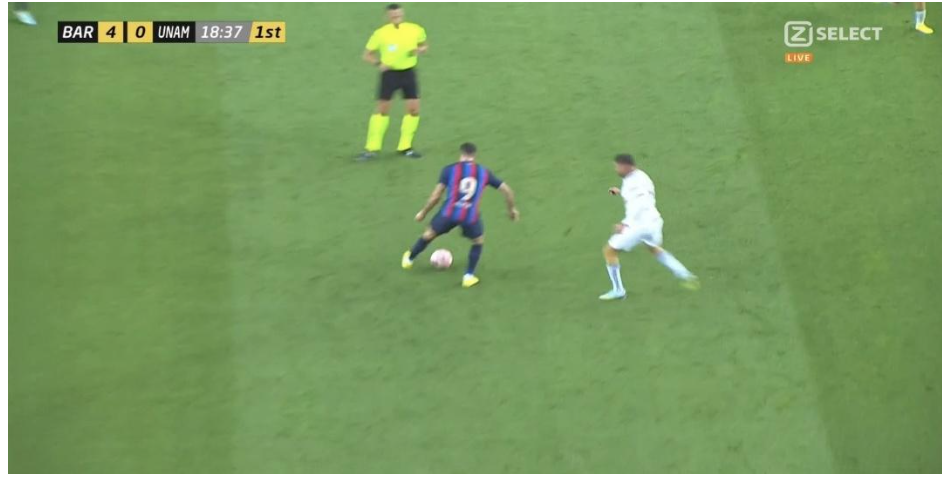 Unlike Karim Benzema, Lewandowski isn't that creative but he managed to create more chances (6)  than all Barça players apart from Ousmane Dembele, Jordi Alba, Gavi and Ferran Torres. One of his greatest assets is finding holes in the opposition's defensive line and exploiting spaces which he in turn uses to beat offsides leaving him 1v1 with the keeper.
Lewandowski also has great heading abilities.  He's the player among the Barça forwards who had the highest percentage of aerial duels won. Barça and Cadiz were the teams with the most crosses made (577) in La Liga last season meaning Lewandowski will be served well if he wants the ball flying. Lewandowski at Bayern wasn't so much involved in pressing but his positioning was key.
With teams that liked building from the back, the player was tasked to block the passing lane between the centre-backs forcing them to pass out wide which in turn distorts the passing pattern of the team. This is the same duty Xavi tasks his centre-forwards to do which will make it easy for Lewandowski to settle in the team. Robert is also the guy who can step to take penalties for Barça. He has a magnificent conversion rate of 90.8% by taking 65 penalties and scoring 59 in his senior career.


"Besides scoring goals, I hope to be able to help the team in terms of my winning mentality,"  says the Polish striker. As a top and instinctive goalscorer, he offers the club a figure to build the team around. Xavi's new team has a lot of young players who are not known serial winners and would need a player with such mentality and abilities leading them up front.


Barcelona fans will be quick to tell you their recent performances in the UCL would've been better if their former gunman Luis Suarez was scoring to complement Lionel Messi. Suarez, who is considered by most as the best striker of his generation, Suarez went six years straight without scoring an away goal in the UCL which had a toe on the team in the competition and has racked up 31 Champions League goals in total before returning to South America this summer and joining Nacional.

Barcelona has bought a player who has 86 goals, 25 assists in 106 appearances in the UCL . The 33-year old has some amazingly terrific records in the UCL which it's likely he will do same or at least few of them for Xavi's Barça.  He is:

• The player who has scored the fastest hattrick in UCL history ( 23 minutes against RB Salzburg)
• The only player with most consecutive wins in UCL history ( 22 games)
• The player with the quickest succession of goals scored in UCL knockout history. ( 2 of his goals against RB Salzburg with 80 seconds apart)
• The only player in UCL to score in 9+ consecutive appearances twice. 
• One of the two players ( with Messi) to score 4+ goals in the UCL on two different occasions. 
• The player with the highest goal per match ratio (0.81) in UCL history amongst players with 25+ goals .



Prime Minister Pedro Sanchez on Robert Lewandowski's Barcelona move: "Difficult to respond to that question. I am an Atletico [Madrid] fan but I am also President of the Government of Spain. I will say it is a great signing that Barcelona have made."


With Barça's financial situation now, it was a brave and risky investment, especially for a player that'll turn 34 soon. Bayern Munich made the most jerseys sales in 2021 with 3.25 million jerseys sold. Lewandowski alone was responsible for 29.8% of Bayern jersey sales by selling over 970,000 jerseys.
He followed Messi and Cristiano Ronaldo as the players with the most jerseys sales in 2021 by selling 1.2 million and 1.05 million respectively. Robert is a player with a huge commercial pull which can improve Barça's image and also La Liga as a whole.


Barça last season was the second team that had the biggest chances created (107) and big chances missed ( 62) – the arrival of the Polish might solve a lot of their problems upfront. Lewandowski is capable of leading this new wave at FC Barcelona and if everything goes as planned, it can spark a title-winning standard for Xavi's Barcelona. 
By: Dennis Ampadu Nkansah / @Fibonaccidennis 
Featured Image: @GabFoligno / Quality Sport Images / Getty Images