Why Barcelona Are Willing to Sell Frenkie de Jong to Manchester United
On January 23, 2019, FC Barcelona tied down Frenkie De Jong after competing with Manchester City and Paris Saint Germain for an initial fee of €75 million. He was the most sought-after midfielder for the 2018/2019 season in Europe.
The Spanish club had their eyes on him as far back as 2016. With the former sporting director of FC Barcelona, Robert Fernandez as a strong admirer, two bids were sent in the previous summer before he came to Barcelona. However, Marc Overmars told Barcelona their bid was not up to what they expected. After failed attempts with their bids, Barça slowed down their pursuit for the 21-year-old midfielder until the emergence of PSG unto the scene.

Though the season was ongoing, after some days of reflection, Frenkie gave his yes to the Spanish club . Lesson learned from the Antoine Griezmann saga — president Josep Maria Bartomeu and a delegation of Oscar Grau and Pep Segura travelled to Amsterdam to seal the deal with Ajax for Frenkie De Jong. He joined Barcelona on July 1, 2019, when he had helped Ajax win their first Eredivisie since 2013/2014 and also won the Eredivisie Player of the Season.
Frenkie was tagged by the Barcelona fans as the heir to Sergio Busquets' throne but he hasn't lived up to expectations since he joined the club. Barcelona will be willing to sell Frenkie de Jong based on both sporting and financial reasons.


The Sporting Reasons Behind Wanting to Sell De Jong

Frenkie de Jong is not a sole defensive midfielder and cannot flourish as such. He only played a little above 80 minutes as sole DM in his three and half year spell at Ajax. Erik Ten Hag used the 4-2-3-1 system where he partnered with Lasse Schöne as the double pivot.
Even now, Louis van Gaal is using the 3-4-2-1 with the Dutch national team which allows him to operate very well. Ten Hag described him as an "adventurer " and someone who "gets the ball in the final third for you". According to Opta, Frenkie was the player who moved his team into the attacking phase most in European Competitions at the end of the 18/19 season.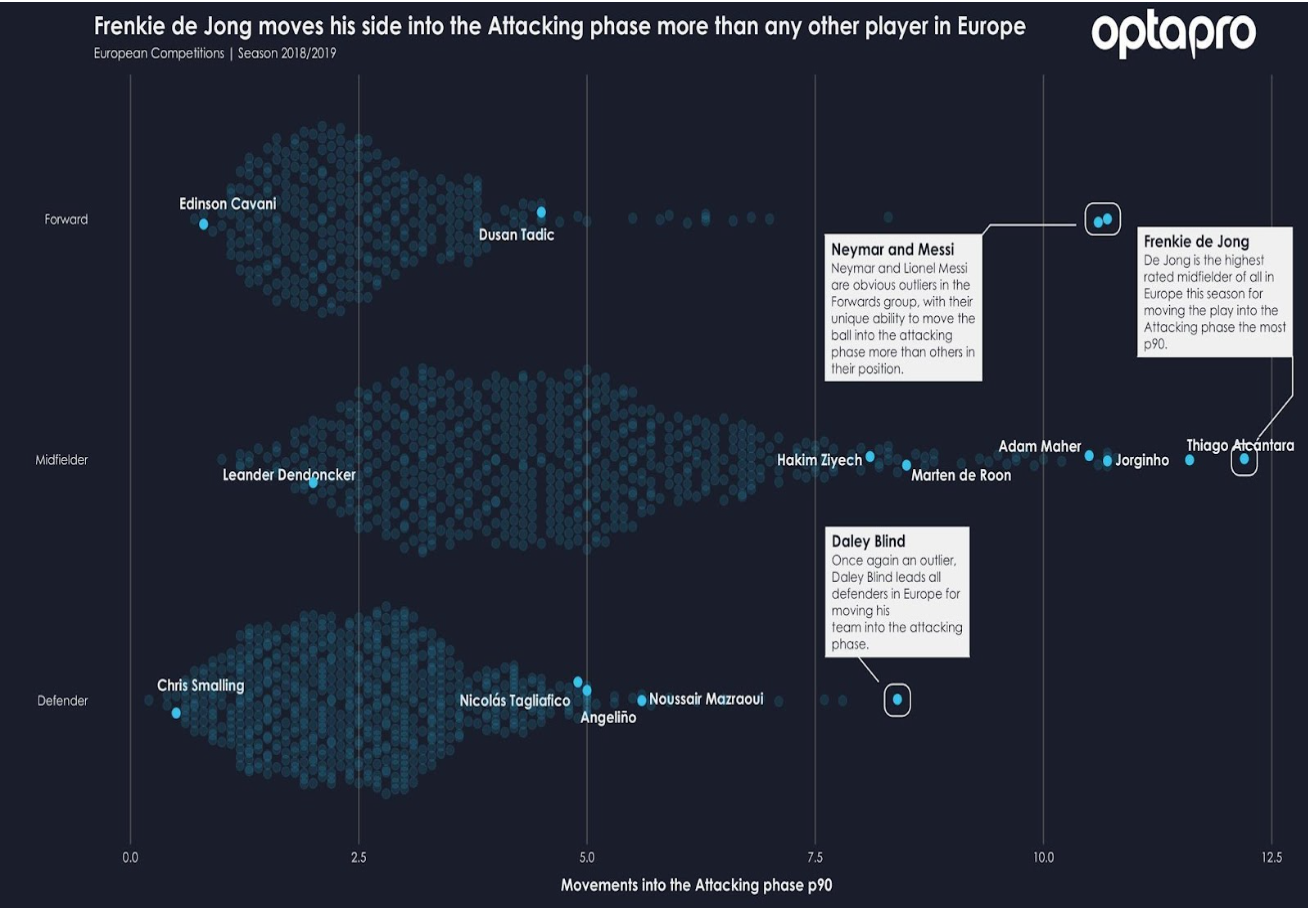 Photo: OptaPro
Can Frenkie de Jong play as a proper sole holding midfielder for Barcelona? He moves out of the middle so often leaving spaces behind him. There wouldn't be enough manpower to cover for him and also support him when he plays closer to the backline in Xavi's 4-3-3 system.
Moreover, De Jong lost his first two La Liga matches when he played as a sole DM where he partnered Sergi Roberto and Carles Aleña and Sergi Roberto and Ivan Rakitić, respectively, in away losses to Athletic Club and Granada.
His natural instinct is to press when he losses the ball always creates space behind him which has become a problem when he's been used as a sole DM. The idea that he can be Sergio Busquets' successor is nothing but a theory now.
However, with the high fee and prospects Frenkie came with, he should be nothing less outside Barca's top 3 players but it hasn't been so due to inconsistencies. After playing 135 games for Barcelona, De Jong has scored 14 goals and made 14 assists for Barca in all competitions in his his first 3 full seasons.
Looking at these statistics, he should be offering Barca more as he joined the club as the player who moves his team most into the attacking phase in Europe.
Ousmane Dembélé: The Revitalization of a Lost Talent at Barcelona

Should Barcelona give him time to gel? Xavi's Barcelona is now in a transitional phase but would also need all their top players to step up to churn out results for them which will in turn have a positive impact on their economic crisis.

The Financial Reasons

La Liga released an updated spending cap of its teams on March 14 and Barcelona's spending limit had moved from €97 million to -€144 million (minus). The Blaugrana Socios approved the sale of 49.9% of Barca Licensing and Merchandising and also up to 25% of their TV Rights revenue last Thursday.

"Activating these levers will move us out of intensive care into a ward where we can receive more treatments, and soon leave the hospital," said club president Joan Laporta. But despite getting the sales of the economic levers approved, Barca will still need to work to get a positive spending limit.

De Jong earns €10 million net a season at Barca and it's also speculated his salary will rise per the contract he signed with the previous board. Barcelona blotting him off their wage bill and also selling him for a decent price will help them balance their books economically.


Now, when a player is signed to a club the transfer fee is spread out according to the length of their contract for accounting purposes. On the other hand, the fee for a player sold is called immediate income. Moreover, if a club buys a player for say €50 million and signs him to a 5-year contract, the outgoing fee will become €50 million in the assets books.
The player's value is estimated to decrease by €10 million per season. So if they're to go on and sell the player after 2 years for €60 million, the team stands to generate a profit of €30 million. In the case of Frenkie de Jong, Barca bought him for €75 million and signed him to a 5-year contract. After playing for Barca for 3 full seasons his value is now €30 million according to FFP.
In the assets books, Barca is going to gain a profit of €50 million if they sell him to Manchester United for the estimated €80 million. With everything taken into consideration, Frenkie de Jong could become Barca's saviour in their economic crisis and dire moment of need. 
By: Dennis Ampadu  Nkansah / @fibonaccidennis
Featured Image: @GabFoligno / Quality Sport Images / Getty Images