Jules Koundé: Barcelona's Electrifying Addition in Defense
It has been a whirlwind summer for FC Barcelona, who have completed the signings of Robert Lewandowski, Raphinha, Pablo Torre, Andreas Christensen and Franck Kessié — the latter two arriving on free transfers — as well as agreeing a contract extension for free agent Ousmane Dembélé. In their sixth and latest signing, they have beaten out interest from Chelsea to sign Jules Koundé.
Barça have once again played a fast one on Chelsea and pipped the Blues to a prized asset after snatching Raphinha from their grasps, with Koundé leaving Sevilla and signing a five-year contract at Camp Nou. Blaugrana fans will breathe a sigh of relief in the knowledge that they will no longer have to face Koundé as an opponent at least twice a year — as will their attacking players.
Acquired from Bordeaux by Sevilla for the sum of €25 million three seasons ago, Koundé had not just completed another solid season performance but has also proven he is not just a charging defender but a defensive wall who cannot be bullied or harassed in respect to his frame. Standing at 5.9 inches, Koundé is capable of not only his primary assignment but also contributing offensively to his team.
It was in lieu of his attacking instinct and defensive solidity that attracted Thomas Tuchel to the possibility of replacing the outgoing Antonio Rudiger with the French defenders, with Koundé fitting seamlessly into his preferred 3-4-3 system. However, Barcelona would beat out the Blues to his signature in a deal for €55 million.
Koundé's features are not only about his ball-playing attributes; he is the sort of no-nonsense defender that no striker wants as an opponent on his good day. Koundé would pop up everywhere from the back to the right of the defence, which has also made him play right back. He makes daring runs from the defence to the midfield and even to the penalty box as shown below in the colours of Sevilla: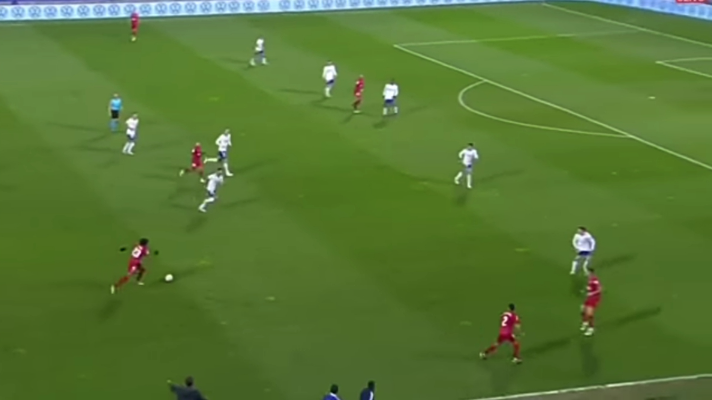 Koundé is not afraid to make these runs knowing fully well he has the pace to make quick recoveries in stopping the opposition counters.
From Barcelona's point of view, there is little to no doubt that he would help to build up the attack from his defensive position alongside fellow newcomer, Andreas Christensen and as both ball-playing defenders, they are the right pair for Xavi's domineering football. 
Koundé fits perfectly into a system team just like his previous club, where Julen Lopetegui deployed a pressing system with the aim of dismantling the opposition's mid-block. The French UEFA Nations League winner would not look out of place in the colours of the Catalan club either.
Alejandro Baldé – Do Barcelona Have Jordi Alba's Replacement at Home?
His all-action style fits the system not just off the ball, where he would like to cover every blade of grass but also contribute offensively. Koundé is a press-resistant defender and this is a major attribute that modern football demands varying from the Germanic pressing and the Johan Cruyff school of thoughts on Total football of which Xavi is a disciple.
He is composed with the ball as he would always sort to dribble in order to beat the opposition pressure within a tight space before launching the ball long to a running teammate.
Xavi mostly deployed a 4-3-3 system with Eric Garcia and Ronald Araujo – the right central defender shielding the goalkeeper. The arrival of Koundé does not necessarily mean bad news for Araujo, who are both right-footed but would be surprising to regularly pair both at the heart of the defense with the exclusion of injuries.
A combination of both would force Koundé to the left even when he is stronger on the right to compensate for the ineffectiveness of Araujo's left. 
Koundé and Araujo are somewhat similar: Aggressive marker; ball progression and all-out action, however the most fascinating about this pair is Araujo's dominating on air thereby compensating for Koundé's lack of aerial prowess and Koundé compensating for Araujo's lack of incentive passes, hence the most likely combination would be Koundé and Andreas Christensen, then Garcia and not to forget the 'elder-statesman' Gerard Pique.
In Jules Koundé, Barcelona have not only invested in their future for the next five years but have strengthened their backline in order to wrestle back La Liga from the clutches of Real Madrid and also retraced their feet to the grandest of European stages. And at just 23 years of age, there's a lot in the tank for Koundé before getting to his peak that the Cataluyan would be the beneficiary and the rest would be the victims of this electrifying live wire in accomplishing their mission.
By: Papa Ade-Ola Lawrence / @Lawrencepapa2
Featured Image: @GabFoligno / Fran Santiago – Getty Images