Robin van Persie: One of the Finest Strikers of his Era
How would you describe Robin van Persie? To Feyenoord fans, he was a young, short-tempered starlet who later returned as a seasoned veteran and delivered the club silverware. To Netherlands fans, he is their greatest goal scorer who scored their most iconic goal in the last 20 years. To Arsenal fans, he is seen as Judas.
A player whom the Arsenal faithful placed so much patience and faith in and who repaid it by leaving to one of their biggest rivals. But, for 13-year-old me, he was a superhero. A player who came to Manchester United with a single goal.
To bring the Premier League back to the red side of Manchester, after it was stolen from our grasps by an Argentinian with the most famous goal in Premier League history. And he succeeded in doing so. He is all these things and even more, this is Robin van Persie.
If you were to combine Thor's hammer alongside Van Gogh's paintings, the end result would be Van Persie's left foot. Just like his Dutch compatriot, Van Persie's time at the top was short, but in this time, he would paint many beautiful goals on the finite canvas that is the football pitch.
However, it seems like his art is slowly becoming lost to the world as mentions of his name amongst the pantheons of Premier League greats are few and far between. Maybe the way he left Arsenal for Manchester United left a bitter taste in many a rival fan, but this doesn't mean we should ignore the talent we saw on display from the Dutchman.
There is something different about left-footed players. I don't know what it is, but as football fans, they automatically demand our attention. Between 2010-2013, Van Persie demanded all of world football's attention. He would pick the ball up in the most innocuous areas and with a few stepovers and shift of the hips, he would create enough space to unleash the rockets that were in his boots.
It seemed like he was actually aiming to rip the net off entirely or make a dent off the post as many of his goals crashed off the woodwork at the perfect angle and were forced to go in. If you dared to blink whilst he was shooting, by the time you opened your eyes, he would already be wheeling off celebrating, such was the velocity in his shots.
Unlike fellow strikers such as Gabriel Batistuta, whose powerful strikes seemed to come from a place of rage, Van Persie's seemed to come from a place of serenity. Focusing on the ball and his body positioning instead of looking to generate the power.
He knew that would come if he just concentrated on his technique. His 6ft gangly frame meant the whole stadium could see when he was revving up to let go of the handbrake. Like every artist, he had a signature piece.
Even though he had a vast repertoire, his best work came in the form of volleys. Being able to connect with one perfectly is every football fan's dream and the way the ball seemed to fly off the Dutchman's foot in mid-air was beggars' belief. 
English football was introduced to this in 2006 against Charlton. In his earlier days with Arsenal, the talent he had was undeniable. But, the number of injuries that struck him meant we could hardly see it. Yet, when it was out on display, many a rival fan would be jealous that North London had such a jewel.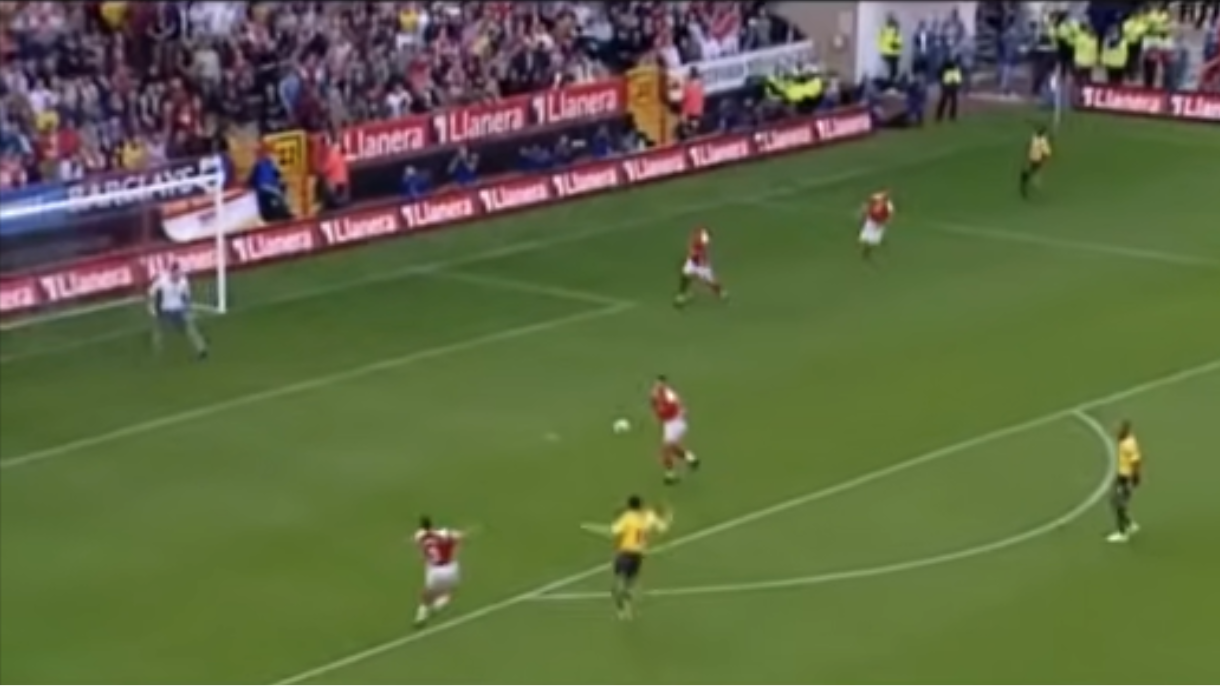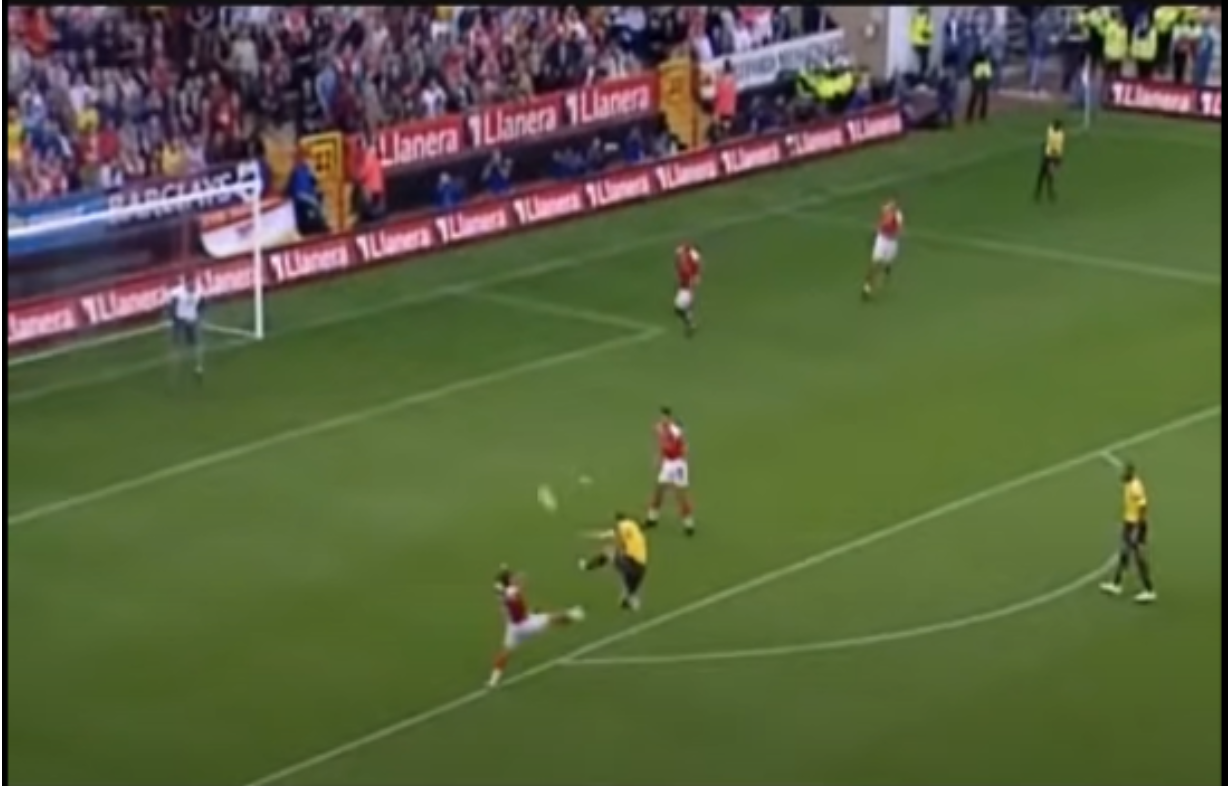 However, Van Persie's genius allowed it to be so. He ran on to the ball without breaking his stride and jumped: yes, he jumped and hit it first time. The height he is when he hits the ball is unimaginable. He distorts his body in such a way that the only direction for the ball to go is straight and it flew past the keeper. 
He would go on to score many more volleys in his career. Like the one against Barcelona or against Aston Villa for Manchester United to clinch the league title. Nevertheless, I believe this to be his finest volley. To do what he did in a split second is unfathomable.
Yet, this is the magic of Robin van Persie. He made the unbelievable, real. But his body didn't allow him to showcase his magic when he was younger. As was the case with many a young star at Arsenal, it seemed like injuries would stop him from shining. Despite that, in 2010, the injury curse seemed to go, and his actual ability came out weekly.
Over the next three years, the ex-Feyenoord man showed himself to be one of the most complete strikers the Premier League has ever seen. His technical elegance was on full display, as he glided across the pitch. Trying to press him was useless as his close control, and dribbling ability let him escape tight spots as if he was Harry Houdini.
His movement was unreal. If a defender even looked away for a split second, he would peel off the back of them and punish them ruthlessly. Ask Jamie Carragher about it, and he would tell you as at Anfield, he scored another of his signature volleys by peeling off the Liverpool legend and squeezing a last-minute volley between the goalkeeper and near post. 
If his left foot was Mjolnir, then his right foot was Stormbreaker. Thor's two hammers. Many defenders mistakenly tried to force him on his right foot, something the Dutchman would relish. Being so talented on either foot meant whichever way he was forced to shoot; goalkeepers would think about whether they could even react in time to where the ball would go.
He could score from free kicks and had brilliant chest control which allowed him to cushion many balls down and give him that extra second to ready himself before shooting. The ex-Excelsior youth could also assist others as in the 2008-2009 Premier League season; he was the joint top assister with 10. Showing that he could set others up with his excellent vision as he would often drop deep and combine with his midfielders and wingers.
The most underrated aspect of his career was his aerial ability, until that header. The one in the 2014 world cup where the Netherlands came out and wreaked havoc against the reigning World and European champions at the time, Spain. It was a 5-1 demolition that signaled the end of Spanish dominance in world football, but the standout goal was from the Netherlands' top goal scorer.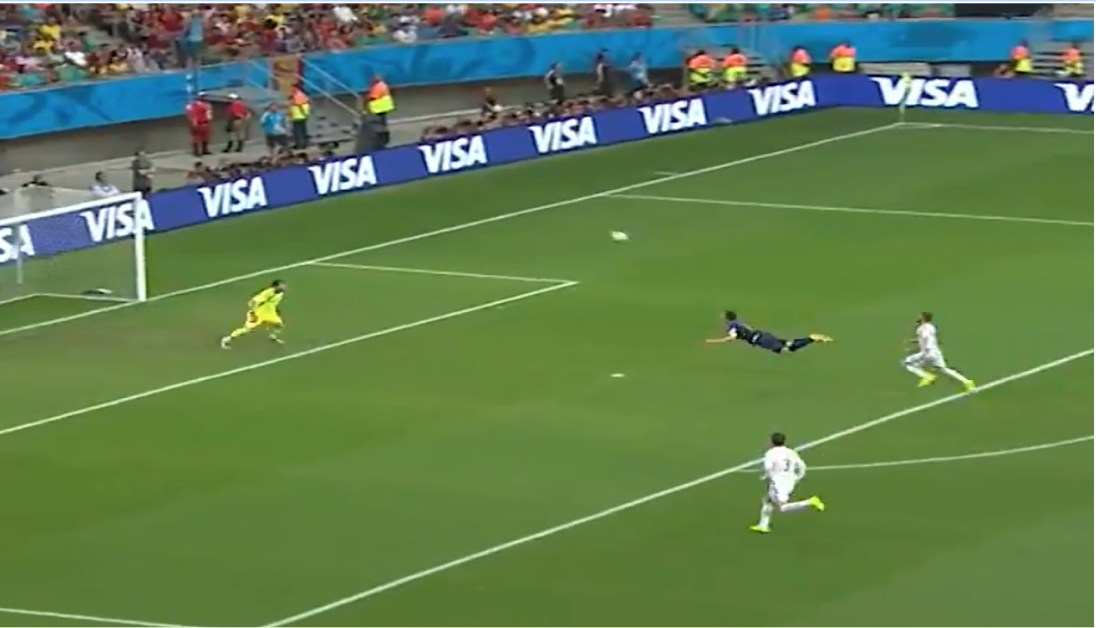 After a long ball from Daley Blind, Van Persie made a brilliant run behind the Spanish defence and contorted his body to make perfect contact with the ball. The ball sailed over the helpless Casillas, who could do nothing but marvel at the header.
This goal became a global sensation and was lauded as one of the greatest goals in World Cup history with Van Persie being nicknamed 'the flying Dutchman' afterwards. It ended up being voted 3rd in the Puskas award that season. 
During the 2010/2011 season, finally free from his injuries, Van Persie scored 22 goals in 33 appearances. However, in the following season, he went Supernova.
Scoring 37 goals in all competitions with 12 assists. This resulted in winning the league's golden boot with 30 goals and taking home multiple individual accolades as he was voted the fans, players, and writers' player of the year.
Even with all his efforts, Arsenal only finished in 3rd place. Having only won the FA Cup during his time at Arsenal, the Dutchman decided to leave the North London outfit and join Manchester United for £24 million. In doing so, he became public enemy number one to all Arsenal fans but earned the love of all United fans.
Van Persie coming to United seemed like it was meant to be. After losing the title to that Aguero goal, United decided to sign the best striker in the league, who was looking for a club to match his ability. They gave him the number 20 shirt as the Old Trafford-based club was looking for their 20th league title. And for one season, everything was perfect. 
As I mentioned beforehand, with the header against Spain becoming a global sensation, it instantly became a meme with many edits. The most popular one was Van Persie with a superman cape as he was flying through the air. That is an apt meme for him as when he went to Manchester United; he saved them on multiple occasions like the cape-adorning hero.
Wayne Rooney sees Van Persie peeling off his defender and delivers a long ball into his path. The ball is so good that it allows him to steady himself for what he plans next.
As the ball comes towards him, he thrusts his arms wide and down over the ball. Doing so allows him to make perfect contact with the ball. The ball flies into the net and becomes famous in Premier League history, becoming synonymous with Manchester United's 20th league title, their final one under Sir Alex Ferguson, and their final one to this date.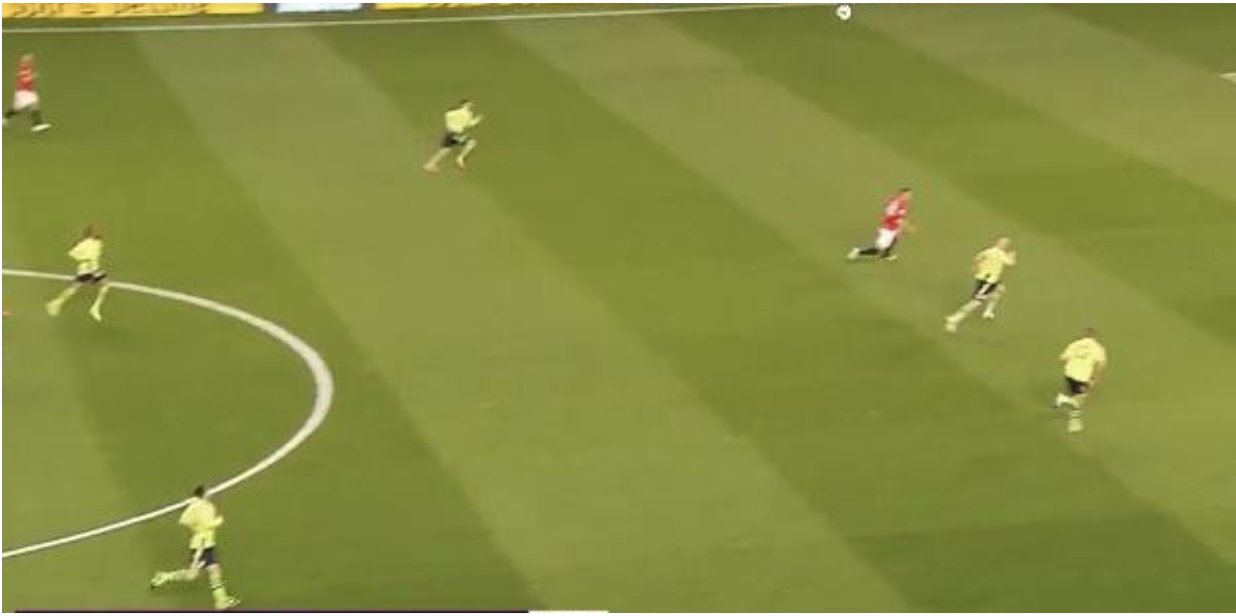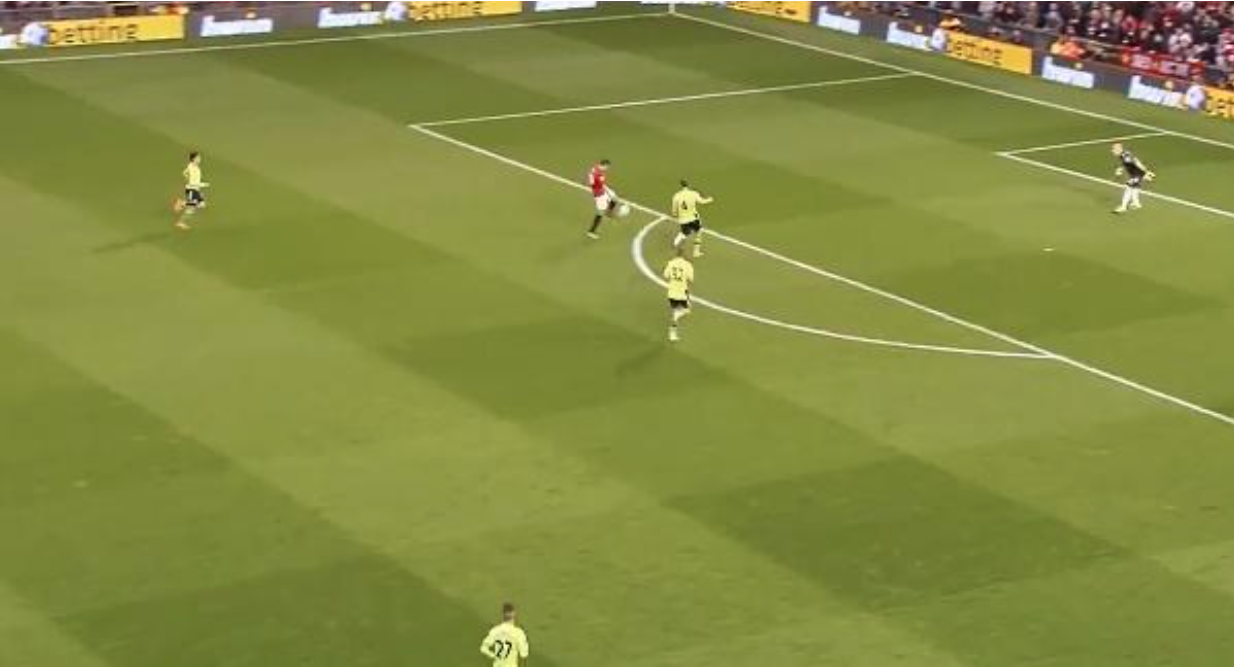 This goal wins United's goal of the season, and Van Persie wins the golden boot back-to-back and makes it to the team of the year again. If it weren't for a certain Welshman named Gareth Bale, the Dutchman would've certainly taken home at least one of the Player of the Year awards. 
After this season, with Sir Alex Ferguson leaving, Robin van Persie's time at United spiraled downwards quickly. He still scored 18 goals the following season with David Moyes in charge and had some great moments.
Like the hat-trick against Olympiacos in the second leg of the Round of 16 in the Champions League, after trailing 2-0 from the first leg. But when Louis van Gaal came in for the 2014-2015 season, it was clear he didn't favour the striker he had just used to devastating effect in the World Cup.
So, two seasons after carrying United to the league title, he was gone. It was a sad ending to his stint at Old Trafford, but that first magical season will forever place him in United folklore. He then had a two-and-a-half-year stint at Fenerbahçe, which was mildly successful, and then after cancelling his contract, his last stop was at his boyhood club Feyenoord.
This stint was successful as he scored 25 goals in 45 games for the Dutch side. He also brought the club silverware as he won the KNVB Cup, scoring in the final and the season after, winning the Johan Cruyff shield.
Analyzing Manchester United's Biggest Priorities in the Summer 2022 Transfer Window
Whatever your feelings towards the Dutchman are, his place amongst the Premier League greats should not be questioned. In a period often reminisced for Luis Suarez and Gareth Bale, it should not be forgotten that Robin van Persie was right there amongst them as the best in the Premier League.
For three seasons, he showed us why Arsene Wenger bought him from Feyenoord all those years ago to replace Dennis Bergkamp. He showed 13-year-old me there was life in football after Sergio Aguero crushed my heart in 2012. The man who scored over 300 goals in his career. The legend who became the Netherlands' top goal scorer. The number 20 who brought number 20. My favourite striker, Robin Van Persie. 
By: Abu Yasin / @abuy2j
Featured Image: @GabFoligno / Nick Potts – EMPICS / PA Images