Christian Eriksen's Revival in Brentford
The events of 12th June 2021 will be etched in football history forever. Whilst playing for Denmark against Finland in the group stages of Euro 2020, Christian Eriksen, Denmark's footballing hope, suffered a cardiac arrest.
The disturbing scene of the Danish medical team performing CPR on Eriksen was laid bare for the whole world to see. Fast forward almost a year later, the Danish talisman is now plying his trade at Brentford and has almost single-handedly steered the west London outfit away from the relegation zone. Here is how he did it. 
During his first year at Inter Milan, Eriksen struggled to hold down a place in Antonio Conte's team. The lack of defensive effort and understanding of Conte's automatisms had meant that the ex-Ajax prodigy could not win over his coach.
However, during the last six months of the 2020-2021 season, the Dane became one of the first names on the team sheet and was crucial during the team's run to win the Scudetto.
Yet, due to Serie A's rules of players not being able to play if they have an implantable cardioverter-defibrillator, fitted into Eriksen after his cardiac arrest, Inter Milan was forced to terminate his contract.
This meant the former Spurs playmaker had to find a club, willing to give him a chance after his cardiac arrest and show he is still a top-level player. Luckily for him, a promoted team in West London was more than willing to do so.
Both on and off the pitch, the signing of Eriksen on a 6-month contract seemed like a match made in heaven. Brentford's manager, Thomas Frank is Danish himself and managed Eriksen early in his career whilst working with the national team's youth sides.
Moreover, there is a Danish contingent at Brentford made up of Christian Nørgaard, Mathias Jensen, Mathias Jørgensen, Mads Bech Sørensen, Mads Roerslev and Jonas Löss. Many of whom Eriksen has already played with the national team for several years.
This Danish connection is a result of Brentford's owner Matthew Benham also owning Football Club Midtjylland, thus starting up a partnership between the clubs.
Brentford also allowed Eriksen to return to the Premier League and London, where at Tottenham Hotspur, he was one of the league's best and most consistent players over several years, as he won the team's player of the year twice and was in the PFA Team of the Year as well.
Even with all the off-the-pitch harmony, there was still question marks over him on the pitch and whether Eriksen could handle the Premier League and play anywhere near to his best. Since his debut against Newcastle, he has quashed all these fears and played excellently.
They have won all their games, whenever Eriksen starts for the bees, scoring 13 in that period, and only conceding 2. This includes a famous 4-1 win away from home at Stamford Bridge.
This is not to say the Danish playmaker is the only reason for this sudden change in form, which saw them slide to 17th to now them being 11th in the league, but he is a huge reason behind it. 
Before he came to West London, Brentford played a 3-5-2 formation. This formation meant that Ivan Toney, who had just broken the Championship goalscoring record beforehand, was forced to be the side's creative outlet.
This formation meant their attack was very direct as the centre-backs pumped the ball long to Toney, hoping he would hold the ball and bring others into play, and feed Bryan Mbuemo, his strike partner. Additionally, when in possession, Vitaly Janelt shared some of the creative burden as well.
A role that did not suit the German, who is more comfortable in a box-to-box role than a creative one. All of this led to Brentford scoring 4 goals in an 8-match run without a win, which highlighted their attacking struggle. When Eriksen came, this all changed.
Since he has come into the side, Eriksen has contributed 2 assists and a goal. A fruitful return, but it is not just his output that has changed the team's fortunes.
The addition of Eriksen led to Brentford changing their formation to a 4-5-1 and, more recently, a 4-3-3. The ex-Ajax youth plays on the left side of the midfield, a position he played for Inter Milan to devastating effect.
Eriksen coming in has meant that Toney can operate solely in the penalty box, where he is more likely to get on the end of crosses and be a much more dangerous threat.
It has also lessened the scoring burden on Mbuemo, as he has moved to the right-wing, a position which suits the Frenchman more naturally as it allows him to drift inside, rather than being stationed inside the box. A successful change as since the move, Mbuemo has assisted 4 times and scored once.
The presence of Eriksen has given Brentford more of an attacking threat whilst in possession. It means fewer long balls and more spells of possession for the promoted team. In the 5 games he has started, he averages 39 passes per game, with a pass success rate of 81%.
Having Norgaard and Janelt in midfield means that they do most of the defensive work and allow him to forage forward to supply Toney up front. An example of this is in their 2-0 win against Burnley.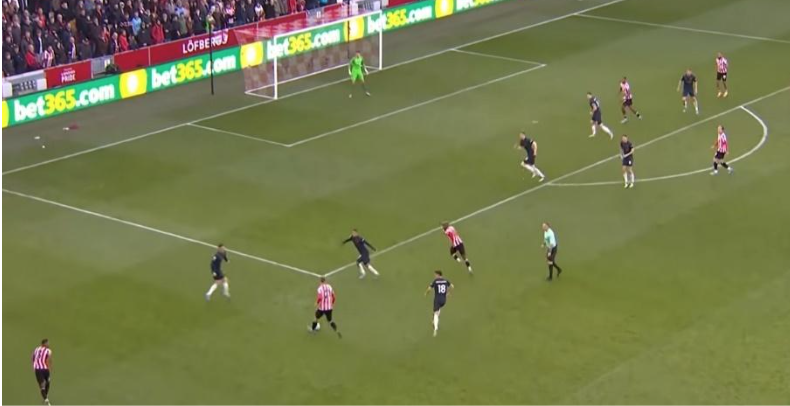 After collecting the ball in the left half-space, Eriksen sees that Toney is in between Burnley's centre back and full back. With the full back preoccupied with Mbuemo coming in from the right, this leaves Toney with space in the middle.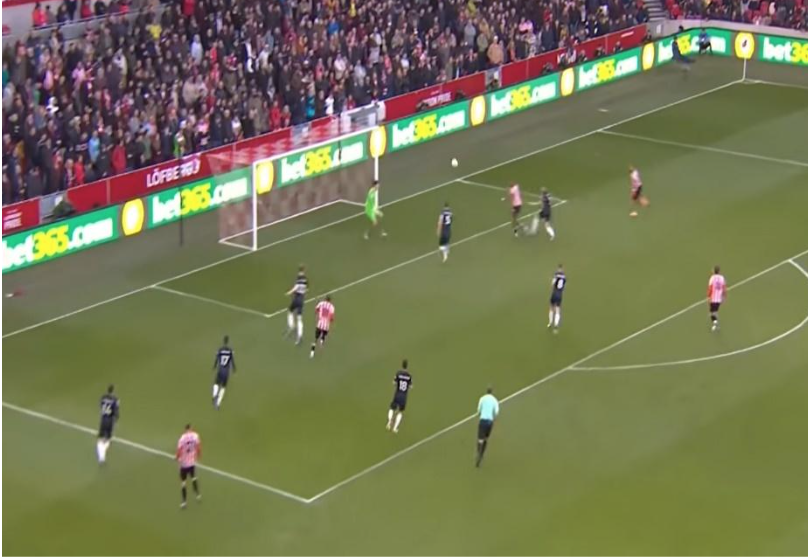 Eriksen is adept at using either foot. This position allowed him to swing the ball onto Toney's head perfectly by using his left foot. Toney then headed it in and opened the scoring.
Toney then scored the second, a penalty and killed the game. Since Eriksen's debut, Toney has scored 6 goals in the following 5 games, doubling his tally in the league to 12. Even though 3 of those goals have been penalties, 2 of them have been won by Toney himself, because of him being more of a penalty box presence.
As shown from the picture above, Eriksen's crossing has been one of his strong points for most of his career. This proficiency has led to him becoming Brentford's set-piece taker, and the effects have immediately been seen.
Brentford possesses players such as Toney, Jansson and Janelt and others who are dangerous at set-pieces due to their immense size. With the arrival of Eriksen, this threat has been maximised, as shown against Watford.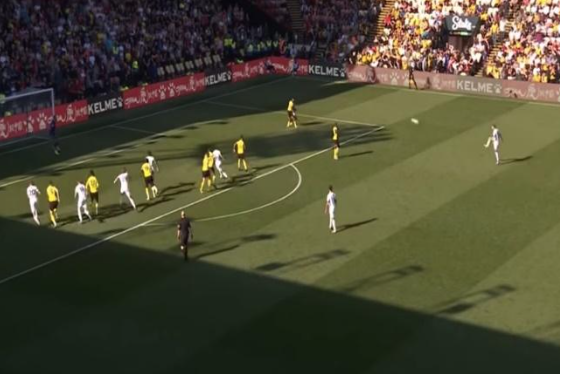 In the 95th minute against Watford, Brentford has a last-minute free kick. For someone of Eriksen's quality, this is the perfect position to put it perfectly in the box, where the runners can easily attack it.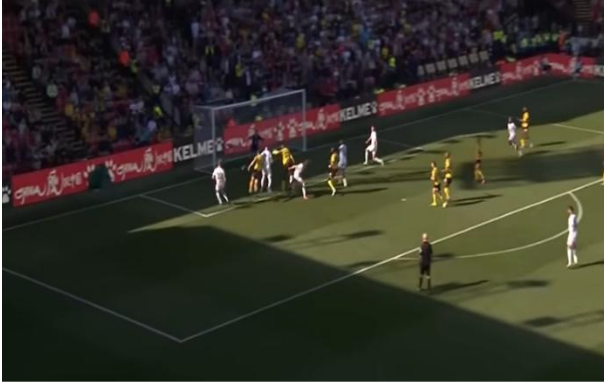 He puts the ball perfectly in the 6-yard box, where Watford's goalkeeper, Ben Foster, can't collect it. Pontus Jansson has a free run at it and heads home a last-gasp winner for Brentford.
Even though it is his playmaking that he has been known for, the ex-spurs man can also provide a goal threat. He has only scored 1 goal for Brentford so far; however, he has taken 10 shots in the five games he has played so far.
5 have been on target, which shows his shooting accuracy, and is a sign that more goals will come from the Danish talisman. The one solitary goal he has scored for Brentford this season, came in the famous 4-1 away win at Stamford Bridge.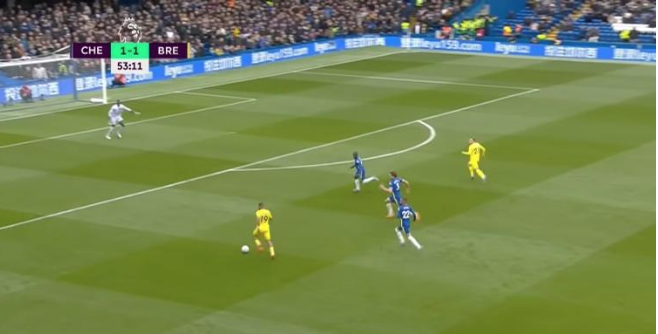 Brentford had just equalised to make the score 1-1 and are now away on the counterattack. Mbuemo is carrying the ball down the left wing with Eriksen making a lung-bursting run through the middle.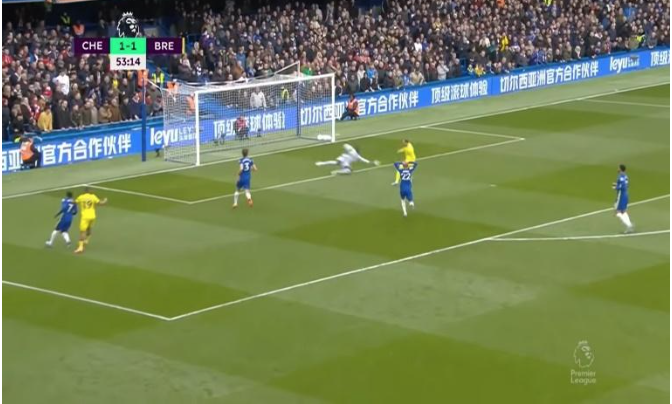 Due to Ngolo Kante pressing Mbuemo instead of sticking with Eriksen, this leaves the Dane in plenty of space. Mbuemo then squares the ball to a free Eriksen, who uses his left foot to finish first time over a diving Mendy, making the score 2-1. 
It is hard to underestimate just how much of a difference Eriksen has made to Brentford. Thomas Frank described him as possibly, the club's best ever signing.
Before his debut, Brentford had lost 7 of their last 8 and were dangerously sliding down the table. Now, they are 11th and are certainly guaranteed to stay in the Premier League again.
Considering how much money Brentford will obtain just from staying in the league and the opportunity to build on their success, it seems that Eriksen is worthy of this praise from his manager. 
A man needing a club to prove his worth. A club desperately needing creativity. Brentford and Eriksen found each other at the perfect time. Brentford will be desperate to extend his 6-month contract at the end of the season and have him for at least one more season.
However, other clubs have seen how excellently the Dane has come back from his cardiac arrest and may now try to tempt him away from West London. Whether this is a fleeting romance or the start of something long term, both Eriksen and Brentford will come away from this delighted with each other. 
By: Abu Yasin / @Abuy2j
Featured Image: @GabFoligno / NurPhoto