Tactical Analysis: Jürgen Klopp's Borussia Dortmund
After spending the start of the decade in the shadow of the Premier League and La Liga, German football enjoyed a resurgence in the mid-2010s. 2013 saw an all-German Champions League Final between Jürgen Klopp's Borussia Dortmund and Jupp Heynckes' Bayern Munich, whilst the following year saw Joachim Löw's Die Mannschaft write their names into the history books with the World Cup trophy in Brazil.
When Klopp took charge of Dortmund in 2008, the club was in a financial hole and had been nothing more than a modest, lower-half side, finishing 13th in the previous season under manager Thomas Doll. Klopp, then 41, rejected interest from Bayern Munich to captain the ship at the Signal Iduna Park.
Klopp's Dortmund was not filled with the same superstars as Real Madrid or Barcelona; instead, he created the core of this team around hard-working young players — what they lacked in quality, they made up for it with superb intensity and organization. 
Back in the 2010s, if you used the term-"Gegenpressing" people outside Germany wouldn't understand what you're trying to explain. To describe the term in simple words, it means — regaining possession as soon as possible after a turnover. This was not a new concept in football.
How Jürgen Klopp Dominated the Premier League: Liverpool 2019/20 Tactical Breakdown
Pep Guardiola's FC Barcelona also emphasized themselves on winning the ball back quickly with an effective counter-press which was possible because of the central overloads they created. Now Guardiola looked at it as a way to win possession, get organized and build an attack again.
Jürgen Klopp on the other hand looked at it as an attacking tactic which meant when you win the ball back, you don't look to play a simple pass and regroup instead, you look to play a vertical pass breaking the lines and try to enter the opponent's final third. 
He was regarded as the 'Menschenfänger', a manager who built trustworthy relationships with the board, fans, associates in the coaching staff and players.
The development of the team was a collective effort and Klopp always made sure his staff got the recognition they deserved. One man who has accompanied Klopp throughout his coaching career stands out: Željko Buvač.
Klopp's Dortmund was a vertical team. They preferred going direct and focused on entering the final third as soon as possible either with 'Gegenpressing' or in the manner of systematic counter-attacking. If you look at some of the players he signed during his time at Dortmund, you'd realize they were the perfect profiles for this tactical setup.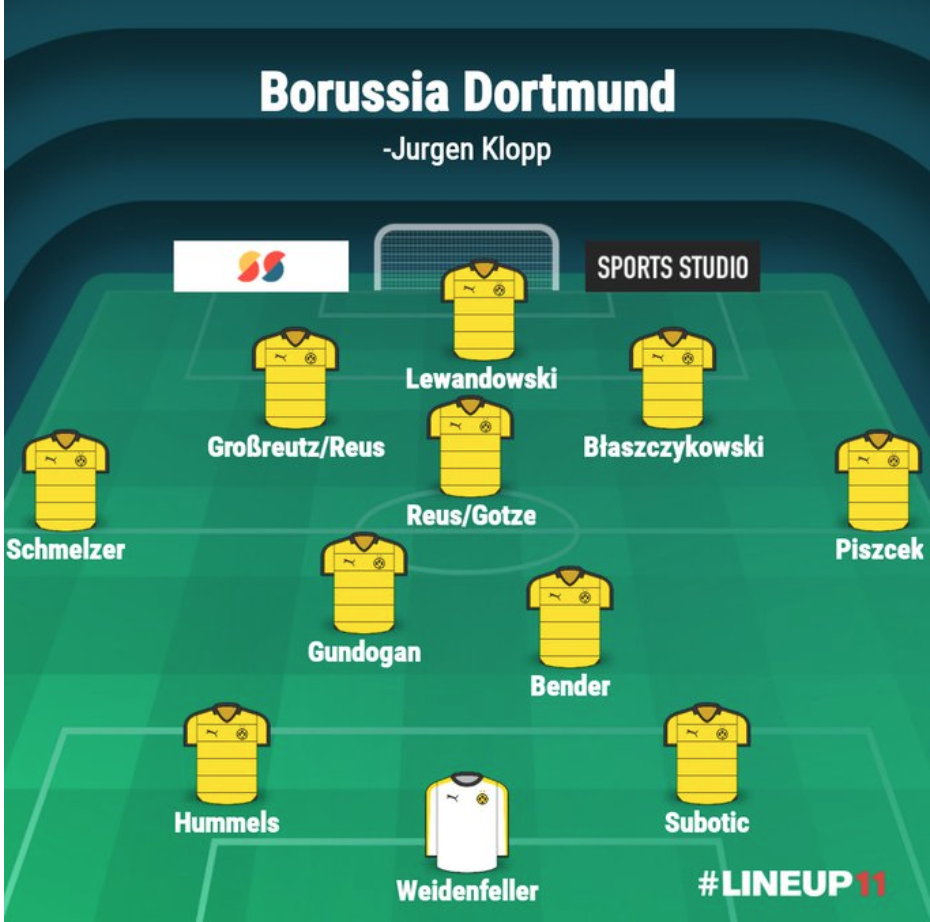 Marco Reus, İlkay Gündoğan,  Robert Lewandowski, Mario Götze were players who were quick on and off the ball and Dortmund's scouting department did exceptional work in bringing these players to the club and Klopp built his team around them. 
Build Up/In Possession
The basic setup on paper was the 4-2-3-1 which changed into a  2-2-6 in possession with the wide players tucking inside and the fullbacks pushing high. When teams were up against Dortmund, they were not only worried about their threat off the ball but also with the ball since they were one of the most lethal attacks in Europe.
The goalkeeper Roman Weidenfeller was a traditional keeper and getting involved in the build-up was not one of his strengths.
Mats Hummels, probably one of the best centre backs of the last decade with the ball was responsible for organizing the build-up in phase 1. Along with Neven Subotic, they formed a formidable partnership in the heart of Klopp's defense.
The double pivot of- Sven Bender and Ilkay Gundogan was crucial in terms of manipulating space so that Hummels could either carry the ball or look to find the full back or Gundogan in space who can look to progress the ball. 
"A metronome is a device that produces a click at a regular interval of time. You can set how fast you would like it to go based on beats per second". 
In football, it's usually the midfielders who are the metronomes and for Dortmund, that man was Gundogan. Superb passing range, awareness, amazing control in tight spaces and his understanding with Hummels was key for Dortmund to progress the ball. 
As I mentioned, Bender and Gundogan's movement and orientation was key for Dortmund and usually, you would see Hummels find Gundogan in space behind the opponent forward line and he can then dictate the play from there.
Since Dortmund were a vertical team and looked to go direct, the wide players would provide options by running into space behind the opponent's backline or tucking inside and allowing the fullbacks to do the same. 
Against world-class teams and tacticians, this was not easy because they identified Gundogan as the main player when it comes to progression for Dortmund and they would instruct one of their players to mark him and minimize the time and space when he gets the ball.
Klopp had figured out a way around this problem as well. Since Gundogan's passing range was impressive, he had no problems doing it from a deeper position and to get the opponent marker off his back, he dropped and formed a back 3 with Hummels and Subotic.
Marcel Schmelzer had already pushed high which was another option for Hummels instead of looking for Gundogan and with off-the-ball rotations, Gundogan could've been found higher up the pitch with space and time which was an advantage for Dortmund.  
The wings were crucial for Dortmund. The wingers- Kevin Großkreutz and Jakub Błaszczykowski, were extremely important for Klopp as they were capable of holding width, crossing and arriving late at the far post for a tap in and also tucking inside, operating in tight spaces with Robert Lewandowski, Mario Götze and Gundogan allowing the fullbacks — Schmelzer and Lukasz Piszczek — to push high and provide options in wide areas. 
With Großkreutz able to hold width, cross and then track back when required, Schmelzer had no problem being conservative and was prepared to react in case of a turnover. This changed when Marco Reus was playing wide and not centrally.
Reus preferred to cut inside and look for goal-scoring opportunities from central areas instead of hugging the touchline and playing the role of a traditional winger. With Reus cutting inside, Schmelzer pushed high and was always willing to receive in wide regions and look for forwards in the box.
Both Schmelzer and Piszczek were good at crossing the ball and there 3/4 players always looking to get on the end of a ball across the face of the goal. However, to think that this Dortmund side was one-dimensional would be absurd.
They had quality outlets out wide but, in the centre, when the wingers tucked inside, the front three and Götze were fluid and could break compact low blocks effectively since Götze was really good in tight spaces and had the ability to unlock defences with a perfect through ball.
Götze-Reus-Schmelzer would often form triangles in wide regions giving them a numerical advantage and all of them were capable of looking to find Lewandowski in the box once they receive in space and have identified Lewandowski's run. 
The coaching team developed game ideas, strategies for effective build-up play and gave Dortmund an offensive concept that was supposed to fit perfectly with the aggressive ball recovery strategy: fast vertical play after winning the ball in midfield or the final third, sustaining pressure with the centre backs pushing high or Nuri Sahin/Gundogan against low blocks .
The vertical game in particular was perfected by Borussia in the last season, the offensive row of three in the 4-2-3-1 system made a decisive difference here.
They pushed high and created passing stations for the support players, which was key for Dortmund breaking down teams who were compact or cause turnovers immediately after conceding possession with a remarkable press. 
Borussia Dortmund's Top Scorers in 2012/13:
-Robert Lewandowski (36)
-Marco Reus (19)
– Mario Götze (16)
-Jakub Błaszczykowski (14)
Off-the-ball Setup: Raum-Deckung
It was an off-the-ball tactic that Klopp had learned from his coach Wolfgang Frank who first introduced 'Raum-Deckung' in Germany back in 1995. The principle states that you cover the space around you in a way that you're close to your man as well as closing down passing lanes to prevent progression. 
As I have mentioned, Dortmund wingers tucked inside and were narrow in the final phase. This central overload helped them 'gegenpress' as soon as there was a turnover.
The distance between the players was minimal and most of the times it looked like a man-oriented press. The aim was to close them down in Phase 1 of the transition within 8 seconds and look to play a vertical pass through the lines taking advantage of the opponent's disorganized shape.
The man-oriented 'gegenpress' was proving to be unsustainable over a season with the same intensity so Klopp made sure his players were at their peak in terms of fitness and also introduced 'Raum-Deckung' in his setup which was a good decision since player's fitness levels are as important as their technique. 
Dortmund's most famous win during Klopp's tenure was the 4-1 win vs Real Madrid in the UEFA Champions League Semi-Finals. Off the ball, Dortmund maintained a 4-1-4-1/4-4-2 shape and their primary objective in phase 1 was to isolate Xabi Alonso and block every central progression lane.
Alonso couldn't drag Götze out opening passing lanes and when he dropped, Götze and Lewandowski focused on marking the space and also sticking close to apply pressure.
Remember when I mentioned 'Raum-Deckung? Yeah, this is what Götze used to make life difficult for Alonso. This allowed Dortmund to have a 4v2 majority in the middle.
At times, Götze followed Alonso and that only gave Dortmund more compactness. It was a pressing trap and led to several turnovers in Madrid's defensive third. 
That meant Madrid relied on their fullbacks for progression but because Dortmund was compact, it was difficult to progress down the wings as well. They were always outnumbered 4v2 or 4v3 with Dortmund players shifting across to close passing lanes and apply pressure. 
Sergio Ramos' positioning was a strange issue. He was clearly not capable of carrying the ball deep and crossing but he insisted on doing that, allowing Mesut Özil to tuck inside.
Ramos pushing high meant Fábio Coentrão had to be conservative because it would've left the centre-backs exposed in case of a transition. It held Coentrão back who was clearly the better fullback at carrying, crossing and creating overloads with Cristiano Ronaldo and Luka Modrić in the wide regions.
Dortmund in a 4-1-4-1 would make you think that Özil would find it easy to use the space between the lines once he drifts inside but Real's progression was horrible and Dortmund had done their homework. They broke the midfield link and forced Madrid to progress using their fullbacks but like I mentioned, it didn't work.
Özil was the main creative outlet in this Madrid side and Dortmund did a very good job isolating him in the final third, forcing him to drop deep and try to progress centrally. 
Madrid's 4-3-3 was disorganized. Modric and Sami Khedira had the responsibility to handle progression since Alonso was restricted and Dortmund anticipated passes and movements. This gave them an edge over Madrid as they would be ready to press as soon as the opening appeared. 
The block orientation was perfect and the space behind the block couldn't be accessed because of the compactness and poor view of the field for the Madrid players in possession. It forced Madrid to play vertical passes but Dortmund players were prepared and pressed in numbers as soon as the pass was played.
Götze, most of the times was looking to create half space overloads on the left flank along with Schmelzer and Reus against Ramos who was very poor both on and off the ball. That played a huge role in their 1st goal and  Özil drifting inside meant Ramos was left defending a 2v1 overload in wide regions and that caused problems for Madrid throughout the game.
Los Blancos looked to create overloads in wide areas but it was a futile attempt because Dortmund was solid at guarding the half spaces as well, changing into a 4-5-1 block.


Madrid relied on individual brilliance throughout the game but again, Dortmund made sure that their best players — Ronaldo and Özil didn't have time and space to create chances but they still managed to create some danger after all.
Klopp's instructions were clear and the players made sure that their execution was perfect. Press high and isolate Alonso, and if Madrid beats the 1st wave of pressure, drop deep and defend in a compact 4-1-4-1/4-4-2 block. They were narrow and compact which meant Madrid always had to beat 8 players before getting a clear view of the goal. 
Their narrow shape was a weakness which the Bundesliga teams exploited using their fullbacks but because Ramos was not fit to play that right back role and Coentrão was conservative at times, it made no difference that Dortmund was narrow and focused on closing central spaces.
It's extremely difficult to maintain focus and discipline in a Champions League Semi-Final and Madrid took advantage of that to create half-chances which Ronaldo and Gonzalo Higuain weren't able to convert.

Dortmund's physical strengths also played a huge role in their win. Their players were always willing to cover that extra yard and win those 50-50 duels. 
In the end, I think 'Effective Counter-pressing' decided the outcome of this game. Dortmund was first to arrive at every 2nd ball, every 50-50 duel that night.
Jürgen Klopp will always be remembered as the man who led Borussia Dortmund's rebuild and took them beyond their wildest dreams and all the way to heaven. The 4-1 win vs Real Madrid, 5-2 thrashing of arch-rivals Bayern Munich in the German Cup Final, 2 Bundesliga titles and a Champions League Final. These moments define Klopp's reign at Dortmund which will forever, be a part of the history books.
By: @TheMidfieldRole
Featured Image: @GabFoligno / Matthias Hangst / Bongarts