Génération Foot: Senegal's Footballing Factory
"Personally, I didn't think he'd make it with us because he was too shy. It was as if he didn't want to play", recalled scout, Abdou Diatta to The Straits Times, when Sadio Mané's showed up at Génération Foot with battered boots and shorts unsuitable for football. But after just 15 minutes of watching the 15-year-old, coach Jules Boucher claimed he "saw in him qualities of a high-class player, in his speed, his ability to dribble, his intensity and movement". That is an eye for a player in its purest form. 
Since the inception of the academy in 2000, the key figures at Génération Foot have developed somewhat of a habit of nurturing their youth to reach levels unimaginable to them upon arrival in Dakar. With an intriguing philosophy of adopting players with little experience and large aspirations of reaching the heady heights of European football, their intentions have been clear and candid from the start. Even still, no one quite believed the club would eclipse the cognizance of Senegalese football in the way they have. 
Such certain criteria for success, that initially appeared suspicious to some, can only be born out of one thing: trial and error. Mady Touré, the founder of Génération Foot, had tried his own hand at football in Europe, playing in France throughout the 1990s before his career was cut short due to injury. 
He then began building bridges between Africa and Europe to fulfil his own failings, but admitted to Dakarswagg: "Before the creation of the academy, when I brought young African players to Europe, I was always told that they were missing something. Some arrived in Europe without the necessary instruction to read a contract, for example. I wanted to give them the keys to succeed."
Despite the personal problems he faced during his playing days, Touré showed exemplary initiative and foresight to ensure that, in some form, he would be a somebody in both Senegal and football's colossal continent. In their distinct education programme and tailored training regime, Touré had built the foundations in which to produce Senegal's next generation, and a pathway to the perennial promised land.
In doing so, Touré had the opportunity to rewrite his wrong, and from his experiences, he had every tool to triumph. In the six-year course that was implemented, football was of paramount importance, but it was by no means a priority. It was about giving back to the community and strengthening the Senegalese society in which they inhabited. Successful or not in a sporting sense, each and every academy member had a future to thank Génération Foot for. 
Having attempted to forge a relationship with AS Nancy, Touré met with FC Metz coach, Joël Müller, to establish the start of a partnership between Les Grenats and Génération Foot that would soon be set in stone. 
"I have the product, you have the money," Touré told Müller, and in exchange for their pick of the academy's products at no initial cost, the Ligue 1 club would provide Génération Foot with equipment and financial assistance which allowed Touré and co. to not just continue their work, but to do so in prosperity and consistently improving premises. 
In terms of eventual international representatives, of which there have been a good few, the connection between the two clubs began with Babacar Gueye, who actually joined FC Metz in 2002, over a year before their official agreement was made.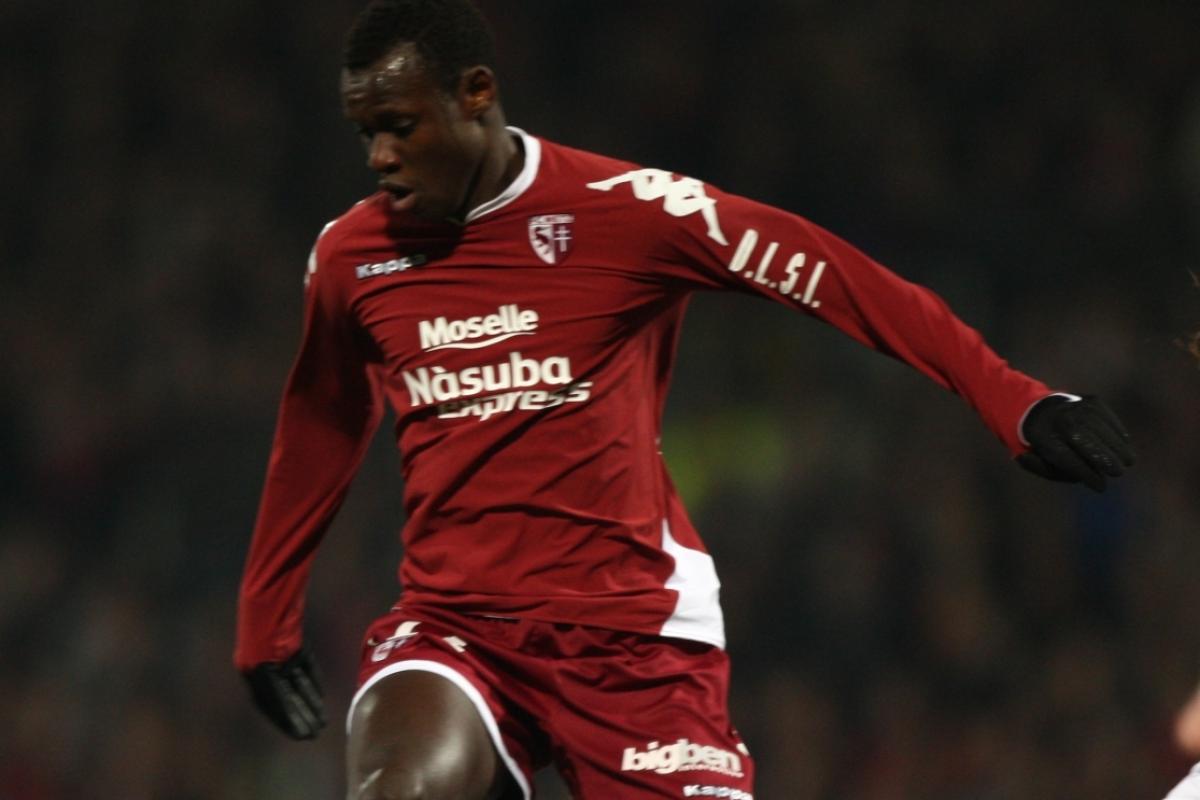 Photo: L'Èquipe
Gueye spent seven years in Lorraine, playing over 160 times for the first team as they bounced between the top two divisions of French football. He enjoyed his most striking spell in France, scoring 38 times in all competitions. But by the time he left for Germany and Alemannia Aachen in 2009, his status as the club's Senegalese sensation had evaporated.
As he arrived in Aachen for a fee of €500,000 with a chance to impress in 2. Bundesliga, other German clubs, including Hannover and Freiburg of the Bundesliga, were keen on signing another of FC Metz's forwards from Génération Foot. That man was a certain Papiss Demba Cissé, who had first partnered and then pushed Gueye out of the Metz eleven since joining in 2005. 
In 85 Ligue 2 appearances during Metz's aforementioned yo-yo period, Cissé scored 35 times including 12 in the 2006/07 promotion season. Along with Gueye, who scored 16 himself, Metz were inspired by a Senegalese strike force that were just 20 and 21 years old respectively. But as Gueye's form dropped, Cissé's stock continued to rise.
In December 2009, Cissé did eventually flee to Freiburg for €1.6million, by which point President Carlo Molinari had dived contentedly onto his feeder club's conveyer belt of quality and was cruising along, picking off player after player like a man starved at a sushi bar. As he departed, Cissé left behind a Senegalese cohort of Fallou Diagne, Cheikh Gueye, Momar N'Diaye and most recently, Diafra Sakho. 
From then on, the development of the partnership was further secured with a seemingly endless sequence of successful signings, and a second agreement between the two clubs in January 2010. This included the construction of the Amara Touré Centre, named after Mady Touré's father, which stood beside avant-garde accommodation, numerous pitches with both grass and synthetic surfaces and a range of facilities laid upon 18 hectares of land on the outskirts of Dakar. 
In the time it took to build this paradisiacal plant of footballing growth, Sakho had established himself as the spearhead of a Metz side that had seen Sadio Mané come and go. Just seven months on from his professional debut in January 2012, Mané left for RB Salzburg for a fee of €4 million – the third-largest fee Metz had ever received – at just 20 years old. Everything was moving fast, and mostly in the right direction. Except for Metz themselves. 
Despite the constant cycle of star players come significant sum of money from Senegal, Metz found themselves in the third tier of French football heading into the 2012/13 campaign. For all their promise and undoubted aptitude, neither Sakho nor Mane did enough to keep their side in Ligue 2, and as the latter left for pastures new, it was down to the former to dig them from untrodden depths.
Sakho did exactly that, quite spectacularly in fact, scoring 39 goals in two seasons as Les Grenats earned back-to-back promotions under club legend Albert Cartier. More than ten years on from their first agreement, the intercontinental connection between Metz and Toure's magnificent academy had reached new heights. 
As their Senegalese stars were helping Metz both on and off the field, Génération Foot were supplied with the means to transform their immediate society. As Touré told France TV Sport: "It had enabled us to rehabilitate the health post. There was no water or electricity. A lot of things were missing…all the young people who come from poor families, it keeps them from going down the wrong path."
The relationship between the two clubs has transcended any preliminary possibilities, showing that football's impact on the world knows no bounds. But in a sporting sense, Génération Foot's influence is equally immense. "In Africa, there is a lack of infrastructure. If one day the continent is well structured, a country can win the World Cup."
Touré believes as a pioneer for a more fruitful future in African football as a whole. "I am congratulated by my fellow presidents who say that I am the pride of Africa," and so we should expect to see an influx of African academies linking with elite European teams, and we should be extremely excited for it. 
Since the notable departures of Cisse, Mané and then Sakho in 2014, Génération Foot have had a fourth Premier League representative in Ismaïla Sarr and judging by their recent domestic rise in Senegal, there are plenty more descendants of Dakar for us to rejoice in for years to come. 
For a club full of inexperienced players, winning the Senegalese third division in 2015 was impressive in itself, but to win the Senegal FA Cup the same year – qualifying for Africa's Europa League equivalent, the Confederation Cup, in the process – was something else. Sarr was undoubtedly one of their standouts that season, but even in his absence, the club flourished further into the unfathomable. 
After expectedly exiting the Confederation Cup in the first round, attention was turned to the league, where they earned a second successive promotion to the Premier League. One year later, they shattered the record books to reign supreme in Senegal. 
Under former FC Metz youth coach, Olivier Perrin, they won the most points in a season, scored the most goals and secured the most wins in a truly unforgettable campaign. Ibrahima Niane scored 19 goals in 18 matches, another record, and unsurprisingly moved to Metz straight after, where he has since helped them cement their top-flight status. 
Recently, Mady Touré has spoke of his aspirations of winning the African Champions League and you can hardly blame him, or Metz, for that matter, who extended their partnership with Génération Foot for a further 10 years in October 2020. With both clubs strengthening in cooperative congruence, it is Touré's incessant motivation to make up for his disappointment as a player that is central to their progression.
"I have always believed in myself I have suffered but today I am happy with this project. The players coming out of Génération Foot, I would like to see them play in the Champions League, the World Cup," Touré told France TV Sport.
Such ambition, accompanied by an archer's eye for talent and an expert ability to nurture it, Génération Foot have all the ingredients for success. Moving forward, we may well see FC Metz make full use of that in their own conquests. After they prevented Lyon from climbing atop Ligue 1 with a famous 0-1 win at Parc OL, are we witnessing something spectacular beginning to brew?
By: Brad Jones
Featured Image: @GabFoligno / Soccrates Images – Getty Images / Chloe Knott – Danehouse – Getty Images
This article was made in partnership with Football's Finest.