Domenico Tedesco's RB Leipzig Revival
On the 5th of December Jesse Marsch was relieved of his duties at RB Leipzig, becoming the first Bundesliga manager to learn of his dismissal whilst in a COVID enforced quarantine.
The peculiarities of Marsch's departure stole headlines, but the fact that it had come to this dreary conclusion left few surprised.
Back in December, Leipzig had taken just 1 victory in their last 6 matches, and the squad's discontent with the American's radical tactical shift seemed to foreshadow the downfall long before it eventually happened. Thus, a new, but simultaneously well-known, face returned to the Bundesliga dugout.
Domenico Tedesco, an understudy to Julian Nagelsmann at TSG Hoffenheim, and probably the last semi-successful manager in Schalke's multi-year fall from grace, came as a safe pair of hands to steady the Leipzig ship and rescue some face in a season of transition.
Eliminated from the Champions League, and just 4 points off the relegation zone, expectations were low upon Tedesco's Bundesliga return, yet, 102 days and 17 matches later, the 36-year old looks like an inspired appointment.
Tedesco has brought the club up to 4th in the table, taking the Bulls into the semi-finals of the DFB Pokal, and even qualified for the quarter-finals of the Europa League (albeit in unusual circumstances).
What in December looked to be Leipzig's worst topflight campaign since promotion, now, just weeks later, has the potential to be a historic milestone in Die Bullen's youthful history.
With the East German club well-poised to end the long awaited title drought, it's about time we look at some of the stylistic tweaks which have allowed Domenico Tedesco to affix the wings back on the Red Bull project.
Enjoy Adam Khan's Bundesliga coverage? Then make sure to subscribe to The German Football Weekly to never miss an article!
Probably the most glaring difference between Jesse Marsch's tenure and that of Domenico Tedesco is the defensive structure.
In the 14 Bundesliga matches Marsch oversaw RB Leipzig weren't dramatically underachieving defensively – conceding only slightly more than a goal per game – however, the American's record against top opposition is what left him so open for scrutiny.
In the UEFA Champions League Leipzig conceded 13 goals in 4 matches, and in 6 encounters against the Bundesliga's current top 7, Marsch didn't keep a single clean sheet.
With such a spectacular underperformance from a side which had conceded the fewest goals of a non-Bundesliga champion since 2015, one of Tedesco's first decisions after taking the job was to steer away from a 4-2-3-1 and back to the 3-4-1-2.
The additional centerback has worked wonders for Leipzig's ability to keep errors low, and it's finally reintroduced some defensive stability at the Red Bull Arena.
With the added defensive security, Die Roten Bullen are able to remain brave in their vertical pass selection, but now do so with the knowledge that an errant giveaway will not immediately lead to a numerical advantage for the opponent. 
A prime example of this came in Leipzig's 6:1 victory over Greuther Fürth earlier this month. Mohammad Simakan, Leipzig's right centerback and the first player to appear in the clip, boldly steps into midfield before possession is cheaply turned over.
Under Marsch, this would have been catastrophic, as just one centerback is back to defend, but under Tedesco, the two remaining defenders are able to slow Fürth's attack down and allow the entire Leipzig side to get behind the ball again within 15 seconds.
Going forward, Tedesco's tactical shift has also revolutionized the impact of Leipzig's fullbacks. In the Spaniard Angeliño, Leipzig have one of the most dangerous wing backs in Europe, registering a goal or assist every 195 minutes across his three seasons in Germany.
Under Marsch, however, the 25-year old's output in the final third took a marked nose-dive. In 851 minutes of Bundesliga action, Angeliño contributed just one assist (which was a contribution of little relevance, coming as the third goal in a 6:0 thrashing of Hertha BSC).
Nor was Angeliño the only victim under Marsch, with the collective output from Leipzig's fullbacks easing into a downward spiral.
In the 14 Bundesliga matches under Jesse Marsch, Leipzig's 6 fullbacks contributed just 2 goals and assists between them. It's a stark contrast to the 13 matches under Tedesco which have produced a lucrative return of 13 (5 goals & 8 assists).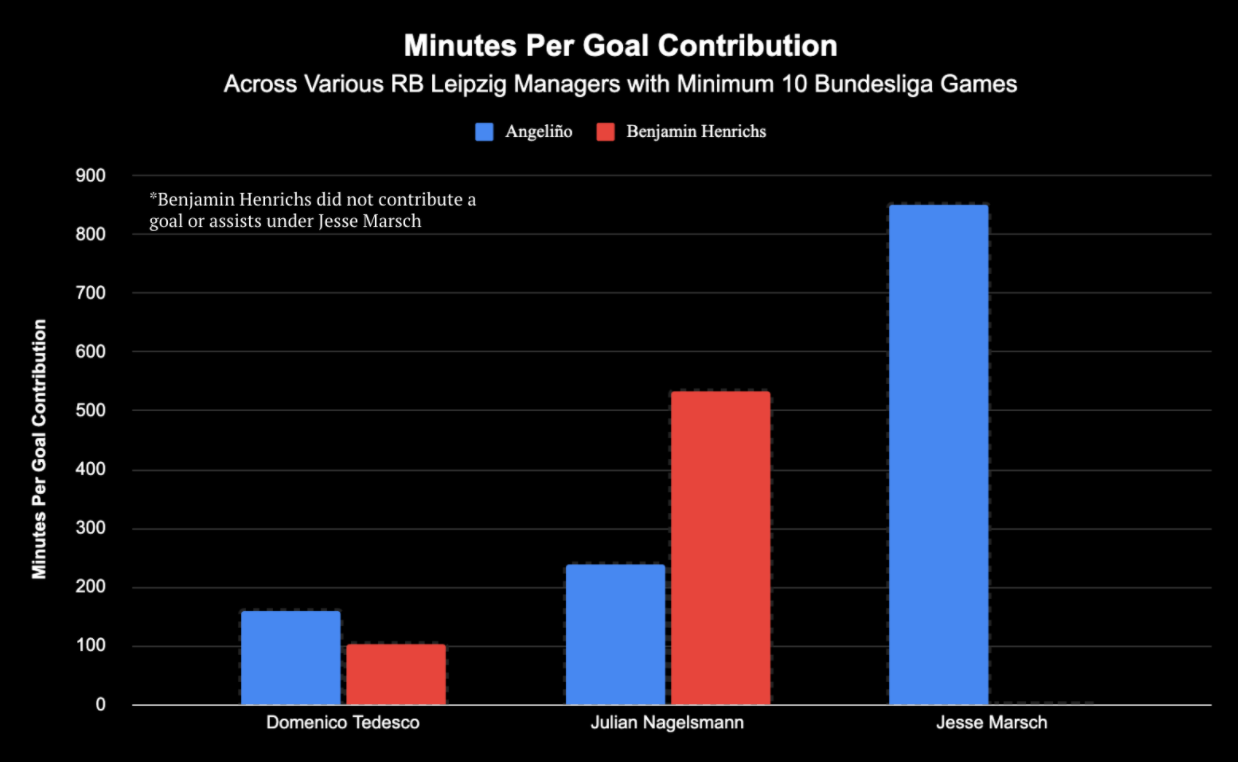 Information valid up to 18/03/2022
Angeliño is now back to his best with a goal contribution every 160 minutes, but even Benjamin Henrichs on the other flank has looked like an entirely new player once given the freedom to operate in a wingback role.
After going 81 matches, and over 5000 minutes, without a goal in the Bundesliga, Henrichs has now scored 3 times since Tedesco's arrival – the latest of which even came from an Angeliño assist. Tedesco has also made significant changes to Leipzig's final-third pressure.
Earlier this season, RB typified the basic Red Bull model of swarming opponents with a man-oriented press.
At times, it worked brilliantly, but more often than not it surrendered space to an opponent adept in possession, or one which made full use of the pitch's width. This is also a key reason why high-caliber opponents found it so easy to score against Marsch's side.
To combat this, Tedesco has reverted Die Bullen back to a trigger-based approach, a system similar to that which was favored throughout Nagelsmann's reign.
Cues like a lateral pass, an opponent facing his own goal, or an arrant touch will "trigger" the entire Leipzig XI to push up the pitch in unison and look to win back possession with feverish intensity.
Whilst it may not create as many turnovers as Marsch's full-throttle approach, it allows Leipzig to maintain their pace over a full 90 minutes without lapses in concentration, or physical decline.
As Tedesco's side is the only Bundesliga outfit still competing in 3 competitions, lessening the load on a game-to-game basis will continue to be crucial in order to sustain the squad's title credentials and secure a top 4 finish.
The combination of an arrant clearance directed into the wide channel and Ridle Baku's (VFL Wolfsburg #20) body shape forcing him back to his own goal, provide the necessary cues for the entire Leipzig side to push forward into an aggressive press which ultimately leads to a ball recovery. 
Alongside the revitalized influence from Tedesco's fullbacks, the former Schalke and Spartak Moscow manager has also finally sparked summer-signing André Silva into life.
After arriving from Eintracht Frankfurt with a tremendous goal-scoring record, the Portuguese international failed to hit the ground running and scored just 3 times in the Bundesliga whilst Marsch was in charge.
Deceptively quick, strong in the air, and a tremendous finisher, it was baffling to see a player of such quality snatching at chances he would have buried weeks earlier.
What quickly became apparent though since Tedesco has rejigged the system, is that Silva, who seemed exhausted from the heavy defensive workload under Marsch, can now calm his mind and body when chances present themselves.
The former Porto wonderkid has now scored in 8 of his 13 starts under the new regime, and is looking back to his best as only Robert Lewandowski, Anthony Modeste, and teammate Christopher Nkunku, have outscored him since Tedesco's arrival.
Tedesco may have steadied the ship at the Red Bull Arena, but the crucial fixtures still lay ahead with Leipzig's next 4 Bundesliga matches all coming against opponents in the top half of the table.
With just 4 points separating Leverkusen in 3rd and Hoffenheim in 6th, the race for top 4 is as alive as ever in the Bundesliga, but nevertheless it's difficult for Leipzig's eyes not to be drawn elsewhere given the exciting opportunities in both domestic and international cup competitions.
In the DFB Pokal, Leipzig are odds on favorites, hosting Union Berlin midweek before an eventual final versus either SC Freiburg or Hamburger SV, and in the Europa League Die Bullen will fancy their chances of going the distance if they can fend off a strong Atalanta side.
Whether the all elusive first silverware finally finds a place in Leipzig's trophy cabinet this season remains to be seen, but for now there is ample reason to be excited about the impressive work Tedesco has done to revitalize a side in desperate need of repair. 
Did you enjoy this player analysis? Then why not subscribe to The German Football Weekly to never miss an update on all things Bundesliga & Bundesliga 2!
By: Adam Khan / @XxAdamKhanxX
Featured Image: @GabFoligno / Maja Hitij / Getty Images / Juan Manuel Serrano Arce / Getty Images